Growing up, we all experienced a phase when our parents would force us to drink food supplements, and after throwing tantrums, we dreadfully drank them anyway. Back then, food supplements all tasted bitter, and some even had terrible aftertastes! It was not until 2017 that gummy supplements were made famous and made kids' health routines effortless.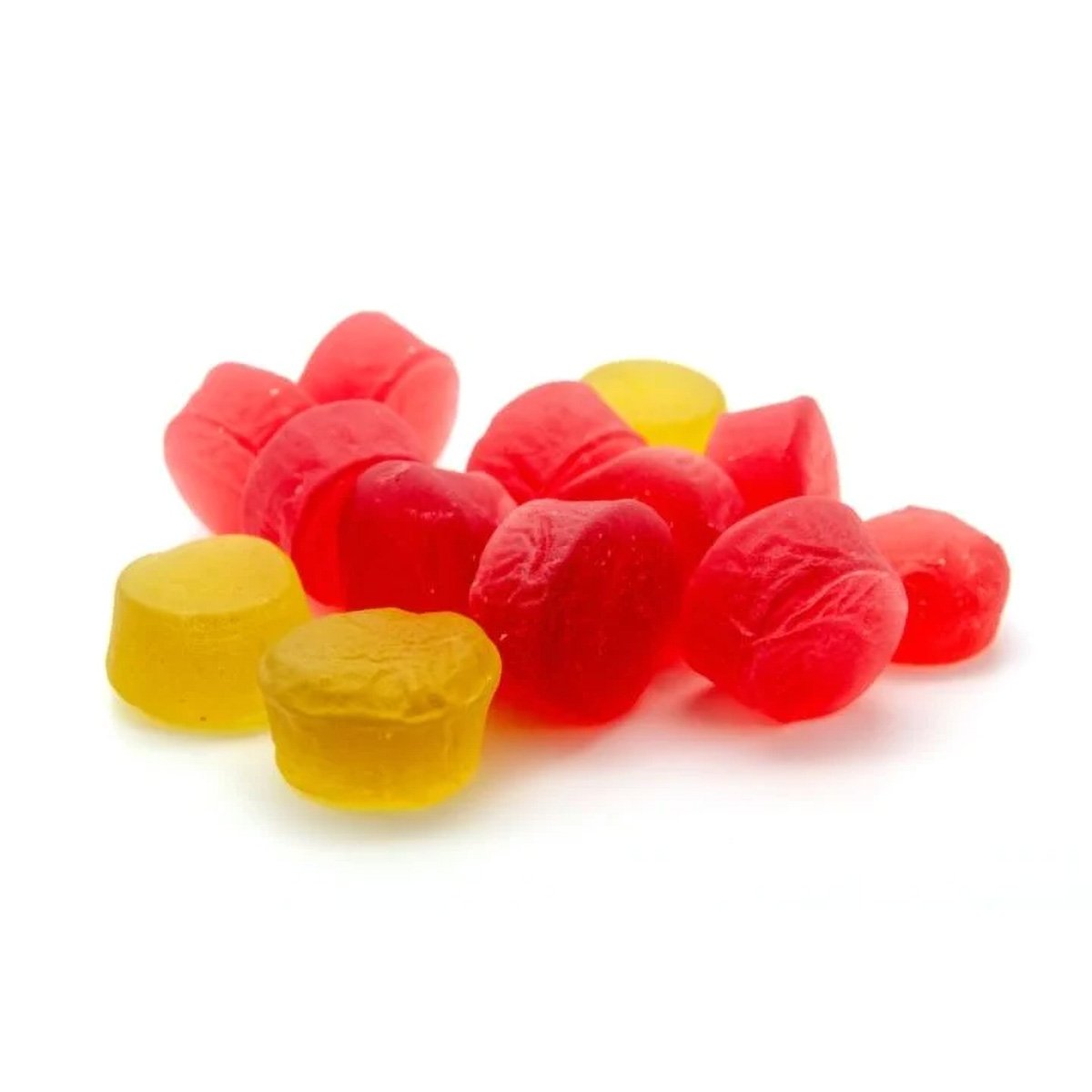 Originally made as treats, gummy candies are small and sweet chewy beans made from gelatin and pectin, and molded into different shapes with additional flavors to attract kids. While Vitamin C became the first vitamin gummy available in the market, supplemental gummies with a wide range of vitamins and minerals are available in pharmacies and even online today.
It's even more fascinating how companies have managed to turn liquid supplements into gummies, as well! Of course, apple cider vinegar (ACV) doesn't fall behind the line, as you can now enjoy its benefits in these sweet little treats!
You might start to think, "Do apple cider gummies work?", "What are the benefits of eating apple cider gummies?" or "Do they work like the vinegar itself?". No worries. Just stick around, and we will answer those questions for you.
Table of Contents
How are apple cider vinegar gummies different from your regular ACV?
Due to the claimed and proven benefits of apple cider vinegar, it's no wonder why companies are shooting their shots in the industry by manufacturing these apple cider vinegar gummies.
Like its precursor, apple cider vinegar, these gummies are also packed with substances that have great benefits. So what difference do they have?
1. Improved Taste
Despite its strong, tangy taste, the benefits from taking apple cider vinegar are too good to miss out on. Since it is vinegar, its acidic nature not only gives off a strong, sharp smell but also a very sour taste. On the other hand, ACV gummies contain added flavorings and natural sweeteners for palatability.
Moreover, an article by Healthline mentioned that apple cider vinegar sometimes causes nausea, especially when drunk without additional flavors due to its naturally strong flavor. Well, worry no more. ACV gummies come with a fruity smell and taste from natural ingredients which not only remove the unwanted smell and taste but also add nutrients and benefits.
2. Travel Friendly
Maintaining a particular diet while traveling is never easy. Having a handy alternative saves the day with all the needed routines and steps. Because ACV gummies come in bottles, sticking to it as a routine becomes effortless.
Unlike the ACV, there is no need for dilution and other ingredients. Everything you will be needing is already in the bottle. Toss it in your bag, grab it, and munch on it anytime, anywhere — convenience at its finest.
3. Less Acidic
Most side effects of drinking apple cider vinegar are due to its acidity. The acetic acid in apple cider vinegar irritates the eyes, nose, throat, and skin. ACV can also cause tooth enamel erosion. Since ACV gummies are of lesser concentration, this gives assurance that it is less likely to cause irritations.
4. Packed with Other Nutrients
While apple cider vinegar gummies have concentrated contents of ACV, helpful vitamins and minerals are also infused in these sweet treats. Most brands add the following ingredients to improve flavor, color, and overall palatability.
B-Vitamins - These gummies usually contain added vitamins such as Vitamin B6, which is essential for the nervous system and immune system. Vitamin B12 and sometimes folic acid, which are vital for blood cell production, DNA production, nerve function, and cell metabolism.
Natural Coloring - Aside from giving off natural color to the gummies, pomegranates, and beetroot also come with health benefits. Pomegranates are rich in antioxidants and vitamins. They also have known effects against heart diseases, arthritis, and even cancer. Beetroot also brings a lot to the table as it contains many minerals, vitamins, and antioxidants. It is known to lower blood pressure, improve muscular health, and help prevent lifestyle diseases.
Natural Flavoring - Usually, ACV gummies come in a fruity flavor, and it's because of fruits like apples, oranges, and blackcurrants. Aside from providing flavor, the usage of these fruits also adds to the product's nutritional content.
What benefits do apple cider vinegar gummies offer?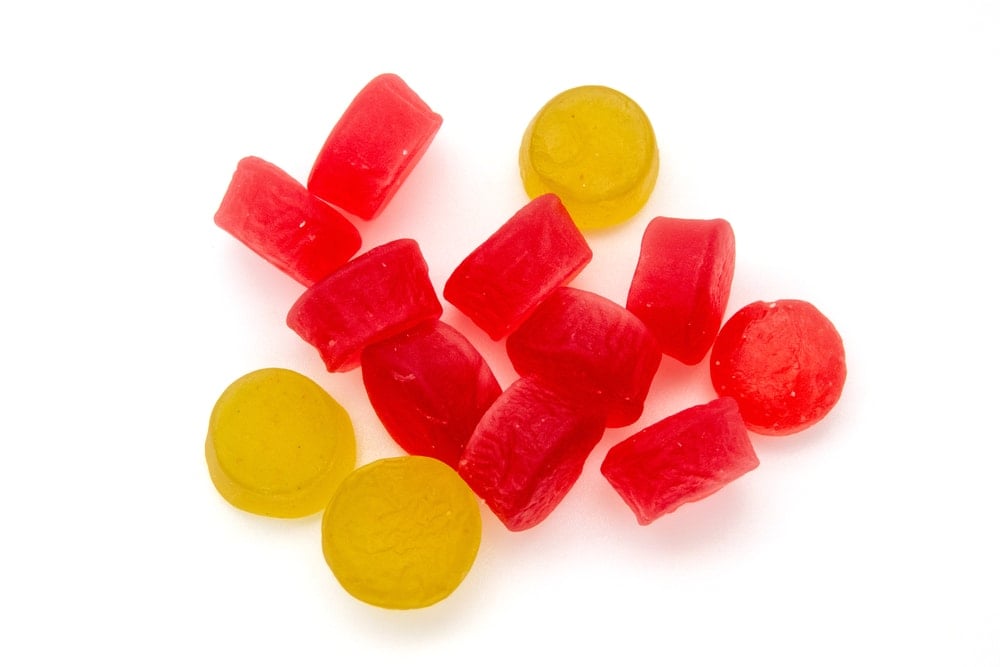 Although the scientific evidence for ACV gummies is not yet available, the health benefits discussed in this chapter are from the apple cider vinegar contents in the gummies. Even with the lack of scientific backup, bloggers and influencers have revealed ACV gummies' potential benefits and effects as part of their diet. Here are some of the benefits:
1. Detoxifies and Promotes Healthy Digestion
With "detoxifying supplements" popping up left and right, it's hard to spot the ones with scientifically backed benefits from those based on pure hype. Luckily, ACV gummies belong to the former.
Because ACV promotes bile production, this means faster removal of waste products in the stomach. Along with its metabolic benefits supported by the liver, phenolics present in ACV are natural detoxifiers and oxidative stress relievers while stimulating efficient bile production, which is how the body removes wastes and fat. It also prevents inflammation that can lead to cellular damage.
Known to contain healthy bacteria, ACV also balances the normal flora in the gut, aiding proper absorption and healthy digestion.
2. Improves Weight Management
Weight loss is by far the most acclaimed benefit of ACV gummies. While scientific explanations back the effect of ACV on weight loss, the reviews by online influencers play a significant role in convincing people to start taking ACV gummies.
Controls Appetite
One major struggle when losing weight is suppressing the appetite, especially with cafés and restaurants popping up around every city corner. Although there are a lot of factors that affect our appetite, taking apple cider helps balance our stomach's pH level, resulting in slow gastric emptying and maintaining satiety.
Speeds Up Metabolism
Contrary to what most people believe, metabolism isn't always due to genetics. You can achieve faster metabolism by "tricking" your body by taking ACV gummies alongside your regular diet. Apple cider promotes glucose uptake by the muscles, which results in a faster metabolism.
3. Supports Cardiovascular Health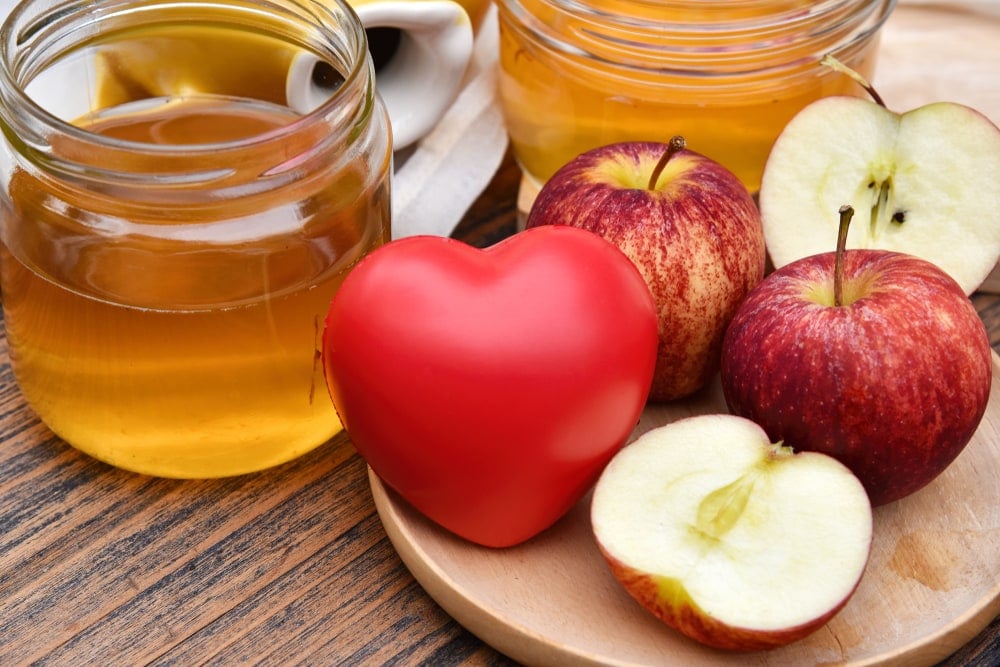 Acetic acid's known capabilities to increase the bile's production of substances that destroy fat may prevent arterial wall thickening and lower blood pressure.
Although there is little research on ACV's effect on lowering human lipids, the results of these studies are promising. For example, a study of 19 patients with hyperlipidemia revealed lower triglyceride and cholesterol levels with increased high-density lipoprotein levels after ingestion of ACV for eight weeks.
While human studies on the benefits of ACV in heart health are available, it is essential to note that gummies come with only a small amount of acetic acid, which is proven to lower blood pressure and prevent atherosclerosis.
Each ACV gummy typically contains only about 25 mg of acetic acid. An older study recommended that a daily intake of 750-1,500 mg of acetic acid was needed to prevent any heart disease. With that being said, it would take around 30 gummies a day, which is impractical.
4. Support Immune Function
As a natural antimicrobial agent and probiotic, apple cider vinegar promotes gut health and immune function. Its antimicrobial effects are proven against both bacteria and fungi. A few of the studies include the following (1, 2):
Staphylococcus aureus - This bacteria causes various infections. Although considered part of the normal flora in humans, it can cause skin infections, blood infections, endocarditis, soft tissue infections, sore throat, urinary tract infections, and even toxic shock syndrome.
Escherichia coli - Some strains cause diarrhea, while some cause urinary tract infections, respiratory tract infections, and pneumonia.
Due to its antibacterial properties, ACV gummies might also prevent or cure bad breath.
Do note that the scientific basis of this is due to the presence of acetic acid and that ACV gummies contain only a trace of it.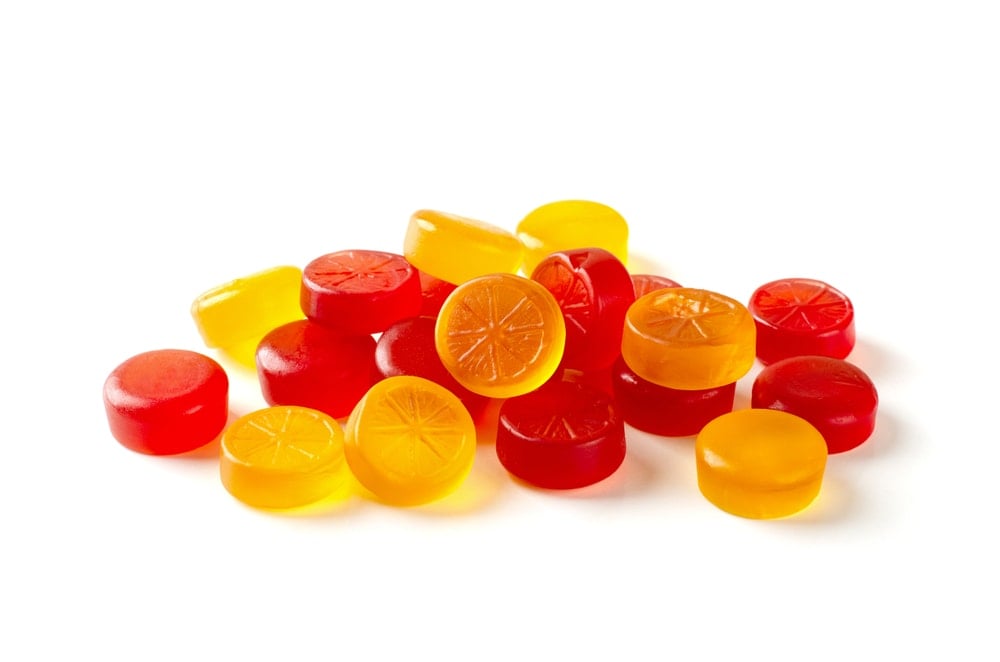 5. Skin and Hair Benefits
Apple cider vinegar has been known to be beneficial for the skin and hair. These effects are said to be based on Acetic acid and Malic acid, which prevents acne and promotes cell turnover for that healthy glow.
Acetic acid - Possesses antimicrobial and antioxidant properties that aid wound healing and inhibit bacterial and fungal infections.
Malic acid - Part of the alpha-hydroxy acids promotes cell turnover, skin hydration, and removal of dead skin, resulting in smooth, glowing, and healthy skin.
While most ACV gummy brands claim that their product promotes healthy skin and hair, the proven benefits are based on topical application of ACV to skin and hair. Although most of the ACV gummies contain additional nutrients such as Vitamin B12, which is known to have great effects on the skin, further studies show that vitamin B12 are most beneficial only to those with B12 deficiency which causes a pale appearance of the skin, hyperpigmentation, vitiligo, and hair changes. With that being said, ACV gummies' effects on improving the skin don't have much support and are yet to be confirmed by research.
Moreover, ACV's effects on hair as a cure for dandruff and improve overall hair health are also based on the topical application to the scalp. No research has been published on the effects of ACV gummies for improving hair health unless the situation is caused by Vitamin B12 deficiency. In that case, ACV gummies infused with B12 vitamins may aid the recovery.
What should you consider when buying apple cider vinegar gummies?
Choosing a brand might be challenging, especially with all the paid advertisements and endorsements going on. If there's any safer way to know which brand to choose, it's to compare one to the other. In an article published by Wellness Verge, dieticians recommend that ACV gummies must meet these standards:
Dosage of 500 mg for 1–2 gummies or the equivalent of approximately 2 tablespoons of real apple cider vinegar
Less than 20 calories per serving
Less than 3 g of added sugar
Includes the "mother"
No artificial flavorings, colorings, or preservatives
Allergen-free
Other beneficial ingredients, like probiotics, vitamins, or antioxidants
Top 3 Apple Cider Vinegar Gummy Brands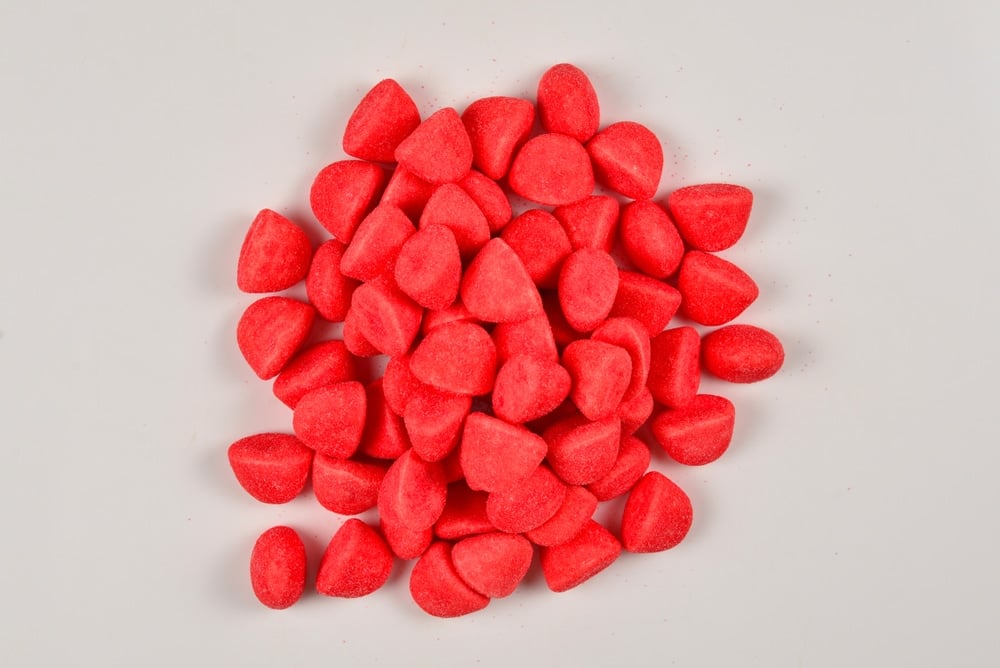 I know, searching each of the ACV gummy brands takes a lot of time and energy. So, we have listed the top 3 highly-rated ACV gummy brands available on Amazon for you! We also included the contents, dosage, and a little background to it, as well.
SAVE 11%
This ACV gummy brand is USDA-certified organic and vegan. Made from ACV with The Mother, these gummies contain 500mg of pure apple cider vinegar that's paired with ginger root for soothing digestive system support.
According to their website, their gummies "preserve all the goodness of 'the mother,' which can help promote digestion and overall balanced, healthy bodily function."
Supplemental Facts per Serving:
Serving Size: 2 Gummies
Servings Per Container: 30
Calories: 20
Total Carbohydrate: 5g
Total Sugars: 3g
Sodium: 10mg
Organic Apple Cider Vinegar: 500mg
Organic Ginger Root: 2mg
Other ingredients: Organic Tapioca Syrup, Organic Cane Sugar, Water, Pectin, Organic Natural Flavor, Sodium Citrate, Citric Acid, Organic Sunflower Oil, Organic Elderberry Juice Powder (Color), Organic Carnauba Wax.
Serving suggestion: 2 gummies daily
Content: 60 gummies
Amazon Ratings: 20,484 (as of March 2023)
Average Rating: 4.3 out of 5
This brand is best recommended for kids as this contains zero sugar compared to other ACV gummy brands. According to their website, these gummies are derived straight from The Mother, which contains "beneficial proteins, enzymes, and more." The description went on to say "these gummies are also fortified with a full daily serving of vitamin B12, which can help promote energy levels and more."
Glycemic Index (GI) is a measure of how quickly a food causes blood sugar to rise. The higher the GI, the faster the absorption rate, the quicker it increases one's blood sugar level.
Supplemental Facts per serving:
Serving Size: 2 Gummies
Servings Per Container: 30
Calories: 10
Total Carbohydrate: 5g
Dietary Fiber: 2g
Vitamin B12: 2.4mcg
Sodium: 15mg
Organic Apple Cider Vinegar: 1000mg
Other ingredients: Organic Tapioca Fiber Syrup, Organic Allulose, Water, Organic Pectin, Citric Acid, Organic Natural Flavors, Malic Acid, Organic Stevia, Organic Beetroot Powder (Color), Organic Sunflower Oil, Organic Carnauba Wax.
Serving suggestion: 2 gummies daily
Content: 60 gummies
Amazon Ratings: 6,480 (as of March 2023)
Average Rating: 4.4 out of 5
SAVE 28%
These ACV gummies with a lot of added nutrients are good for overall purposes. On their website, they said these gummies "also contain LactoSpore probiotics and prebiotic super fruits to support healthy digestion." They went on to claim that this combination of apple cider vinegar, probiotics, and prebiotics will "help you feel lighter, healthier, and more energized."
Supplemental Facts per Serving:
Serving Size: 1 Gummy
Servings Per Container: 120
Calories: 19
Total Carbohydrate: 4g
Total Sugars: 3g
Vitamin B6 (as Pyridoxine HCI): 1mg
Vitamin B9 (as Folic Acid): 400 mcg DFE
Vitamin B12 (as Cyanocobalamin): 5 mcg
Sodium (as Sodium Citrate): 55mg
Organic Apple Cider Vinegar (5% Acetic Acid): 500mg
Prebiotic Super Fruit Blend: 400 mcg
LactoSpore (Bacilius coagulans): 3.4mg
BioPerine Black Pepper Fruit Extract: 25 mcg
Serving Suggestion: Take 1 gummy twice daily with food.
Content: 120 gummies
Amazon Ratings: 8,769 (as of March 2023)
Average Rating: 4.2 out of 5
How to Make Apple Cider Vinegar Gummies at Home
If the suggested brands of ACV gummies we recommended just above this section didn't fit your liking well, in this section, we will be revealing some easy yet useful ACV gummies recipes you can do at home!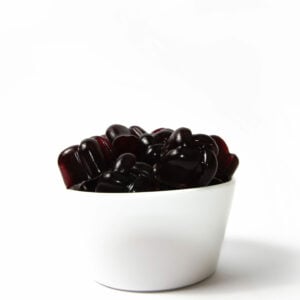 Homemade Apple Cider Vinegar Gummies
This simple gummy recipe is so easy to make even for kids. Adjust the ingredients to fit your taste or your dietary needs.
Equipment
Silicone mold or baking dish
Ingredients
½

cup

apple cider vinegar

raw

½

cup

apple juice

3

tbsp

honey

⅓

cup

water

at room temperature

2 ½

tbsp

gelatin powder
Instructions
Combine the apple cider vinegar, apple juice, and honey in a saucepan. Heat up over medium heat for a few minutes and stir well. Don't let the mixture boil.

Bloom your gelatin mixture by mixing it with water, making sure that it is dissolved properly.

Add the gelatin mixture to the saucepan and mix well.

Pour the liquid into the silicone molds and refrigerate for about 6 hours until firm. Remove the gummies from the mold by pressing the other side of the silicone mold.

Store in an airtight container to avoid contamination and store in the refrigerator.
Nutrition
Calories:
14
kcal
Carbohydrates:
3
g
Protein:
1
g
Fat:
0.01
g
Saturated Fat:
0.002
g
Polyunsaturated Fat:
0.002
g
Monounsaturated Fat:
0.001
g
Sodium:
2
mg
Potassium:
10
mg
Fiber:
0.02
g
Sugar:
3
g
Vitamin A:
0.1
IU
Vitamin C:
0.1
mg
Calcium:
1
mg
Iron:
0.04
mg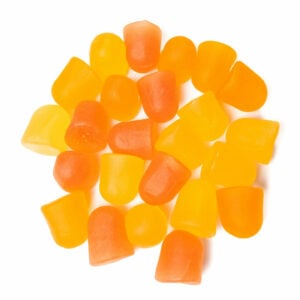 Lemon-Honey Apple Cider Vinegar Gummies
Love the sweet and sour combination of honey, lemon, and apple flavors in this recipe! With the addition of lemon, each gummy is fortified with citric acid to boost immunity.
Equipment
juicer for the apple juice

gummy mold
Ingredients
1

cup

apple juice

preferably freshly juiced

½

cup

apple cider vinegar

2

tbsp

raw honey

2

tbsp

agar powder

1

lemon

juiced
Instructions
Combine apple juice, ACV, honey, and lemon juice in a small saucepan on low heat.

Stir and make sure all ingredients are well blended.

Add the agar powder and stir until it starts to dissolve.

Bring to a very light simmer for about 5 minutes.

Once you can see all ingredients have been dissolved completely, and the liquid looks thick, remove from heat.

Using a liquid dropper, start adding liquid to molds of choice.

Allow to cool off and refrigerate for at least 15-20 minutes.

Carefully remove gummies from mold and store them in a mason jar or air-tight container for up to 7 days.
Nutrition
Calories:
7
kcal
Carbohydrates:
2
g
Protein:
0.05
g
Fat:
0.01
g
Saturated Fat:
0.002
g
Polyunsaturated Fat:
0.004
g
Sodium:
1
mg
Potassium:
13
mg
Fiber:
0.1
g
Sugar:
1
g
Vitamin A:
1
IU
Vitamin C:
1
mg
Calcium:
3
mg
Iron:
0.1
mg
Drawbacks of Apple Cider Vinegar Gummies
Apple cider vinegar gummies may appear very handy, but convenience comes with a price. Here are things you might want to consider before purchasing ACV gummies.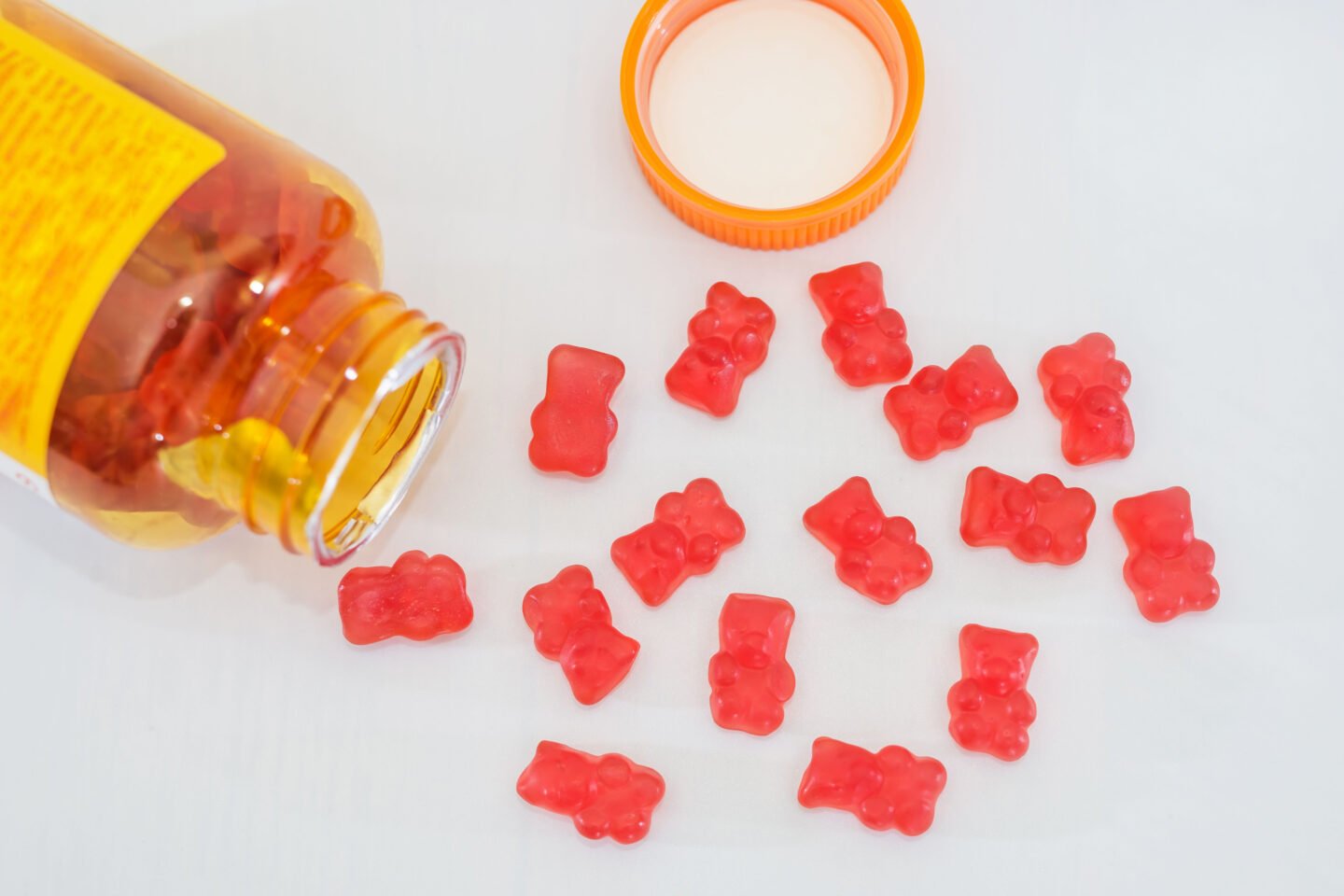 1. Price Difference
Supplements must come with sustainability. Even famous brands of ACV gummies recommend using their products for at least a month for visible effects. And this superfood is far from cheap when you consider sustaining it. So, let's do a little math.
According to Amazon, a bottle of 60 ACV gummies is priced from $12-18. Most of them recommend a daily dose of 2-4 gummies a day for optimum results. This means that a bottle would last for an average of 20 days, amounting to $18-27 a month.
On the other hand, 16 oz bottles of apple cider vinegar cost $5-9 on Amazon. Based on the studies we have mentioned earlier, the daily recommended consumption of ACV is 1-2 tablespoons. This means that a 16 oz can make 16-32 servings and could last an average of 24 days, amounting to $6-11 a month.
We do hope these calculations help!
2. Lack of Scientific Support
Although great reviews on these ACV gummies are available online, scientific studies to support these claims have not yet been established. These products are relatively new to the market, and long-term statistical analysis is yet to be done to prove the wonders that are inclined to it.
While waiting for those studies, checking the ingredients list of the mentioned ACV gummies above can help you decide which brand to choose if ever you wish to give it a shot. And if you ever give it a try, setting a standard can also help you hunt for the perfect brand for you.
And just like what we always advocate, seeking professional medical guidance is a must when it comes to diet trends, especially when trying out a dietary supplement. There is always danger in entering the unknown unsupervised.