Are you someone who loves grabbing an afternoon pick-me-up or a refreshing treat during your day but don't want coffee? Maybe you're tired of coffee, or just flat-out don't like the taste.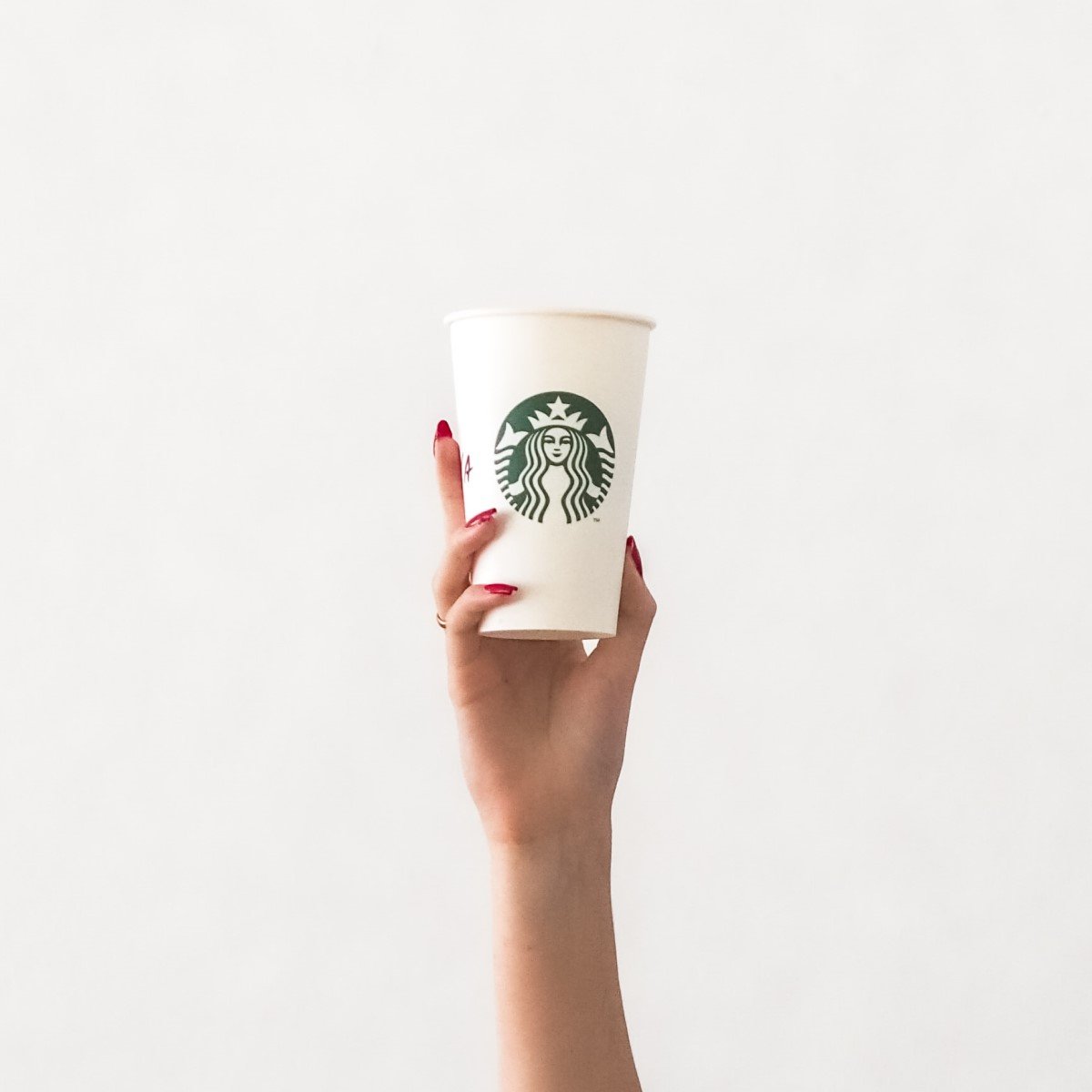 Whatever your reasoning is, Starbucks offers plenty of drinks that don't taste like coffee. Some have caffeine, and some don't. We'll also keep you posted on caffeine content if you're keeping an eye on it.
Some of the best Starbucks drinks that don't taste like coffee include the Strawberry Acai Refresher, Chai Tea Latte, Matcha Latte, Double Chocolaty Chip Frappuccino, Caramel Ribbon Crunch Creme Frappuccino, Blended Strawberry Lemonade, Passion Tango Iced Tea, Lemonade, Steamed Apple Juice, Raspberry Black Tea Lemonade, Mango Dragon Fruit Refresher, Strawberry Cream Frappuccino, Teavana London Fog Tea Latte, Toasted White Hot Chocolate, and the Pistachio Creme Frappuccino.
Table of Contents
Best Starbucks Drinks Without The Coffee Flavor
1. Strawberry Acai Refresher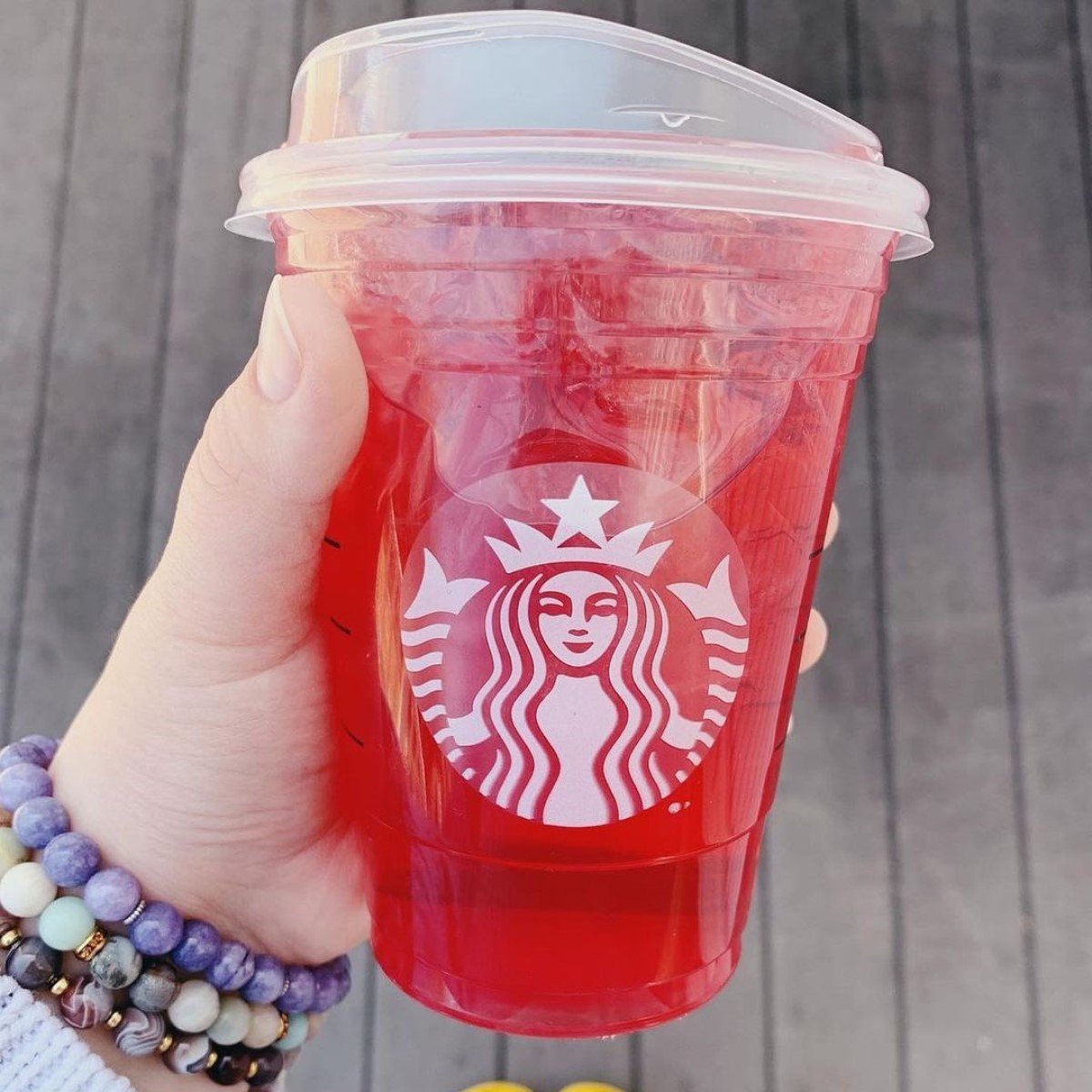 The Strawberry Acai Refresher is a classic on the Starbucks menu. However, this drink still contains a decent amount of caffeine despite tasting nothing like coffee!
All Starbucks refreshers are made from green bean extract. Green bean extract comes from steeping raw, unroasted coffee in water to make a concentrate. This extract is devoid of the rich colors of roasted beans and easily takes on whatever fruity flavors you throw at it.
2. Chai Tea Latte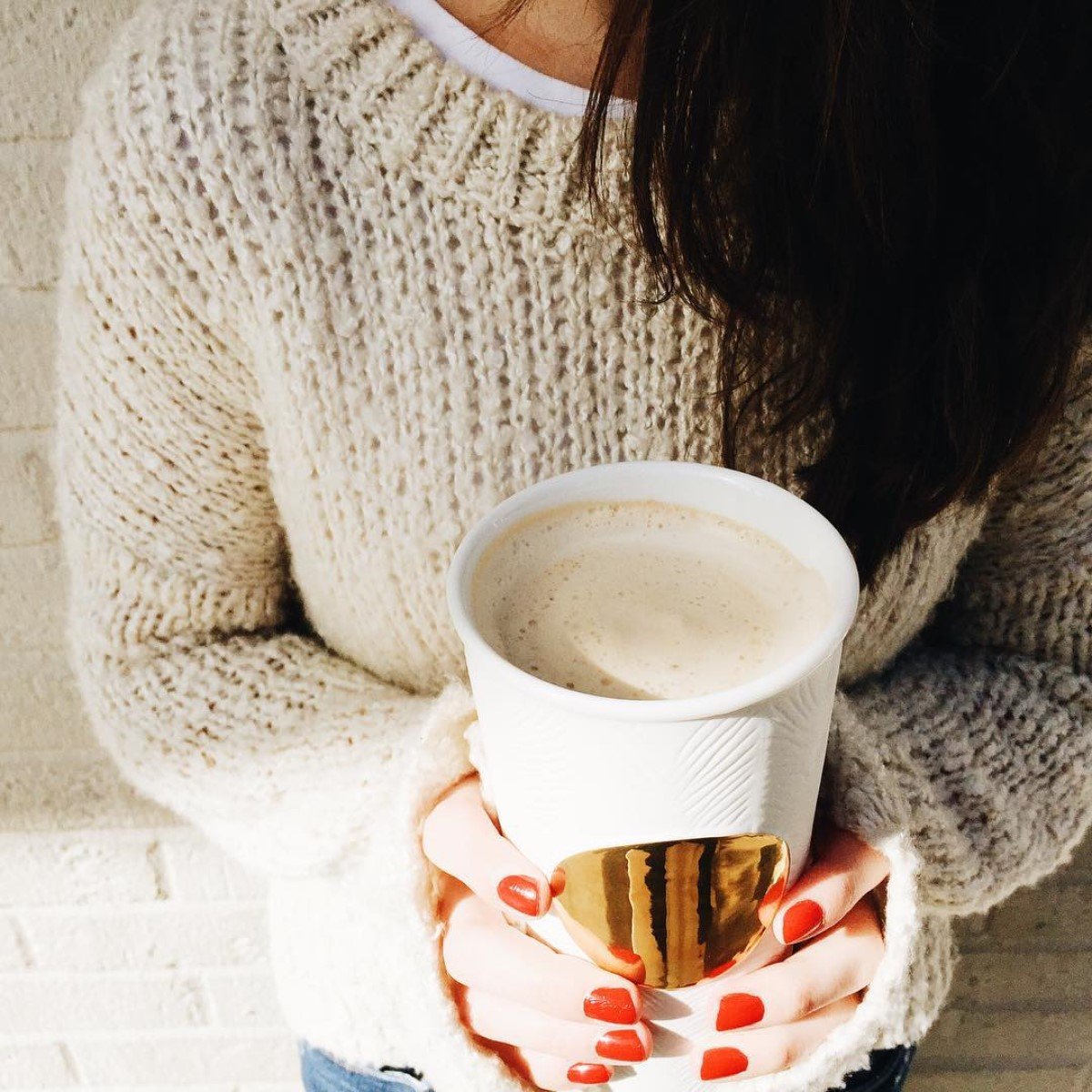 Chai tea lattes are decadent, creamy, and lightly spiced beverages. While the Starbucks Chai is more comparable to a vanilla chai than a traditional spiced chai, the beverage still carries some flavor notes of cardamom, ginger, star anise, cloves, etc.
Starbucks Chai Tea Latte is made from a chai concentrate, but Starbucks also offers a more traditional version. Just be sure to specify which version you want, as the Chai Tea Latte is much more popular, and your barista may assume it is what you want.
3. Matcha Latte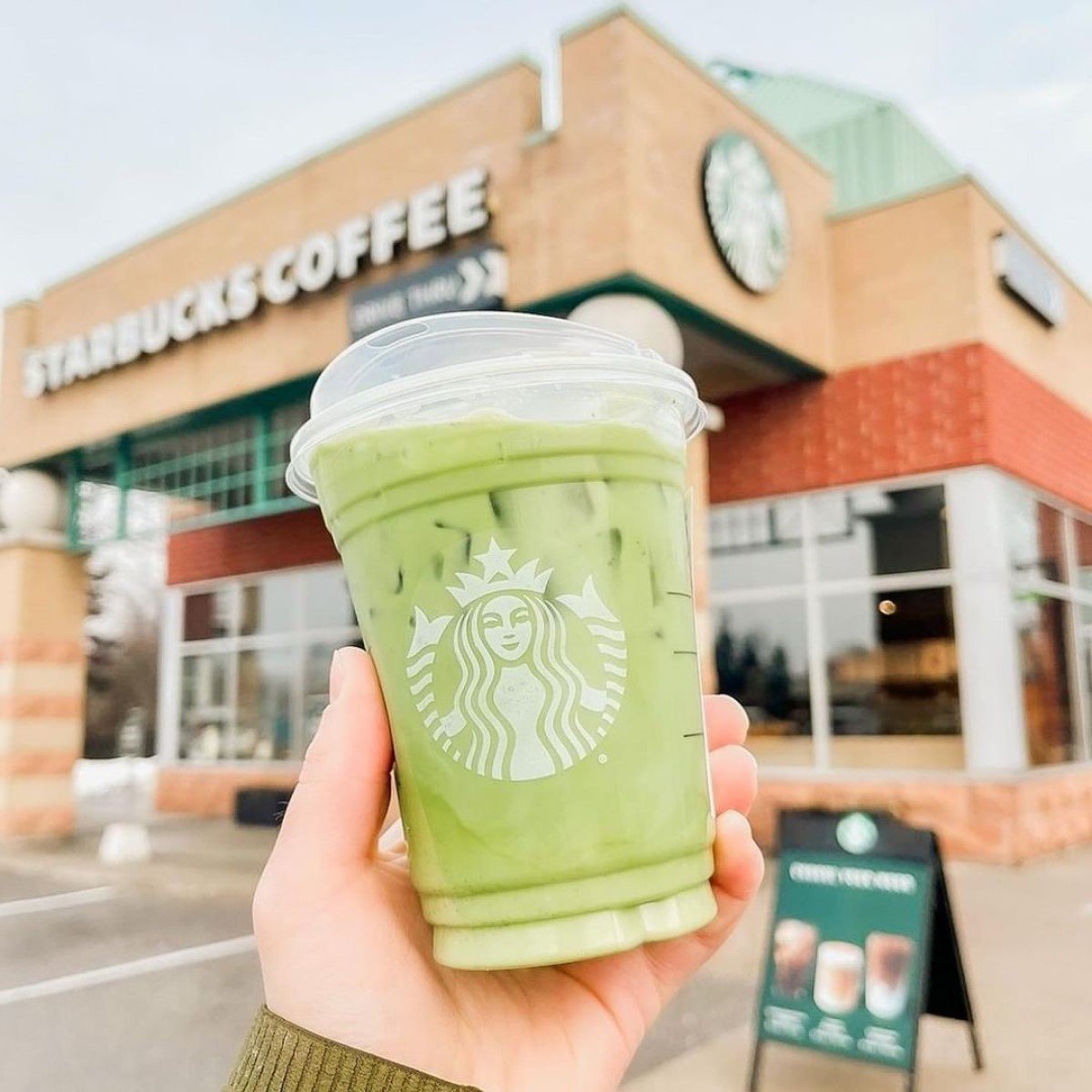 Matcha is a traditional Japanese drink made from ground-up green tea leaves. Normal green tea is just steeped in water, but Matcha is ground up and dissolved in water instead.
This produces a vibrant drink packed with vitamins, minerals, antioxidants, and even caffeine. Matcha is a powerful beverage full of health benefits. However, Starbucks Matcha does contain quite a bit more sugar than traditional matcha—just something to keep in mind if you're watching your sugar intake.
4. Double Chocolaty Chip Frappuccino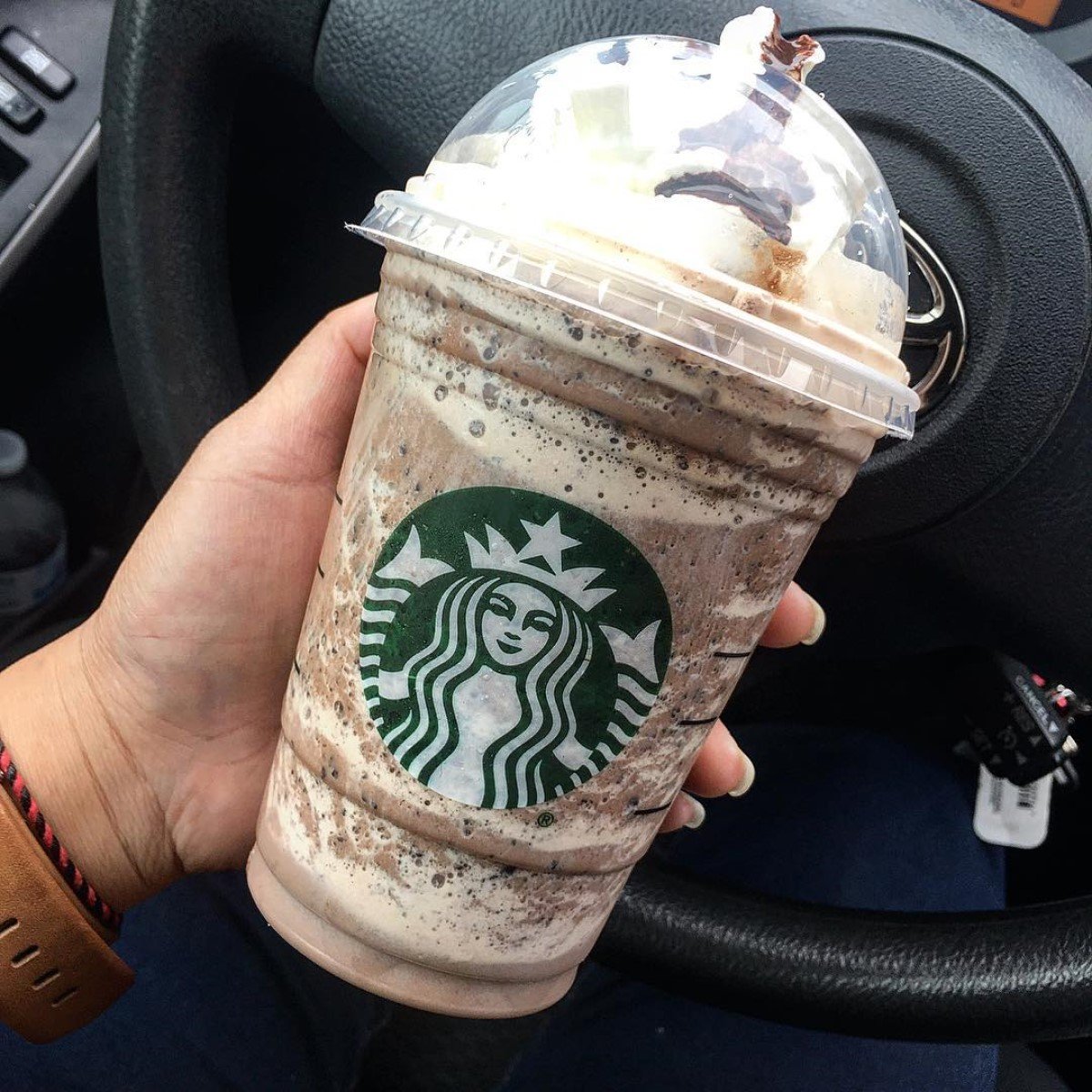 The Double Chocolaty Chip Frappuccino is the espresso-free cousin of the Java Chip Frappuccino. Baristas make this frosty blended beverage with chocolate syrup, java chips, whole milk, frappuccino base, topped with whipped cream and chocolate drizzle.
If you're looking for a chocolaty treat, look no further. This beverage tastes and feels similar to a chocolate milkshake, but the added java chips provide an extra texture.
While this drink doesn't contain any espresso, the chocolate sauce contains trace amounts of caffeine. While it isn't enough to cause any issues with pregnancy and is probably not dangerous for those with heart issues, it is good to be aware of it.
5. Caramel Ribbon Crunch Crème Frappuccino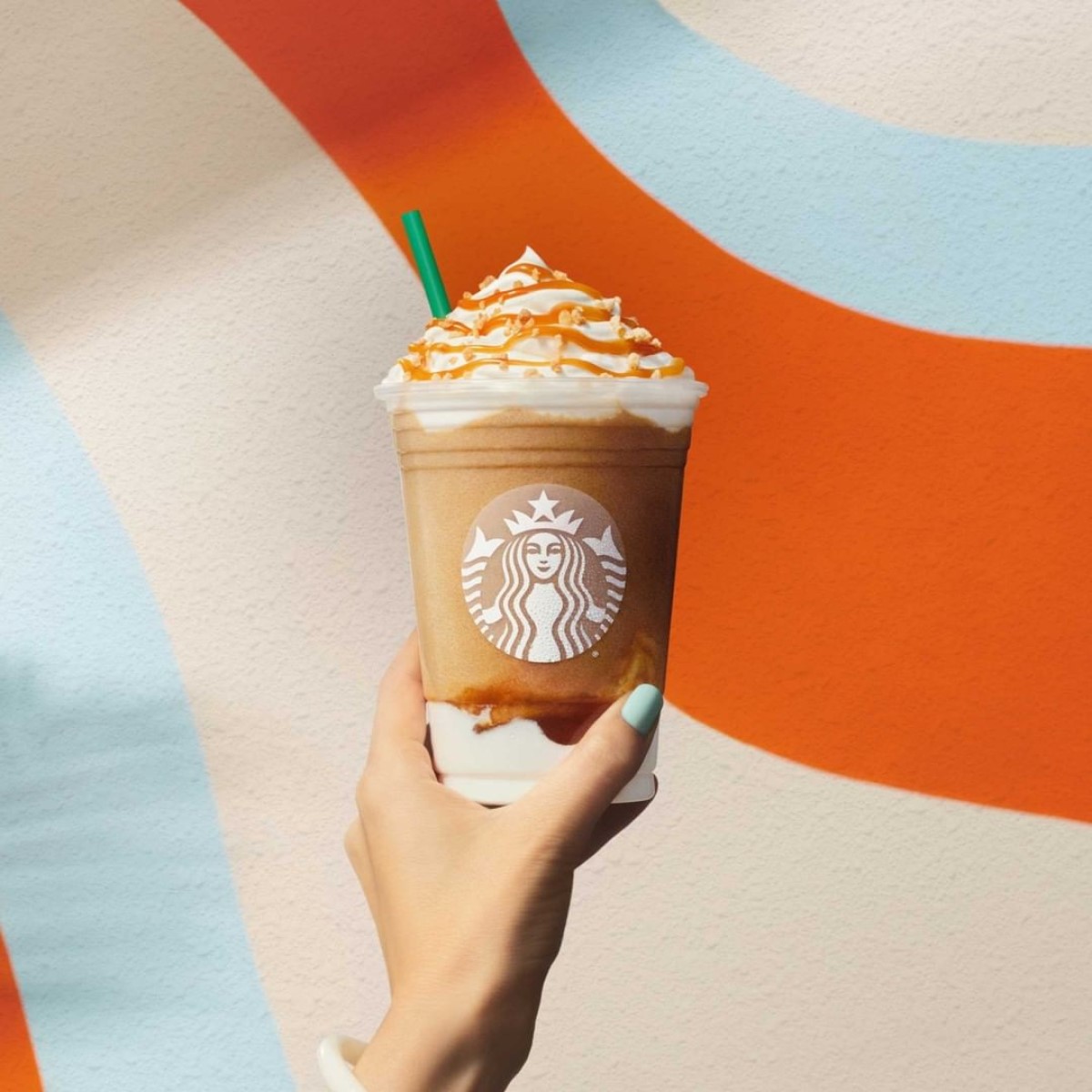 The Caramel Ribbon Crunch Creme Frappuccino is made with Starbucks dark caramel sauce. This dark caramel sauce differs from the caramel drizzle we have come to love over the years.
This sauce is still thick, but it is cooked longer than regular caramel, giving it a toastier and richer flavor. Essentially, the sauce contains less water, making the flavor more concentrated.
Baristas blend this sauce into the body of the frappuccino. Then, they form five distinct layers. From bottom to top, you will see whipped cream, dark caramel sauce, the blended beverage portion, more whipped cream, and dark caramel drizzle on top with the caramel ribbon crunch topping sprinkled overtop.
This beverage ensures you get a little bit of everything in every sip!
6. Blended Strawberry Lemonade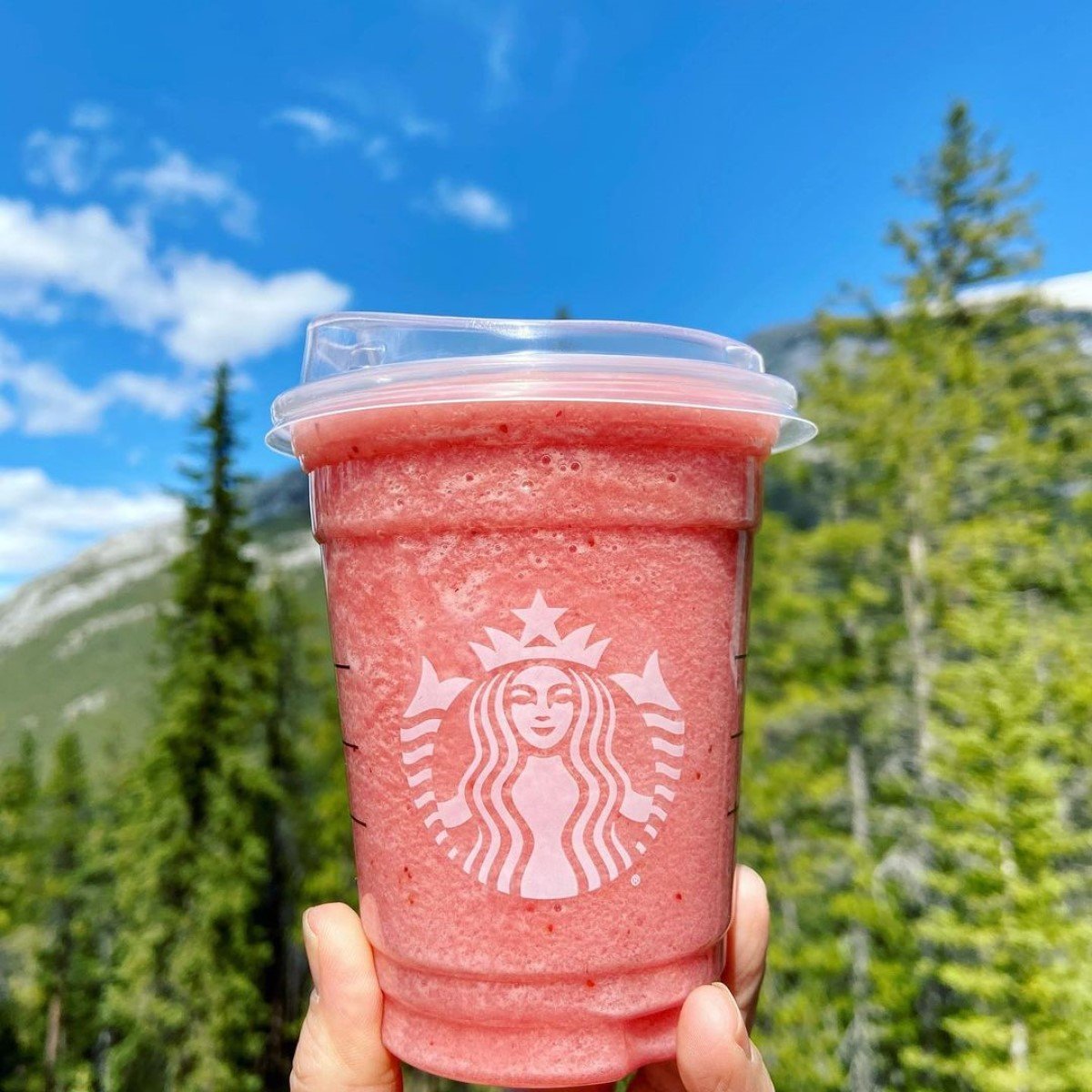 This drink is probably the most refreshing item on this list. A Blended Strawberry Lemonade is perfect for the warmer months or when you need a little treat! What we love about this drink is that it is made with Starbucks strawberry puree, which features real strawberries.
The strawberry puree is added to a blender with lemonade and a frappuccino base to bind everything together. It is incredibly simple but truly delectable.
7. Passion Tango Iced Tea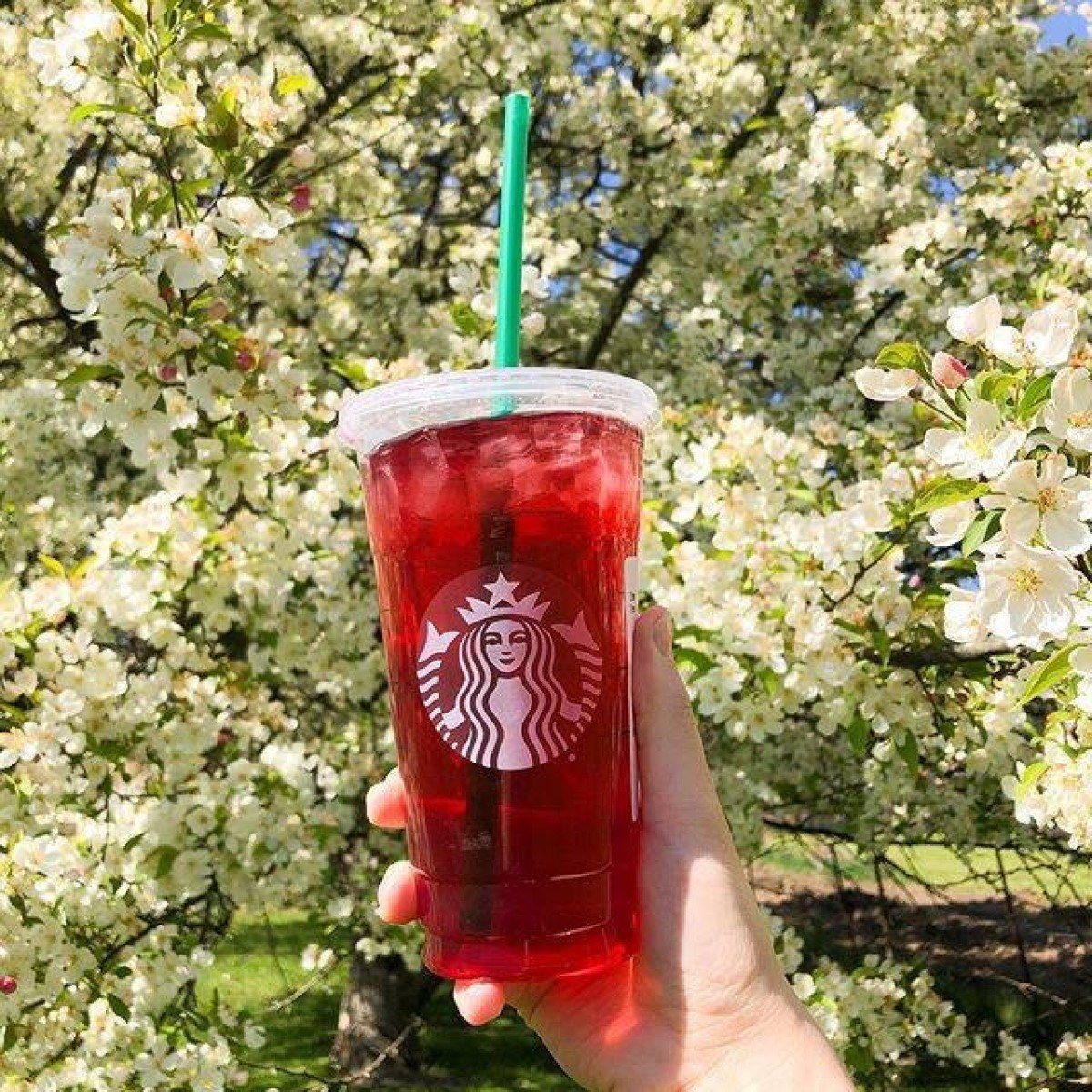 The Starbucks Passion Tango Iced Tea has been around for many years. You've probably seen this bright fuchsia tea sitting behind the cashier many times. If you haven't brought yourself to order it, it may be time to give it a go!
This drink has health benefits and is just as refreshing as it looks. Try substituting lemonade for water if you prefer a brighter and tangier taste. Also, remember that all Starbucks iced teas come standard with their classic syrup, so they are all sweet unless you specify otherwise.
8. Lemonade
Starbucks Lemonade is often mixed with other drinks, such as iced teas and refreshers, to give them a brighter and tangier profile. Not many people order lemonade by itself, though!
Starbucks Lemonade is absolutely fantastic, and you won't regret trying it solo if you're a fan of lemonade. If lemonade is too tart for you, or you want something different, try it with raspberry syrup!
9. Steamed Apple Juice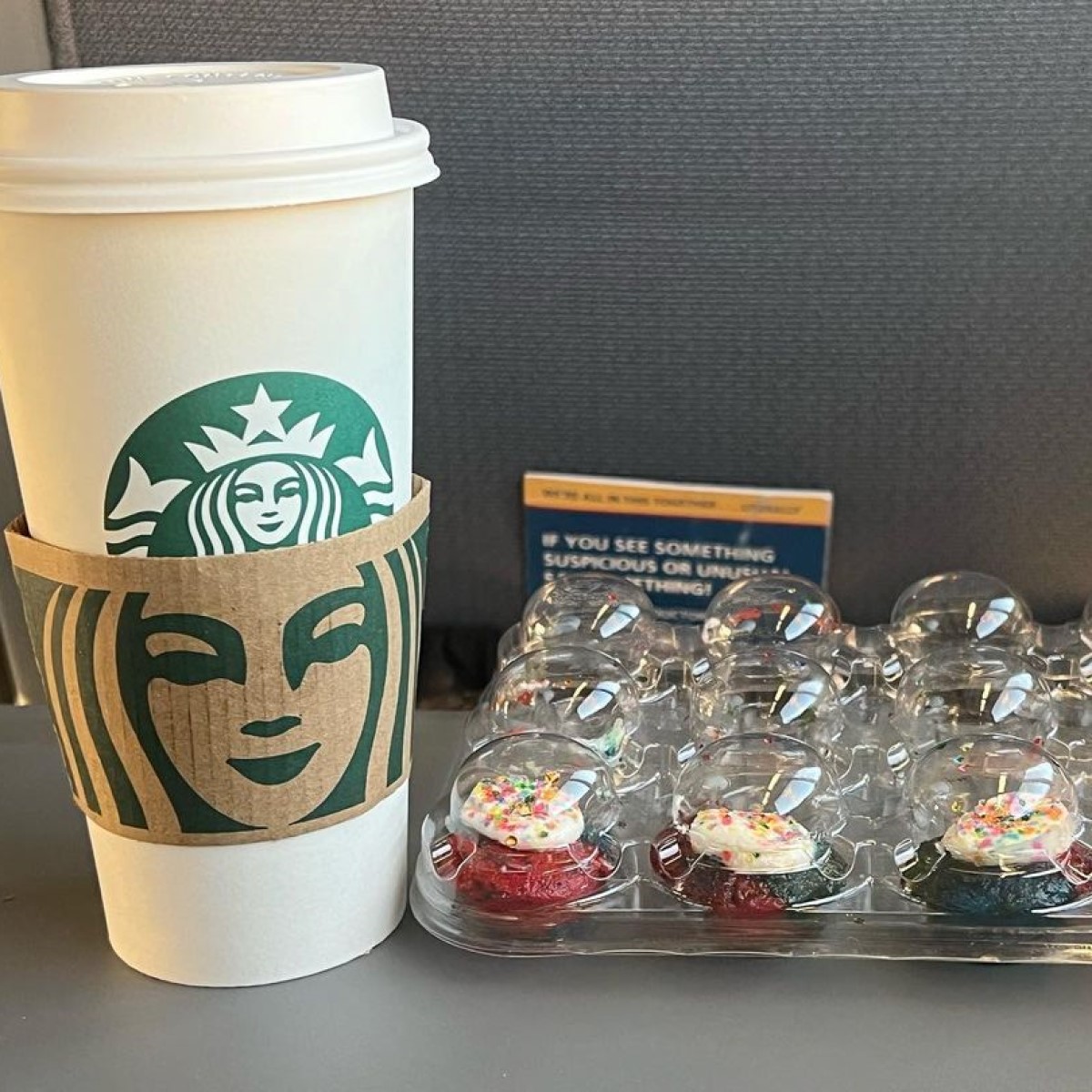 Starbucks makes a fantastic Caramel Apple Spice drink that is essentially just a fancy apple cider. The base of the drink is just steamed apple juice. You could try ordering a plain steamed Apple Juice to cut costs, sugar, and calories.
This beverage is ideal for cold days when you don't necessarily want a super-rich or creamy beverage.
10. Raspberry Black Tea Lemonade
The Starbucks Raspberry Black Tea Lemonade is a very elevated beverage that will leave you feeling refreshed, energized, and cool on a hot day.
Your barista will know what to do when you order this drink as is. Let's break down exactly what goes into making this drink, though. First, your barista will add black tea and lemonade into a shaker. Your barista will do this at a 1:1 ratio unless you specify otherwise.
Next, they will skip the simple syrup and add raspberry syrup instead. This will be three pumps in a tall, four in a grande, and five in a venti. If you prefer your drink to be less sweet, you can always ask them to cut back on the syrup pumps.
11. Mango Dragon Fruit Refresher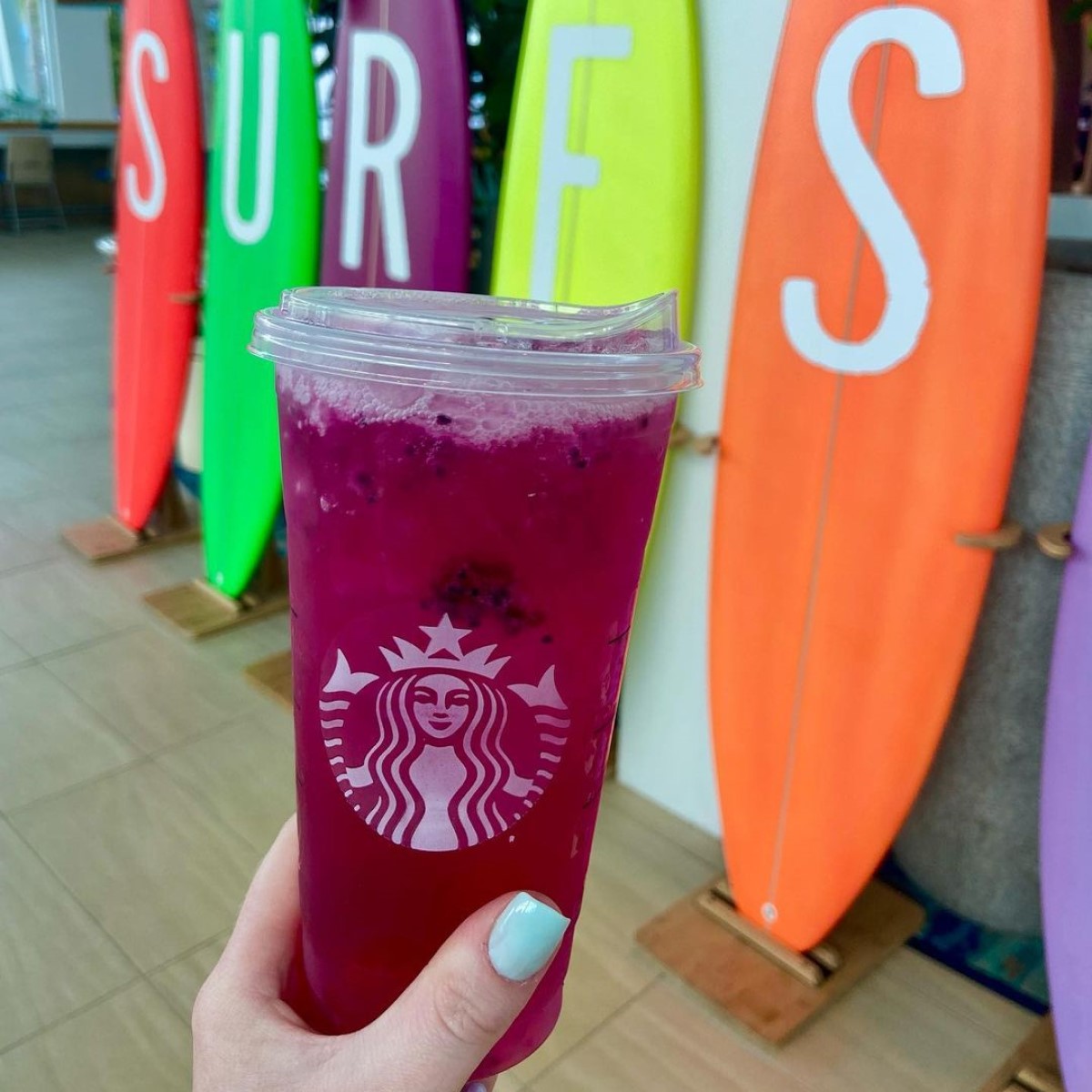 Starbucks Refreshers are made from green coffee extract, so while they don't taste anything like coffee, they still provide a decent caffeine punch. The Mango Dragon Fruit Refresher is a wonderful blend of refreshing flavors and will give you the caffeine buzz you may be looking for to get through the day.
12. Strawberry Cream Frappuccino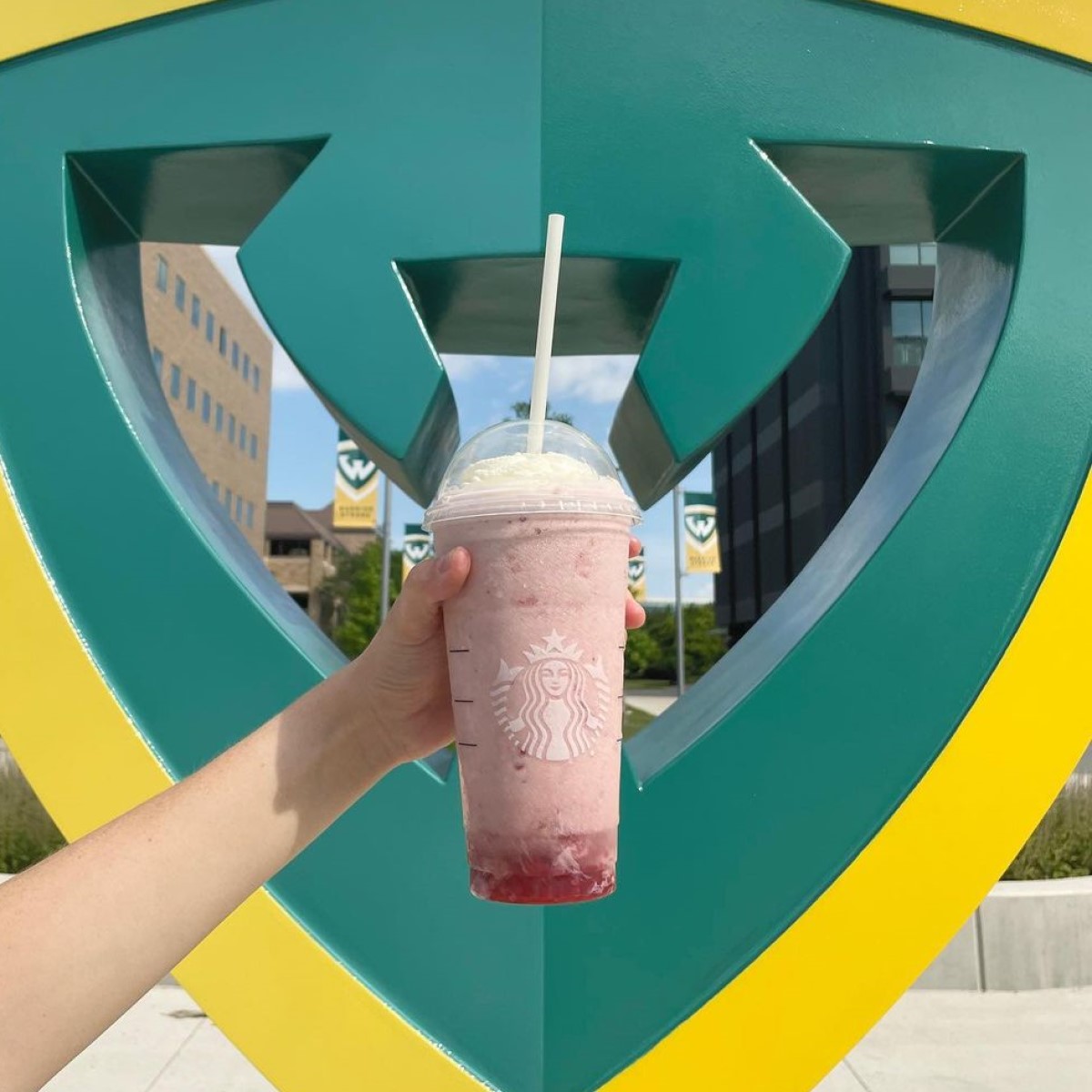 The Strawberry Cream Frappuccino is special from the other frappuccinos on this list because instead of using heavy sauces and syrups, it comes with a strawberry puree. This means that the Strawberry Cream Frappuccino tastes much more natural.
While it still comes with classic syrup, this frappuccino is incredibly refreshing and bright. If you want to keep it healthier, you can always order the drink with no classic syrup, which will save you on calories and sugar.
13. Teavana London Fog Tea Latte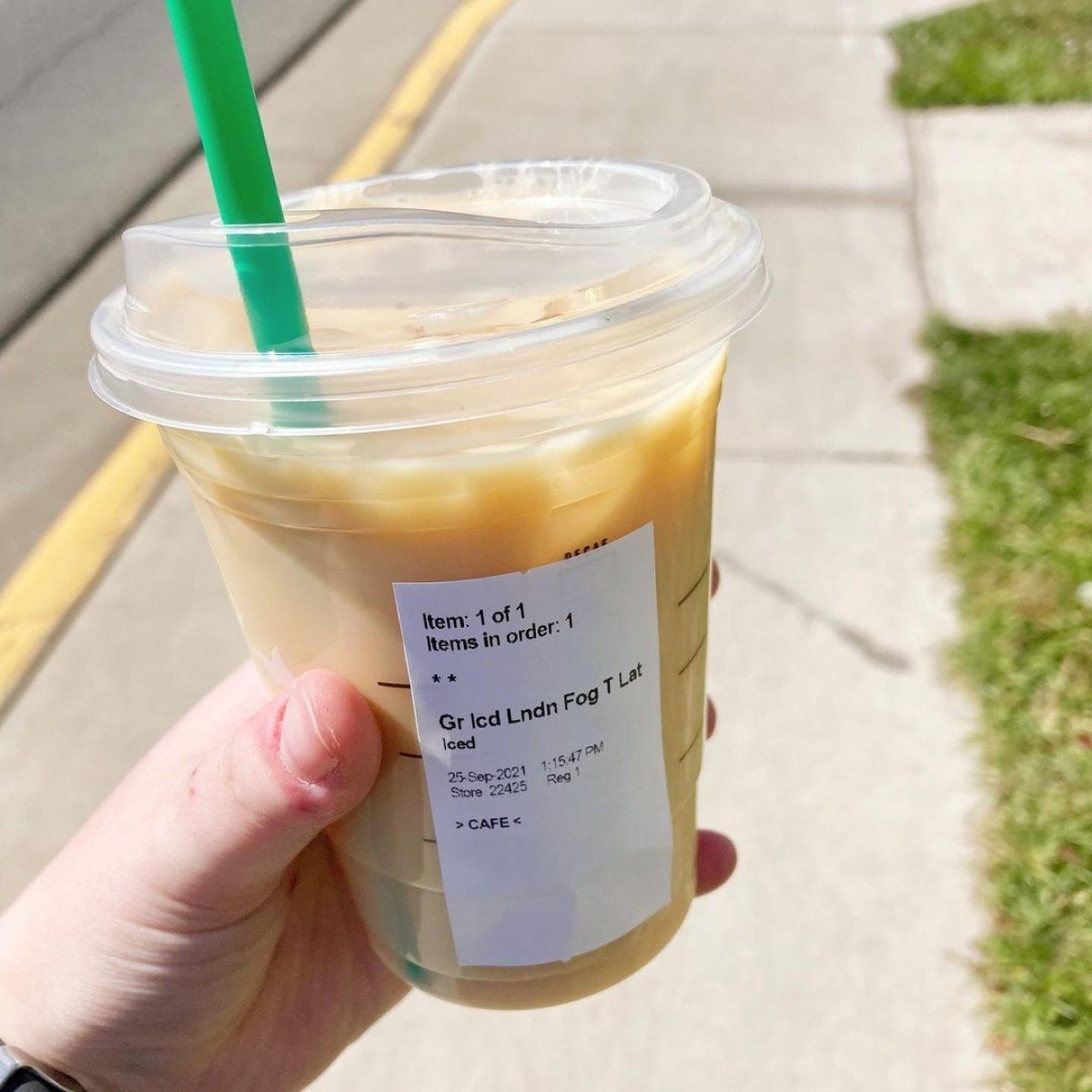 London Fog Tea Lattes have a rich history and weren't originally a drink crafted by Starbucks. They are made from Earl Grey tea mixed with vanilla syrup and topped with steamed milk.
This beverage is light on caffeine and provides a wonderful alternative for those who love the texture of steamed milk but don't want the coffee flavor that typically accompanies it. Note that Earl Grey is also a black tea, and black teas have the most caffeine of all of the other teas.
14. Toasted White Hot Chocolate
Starbucks has an incredibly versatile array of hot chocolates to keep you warm throughout the colder months. While regular hot chocolates are always the most popular, we recommend a Toasted White Hot Chocolate!
If you want to dress it up even more, you can add peppermint, raspberry, or caramel syrup. The white chocolate flavors pair well with a wide array of flavors to keep this beverage fun and interesting.
15. Pistachio Creme Frappuccino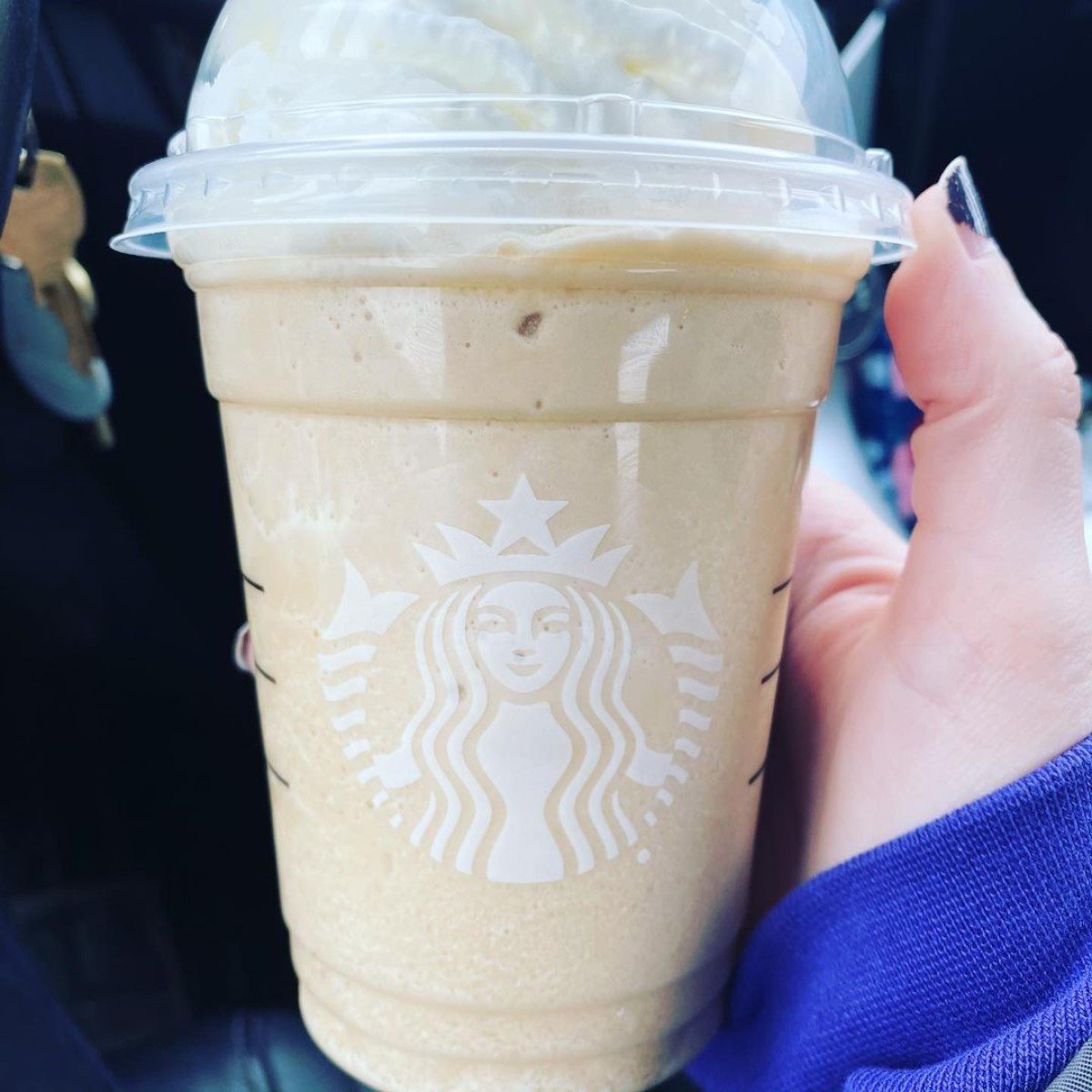 If you are hesitant to order any beverages that are pistachio flavored, I understand. While at first glance it may seem like a funny flavor to add to a drink, plenty of nutty beverages have stolen our hearts, such as chestnut praline, almond, and the beloved hazelnut.
What makes the pistachio flavor stand out is its distinct creaminess that other nuts don't provide. The Pistachio Creme Frappuccino is a fantastically nutty, creamy, and comforting flavor that we are sure you will fall in love with.
Final Thoughts
This is just a small list of coffee-free drinks that Starbucks proudly offers, and the list is growing every season. Hopefully, you now have a handful of drinks you are excited to try on your next Starbucks run!