There are many different ways to make and consume coffee these days. And each one has a slightly different caffeine content.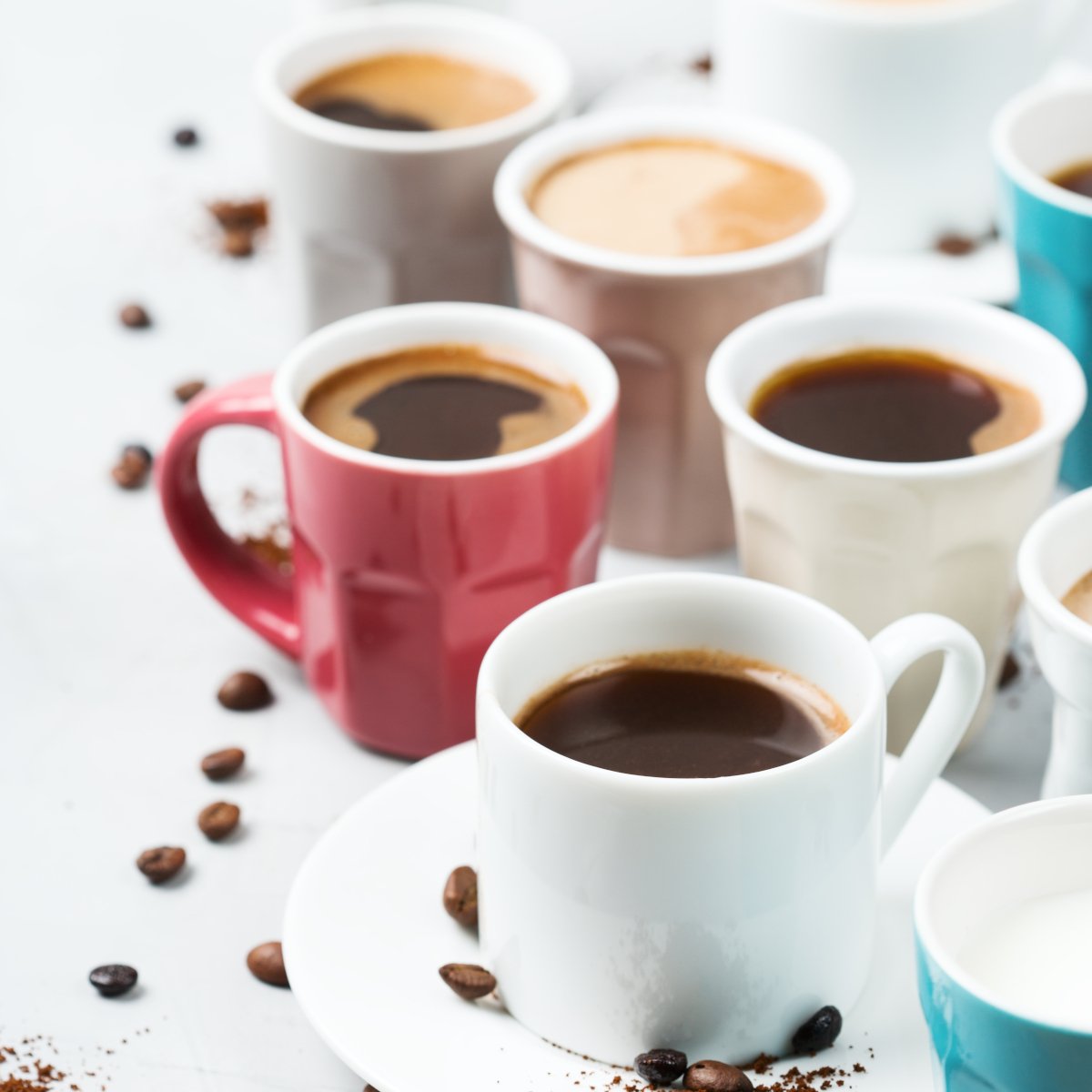 But which coffee has the least caffeine?
Per serving, decaffeinated coffee will have the least amount of caffeine at 2-5 mg per 8 ounces. A single shot of espresso comes next, with only 30-45 mg of caffeine on average.
But that's not really a satisfying answer, right?
In this article, let's take a closer look at the world of coffee caffeine content. And I'll even offer some suggestions for low-caffeine coffees.
Let's get started!
Table of Contents
Types Of Coffee And Their Caffeine Content
| Type Of Coffee | Caffeine Content |
| --- | --- |
| Drip Coffee or Brewed Coffee | 95 mg |
| Decaffeinated Coffee | 2-5 mg |
| Instant Coffee | 30-90 mg |
| Espresso | 30-45 mg |
But you should know that this is just the tip of the story. Let's dive into the world of coffee's caffeine content and take a closer look at each one.
1. Drip Coffee Or Brewed Coffee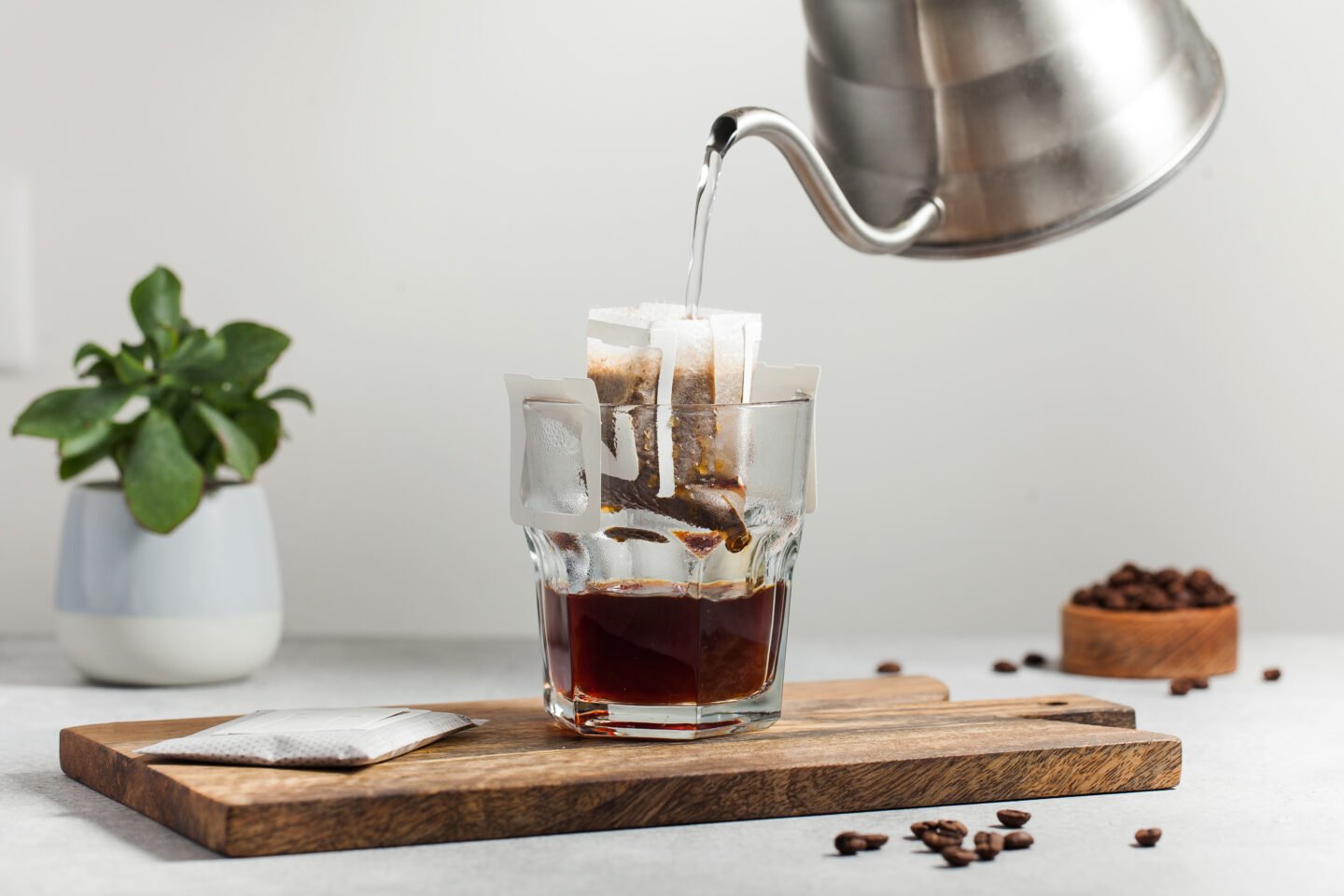 This is still the most common way people drink coffee, so it's natural that we start here.
The amount of caffeine in brewed coffee can vary depending on different factors such as the type of coffee bean, roast level, serving size, and brewing method. On average, an 8-ounce serving of brewed coffee contains approximately 95 milligrams of caffeine.
The reality is that it's almost impossible to say how much caffeine is in any given cup of drip coffee. So, I recommend using 95 mg as a starting point or a general guess.
2. Decaffeinated Coffee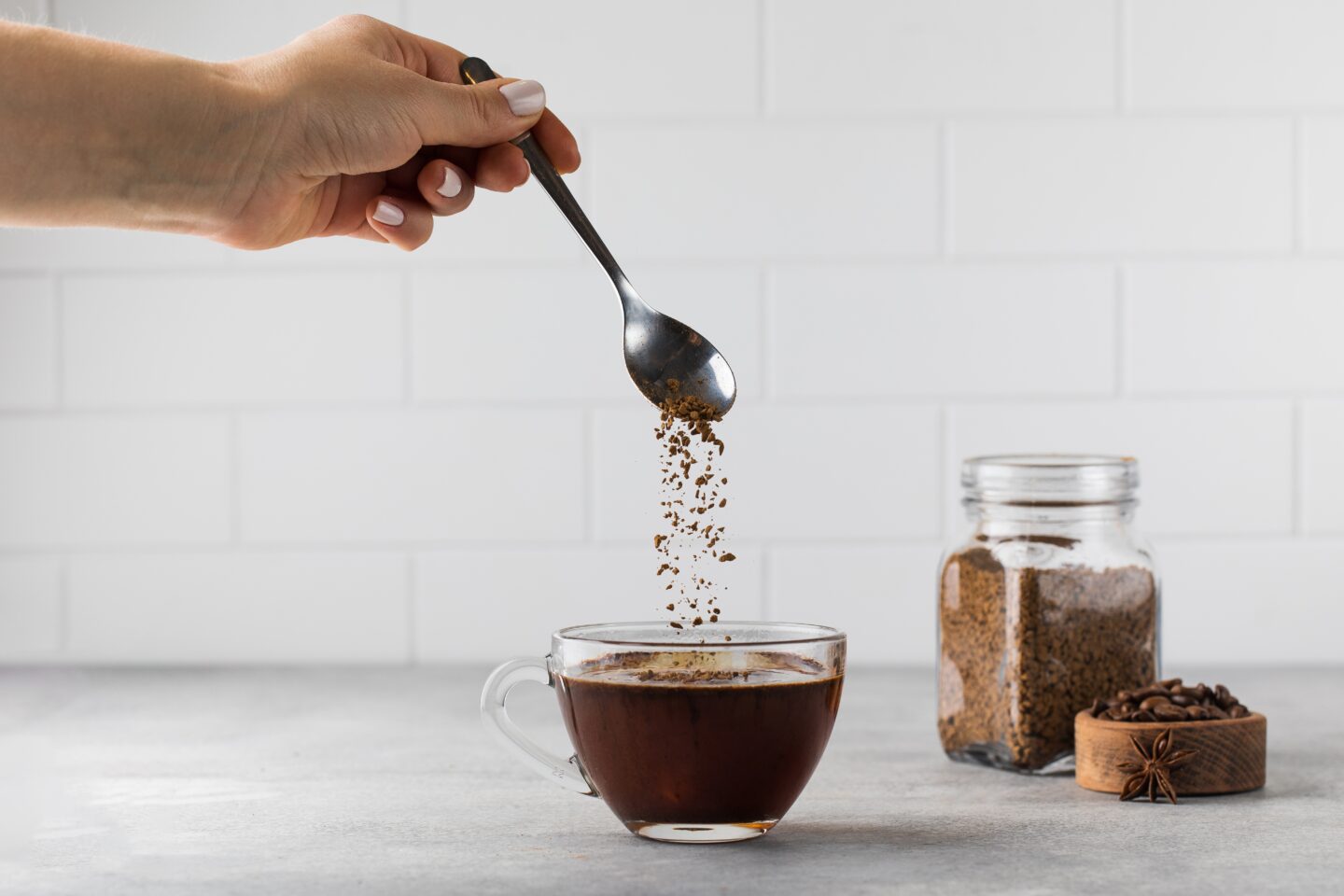 Did you know that decaffeinated and caffeine-free are not the same thing?
That's right, decaffeinated means that some residual caffeine is left over from the decaffeination process.
Caffeine-free means there is no caffeine at all.
Decaffeinated coffee typically contains 2 to 5 milligrams per 8-ounce serving. This is because the decaffeination process cannot remove all of the caffeine from the coffee beans. The exact amount of caffeine in decaffeinated coffee can vary depending on factors such as the type of coffee bean, roast level, and decaffeination method used.
Several methods are used to decaffeinate coffee, including the use of solvents, carbon dioxide, and water. Because caffeine is a natural component of coffee beans, it is difficult to remove all of it. As a result, decaffeinated coffee still contains a small amount of caffeine.
3. Instant Coffee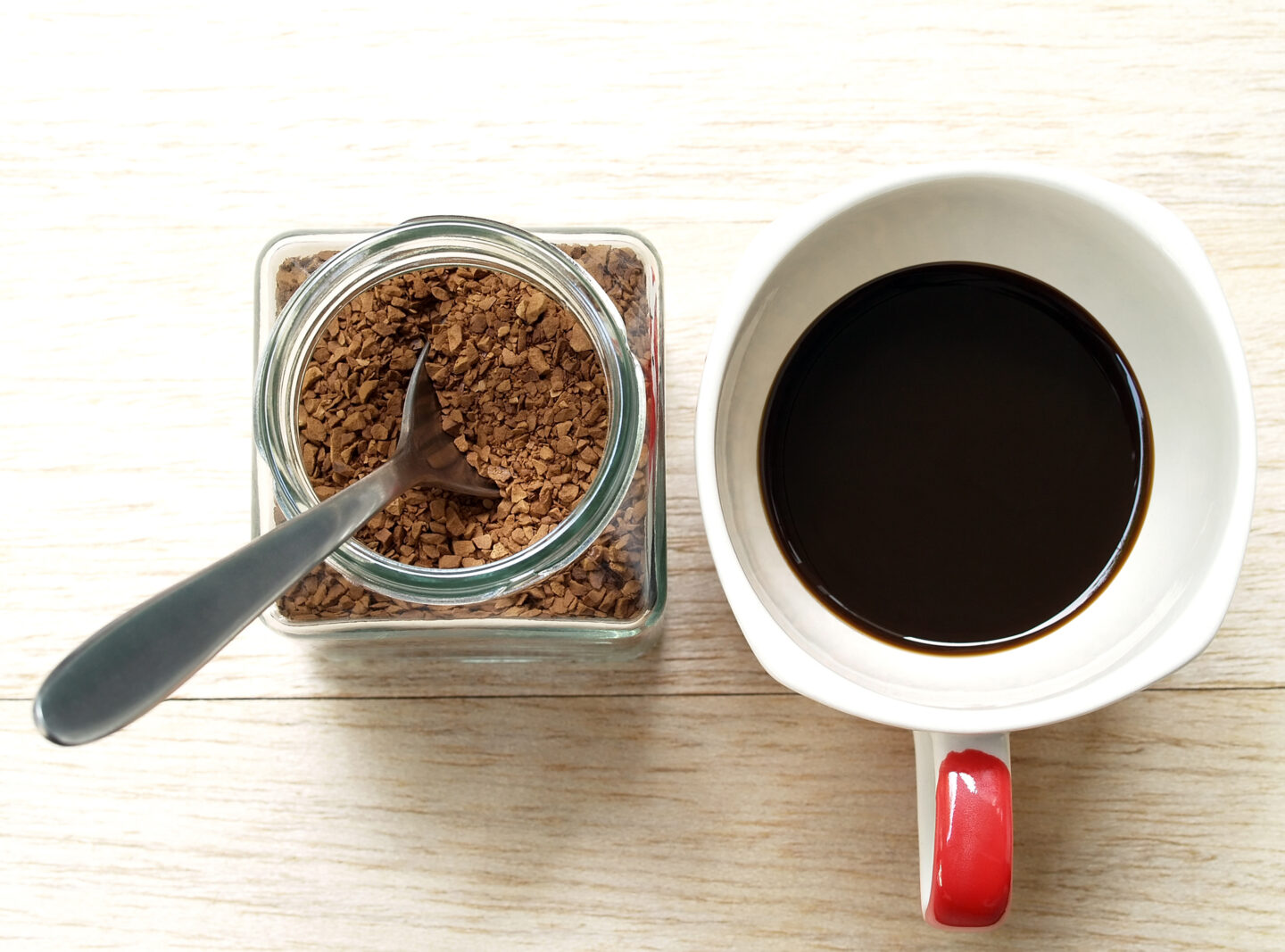 Instant coffee is a bit of a wild card regarding caffeine content. That's because some instant coffees are made with Arabica beans and some with lower-caffeine Robusta beans.
Robusta beans get their name for being, well, robust. And part of that means they have a higher caffeine content. But instant coffee is made by distilling coffee grounds down to crystals, which takes some of the caffeine out of the coffee.
Therefore, the amount of caffeine in instant coffee varies greatly, but it is typically lower than that in brewed coffee.
On average, an 8-ounce serving of instant coffee contains around 30 to 90 milligrams of caffeine.
It's also worth noting that decaffeinated instant coffee still contains a small amount of caffeine. If you are sensitive to caffeine or trying to limit your caffeine intake, check the label of the instant coffee product you're using to determine its caffeine content.
4. Espresso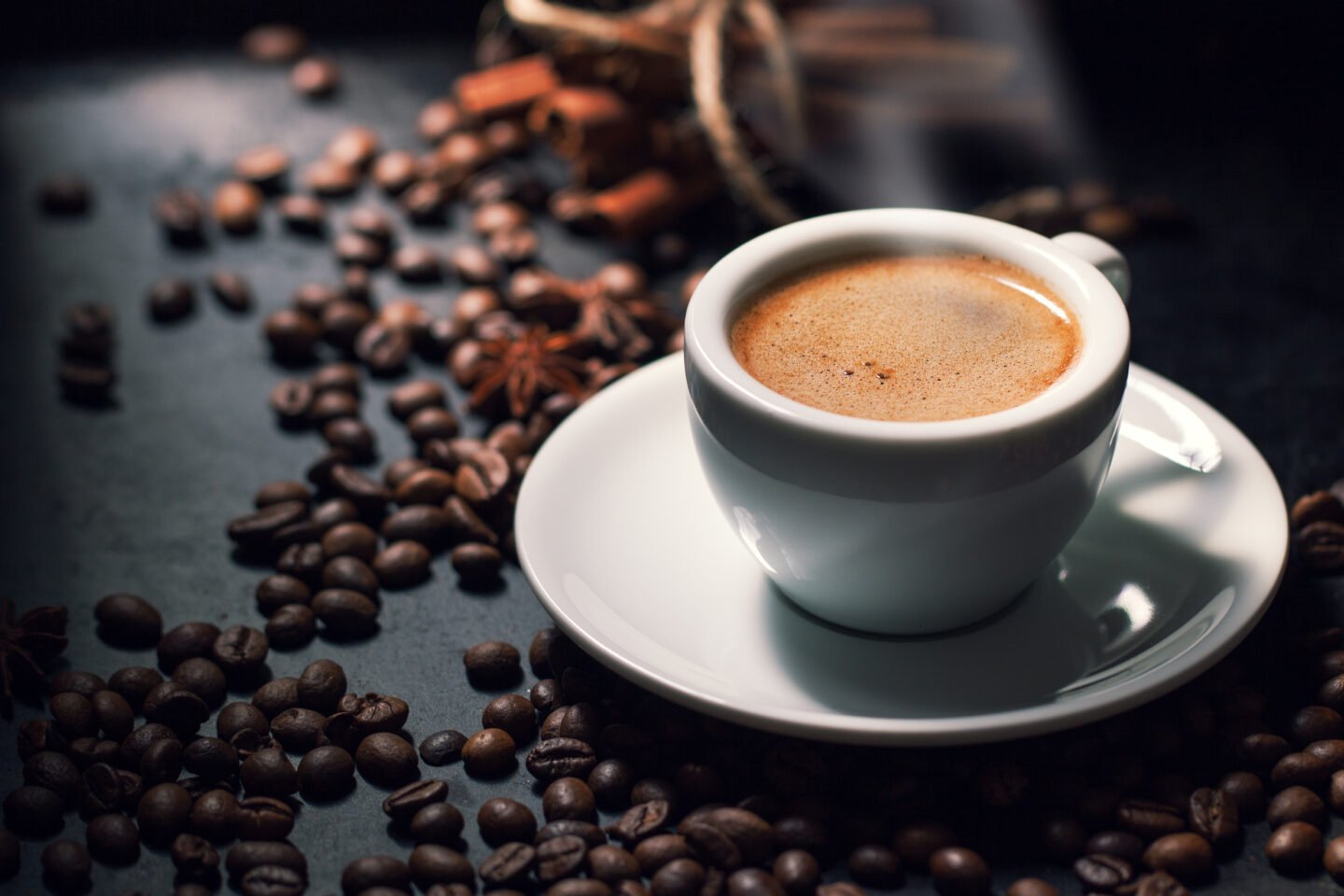 Espresso is an interesting topic when it comes to caffeine. That's because, on its own, it doesn't have as much caffeine as a drip coffee. But it is much more concentrated. So it's easy to overdo your caffeine consumption if you only drink espresso.
A single espresso, typically 1 to 1.5 ounces, contains an average of 63 milligrams of caffeine. However, this can vary depending on the type of coffee bean used, the roast level, the grind size, and the extraction time.
It's also worth noting that the amount of caffeine in espresso can vary depending on the serving size. For example, a double shot of espresso contains around 126 milligrams of caffeine. That's why you can overdo it pretty easily when drinking espresso.
If you are sensitive to caffeine or trying to limit your caffeine intake, it's important to remember that espresso contains a relatively high amount of caffeine in a small serving size. You may need to adjust your serving size or switch to a decaffeinated espresso option to help manage your caffeine intake.
Light Roast Vs. Dark Roasted Coffee
It's becoming increasingly common these days to claim that different coffee roasts have different levels of caffeine.
But is that true? The difference in caffeine levels between light roast and dark roast coffee is relatively small, but it is worth noting.
Light-roast coffee tends to have slightly higher caffeine levels than dark-roast coffee. This is because the roasting process can burn off some of the caffeine in the coffee beans, and the longer the roasting time, the more caffeine is lost.
However, the difference in caffeine levels between light and dark roast coffee is typically only a few milligrams per serving. For example, an 8-ounce serving of light roast coffee may contain 95 milligrams of caffeine, while the same serving size of dark roast coffee may contain 92 milligrams of caffeine.
What Should Your Caffeine Intake Be?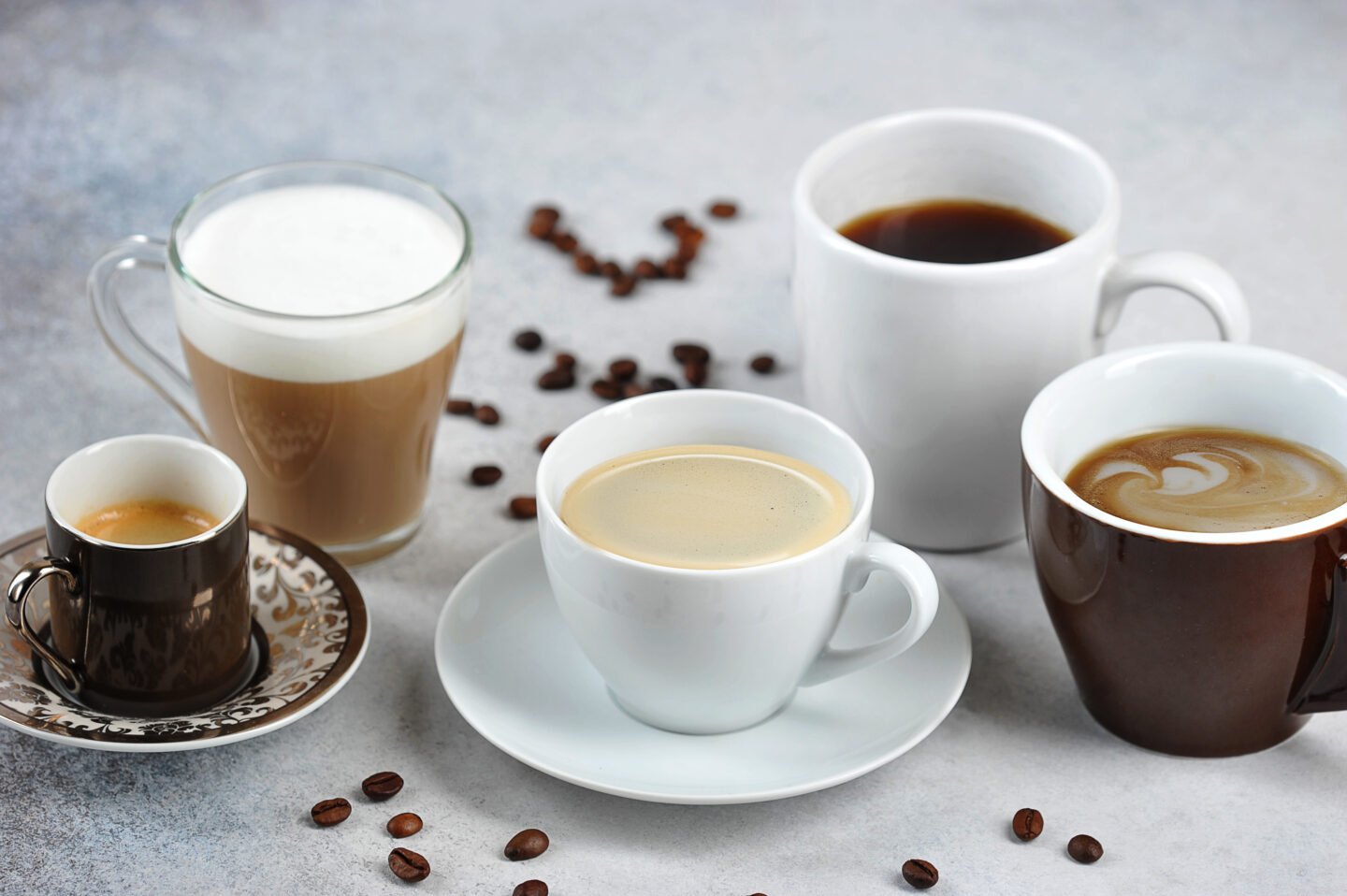 All this information about caffeine content and different types of coffee begs the question: how much caffeine should you actually consume?
The amount of caffeine an adult can safely consume daily can vary depending on weight, tolerance, and individual sensitivity to caffeine. As a general guideline, most health experts consider 400 milligrams of caffeine daily to be a moderate and safe amount for most adults. This is roughly equivalent to 4 cups of brewed coffee, 10 cans of cola, or 2 energy shots.
Personally, that sounds like a lot of caffeine. I typically only drink one cup per day. But back when I was a barista, I would have a lot more. Your tolerance makes a big difference.
Some people may be more sensitive to caffeine and experience side effects such as jitters, anxiety, rapid heart rate, and trouble sleeping at lower doses. Reducing caffeine intake is recommended in these cases to avoid these side effects. On the other hand, some people may safely consume more caffeine without experiencing negative effects.
Ultimately, the best way to determine your safe daily caffeine intake is to pay attention to your own individual reactions to caffeine and adjust your intake accordingly.
Low-Caffeine Instant Coffee
My recommendation for a low-caffeine instant coffee is Maud's Instant Half Caff Coffee.
It's a great half-caff instant coffee option when you need a little pick-me-up without a full serving of caffeine.
Pros:
The half-caff means you get a lower caffeine content than a full-caff version without sacrificing flavor
It's made from 100% Arabica beans, which helps keep the flavors smooth and delicious
Con:
It's a blend of decaf and full-caff, so the flavors might get a little muddled from pouch to pouch
Low Caffeine Coffee Beans
I recommend Lifeboost Half Caff Whole Bean coffee as a low-caffeine option whenever I get the chance.
It's a perfect option for low-caffeine coffee beans. I prefer this as a mid-morning to early afternoon coffee.
Pros:
The medium roast gives this coffee a mellow and smooth flavor profile that's perfect for adding cream and sugar
It's a single-origin Nicaraguan coffee, which means you get a focused and specific flavor profile
It's a low-acid coffee, so you don't have to worry about it upsetting your stomach
Con:
The flavors still might get muddled because of the decaf and full-caff blend
Low Caffeine K-Cups
The best option for low-caffeine K-Cups is definitely Healthwise Hazelnut Decaf Low Acid K-Cups.
Pros:
It's a Swiss Water decaf, which means you won't get any chemical aftertaste in your brew
It has a super low caffeine content because of the decaf process, so you won't get jittery from this brew
It's a low-acid coffee, which means it won't upset your stomach
The hazelnut is delicious
Con:
Because of the added flavor and the decaf process, this is a more expensive option