When working on your laptop in a cafe surrounded by the aroma of coffee, it's pretty hard to resist the temptation of ordering a drink or two yourself. Especially when you are at Starbucks and using their free Wi-fi to meet a deadline, you usually end up ordering one of their signature sweet drinks.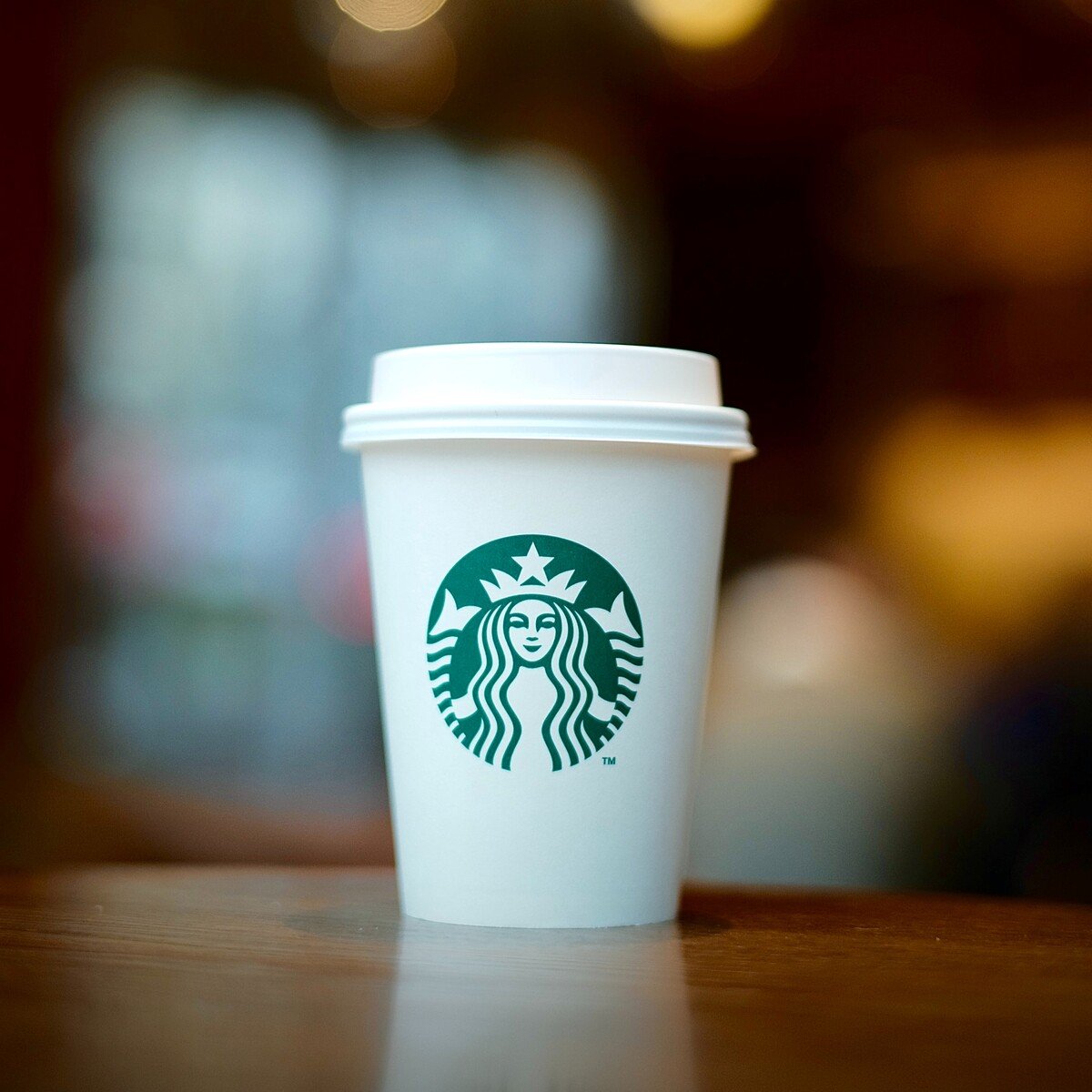 Starbucks has a variety of sweet drinks, from Java Chip Frappuccino and Caramel Macchiato to Caramel Apple Spice, Smoked Butterscotch Latte, and Iced Peach Green Tea.
Considering the extensive Starbucks menu and exotic drinks with all fancy names, ordering at Starbucks is no easy feat, especially for those new to the Starbucks universe.
Whether you need something sweet to get creative juices flowing or a caffeine recharge, our exhaustive list will help you make an informed choice.
Table of Contents
1) Java Chip Frappuccino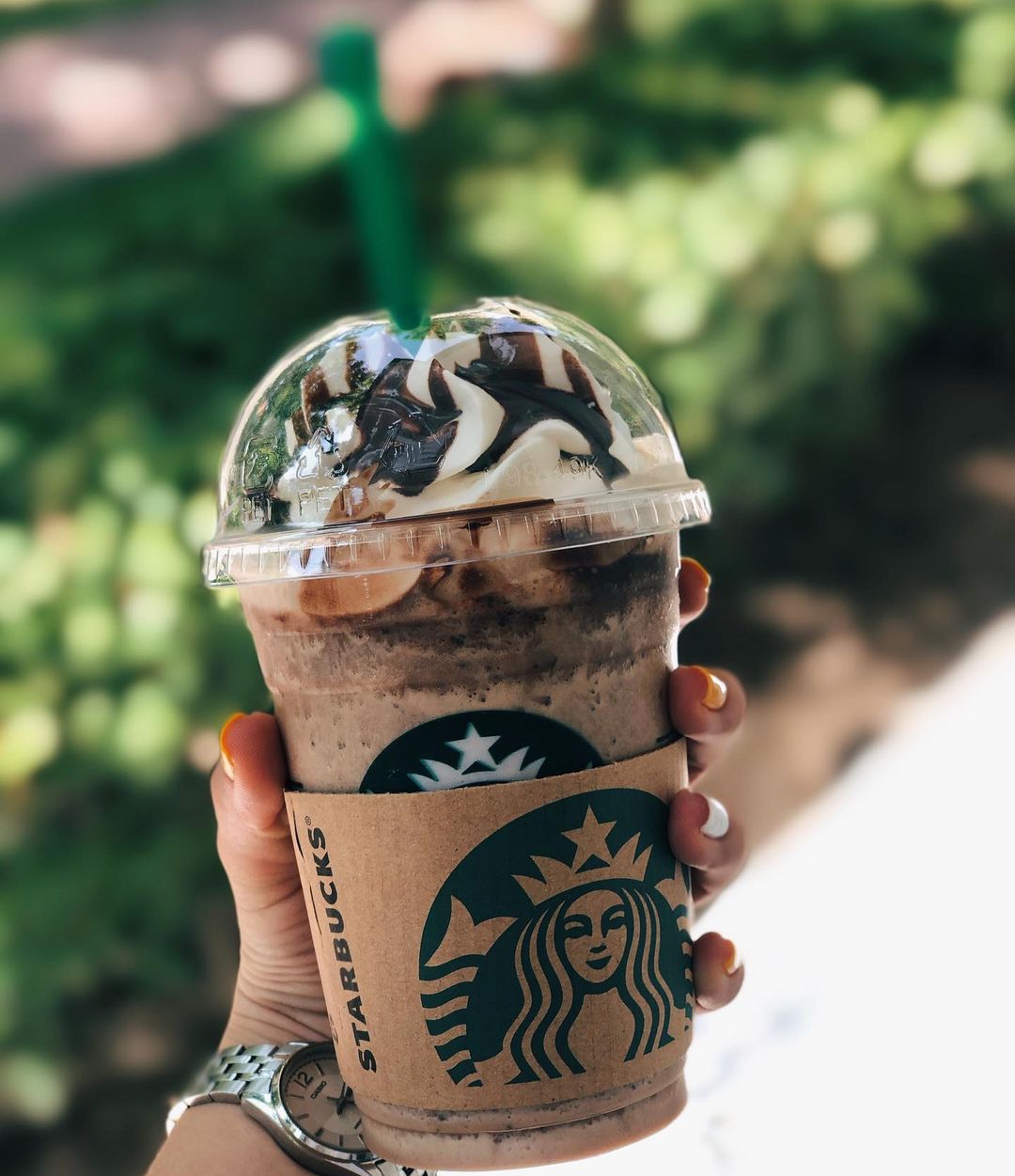 440 calories, 60g sugar
This is a blended drink for individuals who like coffee only marginally in their drinks and prefer a chocolatey after-taste. You may have heard of Frappuccino, but what exactly are java chips?
Java chips look like chocolate chips, but they are different because they have a low cocoa content. They're also easier to melt and use in blended drinks and shakes. Even though they are named "java," they are more chocolatey with a mild coffee flavor.
Many mocha and chocolate connoisseurs love the taste of this iced frappe since it contains the perfect blend of mocha sauce, milk, and coffee.
2) Caramel Macchiato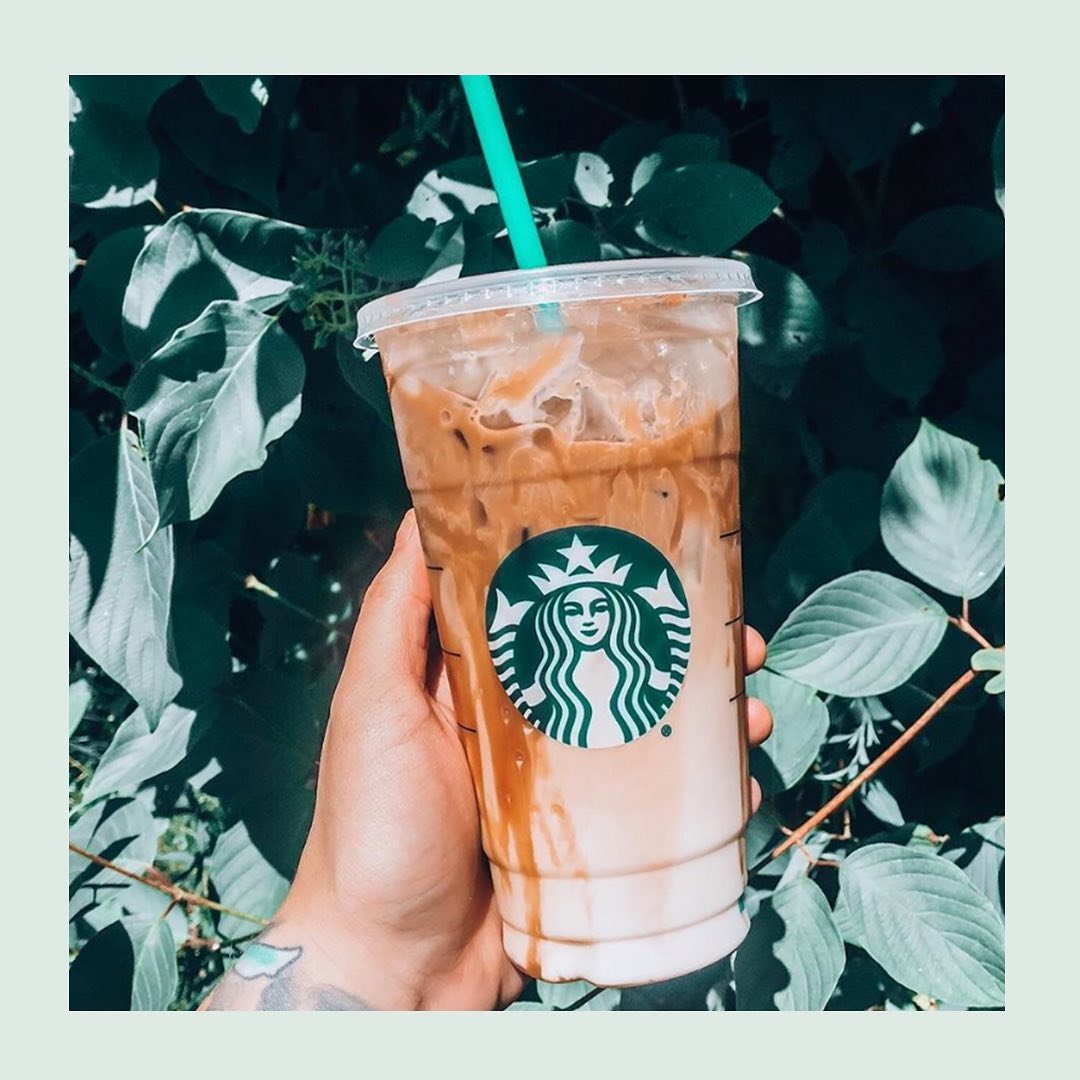 250 calories, 33g sugar, 7g fat
This bestseller from Starbucks is a steamy frothy drink you would want to enjoy any minute on a chilly day.
Espresso-based beverage of freshly steamed milk and vanilla syrup, the caramel drizzle gives it a sweet flavor finish.
Caramel Macchiato makes an excellent comfort drink or a morning pick-me-up that will have you up and running in no time.
3) Caramel Ribbon Crunch Frappuccino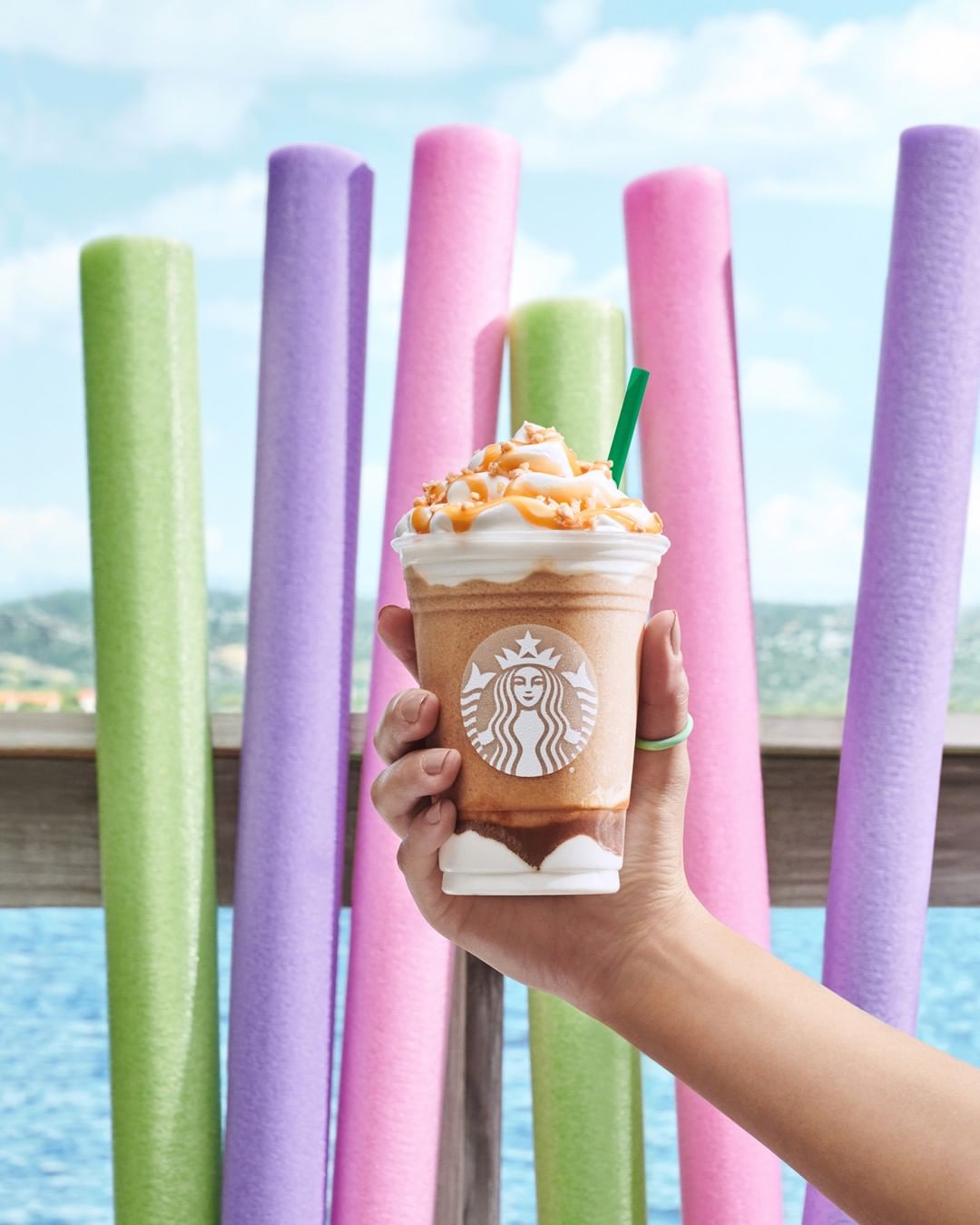 470 calories, 60g sugar, 22g fat
This beverage is a definite hit for folks who swear by all things caramel, as it greets you with four kinds of caramel blended with ice, milk, and coffee.
Caramel Ribbon Crunch Frappuccino is one of Starbucks' sweetest beverages that will fulfill all your sugar cravings.
Layered with buttery caramel syrup and coffee, thickened with dark caramel sauce, and topped with caramel drizzle and caramel crunch, it caters to sweet cravings in all forms.
4) Caramel Apple Spice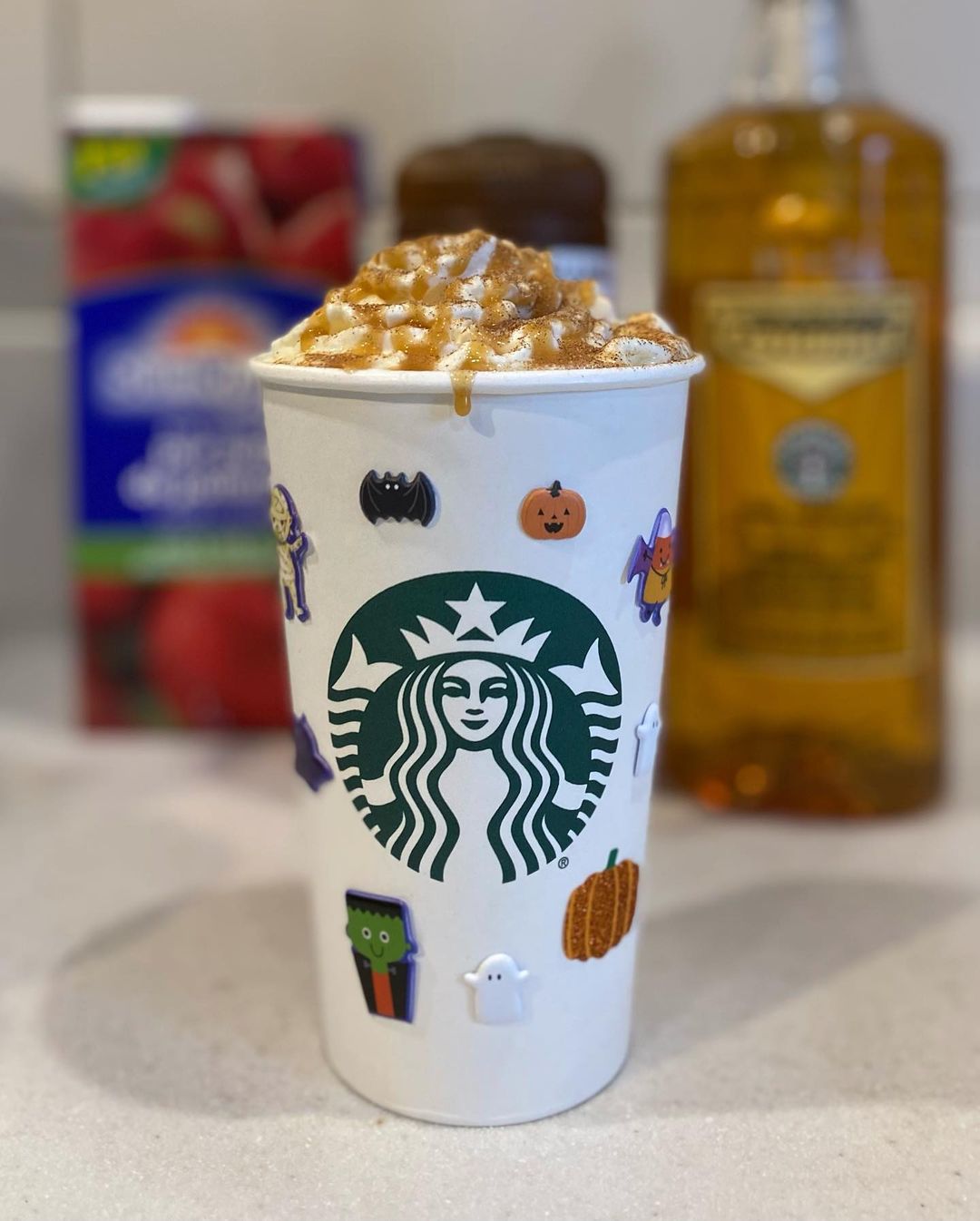 380 calories, 70g sugar, 8g fat
One of our fall coffee favorites, a steaming hot cup of Caramel Apple Spice, will keep you warm as the temperature drops.
Even if you are not a caffeine enthusiast, you will love sipping this by the fireplace on a cold winter night.
This hot beverage contains steamed apple juice, cinnamon syrup, whipped cream, and caramel drizzle.
5) Smoked Butterscotch Latte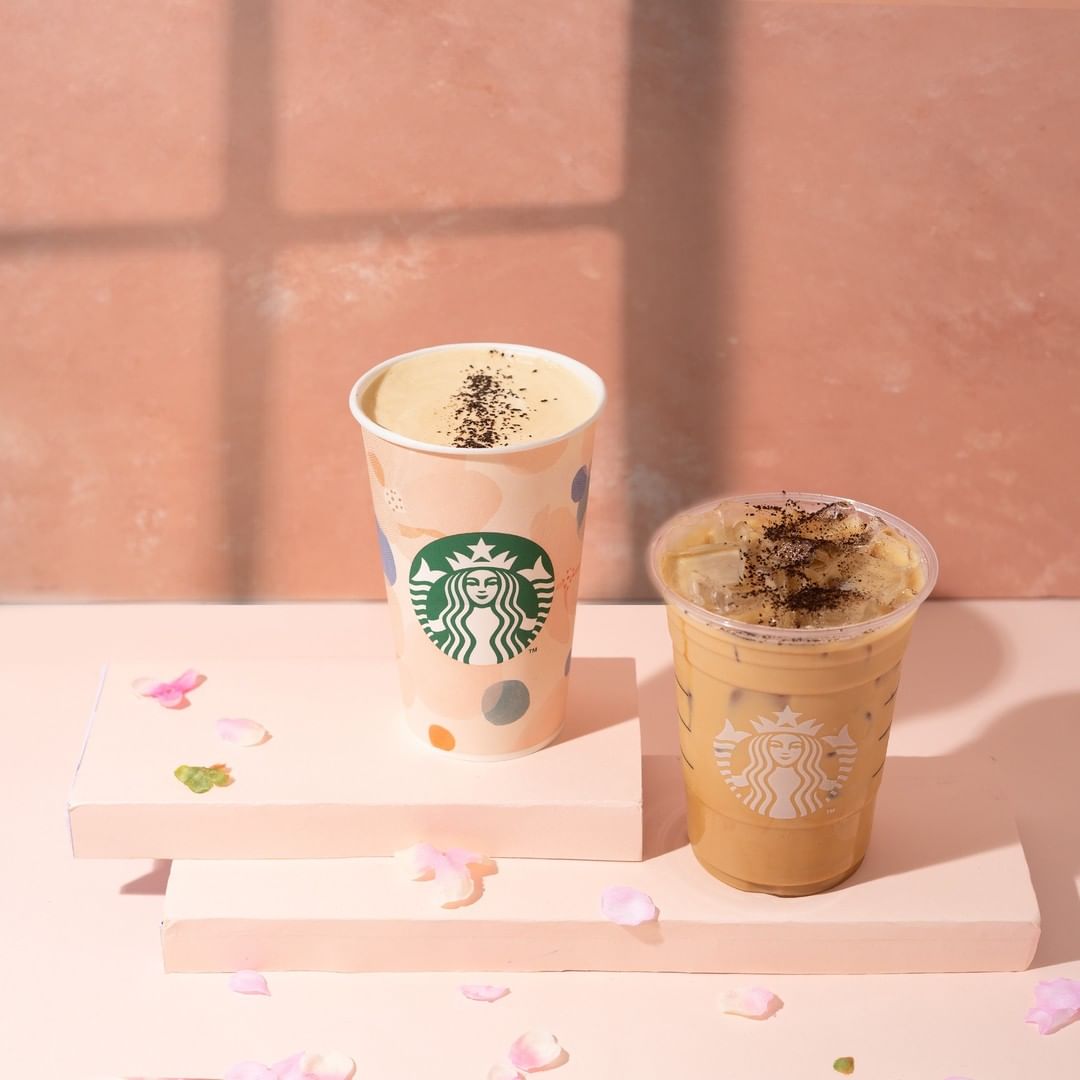 50 calories, 41g sugar, 14g fat
Another drink for sweater weather, the Smoked Butterscotch Latte is an excellent option for folks who want a new twist on their regular latte.
Enjoy your signature Starbucks espresso with a hint of smoked butterscotch. Consider asking for a layer of whipped cream and sweet drizzle to make it a real treat.
6) Chocolate Cookie Crumble Crème Frappuccino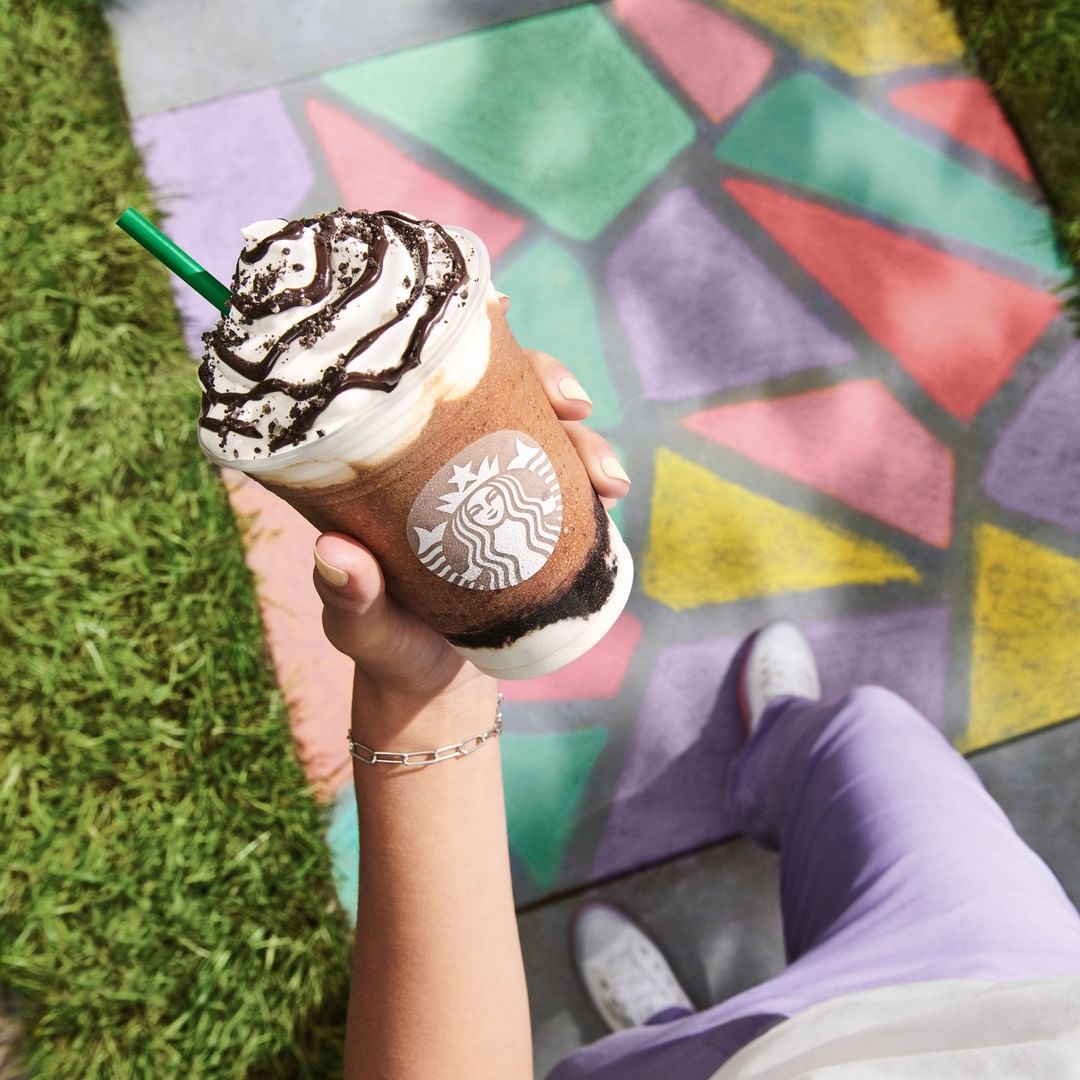 460 calories, 46g sugar, 25g fat
A multi-tiered blended drink with alternating layers of chocolate cookie crumble and vanilla whipped cream. This drink has a base of mocha sauce blended with Frappuccino chips.
This cream Frappuccino will hit all the right spots if you love the conventional combination of coffee and cookies.
Generously loaded with cookie crumble, even the last sip of this Starbucks indulgence is as good as the first.
7) Pineapple Passionfruit Starbucks Refreshers Beverage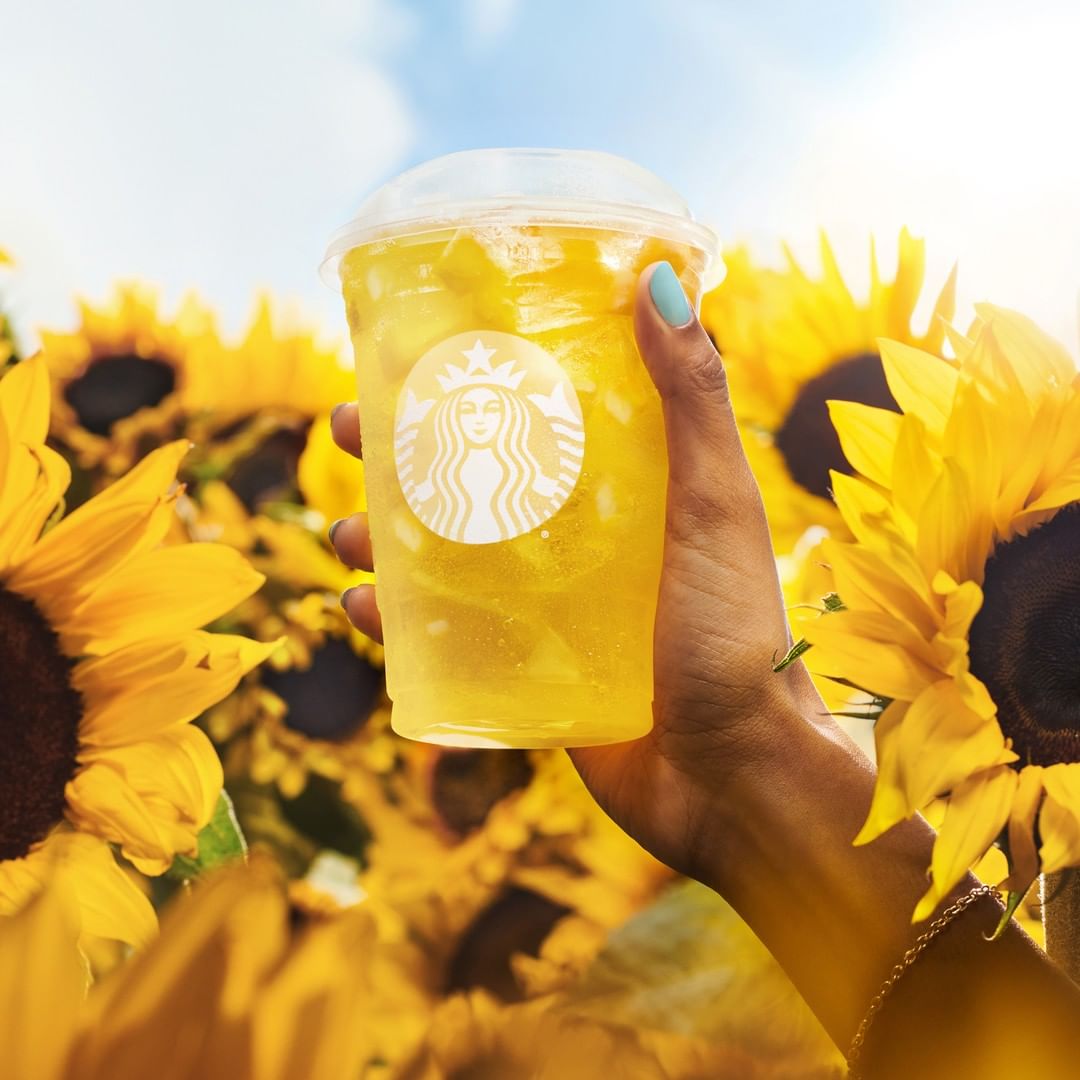 100 calories, 19g sugar, 0g fat
A non-coffee, paradise island summer drink that refreshes you to the core.
Enjoy the fusion of pineapple and passionfruit with real pineapple chunks as you make your mental escape from the mundane.
This refresher is essential in summer and will keep you hydrated and recharged for a long day ahead.
8) Matcha Tea Latte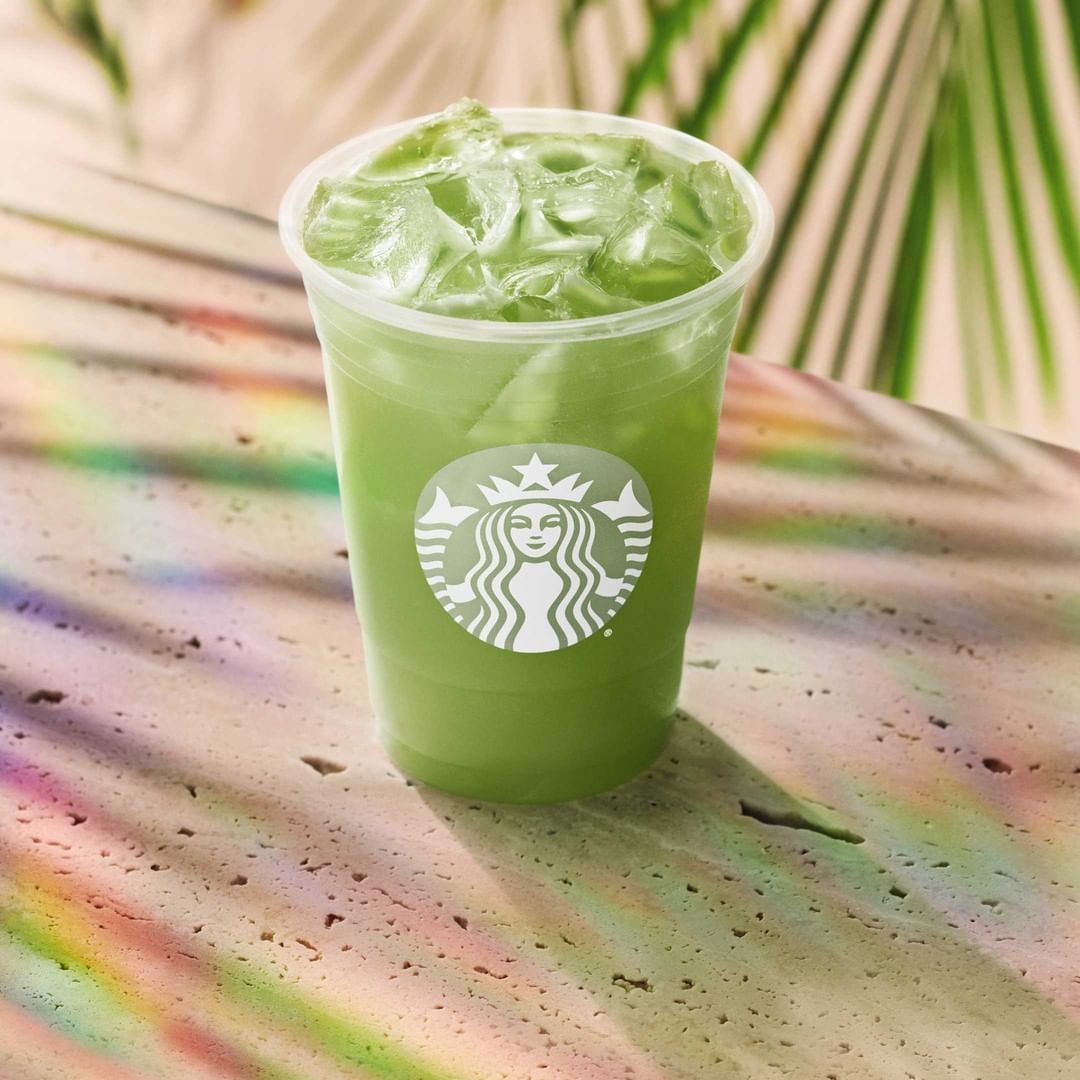 240 calories, 32g sugar, 7g fat
This one doesn't sound like a regular pick for a person who isn't into tea, but we highly recommend you try it if you're looking for a strong wake-me-up drink that's sweetened just right in the morning.
Served piping hot with smooth and creamy matcha and steamed milk, your taste buds are in for a delight with this sweet green beverage.
Ask for the iced version if you prefer a cold drink.
9) Iced Cinnamon Dolce Latte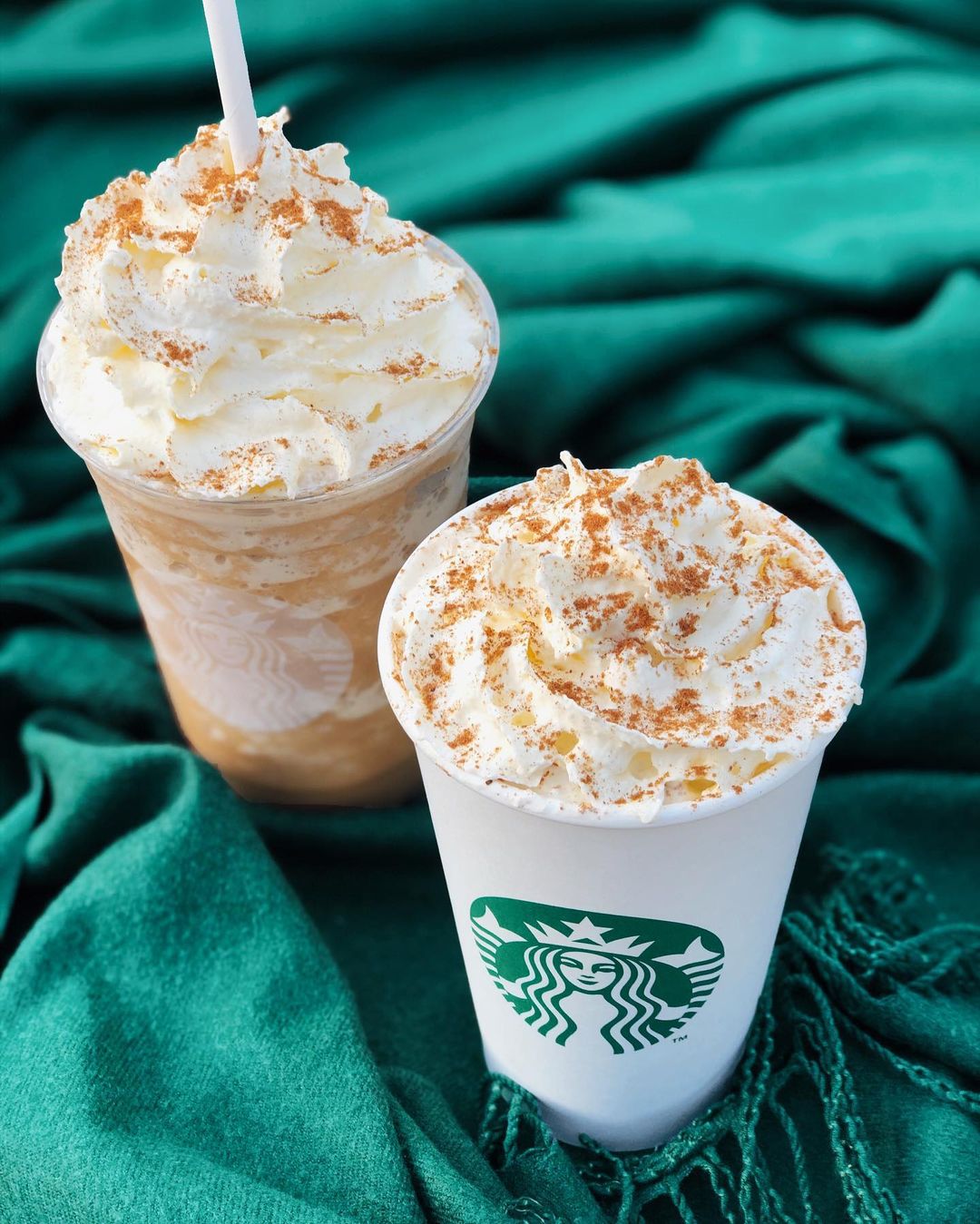 300 calories, 35g sugar, 13g fat
Most blended drinks taste like you're drinking dessert from a cup, but you can't go wrong with Starbucks Iced Cinnamon Dolce Latte.
Starbucks' signature espresso flavored with cinnamon dolce syrup is a treat to the senses, with the cinnamon balancing all the flavors.
10) Vanilla Sweet Cream Nitro Cold Brew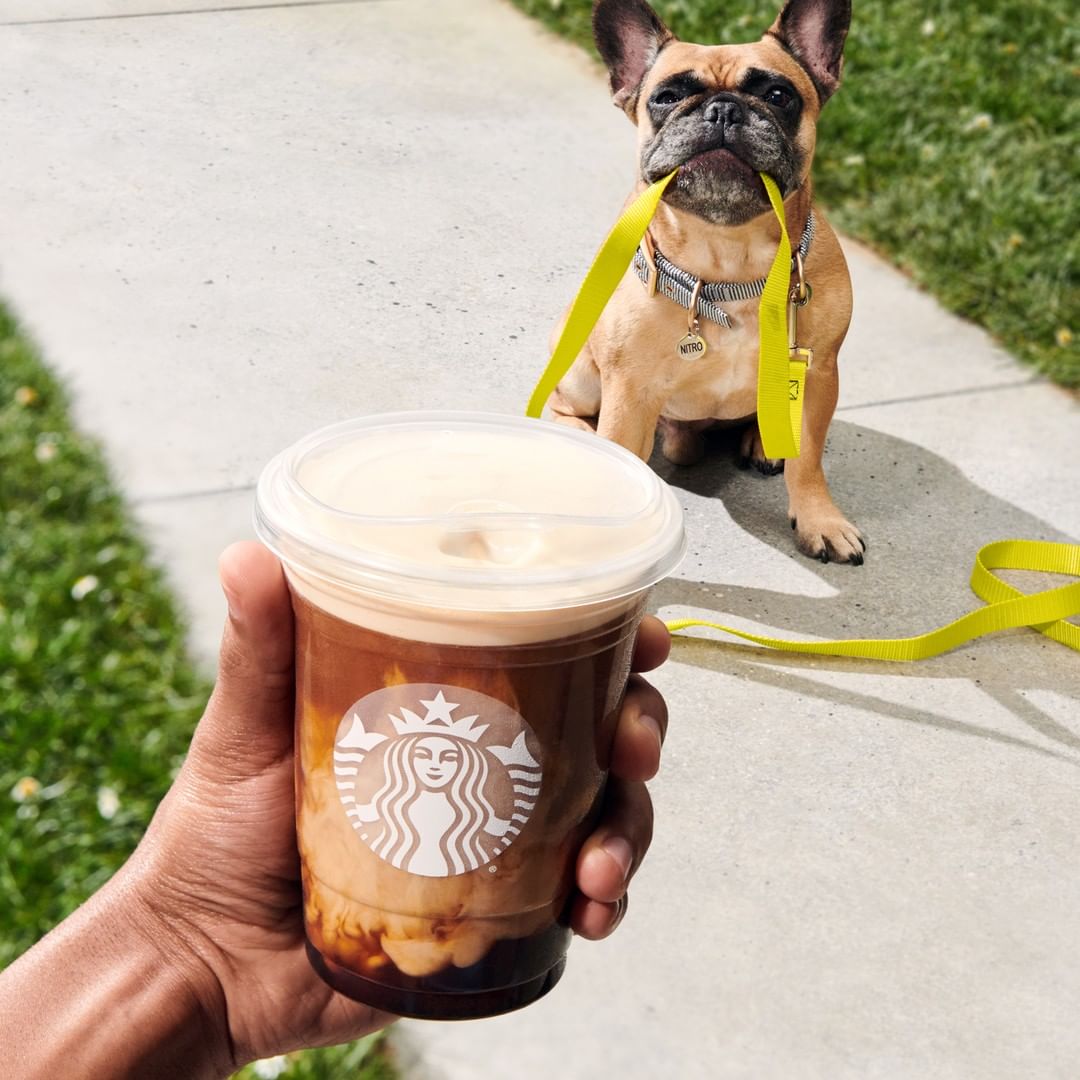 70 calories, 4g sugar, 5g fat
Rich, creamy, indulgent velvety coffee that is infused with nitrogen.
This is not your regular iced drink; it's a cold brew with cascading flavors of coffee and vanilla served cold from the tap. This one is a winner for luxury cold drinks.
11) Kiwi Starfruit Starbucks Refresher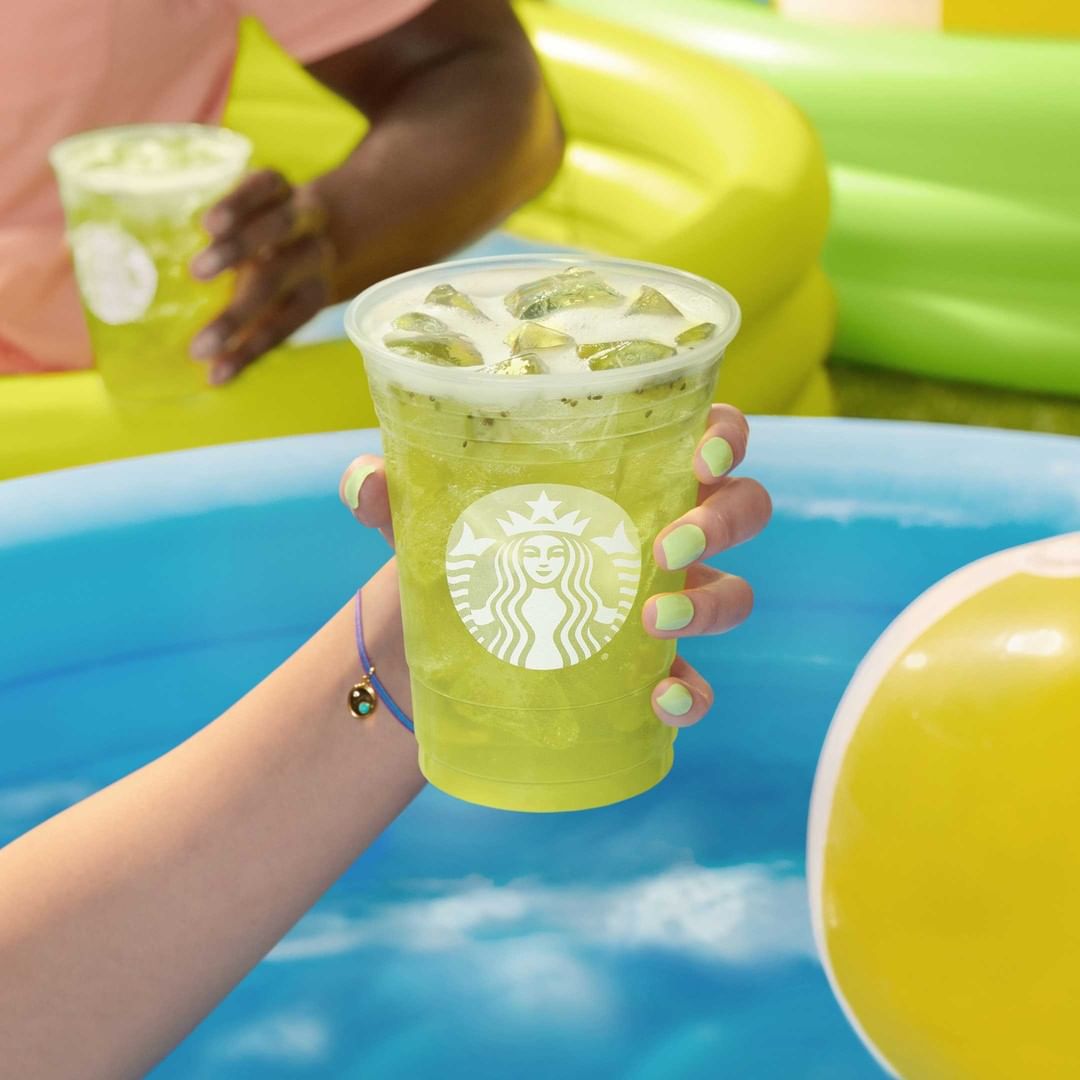 90 Calories, 19g sugar, 0.1g fat
Lemonade fans, this one is a must-try. The Kiwi Starfruit Starbucks Refresher is a summer chiller. And, as evident in the name, is a star fruit and kiwi-flavored juice with pieces of fresh kiwi mixed with ice.
If you're not into iced coffee or iced tea, this is the drink to go for to beat the heat.
So if you haven't tried it yet, please order it the next time you find yourself at Starbucks and live your best life.
12) Pumpkin Spice Latte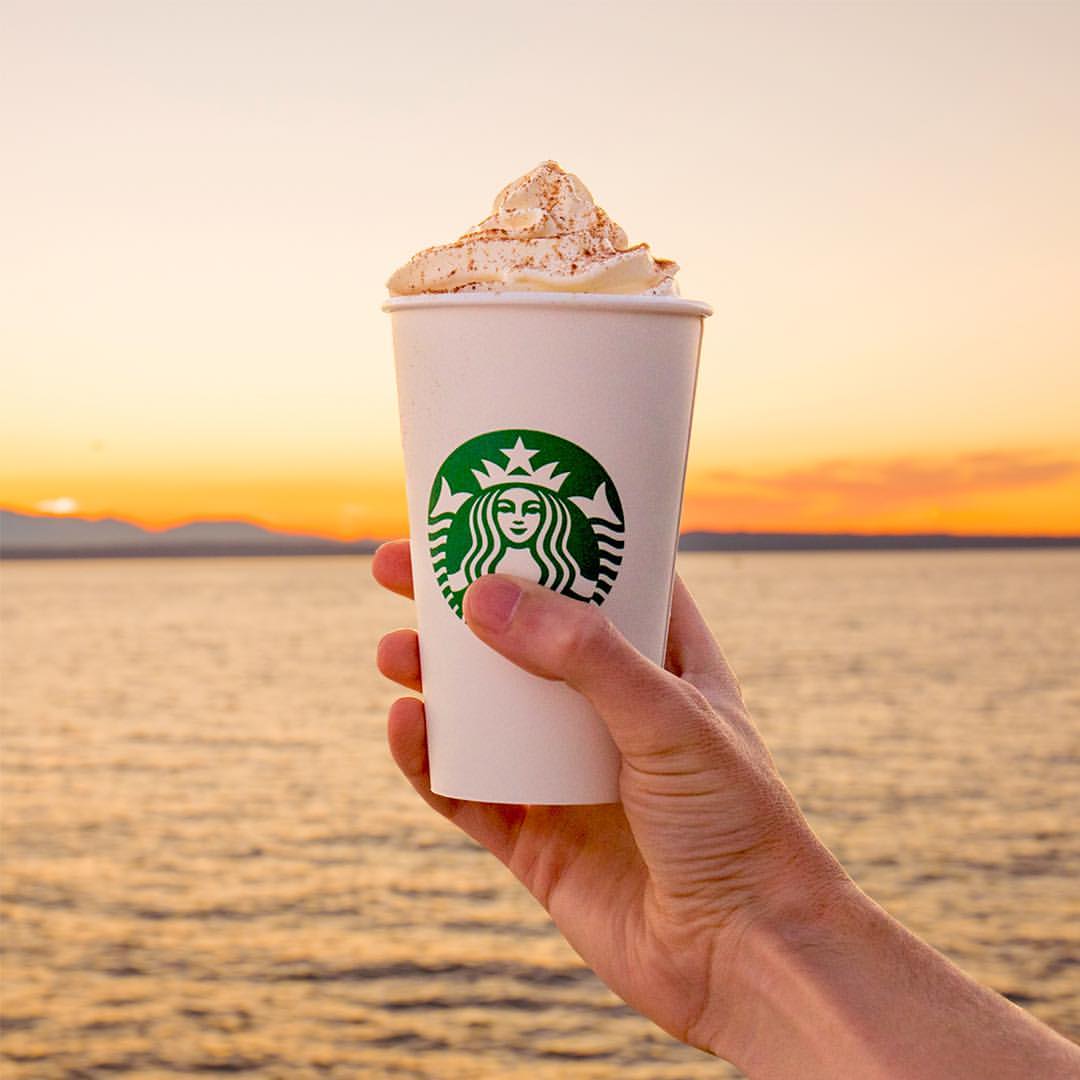 390 calories, 50g sugar, 14g fat
The Pumpkin Spiced Latte needs no introduction as a fall must-have.
It's a crowd favorite in the fall and no wonder. This hot beverage has the right balance of sweet and spicy with the base flavors of pumpkin, cinnamon, nutmeg, and cloves.
Though, we recommend enjoying it with more shots of espresso and whipped cream on a crisp fall evening.
13) Iced Peach Green Tea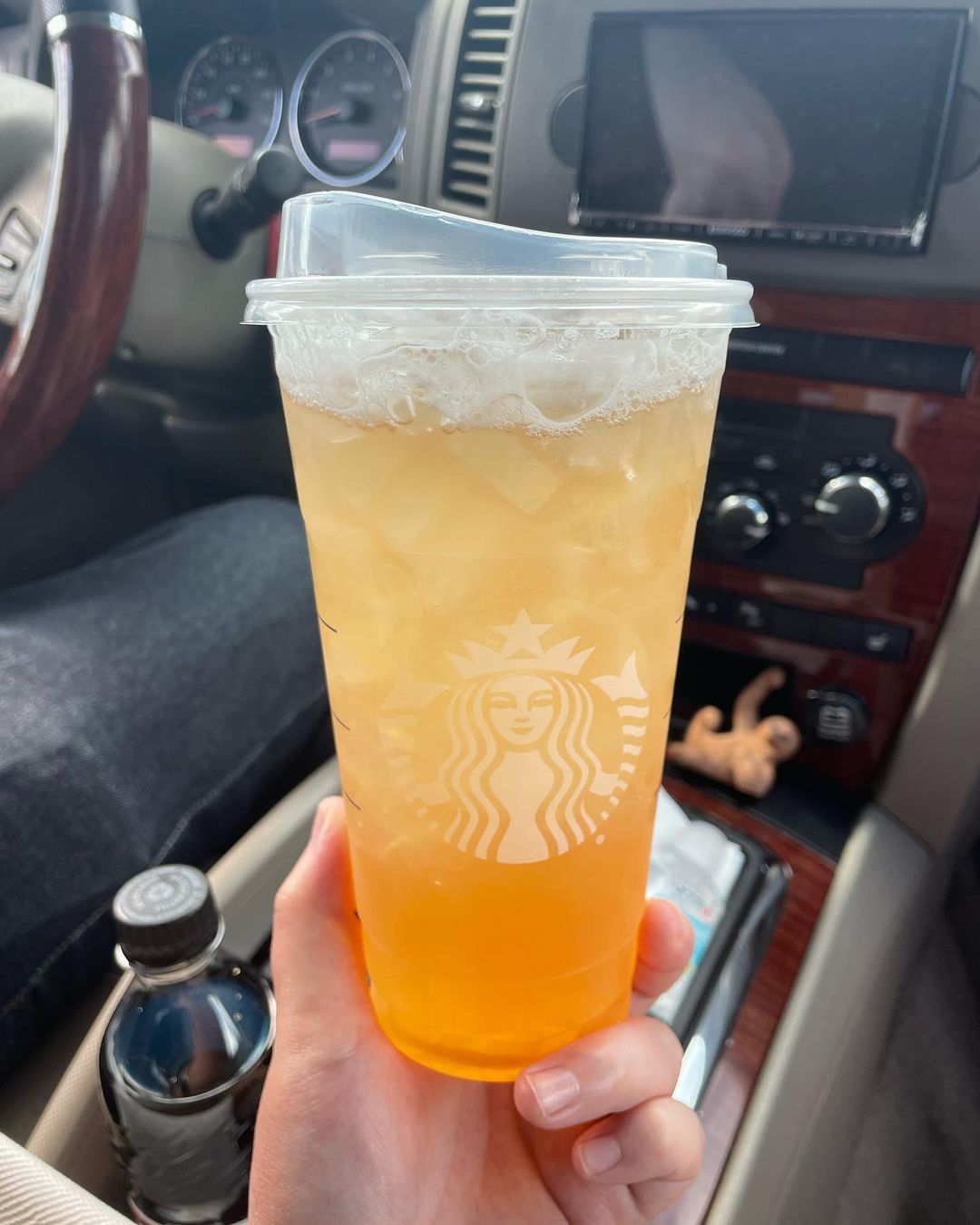 60 calories, 12g sugar, 0g fat
This one is a sure winner for green tea enthusiasts. But even if you aren't one, we suggest you try this unique blend.
The green tea is infused with spearmint, lemongrass, and verbena flavors, making it a refreshing and delicious drink to enjoy in all seasons.
14) Iced Shaken Espresso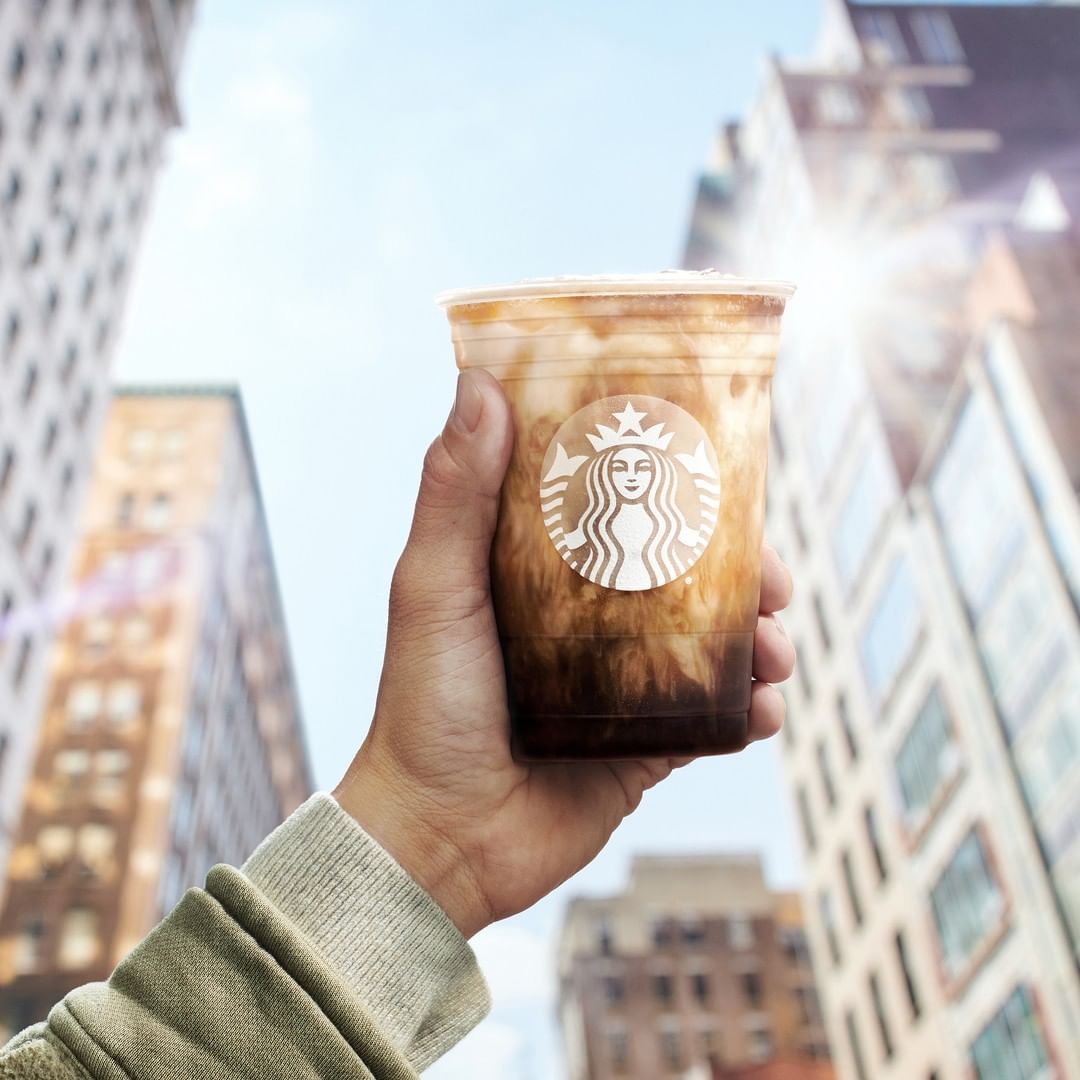 100 calories, 14g sugar, 2g fat
If you regularly grab a coffee on the go, this Starbucks espresso should be one of your regular drinks.
An authentically-flavored iced espresso without bells and whistles for those who like to keep their original preferences.
Also, consider adding more espresso shots to take up your caffeine kick up a notch.
15) Coffee Frappuccino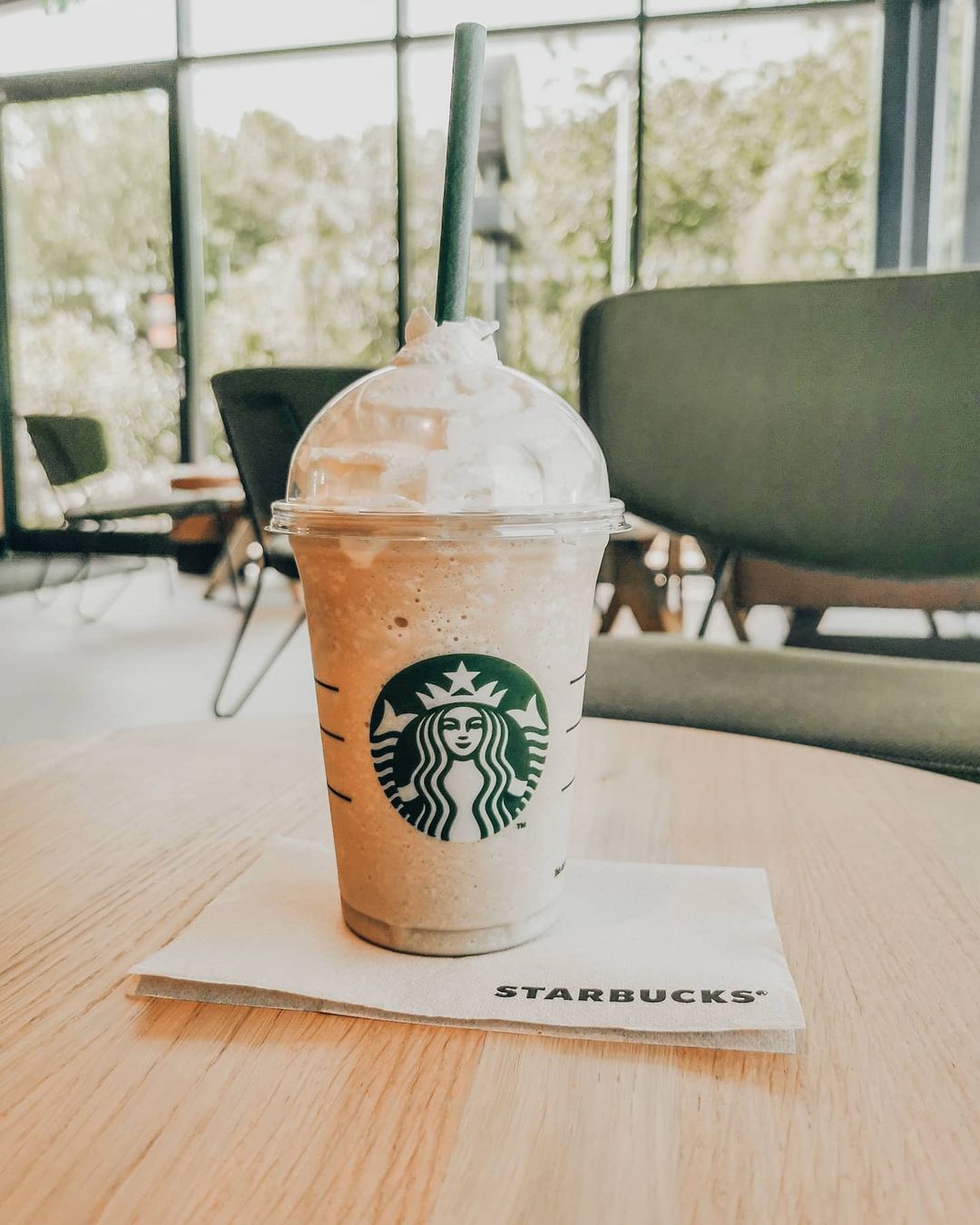 230 calories, 45g sugar, 3g fat
This beverage keeps it simple; it's the original frappe without whipped cream and toppings. It's a classic tale of roasted coffee meets iced milk to give you the smoothly blended beverage you love.
Thus, we recommend this for calorie-conscious consumers who want to enjoy their frappe without the calorie mark hitting the roof.
For extra sweetness, consider asking for sugar-free vanilla syrup.
16) Iced Brown Sugar Oatmilk Shaken Espresso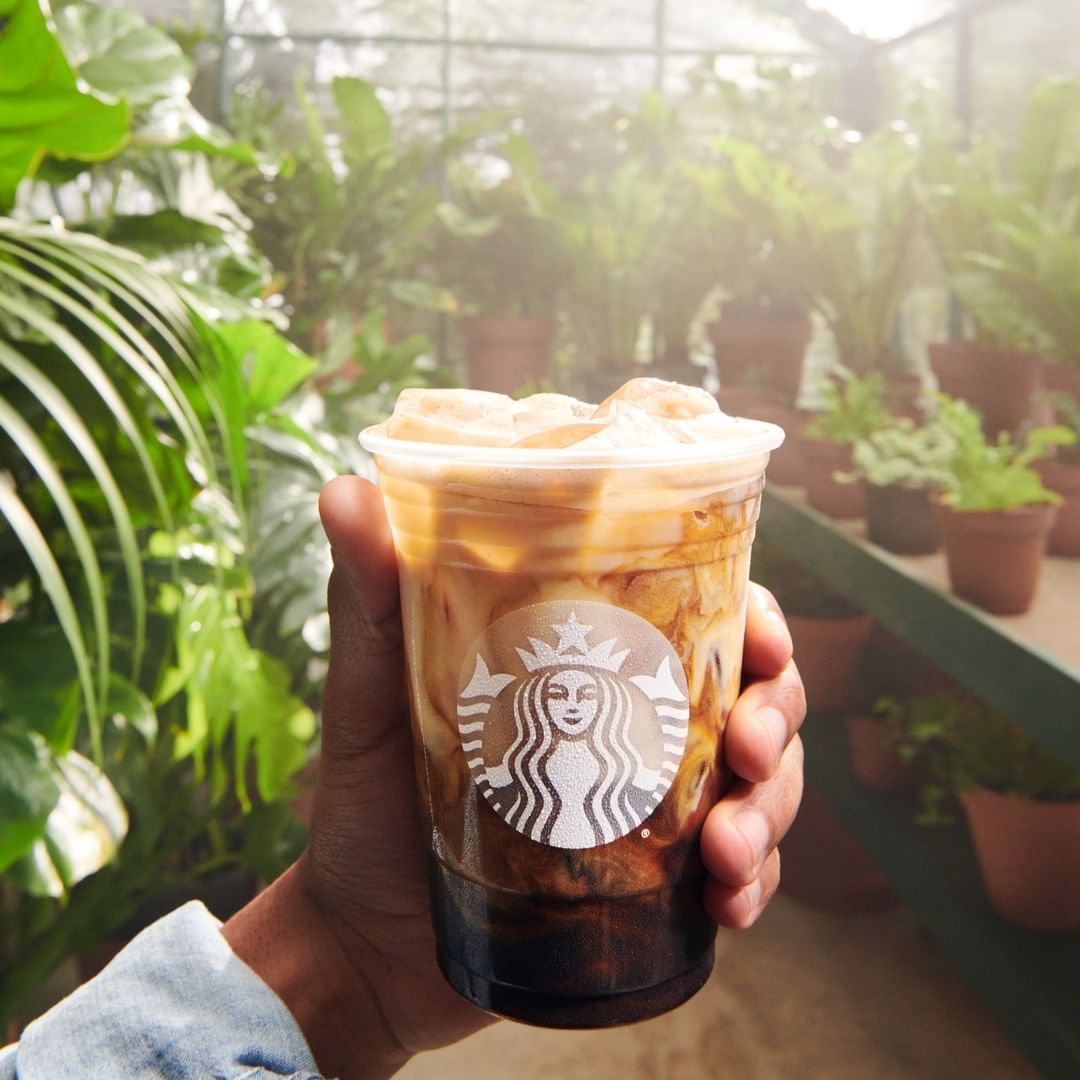 120 calories, 12g sugar, 3g fat
The longer the name, the more flavorsome it gets. Without a doubt, this unique blend of brown sugar and oat milk with espresso will help satisfy sweet cravings at any time of the day.
It's still packed with caffeine, though. So consider taking it as an energizer in the morning or during less productive hours of the day when you could do with a healthy recharge.
Indeed, it has just the right amount of sweetness. The brown sugar, cinnamon, and Starbucks blonde espresso combine to form a frothy, creamy texture.
17) Iced Black Tea Lemonade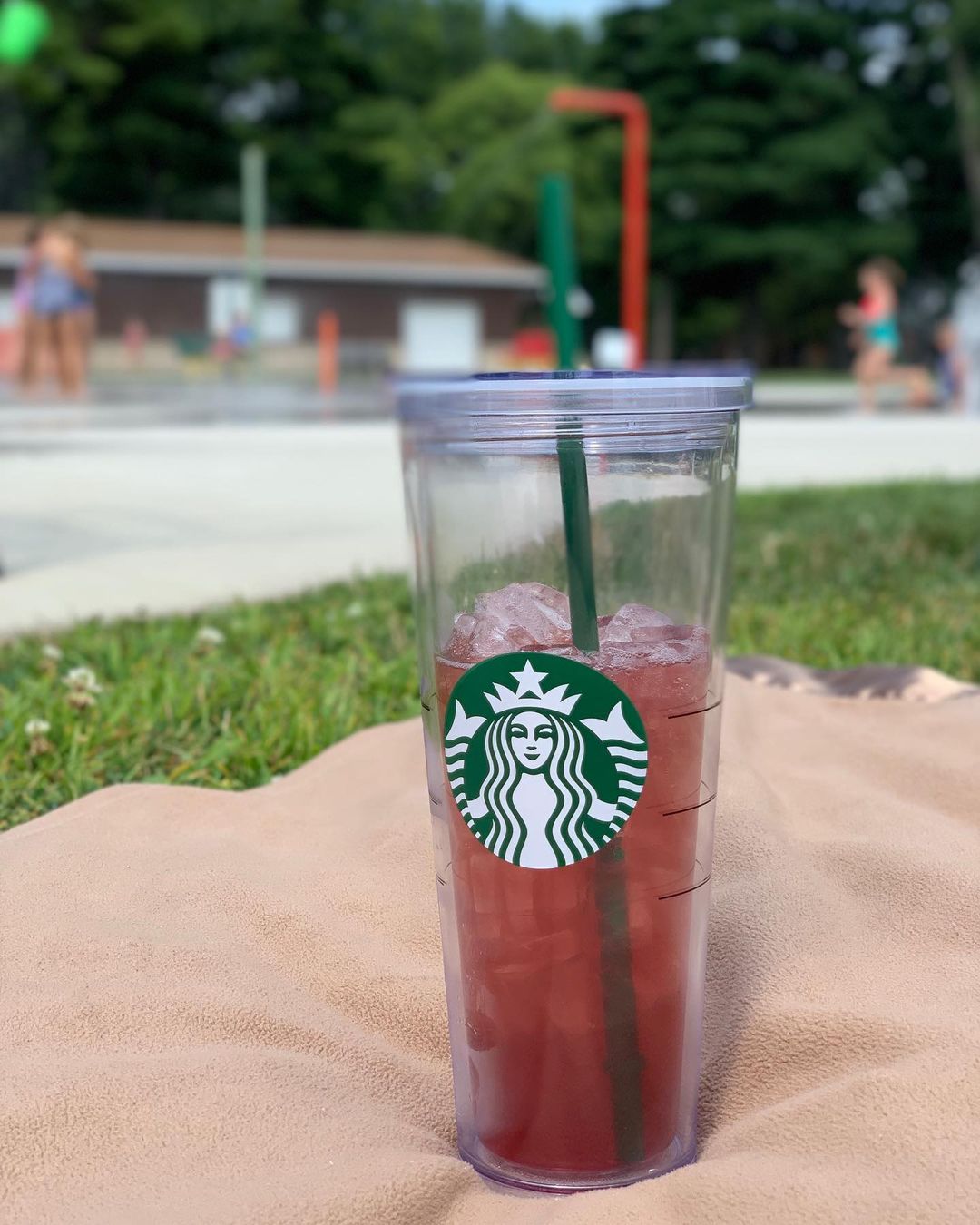 50 calories, 11g sugar, 0g fat
An Arnold Palmer-inspired drink, the Iced Black Tea Lemonade combines black tea with iced lemonade.
It makes for a uniquely satisfying and refreshing drink. If you're on a calorie watch, this beverage could quickly become one of your regular items.
18) Iced London Fog Tea Latte
140 calories, 25g sugar, 2.5g fat
If you're into tea and coffee, you're in for a treat. Meet the reinvention of the Earl Grey tea that mixes with milk to form a 'faux' latte or tea latte.
Arouse your senses with infusions of bergamot blends and hints of lavender with vanilla syrup and honey to make the most aromatic version of iced tea.
Its murky fog-like appearance definitely resembles London's infamous dismal weather that inspires the drink's name. It does great as a pick-me-up drink on rainy and foggy nights.
FAQs
How healthy are Starbucks' sweet drinks?
If your preferred beverage is loaded with sugar, it's certainly not very healthy. It is okay to crave sweet drinks occasionally, but if you consume them regularly, you should know the sugar intake in your favorite Starbucks drink.

All Starbucks beverages have a nutritional label that lists each drink's sugar content.

Since the sugar in over-the-counter beverages is granulated white sugar, the American Heart Association recommends not crossing your daily intake of approximately 24g of added sugar for women and 36g for men.
How many teaspoons of sugar are present in 48g?
One teaspoon of sugar is about 4 grams, per the Michigan State University. You can use this metric to calculate the amounts of teaspoons of sugar that go in your Starbucks beverage.

48g of sugar equates to 12 teaspoons of sugar, which is more than a can of soda.
What is the difference between cold brews and iced coffee?
Iced coffee is exactly what the name suggests—regular coffee made with hot water served on ice. It's a quick fix; you brew regular coffee, cool it down, and pour it over ice.

Cold brew is entirely different. To make cold brew, you soak coarse, brown coffee in cold water and let it sit for at least 12 hours.

The longer the wait, the stronger your coffee. The end product is less acidic and more bitter. Cold brew is your authentic coffee flavor.
How do I choose a healthier sweet drink at Starbucks?
If you are a Starbucks regular, consider customizing your order to minimize sugar and lower your overall calorie content. Keep the following pointers in mind:
1. Ask for 1-2 fewer shots of sweeteners
2. Request sugar-free drizzles and syrups
3. Let go of the whipped cream
4. Try taking a smaller portion of the drink instead of the large one.
What is the most sugary drink that Starbucks offers?
The most sugary drink Starbucks offers is the Java Chip Frappuccino, which has about 80g of sugar. Try visualizing that with several teaspoons being added. That's right — more than 16 teaspoons.