Rice is simple to cook, but it is equally as easy to get wrong. Mushy, flavorless, or under-cooked rice isn't pleasant. You could fork out top dollar for the pre-cooked packet stuff, or learn to make your own the right way. Follow our tips for cooking rice, and you'll be able to churn out bowl after bowl or light, fluffy, perfectly cooked rice every time.

Table of Contents
How to make better rice
1. Understand the grains
Rice comes in many varieties, but there are only a few that you need to understand. Why does it matter? Because each type of grain has different uses in recipes.
Short grain is plump and tends to stick together. This makes it ideal for sushi and bowls of sticky white rice. Within this variety, there is also arborio, which is suited to paella and risotto.
Long grain is thinner in size, fluffy, and doesn't clump together if cooked correctly. It is best used in rice salads, pilaf, or as a side dish on its own. Common long grain types include white, brown, jasmine and basmati. To learn more about these types of rice, check out our comparison of basmati and jasmine rice.
Respect the different varieties and don't use long and short grains interchangeably in recipes. Each has its purpose in the kitchen.
2. Ratio is the key
The correct measurements of rice and water are your ticket to success. Get it wrong, and you'll end up with uncooked or mushy rice. The general rule is to use 1 ½ cups of water for every cup of white rice. Increase the water to 2 cups if you're boiling the brown variety.
Keep in mind that different brands often require a little more or less water. Your best option is to check the packaging as you know, the food manufacturer will have tested the recipe many times before printing it on the pack.
Extra reading:
Find out how many cups of rice in a pound here.
3. Rinsing is essential
Rinsing the rice is a simple, quick step that is often overlooked by home cooks. If you're serious about your food, then always rinse the rice to wash away excess starch. Pour it into a strainer and rinse under cold water for a minute.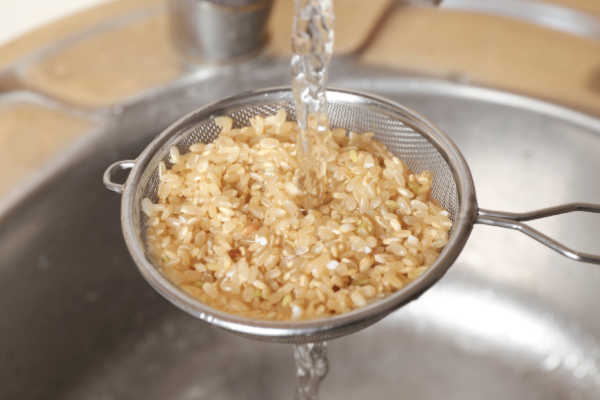 What happens if you don't rinse? The unwanted starch will turn into a substance similar to glue, causing the rice to clump together.
4. Use flavored liquid
The best option for boosting the flavor of the rice is to use a liquid other than water. A popular choice is to add vegetable, beef, or chicken stock. But other options work equally as well: wine, beer, coconut milk, vegetable juice, or green tea will add exciting flavor to the meal.
Get creative and see what works best for your household.
5. Simmering is best
After adding rice to the water, it will immediately stop boiling. As you bring the temperature back up, the water will begin to simmer. Adjust the temperature so that it stays at this heat. Allowing the water to boil again will cause it to evaporate too quickly, and the rice won't have time to cook properly.
6. Salt enhances flavor
If you have chosen to cook the rice in stock or another liquid that already contains salt, this step isn't necessary. When using water, add salt before pouring in the rice. It will improve the dish's flavor significantly.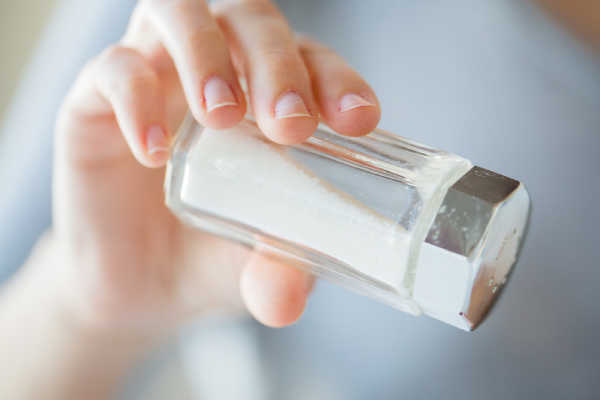 Note: there is plenty of debate as to whether salt should be added before or after the rice is cooked. Our preference is before; however, either option is better than not at all.
7. Toasting adds depth of flavor
This step doesn't take a lot of time, but it is worth it if you like your rice to taste a little toasted and nutty. Start by adding a liberal squirt of oil to the pan, then add the rice and cook on a medium heat until it turns golden. You should be able to smell the aroma of rice in the air. Now, add the water and boil it the usual way.
8. Invest in a heavy-bottomed pan
A decent pan is essential because there is no stirring throughout the cook. Thin metal pots get very hot on the bottom, causing rice to burn. You can avoid this by using a good quality, heavy-bottomed pan that does an excellent job of distributing heat throughout the rice.
9. Use oil for long-grain rice
When adding liquid to the pan, also include a decent splash of oil. It will help prevent the rice from clumping together. Perfect for pilaf or salads that taste best when the rice is flowing freely.
10. Keep the lid on
The temptation to remove the lid is high when boiling rice, but you need to keep the pot covered. The problem is, doing this will let out the heat and also the flavor-filled steam. Stirring the rice is also a big no-no as it will make the rice dense and starchy. That is unless you're making risotto, which is okay for you to stir.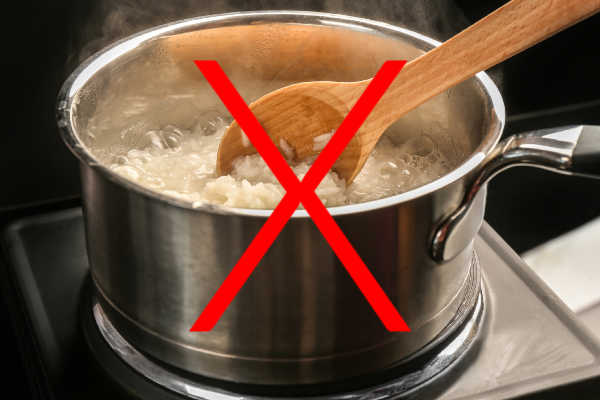 Set a timer for 16 minutes, sit back and trust the process. It should be nearing perfection by this time. For brown rice, increase the timing to 30 minutes.
11. Use a tea towel to cover the top of the pot
When the rice is almost cooked, remove the lid and place a tea towel over the pot, then replace the lid. This step plays a vital role in absorbing excess condensation, which can cause the rice to turn mushy.
12. Let the rice rest
Try to make the rice a little in advance so that there is time to let it sit for 15 minutes. This extra step allows the moisture to redistribute throughout the pan – like letting meat rest after it's been roasted.
When it comes time to serve the rice, use a fork to fluff it up and make it looks extra tasty.
Further reading:
Chili beans and rice recipe - quick and easy recipe
Slow cooker vs. rice cooker – what's the difference?
Final words
These rice cooking tips may sound like a lot to take in, but once you've made a couple of batches, it'll be child's play. In saying that, if all this sounds too difficult, you may want to invest in a rice cooker. These gadgets take the guesswork out of the cooking process. We provide a handy review of the best Korean rice cookers here.
Do you have any advice for making rice? Let us know in the comments below.