The main difference between a slow cooker and a rice cooker is the distribution of heat; a slow cooker distributes heat evenly and cooks food for 6 to 12 hours without overcooking it, while a rice cooker heats up rapidly to cook rice in less than an hour.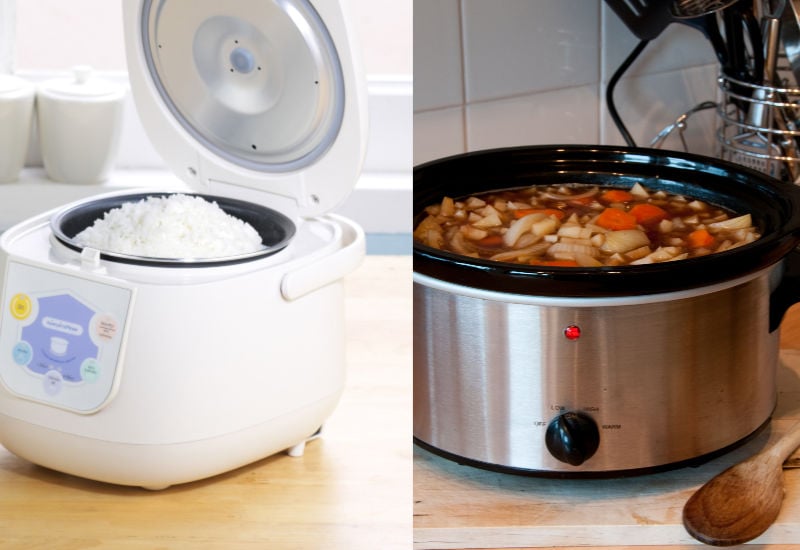 For this reason, these appliances have different applications. Understanding the difference between a slow cooker and a rice cooker will help you discover their uses. Read on to learn about their differences and which appliance best suits your needs.
Table of Contents
Comparing the Slow Cooker and Rice Cooker
The biggest difference between a rice cooker and a slow cooker is how quickly food is cooked. A rice cooker uses extreme heat to rapidly raise the temperature of the food, and it's usually cooked in under an hour. A slow cooker cooks food on a low, even heat over an extended period of time—often all day.
Each appliance excels at cooking specific types of food, although there will be some overlap. Here's a summary of what dishes work best for each cooker.

| Type of food | Slow cooker | Rice cooker |
| --- | --- | --- |
| Beans | * | |
| Casserole | * | |
| Chili | * | |
| Grains | | * |
| Hard-boiled eggs | | * |
| Porridge | * | |
| Rice (brown, white, GABA) | | * |
| Roast meat | * | |
| Soup | * | |
| Steamed fish | | * |
| Steamed vegetables | | * |
Which option is best for you?
The best option for your household will depend on the type of food you most commonly eat. If you love Asian cooking, then a rice cooker would make sense. For those that frequently enjoy a moist, slow-cooked pork roast or a tender, flavor-packed stew, a slow cooker is perfect for your needs.
Assuming that budget and space isn't a hurdle, the ideal setup for your home would be to have both appliances. They work perfectly in unison. For example, imagine using a slow cooker to braise chicken fillets in a black bean sauce. Towards the end of the cook, your rice cooker could steam a batch of fluffy jasmine rice to complement the chicken. There are hundreds of delicious combinations using the two appliances.
If you want to choose one only, keep reading as we take a closer look at each option.
What is a slow cooker useful for?
A slow cooker has a vast number of uses. You can cook savory dishes like chili and Osso Bucco, as well as bread, fudge, cakes, and more. A quick search for slow cooker recipes will overwhelm you! But, this appliance's most significant benefit is streamlined cooking. Toss in a few ingredients, then set and forget. Cooking meat that's so tender it falls apart is easy with a slow cooker.
If you lead a busy lifestyle, take advantage of the preset options. They allow the user to set a cooking start and end time. Then, once the meal is cooked, it'll keep your food warm until you're home.
Summary Table
| Question | Answer |
| --- | --- |
| Who needs this? | Busy households that appreciate a cooked meal when they arrive home. Meat lovers will relish this device. |
| Who should avoid this? | Those that think about what to eat at the last minute. |
| Best food to cook | Pot roasts, chicken, soup, casserole, oatmeal, chili, beans. |
| Average cook time | 2-8 hours |
Important Features
Flexibility: Use preset timers to ensure meals finish cooking at a precise time.
Simplicity: Combine rice with water and choose a suitable setting, then walk away. There's no need to check or stir the ingredients continuously. You'll save time!
Affordable: Although some slow cookers are expensive, there are plenty of entry-level options. These units tend to be reasonably priced.
Fun: there is a massive selection of crockpot focused recipes. You'll never be short of exciting new recipes to try out.
Carefree: If you're entertaining, then prepare the meal earlier in the day. Now you can have fun with your guests rather than work in the kitchen.
What is a rice cooker useful for?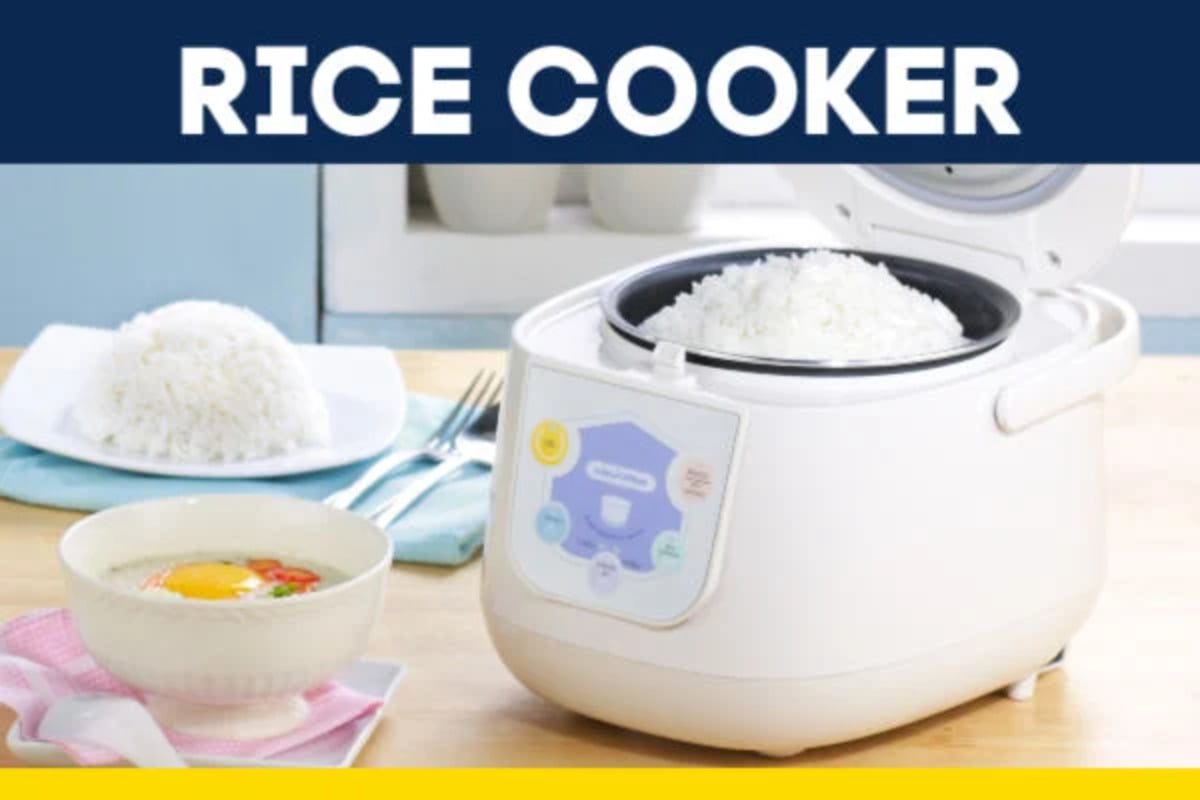 As you can probably guess, rice cookers are best suited to rice lovers. Imagine never having to boil brown rice again! That will be an appealing idea to many who have cooked this challenging grain. They'll consistently steam rice as you'd expect from a fine-dining Asian restaurant. You can also cook grains, oatmeal, eggs, steamed veggies, dumplings, or fish.
Rice cookers are quick to cook food, so your waiting time will be much less. This process will appeal to cooks that prefer to think up a recipe and make it within the hour.
If rice isn't high on your priority list, then a rice cooker won't be your best option. Although this appliance is capable of cooking other dishes, its crowning achievement is rice.
Summary Table
| Question | Answer |
| --- | --- |
| Who needs this? | For those that seek rice perfection, every week. |
| Who should avoid this? | Anyone that doesn't cook rice frequently. |
| Best food to cook | Any type of rice, grains, lentils, oatmeal, eggs, steamed veggies, dumplings or fish. |
| Average cook time | 30 minutes - 2 hours |
Important Features
Master cooking rice: even a beginner cook can churn out bowl after bowl of every conceivable type of rice.
Steaming: Many units will include a steamer basket allowing you to cook healthy vegetables, dumplings, and seafood. All of them can be prepared with the press of a button.
Convenience: Most models will have timer settings that allow you to set the cooker to start at a specific time and keep your food warm until needed.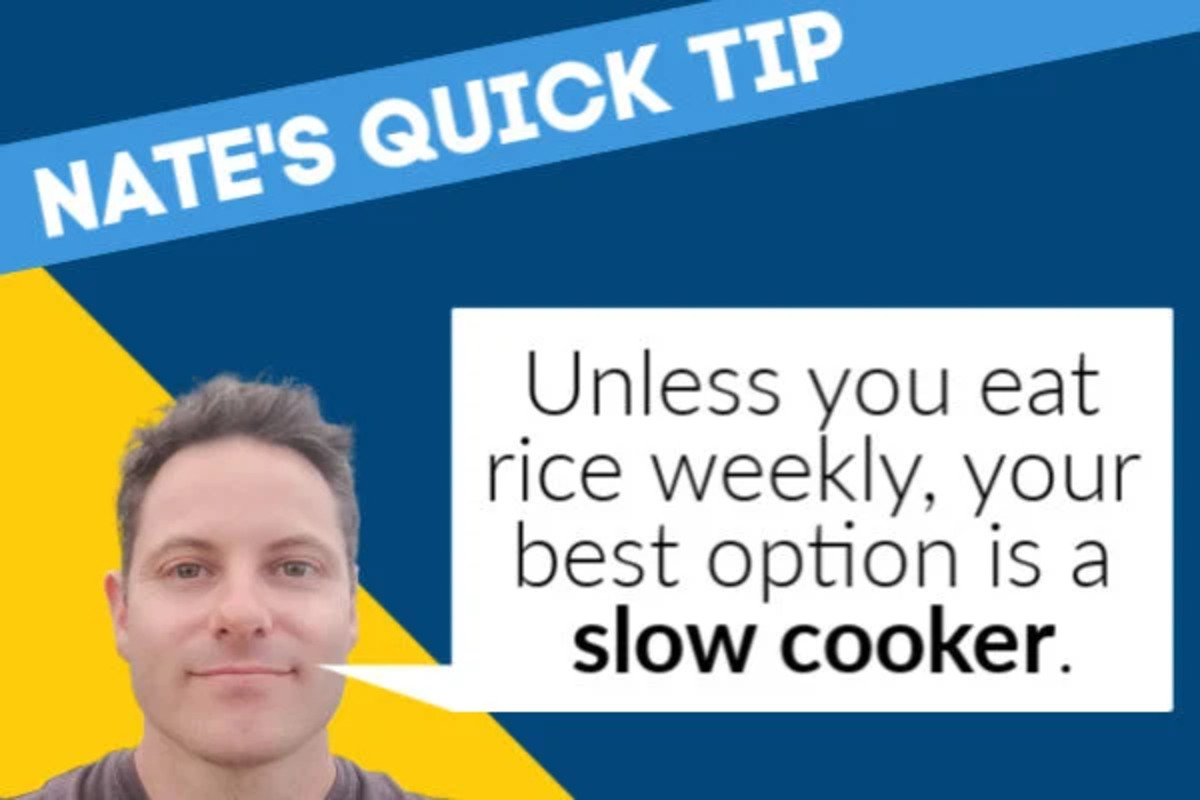 Further reading:
Learn how many cups of rice in a pound?
Read about the difference between jasmine and basmati rice.
Uses for leftover cooked oatmeal.
Final Words
Adding a rice cooker or slow cooker to your kitchen is an excellent investment for most. Unlike some appliances that sit gathering dust, these gadgets will get used often. If you eat rice at least once a week, then a rice cooker will offer simple, fuss-free cooking. No more gluggy or over-cooked rice!
For anyone that isn't a rice fanatic, the slow cooker will serve you better. It has a wide range of cooking options and a never-ending supply of recipes for every conceivable cuisine.
One final option that may work better for your household is a pressure cooker. Create a wide range of main courses in under half an hour. It's the ideal choice for anyone that's always in a rush.
Do you have either one of these appliances at home? Let us know if you think it has been a good buy in the comments below.