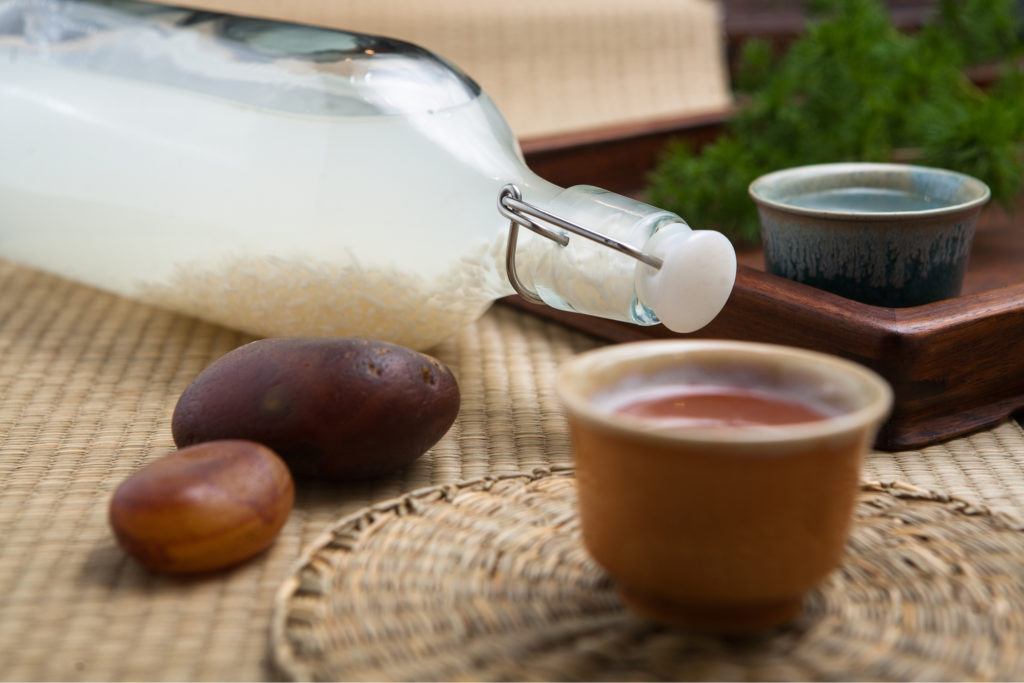 When you hear "rice wine," you probably immediately think of an alcoholic beverage, and you're right. It's made from a brewing and distillation process, where rice develops into a sweet, tangy liquid with 18-25% alcohol content, making it one of the famous alcoholic drinks in South Asia, Southeast Asia, and East Asia.
However, because of its ability to add texture to food and enhance flavor, rice wine is also a famous ingredient in Asian cuisine. With a wide variety from every Asian country, rice wine's tastes range from sweet, aromatic, tangy, vinegary, and even milky. And if ever the recipe you're following calls for rice wine, and you can't find any in your nearest stores, finding substitutes that match its taste and texture might help you out.
Based on the above rice wine description, you can use sake, mirin, white wine, rice vinegar, dry sherry, gin, apple juice, white grape juice, white vinegar, and wine vinegar as alternatives. This article will discuss each of their properties that make them a viable substitute in the absence of rice wine.
Table of Contents
Best Rice Wine Substitutes
1) Sake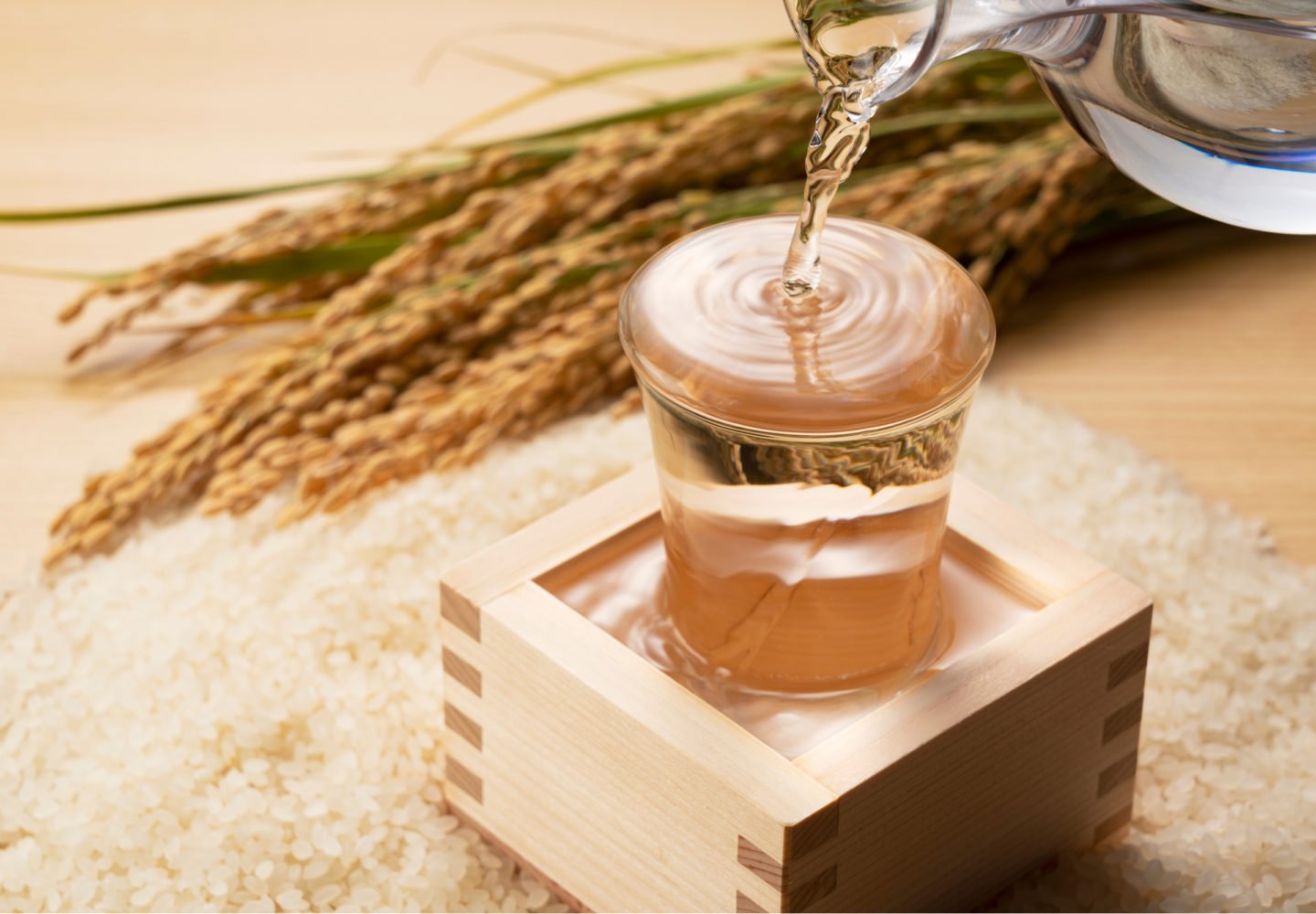 When translated to English, sake means "alcohol" and is a Japanese rice wine commonly seen in Western countries due to its typical appearance as an alcoholic drink. Even when sake is generally from rice and should be comparable to rice wine, they differ in taste and texture, but they share one common factor: they're both famous for drinking purposes.
Like rice wine, sake is produced from rice starch that forms sugars that ferment into alcohol, more similar to beer brewing than wine fermentation. The only difference in their production process is that rice wine is distilled, while sake's stop at fermentation. Sake's alcohol content also differs depending on the manufacturer's dilution, but undiluted sake has the same alcohol content as rice wine, making it an excellent substitute.
When it comes to taste and aroma, sake can have a hint of herbs, fruits, flowers, and even spices in it. Divided into three categories: nihonshu-do, san-do, and aminosan-do, the taste of your sake varies. If you're after that umami flavor for your dim sum recipes, find a variant that has more aminosan-do. On the other hand, san-do indicates acidity and can give you sweet and sour flavors.
Since it has high alcohol content, sake is a perfect substitute for rice wine when it comes to making marinades, as it takes away the "fishy taste" and odor from meats while tenderizing it at the same time. With its rich umami flavor, you can add sake for soup and sauce recipes that call for rice wine. Lastly, sake is perfect for sauteing as it's used like wine in adding savory flavors to your dishes.
2) Mirin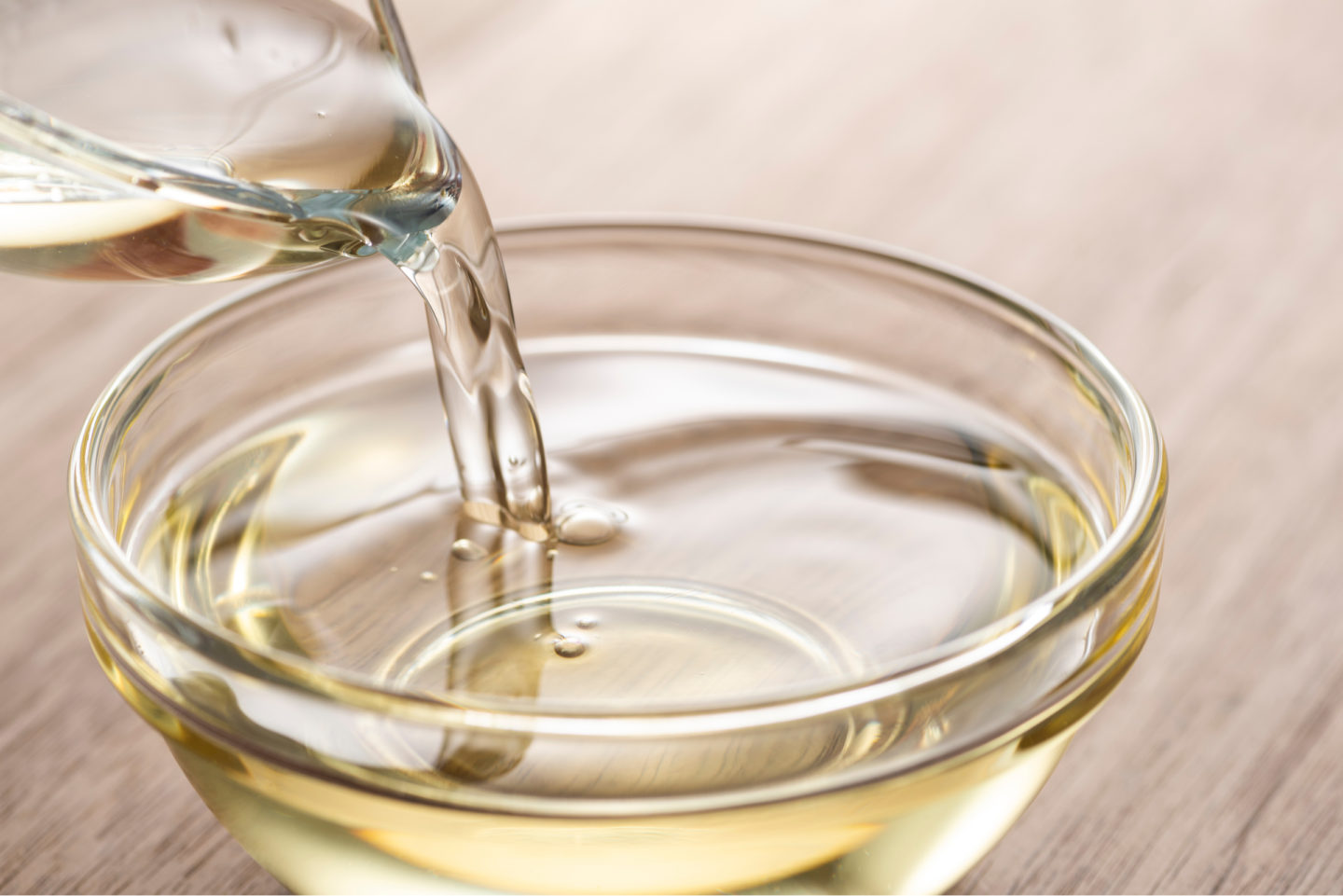 Knowns as the Japanese cooking rice wine, mirin is a kitchen-friendly substitute for rice wine. It's similar to sake but with only 14% alcohol content and 40-50% sugar content, making it a sweeter alternative, perfect for teriyaki sauce, marinades, ramen, and udon. Unlike sake and rice wine, the production process of mirin is very intricate and takes a long time, and Hon mirin or true mirin is rare and expensive.
Mirin appears as a clear, semi-golden liquid that's sweet but tangy, with a crisp and umami finish. Finding a bottle of true mirin might be challenging, but there are cheaper and more available kinds: Mirin and Aji-mirin. Mirin is sweetened sake, and Aji-mirin is something you can make at home using sake (if you already have it but wanted it sweeter). However, note that these alternatives might not give the same values as true mirin.
Since mirin is purposed initially as a condiment when used as a replacement for rice wine, it can be a bit overpowering with its rich, savory taste, and adding a little amount at a time is necessary for you to gauge the taste you desire. They might come from rice, the fermentation process differs, resulting in two differently flavored liquids.
Mirin is an excellent substitute for rice wine in recipes that require a teriyaki sauce, a bunch of stir-fry recipes, and dim sum. Mirin gives a rich flavor to the dishes and is also used to provide sheen and luster to the food, making it more palatable.
3) White Wine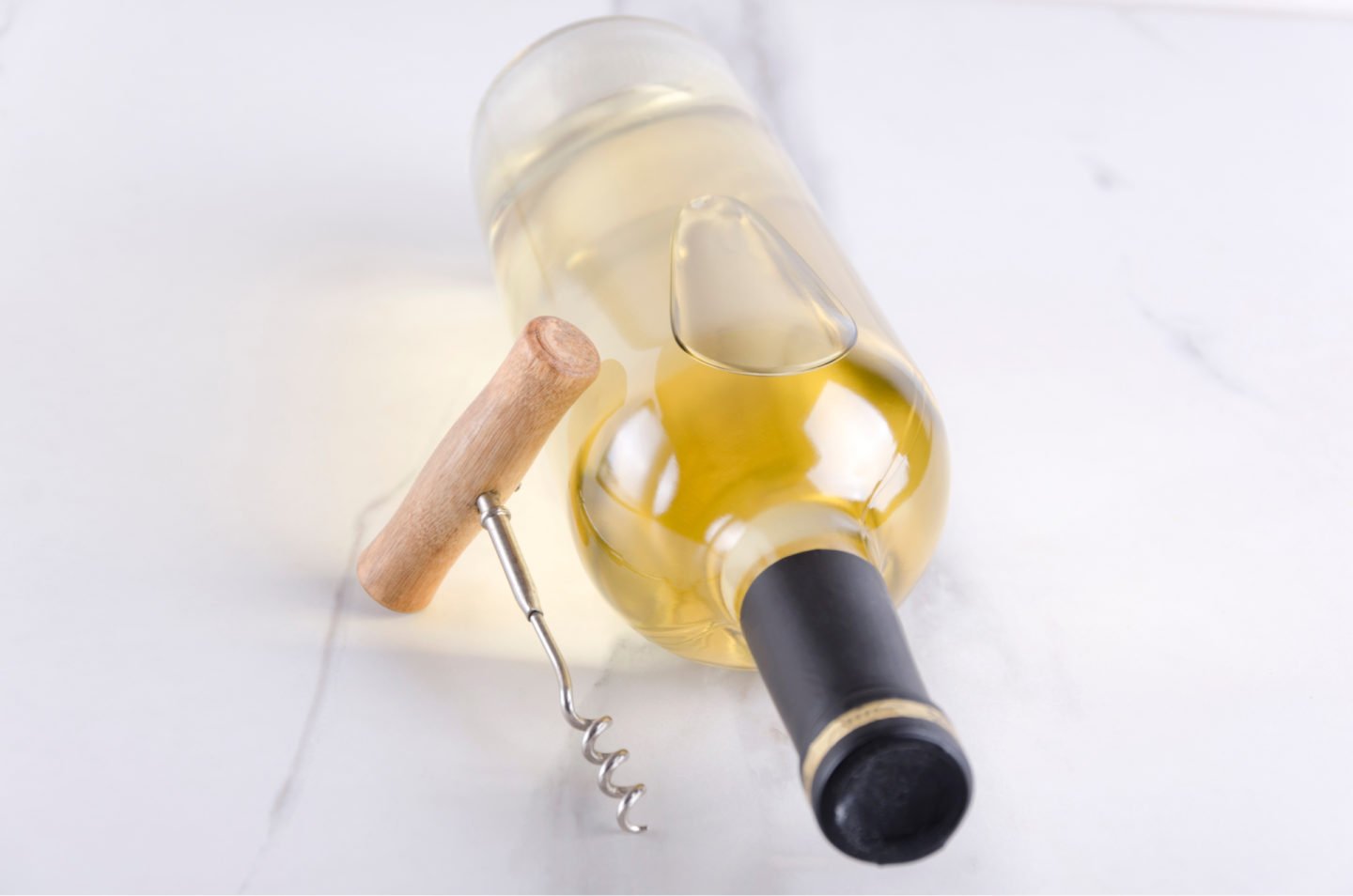 The first on the list that is not produced from rice, white wine comes from grapes fermented without skin contact, making it sweeter than red wine. Although it can be from any type of grapes, it always appears clear with a touch of yellow tinge, exactly just like the rice wine. And as a result of the fermentation, white wine is left with a mildly sweet taste, with a tangy and crisp finish. These characteristics are very likely to the rice wine, making it a great substitute in its absence.
Commonly used as an alcoholic beverage, you can't expect a rich sweet taste, as they only contain 1% of sugar. Of course, there are sweeter variants of white wine, but when used in cooking, these sweet white wines become unstable and might develop a bitter taste, and we don't like that.
When used to replace rice wine, white wine is best used for stir-fried vegetables and recipes that need a light finish and do not need deodorizing. This is due to white wine's 10% alcohol level, which is lower than rice wine's 18-25% alcohol level. The alcohol content is responsible for deodorizing meat and seafood and tenderizing them. Nevertheless, this is a great alternative with its likeness to rice wine in flavor and appearance.
4) Rice Vinegar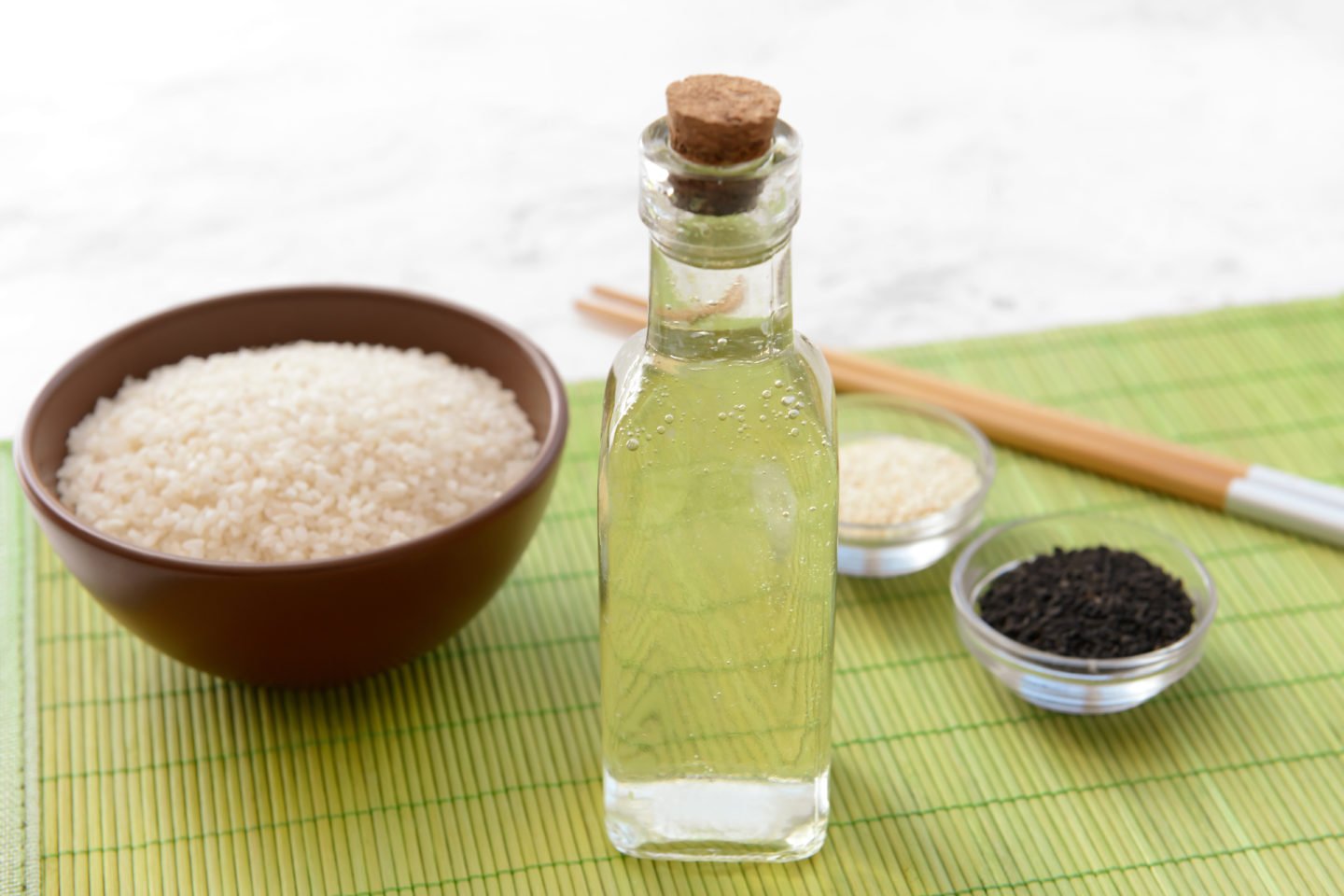 A famous East Asian vinegar made from fermented rice, rice vinegar is massively produced in China, Japan, and Korea, all with different features and tastes. As a byproduct of rice fermentation, rice vinegar has a delicately sweet and savory flavor, perfect for substituting rice wine in sushi, sauces, marinades, and even salad dressings.
Although they were both made from rice, rice wine and rice vinegar individually underwent different production processes. In rice wine, yeast is used to activate the fermentation, while in producing rice vinegar, an acid-producing bacteria (Mycoderma aceti) is used. Although a vinegar, rice vinegar is the mildest-tasting vinegar present.
If you want savory, sweet rice vinegar for your sushi rice, Japanese seasoned rice vinegar is a perfect choice. Made by adding sake, sugar, and salt to the rice vinegar, this seasoned liquid delivers an umami-rich flavor. However, if you want a more sour option for your Chinese cooking, Chinese rice vinegar presents a higher acidity that's perfect for your sauces and salad dressing.
Do note that even with its close relation to rice wine, rice vinegar has a richer, deeper flavor, and just like when using mirin as a substitute, taking a small amount at a time should be observed.
5) Rice Wine Vinegar
You might be wondering why there's a section for rice wine vinegar when we already covered rice vinegar. Although they're essentially the same, rice wine vinegar contains alcohol, which rice vinegar lacks. While both undergo the same process, rice vinegar passes through a fermentation process that allows alcohol to turn into acetic acid, therefore removing the alcohol.
On the other hand, rice wine vinegar stop at the alcohol phase; that's why it's essentially vinegar but with 25% alcohol. With this alcohol content, rice wine vinegar becomes a great rice wine substitute, especially when dealing with meats that need marinading. Alcohol deodorizes meats and removes the "fishy" taste, resulting in a more pleasing dish.
Because it didn't complete the process that produces acetic acid from alcohol, rice wine vinegar is left with a mildly sweet flavor and aroma. That makes it perfect for replacing rice wine in sushi rice, sauces, salad dressings, and fried rice without worrying about the overpowering sour taste of rice vinegar.
6) Dry Sherry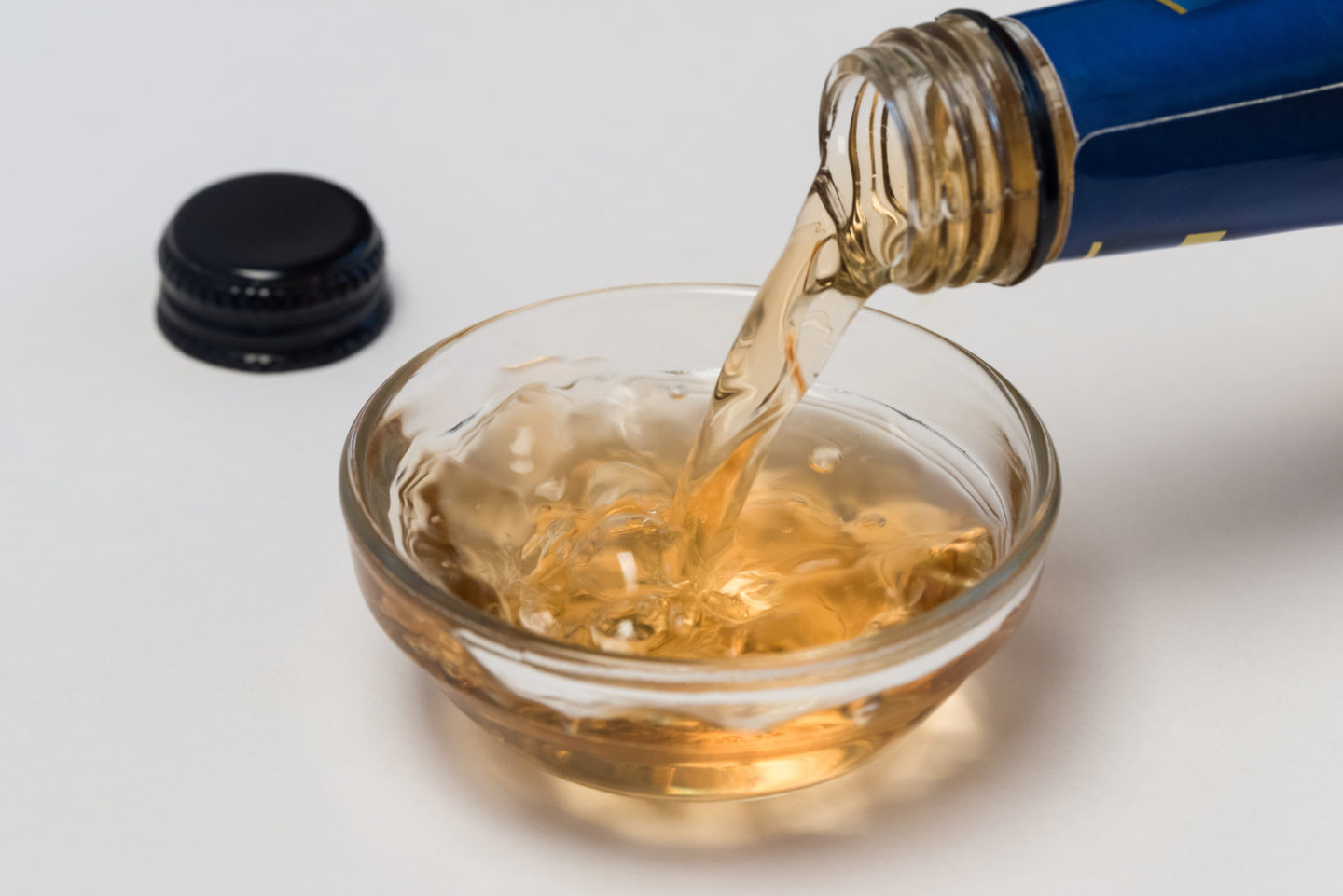 Sherries are fortified wines initially produced in Spain. While there's a wide variety of sherries, dry sherry is most commonly used in cooking. Although it does not have the same sweetness as rice wine and has more of a nutty, fruity, and saline taste, and you might be tempted to use a sweet sherry to mimic the sweetness, sweet sherry has 18% of sugar, which is too much when compared to rice wine.
The only drawback of using dry sherry as a rice wine substitute is its short shelf life, as it goes bad days after opening. With this, cooks often resort to using sherry cooking wine, a type of sherry preserved with salt and can last longer than dry sherry. Moreover, since sherry isn't as sweet as rice wine, you might consider adding sugar when using this.
To achieve a rice wine sweetness, you may use the same quantity of dry sherry as rice wine, but add half a spoonful of sugar for every tablespoon of sherry. Sherries also contain 16-18% alcohol, making it a good rice wine substitute for marinades, different sauces, and sauteing vegetables.
7) Gin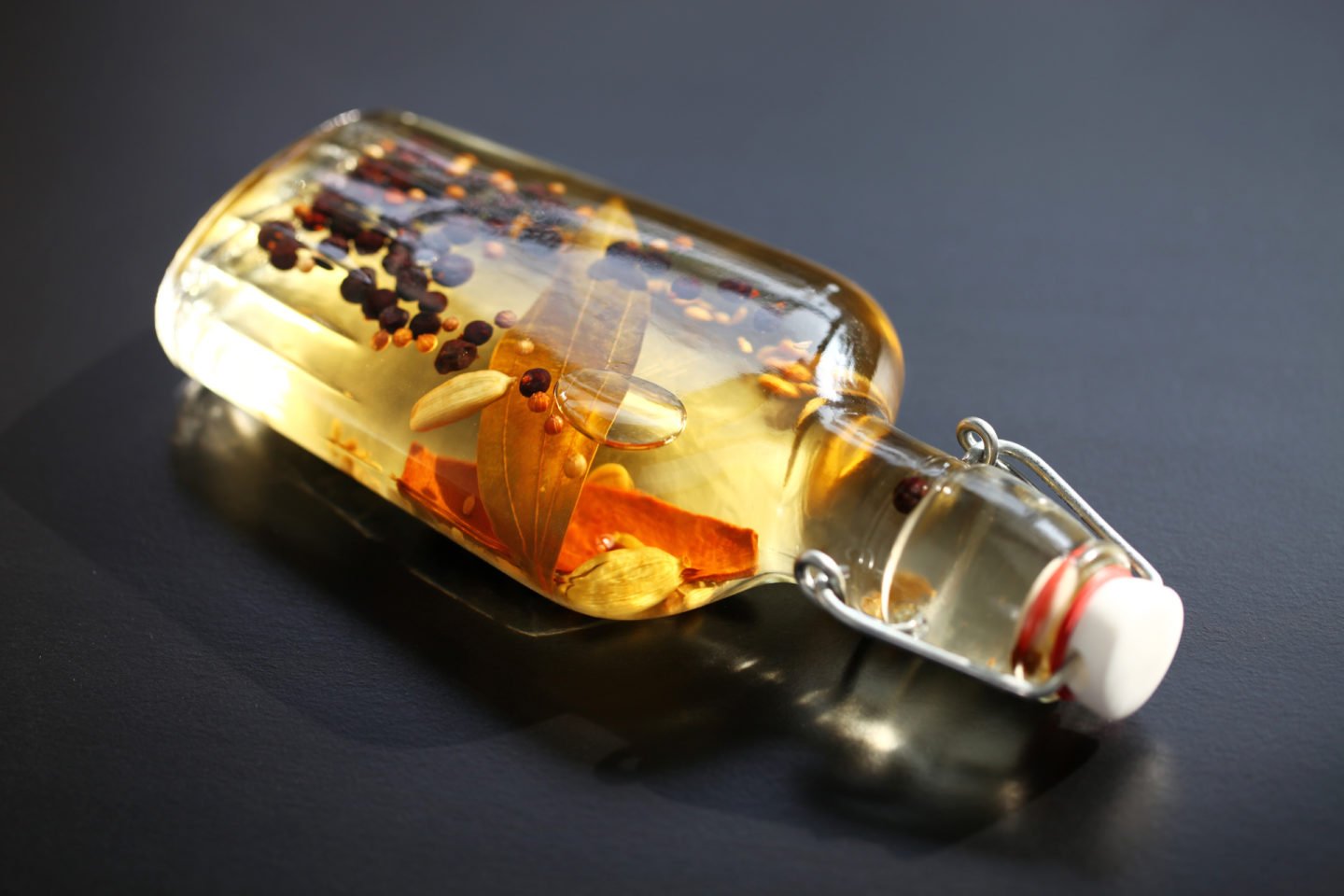 Unlike the ones mentioned above, which are closely related to rice wine, gin is a tonic drink originally formulated as a medicinal drink but became a famous alcoholic beverage commonly seen in your local groceries. Since rice wine can't commonly be seen in grocery stores in western countries, I'm sure you can easily find access to a bottle of gin.
When it comes to taste and texture, gin has a strong citrusy scent with a kick of pine-like flavor from its key ingredient, juniper berry. Moreover, just like other alcoholic beverages, you can expect a hint of bitterness when using gin. However, you will also notice a mild sweetness to it, comparable to rice wine.
With its 40% alcohol content, gin provides a strong deodorizing and tenderizing effect on meats and seafood, which other options in this list lack. When using gin as a rice wine substitute, do note that you won't get the same aroma and savory taste, and you might have to adjust other seasonings to complement the addition of gin. Nevertheless, if you're after a recipe that uses beef and fish and you don't have rice wine, gin is an exceptional choice.
8) Balsamic Vinegar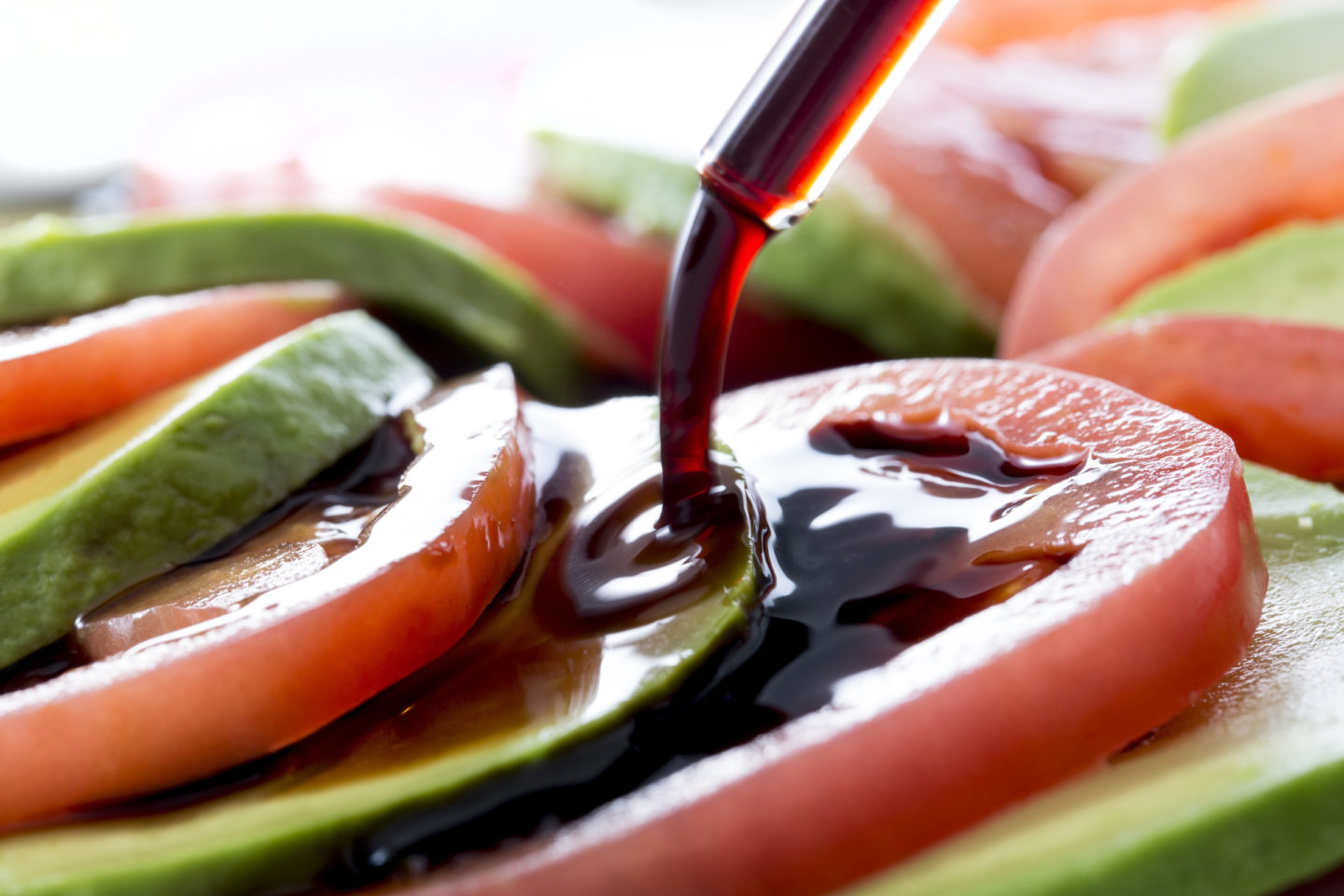 Balsamic vinegar is one of the options that gives off umami flavor to dishes. The rich flavor infused in this prized liquid is due to its aging. To be considered a balsamic vinegar, grapes need to age for at least 12 years, resulting in a deep, rich taste sometimes described as a mixture of chocolate, cherries, prunes, and fig.
Not only that, even when being a vinegar, balsamic vinegar has a balanced sweet and sour taste. With a sugar of 15%, this is one of the best non-alcoholic options you can use instead of rice wine. Although it might not act as a deodorizer and tenderizer due to its lack of alcohol, it gives a well-blended flavor and is great for everything that requires rice wine, especially salads and marinades.
Since balsamic vinegar already has the sweetness and aroma, there's no need to add sugar or salt to the mixture. However, this all depends on your liking, as rice wine does not give off a sour taste, and balsamic vinegar does. Instead, you can adjust other ingredients and condiments in the list for a more flavorful result.
Since balsamic vinegar offers a rich, umami flavor, it's also an excellent mirin substitute.
9) White Grape Juice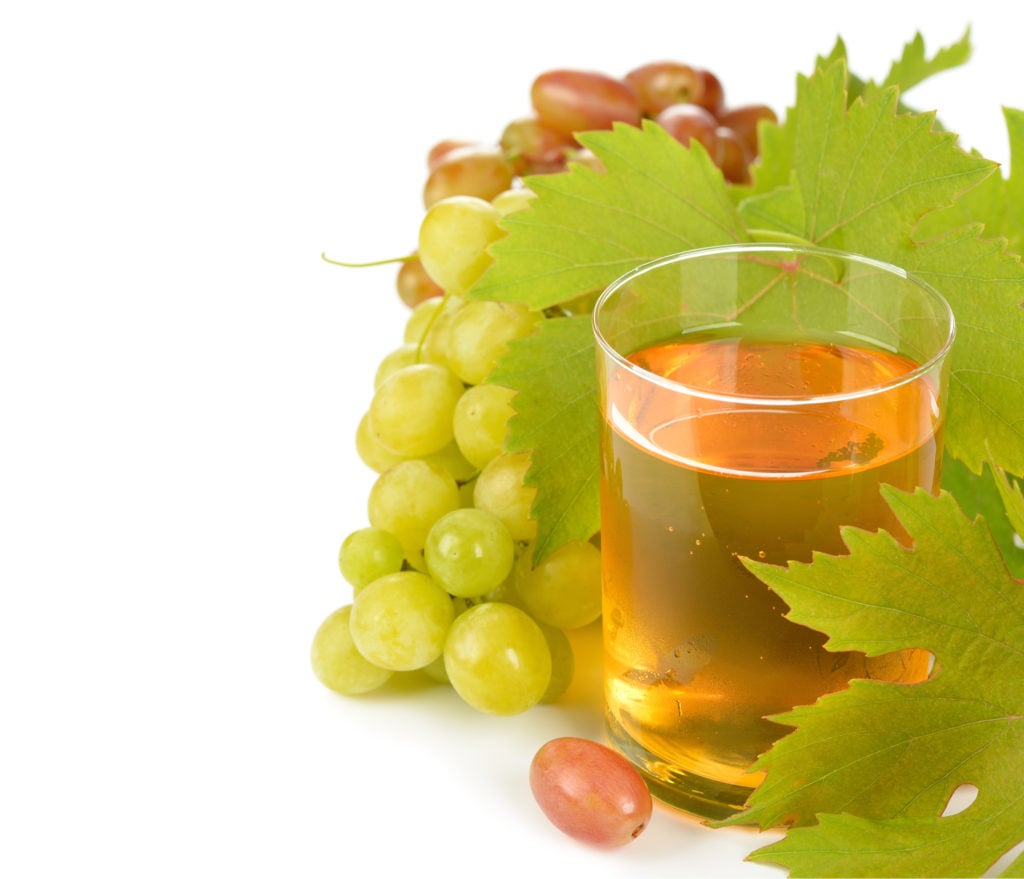 White grape juice is another alcohol-free rice wine substitute that delivers the same satisfaction. Made by pressing skinned grapes, this sweet tasting juice provides vitamin C, and essential minerals such as calcium, potassium, phosphorus, and magnesium, making it the first on the list with valuable contents.
While you might not expect white grape juice to perform like rice wine in terms of crispness and tanginess, it's well observed that white grape juice is better than red grape juice in giving that wine-like flavor, so you can still expect a little bit of tanginess when using this, although it might come off a little sweeter. With this, you might want to add in the juice little by little to get the perfect flavors you want. Moreover, this crisp, white grape juice is an excellent alternative for marinades, as sweet and crisp additions make a huge difference.
10) White Vinegar or Apple Cider Vinegar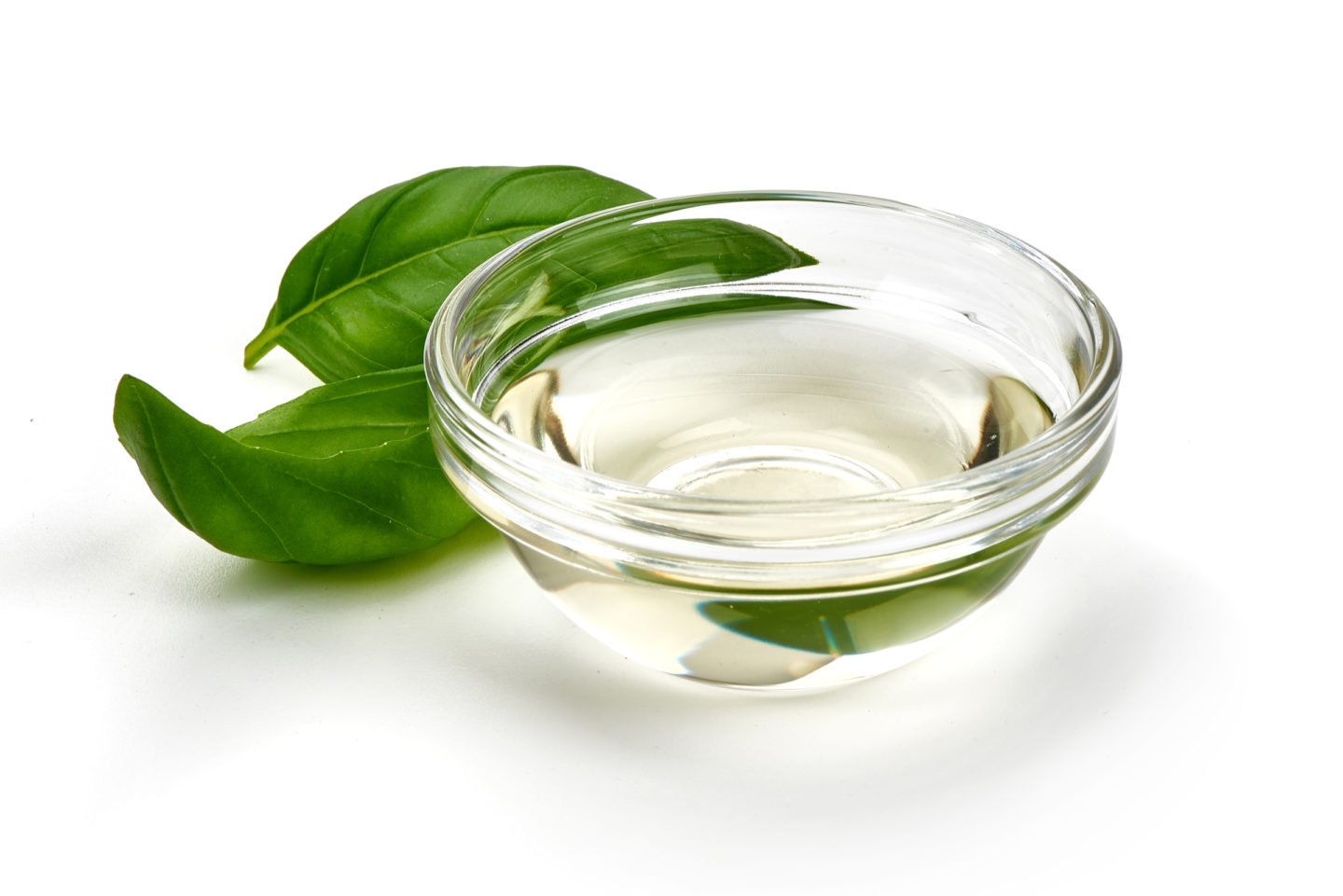 Unlike other rice wine substitutes mentioned above, these two have more acetic acid, giving them a strong sour taste. However, despite the sour taste, these options have a cleaner, crisper finish than other kinds of vinegar and can be used as an alternate to rice wine when those mentioned above aren't available.
When using white vinegar and cider vinegar as substitutes, you will only need a small amount as it might come off overpowering other ingredients. However, these two are a common addition to marinades and sauces and are widely available and highly affordable.
Summary Table
Below is a summary of the best rice wine substitutes and their unique qualities.
| Substitute | Notes |
| --- | --- |
| Sake | Its taste and aroma can have a hint of herbs, fruits, flowers, and even spices in it. |
| Mirin | Similar to sake but with less alcohol and more sugar, making it a sweeter alternative. |
| White Wine | Best used for stir-fried vegetables and recipes that need a light finish. |
| Rice Vinegar | Delicately sweet and savory, it's perfect for sushi, sauces, marinades, and even salad dressings. |
| Rice Wine Vinegar | Has the same mildly sweet flavor and aroma of rice vinegar, but with 25% alcohol. |
| Dry Sherry | Add half a spoonful of sugar for every tablespoon of sherry to mimic rice wine's sweetness. |
| Gin | Not as aromatic and savory as rice wine, but can deodorize and tenderize meats and seafood. |
| Balsamic Vinegar | Its balanced sweet and sour taste adds a rich, umami flavor to dishes. |
| White Grape Juice | Not as crisp as rice wine, but has a little tanginess and sweetness for marinades. |
| White Vinegar or Apple Cider Vinegar | You will only need a small amount because of its strong sour taste. |
All About Rice Wine
Although branded "wine," rice wine is more akin to beer in that it is made from fermenting rice or grains, as are the majority of beer variants. As a result, it contains gluten. It is widely consumed across South and East Asia in various cuisines and beverages.
Rice wine comes in a range of tastes – some sweet, others light – making it practically hard to describe the beverage all at once, much like telling someone who's never tried beer just what beers taste like. Shaoxing or Chinese rice wine, mirin or Japanese cooking rice wine, and sake or Japanese drinking rice wine are the most popular varieties globally.
Rice wine is sometimes mistaken with rice wine vinegar or sometimes with rice vinegar, which has been fermented further into acid for cooking and tastes somewhat sweeter than regular white vinegar. Rice wine prepared for cooking may usually be stored in a cold, dark area (such as a cupboard) for a few years and still keep well.
Shaoxing rice wine, mirin, and sake have different applications, and in this article, we were focused on Shaoxing, which is more commonly referred to as rice wine. Mirin and sake were discussed as substitutes as even when they share the common name "rice wine," they are used differently and have different tastes and aromas.
Benefits of Rice Wine
Traditionally, before Asian cuisine spread popularity worldwide, rice wine was a famous alcoholic beverage believed to bring health benefits to its consumers. And even to this day, rice wine is still a favorite go-to drink, and here's why.
Before discussing the benefits, let's talk about the alcohol content in rice wine. Wine derived from rice has more alcohol than regular wine (from grapes and other fruits) and beer. Its alcohol concentration can range between 18% and 25%. For example, ordinary wine typically has 10% to 20% alcohol, while lager contains 4% to 8% alcohol.
Due to the increased alcohol concentration of rice wine, the classic side effects of alcohol — including nausea, fuzzy vision, loss of balance, loss of muscular coordination, and a hangover, may be felt sooner than taking the same volume of drink with lower alcohol content.
Anti-fatigue and Antioxidant Properties
As an alcoholic beverage, this might be hard to digest for you. But this claim is actually backed by science and hundreds of years of countless testimonies of its consumers. While there are no human studies available, in a study using mice as samples, rice wine has shown effects in lowering fatigue and stress and even stimulates glutathione production that aids liver detoxification processes.
In the same study, the mice samples were seen to have better brain function and lower cholesterol levels. Although these results do not guarantee the same effects on humans, mice and humans share a very similar genome make-up, and these results might affect the human body.
Probiotic Properties
Rice is an excellent source of carbohydrates. And when fermented, a specific strain of yeast or bacteria is introduced to start the fermentation process. As a result, probiotics or natural gut-helping bacteria can be found in these liquids. These healthy bacteria help the body in many ways, including eliminating harmful bacteria in the gut and maintaining healthy digestion.
Another benefit of drinking probiotics is its ability to prevent diarrhea, reduce the effects of irritable bowel syndrome, reduce the recurrence of allergies and inflammations, and possibly boost the immune system. That is why Korean and Chinese people drink a glass of rice wine after eating a heavy meal that has meat in it.
Anti-cancer Properties
With cancer being a global threat, we are all interested in natural ways to prevent its occurrence. Since cancer cells spread and multiply fast, finding a solution to kill them is necessary. Drinking rice wine has shown cytotoxic effects on cancer cells and can prevent and treat cancer.
Anti-microbial Properties
Alcoholic substances have a natural anti-microbial effect as bacteria, and some fungi cannot thrive in the presence of alcohol. Hence, alcohol is considered an antiseptic. However, even with only 18-25% of alcohol which is less than commercial antiseptics, studies have shown the antibacterial properties of rice wines.
In a study of antibacterial effects of commercial rice wines, the results show that rice wine extracts were effective in killing bacteria, such as Staphylococcus aureus that causes skin infections, Bacillus subtilis that causes food poisoning, Pseudomonas aeruginosa that causes ear and lung infections, and even Escherichia coli that causes bloody diarrhea.
Making Rice Wine At Home
The good news is you can attempt making rice wine at home using only two ingredients. Here's how.
Ingredients:
Two cups glutinous rice
1 wine yeast ball (referred to as "qu" (pronounced chu), jiuqu, or jiuyao (chiuyao). These are small white balls approximately an inch in diameter that may be found in Asian supermarkets in transparent packaging)
Cooking the Rice
Rinsing the rice. In a measuring cup, measure out 2 cups (24 ounces) of rice. The rice should then be rinsed multiple times in a big bowl until the water is clear rather than muddy. Sticky or glutinous rice is more authentic and has a little different flavor than plain rice.
Soak the rice. After washing, soak your rice for approximately an hour in hot water since sticky rice cooks best after being soaked. You then strain the rice to remove the water using a strainer or sieve.
Boiling. Before placing the rice on top of the cooker, make sure to put enough water to last 25 minutes, bring it to a boil, and set the soaked rice on top. Wait for 25 minutes and check if the rice is cooked correctly.
Check the rice. After 25 minutes, remove the steamer cover and sample the rice to see whether the rice is still firm or somewhat crunchy. Using a spoon, flip it over and let it steam for another 5 minutes or so. Check every 5 minutes or so to see if it's done. Remove the rice from the heat after it has finished steaming.
Spread the rice to cool down. Once cooked, remove the cooked rice from the pot and spread it to a thin layer to help it cool.
Fermentation
Crushing the yeast ball. Using a spoon, crush the yeast ball to create a paste.
Mix the yeast ball and rice. Before mixing them together, make sure that the rice is cool, as heat inactivates yeast. Using a spatula or your clean hands, mix the two ingredients properly, ensuring that the grains are coated with the yeast.
Place in an airtight jar and conducive storage. An airtight container is necessary for the fermentation to occur.
Wait and check. This process takes days to achieve, and frequent opening of the jar can affect the process. One way to determine if wine production started is by checking the jar (make sure you used a clear glass) if there's liquid at the bottom. That liquid part is the wine, and you just started producing your own rice wine.
Strain the wine. After a month of fermentation and a lot of wine has accumulated, you can start collecting it and transferring the liquid to another container. You will notice that the wine becomes clearer.
Storage. Once all the wine has been collected, store it in the refrigerator to lengthen its shelf life and prevent contamination.
Use and enjoy. Now that you have your rice wine, you can use it for different recipes.
Conclusion
Rice wine is a prized liquid used in different Asian countries for its health benefits and flavor. While you can make it at home, the process takes more than a month to complete. So when you are in a pinch and need a substitute, you can use sake, mirin, white wine, rice vinegar, rice wine vinegar, dry sherry, gin, balsamic vinegar, white grape juice, and white vinegar or apple cider vinegar.
These options differ in taste and texture, but they also share some of the characteristics of rice wine, making them a good substitute. For non-alcoholic options, you can choose between rice vinegar, balsamic vinegar, white grape juice, and white and cider vinegar, although they might taste a bit more acidic than the rice wine.