There's a reason why white rice is the most common staple starch in the world. It's easy to prepare, goes with almost anything, and tastes great. Though if you're planning on eating it every day, you'd better invest in one of the best Japanese rice cookers.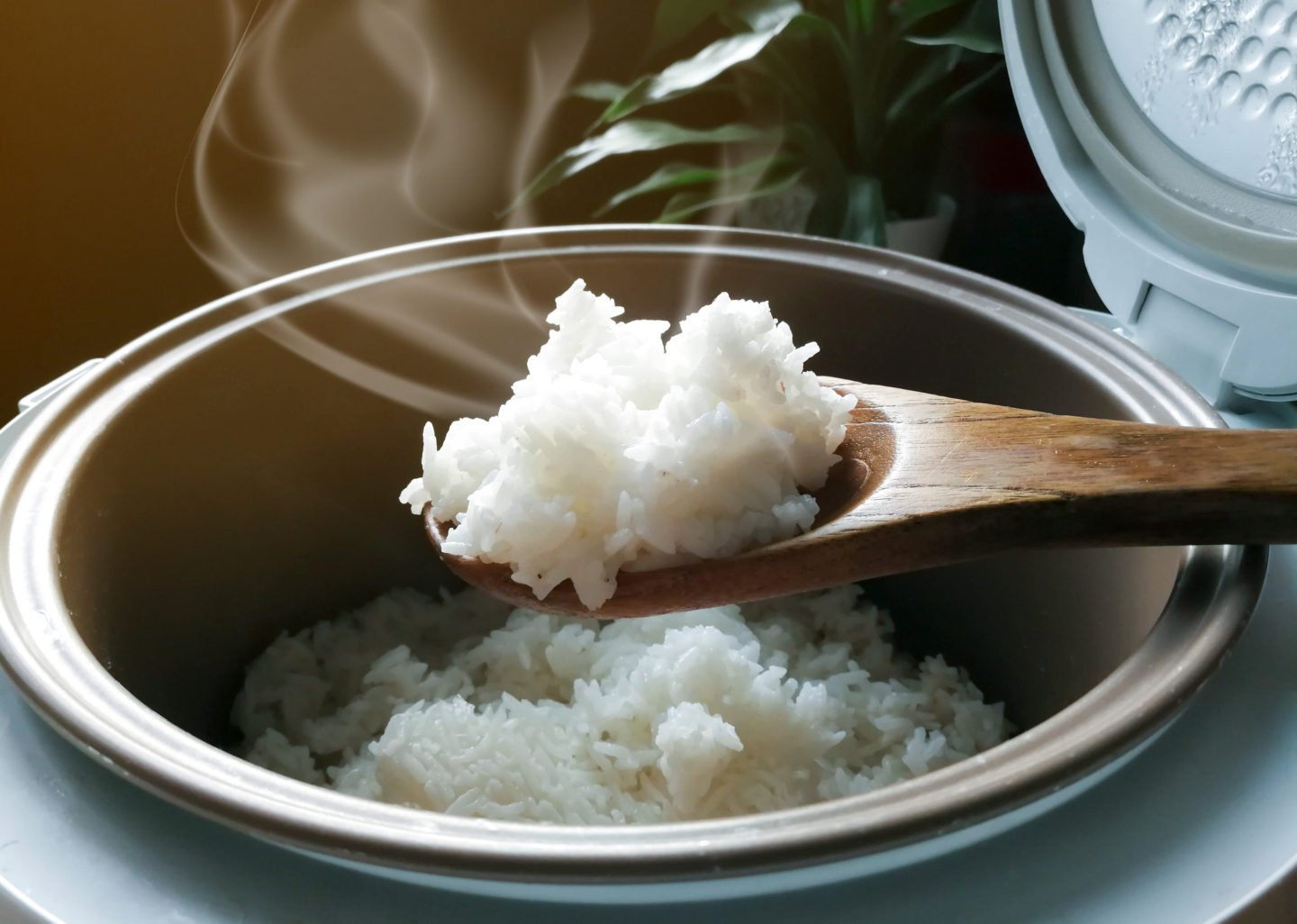 However, if you're unfamiliar with these little kitchen gadgets, knowing where to start your search makes purchasing a rice cooker easy. That's why we've put together this guide, which considers all the relevant factors, including capacity, complexity, and cooking display.
Look at our top picks below and compare their pros and cons for yourself!
Table of Contents
Best Overall: Toshiba 6-Cup Rice Cooker
For our top pick, we wanted to choose a rice cooker that offered more than the basic features but at a price that anyone could afford. The Toshiba 6-Cup Rice Cooker offers a high capacity at a fair price and includes a few features that might surprise you.
One of the surprising features is the quick rice option. That lets you reduce cooking time to 30 minutes, which is a significant advantage when you need to finish dinner at the last second. On the other hand, it offers several time-delay features if you want to slow down cooking time while waiting for other food.
This cooker is an excellent pick for anyone who wants to make quality rice while minimizing the hassle. There are certainly more advanced models out there, though, for most people, this one offers everything you'll need daily.
Best Basic: Zojirushi NHS-06 3-Cup Rice Cooker
SAVE 33%
Zojirushi NHS-06 3-Cup (Uncooked) Rice Cooker
We love this paired-down rice cooker because it's easy for anyone to use and cooks rice perfectly.
Pros: Simple design, comes in three sizes, nonstick inner lining
Cons: Doesn't offer other cooking modes, no display
White rice is a simple dish, so it makes sense that a rice cooker is a simple appliance. For some people, the best Japanese rice cookers have the fewest bells and whistles, simplifying cooking. The Zojirushi NHS-06 3-cup rice cooker embodies a quality, durable design that makes cooking rice as easy as possible.
Every aspect of the model's functionality is controlled by a single switch on the front of the cooker. All you have to do is fill it with uncooked rice and water, flip the switch, and wait until it flips back up again.
The other features are simple to understand but ensure that cooking rice is always accessible. Stay-cool handles allow you to remove the lid or move the rice cooker while it's hot. The nonstick inner cooking pan keeps the cooked rice from sticking when done.
You'll love this rice cooker if you want to make a starchy side dish without the hassle. However, if you're looking for something with time-saving features, check out the next model.
Best High-Tech: CUCKOO CRP-FA0610FR 6-Cup Rice Cooker
While most rice cookers can cook white rice, many of them aren't able to do much else. With a more technologically advanced appliance, you can turn this kitchen monotasker into a truly versatile tool. The Cuckoo CRP-FA0610FR rice cooker will be one of your favorite appliances for all rice dishes once you master all its settings.
It has 11 menu options, letting you cook brown rice, sticky rice, glutinous rice, mixed rice, and other varieties. It also has built-in temperature correction settings that automatically adjust the heat and cooking time to ensure perfect results every time.
This rice cooker is for anyone who wants a true kitchen multitasker and doesn't have a hard time toggling functions and settings. On the other hand, it's not a great choice for those looking for a simple way to cook rice.
Best High-Capacity: Zojirushi Pressure Induction Heating Rice Cooker
Your average rice cooker tops out at about 6 cups, but the Zojirushi Pressure Induction Heating Rice Cooker nearly doubles it at a 10-cup capacity. That makes it a perfect choice for larger families or to have on hand when cooking for a party.
In addition to its huge capacity, the rice cooker is also equipped with AI technology, which adapts your rice's heat and cooking time on the fly. That helps mitigate the danger of overcooking or undercooking when working with large batches.
Add this rice cooker to your kitchen arsenal if you can make a more substantial investment. You won't be disappointed in its quality, and it will serve you well if you work with large batches of cooked rice.
Best Compact: Yum Asia Panda Mini Rice Cooker
Whether you're taking your rice cooker on the go or are just trying to store it in a compact space, having a smaller model can be a huge benefit. The Yum Asia Panda Mini Rice Cooker has a surprisingly functional, compact design.
Despite its small size, it can cook white rice, brown rice, rice porridge, and baked goods like cake. You can see all the different settings displayed on the machine's front panel, and they're easy to select and toggle.
Plus, it can still produce enough rice to feed up to three people. That makes it the ideal choice for small families or people who only cook for themselves.
Best High-End: Panasonic 5-Cup Japanese Rice Cooker
Some people just take their rice seriously and want a cooker that can make consistently delicious results with minimal hassle. The best way to get the highest quality rice is to invest in a machine that puts all the options at your fingertips. The Panasonic 5-Cup Japanese Rice Cooker is the perfect design and well worth the money for those who want to invest.
While it's true that this cooker is pricier than the other options, one look reveals precisely where your money is going. A seven-layer cooking pan helps control heat, while the induction cooking design is more durable and reliable than electric heat. In addition, 13 preset cooking programs allow you to try a wide variety of different rice dishes.
That is just the tip of the iceberg of all the features this rice cooker offers. If you want to try them for yourself, we're sure you won't be disappointed with this purchase.
Best Budget: Aroma Housewares ARC-6106 Digital Rice Cooker
One of the best things about rice is that it goes with any meal, and everyone can afford it. So if you're looking for a budget rice cooker that is equally inexpensive, it doesn't necessarily mean you have to sacrifice features or quality. The Aroma Housewares ARC-6106 Digital Rice Cooker offers high-end quality at a price that can fit anyone's budget.
You might expect such an affordable appliance to have only bare-bones features, but this couldn't be further from the truth. In addition to cooking rice, this little gadget also lets you steam vegetables, sauté, simmer, and more. And with its six-cup capacity (uncooked rice), it's easy to make a wide variety of dishes.
The only downside is the rice cooker's craftsmanship. While it's not exactly fragile, you may need to replace it after a few years. There's no warranty, so don't expect it to last a lifetime.
Still, it can be the perfect option for someone who only wants to use it occasionally or for college students looking to outfit their dorm room. No matter who's using it, it's a surprisingly effective and versatile appliance.
Japanese Rice Cooker Buying Guide
While you might think of the best rice cookers as fairly basic kitchen appliances, this isn't always the case. While simple rice cookers exist, they also come in a wide range of sizes, complexity, and prices.
Take a look at this buying guide for help deciding which rice cooker suits your needs best.
Capacity
Most rice cookers are between 2 and 6 cups, and the best size for you depends on how many people you're serving. As a general rule of thumb, you want about a cup of rice per person, which means a 6-cup cooker is perfect for a large family. However, don't make the mistake of thinking bigger is always better; compact rice cookers can be more convenient to store and clean.
Complexity
The most basic rice cookers consist only of a single switch, that changes the rice cooker from warm to cook mode. In most cases, that is all you need to make perfect white rice, though more complex machines put a few more tools at your fingertips.
One of the best features of more complex rice cookers is the presets. These can let you make sushi rice, sweet rice, rice porridge, and various other dishes at the push of a button. The more complex machines also tend to give you more options for controlling the consistency of your rice.
Display
Simple rice cookers have no display at all and simply make a gentle click once your rice is finished cooking. That can be good for those who make rice only occasionally, but a digital display can be a big help too. Some displays allow you to track the remaining time on your rice, while others let you keep tabs on temperature and other cooking metrics.
FAQs
How does a rice cooker work?
You might be tempted to think that rice cookers use the same technology as slow cookers or similar appliances. Though the truth is, they have a much more specialized design.

Basically, rice cookers use sensors to track the temperature of your rice as it cooks. Once the temperature rises too quickly, the cooker knows the rice has fully absorbed the water and shuts off automatically. This way, it cooks your rice perfectly without ever burning it.
What else can you use rice cookers for?
Rice cookers do one thing very well, though most people don't know that they can also be quite versatile. Any grains that cook in hot water can be cooked in them, including oatmeal, quinoa, couscous, polenta, and lentils. Some people even use them to make simple cakes and other baked goods.
Can I lift the lid off my rice cooker while cooking?
You shouldn't need to lift the lid off your rice cooker, as white rice doesn't need to be stirred as it steams. However, if you do lift the lid, it won't do any harm as the steam will build back up quickly. On second thought, you should probably avoid lifting the lid often, or your rice may not cook properly.