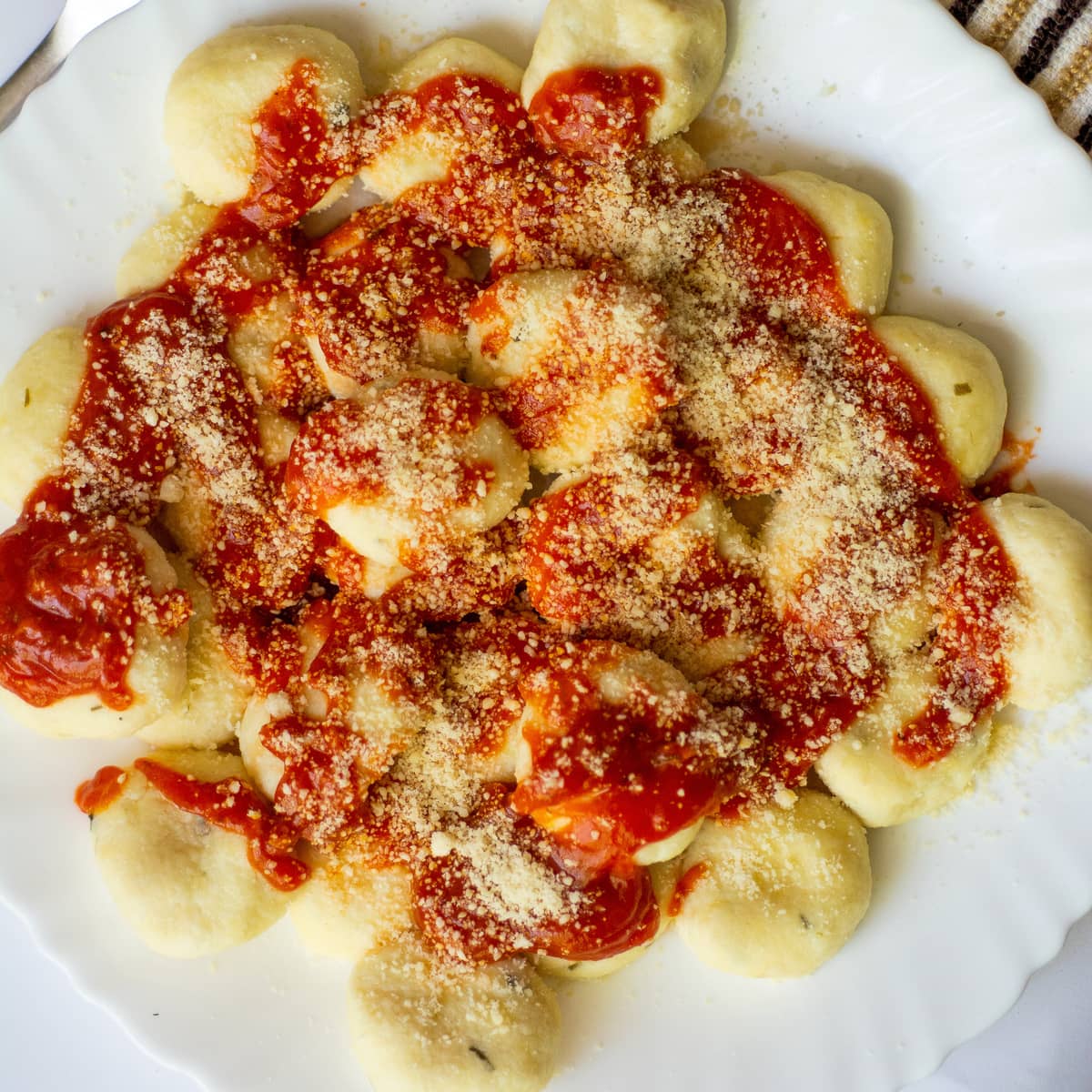 This keto gnocchi is soft, chewy, and incredibly low-carb. If you are missing the traditional gnocchi made of potato and all-purpose flour, then this recipe will be your life-saver since it'll satisfy that craving while letting you stay on the keto wagon.
After trying a few low-carb gnocchi dough versions, I can undoubtedly say that this one is the best among them. Since I am not a fan of cauliflower gnocchi, I chose to make a fathead dough version instead. So, basically, it is made out of mozzarella cheese and topped off with a keto-friendly marinara sauce.
This way, my gnocchi recipe turned out as low-carb as possible. Of course, it's also unbelievably tasty at the same time. What I love most about it is that they don't take long to cook; about 15 minutes is enough.
Table of Contents
How to Make Keto Gnocchi
Even if this is your first time making low-carb gnocchi, don't worry; everything is simple and insanely quick. So, here are the ingredients that you'll need for this keto gnocchi dough:
Shredded mozzarella cheese. This is the main ingredient for this dough. However, if you don't have any mozzarella in your fridge or don't want to use it for any reason, you can definitely substitute it with any other similar cheese kind: provolone, cheddar, gouda, or swiss cheese. Just make sure that it is shredded.
Eggs. For this recipe, you'll need only one whole large egg and one egg yolk; that's it. Eggs are great thickening agents, and they will hold the gnocchi dough together.
Xanthan gum. This ingredient is essential here since it binds moisture and prevents the dough ingredients from separating.
Almond flour. You can't use all-purpose flour in a keto recipe, which is why almond flour is the best option here. If you want to substitute it with coconut flour, it's best not to, since the latter is of a different texture and will make the gnocchi harder.
Salt and pepper. I think everyone knows why you should add these ingredients. But be careful with how much salt you add since the cheese is already quite salty itself.
After you have all of the ingredients, you get to start making the gnocchi. The cooking process is straightforward: melt the cheese, add all other ingredients, mix everything together, form the gnocchi dough, roll it into a log, and cut it into bite-sized pieces. Then, all that's left is to cook the gnocchi in a pot with boiling water and enjoy while they're hot.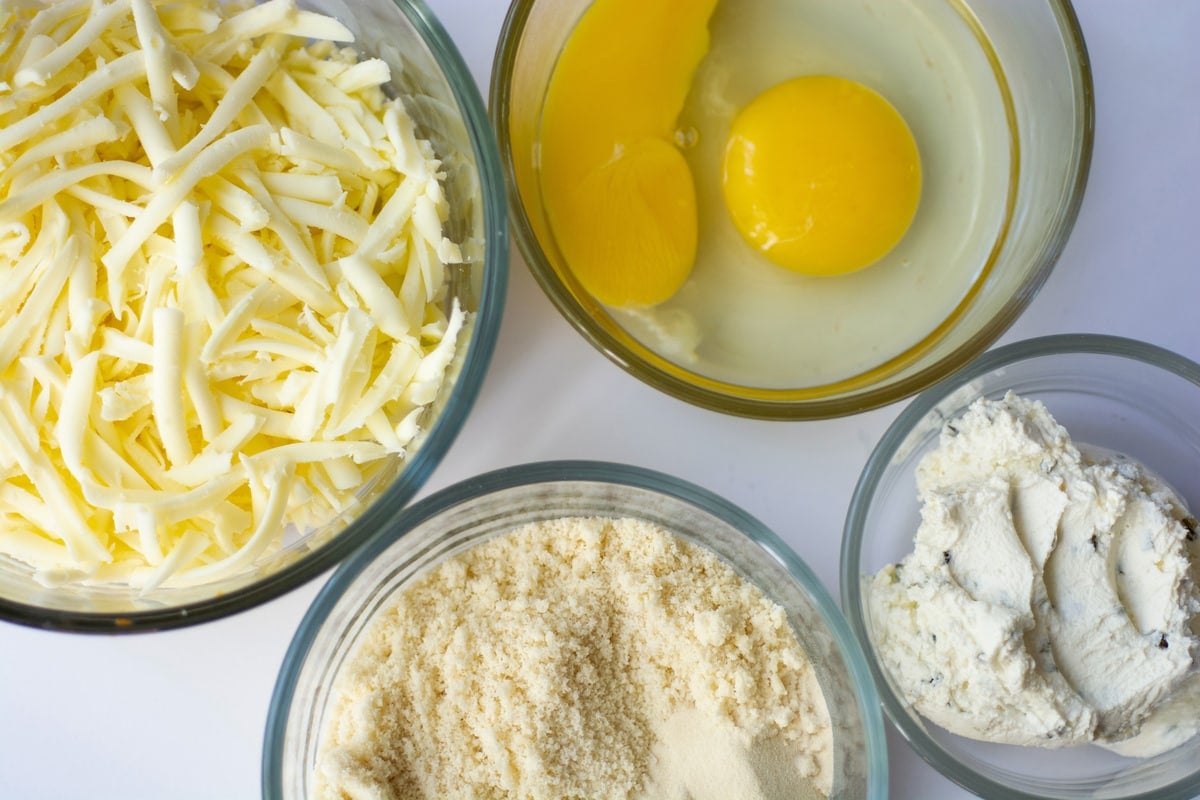 Ingredient Variations
You might be surprised with this list, but since keto gnocchi is a dish that appears at our dinner table quite frequently, I've had the chance to test all of its variations. And all of them are delicious!
Here's what you can add to this recipe:
Spinach
Basil
Minced garlic
Onion powder
Cauliflower rice
Ricotta cheese
Parmesan cheese
Even though I think that this low-carb recipe is complete without these additional ingredients, you can still add any of them to this recipe to adjust the taste of the ready dish to your liking.
Healthy, Easy Meals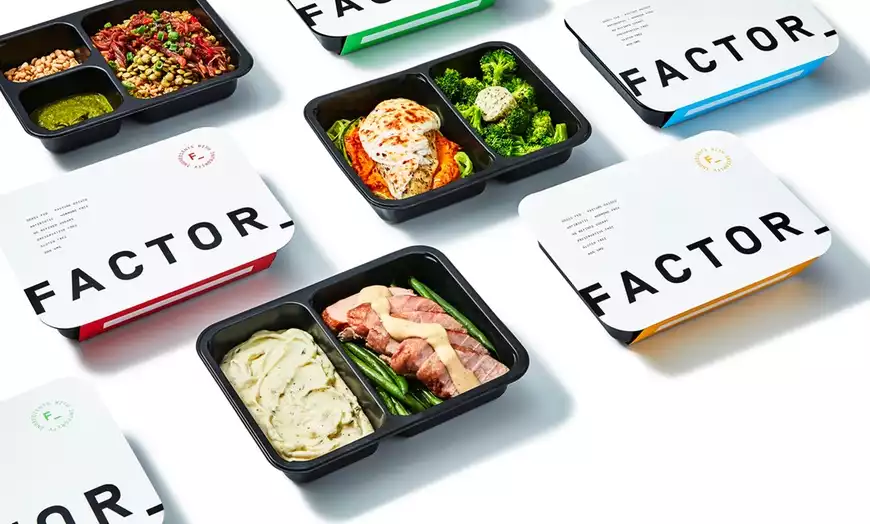 Cooking Recommendations
These tips might sound obvious to some. But if you're new to making keto gnocchi, here's what you should know before making them:
Use gloves when forming the gnocchi dough. This way, the dough won't stick to your hands, and it will be easier to roll it into a log.
Don't cook the gnocchi for too long. Usually, 2-4 minutes is more than enough to fully cook the keto gnocchi. If you boil them for too long, they may get overcooked and fall apart.
Add a bit of water or milk to the dough if it's too firm. This rarely happens, but it's okay to add a little liquid to fix the issue if you think that the dough is too firm.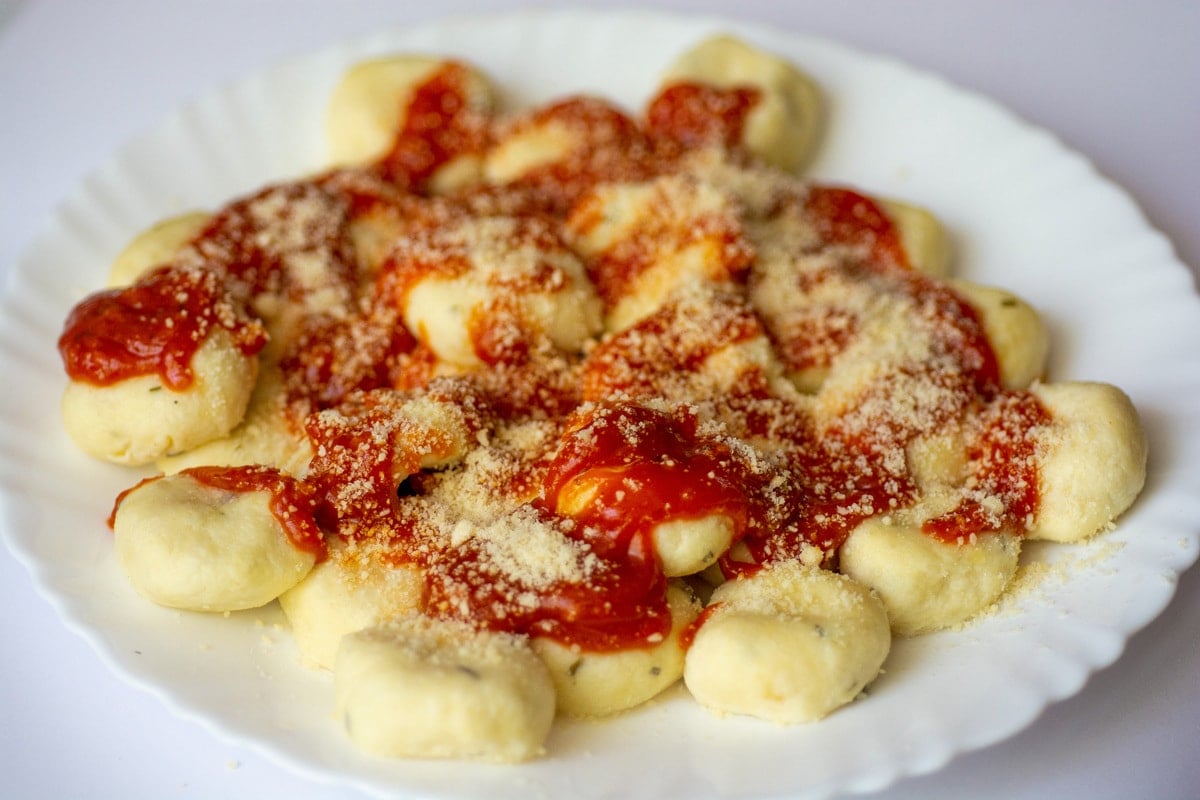 Serving Options
In general, you can serve low-carb gnocchi with almost any sauce as long as it's keto-friendly, sugar-free, and doesn't contain any harmful ingredients. Personally, I think that this gnocchi pasta goes perfectly with some pesto sauce or tomato sauce.
But if you're not sure what sauce to choose, here are a few of my favorite ones:
If you don't want to serve the keto gnocchi with a sauce, you can simply drizzle them with olive oil or add butter.
Another serving option that you can try is to make a fresh salad to go along with the gnocchi. Alternatively, try making some beef and broccoli stir fry or slow cooker pot roast to go with the keto gnocchi.
Storing and Freezing Tips
If you have any gnocchi leftovers, you can store them in your refrigerator for up to 2 days. However, place the gnocchi in a single layer and make sure that they don't overlap. Also, drizzle them with some olive oil before placing them in the fridge; this will prevent them from sticking together. You can also freeze the keto gnocchi, but make sure to drizzle them with oil before doing so.
When it comes to reheating the gnocchi, it is best to do it on a non-stick pan. Just spray it with some cooking oil then place the gnocchi.
If you're unsure of how to serve the reheated gnocchi, you can either serve them the same way as you did it previously or turn them into a gnocchi soup.
Recipe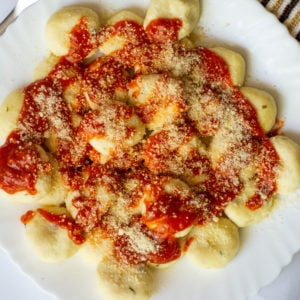 Keto Gnocchi
Soft, chewy, and incredibly low-carb this keto gnocchi will satisfy your tastebuds and let you stay on the keto wagon. Plus, it only takes around 15 minutes to make!
Ingredients
8

oz

mozzarella cheese

shredded

1

large

egg

1

egg yolk

5

tbsp

almond flour

1

tsp

xantham gum

salt and pepper

to taste
Instructions
Place the shredded mozzarella cheese in a microwave-safe bowl and melt it in the microwave for 30 seconds. Then, stir the cheese and place it in the microwave for 30 seconds more.

Crack an egg into the bowl with the melted cheese and add the yolk, almond flour, xanthan gum, salt, and pepper. Mix everything together until the dough forms.

Let the dough sit for a few minutes. Then, roll it into a long log and cut it into bite-sized pieces.

Bring a medium pot with water to boil. Place the gnocchi into the boiling water in small batches and cook them for about 2-4 minutes.

Using a slotted spoon, remove the gnocchi and put them on a plate. Drizzle them with some olive oil and serve while warm.
Nutrition
Calories:
339
kcal
Carbohydrates:
5
g
Protein:
22
g
Fat:
26
g
Saturated Fat:
11
g
Polyunsaturated Fat:
1
g
Monounsaturated Fat:
6
g
Trans Fat:
1
g
Cholesterol:
187
mg
Sodium:
529
mg
Potassium:
90
mg
Fiber:
2
g
Sugar:
1
g
Vitamin A:
688
IU
Calcium:
423
mg
Iron:
1
mg
Healthy, Easy Meals