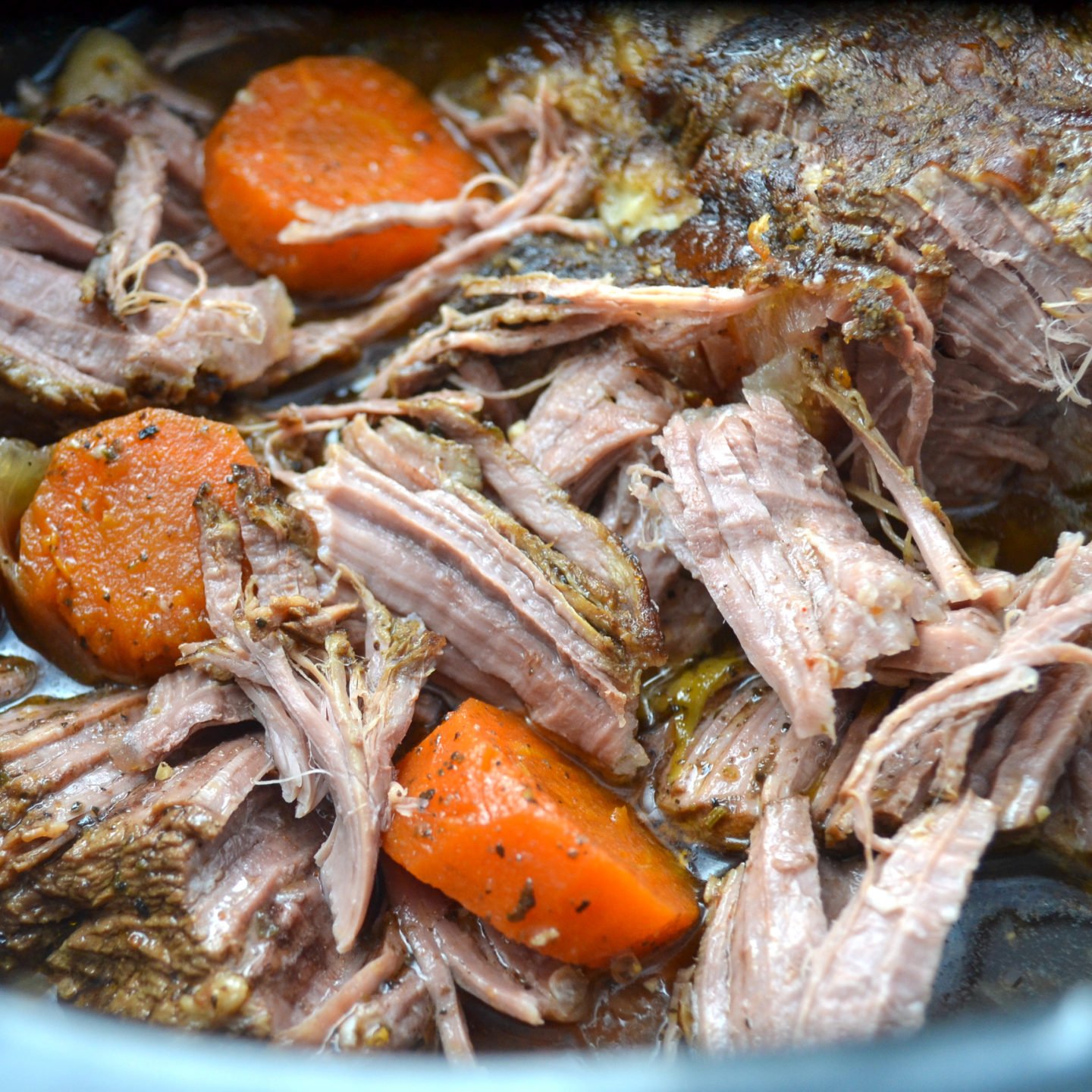 This slow cooker pot roast is perfect for those following a high-fat, low-carb diet. Everyone in your family is sure to enjoy this delicious meal! With this thoroughly thought out recipe, your keto pot roast will turn out fork-tender and extremely flavorful.
This recipe is ideal for a tasty weekend dinner since you can prep it in the morning, and the slow cooker will do everything else for you. There's no need to open the lid every hour to check on the pot roast. All you need is 15 minutes to prep the ingredients, so this low-carb dinner recipe won't take much of your time!
Plus, you're free to add any vegetable and herb to the slow cooker. My personal favorites are onions, carrots, bay leaves, and rosemary. If you experiment with the ingredients, you'll get a different taste every time you make this keto pot roast.
Table of Contents
What Meat to Choose?
If you've never made a pot roast before, then you must be wondering what the best cut of meat for such a meal is. I usually go with the chuck roast since it is always easy to shred. However, if you prefer to slice the meat instead of shredding it, the round roast is right for you. Another option is beef brisket, which is a fattier cut.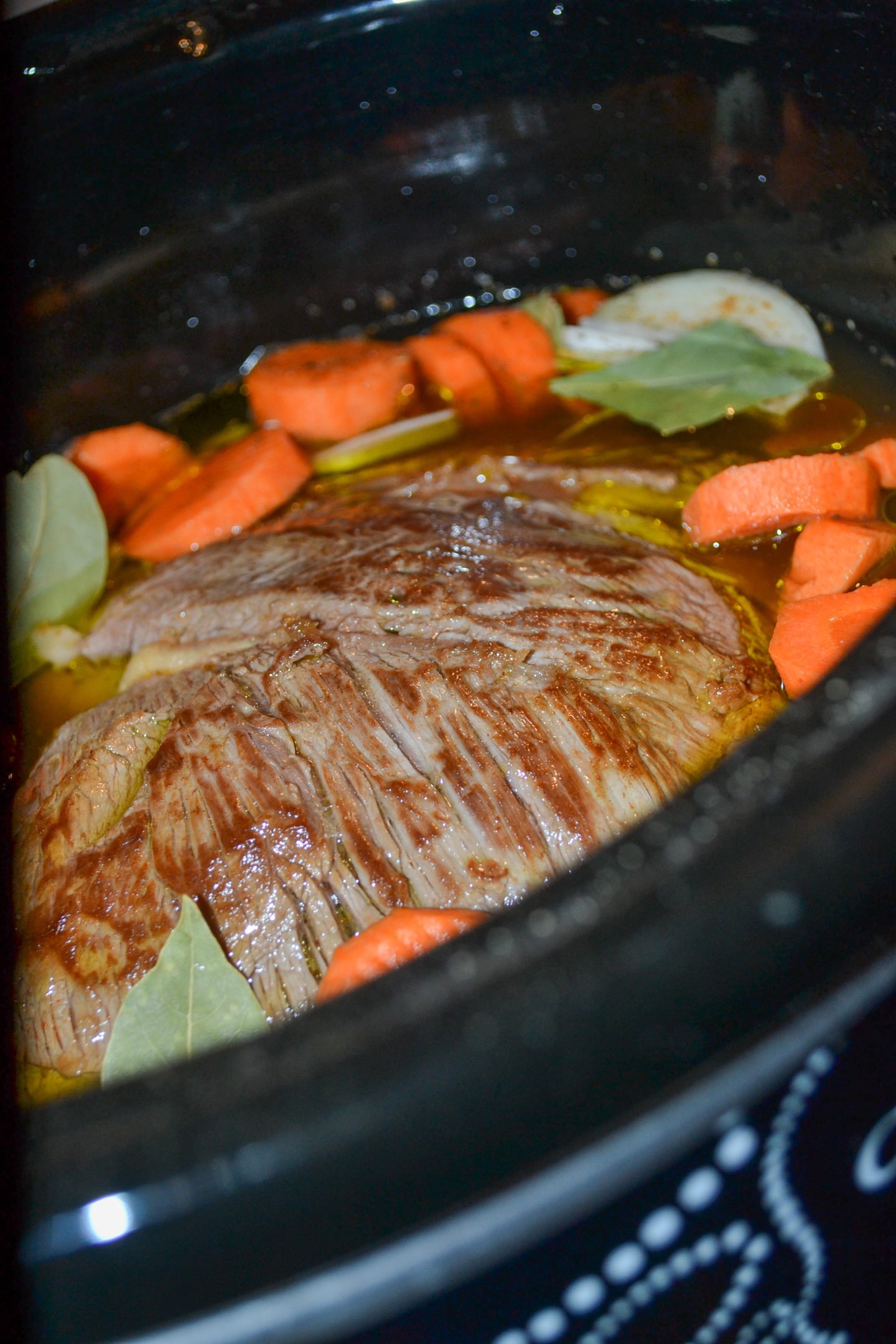 What Seasonings to Choose?
I believe nothing can ruin a pot roast. You can add any seasoning mix, and it will still turn out incredibly tasty.
I always add garlic powder, bay leaves, and rosemary when I cook a pot roast. You can also add ancho powder, if you want a nice raisiny flavor. If you just want a little heat, then cayenne pepper powder is great for that!
Other spices that can be added to the keto pot roast are oregano, cumin, or smoked paprika.
How Long to Cook It?
I always cook pot roasts in a crock-pot, but you can use any slow cooker that you have. If you need the pot roast to be ready as fast as possible, then put the slow cooker on high and let it cook for about 6 to 8 hours. If you have more time, choose the low option and leave it for 9 to 11 hours. The pot roast will turn out better if you let it cook for 9 to 11 hours on low.
When the time is almost up, you can check on the meat. If you notice that it is still a bit tough, cook it for another hour. It's almost impossible to overcook the meat, so don't worry! An extra hour won't do any harm.
Serve It This Way
Before serving the pot roast, I like to shred it. To do this, simply use two forks and pull the meat apart. Sometimes, there are chunks of fat inside, so by doing this, you can easily discard them.
Also, I always use the liquids the pot roast was cooked in to make gravy. Just add a thickener to it, such as xanthan gum (¼ -½ teaspoon). Even if you don't thicken the sauce, it will still enhance the flavor if you simply spoon the juices over the shredded meat.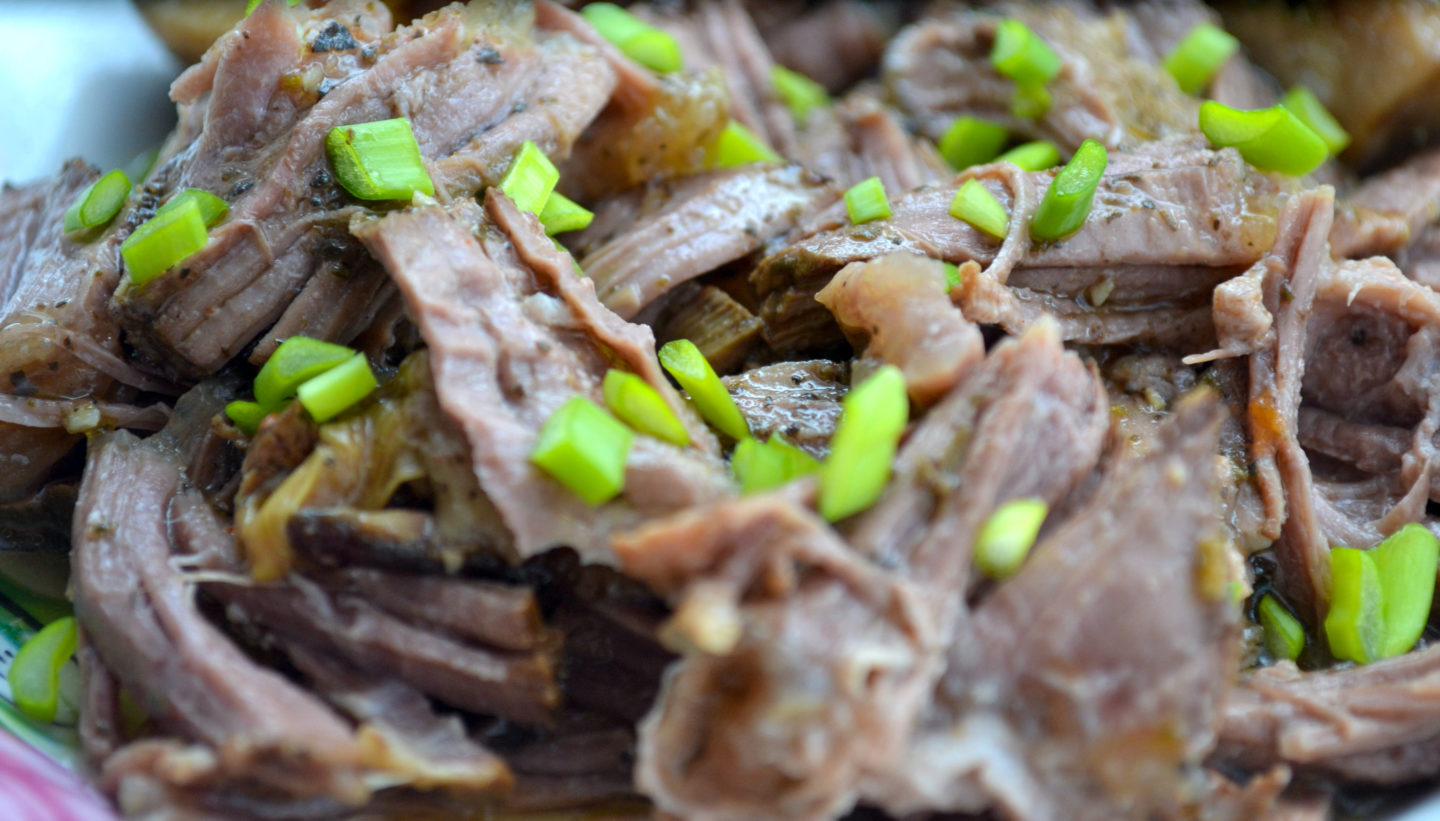 What to Do With the Leftovers?
You can store the keto pot roast leftovers in the fridge for up to four days. I like to keep the sauce separate from the meat so that whenever I want to heat the pot roast, I just put it on a plate and pour enough sauce over the meat.
If you think that this amount is too much pot roast for the next four days, you can freeze both the meat and gravy for up to three months. A good idea is to divide everything into servings and freeze it in separate bags so that you won't need to take the whole pot roast out of the freezer.
Tips for the Perfect Dinner
Here are some quick tips that can help you cook the best keto pot roast ever:
Don't forget to brown the beef in a pan before placing it into the slow cooker. It will give a tasty crust that you won't regret!
Add enough salt and pepper. If you worry that it will be too much for the pot roast, add the salt and pepper to the broth or water. It should be slightly over-salted.
If you have fresh herbs such as rosemary or thyme, use them. They are way better than the dried ones.
For an even better taste, add beef broth instead of water. Though keep in mind that it will increase the meal's calories.
Don't remove the slow cooker's lid just to take a look at the meat. It should be closed the whole time.
Recipe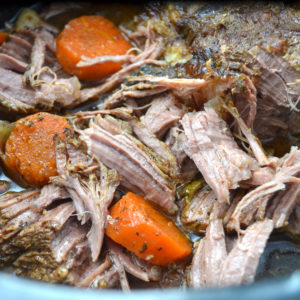 Keto Low Carb Slow Cooker Pot Roast
This keto pot roast is a high-fat, low-carb meal that the whole family is sure to enjoy! Ideal for a tasty weekend dinner, all you need to prep for this recipe is 15 minutes. Leave the rest to your slow cooker!
Ingredients
2

lbs

beef chuck roast

boneless

1

cup chopped

carrots

2

onions

2

cups

water

3

tbsp

balsamic vinegar

2

tbsp

olive oil

5

pieces

dried bay leaves

1

tsp

garlic powder

1

tsp

dried rosemary

salt and pepper

to taste

any other herb or seasoning mix that you prefer

chopped

green onions

to garnish
Instructions
Mix all the dry ingredients in a bowl and rub it in the chuck roast from all sides.

In a large pan, fry the meat on both sides without adding any oil for about 3 minutes on each side.

Place the meat into a slow cooker, pour in the water, olive oil, and balsamic vinegar. Throw in the bay leaves, chopped carrots, and onions.

Set the slow cooker on high for 6 to 8 hours, or on low for 9 to 11 hours, depending on the chuck roast size.
Nutrition
Calories:
388
kcal
Carbohydrates:
4.9
g
Protein:
24.6
g
Fat:
29.1
g
Saturated Fat:
7
g
Trans Fat:
1
g
Cholesterol:
89
mg
Sodium:
124
mg
Potassium:
551
mg
Fiber:
1
g
Sugar:
3
g
Vitamin A:
3117
IU
Vitamin C:
4
mg
Calcium:
46
mg
Iron:
3
mg