Mozzarella sticks are one of the best go-to appetizers especially for an impromptu get-together or a lazy fall afternoon spent watching football with friends. Though I love eating mozzarella sticks at restaurants and have fond memories of devouring mozzarella sticks with my cousins at our local pizza place as kids, I rarely make them at home unless I'm willing to pull out my deep fryer, which I seldom am.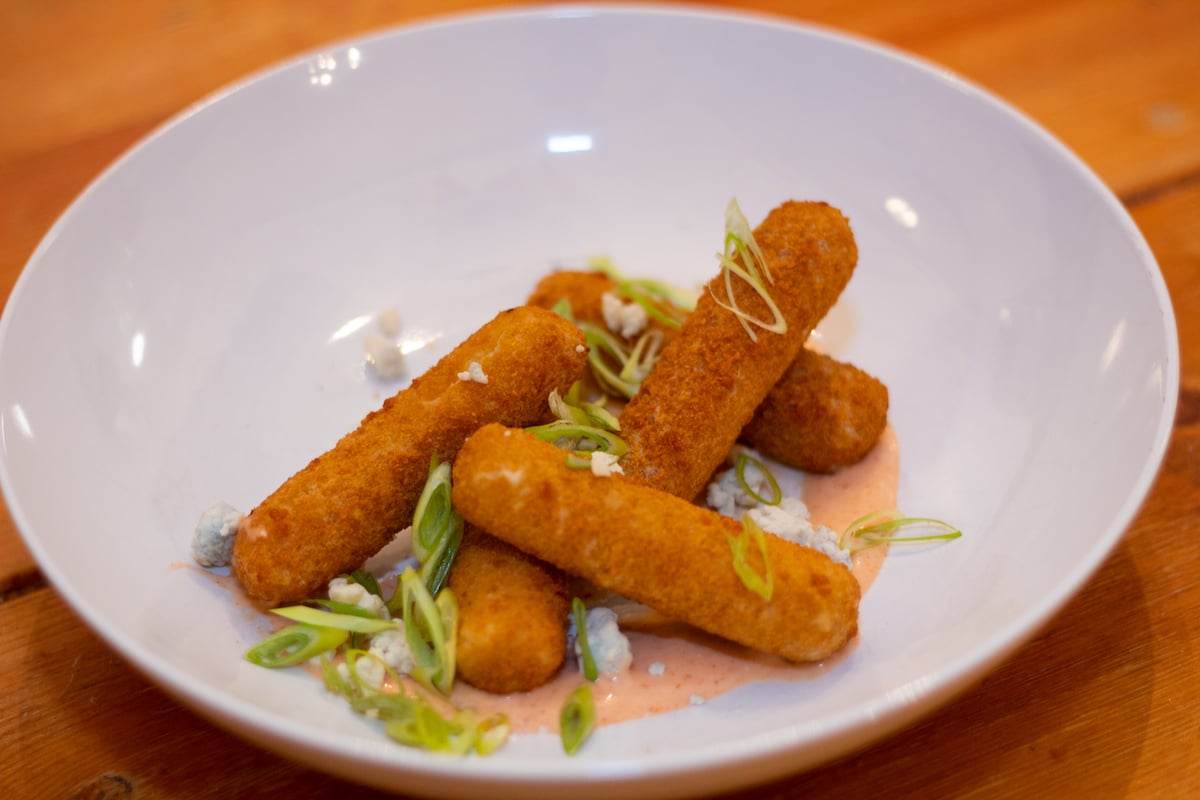 Deep frying mozzarella sticks allow you to achieve a crispy, crunchy coating on the outside and an ooey-gooey cheesy center that is hard to replicate in an oven setting. By submersing the fully breaded mozzarella sticks in hot frying oil you are able to create a crispy, crunchy outer shell filled with warm, gooey mozzarella cheese.
I have been an avid air fryer user for a little while now. Recently I've come to realize just how effective these appliances can be for creating incredible dishes from frozen premade products, like frozen french fries, or frozen mozzarella sticks. Air fryers are able to create truly crispy "fried" foods thanks to their high-powered heating element and convection fan.
While this isn't always great for making things from scratch, it does lend itself really well to turning frozen, premade products into perfectly fried appetizers and side dishes.
Table of Contents
The Strategy
To get this right, you only need a few ingredients, great mozzarella sticks, and a good air fryer. In this recipe, you'll see I'm using a toaster oven-style air fryer, but you'll do nothing differently if yours is a pod-style air fryer.
The first step in creating high-quality mozzarella sticks is to properly preheat your air fryer. While most air fryers come equipped with a preheat function I often find it's not enough to get the air oven fully up to temperature.
I like to set my cooking programs for 5 minutes longer than the actual cooking time and allow the oven to heat longer than for just the preheat cycle.
If you don't have a preheat cycle you can just set the timer for 7-10 minutes longer than the cooking time for the mozzarella sticks and put them in the oven chamber once the air fryer has fully preheated.
After the air fryer is fully preheated, arrange the mozzarella sticks in a single layer in the fryer basket and then load them into the oven chamber. Allow them to cook for ~10 minutes or until you notice cheese starting to bubble out from the surface.
Once they're are fully cooked it's time to top them or sauce them with your favorite accompaniments and enjoy!
Why This Works
By using frozen premade mozzarella sticks we are able to get the best possible air fryer mozzarella stick possible. As they cook from frozen the outside of the mozzarella stick is able to get incredibly crispy, fully encapsulating the melty gooey mozzarella cheese.
Thanks to the high-powered convection fan and heating element in our air fryer, we are able to cook the mozzarella sticks quickly and efficiently. This allows them to get super crispy without falling apart or getting soggy as they move from frozen to perfectly cooked!
Recipe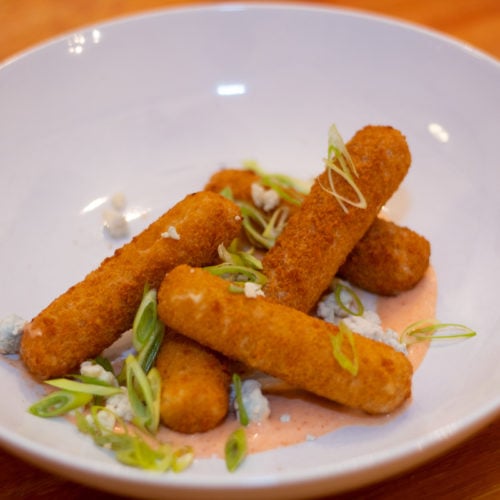 A Chef's Gooey Air Fryer Mozzarella Sticks Recipe
These mozzarella sticks from the air fryer are crunchy on the outside and gooey on the inside. They couldn't be easier or quicker to cook.
Ingredients
8-12

frozen mozzarella sticks

Seasonings or toppings of your choice.
Instructions
Preheat the air fryer to 360°f and set the timer for 10-12 minutes.

While the air fryer preheats arrange the mozzarella sticks in a single layer in the air fryer basket.

Once the air fryer has preheated insert the air fryer basket into the oven chamber.

After 10 minutes has elapsed begin to check on the air fryer mozzarella sticks. They will be fully cooked when you start to see mozzarella bubbling from the breading of the cheese sticks.

Once the cheese sticks have finished cooking, remove them from the fryer and top them or season them however you like. I love classic combinations like marinara sauce or parmesan cheese, but use your imagination and experiment with new choices too!

Make sure to let the mozzarella sticks cool for a minute or two before eating to avoid burning your mouth, but don't wait too long or you'll miss out on the melty mozzarella goodness of freshly cooked mozzarella sticks.
Notes
Here I've garnished with some thinly sliced scallions and served with a Sriracha Ranch that I made by... combining some Sriracha and Ranch to my taste. Garnish yours however you like and let me know the topping you loved most!
Nutrition
Alternative Approach
Outside of premade, frozen mozzarella sticks, you can always make them yourself, but sometimes the extra labor isn't worth the effort. I've made homemade mozzarella sticks a handful of times, both in a deep fryer and in an air fryer.
In the deep fryer, the homemade variety are almost always better than premade products. Beyond the ability to tailor the recipe to your personal tastes, you can use a ton of different types of mozzarella. My favorite method is to use sliced, fresh mozzarella for a truly amazing "mozzarella coin".
Air frying a freshly breaded product will work, I've done it and it tastes pretty good. But in my humble opinion, premade frozen products like frozen cheese sticks just work so much better. The breading is truly crispy and even, something that's hard to achieve with hand-made mozzarella sticks, and they are usually able to achieve a much more melty, cheese stick texture without falling apart.
If you are a big mozzarella stick fan and want to give hand-made air fryer mozzarella cheese sticks a try, I recommend following these simple tips for the best product possible.
Make sure to pulse our bread crumbs in a food processor or blender to get a finer bread crumb that will coat more evenly. I like to use panko bread crumbs, but regular or seasoned bread crumbs will work as well.
Blend the eggwash/milk mixture for the breading in a blender to get a nice even coating that will help the breading stick better.
Double bread the mozzarella, this means dipping them in egg and bread crumbs twice to ensure a full, even coating.
Make sure to put the mozzarella sticks into the freezer before frying. Allow them to freeze fully, this allows them to get the best possible coating while ensuring a warm melted center.
Spray the breaded mozzarella sticks with oil or cooking spray before placing them in the air fryer.
The Perfect Accompaniments for Air Fryer Mozzarella Sticks
Mozzarella sticks are great with tons of different sauces or toppings, though they are perfect on their own, there are a ton of ways to spice up crispy, cheesy, air fryer mozzarella sticks.
One of my favorite ways to serve mozzarella sticks is with buffalo ranch, some blue cheese crumbles, and a ton of fresh sliced chives. While they are most commonly served with marinara sauce, I like to spice things up and I find that the rich, gooey air fryer kind pair perfectly with spicy, sriracha ranch.
Realistically mozzarella sticks are a great blank palate for toppings, or sauces to help liven up this classic appetizer. Whether your a fan of barbecue sauce or hot sauce, dressings, cheesy toppings, or different seasonings, you can dress your air fryer mozzarella sticks up in so many different ways.
One pro-hack I like to use when seasoning air-fried food is to use seasonings like ranch packets or Italian seasoning to really step up the flavor. Ranch seasoning is one of my secret weapons in the kitchen, and the flavor it provides can be a real surprise for your guest's palates!
Mistakes To Avoid
Air fryer mozzarella sticks are pretty foolproof in terms of possible mistakes or cooking errors. However, one common issue I've seen is underfrying or undercooking the mozzarella sticks.
In my opinion, it's really important to fully cook your mozzarella sticks. A good mozzarella stick should be, melty, gooey, and stretchy. One of the easiest ways to ensure you get the best possible air fryer mozzarella stick is to look for signs that they are fully melted on the inside.
An easy trick I like to use when cooking air fryer mozzarella sticks is to continue to cook the mozzarella sticks until you see cheese begins to bubble from their sides. When this starts to happen you can be sure the inside of the mozzarella sticks is completely melted.
Pro Tips
Beyond making sure your air fryer mozzarella sticks are as gooey and melted as possible there is one other really important thing to take into account when cooking them in your air fryer and that's preheating.
Most air fryers come equipped with a preheat setting but if you don't have one available it's easy to account for that by simply setting the cooking timer for 5-10 minutes longer than needed and allowing the fryer to preheat before filling it with mozzarella sticks. Properly preheating your air fryer is the easiest way to ensure you get the crispiest, crunchiest mozzarella stick coating possible.
While an air fryer is essentially a small, well-insulated convection oven, it does share one commonality with a traditional deep fryer, and that's the need to property preheat first to get the best results.
When you cook mozzarella sticks in a deep fryer, to get the best results you need to make sure the oil is up to temperature first. This allows the outside of the mozzarella stick to begin getting crispy and encapsulating the melting mozzarella cheese.
The same holds true for an air fryer. By allowing it to preheat fully before use, you are able to get the crispiest mozzarella stick possible, while keeping all the melty, delicious mozzarella inside the breading!