Cauliflower is growing in popularity. This vegetable is being used to create healthier substitutes for everyone's favorite carbs like mashed potatoes and rice.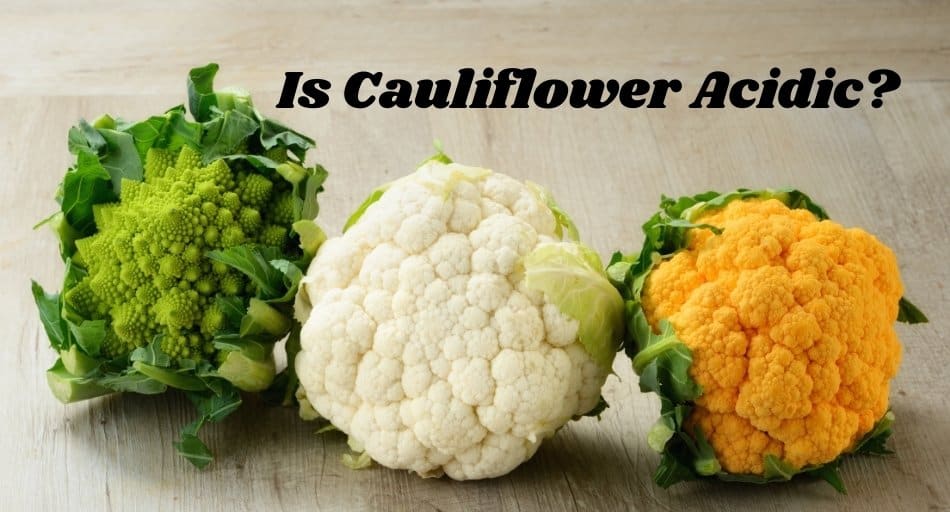 Since people are using this vegetable more and more to make healthier options, that must mean cauliflower is healthy.
To me, that must mean that cauliflower is either neutral or alkaline, right?
Table of Contents
Is Cauliflower Acidic?
Cauliflower is not neutral or alkaline; it's acidic. On the pH scale, cauliflower lands at 5.6, meaning it's definitely acidic. But it's still close to a neutral rating, which means it doesn't taste tart when you eat it.
Cauliflower is a popular vegetable choice for many people, so let's take a look at how healthy this veggie really is.
MORE ON ACIDITY:
How Healthy is Cauliflower?
If you're looking for something to eat that's super healthy and a great source of nutrients, cauliflower is the veggie for you.
This veggie is very low-calorie with only 25 calories per cup of raw cauliflower, making it a great addition to your diet if you're trying to lose weight.
Cauliflower may even help fight obesity because it's low-calorie but helps you feel fuller for longer.
Cauliflower is a great source of fiber, vitamin C, vitamin K, potassium, magnesium, and vitamin B6. When you eat one cup of cauliflower, you're getting 10% of your daily fiber intake.
Fiber helps keep your digestive system healthy and running smoothly. There are links between a high-fiber diet and a reduced risk of cancer, heart disease, and diabetes.
Don't know what to drink? We made a list of more than 20 most and least acidic juices and 20+ alcoholic drinks ranked by acidity levels.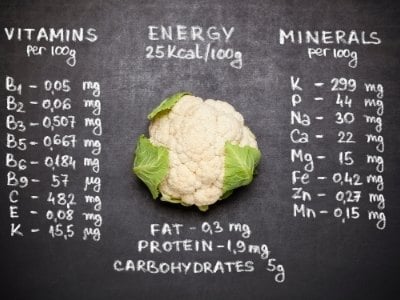 Eating cauliflower gives your body powerful antioxidants. Antioxidants help your body fight inflammation.
These antioxidants that cauliflower has have been shown to reduce the growth of cancer cells in the body.
Antioxidants can help reduce inflammation from several diseases, not just cancer. Vitamin C is an antioxidant that promotes a healthy immune system.
RELATED: Is Cauliflower Really a Flower?
Will Eating Cauliflower Give Me Acid Reflux?
When you have acid reflux disease or have had it once or twice before, you know that acidic foods and drinks can cause flare-ups.
Since cauliflower is technically acidic, many people worry that it will cause them to have heartburn and acid reflux.
The good news is, even though cauliflower is acidic based on the pH scale, you shouldn't react when eating it.
The pH level of cauliflower is relatively close to the neutral rating, so there's minimal risk of eating this veggie. Eating cauliflower may even aid in reducing stomach acid, meaning no acid reflux for you.
Delicious Ways to Eat Cauliflower
Personally, I get bored of eating steamed cauliflower. There's nothing wrong with eating cauliflower this way, but it's nice to switch it up now and then.
One of my favorite ways to eat cauliflower is by turning them into mashed potatoes. This is a delicious way to get your veggies in and have a low-carb side to your meal.
If the thought of mashed cauliflower isn't appealing to you, trying mixing mashed cauliflower with regular mashed potatoes. It tastes more like potatoes, but you're still getting the benefits of cauliflower.
The cauliflower pizza crust is a huge deal now. It's perfect for those who are gluten sensitive and a much healthier way to enjoy a slice of pizza.
Once you top it with sauce, cheese, and other toppings, you'll hardly realize you're eating a vegetable.
Another favorite dish that you can easily make with cauliflower is macaroni and cheese. Instead of using traditional noodles, you'll cut up cauliflower to use as a substitute.
Cauliflower mac and cheese is a great meal idea for the whole family or for the office potluck.
Who Produces the Most Cauliflower?
China is the leading producer of cauliflower in the world. They produce over 10 million metric tons of cauliflower annually.
Following close behind is India with a little over 8.1 million metric tons a year and then the United States with 1.3 million metric tons a year. The largest producer of cauliflower in the United States is California.
RELATED: Is Cauliflower Man-Made?
Cauliflower Comes in Four Colors
We all know that cauliflower is a white vegetable that resembles broccoli. But cauliflower isn't always white. Cauliflower comes in four colors! You can find orange, yellow, green, and even purple versions of this vegetable.
Many people see green cauliflower at the grocery store and assume it is a cross between broccoli and cauliflower. But it's not. It's just another color of cauliflower.
Don't know what to drink? We made a list of more than 20 most and least acidic juices and 20+ alcoholic drinks ranked by acidity levels.