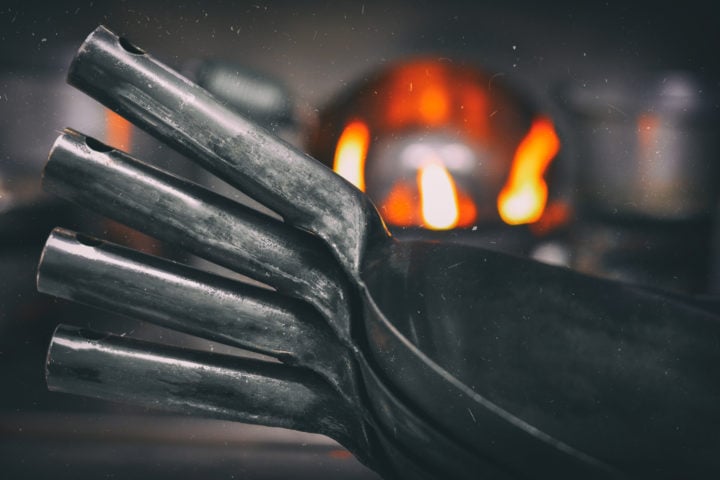 Carbon steel and cast iron wok pans are some of the most reliable pieces of cookware around, as long as you know how to care for them. With regular seasoning, they are not only durable but seamlessly nonstick and protected from rust.
There is a range of different seasoning methods that are effective. One of the simplest and beginner-friendly ones is the oven seasoning method. All it takes is some standard kitchen supplies and a bit of time.
Learn how to season a wok in the oven with this simple guide, as well as how to maintain your wok for the long term. With a bit of practice, you'll soon be an expert at maintaining your cookware.
Table of Contents
Why Seasoning is Important
If you own a cast iron or carbon steel wok, understanding how to properly season the pan is crucial. Not only will regular seasoning extend the life of your wok, but it will also improve its performance.
To season a piece of cookware means coating it in a thin layer of oil that becomes heated and polymerized. The polymerization process turns the oil from a liquid into a hard shell that protects the wok and gives it a slick surface. Without seasoning, carbon steel or cast iron wok will quickly rust as it is exposed to moisture.
In addition to providing a protective coating, seasoning also gives the cookware a nonstick surface. This is especially useful when stir-frying in a wok, as meat and veggies need a slick surface to keep from sticking.
Finally, pans that have been regularly seasoned will gradually absorb the flavors of your cooking. This will serve to naturally season new dishes and add a distinctive flavor.
A Step-by-Step Process
Seasoning a wok in the oven is a simple process that only requires a bit of neutral cooking oil, kitchen cloth, sponge, and an oven. The entire process can take several hours, though most of that time will be spent with the wok baking in the oven.
1. Clean and Prepare the Wok
If your wok is new, the first step is to remove any leftover residue from shipping or the manufacturing process. This can include dirt or grease, as well as wax coatings used to protect the wok during transport. Just a soft sponge to gently wipe the inside and outside surfaces of the wok.
Next, dry your wok by placing it over your stovetop on high heat. This will ensure any small water droplets will evaporate off the surface, which is crucial.
When your wok is dry and cooled, remove any non-metal components on your wok. Some woks won't have them, but others will have wooden or rubber parts on the handle. If your wok has nonmetal components that can't be removed, you'll have to season your wok on the stovetop.
2. Coat with Oil
Now that your wok is ready for seasoning, the next step is to choose the right oil to season it with. Neutral cooking oils with a high smoke point are best, like vegetable, canola, grapeseed, or flaxseed oil. Olive oil isn't a good choice as it smokes easily, while animal fats like lard or butter contain solids that aren't ideal for seasoning.
When you have chosen the right oil for the job, apply with your kitchen cloth. Pour a bit of oil onto your cloth and apply in a very thin, even coat. It is crucial to avoid drips, so you may want to wipe the wok down with a clean cloth when you're done, to remove any excess.
3. Place in the Oven and Bake
Now, preheat your oven to 400 degrees Fahrenheit. When it's up to temperature, place your wok in the oven with the mouth pointed downward. Bake the wok for a full hour, and then use mitts to remove it from the oven and place it on your stovetop to cool.
If you're worried about oil dripping on the bottom of your oven, you can lay down a few strips of aluminum foil.
4. Repeat
If your wok is new, you should repeat the process three to five times in total. This will ensure you develop a durable coating that doesn't flake or scratch off easily. However, if you're just maintaining an already seasoned wok, one coat can be enough.
Maintaining Your Wok for the Long Term
As mentioned above, regularly seasoning your wok is essential to prevent rust. A good goal is to try seasoning your wok every three months, adding at least two coatings each time. This will help mitigate the wear and tear that comes with regular use.
It's also necessary to season your wok if you notice damage to its surface. Deep scratches can expose your pan's metal interior and lead to rust in a matter of days. If it's not removed, the rust can spread and undermine the structural integrity of your wok.
Cleaning a Seasoned Wok
Maintaining a seasoned wok also means knowing how to clean it properly. Improper cleaning can strip away all your hard work in a matter of seconds, leaving your cookware exposed. Luckily, the process is simple, and you only need to remember a few simple do's and don'ts.
Avoid abrasive scrubbers or any cleaning products stronger than mild soap. In fact, you probably will only need a small amount of hot water to clean the wok, as its nonstick surface won't quickly crust with food.
After you've rinsed the wok, it's important to remember to dry it thoroughly. This can be accomplished by heating it over a high burner. When cool, rub your wok in a thin layer of oil and store.
Repairing a Rusted Wok
In some cases, you may find your wok already damaged by rust. Regardless of the reason for this, it's necessary to altogether remove the rust before reseasoning. Failing to do so will allow the rust to spread.
If there is a small amount of rust, you can usually remove it with an abrasive scrub pad. Simply rinse the wok under water and rub gently until the rust is gone. Avoid steel wool or anything that can damage the metal itself.
If you aren't able to easily remove the rust, or the rust has undermined the structural stability of your wok, it may be time to throw it out.
Frequently Asked Questions
If you still have questions about the seasoning process, take a bit of extra time to read up on these commonly-asked questions.
Why is there a sticky residue on my wok?
One of the most common mistakes home cooks make when seasoning their wok is applying too much oil. This will result in sticky patches or streaks rather than a smooth, slick surface. When seasoning, it is crucial that oil is applied as thin as possible so that it is almost entirely invisible.

If you find a sticky residue on your wok after seasoning, you'll have to wash it off entirely and begin the seasoning process again.
How can I tell if my wok is seasoned?
To those who haven't completed the process before, it may not be obvious whether a wok has been seasoned. Luckily, there are a few telltale signs that can answer your question.

If you are working with carbon steel, look for a dark, iridescent patina over the cooking surface. Unseasoned carbon steel is light gray in color, so the difference should be obvious. This patina will darken over time as the pan is used.

Cast iron may not be as obvious, as it is often dark-colored when you get it. Look for a glossy finish over the surface of the pan, which is a sign of seasoning.
What happens if I don't season my wok?
Failing to season a wok will quickly turn a quality piece of cookware into a useless piece of metal scrap. Layers of seasoning are a cast iron or carbon steel wok pan's only defense against rust. Without the seasoning, rust will take hold and ruin the pan in a matter of days.

Aside from this, any food you try to cook on an unseasoned wok will end up sticking to the surface. Iron is actually a highly porous metal, which does not make for a good cooking experience.
Do I need to season a stainless steel wok?
Only cast iron and carbon steel wok pans need to be seasoned. Stainless steel, aluminum, and woks made of other materials are not prone to rust.