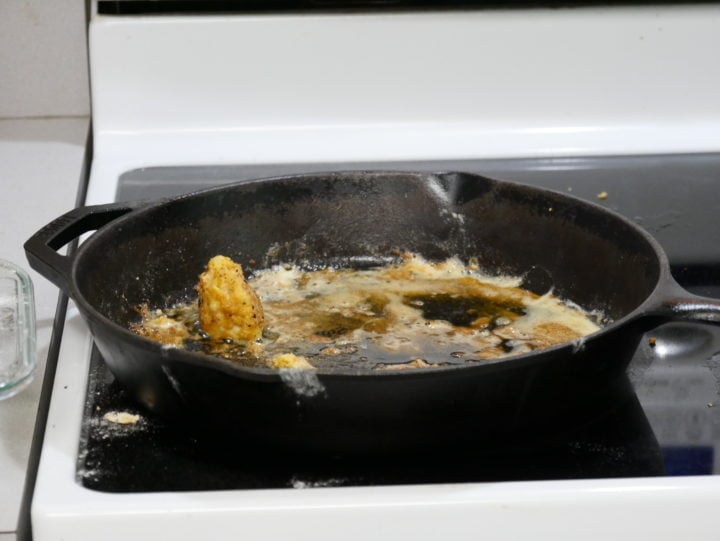 Many people shy away from using cast iron cookware because they think it is a high-maintenance cooking option. But, if cared for and used correctly, cast iron is durable, long-lasting, and can work even better than conventional non-stick cookware. Seasoning your cast iron pan is the first step to establishing a non-stick cooking surface, but what happens when your cast iron remains sticky even after seasoning? Below, let's take a closer look at the right way to season your pan initially and what to do if sticking persists even after proper seasoning.
Table of Contents
Can Seasoning Help Prevent Sticking?
If you are new to the world of cast iron, you have probably heard the word "seasoning" thrown around. Seasoning is an easy process that can help to create a smooth, easy-to-use cooking surface. Think of seasoning as a protective, baked-in layer of oil that helps prevent food particles and juices from penetrating through the cast iron pan.
Many people struggle with sticky cast iron because their pan has not been properly seasoned. Cooking in a bare, unseasoned cast iron pan will cause your food to stick and will also eventually cause the pan to rust.
What Exactly Is Seasoning?
Unlike what the name may imply, cast iron seasoning for your pan has more to do with oil than it does spices and salt. The process of seasoning cast iron pans involves creating several thin layers of fat or oil across the cast iron surface. As the oil or fat is heated, it bonds to the metal, creating a type of smooth plastic surface. After several thin layers of fat and oil are created, the cast iron pan is protected and has non-stick properties.
How Can I Season a Cast Iron Pan Correctly?
Seasoning your pan correctly is the first step to ensuring your food doesn't stick to the pan. If you have seasoned your pan and still experience sticking, ensure you have initially used the right steps to season your pan. With the right seasoning, your cast iron pan should have a non-stick, smooth surface that even tough foods like eggs will have a hard time sticking to. To season your pan, you must:
Step 1: Wash and Dry
Be sure to wash and dry a new cast iron pan. Use warm and soapy water, and make sure you dry the pan thoroughly with a paper towel to prevent rusting. You may want to hold your cast iron over the stove flame for a few minutes to remove any residual water.
Step 2: Oil
Use cooking oil and rub the entire surface of the cast iron. Be sure to fully cover the cooking surface, outside, and handle with oil. Any type of cooking oil will work, but we recommend flaxseed oil or grapeseed oil. It is also possible to use vegetable oil, canola oil, lard, bacon grease, or melted shortening to season the pan.
After the oil is evenly applied, buff the pan to remove any residual grease. You do not want to see any oil droplets or pooling because this will affect the cooked surface.
Step 3: Heat
Once the cast iron pan has been thoroughly oiled, place the pan in a preheated oven at 450 degrees F. Allow your pan to cook for 30 minutes. Be sure to keep your kitchen ventilated because the pan may produce some smoke during this process.
Heating your pan in the oven will allow your pan to heat evenly. Although many people will suggest seasoning your pan on a hot burner, uneven heat patterns along the burner can cause spots to appear in your cast iron pan where food may potentially stick.
Step 4: Repeat
After your pan has heated, repeat the process. Start by rubbing it with oil and buffing it to remove any shine or grease. Once the coat of oil is evenly applied, place the pan back in the oven for another thirty minutes.
To have an even and perfectly seasoned pan, be sure to repeat this process about three or four more times. The more thin layers of oil that are baked into your cast iron pan, the less likely it will be to have a sticky pan.
Will I Need to Reseason My Pan?
Typically, once you season your pan correctly, your pan will remain seasoned for the pan's lifetime. Although you may need to reseason your pan if it was not done the first time correctly, generally, one solid seasoning is all that is required.
As you use your pan or griddle, additional natural oils from the food you cook will help to continue to season the pan. As the layers of seasoning are built up, you'll even be able to venture into acidic foods such as tomato sauce without harming your pan. The best way to keep your cast iron non-stick and seasoned is to regularly use the pan.
Why Is My Cast Iron Sticky After Seasoning?
Even after the right amount of seasoning, it is possible to have a sticky cast iron pan. Sometimes, even if the pan is seasoned correctly, improper cooking methods can lead to a sticky pan. Let's take a closer look at some common reasons why your cast iron pan may continue to stick, even after proper seasoning.
Not Enough Fat
If you are not using enough oil or fat while you are cooking, it can cause the food to stick to the pan, even when the pan has been properly seasoned. Sticking food tends to happen more often with newly seasoned pans that don't have additional layers of baked oil to help forgive the lack of oil or fat used in the meal preparation.
Luckily, fixing this common problem is very easy. Before cooking your meal, make sure to add close to a teaspoon of your preferred cooking oil to the skillet. Heat the oil gradually and make sure the oil covers the entire cooking surface. Turn off the heat and allow the pan to cool. Use a pan scraper and remove any food buildup that may be causing additional sticking. Adding an additional oil coating can help keep your food from sticking, even in a seasoned pan.
Overcooked Food
Unfortunately, if you leave food to cook too long in your cast iron pan, you can cause the food to stick, even with the best seasoning. Once the food sits too long, the food can become burned and attached to the pan. When cooking, always be sure to keep your food moving, and do not allow foods to sit for too long without turning and rotating them.
First, you'll need to remove the food debris to prevent future sticking. Using a pan scraper is the best method. For stubborn burn-on, add a little water to the pan and heat to a simmer. Use the scraper once the water has cooled. Remember using dish soap will quickly break down the seasoned layer, so simply using heated water is the best approach.
To prevent this problem from occurring in the future, you'll want to dry your pan fully. Next, add just a teaspoon of oil, and coat the cooking surface evenly. Heat the pan to re-establish a layer of baked oil. This small and quick method will help to recover your pan from burn-on and prevent future food from sticking to the cast iron pan.
Using Too Much Oil
While oil is undoubtedly essential to properly season your cast iron pan, sometimes having too much oil can cause your cast iron pan to become sticky. Usually, if your pan is sticky before cooking, it may be a sign that you have too much oil built upon the pan's surface.
Too much oil may be the result of seasoning the pan initially with too much or could simply result from the types of foods you are cooking. Every time you use a seasoned cast iron pan, natural oils from the foods are deposited onto the cast iron. With repeated use, it may be possible to have a sticky, oily surface.
Luckily, fixing this problem is very easy and is a common problem to have with a sticky but seasoned cast iron skillet. To remove the pan's stickiness, you'll want to place the pan upside down in the oven. Set the range to about 450 to 500 degrees F and let the cookware bake for about an hour. This process will help redistribute the oil on the pan's surface, making your pan non-stick once again. Allow the pan to cool, and repeat if necessary.
Cast Iron Is Too Cold
The trick to cooking with cast iron is to have the pan hot, which is true for seasoning and cooking alike. When you season your pan initially, you want to make sure the oven is preheated, and the pan is hot. This essential first step will allow the oil to spread and bake onto the pan's surface evenly.
The same holds true for cooking too. Using a cast iron skillet that is too cold will not only cause your food to stick, even if it was seasoned correctly but also cause the new oils to become unevenly distributed. Uneven oil coats lead to ongoing sticking concerns, which can spell disaster in the kitchen.
When working with cast iron, always be sure to preheat your oven or cooktop. You want your cast iron pan to reach the correct temperature before adding oil or your food. Placing food in cold cast iron, then coming up to temperature, will almost always lead to sticking.
If you find it necessary to reseason parts of your cast iron pan after sticking, be sure to allow your cast iron skillet to reach temperature first. Once the pan is hot, add just a teaspoon of oil to the pan and make sure the oil can coat the surface evenly. Bake the pan for a consistent and even coating that will help to re-establish the seasoning on your pan.
Cast Iron is Too Hot
Alternatively, sticking can occur if the cast iron pan is too hot. A good indication of a pan being too hot is seeing smoke come from the pan's surface. Too much heat can cause the protective oil surface to bake off, leaving a sticky pan.
Leaving the heat turned up too high can happen quickly, so it is essential to keep a close watch on your pan. If you notice smoke, turn the heat down to medium heat and do not cook your food until the temperature has stabilized. Cooking with too much heat can lead to burned-on food and cause patches to form in your seasoned cast iron pan.
Cast Iron Is Gummy
Sometimes the cast iron will start to feel sticky and gummy to the touch after you have been using your cast iron pan for cooking. This feeling is normal but can be a sign that you have built-up residue forming on your cast iron skillet, created by food and excess oil. Simply scrubbing the cast iron to remove the residue will be enough to take care of the problem.
If you don't have a scraper or a scouring pad to use, it can help to pour some thick kosher salt or sea salt into the pan to help create friction and texture. Use a piece of leather, sponge, crumpled aluminum foil, or even steel wool to help scrub the skillet and remove the built-up residue. Once the pan is cleaned of food, you can give the pan a good rinse. Of course, washing the entire pan too much will remove the seasoning layer, so it may be necessary to season cast iron according to the above instructions once again to create a nonstick surface.
Cast Iron Burned with Acidic Food
While a sticky cast iron skillet is challenging to cook with, having a sticky cast iron pot or dutch oven can be just as tricky. Like a cast iron frying pan, a pot will also require the proper seasoning. However, sometimes cooking highly acidic food options, like tomato sauce, will cause the thin layer of oil and fat built up during the seasoning process to flake off. The tough acidity from the tomatoes penetrates this nonstick layer and makes your cast iron pot sticky.
To correct this problem, it is essential to only use your cast iron for non-acidic foods unless you have an extremely thick and durable seasoning layer built up within your pan or pot. Having years of baked-on fat and oil in your pan's seasoning layer can help protect pots from acidic burn-through. If you start to notice your cast iron pot is sticking, you may have uneven seasoning. Lightly coat the bottom of the pot and interior walls with light oil. Bake the pot in a preheated oven to re-establish a seasoning layer and prevent future sticking.
If cared for properly, cast iron is a beautiful and versatile cooking option that many people use as their preferred cookware in the kitchen. Ultimately, what makes a cast iron skillet non-stick is having proper seasoning. If, after proper seasoning, you still notice that your pan is sticky, you may have an issue with your cooking method. Ensure the temperature is correct, and you are using the right amount of oil. While a cast iron pan seasoned correctly will last a lifetime, it may be necessary to make a small seasoning application to help repair uneven coatings and establish a non-stick surface once again.