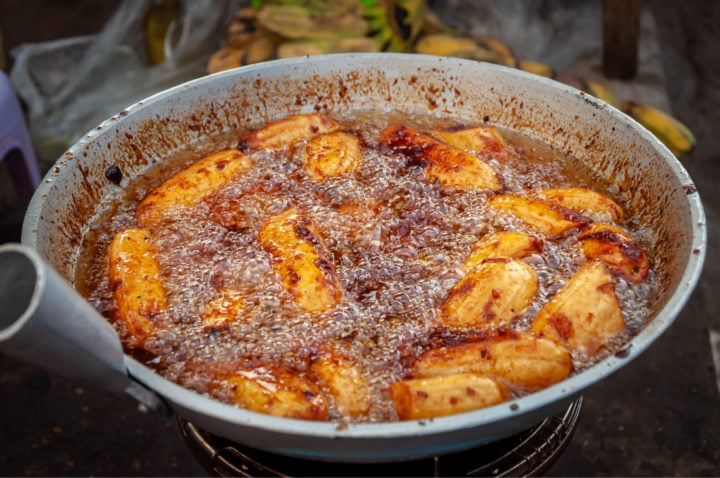 We all know that woks are the ideal tool for stir fry, but can they be used for other cooking methods? In fact, they're one of the most versatile pieces of cookware available, letting you boil, steam braise, and sautee.
However, one of the best-kept secrets of the wok is that it is excellent for deep frying. It offers a number of unique advantages that simplify the process and improve results. Take a look below for tips on deep frying with a wok.
Table of Contents
Advantages of Frying with a Wok
You may be surprised to learn that deep frying with a wok is actually easier than using a regular pot or pan. Take a look at these advantages.
Easier to Handle
Since woks have such a wide mouth, it's easier to lower food into them than it is with other cookware. The wide opening also makes it easier to stir food and keep everything in motion.
Reduced Mess
The wide and high sides of a wok are perfectly suited to catching excess grease that splatters over the sides.
Less Chance of a Boil-Over
Putting more food hot oil will tend to create more bubbles. That can result in a boil-over, making a mess, and creating a kitchen hazard. Luckily, the shape of a wok allows you to fry more food while distributing bubbles more safely.
How to Fry in a Wok
The fact is, deep frying in a wok is quick and easy. Just follow these simple steps and get cooking!
1. Prepare your food
Before frying, it's best to pat dry your meat, veggies, or other foods. This ensures a nice crisp fry while keeping excess moisture out of your oil, which could cause splatter.
If you're battering your food, you'll want to get your oil up to temperature first before battering.
2. Fill Your Wok
Generally, foods need to be submerged beneath at least an inch of oil to deep fry properly. That means making sure you put an adequate amount of oil in the wok, usually at least a few inches. It may seem like a lot, but don't worry, you can reuse it for the next time you fry.
3. Heat Check Your Temperature
Set your burner to high. Clip a frying thermometer to the side of your wok, so the tip is submerged. Within five to eight minutes, your oil should be up to temperature. You're looking for your oil to be around 375 degrees Fahrenheit. That can vary depending on the food you're cooking, so follow your recipe.
4. Fry
Once your oil is up to temperature, it's time to fry your food. Since the oil is so hot, it's important not to drop the food in, which could create splatter. Instead, gently lower the food into the oil, bringing your fingers close to the surface without touching.
It can also be helpful to use a spoon to lower the food in, keeping your fingers out of harm's way.
5. Drain
After your food is golden brown, take it out using a frying basket or slotted spoon. Have a plate lined with paper towels ready to soak up the grease.
Once all your food is out, season it immediately and serve as soon as possible. Fried food is best enjoyed as fresh as possible, so turn off your stove and save it for later.
6. Cleanup
Make sure to let your oil cook completely before cleaning it up. If the oil is fresh, you can use a funnel to drain it into a large jar or jug and reuse it several more times. If the oil is discolored, it means it should be thrown out.
Tips for Frying in a Wok
Now that you know how easy it is to deep fry in a wok, it's time to master your technique. Keep all of these tips in mind next time you make your next batch of french fries or falafel.
Ease in your food. Rather than dropping it from high up, simply drop the tip of your food in the oil and release it.
Use a thermometer. Even experienced chefs use a thermometer to make sure their oil is exactly the temperature they need it to be.
Don't overcrowd your wok. Putting too much food in your hot oil can cause pieces to get stuck together. It also risks a boil-over, which can be a real disaster.
Keep your oil clean. If you're frying in batches, make sure to skim out all the extra bits of batter or food between each batch.
Dry your food before frying. This will ensure you get a nice, crisp finish on it, and it will help prevent boilovers.
Reuse your oil. As long as it's still clean and normally colored, you can reuse your oil for the next time you fry. Simply store it in a jar or jug for later.
Keep it moving. It's important to keep food moving while it fries to prevent pieces from getting stuck together. It also helps food get evenly cooked.
Frequently Asked Questions
Are you thinking of deep frying in a wok? Make sure to read through these frequently asked questions first before starting.
What kind of oil should I use for frying in a wok?
When deep frying in a wok or any other pan, choosing an oil with a high smoke point is important. Vegetable oil or peanut oil are good choices, as they can reach high temperatures without burning. Olive oil should be avoided, as it has a low smoke point.
Can I use a nonstick wok for deep frying?
If your wok has a nonstick coating like Teflon, you shouldn't use it for deep frying. Such coatings aren't great at standing up to high heat, and deep frying with them will quickly degrade them.