The main difference between hollandaise and mayonnaise is the use of butter instead of oil in hollandaise. Hollandaise sauce comes from egg yolks, butter, lemon juice, and seasonings, while mayonnaise uses egg yolks, oil, and lemon juice. Another difference between these two sauces is the involvement of heat and cooking in making hollandaise.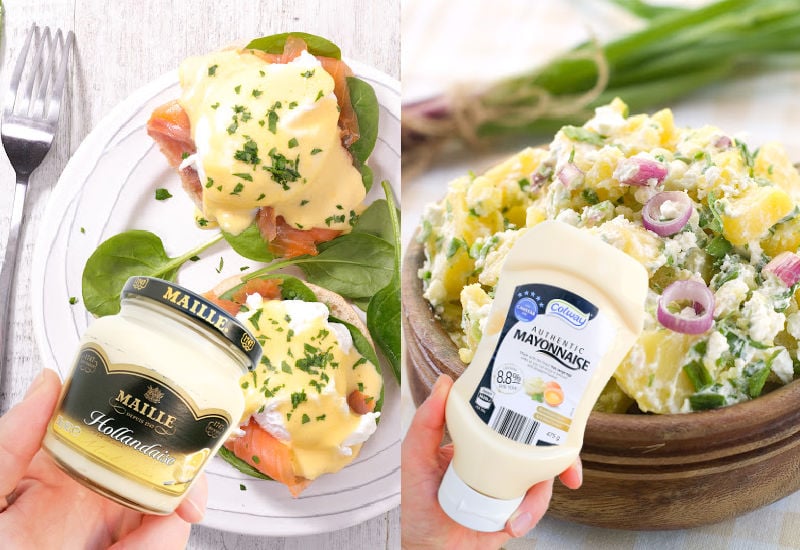 While both offer a creamy texture, these sauces have key differences. Read on to learn everything about their differences in ingredients, cooking methods, flavor, uses, origin, and nutrition. This article also included easy hollandaise and mayonnaise recipes that you will enjoy, so be sure to read to the end.
Table of Contents
What's the difference between hollandaise sauce and mayonnaise?
Hollandaise and mayonnaise are both thick, emulsified sauces made with egg yolks, fat, and an acid like lemon juice or white vinegar.
Mayo is a versatile sauce that is served cold. It has a mild, slightly tart flavor that fits into a wide variety of dishes.
Hollandaise is one of the five Mother Sauces and is usually a finishing sauce, served warm. Its rich, buttery texture and tangy flavor make it perfect for topping asparagus, fish, or eggs.
Do you love making sauces at home? Be sure to check out our ultimate guide to homemade sauce.
Ingredients
Sauce recipes will vary depending on who's cooking them, but popular recipes usually include the following ingredients.
Mayonnaise: egg yolks, oil, and lemon juice or white wine vinegar.
Hollandaise: egg yolks, butter, lemon juice, seasonings such as cayenne pepper or white pepper.
Cooking method
Both sauces are emulsions made by slowly incorporating fat like oil or butter into egg yolks. However, hollandaise is made by slowly whisking melted butter into a mixture of heated egg yolks and lemon juice. Mayo doesn't involve any cooking. Instead, olive oil is slowly drizzled into egg yolks while being whisked or beaten with an electric mixer.
Flavor
Mayonnaise has a clean, mild flavor with a subtle eggy, tangy undertone. It has a luxuriously thick, creamy texture. Hollandaise has a similar flavor and texture, but it is richer and tangier with a buttery mouthfeel.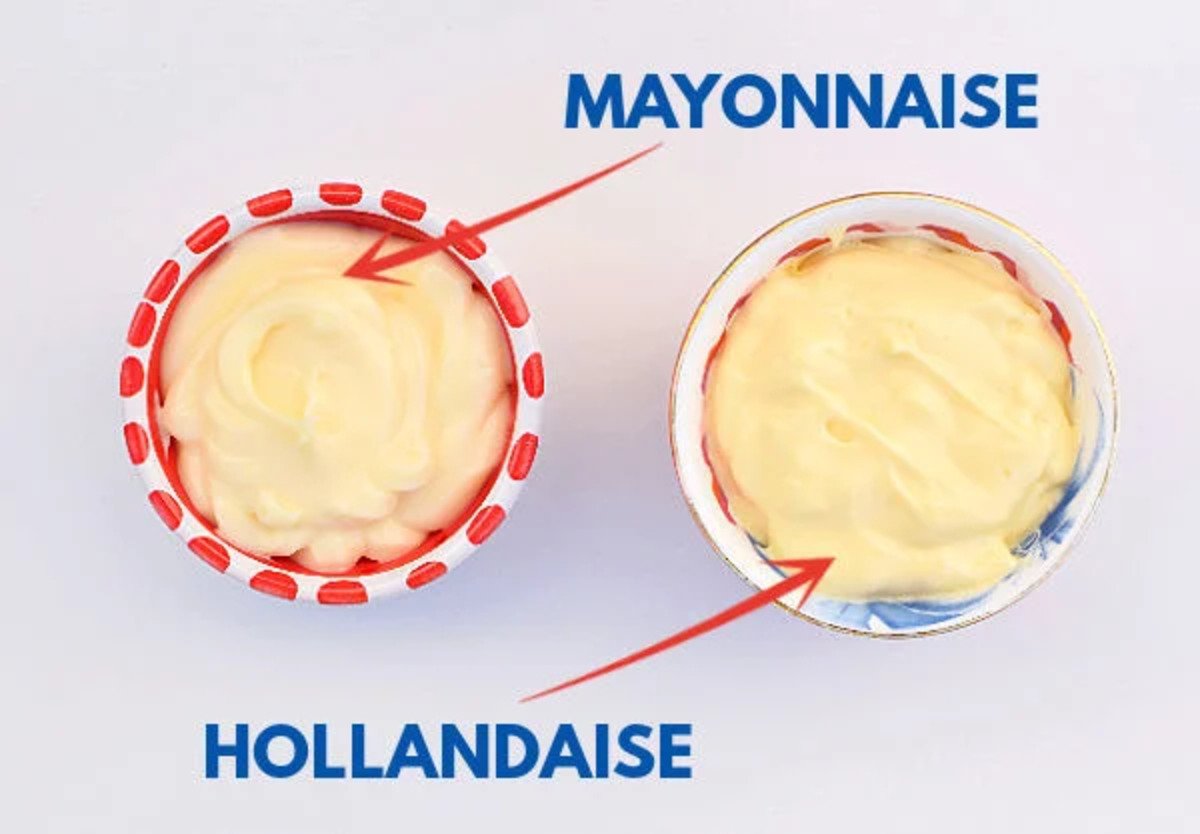 Uses
The creamy, tart flavor of Hollandaise pairs deliciously with fish like salmon and dill. It is also excellent smothered over asparagus or spooned over Eggs Benedict.
Mayonnaise is a more versatile sauce that works well with many different ingredients. Its sweet, creamy flavor is ideal for potato or chicken salad. Sandwiches, burgers, and deviled eggs all taste better with mayo. It's a useful replacement for cream in alfredo pasta and can be used to bake perfectly moist cakes.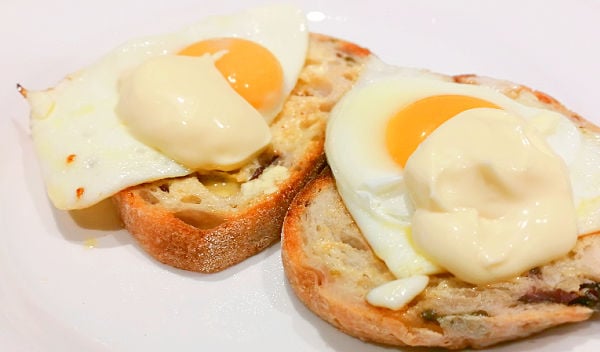 Origin
Back in 1756, a French chef working for the Duc de Richelieu created mayonnaise. It was made from eggs and cream as part of a victory feast. Although the name suggests hollandaise is a Dutch creation, most generally agree it was French made. The first description of the sauce dates back to 1661.
Nutrition
Interested in a nutritional comparison of hollandaise and mayo? Keep in mind that they're both high in fat and should be eaten in moderation.
It's important to keep in mind that commercial products use wide-ranging ingredients resulting in different nutritional content. You're best to check the label. Mayo comes in a huge range of options: whole egg products are high in fat; there are also lite mayo products.
Here's the nutritional data provided by Nutritonix. This will give you a ballpark idea of what these sauces offer.
Mayonnaise vs Hollandaise: Nutritional Value
| | Hollandaise (one tablespoon) | Mayonnaise (one tablespoon) |
| --- | --- | --- |
| Calories | 83 | 94 |
| Total Fat | 8.8g | 10g |
| Saturated Fat | 5.3g | 1.6g |
| Cholesterol | 66mg | 5.8mg |
| Sodium | 259mg | 87.6mg |
| Potassium | 14mg | 2.8mg |
| Carbohydrates | 0.6g | 0.1g |
| Sugar | 0.1g | 0.1g |
| Protein | 0.8g | 0.1g |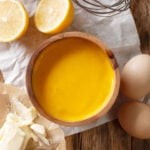 Basic Hollandaise Sauce
Print Recipe
Ingredients
300

g

butter

5

egg yolks

1

tbsp

water

1

tbsp

lemon juice

pinch

white pepper

salt to taste
Instructions
Melt butter in the microwave and then allow to cool.

Half fill a small saucepan and bring to a simmer then reduce to the lowest heat.

Place a heatproof bowl over the saucepan and whisk the egg yolks and water until combined. You want the liquid to be warming up, but don't let the temperature get too high or the eggs will scramble.

Whisk in lemon juice then remove from the bowl from the heat.

Slowly add drops of butter to the eggs, all the while whisking. Gradually add more and more butter until a thick, smooth sauce results.

Whisk in the seasonings and serve.
Notes
Did you know? By adding tarragon and shallots to hollandaise, you'll have made bearnaise sauce.
---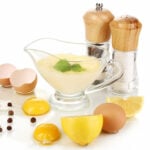 Easy Mayonnaise Recipe
Print Recipe
Ingredients
3

egg yolks

2

tbsp

white wine vinegar

½

tsp

Dijon mustard

1

tbsp

lemon juice

pinch of sea salt

2

cups

light olive oil
Instructions
Add yolks, vinegar, mustard, lemon juice, and salt to a tall thin vessel. If possible, use the container your stick blender came with.

Add the oil and wait 60 seconds for the oil to separate on top, then blend for 15-20 seconds. Make sure the blender is pressed firmly on the bottom.

As the ingredients begin to emulsify, begin moving the blender up and down so that nothing gets missed.

Remove the blender once the sauce has thickened and all the ingredients have been incorporated into the mixture.

Use sauce immediately or store in the fridge for up to 7 days.
Commonly Asked Questions
Is hollandaise a type of aioli?
Aioli recipes will vary, but most modern aiolis are a type of mayonnaise with garlic added. Hollandaise is a milder-flavored sauce that is made from egg yolks, butter, and lemon juice.
How are mayonnaise and hollandaise similar?
Both sauces are egg-based. They are made from an emulsion of egg yolks and oil or butter. They're both white sauces that add a creamy, mild flavor to dishes.
Related reading:
Tartar vs. remoulade - what is the difference?
What are some handy alternatives to Dijon mustard?
How do I make fresh basil pesto at home?
How do fry sauce and Thousand Island dressing compare?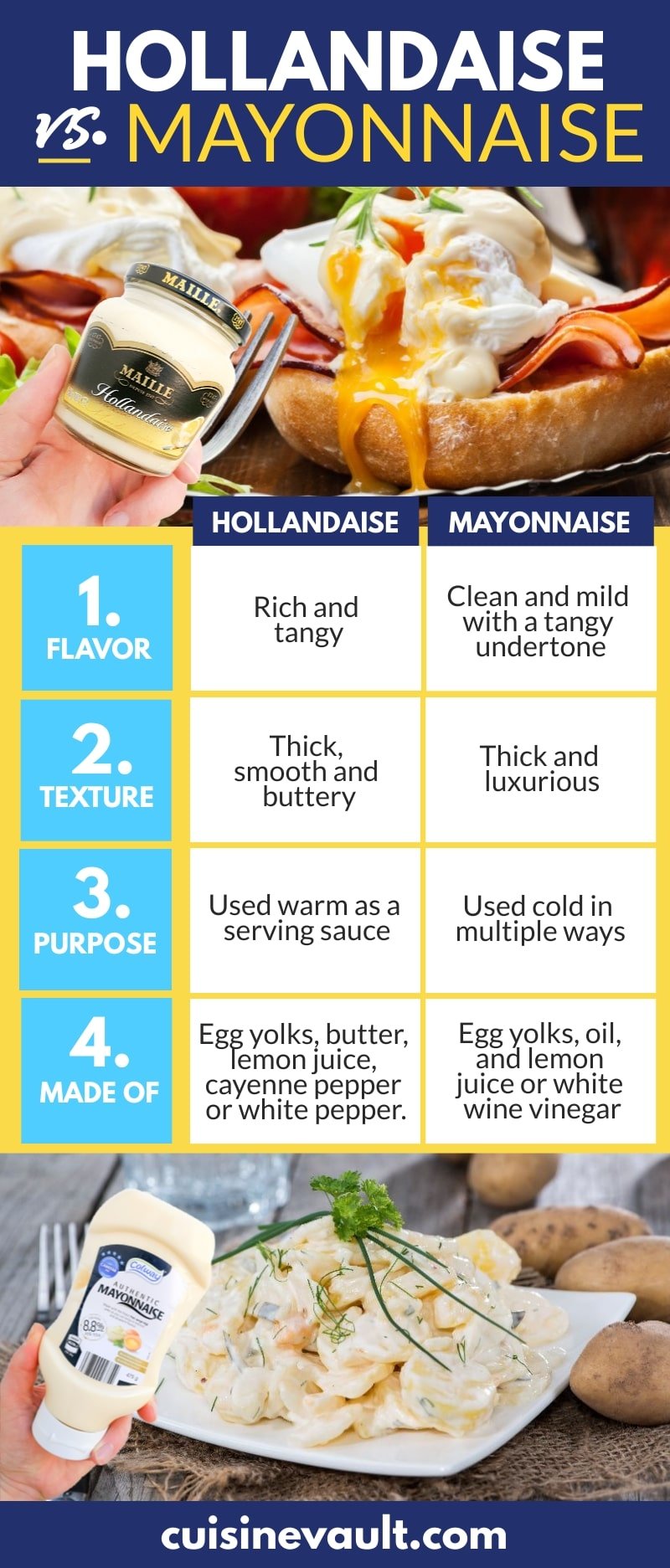 Summing Up
Hollandaise and mayo are fairly similar, both emulsion-based, white sauces that add creaminess to food. Mayonnaise is certainly the more popular option, probably due to its mild flavor that's super-versatile. But don't discount hollandaise just yet. While it may not have the same star status in the United States, it is unbeatable added to fish, asparagus, and eggs.