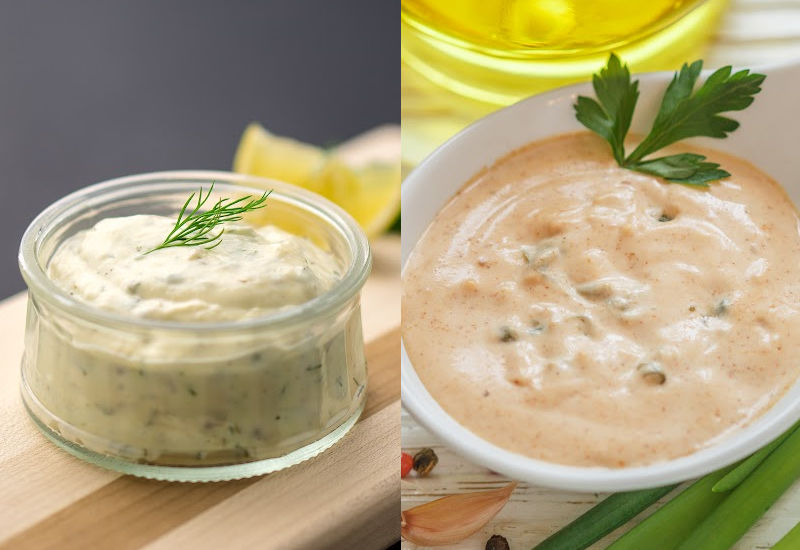 The main difference between tartar sauce and remoulade is that remoulade has a lot more ingredients than tartar sauce. Tartar sauce is usually made with mayonnaise, dill, and lemon juice. Remoulade, on the other hand, is often made with pickles, anchovies, capers, and herbs and spices.
Because of what goes into them, tartar sauce tends to have a cleaner, simpler flavor, while remoulade has a savory, but more complex flavor. There are more differences between these two sauces, so be sure to read along.
Table of Contents
What's the difference between tartar sauce and remoulade?
A condiment called "tartar sauce" is made from mayonnaise, gherkins, capers, freshly chopped dill, and lemon juice. Other extras like mustard or chopped onions are also commonly added. Its creamy, tart flavor is perfect for topping fried fish and other seafood dishes.
Remoulade is a classic sauce that also uses oil or mayonnaise as its base. It then combines herbs, spices, pickles, anchovies, and capers. This sauce is good served with French fries, cold meats, seafood, and fried food.
Remoulades usually have more ingredients added than mayonnaise. It has a wider range of herbs and spices.
Some consider tartar to be a simpler version of remoulade, likely to appeal to more people thanks to its cleaner taste.
Tartar sauce is much more popular in grocery stores. A quick check of the sauce section will usually reveal a range of tartar sauces, while remoulade may not be there at all.
Isn't remoulade a Louisiana creation?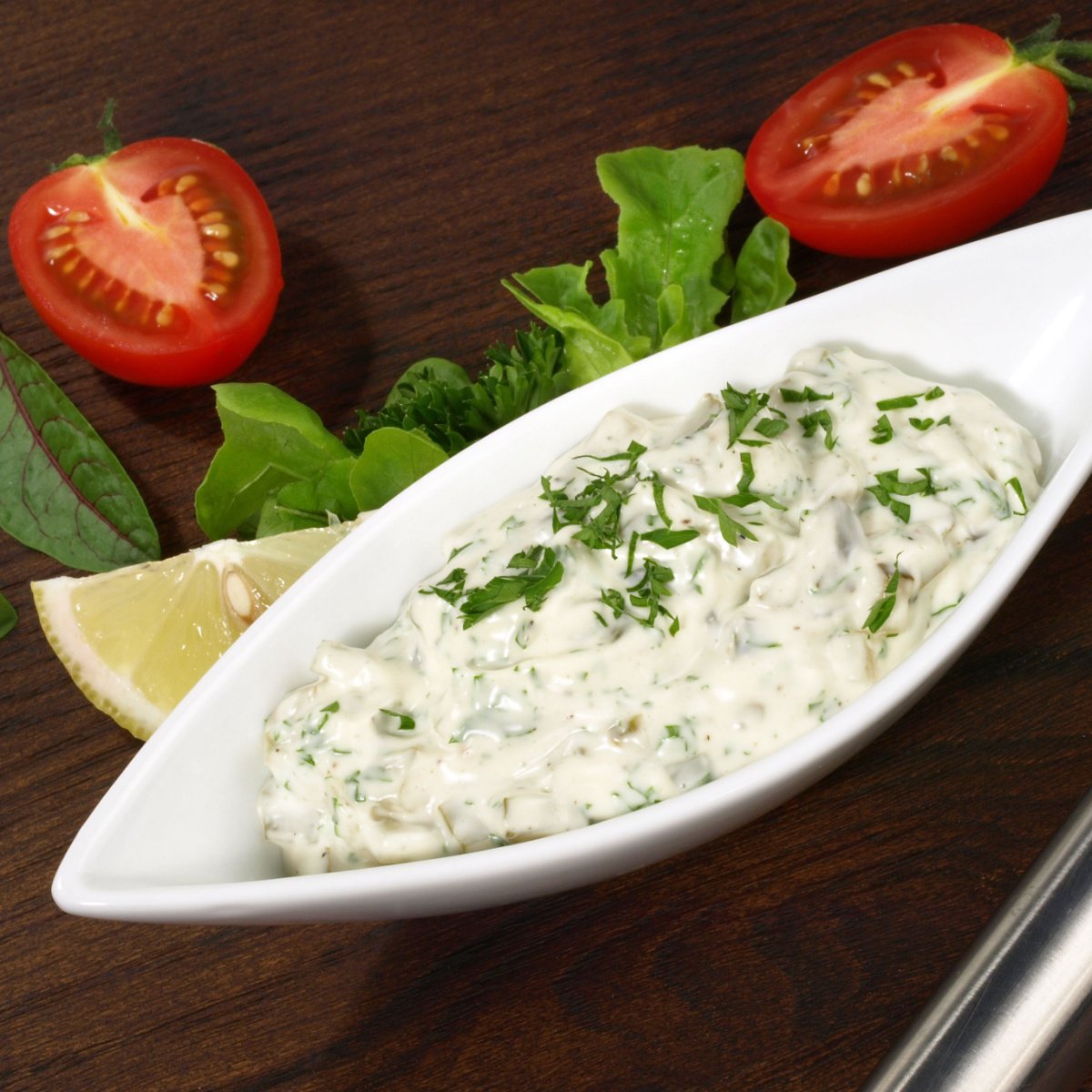 While remoulade was invented by the French centuries ago, it has spread across the world (excuse the pun). Louisiana has taken the traditional recipe and added its own spin to it. Mayonnaise is combined with punchy ingredients like fresh horseradish, minced garlic, paprika, hot sauce, Cajun seasonings, and wholegrain mustard.
French remoulade: Usually combines mayo with a range of herbs like chervil, parsley, chives, and tarragon. Cornichons, capers, and anchovy paste may also be added.
Louisiana remoulade: Over the years, Creole and Cajun flavors have crept into the traditional recipe. These ingredients include green onions, Creole mustard, hot sauce, and cayenne pepper. Louisiana remoulade is spicier but also very popular. For a milder flavor, Comeback Sauce is a Central Mississippi creation that replaces the spicy ingredients with milder chili sauces
Danish remoulade: Another popular variety, Danish remoulade has a more pronounced yellow color, thanks to the addition of turmeric. It is also made using minced cabbage, cauliflower, and cucumber pickles.
What are their common uses?
The creamy, tangy flavor of remoulade is perfect for balancing out hot, spicy recipes like crab cakes. It works well with practically any fried food, especially dill pickles and fried green tomatoes. The Danes are famous for serving meat sandwiches, hotdogs, and fries with remoulade.
Tartar sauce is more of a purpose-built sauce, used almost exclusively for a meal of fish and chips. A fish fillet of monkfish, hake, or barramundi are all excellent matches. Of course, tartar can be scooped over baked potatoes, roasted vegetables, or spread onto a sandwich. But fish is tartar's domain in the kitchen.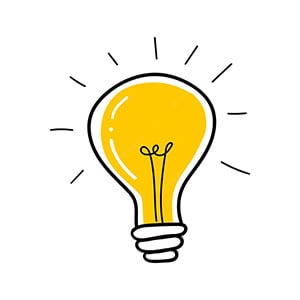 Did you know? Tartar is also known as tartare in many countries.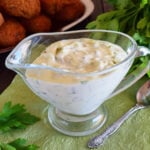 Easy Tartar Sauce Recipe
Print Recipe
This is one of the simplest sauce recipes you can make at home, but that doesn't make it any less enjoyable. It's deliciously creamy with some tang to lift your next seafood dish to a new level.
Ingredients
3

tsp

capers

drained

2

gherkins

1

cup

mayonnaise

squeeze of lemon juice

3

tbsp

fresh Italian parsley

chopped

salt and pepper

to taste
Instructions
Using a sharp knife, finely chop the drained capers and gherkins.

In a small bowl, use a spoon to mix all ingredients until combined.

Season with salt and pepper then cover the bowl with plastic wrap and store refrigerated until serving time.
Notes
Tip: To get a superior creamy sauce, you're best to use whole-egg mayonnaise.
Related reading:
Get our complete sauce guide to learn about a wide range of sauces.
Check out our comparison of mayonnaise and hollandaise.
Fry sauce vs. Thousand Island dressing - how do they compare?
Beurre noisette vs ghee - what is the difference?
Commonly asked questions
What is a substitute for remoulade?
To replace remoulade as a condiment, you can use tartar sauce for a similar flavor profile. For a lower-fat alternative, horseradish sauce is a spicy option, great for accompanying meat.
What is the difference between remoulade and mayonnaise?
Mayonnaise is an emulsion of oil, egg yolks, and an acidic liquid like lemon juice. It is a mild, creamy sauce that can be used with a wide range of foods. Remoulade takes mayonnaise and adds additional herbs, spices, and punchy extras like capers and sometimes anchovy paste. It has much more flavor and is well-suited to fried food and fish.
What's the difference between aioli and remoulade?
Aioli and remoulade both use mayonnaise as a base ingredient. In most recipes, aioli has a dominant garlic flavor while remoulade is tangier and usually much spicier.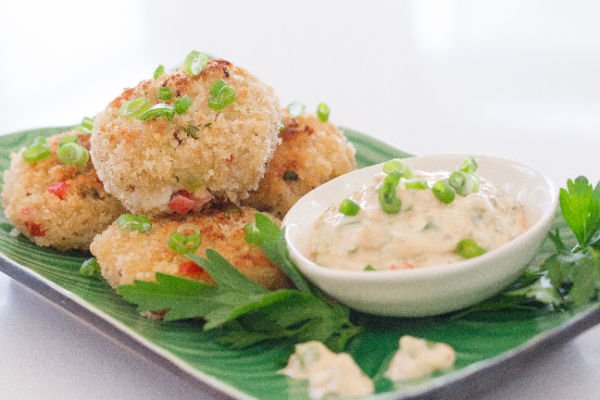 Check out these articles:
How does gravy compare to a demi-glace?
Fish stock vs fish sauce – how do they differ?
Summing Up
French cuisine is responsible for many of the foods we have come to love in modern cooking. Remoulade and tartar are both great examples. Although they're both creamy, white sauces designed as a condiment and for dipping, they aren't the same.
Remoulade has a more complex set of ingredients with a stronger flavor profile. This is especially true in the U.S., where Louisiana remoulade has become a mix of ingredients with a lot of flavor.
In most cases, you can use each sauce interchangeably at the dinner table, much like swapping ketchup for Sriracha won't ruin the meal. But if you're feeding kids, you're better off with tartar as it has a simpler flavor and is likely to appeal to their sensitive palates more than remoulade.