Table of Contents
Jump to Recipe
Basil pesto, or Pesto alla Genovese, is a lovely sauce that's fragrant and packed with flavor thanks to the addition of basil and garlic. There are an abundant number of uses for pesto if you get tired of using it with pasta. My favorites are as a savory spread for pizza toppings, bruschetta or flatbread. You can also give your mundane dressings a bit of attitude by adding equal parts of pesto with the dressing.
Not everyone enjoys the taste of basil, especially kids. To tone down the flavor consider substituting it for other leafy greens such as spinach leaves. An equal mix of basil and spinach is also a good option. If you aren't a fan of basil, check out our basil substitute guide to get all the best alternatives using common household ingredients.
Recipe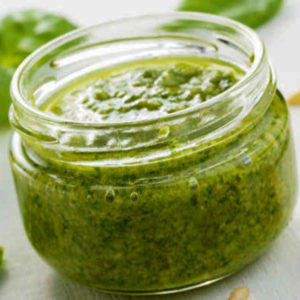 Homemade Basil Pesto
This basil pesto recipe is packed with flavor, thanks to the generous amounts of garlic and pesto. If basil isn't to your taste, you can switch it with spinach, or you can have an equal mix of basil and spinach to tone down the flavor.
Ingredients
1 ¼

cups

fresh basil

¼

cup

pine nuts

1

tbsp

sunflower seeds

2

garlic cloves

halved

¾

cup

Parmesan cheese

shredded

6

tbsp

olive oil
Instructions
Preheat the oven to 355°F (180°C).

Line a baking tray and lay the pine nuts and sunflower seeds in one even layer. Bake for 5-7 minutes until toasted. Allow to cool down completely.

Boil a jug of water and pour one cup into a bowl. Drop the basil into the water for 10 seconds to blanch the leaves then use tongs to transfer them into a bowl of ice water. Submerge them to stop the cooking process then dry them with a towel. This step gives the basil a much more vibrant shade of green, perfect for the best-looking pesto in town!

Add pine nuts, sunflower seeds, basil, garlic, and Parmesan to a blender and process until all ingredients are finely chopped.

As the processor continues, slowly pour in the oil until it gets absorbed and all ingredients are well combined.

Scoop the pesto into a suitable airtight container until you're ready to use it.
Related reading: Pistou vs pesto - what's the difference?
Check out the video
Helpful Tips to improve basil pesto

1. Watch the olive oil
Select a good quality extra virgin olive oil – a cheap product will tarnish the quality of the final pesto.
2. Save some time
If you're in a hurry, then skip toasting the nuts and seeds and toss them straight into the blender. Toasting them gives some extra taste but isn't essential.
It's okay to leave out the nuts and seeds altogether. Most recipes don't use sunflower seeds, but they're in there to add some depth of flavor. Walnuts or pecans can also replace the pine nuts.
3. Avoid any nasties
Wash the basil thoroughly with cold water and dry before processing to ensure there aren't any unwanted extra bits in the sauce.
4. Blanch the basil
Use fresh basil that's vibrant green, not wilted. As this herb ages, it turns a black color which isn't ideal for your sauce. If you buy basil a few days before using it, keep it in a small jug with water.
5. Check the garlic ratios
Using two cloves of garlic will result in a garlicky pesto so if you prefer mild flavor then reduce it to one clove.
6. Change the cheese
If you don't have any Parmesan, then you could substitute it for another hard cheese such as Romano. We provide a useful guide to cotija substitutes, and every cheese on that list would work brilliantly in this recipe. Cheese such as mozzarella won't process nicely in the food processor, and you'll waste your time on an unpleasant final product.
For a vegan pesto you can substitute the Parmesan for three tablespoons of nutritional yeast.
7. Store the pesto
If you aren't likely to eat the pesto within a few days, it is a suitable candidate for the freezer. You can freeze the whole batch in an airtight container. Alternatively, scoop the sauce into ice cube trays then pop each cube into a bag once frozen solid. Now you have portion control pesto at your fingertips.
Do you have a secret ingredient for using in pesto? Let us know in the comments below - we promise not to tell anyone.