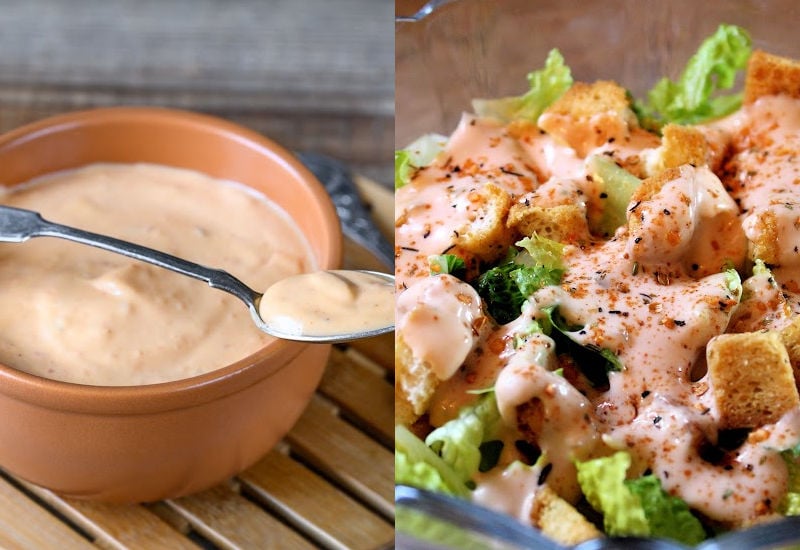 Fry sauce and Thousand Island Dressing are both American sauces that add delicious flavor to fast food. Although they have similarities and can be used interchangeably, they have a few subtle differences. Let's take a look at how these two sauces differ so that you know how to tell them apart.

Table of Contents
What's the difference between fry sauce and Thousand Island dressing?
Fry sauce is a smooth, creamy sauce that's slightly sweet and tangy. It is made from equal ratios of mayonnaise and ketchup but may include additional ingredients like Worcestershire sauce or vinegar.
Thousand Island also uses mayo as its base combined with sweetened tomato condiments such as ketchup, tomato sauce, or sweet chili sauce. It has a chunkier consistency than fry sauce, thanks to the addition of extras like onions, minced pickles, olives, or bell peppers.
Summary points
Similarities: Both sauces are a similar reddish color and are popular condiments for dipping food like French fries.
Texture: Thousand Island has a chunkier texture and a more complex flavor.
Popularity: Fry sauce is wildly popular in a few U.S. States while Thousand Island is well known in many parts of the world.
Uses: Fry sauce is mostly used as a condiment while Thousand Island is also used in a huge range of salads as a salad dressing.
Which sauce was invented first?
Thousand Island was placed on the menu at the Waldorf-Astoria Hotel back in 1894. After the maître d'hôtel forgot to dress the salads, they improvised by quickly throwing together a range of ingredients together that were available.
Fry sauce first appeared in 1900 featuring in a New Orleans cookbook. However, it wasn't until Don Carlos Edwards added the sauce to his Arctic Circle fast-food chain in 1940 that it gained popularity.
How are the sauces used?
Both sauces are most commonly used as condiments to dip hot potato fries, vegetable sticks, cheese sticks, and other fried foods.
Across the world, Thousand Island is by far the most popular sauce of the two. It can replace Russian Dressing, spread between corned beef and cheese to make a delicious Reuben sandwich.
Thousand Island gained notoriety as the secret sauce in the McDonald's Big Mac. Other diners and fast food chains like In-N-Out Burgers also use it as a secret sauce.
When fry sauce isn't being consumed with cheese sticks or fries it is often served with twice-fried plantain slices, called tostones. It is also found next to appetizers such as lumpia.
Fry sauce gained popularity at Arctic Circle and is now found in chains like Freddy's, Zaxby's, and Raising Cane's. Each food venue has created subtle variants of the original recipe - they have also branded their name on the sauce.
Where to find Thousand Island dressing and fry sauce
Thousand Island and fry sauce can both be purchased as retail products from grocery stores in the sauce aisle. If you can't find any near your location, a quick search online will provide plenty of options.
If you live in Utah, you probably already know that fry sauce is available in practically every restaurant - each business has its own recipe. The sauce is also found in parts of Oregon and southern Idaho, but isn't as popular in other parts of the U.S.
Anyone wanting to try Thousand Island, without buying a whole bottle, can take a trip to any McDonald's restaurant and order a Big Mac.
Did you know? Although fry sauce is also quite similar to yum yum sauce, found in Japanese steakhouses, fry has a less complex flavor profile.
Fry sauce recipe
This is a quick and easy way to make homemade fry sauce. Whip up a batch ahead of time, then store refrigerated in an airtight container until required.
Ingredients
½ cup ketchup
½ cup mayonnaise
1 tsp paprika
1 tsp Worcestershire sauce
1 Tbsp pickle brine
Method
Add all ingredients to a small bowl and mix until combined.
Transfer sauce to a small dish and serve immediately or refrigerate until needed.
Want to make Thousand Island dressing? Finely dice some minced pickles, olives, and bell pepper before stirring into the sauce.
Related reading:
How do hollandaise and mayonnaise compare?
What is the difference between tartare and remoulade sauces?
Steak sauce vs. Worcestershire sauce - what are the differences?
How do I replace mayo in a recipe?
Summing up
People love the combination of mayonnaise and tomato-based condiments like ketchup. That's what makes fry sauce and Thousand Island so popular. Although they're fairly similar, fry sauce has a smoother consistency and less complex flavor. It is also the lesser-known condiment out of the two varieties.