A5 Wagyu, olive Wagyu, Kobe beef, and Omi beef are the most expensive meat cuts, costing up to $200-$300 per pound. This might seem like too much, but if you've ever tried any of them, you'd probably get it.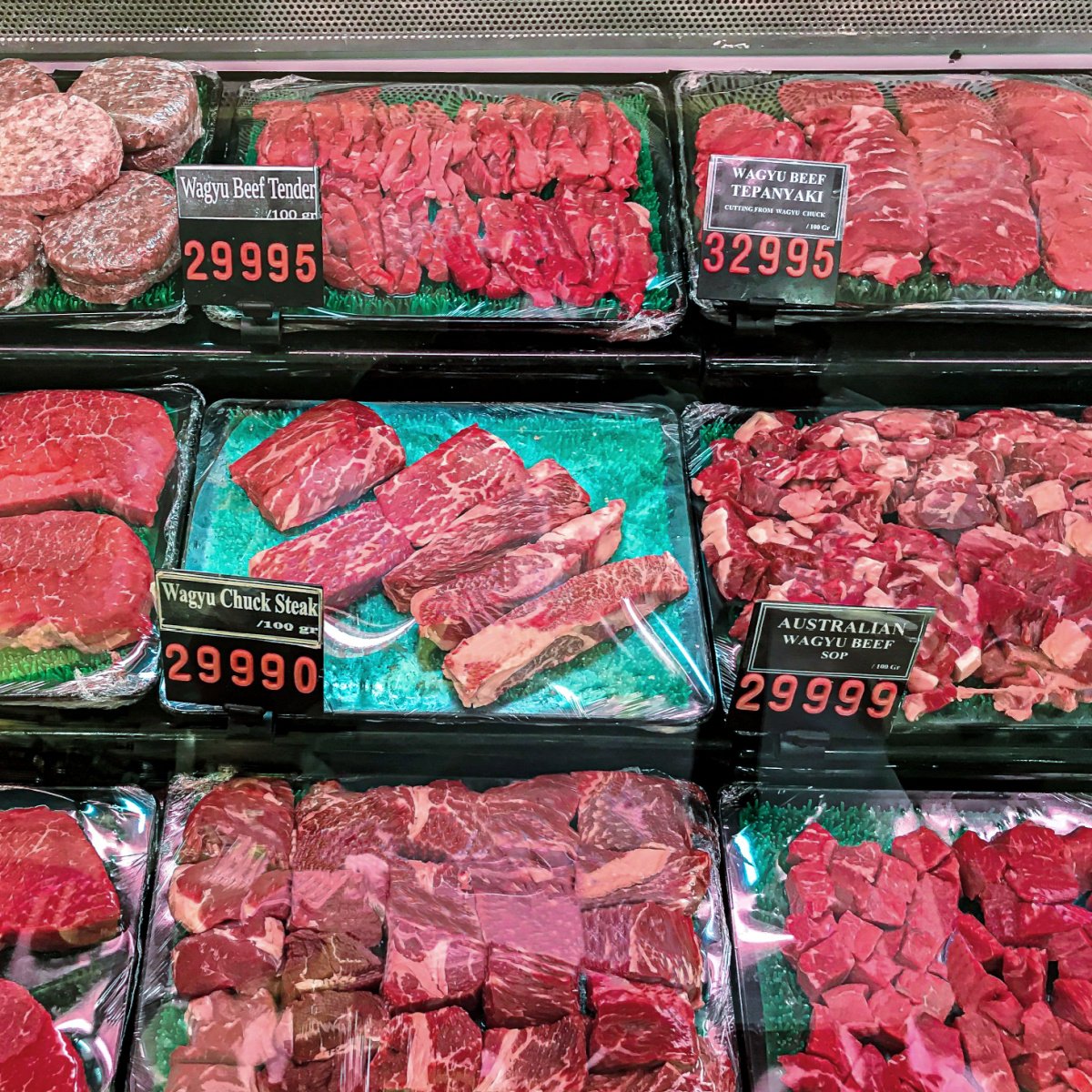 Wagyu beef is the rarest kind of meat, and the cattle it came from cost more to raise because they needed a special diet and environment. Countries often import Wagyu from Japan, which adds to its total cost.
There are more reasons for Wagyu's price, and this article will discuss each. This article will also cover the cost of different types and grades of Wagyu meat, as well as a quick comparison between regular steak and Wagyu.
Table of Contents
What is Wagyu?
Wagyu literally means "Japanese cow," where "Wa" refers to Japan and "gyu" refers to cow. Even though Wagyu is thought of as traditional Japanese cattle, the modern Wagyu on the market is the result of crossing Japanese cows with cattle breeds from other countries.
Wagyu initially has more intramuscular fat cells, causing the intense marbling in their beef. This marbling results in softer meat, loved by thousands of steak enthusiasts.
There are different types of Wagyu breeds: Japanese black Wagyu (Kobe cow or Japanese black cattle), Japanese brown Wagyu (red Wagyu), Japanese shorthorn Wagyu, and Japanese polled.
There is also American Wagyu beef, which comes from purebred Japanese Wagyu cattle that have been crossed with American beef cattle.
Wagyu steak is the most expensive steak you can order in any restaurant, and people even sell Wagyu beef cattle in auctions for as much as $30,000.
Top 5 Reasons Why Wagyu Is So Expensive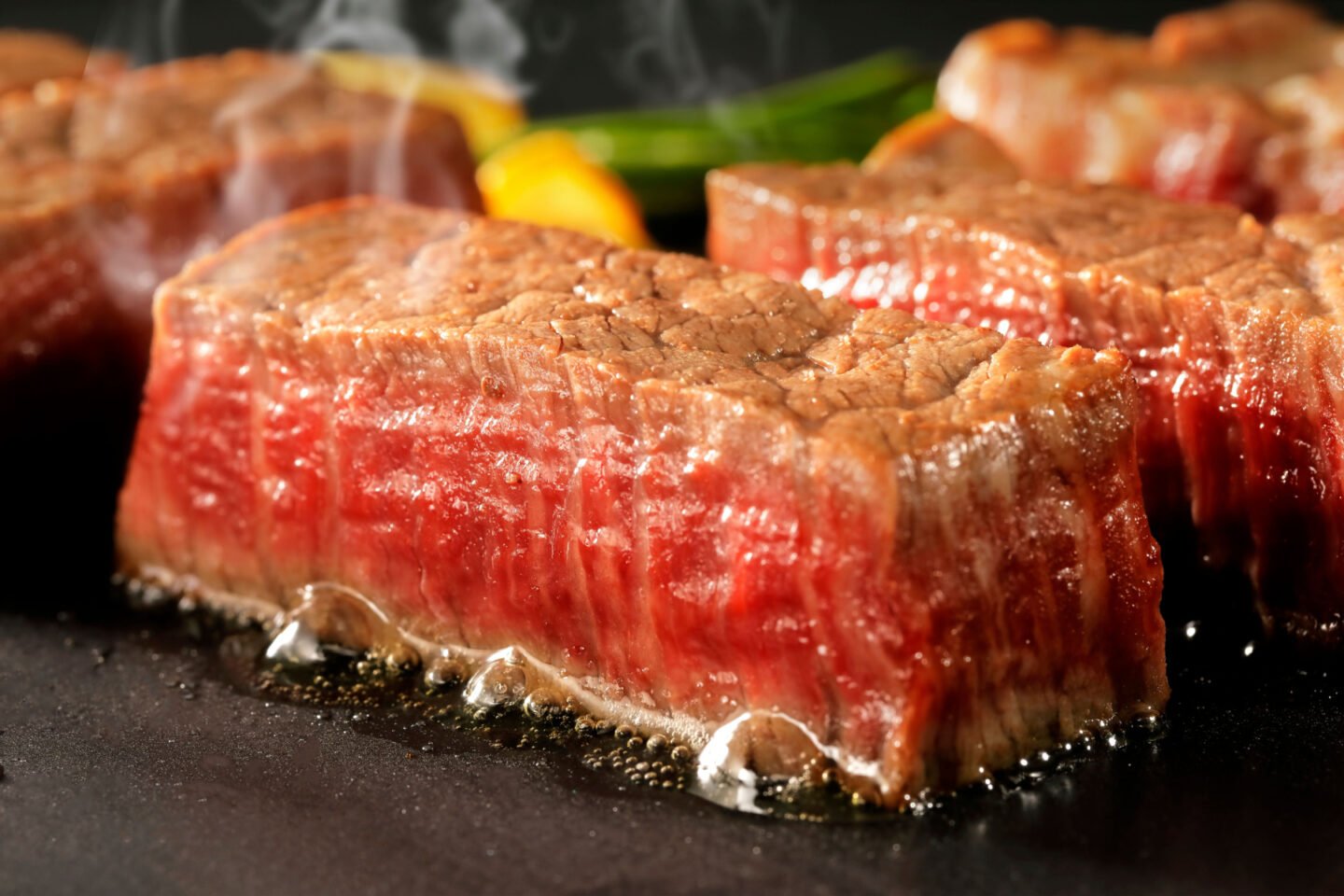 Wagyu cattle is so expensive because it has high-quality meat, needs a low-stress environment, needs a special diet, is imported, and is closely regulated by the Japanese government. I will discuss each reason in this section.
High-Quality Meat
The quality of Wagyu meat is the main reason for its price. Aside from its intense marbling, which is caused by more fat inside the muscle, Wagyu beef has a finer texture than beef from other breeds of cattle. This makes it smoother and tastier.
Experts grade Wagyu based on the following criteria:
The amount of meat in the Wagyu cattle - The more meat, the higher the grading; B is the standard, A is above standard, and C means below standard.
Marbling - Higher fat means better Japanese Wagyu beef. Marbling grade ranges from 1 to 12 with 1 being the lowest and 12 being the highest. Wagyu beef with a marbling score of 8 to 12 gains grade 5, as in Japanese A5 Wagyu.
Meat color - The red meat should be mid-tones. Not too light nor too dark.
Fat color - The lighter and shinier the fat, the better quality.
Meat tenderness - High-quality Japanese Wagyu meat should be firm but tender.
Requires Low-Stress Environment
One of the most crucial requirements for growing Wagyu cattle is ensuring their environment allows proper growth without causing stress to the cattle.
Stress causes chemical changes in the cattle, causing deterioration and a drop in meat quality.
Farmers in Japan have to make sure that Wagyu beef cattle get enough nutrients from what they eat, that their environment isn't too loud, and that they have a steady supply of clean, fresh water.
Requires Special Diet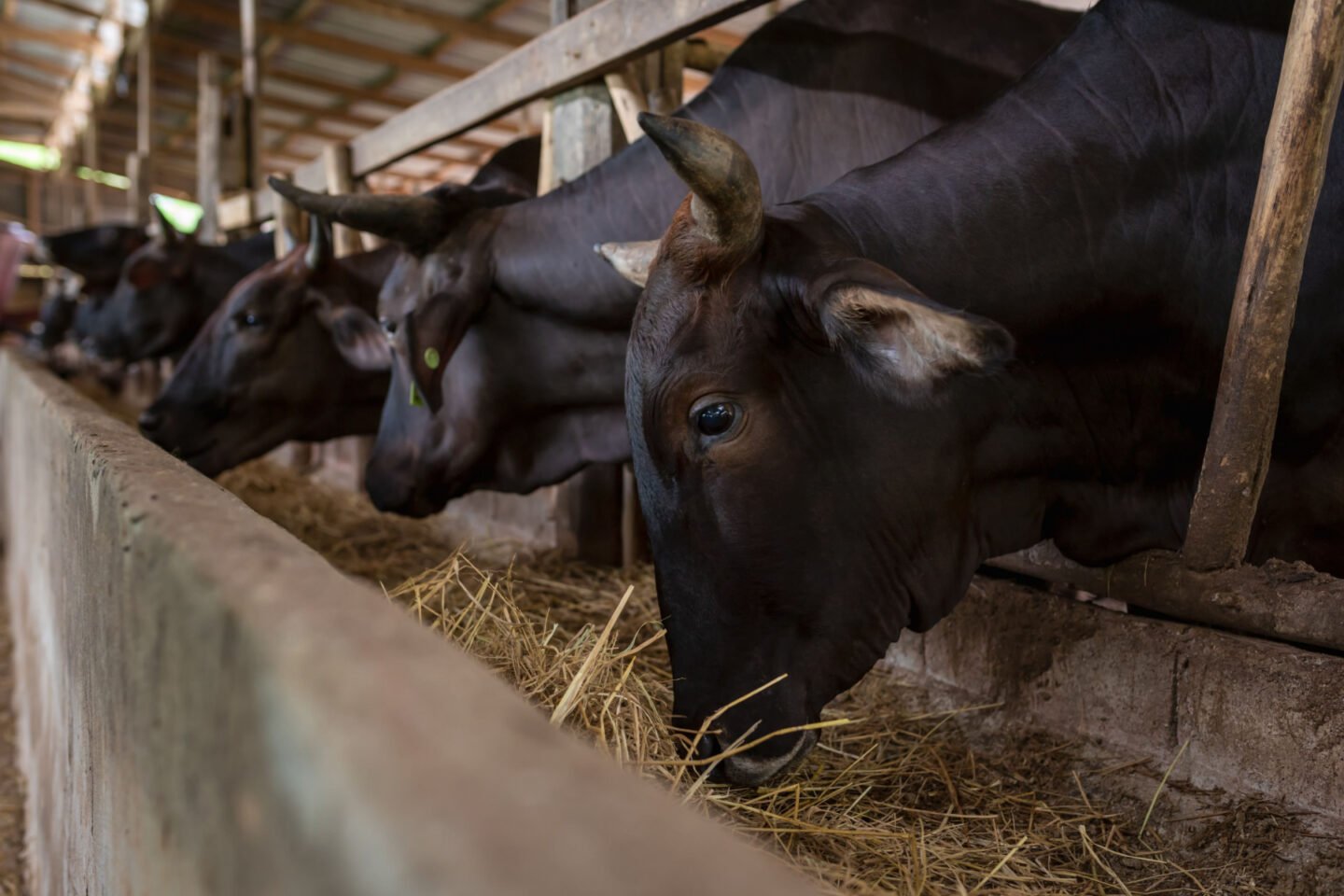 Wagyu cattle eat grain, hay or rice straw, and wheat. Most of the time, Japanese farmers import the food they eat, adding to the expense.
Wagyu beef cattle are fed and cared for for about three years before they are harvested. This is longer than the 18 months that regular cattle are fed and cared for.
This also means that raising a Wagyu cow requires more expensive labor.
Imported
While there are breeders who farm Wagyu cattle outside Japan, most Wagyu are imported from Japan. Enthusiasts also prefer imported Wagyu to ensure quality.
Strictly Regulated
The Japanese government strictly regulates Wagyu breeding, farming, and marketing. Before it gets to the local markets, Wagyu beef goes through a series of quality checks that look at the amount of fat, the color of the red meat, and the color of the fat.
Wagyu beef grade ranges from C to A, and only the grades A3 and up end up in the local markets and get imported.
In order to rate and check the quality of something, you also need skilled people, which adds to the cost.
Wagyu Price: How Much Does Wagyu Cost?
Wagyu's price differs depending on its type and grade, but here's a list of different grades and types of Wagyu beef and their estimated costs in the US.
Olive Wagyu - $240 per pound. Authentic olive Wagyu in restaurants costs up to $480 per pound.
Kobe Beef - $250 per pound. Authentic Kobe cattle beef in restaurants costs up to $400 per pound.
Matsusaka Beef - $225 per pound. Prices can go higher depending on location.
Omi Beef - $720 per pound. Price varies depending on the cut.
Hida Beef - $250 per pound. The price can go up to $400, depending on your location.
Japanese A5 Wagyu - $180-$300, depending on the type of Wagyu, origin, and cut. Although the term A5 refers to grading any Wagyu beef, that is the most common term that people use to denote a good quality Wagyu.
American Wagyu - $20-$25 per pound.
Is Wagyu Better Than Regular Steak?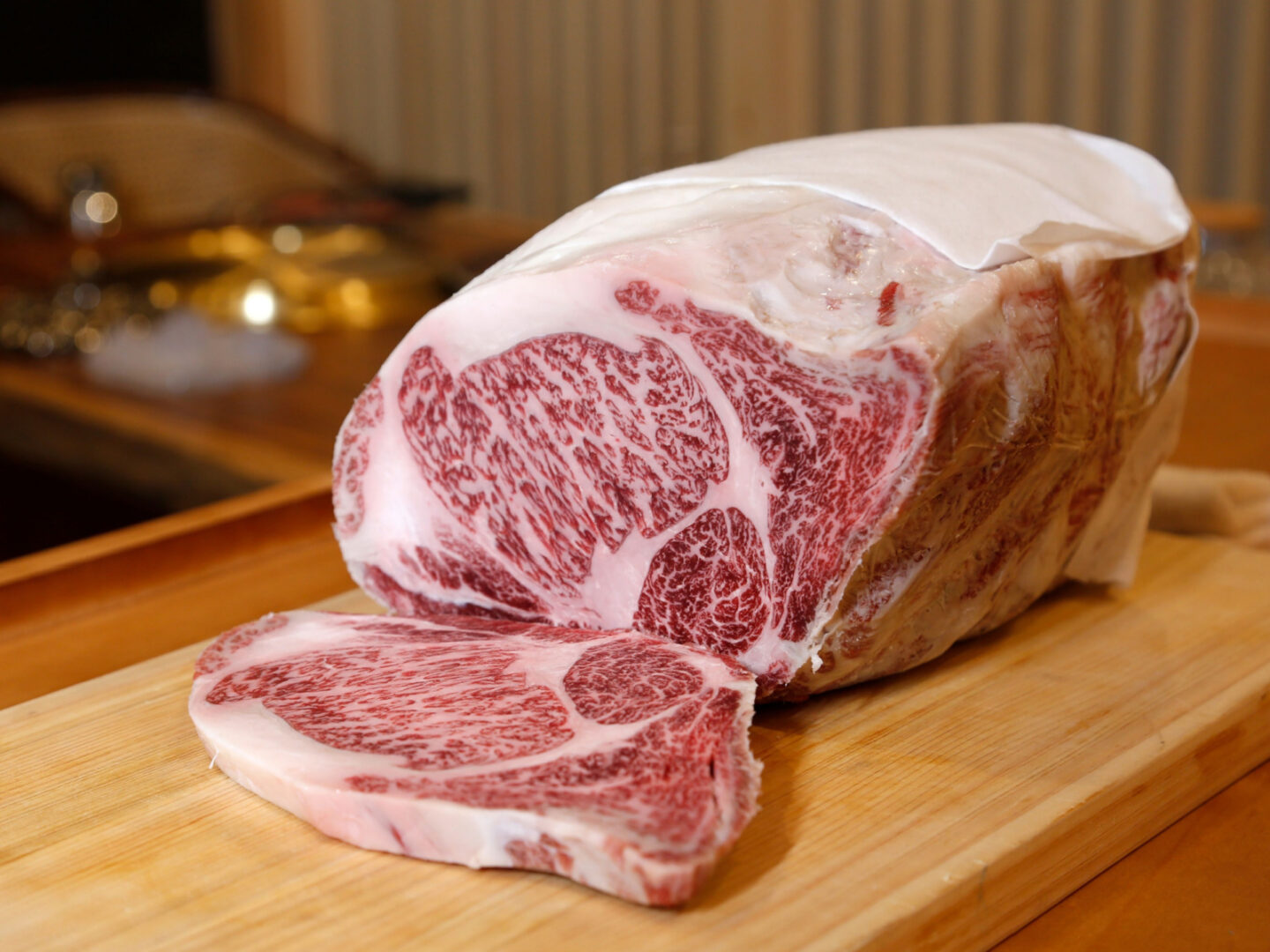 Wagyu beef is more tender and juicy than regular beef steak, and it has a more intense flavor that makes your mouth water.
The marbling in Wagyu beef makes it stand out. The more marbling there is, the more tender and flavorful the meat is.
Wagyu has more oleic acid, a fatty acid that helps improve heart conditions and boost brain function.
But Wagyu steak is much more expensive and harder to find than regular steak. You can easily buy traditional rib steak at your local grocery store for $13 to $18, while you have to spend up to ten times the price for the same amount of Japanese Wagyu beef.
Related Questions
Is Kobe a type of Wagyu?
Kobe beef is a type of Japanese beef that comes from the Tajima black Wagyu strain. Kobe beef is an expensive beef product due to its quality.
Why is Wagyu so rare?
The Japanese Wagyu cow takes longer to raise before harvest than regular cattle, requires a special diet and environment, and undergoes a strict quality inspection before reaching the market.
What does Wagyu taste like?
Wagyu has an umami flavor with a buttery finish due to its high fat content. Wagyu beef is more tender and juicy than a regular rib-eye steak.