Beef is one of the most popular meats across the world. You have different cuts from varying parts of a cow, and the difference does not stop with the mere location of the cut! It extends to differences in appearance, cooking methods, cost, nutritional value, and so on.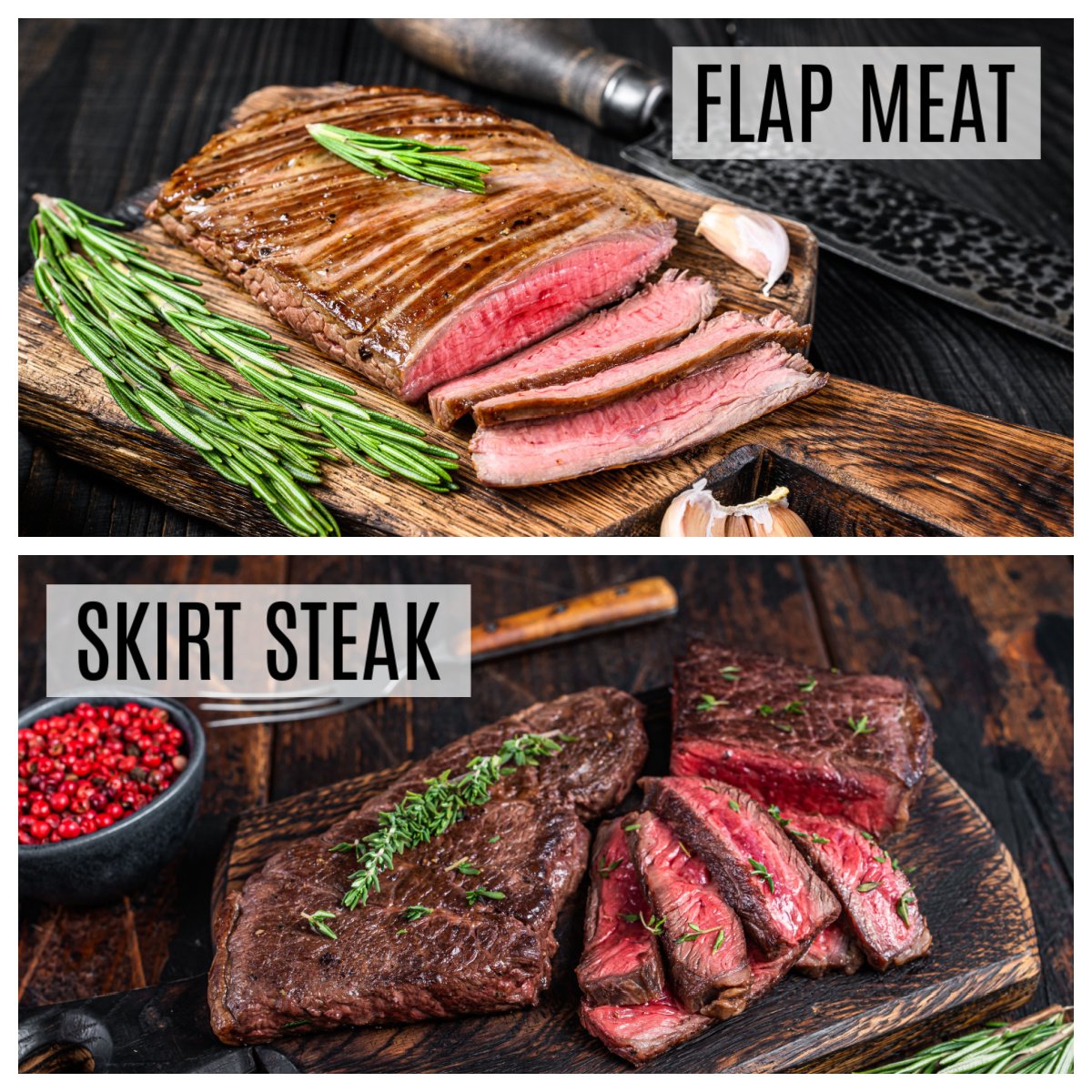 While there are many popular beef cuts, two popular ones include flap meat and skirt steak. The primary difference between flap meat and skirt steak is the location of the cut from a cow's body. Flap meat comes from the bottom sirloin butt, whereas the skirt steak is cut from a region located below a cow's rib.
There are several other differences in the flavor and texture of these two varieties, too.
Table of Contents
What is Flap Meat?
Flap meat comes from the bottom sirloin, and this area specifically covers the portion above the hind legs. It is also referred to by other names like faux hanger, sirloin tip, and bavette in different parts of the world.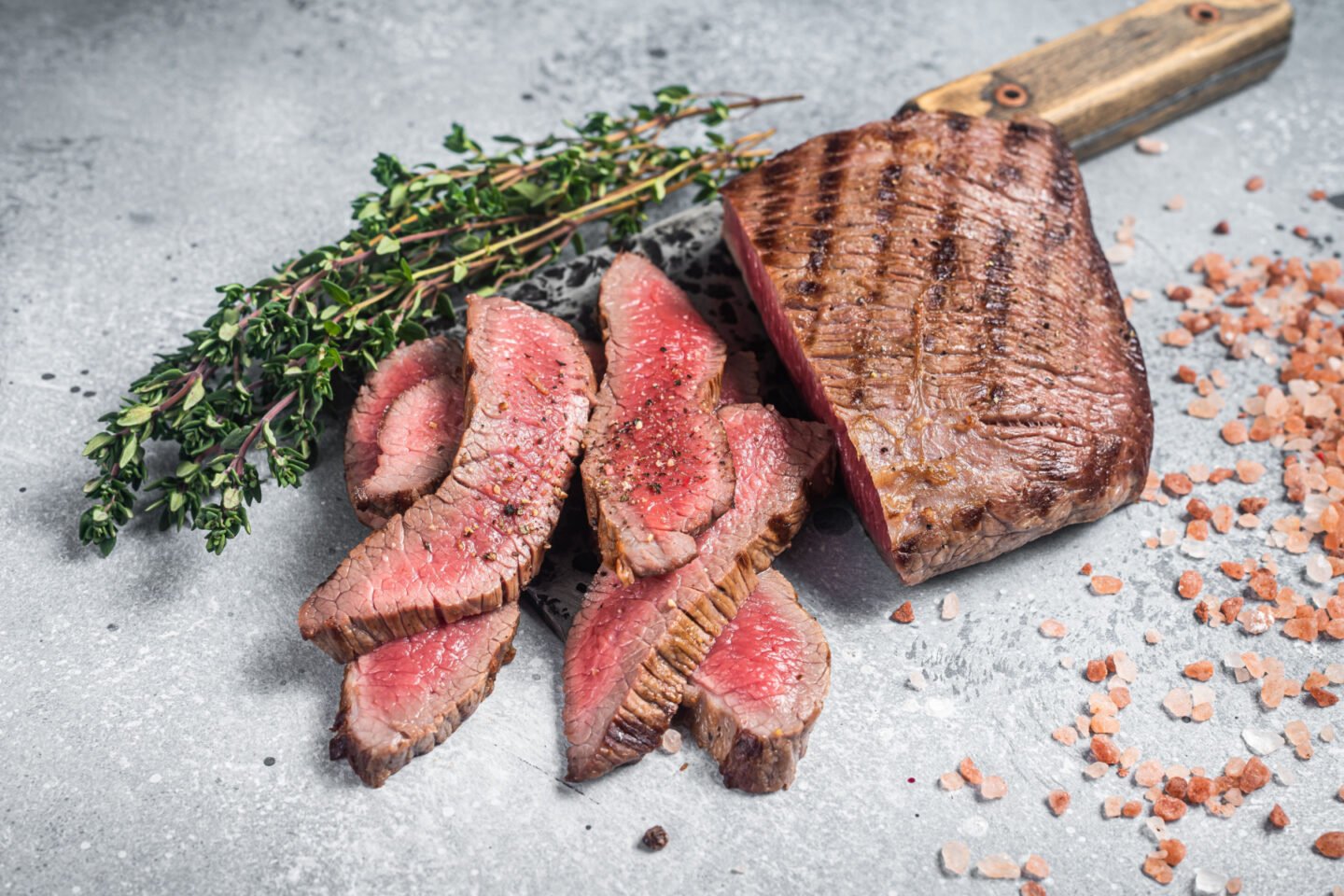 This kind of meat is tender and is often used in fajitas, tacos, and steak salads. Alternatively, you can also stir-fry the meat, as it retains its tenderness when cooked to perfection. Other methods of cooking suitable for flap meat are grilling and broiling.
You should use high temperatures and dry heat to cook this cut of beef. When done right, you can easily prevent the meat from overcooking and drying out. Always prefer using a meat thermometer to stick inside the cooked piece of flap meat to check its temperature. This way, you cannot overcook it.
Furthermore, you can easily apply your favorite marinades to flap meat. It soaks up the marinades and explodes with flavor when cooked quickly over high heat.
What is Skirt Steak?
When the cut is from below a cow's ribcage, it is called a "skirt steak." It comes with a thick grain and is usually longer.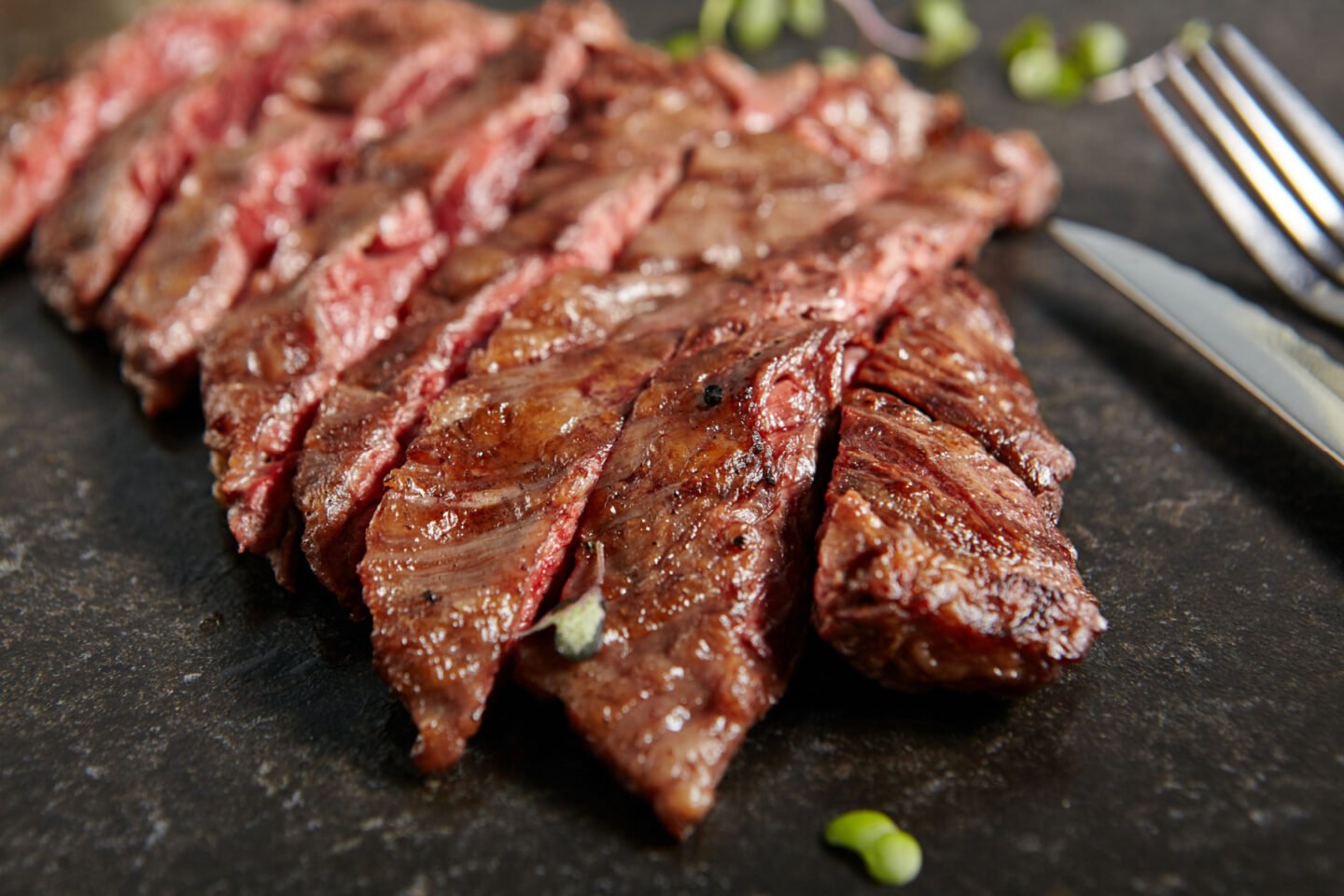 Skirt steaks have two types. One comes from the chest wall inside, and the other is a diagonal cut on the outside. Compared to the inner type, the outside one is thicker. The other common names for a skirt steak are Romanian Tenderloin, Romanian Steak, and Arrachera. Skirt steaks possess a darker color.
Due to the presence of marbling on the steak piece, skirt steak is high in fat. Additionally, since the meat has a grainy texture, it is tough.
You can prevent the meat from drying out by cooking the skirt steak at higher temperatures. However, remember to maintain a dry heat while pan-frying, grilling, or broiling them.
Comparison Table: Flap Meat Vs. Skirt Steak
| | | |
| --- | --- | --- |
| Parameter | Flap Meat | Skirt Steak |
| Cut Location | Bottom sirloin butt | Plate primal below a cow's rib |
| Cost | Cheaper | Costlier |
| Fat Content | Lower | Higher |
| Texture | Less Tender | More Tender |
| Taste | More Tastier | Less Tastier |
| Cutting Style | Strips and cubes | Whole |
Differences Between Flap Meat and Skirt Steak
Though these cuts of meat are frequently confused as the same, there are a few differences that will help you decide which steak will add the most flavor to your recipe!
1. Cut Location
This is probably the best way to differentiate a skirt steak from a flap steak. Flap meat comes from the butt sirloin of a cow. However, skirt steaks are farther down in the rib cage or abdominal cavity. You can further classify skirt steaks into two types: inside and outside skirts.
The outside cut is thicker but has a more uniform shape than a piece of inside steak. Restaurants use the outside meat for more flavorful dishes, whereas the ones that are mostly found in grocery stores or supermarkets are the inside skirt steaks.
2. Cutting Methods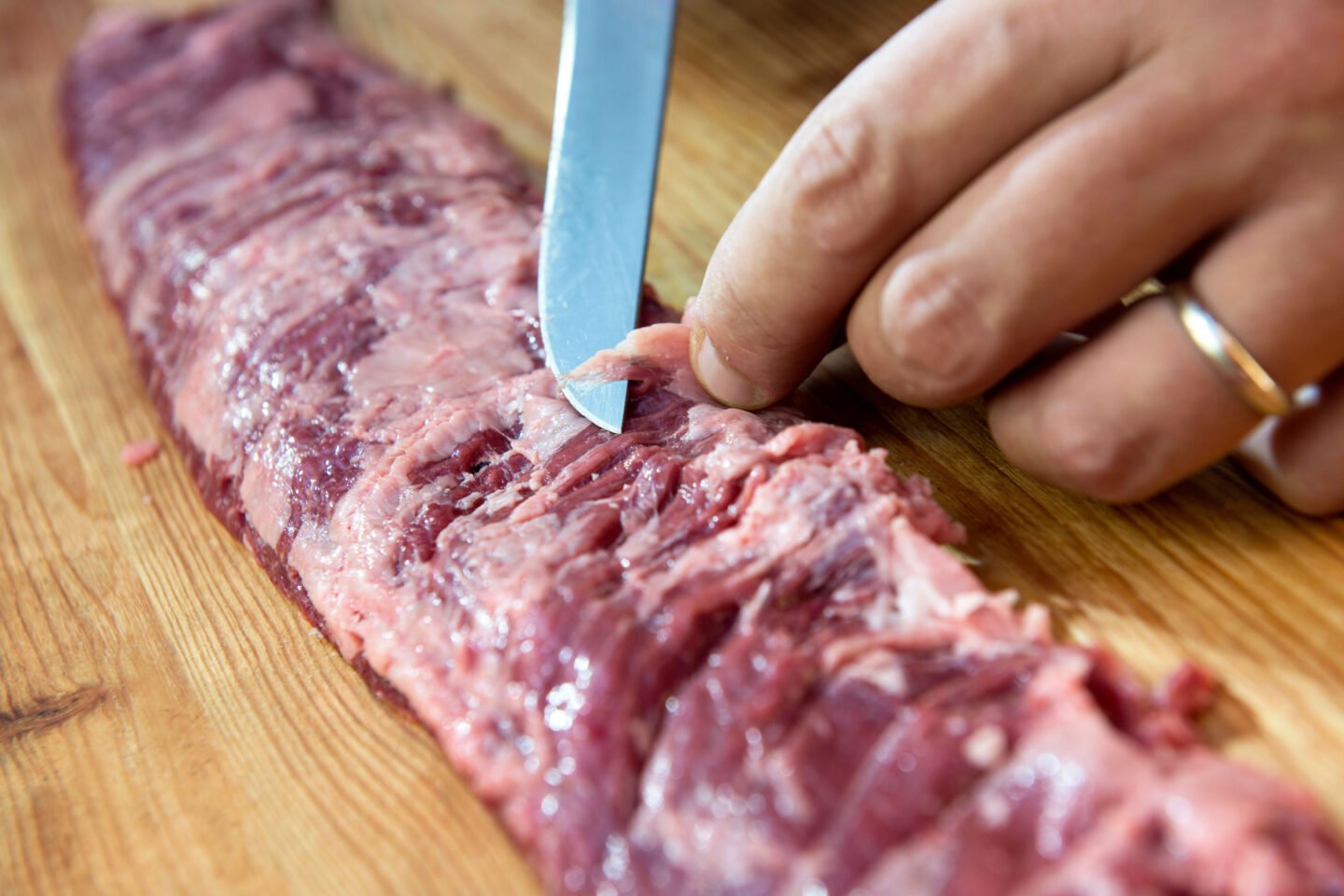 Butchers usually cut flap steak into cubes or strips, whereas the skirt steaks are most likely sold whole.
There are customers who want their flap meat to be whole. For that, you can make a special request to your local butcher. Also, try to find whole flap meat in a supermarket that offers a variety of cuts.
3. Flavor
Flavor-wise, steak skirts are better with a more "beefy" flavor. Flap meat does not match this and has a less powerful beef flavor.
So, if you require beef cuts that are intense in flavor, then skirt steaks are the better option.
4. Tenderness
Flap meat is more tender than a skirt steak. If you wish to have a less taxing meal, it is better to cook with flap meats, as skirt steaks need stronger bites every time you eat them. However, you can reduce the toughness by using your choice of marinades.
Remember to soak them in the marinade prepared at least half an hour prior to cooking. Besides, always cook both steaks at high and dry temperatures to avoid overcooking. Otherwise, you will only end up with a dry piece of meat!
5. Texture
Though both are thin cuts of meat, the fibers present differ hugely.
While the fibers are visible in a skirt steak, they are not located close together. This means that the marinades sink in beautifully without any hindrance. On the other hand, flap meat needs more time to absorb the juices.
When it comes to tenderness, flap meat is the better option. Flap meat has grains that stand out and are easier to cut. On the contrary, skirt steaks are harder and have coarse grains. This makes cutting a skirt steak more difficult than a flap steak.
You can also differentiate between the two in terms of color, as skirt steaks have a darker shade throughout.
6. Cost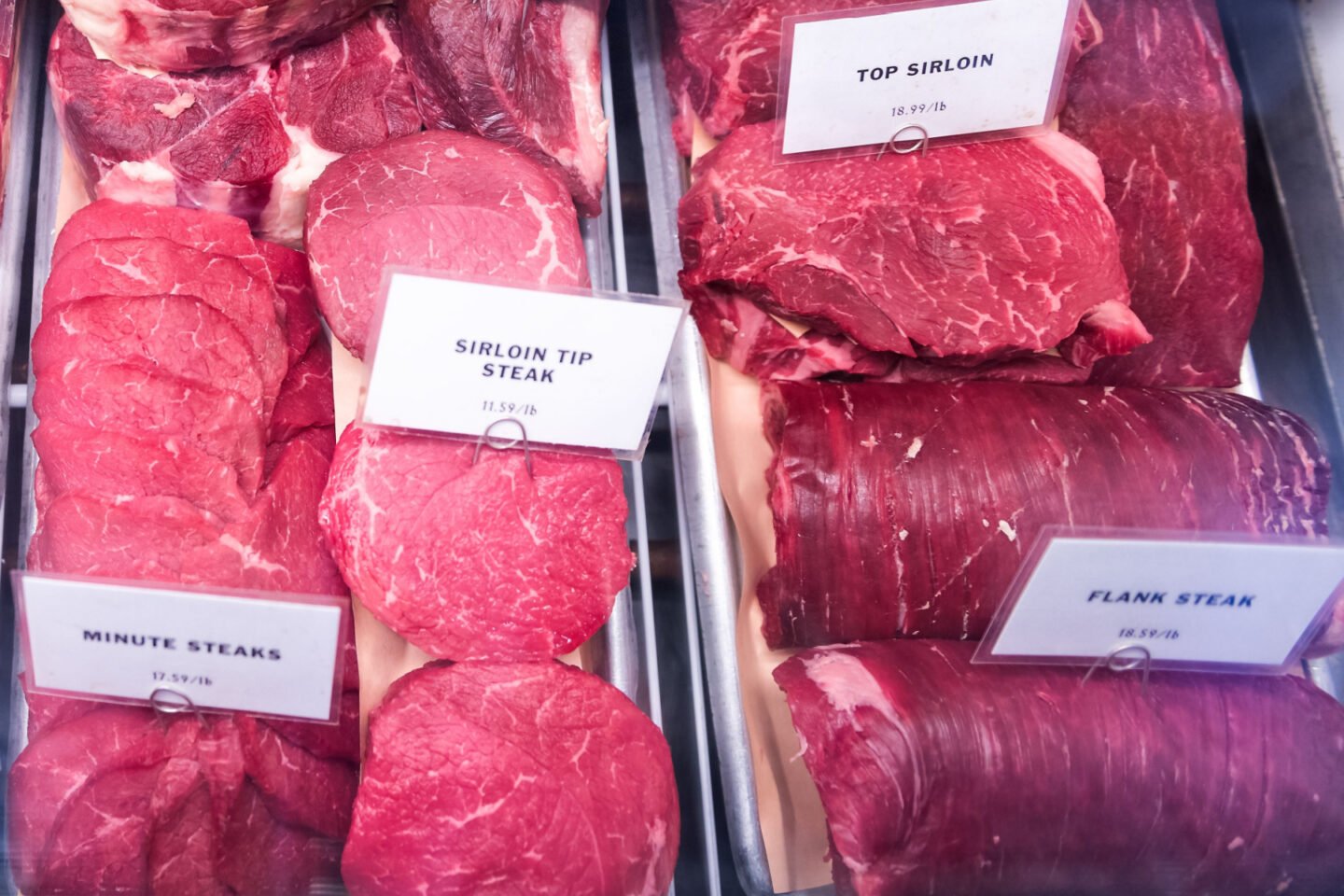 Flap meat is cheaper than skirt steaks. Flap meat is sold at $8 per pound. This is an average price, and it can go up to $11 to $15 in a few supermarkets.
Skirt steaks, on the other end, have a different cutting process. A butcher will trim the fat and spend some quality time presenting a skirt steak compared to a piece of flap meat. On average, you can get it for $12 at a grocery store or a butcher shop. However, the costliest piece of skirt steak can go up to $18 in some of the huge supermarkets.
If cost is your concern, then you should surely go for flap meats. But if you want beef with a more earthy flavor, you can ignore the price and use a skirt steak in your dishes.
7. Nutritional Value
Let's begin comparing these two cuts in terms of calories, proteins, fats, and more. The table below will provide you with the necessary information in this regard.
| | | |
| --- | --- | --- |
| Parameter | Flap Meat | Skirt Steak |
| Calories | 760 | 880 |
| Fat | 40g | 56g |
| Protein | 88g | 92g |
These comparisons are made by taking one pound of each type of steak. The cuts compared here are similar.
From this table, it is pretty evident that in terms of calories, flap meats are better. A skirt steak has more fat in the nutritional aspect due to its high fat content. Thus, people looking to keep their calories in check must go for flap meat rather than skirt steak.
8. Size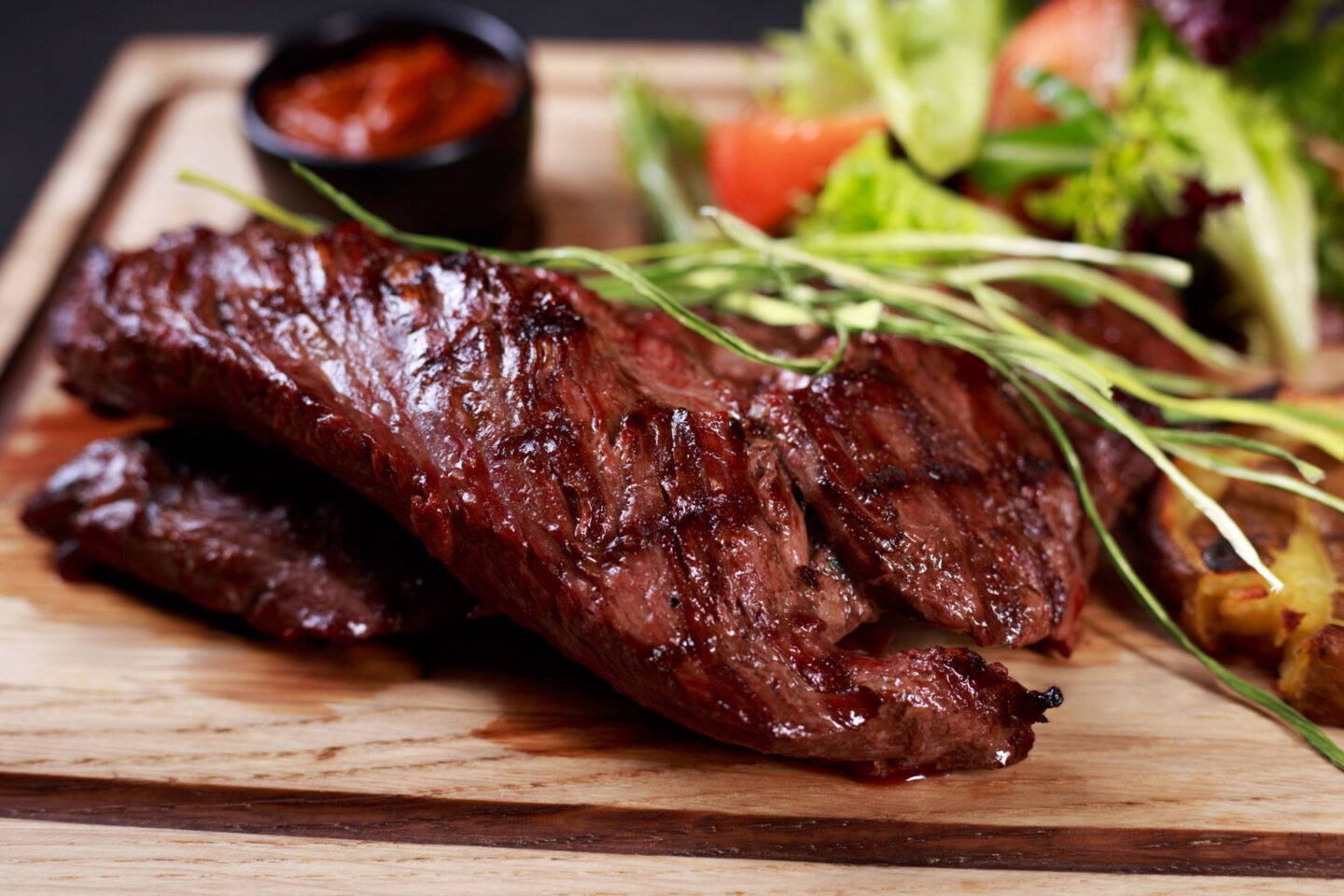 Skirt steaks, both inside and outside, measure around 2 to 4 inches in width and 2 feet in length. These are the dimensions after they are cleaned and trimmed. When sold whole, they can weigh anywhere between 1 and 2 pounds.
Flap meats are on the larger side and will have a combined weight of more than 2 pounds after cutting and cleaning.
Final Thoughts
Both flap meat and skirt steak have many similarities and are often mistaken to be the same. I hope that this guide helps you differentiate between flap meat and skirt steak easily.
Simply remember that skirt steak is a more lavish meal option, whereas flap meat is the more homely type. Both of them are great for short and fast cooking like tacos, fajitas, and salads!