Looking for a tasty and quick idea that would impress everyone in your family? Then this grilled keto London Broil recipe is definitely the one you should try. It's easy to make, loaded with flavor, and is the perfect option for those days when you don't want to stay cooking all day.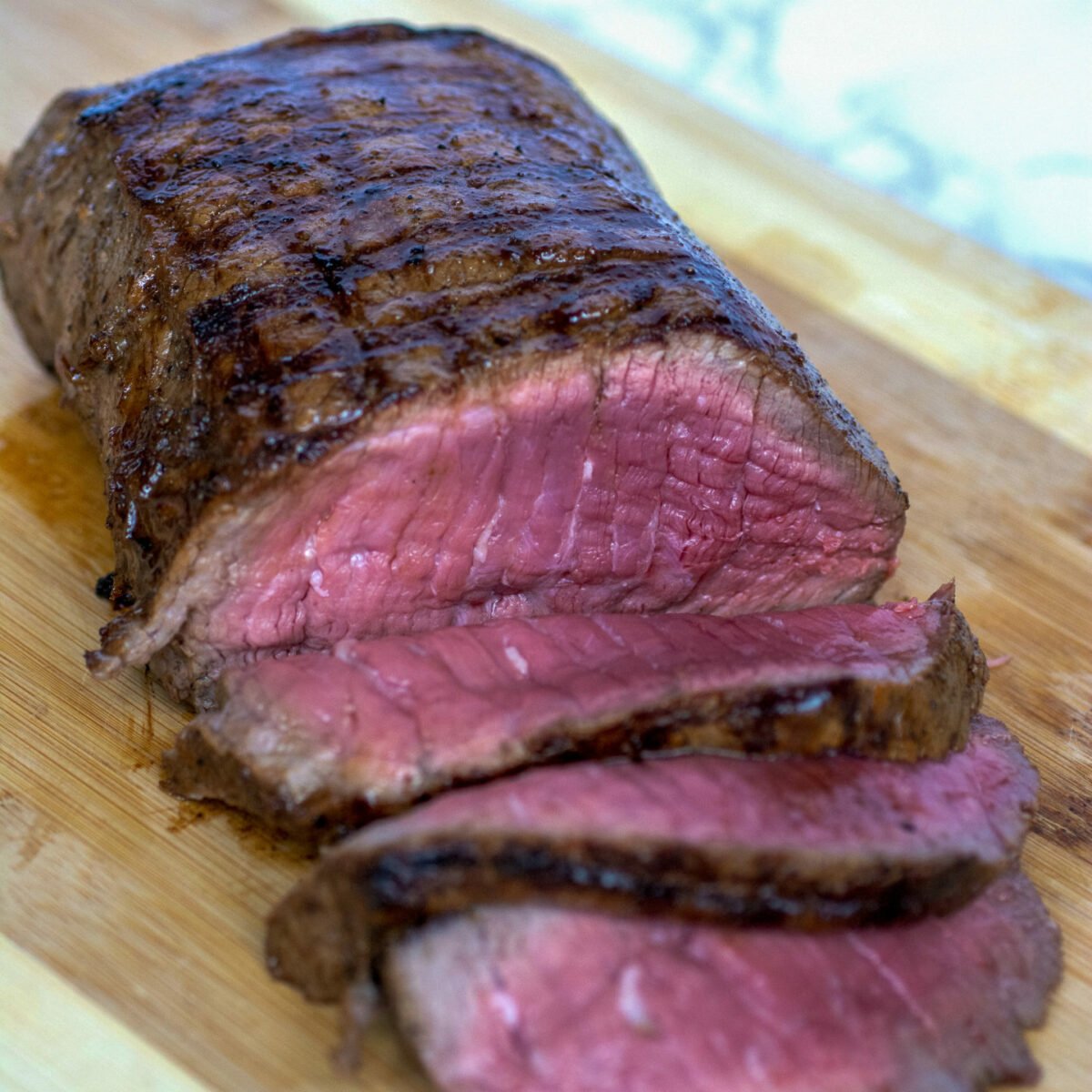 One serving of this dish contains only 3 grams of carbs, making it perfect for those living a keto life. Aside from being keto-friendly, this grilled London broil is also gluten-free, sugar-free, low-carb, and whole30.
Numerous side dish ideas would pair ideally with this keto London broil. If you are on the low-carb, high-fat side, you should try serving this steak with some cauliflower mash or sauteed veggies.
Table of Contents
What Is London Broil?
London broil is a North American beef dish made by marinating beef and then broiling it in the oven broiler. Originally, flank steak was used as the preferred cut of meat. But now you can use almost any kind of meat to prepare this dish. Once the meat is cooked, you need to cut it into thin slices before serving.
I love the fact that the meat needs to be marinated because it's the one thing that adds so much flavor to the cooked dish. But I prefer to use a thicker cut of beef, such as top round steak, when making keto London broil.
Another thing that makes a huge difference between the original recipe and the way I prefer to make it is that I don't broil it in the oven. After making it a few times, I've realized that the most delicious way to cook it is on a cast-iron griddle.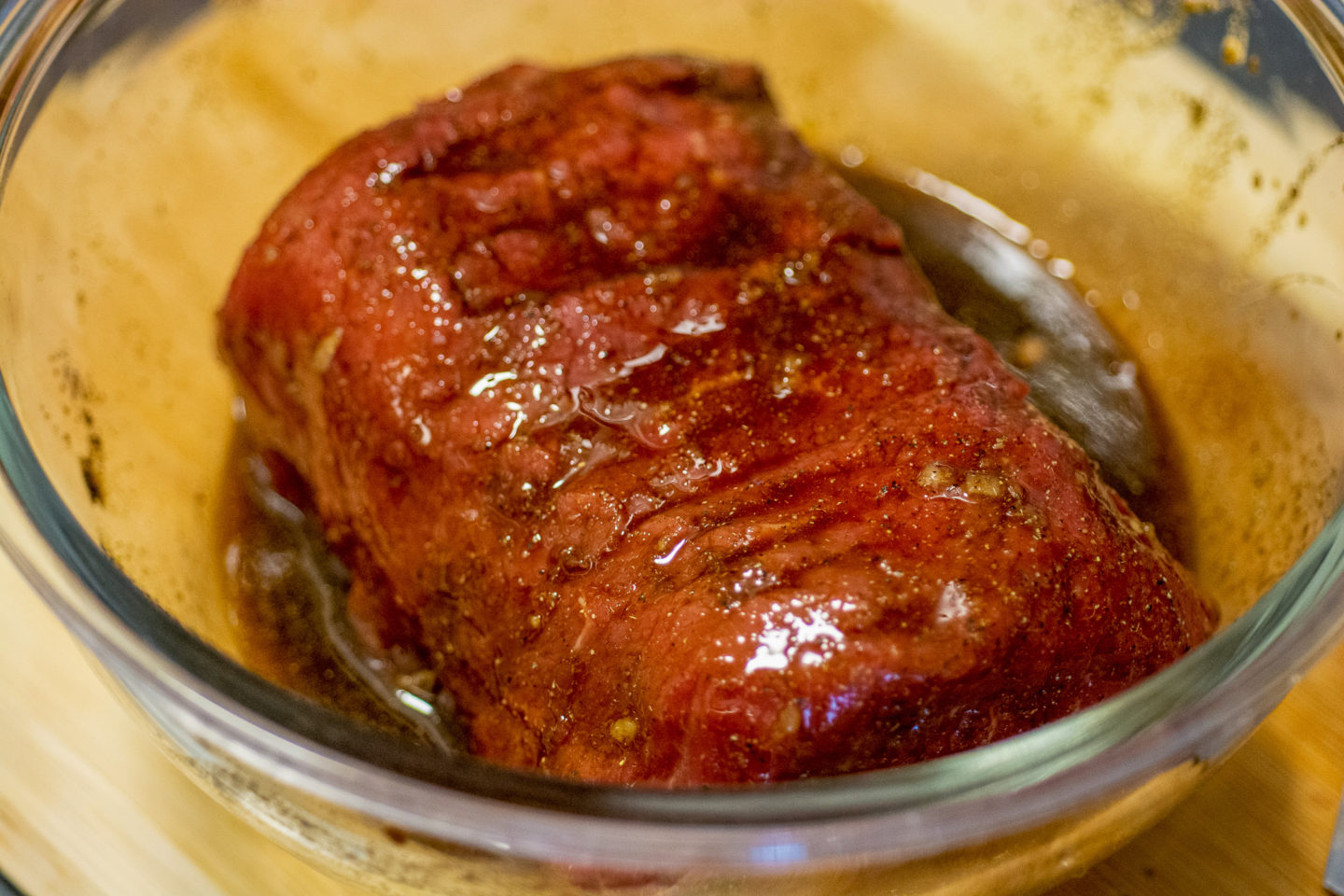 Keto London Broil Marinade Ingredients
To make the steak marinade, you'll need to gather these ingredients:
Soy sauce
Worcestershire sauce
White cooking wine (or lemon juice)
Olive oil
Garlic cloves (or garlic powder)
Onion powder
Cayenne pepper powder
Ground thyme
Salt
Pepper
If you like the meat to have that umami flavor, you'll also need to add some kind of a sweetener to the meat marinade. For example, some honey, agave syrup, brown sugar, maple syrup, erythritol, monk fruit sweetener, etc.
Once you've prepared everything, mix it all up, add the meat into the bowl, and cover it evenly with the marinade. It's best if you let the steak marinate for at least 2-3 hours (best if left overnight).
Tip: For less mess and a quicker solution, place all of the ingredients needed for the marinade into a zipper bag and then place the meat inside too. This way, you won't have to wash anything once the beef is marinaded.
How to Make Keto London Broil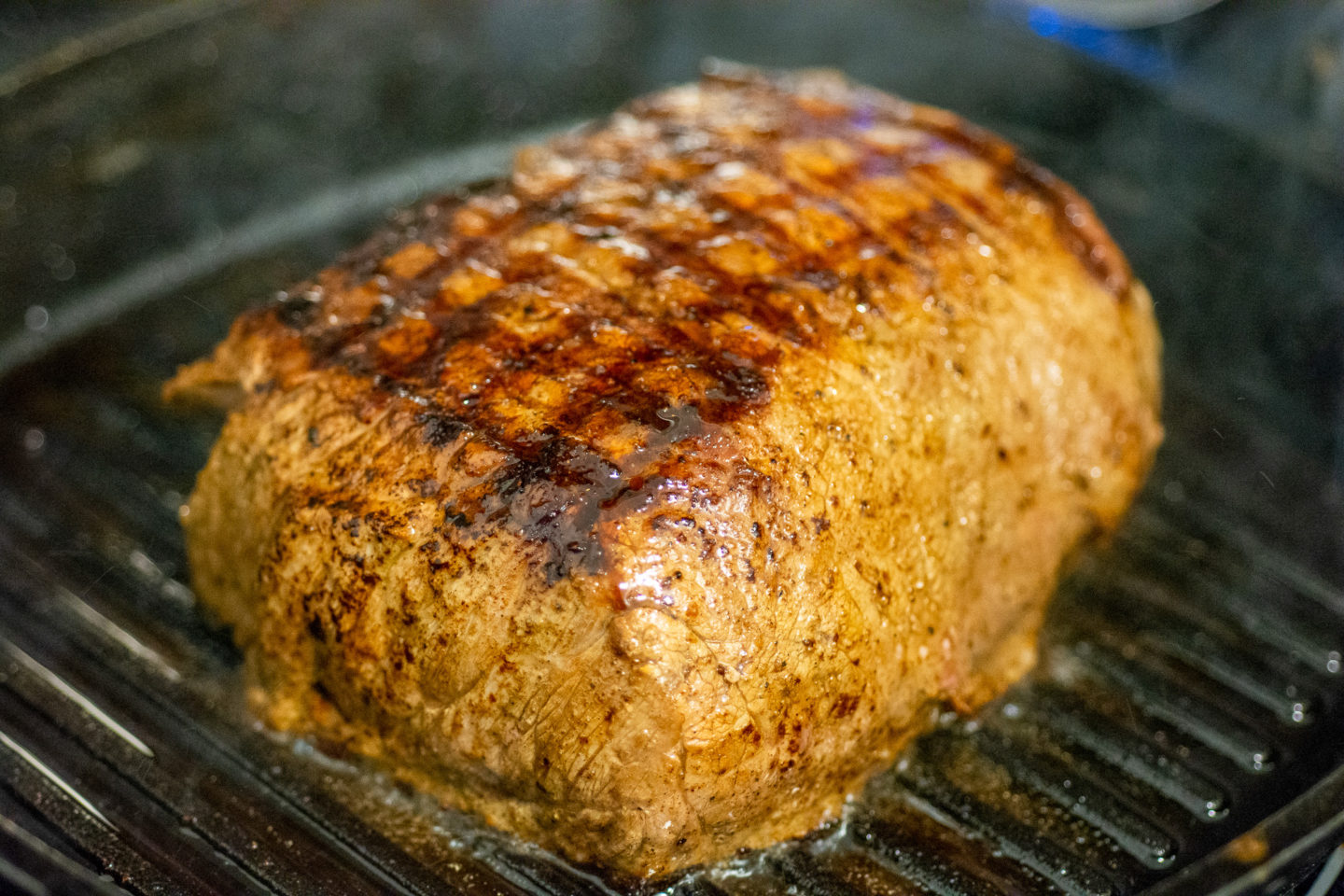 In general, there are 5 main steps that you should take to make this grilled keto London broil:
Prepare the beef: It's important to poke the meat with a fork as much as you can to tenderize it.
Prepare the marinade: Simply mix all of the marinade ingredients in a bowl or zipper bag.
Marinade the meat: It's best to marinate the meat for at least 2-3 hours (the longer you marinate the meat, the better).
Cook the beef: I love cooking the keto London broil on a cast iron grill, but if you want to go the traditional way and cook it in the oven under broil, then you can definitely do that. Other cooking methods you can try are air fryer, crock pot, instant pot, or slow cooker.
Let it rest: Don't cut the meat right away after it has been cooked. Set it aside for at least 5 minutes and only then slice it and serve.
Serving Ideas
Not sure what would go best on the side with this keto London broil? Here are some tastylicious ideas for you to try:
Keto mashed potatoes (cauliflower mash with sour cream)
Air-fried garlic parmesan radishes
Sauteed vegetables
Roasted mushrooms
Also, you can serve this steak with some blue cheese sauce on the side or gochujang sauce.
Storing Instructions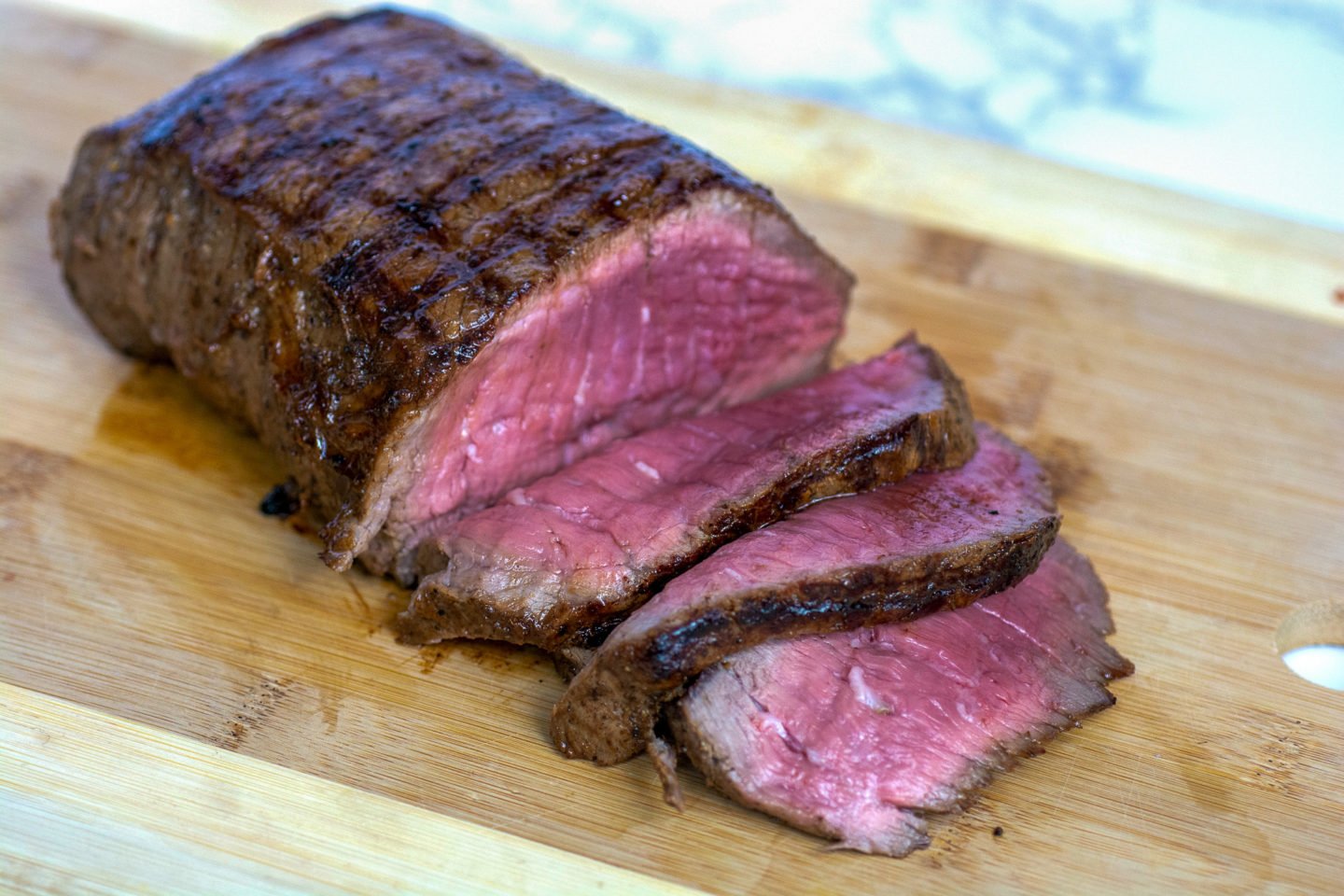 If you have keto London broil leftovers, place them in an airtight food container or on a plate and cover them with some plastic food wrap. Once you do that, place the leftovers in the refrigerator. They can be stored this way for up to 2-3 days.
This keto London broil is also a freezer-friendly meal. To freeze the steak, simply place the beef slices in a zipper bag or container and put it in your freezer. This way, you should be able to store it for up to 3 months. Then, whenever you wish to serve it, simply place the beef in your fridge overnight to thaw or use your microwave for the job.
Recipe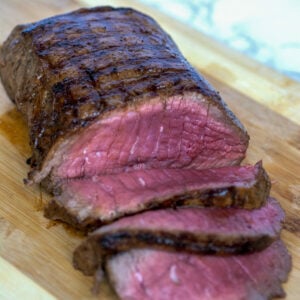 Grilled Keto London Broil
One serving of this grilled keto London broil contains only 3 grams of carbs, making it perfect for those living a keto life. Aside from being keto-friendly, this tasty dish is also gluten-free, sugar-free, low-carb, and Whole30 friendly.
Ingredients
2

lbs

top round steak

½

cup

soy sauce

1

tbsp

Worcestershire sauce

2

tbsp

white cooking wine

1

tbsp

olive oil

2

cloves

garlic

minced

1

tsp

onion powder

1

tsp

ground thyme

¼

tsp

cayenne pepper powder

salt and pepper to taste
Instructions
Poke the steak with a fork from all possible sides.

In a bowl, mix all the ingredients to make the meat marinade: soy sauce, Worcestershire sauce, white cooking wine, olive oil, garlic, onion powder, cayenne pepper, thyme, salt, and pepper.

Add the steak, coat it evenly with the marinade, and place it in the refrigerator overnight.

Place the steak at room temperature to warm up for about 1 hour.

Preheat your cast-iron griddle over medium-high heat for 10-15 minutes.

Spray the griddle with some cooking oil and place the steak on it. Cook it for 7-8 minutes, then flip it over to the other side and cook for another 7-8 minutes.
Nutrition
Calories:
237
kcal
Carbohydrates:
2
g
Protein:
37
g
Fat:
7
g
Saturated Fat:
2
g
Polyunsaturated Fat:
1
g
Monounsaturated Fat:
4
g
Cholesterol:
92
mg
Sodium:
1214
mg
Potassium:
642
mg
Fiber:
1
g
Sugar:
1
g
Vitamin A:
43
IU
Vitamin C:
1
mg
Calcium:
47
mg
Iron:
4
mg