Love to drink wine and amaze your friends and family? Then these cool wine decanters will be a great addition to your dinner table. They're all reasonably priced, and I'm sure there's a design or two here that will appeal to everyone.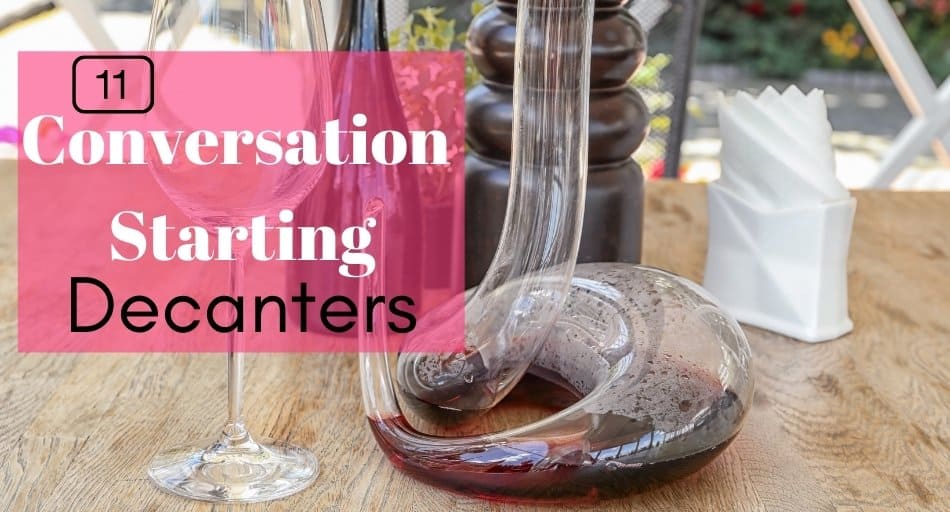 Table of Contents
1. Le Sens Amazing Home Cygnus Wine Decanter
Check the price on Amazon
This beautiful decanter is a cygnet or a swan and looks really remarkable on the table. Its long neck and graceful body won't leave anyone indifferent.
The exquisitely hand-made elegant decanter is a wine carafe and a perfect centerpiece for home decoration. The design and elegance it reflects are just out of the world. It's easy to handle, pour into, and out of it.
The two-way nozzle allows the wine to breathe right away.
2. Stemless Aerating Wine Glasses by Chevalier Collection

Check the price on Amazon
Chevalier Collection invented these unique aerating wine glasses to bring simplicity and elegance to the tedious process of aerating and decanting wine.
The set of 2 is made in the USA and comes in a high gloss gift package that compliments the quality of the glasses inside.
3. PAYSKY Wine Decanter Lead-Free Crystal

Check the price on Amazon
This crystal decanter was handmade and can be rotated around the center of the tray.
It's really like no other decanter I've ever seen and will look nice on any dinner table or bar.
4. Le Sens Cobra Wine Decanter
Check the price on Amazon
Another Le Sens is on our list of coolest wine decanters. This time we have a sleek-looking cobra snake in our hands.
There's also a cheaper scorpion version available.
5. Secura Deluxe Wine Aerator
Check the price on Amazon
Here we have an adjustable aerator that has 6 speeds. It actually speeds up and eliminates the need to decant your wine, adds flavor, bouquet, and smooth finish to any bottle of wine. You can use it with or without the stand.
6. Wine Decanter & Chiller Set with Ice Bucket
Check the price on Amazon
This one is really delicate and needs to be handled carefully. It looks beautiful because it's made of thin glass. Still, it will serve its purpose and look elegant and attractive on the dinner table or bar cart.
7. Lady Body Sculpture Whiskey & Wine Decanter
Check the price on Amazon
Another gorgeous and delicate decanter is great for vodka, liquor, whiskey, wine, and more; this is one set that will make you stand out. The fine lines and curves make it magnetic, and you'll want to use it as often as you can.
8. Vintorio Wine Aerator
Check the price on Amazon
Advertised as the ultimate aerator, it opens up a wine bouquet, softens tannins, and creates a smoother mouthfeel to enhance your overall wine drinking experience, all in the short time it takes to pour a glass.
9. Kalalou Tilted White Wine Decanter With Ice Pocket
Check the price on Amazon
This quirky white wine decanter can hold around 5 glasses of wine. It also has a pocket for ice to keep the wine nice and cool. It's handmade with recycled glass so that each decanter will be slightly different!
10. Centellino Areadivino Wine Aerator and Decanter
Check the price on Amazon
The Centellino is a unique top-of-the-bottle wine decanter that double aerates your wine in seconds. With the Centellino, you can have as many guests and serve as many bottles as you like, and every serving will be aerated to perfection. The Centellino is so effective that even the cheaper wines taste like expensive wines, and excellent wines reveal all their complexities and profiles.
11. Iceberg Wine Decanter Set
Check the price on Amazon
It only takes a couple of minutes to decant wine with this amazing iceberg decanter. With an elegant look and its unique functions, the wine aerator decanter is the perfect gift for all wine lovers, your family, and friends.
Don't Forget:
Rechargeable Electric Wine Bottle Opener
Check the price on Amazon
Make sure you don't forget corks and cleaning beads as well.
You Might Also Like:

Check the price on Amazon
Check the price on Amazon
Check the price on Amazon