Orgeat syrup is an almond-flavored sweet syrup that has orange flower water or rose water added. This French drink has a nutty, floral taste, making it perfect for baked goods, desserts, and tropical tiki cocktails like the Mai Tai.
If you've got no orgeat syrup for your next drink or recipe then keep reading. We've summoned up the nine best orgeat substitutes that'll taste just as delicious.

Table of Contents
What can I use to replace orgeat syrup?
If you need a substitute for orgeat syrup then your best options are almond syrup, almond extract, amaretto, or Crème d'amade. To get a more authentic flavor you can make your own orgeat in minutes using everyday ingredients. Check out our recipe further down the page for a delicious homemade version.
1. Almond Syrup
Almond syrup will vary in flavor depending on the brand, but it's usually sweet with a concentrated almond flavor and aroma. Use this syrup in coffee, cocoa, tea, or cocktails like Japanese Cocktail, Scorpion, or Mai Tai.
You'll taste the almond notes, but keep in mind almond syrup won't have the same bitter spice flavor profile. The rich, depth of flavor that comes from authentic orgeat will also go missing. That's because almond syrup doesn't have orange blossom or floral rosewater added.
If you pay a visit to a baking specialty store or well-stocked grocery store, look for orange or rosewater essence. A few drops of this will give your next tropical cocktail that little extra flavor it needs.
Tip: Most almond syrup brands call their product orgeat syrup, but they are two different types of drink. Products like Crawleys Orgeat Syrup are the real deal which many bartenders respect.
2. Almond Extract
You can use almond extract as an orgeat substitute if you're in a pinch. It adds pure almond flavor without any sweetness. In food recipes, you'll need to add a little extra sugar to compensate.
For cocktails, a simple syrup made from equal parts water and sugar will give your drink the sweetness it needs.
3. Amaretto
Amaretto is an Italian liqueur that has a sweet, nutty flavor with a hint of cherries. It is made from apricot pits which provide bitterness you won't get from orgeat syrup. You'll want to add amaretto slowly and then taste test to avoid overwhelming food and beverages.
Use amaretto in cookies, cakes, frostings, espresso, or add it to cocktails like Army Navy or Fog Cutter. For a more authentic flavor profile, try adding a half teaspoon of rose water.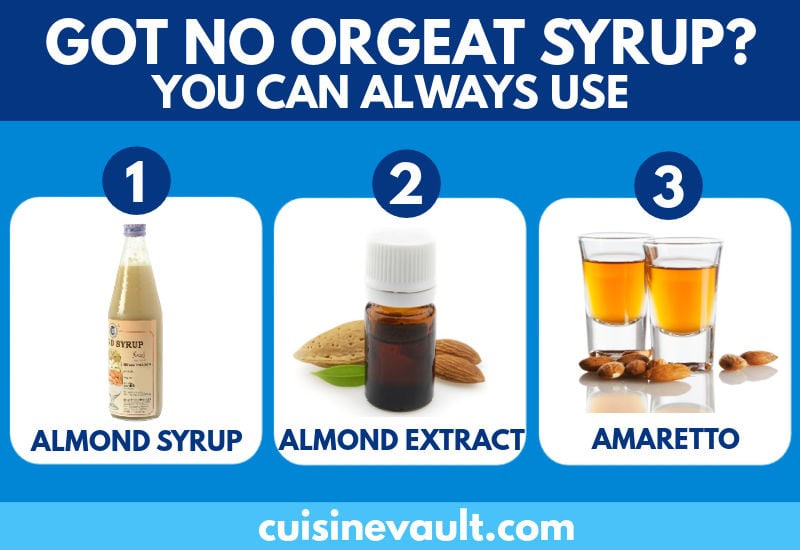 Related reading:
What are the best almond liqueur substitutes?
What is a good RumChata substitute?
4. Crème de noyaux
Crème de noyaux is a French crème liqueur that is made from the kernels of cherry or peach pits. Although it is sometimes clear, other brands like Bols add a vibrant red color to the drink. This may not be ideal for some cocktails. However, it's delicious poured into a cappuccino, tea, or even champagne.
5. Orzata syrup
Orzata is an Italian almond syrup that contains no alcohol and makes a perfect cocktail mixer. For people who don't enjoy orange blossom or rosewater in their food and drinks then orzata is a perfect alternative. Its pure almond taste is excellent for granita, gelato, desserts, and cocktails. Add it to Italian soda or beer for a refreshing twist.

6. Homemade orgeat recipe
Making orgeat syrup at home is simple and it uses readily available ingredients from the supermarket. Although a seasoned drinker of orgeat may notice a subtle difference in their next tiki cocktail, most won't have any idea. The best part is, you'll save money using these cheap ingredients.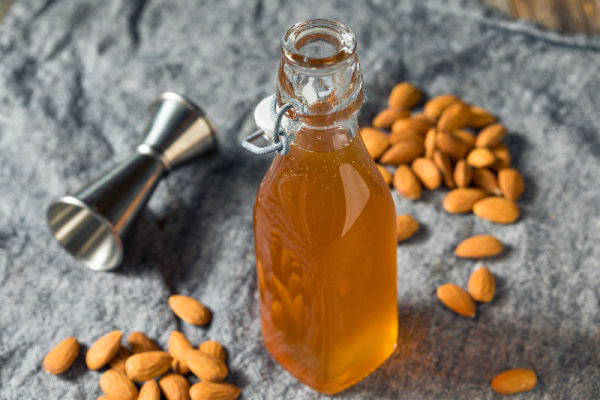 Prep time: 5 minutes. Cook time: 5 minutes
Ingredients
½ cup of unsweetened almond milk
1 cup white sugar
2 Tbsp brandy
2 tsp almond extract
½ tsp orange blossom water
Method
Add milk and sugar to a small saucepan and place over a medium heat.
Stir the mixture frequently until the sugar dissolves and the liquid begins to boil.
Add the brandy, extract, and blossom water a stir until combined, then remove from the heat.
Pour the homemade orgeat into a sealable bottle or jar and store refrigerated for up to one month.
Tip: For a nuttier flavor skip the almond milk. Instead, try pulsing two cups of almonds in a food processor until almond paste forms. For liquid, use one cup of water. You can follow the same steps as above but strain the liquid through a cheesecloth as a final step to filter out the nut solids.
7. Almond Milk
For people who prefer a more subtle taste of almonds then almond milk may work in some food recipes and hot beverages like tea. You won't get the same sweetness from milk, so we suggest adding extra sugar. Of course, for those hoping to reduce their sugar intake, almond milk is a good replacement option.
As with any of the replacements for orgeat on this page, you can get a taste closer to the original ingredient. Simply add a ¼ teaspoon of almond essence, rose water, or orange essence. This concoction is a tasty option that won't last long on the bar counter.
Almond milk will muddy up most cocktails, so its best used in food recipes.
8. Falernum
Falernum syrup is a Caribbean mixer that has an almond flavor like orgeat syrup. While it lacks the depth of flavor you get from authentic orgeat, it is deliciously rich and velvety.
Falernum has lime acidity and spiciness that make it a great contender for your next Zombie, Singapore Sling, or Pina Colada cocktail.
While some bottles of falernum contain low amounts of alcohol like rum, there are also alcohol-free products.
9. Juice
For a completely different mixer that won't taste awkward in your next tropical cocktail, try juice. It's a quick and easy, no-fuss substitute that'll work fine in your next drink. Use it in cocktails such as Tequila for Christmas, The Casper, and College Radio.
Related reading:
What is a good makeshift Amer Picon?
How can I substitute out Tuaca?
What's a tasty replacement for Drambuie?
What's a useful Mezcal substitute?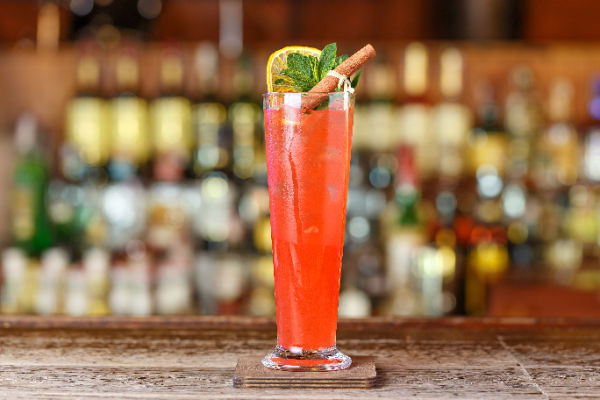 Commonly asked questions
Where can I find orgeat syrup?
Most liquor stores that carry a decent range will have at least one brand of orgeat on their shelves. A popular brand is Monin, but there are plenty of other options. If you can't find anything in your area, then a quick search online will reveal plenty of options.
Is orgeat safe for people with nut allergies?
Orgeat syrup ingredients will vary by manufacturer so you should always check the label. Most products use natural flavor which is a derivative of nuts, so allergy sufferers should avoid the drink.
Summing up
Orgeat syrup is a sweet, nutty liquid that is excellent used in food recipes, cocktails, and much more. If you don't have any then almond syrup, almond extract, amaretto, or Crème d'amade are all worthy substitutes. Anyone who likes adding authentic flavor to cocktails should consider making their own. It's super-easy and doesn't require any obscure ingredients.