A tomato knife is an indispensable tool in the kitchen that will make your vegetable preparation a cinch. The serrated blade is a brilliant piece of engineering because it lets the home cook cut in a back-and-forth motion instead of down. It slices through tomato skin and flesh without bruising or damaging the fruit in any way. This ability is quite a feat because tomatoes are delicate and easily damaged when they reach peak ripeness.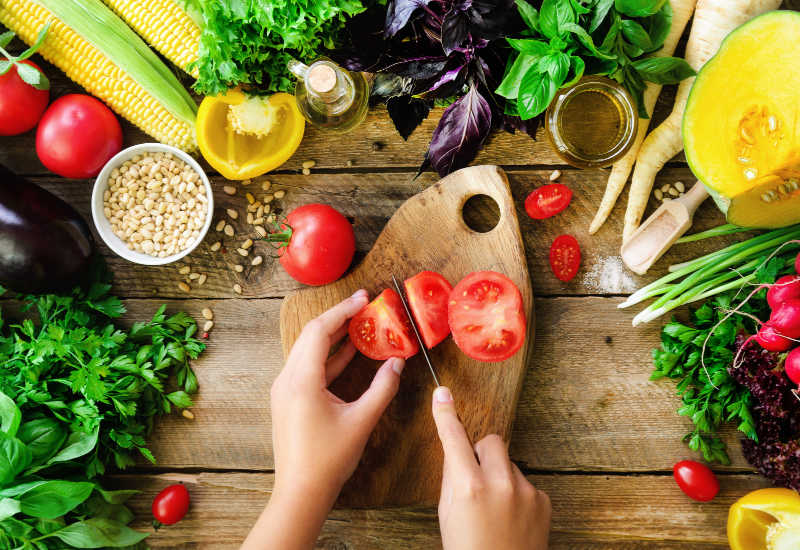 Although not every knife that is made for chopping tomatoes has a serrated edge, it is a common feature. If your knife's blade is flat, then you'll need to maintain the edge so that it is super sharp. Anything less won't be very effective.
A tomato knife will often feature prongs at its tip. The points are useful for transferring perfect slices of tomato without damaging them. Of course, it is also handy to use these prongs when cutting cheese.
Tomato knives aren't solely used for tomatoes. They also make a useful paring knife, suitable for small vegetable and fruit preparation. Onions, lemons, and other fruits like plums are all easily chopped. Even eggs that need to be neatly sliced for a salad will turn out perfect.
Table of Contents
The Top 5 Tomato Knives
We decided to test a range of tomato knives suitable for use in the home kitchen to find out which one is the best. Keep reading to find out what we discovered.
1. Editor's Pick: Wüsthof Classic IKON Tomato Knife
The Wusthof WU4136 may require a bigger investment, but it is the best knife we tested by far. The premium handle and blade offer excellent balance, so handling the knife is effortless. Novice home cooks through to seasoned chefs will appreciate the ease of use.
The 5-inch high-carbon stainless steel blade impressed us with a Rockwell 58 hardness. Many French chef knives of good quality have a rating of 54 to 56. Wustof's high rating means it will last a long time before it needs to be sharpened. On the flip side, once the blade becomes blunt, you'll need some advanced skills to sharpen it.
Like a cheese knife, the Wüsthof Classic IKON Tomato Knife offers a tip that is forked. Two prongs allow the user to move the sliced vegetables to another plate with ease. When you've sliced extremely fine tomato pieces, using your fingers can easily squash them. This issue won't occur with the prongs.
2. Best Budget Knife: Rada Cutlery Tomato Slicing Knife
The Rada Cutlery Tomato Knife is a popular option for good reason. It's a quality built, sharp knife that is within range of those on a lower budget.
It has an impressive 5-inch blade that is made from surgical grade, high-carbon stainless steel. This material makes it very sharp, and you won't need to worry about frequent re-sharpening. The dual serrated blade is useful because it enables both left-handed and right-handed users to cut straight and cleanly every time.
The brushed aluminum handle looks impressive and is comfortable to hold. The downside to this material is that it will need to be hand-washed.
Best of all, the Rada comes with a lifetime warranty for peace of mind. The company that makes this knife is based in the United States and has been in operation since 1948. They have an enviable reputation in the cutlery niche.
3. Best All-Rounder: Victorinox Tomato Knife
The Victorinox Tomato Knife is superior amongst its peers as an all-round option. While its price is comparative to other low-cost brands, its Swiss-manufactured workmanship is second to none. The durable Fibrox handle is slip-resistant and ergonomically designed for maximum comfort while providing optimal balance.
You'll find the serrated blade is a little smaller than the others on this list, at 4.25 inches (11 cm). However, it feels light in one's hand—a feature that is likely to appeal to those with smaller hands. Working your way through 10 pounds of beefsteak tomatoes won't result in a trip to the emergency room!
The Global knife brand is synonymous with precision and quality. It is manufactured in Japan by Yoshida Metal Industry, a company that has built a solid reputation for kitchen knives since 1954.
The Global GS-14 Utility Knife is made from hardened stainless steel that has been ice-tempered. What you get from this knife is impressive efficiency – a tool that will stay sharp and get the job done for longer than most other blades in a similar price range.
We love this knife for its stylish look that departs from the traditional looking tomato knife. A sleek looking handle is surprisingly light, thanks to the hollow inside.
Measuring 6 inches in length, the serrated blade is quite sufficient. Anything similar in size to a tomato won't be a challenge to cut easily. If you need an all-rounder for larger fruit and vegetables, then consider the Wüsthof or Rada, discussed above.
5. Worthy Mention: Pure Komachi 2 Series Tomato/Cheese Knife
SAVE 5%
The Pure Komachi 2 Series is an eye-catching, brightly colored tomato knife that also excels at cutting cheese. At 4" in length, it's another small knife, and its lightweight handle makes it suitable for cooks with smaller hands.
The high carbon stainless steel blade is serrated and razor-sharp, ideal for making short work of tomato preparation. It also has a non-stick coating that makes cleanup much easier and prevents corrosion over time.
Final Words
A tomato knife is a tool that is likely to get used regularly in the kitchen for vegetable preparation. Although it is designed for neatly slicing tomato, it has many other uses when cooking. It can be used like a paring knife on practically any type of small fruit or vegetable. Food like cheese, eggs, and even small bread rolls are also easy work for this knife.
Why would you want to spend money adding another tool to your knife set? Surely a chef's knife or Santoku will do the job? From our tests, unless they're incredibly sharp, they tend to squash the tomato - especially when dealing with soft, ripe tomatoes and fruit with a similar texture like plums. A serrated tomato knife is the right tool for the job. Also, holding a large knife for an hour cutting tomato can be tiresome, hard work. A lightweight purpose-built knife is much easier to wield.
The Wusthof WU4136 is the best knife we tested, offering a mixture of style, quality, comfort, and extreme cutting power. For a more affordable option, you'll be hard-pressed to beat the Victorinox Tomato Knife. This is a sharp knife that will serve you well thanks to its quality Swiss manufacturing.
Another brand you may want to consider is Shun. The manufacturer has built a reputation for making excellent products that last. Although we didn't have time to buy and test these options, we did spend several hours researching them online. In general, people gave very positive reviews.
Do you have a favorite brand of tomato knife? Let us know in the comments below. We'll check it out and may add it to this review if it stands out.