Whether you're an experienced angler or just a lover of fine seafood, finding the best fish fillet knife is essential. But with so many options out there, it can be hard to separate the best from the rest.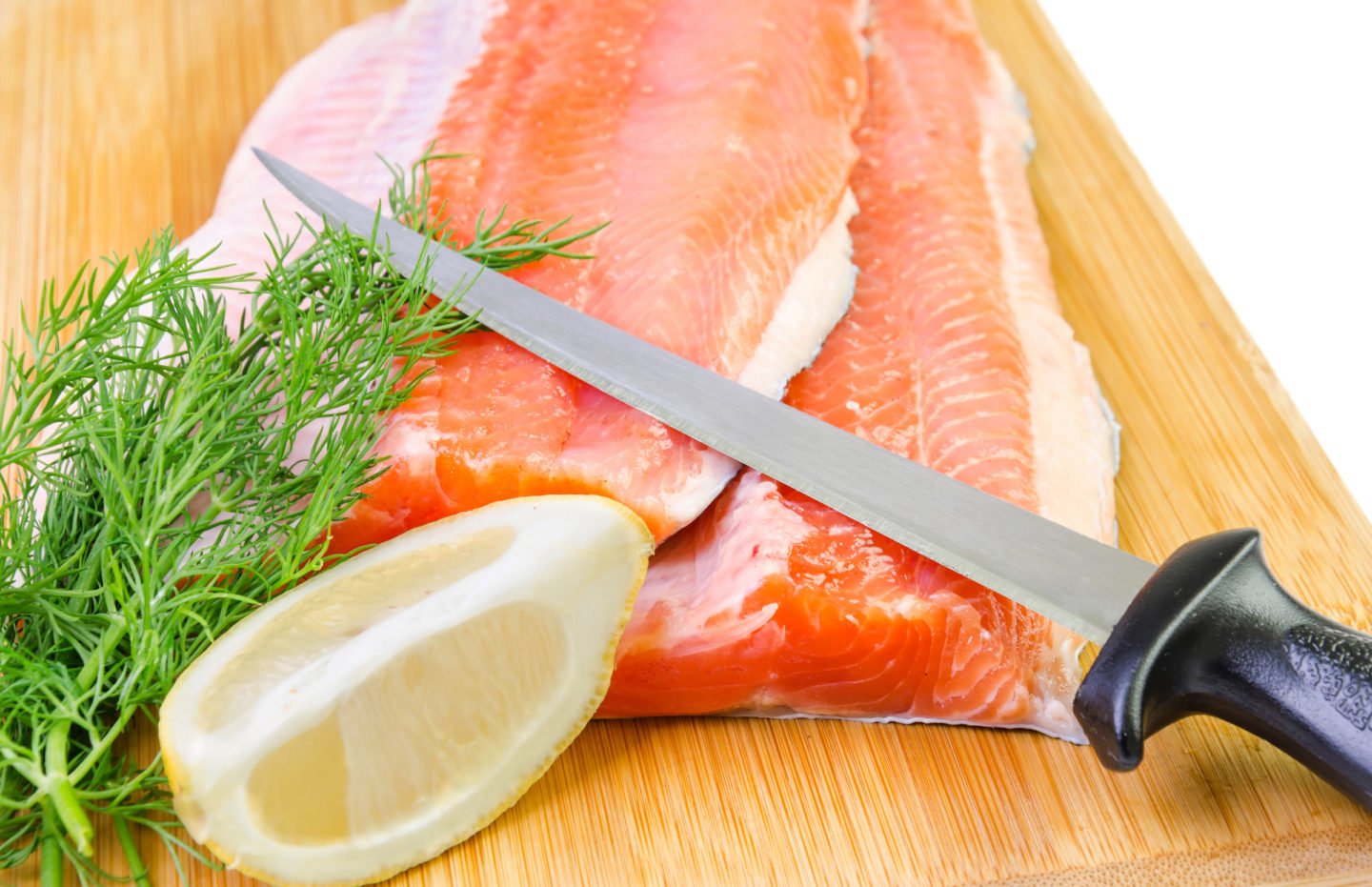 The perfect fish fillet knife for you depends on a few factors, including flexibility, blade material, and handle material. By paying attention to these criteria, anyone can narrow their search to make the perfect purchase.
After reviewing all the top fillet knives available today, we narrowed our list down to the best of the best. Take a look at the available options and decide for yourself which fills your needs.
Table of Contents
Best Overall: KastKing Fillet Knife
The best fish fillet knife should be versatile enough to handle a wide range of fish while still offering quality construction designed to last. While there are plenty of options that come close, only one of them genuinely meets all our criteria. The KastKing Fillet Knife stands out with its black-coated stainless steel blade that offers good balance with a quality design.
The great thing about these KastKing knives is that they come in a wide variety, ranging from 5 to 12 inches. That means you can get the right tool for the job no matter what you're finishing for. If you're not sure what you need, a 6 or 7-inch fillet knife is an excellent place to start.
The non-slip polymer grip ensures complete control, letting you twist and turn the knife for a perfect cut. It has an ergonomic shape that conforms to your hand and offers a handy hanging ring on the end for easy storage.
Overall, this is an excellent knife for just about anyone. The main downside is that it doesn't come with all the accessories that other brands offer. So if you're looking for a whetstone and chop block included, you might want to find another option.
Best Electric: BUBBA Li-Ion Cordless Electric Fillet Knife
SAVE 19%
Electric fish fillet knives are a great option for those looking to take the work out of the prep process. With a motorized blade, they can make short work of bones and skin in seconds. The BUBBA li-Ion Cordless Electric Fillet Knife is one of the best electric knives available, with a design anyone can appreciate.
Operating this knife is simple—just pull the ergonomic trigger and maneuver your knife for clean cuts. The blade vibrates quickly, letting you slice through your catch with less time and hassle.
It runs on lithium-ion batteries, letting you take it anywhere you need. When traveling, you can store it in its zippered case to keep it dry and protected until needed.
Give this electric fish fillet knife a try if your goal is to cut down on the hassle. While it doesn't make as precise cuts as a hand-powered knife, it can leave you with clean-looking fillets when working with larger fish.
Best Value: Danco Tournament Plus 7" Fillet Knife
If you're just learning to clean and fillet fish, it may be better to hold off on a high-end fillet knife. Instead, you can take advantage of a more affordable option that offers many of the same benefits. The Danco Tournament Plus Fillet Knife delivers professional quality at an affordable price.
The Teflon-coated blade is a nice perk to see on such an affordable kife. It looks attractive while keeping your blade free of corrosion. It also makes for a smooth surface on the blade, making it easier to clean.
One thing we didn't like much was the hard plastic handle. It has an ergonomic shape, though it's not exactly soft on the hands, and it may become uncomfortable after extended use.
Still, it's a quality knife that comes with a lifetime warranty to attest to the manufacturer's faith in its product. And at half the cost of any competing fish fillet knives, you'll be surprised at how much it offers.
Best for Large Fish: Kershaw Clearwater 9-In Fillet Knife
SAVE 40%
Larger fish have more meat to fillet and thicker bones, fins, and skin, which calls for a longer and sturdier blade. The Kershaw Clearwater 9-in Fillet Knife offers a 9-inch blade that balances durability with flexibility, making it easy to slice through larger fish.
The curved, narrow design of this blade allows it to stay so maneuverable when cutting fillets. In addition, it's made of slightly softer steel which gives it a bit of bend while staying tough enough to work with fish like salmon, snapper, and tuna.
The handle features a co-polymer rubber grip that gives you the control you need. It is a little bulkier than wooden handles, though it stays comfortable even with extended use. Overall, this is a great choice for saltwater anglers but isn't so large that the average person can't use it to prep larger freshwater fish.
Best for Small Fish: Rhinoreto Fillet Knife
While smaller fish don't require a durable knife that can cut through thick bones, they may not offer as much meat unless you have a knife that can get every last scrap. The Rhinoreto Fillet Knife is small, thin, and maneuverable, letting you make a meal out of smaller fish like bluegill and crappie.
At 5 inches long, this knife is the ideal size for filleting smaller fish and doing more fine-tuned work like deboning. It has a curved, flexible blade that easily twists around bones and skin while staying lightweight and easy to work with.
To maximize your fillet size, using a razor-sharp knife is crucial. This one comes with a portable sharpener so that you can keep its edge fine at all times.
Give this fish fillet knife a try if you specialize in smaller, freshwater fish. It can also be a good accompaniment to larger knives, giving you the best of both worlds. Luckily, Rhinoreto offers a range of seven different sizes.
Best Compact: KastKing Folding Fillet Knife
A compact fish fillet knife offers the benefit of a longer blade with the portability of a smaller knife. In addition, it folds in on itself, which allows you to take it on the go safely, unfold it, and have it ready to use in seconds. The KastKing Folding Fillet Knife is a smartly designed folding knife with all the quality craftsmanship of other options.
The convenient carrying case makes it even easier to take on the go, whether you want to strap it to your belt loop or stow it in your bag. It has a total length of 13.5 inches when unfolded, while it's only half that while folded.
The six-inch blade is the perfect size for filleting small to medium-sized fish. That maximizes its versatility and makes it an excellent choice for various situations.
The only downside of this knife is that it is slightly more expensive than some other options on this list. Nevertheless, it will be a handy tool to have packed in your tackle box or car trunk if you can make the investment.
Best German Style: DALSTRONG Fillet Knife
German-style, also called Scandinavian-style, knives have the advantage of being thicker, more durable, and able to cut through bones more easily. They are made of heavy-duty steel that's made to stand up to frequent use. In addition, they generally feature a double-beveled blade, which means it is sharpened on both sides.
The Dalstrong Fillet Knife is a great example, with an attractive design that's as effective as it is nice to look at. The pakkawood handle gives the knife its character, with darker tones that won't fade over time.
The blade itself is made of high-quality German steel, which stays rigid and durable for all applications. Unlike Japanese-style knives, this one can be used for a variety of purposes, from fish to poultry, to red meat, making it a true kitchen multitasker.
If you're looking for a versatile kitchen knife specially made for fish filleting, you'll want to add this one to your wish list. It's great for a variety of applications and will be sure to stand the test of time. On the other hand, if you're looking for something that can do more precision work, take a look at the next option on our list.
Best Japanese Style: Shun Cutlery Premier Boning & Fillet Knife
SAVE 20%
Japanese-style fillet knives are a bit different from German ones, with a thinner, more flexible blade that makes them ideal for precision work. They're lighter and a breeze to work with, though they don't stand up to heavy use as well as their German counterparts. Their blades tend to be sharpened at a fine angle, which makes for smooth cuts.
The Shun Cutlery Premier Boning & Fillet Knife offers a precision-forged 6-inch blade with a hammered Tsuchime finish. It's super thin which allows for maximum control. While the blade may look delicate, it's made of high-quality Japanese steel and is made to last a lifetime. The company even offers a 100% lifetime warranty.
The mirror-polished handle looks great and feels comfortable to use, even when filleting fish for the whole family. It won't loosen over time when it is held in place with a brass and copper pin.
Constructed with Shun's VG-MAX cutting core with 68 layers of Damascus cladding, this fillet and boning knife remains razor sharp and resists corrosion and the wear-and-tear of time.
Give this knife a try if you need a specialized tool that can precisely fillet small and medium-sized fish perfectly. It's not as versatile as some other knives on this list, though it gets results that can't be matched.
Best Ergonomic Handle: Huntsman 6 inch Fillet Knife
Sometimes, it makes sense to make comfort a priority. For example, if you're filleting scores of fish at once, you'll want a knife that can get the job done without blistering your hand. The Huntsman 6-Inch Fillet Knife is perfect for this, giving you a quality blade and handle in one.
The length of the handle is made of soft, easy-to-grip rubber that clings to your hand, maximizing control as you cut. It has a textured thumb grip near the blade, which allows you to make precise turns while filleting. Finally, the finger notch on the opposite side gives you a firm hold at all times.
Give this knife a try if you constantly find yourself rubbing your sore hands after filleting a fish.
Fish Fillet Knife Buying Guide
With so many different kinds of fish fillet knives out there, it may be challenging to know where to start. Luckily, you don't have to be a knife expert to make an informed decision. Just review all of these factors before buying your next knife.
Flexibility
There are two schools of thought when choosing your fillet knife, and which you prefer depends on the type of fish you're working with. Do you want a thin and flexible knife or one that's thicker and heavier?
Thinner knives are more flexible and take a bit more experience to use. They are designed to cut close to the skin and bone to minimize meat loss and use super-sharp blades for smooth cuts. As a result, they're better suited to working with smaller fish.
Thicker knives are more heavy-duty and are great at chopping through bones and other material. While they may not be able to make as precise cuts as a thinner knife, they're still quite agile and a bit more versatile. They can work with all sizes of fish but are necessary when working with larger ones.
Blade Material
The two most common materials used in fish fillet knife blades are carbon steel and stainless steel. Carbon steel is the less expensive of the two and tends to be softer, lighter, and quicker to dull. Stainless steel costs a bit more but can hold its blade longer.
Handle Material
Your knife's handle is where much of its personality shows through, and it also plays a significant role in your comfort. For example, a wooden handle is preferred by those who prefer a more rustic look, while rubber offers the advantage of better grip and greater comfort. Some knives also offer ergonomic handles designed to conform to the shape of your hand.
FAQs
What is the best size for a fish fillet knife?
The size of your knife depends entirely on what you plan to use it for. For example, if you are looking for freshwater fish that you can take home and cook in your frying pan, a six-inch fillet knife will be perfect. However, if you're aiming for a bigger catch, eight or nine inches may be a better fit.
What makes a fillet knife different?
Fillet knives are different from ordinary kitchen knives because they are thinner and more flexible. That allows them to cut closer to the skin and maneuver around bones to retain as much meat as possible. They also allow the user to make smooth cuts without damaging the meat.
Is a boning knife necessary?
A boning knife is a type of fillet knife used for deboning a fish. They tend to be smaller and more maneuverable, allowing the user to make small cuts to access the delicate bones. While helpful, a versatile fillet knife can handle both jobs, which means a boning knife isn't strictly necessary.