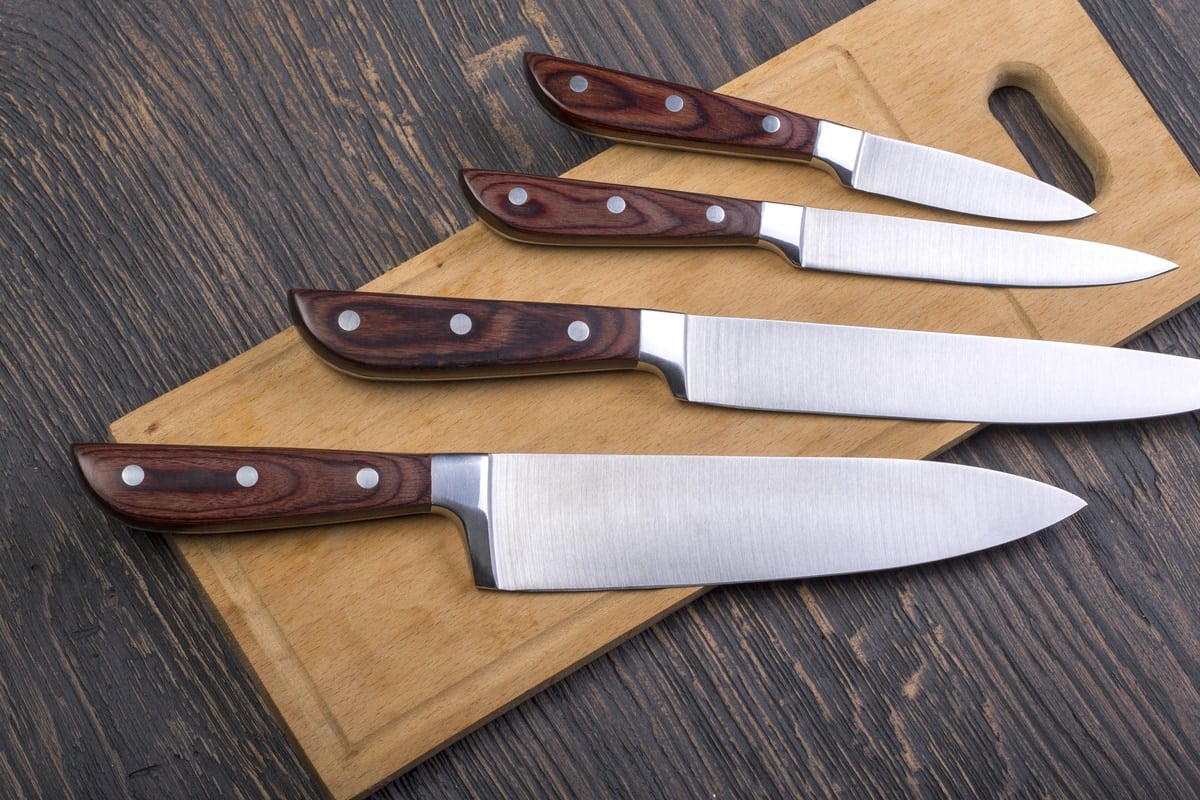 A carbon steel knife is essential for professional chefs because it remains sharp with little sharpening. These knives are highly durable and stay in their form despite regular use. Carbon steel knives are also incredibly stiff, and they do the job even with tough-to-cut solids or other rough knife work. So it's easy to see why the carbon steel material remains one of the preferred materials for both kitchen and multi-purpose knives.
Despite these unique advantages, you probably won't see carbon steel knives in a typical knife set. Specialized brands manufacture them overseas, and they usually don't sell them off-the-rack. For example, Japan is a leading maker of carbon steel knives that is popular with enthusiasts worldwide. They sell their knives at specialty stores or online.
That said, we see more options from different manufacturers today. A variation that's also been trending is the high carbon steel knife — essentially knives with more carbon content. High carbon knives are stiffer but less ductile. And of course, the popular alternative to carbon steel knives is stainless steel knives. Although resistant to rust, stainless steel knives aren't as stiff as carbon steel knives.
Indeed, choosing a good kitchen knife comes down to personal preference and intended use. We'll talk about the pros and cons of carbon steel knives vs. stainless steel knives to help you decide. We've also listed down what we think are the best carbon steel knives on sale today.
Table of Contents
Best Overall Carbon Steel Chef's Knife: Misono Swedish Carbon Steel
SAVE 11%
Misono Swedish Carbon Steel Gyutou
We like this traditional Japanese knife because it has a good grip and a durable carbon steel blade.
Pros: Wooden handle, lightweight, thin blade, size options
Cons: Dragon etching (arguable), asymmetrical edge
The Misono Swedish Carbon Steel Gyutou
The highly-rated Imarku High Carbon Stainless Chef Knife
If you want a starter knife that offers good value for money, we recommend trying the Bekhic Chef Knife
An excellent complete set to work with is the Dalstrong Knife Block Set
A paring knife comes in handy for small and delicate cutting jobs such as peeling, mincing, and dicing. The Saken Paring Utility Knife
Inspired by traditional Japanese knife makers, the Kyoku Samurai Series Carbon Steel Cleaver should be part of any carbon steel knife arsenal. The cleaver comes with a nicely finished 7-inch carbon steel blade that is great for chopping, dicing, and scooping up ingredients from the board to the pan.
Due to its thinness, this carbon steel cleaver is great for splitting meat from the bone, typically portioning chicken, beef, pork, and other types of thick meat. The carbon steel blade glides easily between ligaments and dense bones. It is also perfect for large and hard-skinned fruits and vegetables like melons and pumpkins.
However, the Kyoku cleaver is also thinner than other cleavers. While this can be an advantage for slicing through bone, it is also a disadvantage for heavy-duty work due to their tendencies to chip. Since the blade is of carbon steel, proper care and maintenance are also necessary to avoid corrosion.
Even so, we think the cleaver's weight has ample consideration for chopping through tough food and ingredients. The handle is also made with Pakka wood and has a natural ergonomic feel.
Carbon Steel Knife Buying Guide
When looking for a set of carbon steel knives, one inevitable question is how they compare to stainless steel knives. Both are great options for the kitchen, so we'll take a closer look at the differences between the two.
Another question is about increasing carbon content. If carbon makes knives stiff and durable, why not increase the carbon content for greater stiffness and durability?
Carbon Steel vs. Stainless Steel
Both carbon steel and stainless steel are from a combination of the alloys carbon and iron. The difference between the two is the presence of chromium in the latter. Chromium provides stainless steel with rust-resistant qualities. It does this by forming a transparent oxidation layer.
However, this quality also makes stainless steel a softer metal. This is an undesirable property for knives as it results in dull edges. This also means frequent sharpening for best results. That said, stainless steel knives are easy to maintain and are forgiving of stuck food. Cleaning and washing are easy because they don't stain or rust.
On the other hand, carbon steel knives are known for being stiffer and sharper. But they do rust, and the extra steps for rust protection can be frustrating. They are more sensitive to acidic food like onion, citrus, and food with vinegar.
Through repeated use over time, the carbon steel knife develops a patina or discoloration due to its contact with different kinds of food. The build-up of a patina is actually a good thing because it protects the blade from rusting. And, depending on your tastes, you may also find the resulting patina appealing and full of character — kind of like aging leather.
High Carbon Steel
Although high carbon steel knives are stiffer and more durable, they are also less pliable and prone to breaking. They lack the flexibility to handle extreme forces.
Let's again take a look at stainless steel knives as an example. The addition of chromium in stainless steel makes it ductile and malleable, which means they don't break easily. Instead, they slightly change their shapes and, consequently, result in dull or blunt knives. That is the compromise between stiffness and ductility.
FAQ
What is a carbon steel knife used for?
Carbon steel knives are usually used in professional kitchens for tough knife and cutting work because they stay sharp for longer. A non-professional but committed knife enthusiast also finds value in a set of carbon steel knives.
What should you not cut with carbon steel knives?
A carbon steel knife rusts and stains easily, especially with prolonged exposure to anything acidic. If this is truly unavoidable, make sure to run it off with water immediately. This removes any excess food. And then wipe your knife dry. You may also rub some oil on the blade for added protection.
How do you stop carbon steel knives from rusting?
Carbon steel contains iron, and iron oxidizes when exposed to oxygen, creating rust. Make sure to keep the knife clean and dry. You can rub some oil before storage to protect the blade from any moisture. Avoid cutting into acidic food like lemons, vinegar, and coffee. Building a patina also helps in protecting your carbon steel knives from rust.
Is carbon steel safe for health?
Yes, carbon steel is very safe to use for food preparations. Carbon and iron, the main alloys of carbon steel knives, are safe cooking materials. They do not contain toxic substances.
Is a carbon steel knife the same as a high carbon stainless steel knife?
No, carbon steel knives and high carbon stainless steel knives are two distinct types. A carbon steel knife is a combination of the alloys carbon and iron. In contrast, a high carbon stainless steel knife is from carbon, iron, and chromium. Simply put, it is a stainless steel knife with higher amounts of carbon.

Therefore, high carbon stainless steel knives combine the advantages of both: The sharp edge properties of carbon steel and the rust-resistance of stainless steel. But in terms of stiffness, anything that's stainless steel will be less stiff due to the presence of chromium.
What is the best knife guard for a carbon steel knife?
An excellent wooden guard is best for storing the knife, but plastic also works fine. Some manufacturers include a special case for every purchase. And be careful with putting them in knife bags as they easily puncture vinyl and polyester linings.
What is the best way to sharpen a carbon steel knife?
A good honing steel is a recommended tool for sharpening carbon steel knives. Other names for honing steel include "sharpening steel," "sharpening stone," "whet steel," "sharpening stick," "sharpening rod," "butcher's steel," or "chef's steel." A water stone also works.

Also, it is best to sharpen your knives by hand. With patience and care, properly sharpening your knives will make them last longer.
Can I put my carbon steel knife inside the dishwasher?
Placing your carbon steel knife in a dishwasher is not recommended because they are highly susceptible to rust. We recommend washing and drying immediately after use. Any residual food or moisture left on the knife can lead to rusting and discoloration.
What is the best carbon steel for knives?
The 10xx series is the most popular carbon material used in knives. 1095, in particular, is in most knives because of its ability to keep sharp edges longer.
What oil should I use on my carbon steel knife?
The most recommended oil is mineral oil, but canola and corn oil also work. In fact, you may use any food-safe oil on the blade. Due to its tendency to go stale, olive oil is usable only as a last resort.

Ensure you oil your carbon steel knife before storage. This is especially true if you do not plan on using your knives soon.
Healthy, Easy Meals