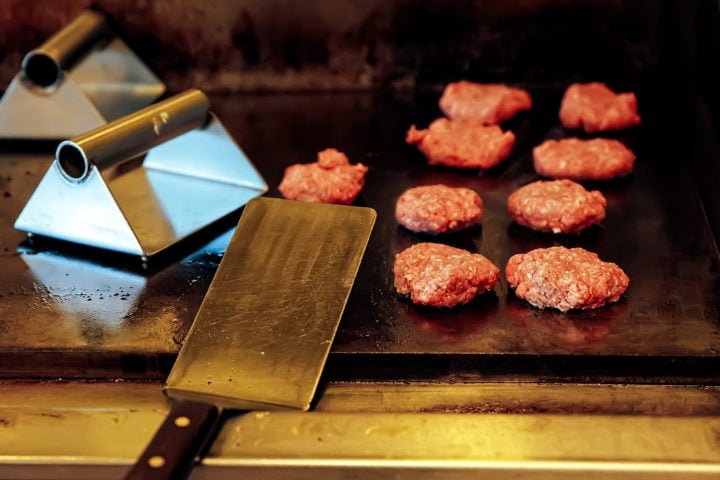 Whether you prefer burgers and hot dogs or eggs and pancakes, a griddle can do it all. Its large, flat surface is well suited to a wide range of different foods, with plenty of extra room for sides. It's probably why they are a staple in diners and burger joints across the country.
However, griddle cooking wouldn't be possible without a quality spatula close at hand. Able to flip, scrape, and chop foods of all shapes and sizes, it's as synonymous with griddling as the griddle itself.
Spatulas don't have to be expensive, though finding the right one may take a bit of research. Blade thickness, shape, handle design, and overall length are all factors worth considering.
For griddle pros and those just learning the craft, we have compiled this list of this year's top griddle spatulas. After narrowing down our picks with the criteria above, we've left you with the best of the best. See the details for yourself and choose one or two to add to your kitchen repertoire.
Table of Contents
Best Overall: Mercer Culinary Hell's Handle Turner/Spatula
SAVE 30%
Mercer Culinary Hell's Handle Square Edge Turner/Spatula
The Japanese steel of this spatula gives it a good balance between flexibility and rigidity.
Pros: Long Japanese steel blade, comfortable wood handle, good balance between flexibility and rigidity
Cons: A bit heavy, thinner design not ideal for burgers
The best griddle spatula should be durable, flexible, easy to use, and simple to clean. While many options are better at some things and worse at others, a select few offer the complete package. The Mercer Culinary Hell's Handle square-edge turner and spatula is a well-rounded spatula that's an excellent choice for various applications.
The standout feature of this spatula is the elongated Japanese steel blade. While flexible, it still stays rigid, making it a good choice for versatility. It is also highly durable and shaped to handle a wide range of tasks.
The handle is heat resistant, absorbing 50% less heat than competing designs. It is coated with a textured surface to ensure a good grip and is sealed to keep it sanitary. The area near the thumb provides a bit of extra texture to grip securely.
While its 8 oz weight might not sound like a lot, some cooks may find it a bit heavy if they use it regularly. Still, for most chefs, it will be lightweight enough to use comfortably.
This is the perfect spatula for those who are looking for a single spatula to handle a variety of jobs. Plus, its relatively low cost and high durability make it a good investment.
Best High-End: MANNKITCHEN Professional-Grade Stainless Steel Spatula
MANNKITCHEN Professional-Grade Stainless Steel Spatula
This professional-grade spatula stands out for its heavy-duty hardened stainless steel blade.
Pros: Hardened stainless steel blade, beveled edge for easy flipping, attractive wood handle
Cons: Blade is not flexible, can scratch some cooking surfaces
While a spatula may be a simple tool, it's one that's worth investing in. Low-quality spatulas can bend, break or make griddle cooking a nightmare. The MANNKITCHEN professional-grade stainless steel spatula is made to last, with a design that's ideal for a range of griddle classics.
The hardened stainless steel used in the blade of this spatula is ideal for flipping and chopping. It's completely rigid, which makes it well suited for scraping-down your griddle during use. This makes it great for burgers but less suitable for more delicate foods like crepes or fish.
The stainless steel blade has a beveled edge on each side, which further improves its scraping ability. It is bent at a 45-degree angle just before the handle, which allows you to rest the blade directly on the cooking surface while cooking.
The handle is made of durable hardwood, which resists the hot heat of griddle cooking. Keep in mind, however, that it should only be hand-washed.
Give this griddle spatula a try if you're looking for a heavy-duty option that's made to last. While a bit more pricey than other options, it should still be able to fit in most people's budgets. However, if you're looking for a flexible blade, another option may be a better idea.
Best Budget: Chef Craft Select Stainless Steel Turner/Spatula
SAVE 16%
Chef Craft Select Turner/Spatula, 12.75 inch, Stainless Steel
The stainless steel design of this spatula makes it durable and dishwasher-safe, setting it apart from similar designs.
Pros: Durable stainless steel, thin blade, dishwasher safe
Cons: May bend more easily than other spatulas, not useful for chopping
While high-end spatulas are nice, those just getting into griddle cooking may prefer something a bit less. While poor-quality spatulas should be avoided, the right budget spatula can be an asset in any kitchen. The Chef Craft Select stainless steel spatula is a quality-made kitchen standard that can be used for a variety of griddle foods.
The blade and neck of this spatula are made of stainless steel, which is great for durability and maintenance. Food can be easily hand-wiped off it, or it can be thrown in the dishwasher for easy cleaning. Best of all, it's completely resistant to rust.
The plastic handle features an ergonomic design and stays heat-resistant while cooking. At the tip of the handle is a hanging hole for multiple storage options.
The durability of this design is enhanced by the weldless construction. The handle and blade are made of a single, solid piece of stainless steel. This prevents breaking, even after long-term use.
You'll appreciate what this spatula has to offer if you're only an occasional griddle cook looking to outfit your kitchen. However, if you're looking for a more durable or versatile option, you may have to spend a bit more.
Best for Chopping: Update International Extra-Large Griddle Spatula
While most people think of flipping and turning when using a spatula, the truth is that they can be used for much more. Especially when working with ground meat, being able to chop during cooking is a huge advantage. The Update International extra-large griddle spatula can do it all, from flipping to chopping.
What makes this spatula great for chopping is the single sharpened edge on the side of the blade. This allows you to break up pieces of ground beef with ease or even chop-up veggies while they're in the pan. It's a great option to have on hand to diversify your cooking.
However, the sharpened edge isn't the only factor that makes this a great chopper. Its heavy-duty stainless steel body helps it stand up to plenty of use. The rigid stainless steel construction keeps it from bending, which is an asset when chopping.
The blade is 15" x 4" and attached to a wood handle. The handle is angled from the blade only slightly, making it ideal for flat-top griddles.
If you're regularly cooking meat on your griddle, you'll love what this spatula has to offer. However, if you're more often cooking pancakes and eggs, the sharpened edge will most likely go to waste. In this case, a thinner, more flexible spatula can be a good choice.
Best Narrow Blade: Anmarko Griddle Spatula Set
SAVE 20%
When choosing the right spatula for the job, it pays to take a careful look at the shape of its blade. Narrow spatula blades are ideal for small, delicate foods like eggs and fish, giving you the maneuverability you need. The Anmarko griddle spatula set is a great choice for a variety of foods, letting you flip and turn with ease.
The stainless steel of this spatula's blade is just 1/25th of an inch thick. This makes it extra-flexible and great at getting under egg whites and pancakes.
In addition to the thinness of the metal, the blade itself is quite narrow, at less than 3 inches. This makes it easier to maneuver and get into tight spaces when flipping small foods. The end of the blade is also sharpened to give it some scraping ability.
The handle is made of plastic and designed to conform to the shape of your hand. The plastic design helps protect against heat and is completely dishwasher-safe.
You'll love this spatula if you're regularly cooking light and delicate foods like crepes, eggs, and fish. However, if you're going to buy one for yourself, make sure to supplement with a rigid chopping spatula too. Together, they can cover all your griddling needs.
Best Wide Blade: Skyflame Stainless Steel Griddle Spatula
Skyflame Stainless Steel Griddle Spatula
The six-inch-wide blade of this spatula helps it stand ahead of other wide turners.
Pros: Extra-wide blade, durable stainless steel design, wood handle
Cons: Quite heavy, not a good match for smaller pans
It often pays to have more than one spatula in your kitchen, letting you get the exact size and shape you need. Extra-wide spatulas excel at flipping burgers, pancakes, and other large foods, making them a perfect complement to thin, flexible designs. The Skyflame stainless steel griddle spatula is one of the widest around, with a durable design.
The blade of this spatula is 6" x 5", which makes it an ideal choice for burgers and steaks. It's also well-suited to scraping-down larger griddles or chopping. However, if you're thinking about trying it for yourself, measure your pan first, as it's not a good pick for smaller cookware.
Even though the size is not ideal for small pans, it is great for double-burner griddles and outdoor grilling. The beveled edge lets you scrape and flip food without damaging it in the process.
The handle angles up from the blade at 45 degrees, which lets you set it on the cooking surface while cooking. The wood handle is made to protect your hands while griddling, eliminating the need for oven mitts.
Try this extra-wide spatula for yourself if you're looking for another kind of turning tool to fill out your collection. However, if you're only looking to buy one spatula, this may not be the best option. Instead, a more versatile design could be a better option.
Best Handle: Weber 6673 Original Wide Spatula
Weber 6673 Original Wide Spatula, Black
We love the ergonomic handle of this griddle spatula, which makes it comfortable and easy to use.
Pros: Rubberized handle makes it easy to grip, wide blade great for larger foods, stainless steel design is durable
Cons: More flimsy than other options, wider blade not good for small foods
A quality spatula handle not only protects your hands from heat but also makes them more comfortable to cook. Today, there is a wide range of different materials that improve grip and comfort while cooking. The Weber 6673 Original wide spatula features an ergonomic rubber handle that you won't be able to keep your hands off.
The rubber handle is useful for getting a grip while cooking as well as protecting your hands from heat. It has an elongated design, filling more than half of the spatula's length, letting you hold it even more securely. At the end is a wire hanging ring which helps with storage.
The blade and neck of this griddle spatula are made of stainless steel. This makes it easy to clean, durable, and immune to rust.
The blade is wide enough to easily flip even the widest burger patties, while the handle stays slim and easy to grip. Overall, it's a good mid-sized kitchen tool that's perfect for a variety of applications.
You'll appreciate this grill spatula if you're looking for an easy-to-use option that stays comfortable. However, it isn't exactly a professional-grade design and isn't as durable as other options.
Best Flexible Spatula: Outset Rosewood Collection Flex Griddle Spatula
SAVE 36%
Outset Rosewood Collection Flex Griddle Spatula
The ergonomic rosewood handle is what separates this spatula from others like it.
Pros: Long yet thin blade, ergonomic wood handle, rosewood handle is high quality and attractive
Cons: Handle may come loose with extended use, not ideal for burgers and pancakes
Flexible spatulas are made to balance durability with maneuverability, maximizing versatility in the kitchen. The Outset rosewood flex spatula is a stand-out example of a flexible-blade spatula that can be used for a variety of griddle foods. However, the bendable blade is only one of this product's best features.
The blade of this spatula is 17 inches long and three inches wide, which makes it a great choice when flipping smaller items. The flexible blade makes it easy to slide under even the thinnest and most delicate foods. Eggs and fish are no problem!
Its narrow blade pairs well with the attractive rosewood handle. It's shaped to conform to your hand, making it more comfortable to use and easier to grip. Plus, even when cooking on high heat, you don't have to worry about burns.
In addition to its high-performance design, the spatula is a breeze to care for. The stainless steel design prevents food from sticking, which means you can hand wash it in seconds. However, keep in mind that it's not designed to be put in the dishwasher.
Anyone who wants a good balance of flexibility, durability, and an attractive design will love this spatula. Though keep in mind that it's not the ideal choice for wider foods like burgers or pancakes. That means you may want to buy a wide-blade spatula along with it to cover all your bases.
Best Durability: Homi Styles Stainless Steel Spatula with Beveled Edges
Homi Styles Stainless Steel Spatula with Beveled Edges
The extra-thick blade of this griddle spatula is what gives it its grade-A durability.
Pros: Bevelled edges help scrape thinner foods, thick blade for high durability, 7-inch handle
Cons: Thinner blade is not ideal for wide foods
When used regularly, griddle spatulas are subjected to a lot of punishment. To stand up to all that chopping, flipping, and scraping, it takes a highly-durable spatula to make your investment worth it. The Homi Styles stainless steel griddle spatula with beveled edges is tough enough to last through years of use while offering plenty of finesse.
The full-steel blade is 11 by 3 inches, making it a good medium-sized option for a variety of uses. It's thin enough to scrape up individual eggs without disrupting their neighbor. At the same time, it's wide enough for burgers and sausages.
All three sides of the blade are lined with a beveled edge. This is a must-have feature for any thick steel spatula. It allows you to easily scrape down a pan as well as chop when needed.
The wood handle is quality-made and attached with a pair of steel bolts that keep it in place, even with extended use. It's designed to protect your hands from burns during cooking and hand-washes easily. Just don't forget that it can't go in the dishwasher!
Add this griddle spatula to your kitchen arsenal if you're looking for a kitchen utensil that will last. Keep in mind, however, that it's not ideal for precision work. For that, a thinner, more flexible blade will do the trick.
Best for Pancakes: HaSteeL Stainless Steel Large Griddle Spatulas with ABS Handle
SAVE 30%
HaSteeL Stainless Steel Large Griddle Spatulas with ABS Handle
The standout feature of this griddle spatula is the 5.5-inch blade, which is ideal for pancakes.
Pros: 5.5 inch-wide blade is great for pancakes, sturdy ABS plastic handle, great for scraping
Cons: Bust used with another thinner spatula, a bit heavy
Making the perfect breakfast is all about versatility, requiring you to master eggs, sausage, and pancakes. To perfect each item, you'll need a spatula perfectly suited to the task. The HaSteeL stainless steel griddle spatula set is a wide-blade option that makes a good addition to any breakfast griddle arsenal.
The first thing you'll notice about this spatula is the 5.5-inch blade. This makes it an ideal choice for pancakes, hash browns, burgers, and other wide foods that need to be flipped. If you have a large griddle, it's also nice to have on hand when you want to scrape it down.
If you're thinking about trying it for yourself, our advice would be to measure your pan first. If you're working with anything under 10 inches, this spatula will most likely be too large. It's best used on standalone griddles or double-burner stove top griddles with low sides.
The blade and handle are both highly durable and made to stand the test of time. The handle is made of ABS plastic and attached with two stainless steel bolts to keep it from loosening. There is no welding anywhere on the spatula, meaning no weak points.
If you're looking to master the art of pancakes, this griddle spatula is a must-buy. However, you may find that it's not well suited to other foods, especially small ones. Ideally, this spatula is a good companion to a smaller, more lightweight cooking utensil.
Best for Burgers: New Star Foodservice 36299 Heavy-Duty Turner/Spatula with Cutting Edge and Wood Handle
There may be no more classic griddle food than an old-fashioned burger. However, the truth is, there is more than one way to prepare this all-American food. The New Star Foodservice heavy-duty turner/spatula
Since griddles are such great multitaskers, the only way to make the most of them is to have a range of spatulas at your disposal. However, finding the right set may not always be easy, especially for beginners. The Cuisinart 5-Piece griddle spatula set is a great place to start, with a selection of cooking utensils well suited to a variety of tasks.
This set includes two medium-sized spatulas, one extra-side spatula, a scraper, and a wide turner spatula. Together, these offer the perfect solutions for everything from burgers to pancakes. Flipping, scraping, and chopping are all made easy with this set.
Each piece is made of durable stainless steel. This makes them tough enough to withstand years of use, and also easy to clean. They're designed to be washed by hand, though this should be easily accomplished in minutes.
The great thing about this grill spatula set is that it gives you everything you need for any kind of griddle cooking at an affordable price. However, none of the spatulas on their own are of the same quality as others on this list. If you want higher-quality cookware, you may have to spend a bit more.
Griddle Spatula Buying Guide
Griddle spatulas may seem like simple kitchen tools, but there's more to them than meets the eye. When choosing yours, make sure to keep all of the following factors in mind.
Blade Thickness
A spatula blade's thickness can vary widely, with thicker blades being more durable and thinner ones offering flexibility. Thicker blades are a good option for scraping and chopping. While they may be a bit heavier and more difficult to handle, they can stand up to years of use.
Thin, flexible blades are ideal for more delicate foods like eggs and fish. Their thin metal makes it easy to fit under thin edges, and the overall lightweight makes them easy to handle.
Blade Shape
Most spatulas are between two and six inches wide. Thinner blades give you more control, especially when flipping a large number of smaller items in the same pan. On the other hand, wider blades are crucial for big foods like burgers and pancakes.
Handle
Most spatula handles are wood, plastic, and rubber, as all of these are great at protecting your hands from your pan's heat. Wood is attractive and durable, though not dishwasher safe most of the time. Plastic handles aren't always as durable as wood ones and may melt when exposed to very high heat.
Length
Generally, heavier, chopping spatulas are a bit shorter than thin, flexible ones. A shorter spatula is an advantage when flipping heavier foods, giving you a bit extra control. Some thinner spatulas add a few inches to their handle, giving you more room to grip and letting you stand further away from grease splatter.
FAQs
Making the most of your griddle spatula means learning everything there is to know about them. See what other home cooks are asking and brush up on your spatula knowledge.
Can a metal spatula be used on a griddle?
Metal spatulas are actually the recommended kind for griddle cooking, as plastic can melt and wood can burn. Metal also can be formed into a sharper edge, making it easier to scrape and chop when necessary.

Keep in mind, however,that some home griddle pans aren't a good match for metal spatulas. Some nonstick coatings like Teflon can be scratched easily and are better used with other materials.
Why are there holes on griddle spatulas?
Many griddle spatulas are lined with small holes or slits, which actually have more than one use. First, these perforations drain the grease off burgers and other foods when they're lifted, making for leaner meals. Second, the holes reduce surface tension, allowing the spatula to slide under the food more easily.
Why do spatulas have a bend?
The bend in a spatula's neck is designed to allow the cook to flip and turn foods from a more comfortable angle. By angling the spatula upward, they can keep their hands far from the hot surface of the griddle. Some spatulas are even designed to rest comfortably on the cooking surface while in use.
What size spatula do I need?
The ideal spatula size depends entirely on what you plan on using it for. If you're specializing in pancakes, then a spatula that's five inches wide or more is a good bet. On the other hand, a three-inch-wide spatula is a better fit for burgers and eggs.

If you're planning on cooking a variety of foods, the best way to go is to buy two or more spatulas of different sizes.