Angostura bitters were invented back in 1824 to alleviate stomach upsets. Over time, they evolved into an essential bar ingredient, excellent for balancing out overly sweet or sour cocktails.
If you can't get your hands on a bottle of Angostura or want something a little different in flavor, then keep reading. We've created the ultimate list of substitutes for Angostura Bitters so that you can make any cocktail without it.

Table of Contents
What can I use instead of Angostura Bitters?
To replace Angostura Bitters, you're best to use Peychaud's or Fee Brothers for a similar style of drink. If you'd prefer a liqueur then a bitter-tasting Amaro like Campari or Fernet-Branca will work well as a replacement.
1. Peychaud's Bitters
Although not a perfect match, Peychaud's is a similar spicy, gentian-based bitters. It has cloves, candied cherry, and orange notes and is one of the best alternatives on offer. You'll find it in most liquor stores so it's easy to get your hands on a bottle.
Well-seasoned mixologists will notice that:
Peychaud's is a little sweeter with a stronger floral aroma.
It has a punchy anise flavor that replaces the root beer taste you get from Angostura.
It has 35% ABV while Angostura has 45%.
If you decide to use Peychaud's, then use it in roughly equal quantities. Because it gets used in small amounts, the difference in alcohol won't have a big impact on the drinks it gets mixed into.
Peychaud's is ideal for mixing into a Whiskey Sour, Old Fashioned, or Manhattan. It's also a popular option for the Sazerac cocktail.
2. Fee Brothers Bitters
The Fee Brothers brand of bitters comes in a wide range of flavors including celery, mint, Aztec chocolate, and cherry. But if you want something like Angostura, choose Old Fashioned Aromatic Bitters.
Fee Brothers is a fruity combination of spices, citrus, plums, and Angostura bark. It adds an amazing depth of flavor to alcoholic drinks, perfect in a Pisco Sour, Negroni, or Tiki Max.
Although you can use Fee Brothers in most drink recipes that call for Angostura, they do have one significant difference. Fee Brothers has a much stronger aroma of allspice and cinnamon. Once added to cocktails, you'll notice it, especially in drinks like the Manhattan and Champagne cocktails. We don't think this replacement will disappoint though.
3. Amaro
If you're in a pinch then, an Amari will provide your cocktail with the bitterness you're looking for. They are usually a lot sweeter, but you can still use them for adding flavor to a Negroni, Bitters and Soda, or Pink Gin.
Some brands that never fail to please include Ramazzotti, Fernet-Branca, and Campari. If the recipe includes a sweetener like simple syrup, then reduce the quantities.
For a sweeter, wine-based aperitif dry vermouth is also worth trying
Bonal Gentiane-Quina Aperitif is another wine-based drink made using gentian. It's earthy and bitter-sweet.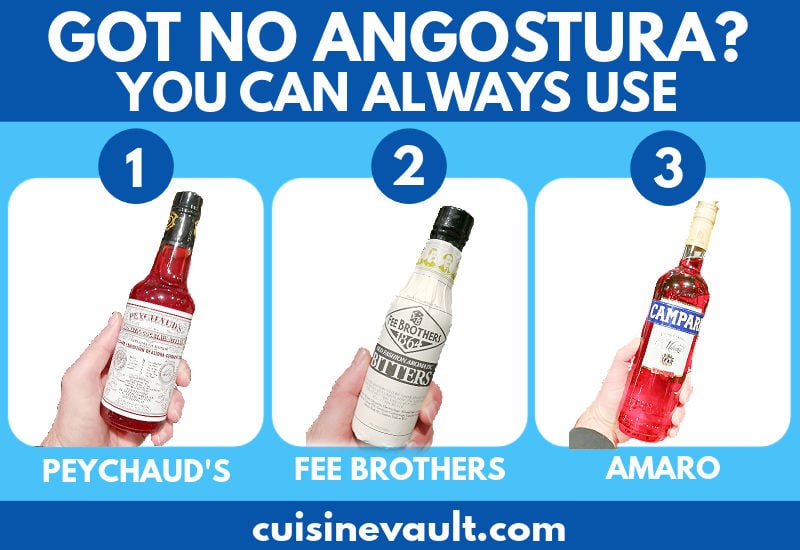 4. Angostura Orange Bitters
If you love the taste of Angostura, then their orange bitters are also a great option for gin Martinis, Pegu Club, or a Zombie. Drinks that use white rum, vodka, or gin are great choices.
When you need a break from the cocktails, use these bitters in remoulades, seafood dishes, and sauces.
5. Dashfire Old Fashioned Aromatic Bitters
Although Dashfire's signature product is Vintage Orange Bitters, they also craft a delicious Old Fashioned variant as part of their aromatic collection. It makes a useful substitute, giving drinks a warm, fall spice flavor.
Dashfire is a great choice for combining with barrel-aged spirits. Add a dash to cocktails like Allegheny, Old Fashioned, Americana, and Black Manhattan.
6. Bitter Truth Aromatic Bitters
Bitter Truth Old Time Aromatic Bitters add bitter and sour notes to drinks. Like Angostura, you get the hallmark spiciness that includes cloves, cinnamon, cardamom, and anise. It makes a great partner with aged spirits like tequila, whiskey, and rum.
Made in Germany, this bottle of bitters has a 39% alcohol volume and tastes great in a Tequila Sour, Old Cuban, Singapore Sling, or Martinez.
7. Bittercube Aromatic Bitters
The Bittercube range of Aromatic Bitters comes in a selection of flavors including orange, root beer, and cherry bark vanilla. But our favorite for replacing Angostura is blackstrap. It combines ingredients like molasses, nutmeg, cinnamon, and the kola nut.
Flavorwise, Bittercube is in the ballpark of Angostura and makes a versatile option in cocktail making. But it's hard to mistake the added flavor that comes from the kola nut and the lack of baking spices.
Some tasty ways to use this bottle of blackstrap bitters is in egg white cocktails like a Pisco Sour. Other uses include hot cocktails or as a replacement for cinnamon in baking.
If the blackstrap doesn't sound appealing, consider buying their orange bitters. They're ideal for a Mojito, Gin Gimlet, Highball, or add a splash to a glass of whiskey or wheat beer.
8. Bitters Club Aromatic Bitters
Are you looking for a bottle of bitters that observes the main spices found in Angostura, such as gentian root? Bitters Club will deliver while bringing added sweetness from spices like cardamon and sweet anise.
While most cocktail bitters use one or two spirits, there are four types of alcohol added to Bitters Club. The combination of brandy, bourbon, gin, and all-grain results in a potent 60% ABV.
Are you looking for some good cocktail recipes for Bitters Club? We suggest making a Rob Roy, Dark and Stormy, Old Fashioned, Manhattan, Port of Spain, or A Moment of Silence.
9. The Bitter End Thai Bitters
The Bitter End Thai Bitters is the ideal alternative bottle for those mixologists looking to experiment with flavor. Your cocktails will taste different than if you used Angostura, which may be what you want?
The Bitter End is made from hand-selected ingredients that you'd expect from a Tom Yum soup recipe. Lemongrass, makrut, galangal, and mint are some of the good stuff that gets added. The result is a spicy, citrusy bottle of bitters that balances sweet drinks like wine or champagne cocktails. It's also good with citrusy, acidic drinks like the Paloma.
Quick Tip: Sticking with the theme of Thai ingredients, if you enjoy coriander then try Coriander Bitters by Bob's Bitters. Rather than focusing on a melange of Thai flavors, this bottle is all about the coriander. It's perfect for gin cocktails or a Bloody Mary the next morning.
10. Homemade bitters
We won't try to convince you that making Angostura bitters is a quick and easy home project. The recipe is a closely guarded secret which doesn't help. However, if you want to save some money then making bitters is a good option.
To make your own bitters use a spice mill or mortar and pestle to grind whole spices like nutmeg, cilantro, cloves, cinnamon, allspice, gentian, and peppercorns. After the spices reach a coarse consistency, add two tablespoons of vodka, and continue grinding. Allow the mixture to infuse for 5-10 minutes then strain through a coffee filter or cheesecloth and use immediately.
For a more in-depth guide, check out our essential guide that explains how to make homemade bitters for cocktails.
Explainer Video: Angostura Substitutes
Related reading:
What are some good Beckerovka substitutes?
What can I use as a grenadine replacement?
How do I substitute Tuaca in drinks?
Commonly asked questions
How does Campari compare to Angostura Bitters?
Campari is a vibrant red liqueur that has a spicy, bittersweet flavor that can be added to cocktails or sipped straight up. Angostura Bitters are a darker color and have a much more intense bitter flavor. They are meant for adding in dashes to drinks and food rather than drinking undiluted.
What do Angostura Bitters taste like?
Angostura Bitters are made with gentian herbs and a range of herbs and spices like cinnamon and cloves. Their flavor is intensely bitter with a spicy undertone, excellent for balancing sweet cocktails and adding complex flavor to any drink.
Can I leave out Bitters in a cocktail?
If you're mixing drinks for people who just want to party and aren't fussy, then leaving out bitters won't spoil most cocktails. Keep in mind that bitters play an important role in adding complexity to your drinks. They also balance out the intense sweet or sour flavors that come from other liqueurs.
Where can I buy Angostura bitters?
Angostura Bitters are an everyday item sold at almost any bar supply or liquor store as well as some large retailers like Walmart or Target.
What are some good uses for Angostura Bitters?
You can use Angostura Bitters in a wide range of cocktails like Rob Roy, Old Fashioned, Dutchess, Amaretto Sour, Manhattan, Brooklyn, La Louisiane, Toronto Cocktail, Whiskey Sour, and Vodka Sour.
Summing up
Angostura Bitters are a delicious addition to cocktails and can also be used in food recipes like soups, marinades, and baked goods. If you are looking for a similar type of drink, then Peychaud's, Fee Brothers, Dashfire, or Bitter Truth are popular substitutes.
Those looking for a different style of bitters could choose the Bitter End Thai Bitters for an exotic addition to drinks. Do a quick search online if you can't find this brand at your nearest liquor store.
If you want to use a liqueur rather than bitters, an Amaro like Campari, Ramazzotti, or Fernet-Branca will add bitterness to cocktails. However, they're sweeter and you'll need to use more than a dash to drinks.