Beckerovka is a Czech liqueur that can be mixed into cocktails or sipped as a digestif. It is made with over two dozen herbs, offering a melange of different flavors in one bottle.
Although it's a unique drink, you'll find that some liqueurs provide a similar flavor profile. These substitutes for Beckerovka will allow you to finish cocktails without the original ingredient.

Table of Contents
What can I use instead of Beckerovka?
To replace Beckerovka in your next drink, try using Peychaud's, Green Chartreuse, or Bénédictine. You can also make a similar version at home using vodka, orange zest, and some everyday spices.
1. Peychaud's
Peychaud's is a type of gentian-based bitters that's spicy and has hints of orange and cloves. Like the drink it's replacing, Peychaud's is a bitter drink with similar strength alcohol and a lovely cinnamon and nutmeg combination.
You can use this liqueur in your next Beton or Spring Fling cocktail but keep in mind it's a bright red color, so your drinks will look different.
Peychaud's is a versatile drink that'll also step in as a handy replacement for Angostura bitters.
2. Green Chartreuse
You can use the ever-popular Green Chartreuse as a Beckerovka substitute. It has a spicy, herbal flavor that's ideal for adding complex, herbaceous flavor to cocktails. A sprinkle of cinnamon and ginger will help get the liqueur closer to the drink you're trying to mimic.
Chartreuse is a green drink so, as with Peychaud's, the visual look of your cocktails will be affected. For many home mixologists, this won't be a big problem.
3. Bénédictine
Bénédictine is another herbaceous, spicy liqueur that's well balanced and a useful Beckerovka alternative. Like many premium French drinks, it's not the cheapest drink on offer, but we think it's worth the price.
Unlike Chartreuse and Peychaud's, Bénédictine doesn't have any vibrant colors and will work well in most cocktails that call for Beckerovka. You should expect a different flavor, but we think you'll still enjoy the result.
4. Fernet Branca
Fernet Branca is one of the best-known Italian amaros. It's a complex mix of herbs and spices that's bitter and sweet in one mouthful. You can use Fernet if you're in a pinch or if you want something a little different.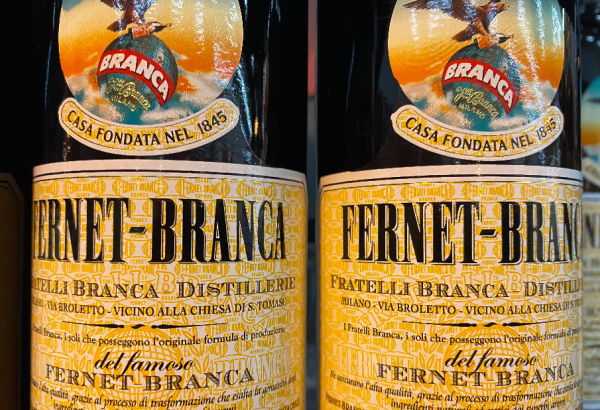 5. Cinnamon vodka
Anyone looking for a low-cost replacement can use cinnamon vodka. It's cheap and easy to find in liquor stores, but if you can't find it locally then buy a bottle online.
It is best to add some Czech absinthe and a splash of simple syrup to drinks. This will take it closer to Beckerovka.
6. Jagermeister
Jagermeister is a thick, syrupy liqueur that is bitter and herbaceous. Using this alternative will add a punchy anise flavor that you wouldn't get from Beckerovka. You can use it to make a classic Jager Bomb or other drinks like a Tropical Stag or Wicked Apple.
7. Fireball
Not trying to make cocktails? If you just want something other than Beckerovka to sip on, then try Fireball. It is a sweet, cinnamon-flavored drink that's mixed with Canadian whiskey.
Fireball is a relative newcomer to the bar shelf, compared to Beckerovka. It is more commonly sipped straight, while Beckerovka is a popular mixer with bartenders, thanks to its versatile flavor profile.
Did you know? Fireball also makes a good Goldschlager replacement.
8. Make your own
Although the formulation for Beckerovka is kept secret, this recipe will allow you to make a similar homemade version. It is an affordable option that uses easy-to-find alcohol and spices.
Ingredients
1 cinnamon stick
2 cardamom seeds
Peel of one orange
12 clove buds
10 peppercorns
½ tsp anise
1 liter vodka (80 proof)
⅔ cup sugar
1 cup water
Method
Crush the cinnamon and cardamom with a mortar and pestle or rolling pin.
Remove any white pith from the orange peel and slice it into small pieces.
Add all spices and orange zest to a sealable jar then add the vodka. Stir the mixture well then close the lid and store for one week in a cool, dark place. Shake the jar daily.
After infusing the vodka for one week, add sugar and water to a small saucepan.
Heat on low until the sugar dissolves then remove from stovetop and allow to cool.
Pour the simple syrup into the vodka infusion and close the lid. Allow to sit for another 2-3 days.
Strain the homemade Becherovka through a cheesecloth or coffee filter and discard the solids. Pour the liqueur into a bottle and store it in the pantry or refrigerator.
Quick tip: Homemade moonshine made with a home still is excellent for making Becherovka as it is odorless.
Related reading: What can I use as a substitute for Strega?
Fast facts
Beckerovka is a slightly bitter liqueur that has cinnamon, ginger, menthol, and honey notes.
Some delicious cocktails that can be made with Beckerovka include the Cosmopolitan, Czechmate, The Lonesome Hero, Prague Cooler, Daiquiri, and Sidecar.
Beckerovka is 38% alcohol and is also believed to be a good remedy for stomach ailments.
The recipe for this liqueur was created by Josef Vitus Becher back in 1807 but didn't hit the liquor shelves in the United States until 2011.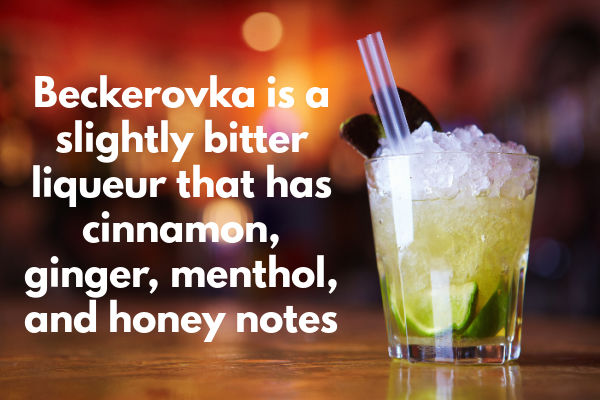 Summing up
If you need a Beckerovka substitute, then Peychaud's, Green Chartreuse, Bénédictine, or Fernet Branca are great options. Cinnamon vodka will also work well with a little absinthe and simple syrup. You're never going to mimic the flavor profile that comes from Beckerovka, but all these alternatives are in the ballpark flavorwise.
Keep in mind that some replacements like Chartreuse and Peychaud's are drinks with plenty of color, so if you're using them in cocktails, they'll look different. A deal-breaker if you're a professional bartender, but not a major issue for most at-home mixologists.