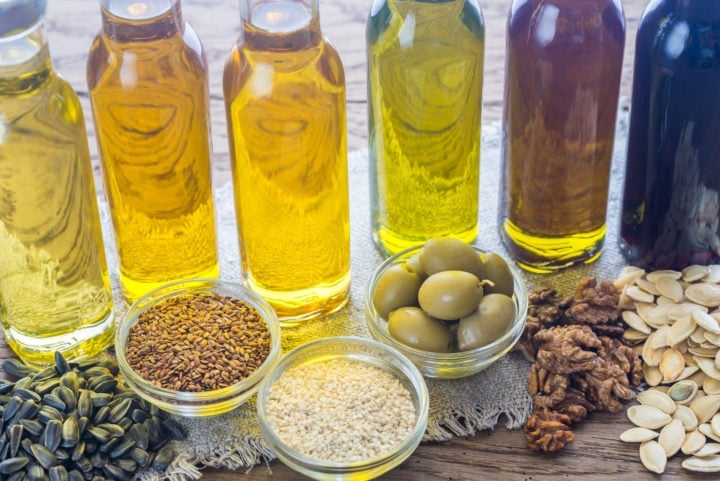 Cast iron skillets are usually immediately easy to spot – their dark black color and dense weight gives them away. And their rough surface (a combination of a high carbon concentration and preparation processes) also makes them pretty easy to spot. And if you own one, it is crucial to know how to season your pan and what oils are the best for this process.
In this article, you'll learn more about how to season your cast iron pan and the benefits it provides. We'll also discuss the many cast iron oil options you can use when seasoning cast iron. And, you'll learn about which is the best oil to season cast iron and cast iron cookware. This point was heavily debated by many in the cast iron community when we were doing our research. And the answer may ultimately surprise you a little!
Table of Contents
What Oils Can Be Used to Season Cast Iron?
Lodge Cast Iron typically recommends vegetable oil, melted shortening, or canola oil for cast iron seasoning. Other businesses, like Field Company, suggest grapeseed oil instead for their initial seasoning. It is worth looking at a few cast-iron manufacturers and what they recommend, including Smithey Ironware (grapeseed oil) and Stargazer Cast Iron (canola, grapeseed, or sunflower oil).
That said, many other cooking oil options are available. Traditionally, most people used lard to season their cast iron skillets. However, large has a poor smoke point and is not as effective as other options. Other choices include avocado oil and Crisco shortening. Some might even use corn oil, though corn oil does have a less efficient smoke point. That said, we're still suggesting flax oil over corn oil or other options as the best choice for your cast iron seasoning process.
We realize that many cast iron manufacturers suggested grapeseed oil. That option does have benefits, like a good smoke point, mild flavors, and a low purchase price. Therefore, if you cannot find or afford flaxseed oil, we recommend grapeseed oil as a secondary option. However, we stand by our statement that flaxseed oil is still the best option for your seasoning needs.
Why is Flaxseed Oil Your Best Seasoning Option?
Flaxseed oil is often heralded as the best seasoning option. It seems to be the best option after various studies discovered how well it bonded to cast iron cookware surfaces. It doesn't soften your pan or leave behind any nasty residue, like some oils. Instead, it will provide a myriad of benefits, including a:
Higher level of polymerization, creating a harder and smoother surface
Great smoke point that helps make the seasoning process smoother
Effective bonding that helps to minimize potential cleaning scratches
Longer-lasting protection that will decrease your need for frequent re-seasonings
When buying flaxseed oil, make sure it is 100% flaxseed with no other additives. Also, try to find organic and unfiltered options to minimize the risk of oxidation. Just as importantly, make sure that you keep your oil refrigerated. It is likely to go bad very quickly if you don't. The only downside you'll experience is the price, which is much higher than other options for your cast iron cookware.
Why Is It Necessary to Season Cast Iron?
Seasoning cast iron refers to the process of coating the surface of your pain and carefully baking it in a hot oven. This process adds an extra layer of oil and fat to the surface through the process of polymerization. What happens is that the high heat bakes the grease and oil onto the cast iron cookware, creating the unique look of the cast iron skillet and producing a nonstick coating as well.
This process also helps add more iron to your diet by releasing it more easily into your food. The small amounts of iron added when cooking on a cast iron pan are safe for your body and shouldn't cause any side effects. Though there is a small risk of getting too much iron in your body, most people have too little. And, cast iron cookware isn't likely to trigger any dangerous side effects when appropriately seasoned.
Seasoning a cast-iron skillet or wok also helps prevent rust by minimizing the risk of oxidation when cooking acidic foods. Otherwise, foods like tomatoes could cause your skillet to rust more quickly and make it less effective for your needs. This benefit is the main reason why Lodge started producing pre-seasoned cast iron skillets, after which many other manufacturers followed suit.
That said, cast iron pans need to be regularly seasoned with various oils by their owners. The pre-seasoned design helps get you started but is not something that will last the life of your pan. As a result, it is crucial to regularly season your cast iron pan and choose an oil that works the best for your needs. Doing so helps to extend your cast iron cookware life and make it more useful for your needs.
It is essential to understand the process before examining the various oils you can use for your seasoning. Thankfully, seasoning is not challenging and should be easy enough for most people to do with minimal difficulties. In addition, you don't need any specialized equipment for cast iron seasoning – just a stove and oil that you can trust to provide a tremendous surface for your cast iron cookware.
How Do You Season Cast Iron Cookware?
While you do slightly season the surface of your pan every time you cook with oil, it is best to occasionally season your pan every year to ensure that its cooking surface remains non-stick. If you don't, acidic foods, excessive heat, or surface damage may worsen and cause problems with your pan. So instead, you should follow this simple process to season your pan correctly and to the best of your abilities:
Wash Your Pan — Add warm water to a sink and some dish soap. Mix the soap until it is blended well with your water. Typically, you want to avoid washing your pan in this way because it can ruin your seasoning. But you're preparing for seasoning, so it is okay to clean with soap in this situation. First, use a wash rag to break apart the various foods and stains that may be on your pan's surface.
Apply the Oil — Add the oil to the bottom of your pan, using a very thin layer. Even it out carefully throughout the pan to ensure that it fully coats the surface. You should use as little oil as you can because too much may cause your pan to become sticky after it is seasoned. A spray coating may be enough.
Bake Your Pan — Carefully place your cast iron pan or cast iron skillet in your oven. Position it upside down and put a baking sheet on the rack beneath it to catch any dripping oil. Bake in the oven for an hour at 400-500 degrees Fahrenheit. Higher temperatures increase your seasoning but may not be suitable for older pans. Lower temperatures are usually a safer option for many pans.
Remove Your Pan — Place a towel or a heat-safe item on your counter and turn off your oven after the hour has passed. Next, remove your pan using heat-safe items, such as hot pads, and place the pan on the counter to cool down. It will take several hours to be safe to handle with bare hands, so warm others (especially children) to stay away while it cools down.
Follow these steps, and you should get the best results for your needs. But what oils make the most sense for your seasoning process? Let's take a look at what a few professionals had to say and then give you our choice on which option is ultimately the best for your needs.
Are There Other Factors to Consider for Cast Iron Cookware Seasoning?
When deciding to season your cast iron skillet, it is crucial to consider a handful of vital points. First, beyond the amount of oil used (which we've already discussed), you need to make sure that you season your pan at appropriate times. Some sites may suggest that you strengthen your skillet after every use. That advice is not good! Seasoning your skillet after every use is a waste of time and energy.
Instead, experts like Lodge suggest that you re-season your cast iron cookware no more than 2-3 times per year. Your schedule will depend on how often you use your pan, however. For instance, some people may rarely use their cast iron pan or keep it only for camping scenarios. In this situation, once a year maybe more than enough for some people. And if you cook fatty foods and don't use soapy water when cleaning your skillet, seasoning may last for years!
That said, it is probably best to follow the 2-3 times per year schedule, spreading these seasoning times out evenly throughout the year. Doing so should help to minimize any issues and complications and keep your pan as strong as possible. However, it would help if you also considered things like the smoke points of your seasoning oil to make sure you pick an option that makes sense for you.
While we still strongly suggest flaxseed oil due to its excellent smoke point, we know that many people may use other options. And if you don't know your smoke point, you're more likely to damage your pan. Why? When oils smoke during the seasoning process, the smoke may absorb into the pan's surface and ruin its usefulness. That's why a higher smoke point is much preferable.
Here's a list of a few of the most common seasoning oils and their smoke points. We included only oils with a smoke point of 400 degrees Fahrenheit or higher. This is because you'll be seasoning your pan around this temperature, so you want oils that are less likely to smoke. These options include:
Avocado Oil – 520 Degrees Fahrenheit
Rice Bran Oil – 490 Degrees Fahrenheit
Algae Oil and Clarified Butter – 485 Degrees Fahrenheit
Soybean Oil and Peanut Oil – 440 Degrees Fahrenheit
Olive Oil – 410 Degrees Fahrenheit
Vegetable Oil and Canola Oil – 400 Degrees Fahrenheit
Other options, like coconut oil (350 degrees Fahrenheit) or butter (350 degrees Fahrenheit), may not be a good choice for seasoning. However, grapeseed oil is right on the threshold (392 degrees Fahrenheit) and could be helpful for those who have it. That said, we still strongly suggest flaxseed oil as the best option for your seasoning. It simply does the job well and provides the most benefits.
If you do use other oils, make sure that you keep your temperature just below the smoke point of your oil. At this point, you'll get the most benefits possible for your seasoning and also minimize the risk of damaging your cast iron surface with smoke. Understand, too, that things like unsaturated fat, bacon grease, and even salad dressing may also provide some seasoning benefits.
Just make sure to wipe away excess oil with a paper towel when you're done. Drying oil and removing excess oil in this way with a paper towel helps to cut back on stains and other issues. Use a soft and gentle paper towel to minimize scratches on the cooking surface. And when cleaning things like a Dutch oven or another cast iron pot, use minimal amounts of aluminum foil or steel wool to avoid scratches.
Should You Use Olive Oil to Season Cast Iron?
There is the best temperature for seasoning cast iron, and that is ideally at 450 degrees Fahrenheit. However, olive oil has a smoke point of around 410 degrees Fahrenheit. As such, I recommend heating the oven to just 350 degrees Fahrenheit when seasoning cast iron with olive oil.
Despite not being the optimal choice, olive oil is still sufficiently capable of seasoning cast iron. Adjusting the oven temperature is an easy workaround to this shortcoming, and I still think it's good enough to make our list of the best oil to season cast iron; we also detail the proper steps to season cast iron here.
By the way, the smoke point is the temperature at which oil gives off smoke, and we want to avoid excessive black smoke when seasoning cast iron. Suppose it fails to season appropriately, then you're left with a degrading layer of protection, and your cast iron becomes sticky. Needless to say, this affects the quality of your food.
Getting the Best Results
Flaxseed oil is your best bet if you want to season your cast iron skillet to make it more useful. Its smoke point and its many other benefits make it well worth the somewhat higher purchase price. That said, you can also use other options if you cannot find this oil or struggle to use flaxseed oil for any other purpose. Vegetable oil is valid as long as you carefully follow the steps above.
And when seasoning your cast iron skillet, it is also a good idea to make sure that you pay careful attention to things like the temperatures you use, the amount of oil used with each seasoning, and any food that may stick to your pan's surfaces. It is usually best to scrub away these foods carefully before seasoning and avoid using sharp tools that may scratch your pan's surface if you aren't careful.