If you're new to the world of cast iron cookware, you might not know whether it's best to get seasoned or unseasoned cast iron. Both have their benefits, though seasoned cast iron cookware allows for you to cook more foods and it usually retains heat better. It's more popular now since people can just break it out and start cooking without further preparation.
It makes more sense for someone to purchase a preseasoned skillet and avoid the steps to season it themselves. A quality, durable cast iron skillet, regardless of the type, is sure to last you for a long time if you take care of it. Fortunately, you can purchase them with ease online, at antique stores, and at many home goods stores.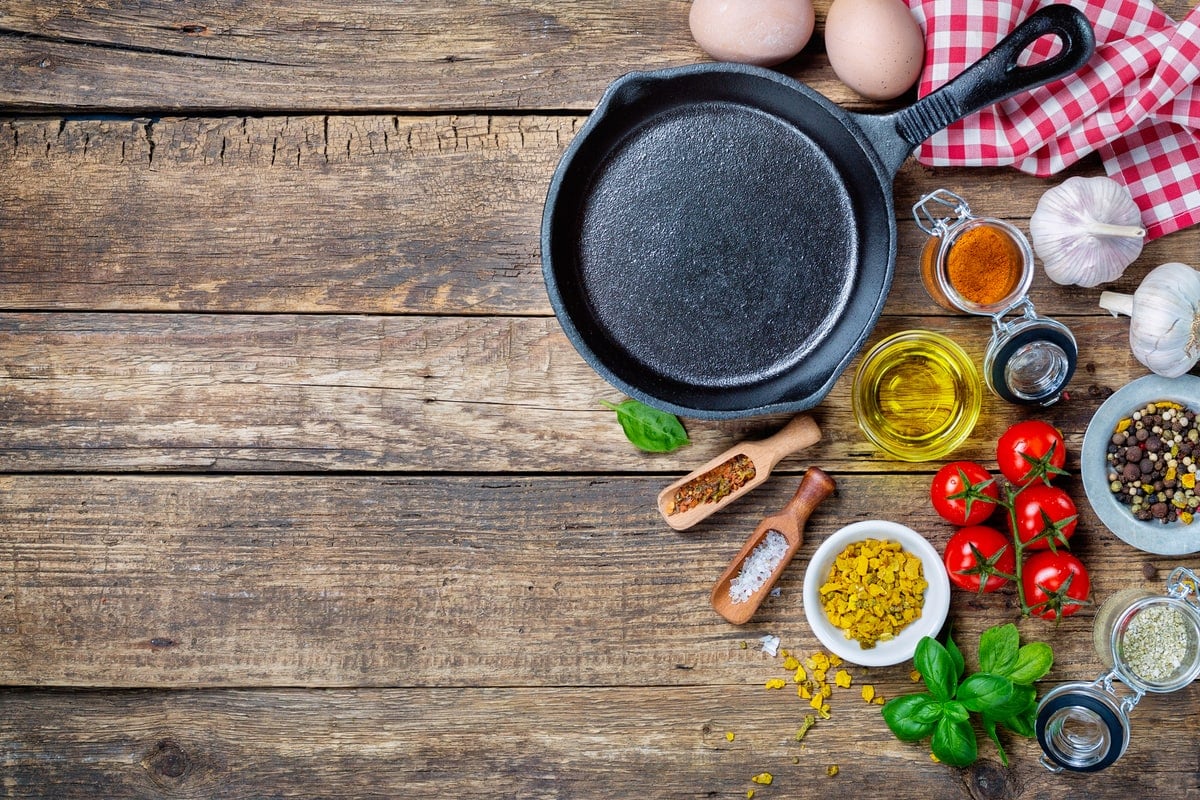 What is cast iron?
Cast iron cookware may be used for any type of cooking that includes chocolate chip cookies, pizza, fish fillets, and Dutch baby pancakes. It is a robust, dependable style of cookware that is nearly indestructible. There are cast iron skillets, cast iron grill pans, seasoned Dutch oven, cast iron baking pans, and much more on the market today. You can use them anywhere including in your kitchen, campground, and even in a formal restaurant.
Cast iron cookware was designed and manufactured as homes transitioned from cooking over the fireplace to using a camping stove in the late 1800's. It quickly gained popularity as a durable means of cooking versatile foods. One of the benefits to using cast iron is that it has a sturdy flat bottom which became necessary with the introduction of stoves. Iron is an affordable material since it is highly available, so this was an ideal choice when it came to making new cookware.
Cast iron pots and pans are made using pure molten iron. There are no adulterated materials that comprise this cookware. The iron is poured into molds that are shaped however they want the cookware. Sandy molds are easily molded and shaped and for this reason, are used to prepare the cookware.
Nonstick stainless steel cookware first was made public in the 1950s and 1960s and this had a negative impact on the popularity of cast iron. One of the major downsides to tri-ply stainless steel pans is that they don't retain heat for as long. People quickly realized that cast iron had its own role to play, and it remains a favorite of many individuals, something that they actually pass down to future generations in their families. The newer styles just don't stand up against this amazing classic when it comes to making scrambled eggs, tomato sauce, and many other favorites. Carbon steel cookware is a favorable option for many individuals today as well.
Seasoned Cast Iron Cookware Is More Prevalent
Seasoned cast iron tends to be more readily available in stores now. Even though you can find it more places than unseasoned, you can purchase unseasoned cookware with relative ease.
Where can I buy unseasoned cast iron skillets and other cookware?
One of the easier places you can buy unseasoned frying pans and related cookware is at antique stores. This is because it was more common to manufacture and sell this type of cast iron in the past. You might have to do some shopping around to find something to your liking, but you might come across a cast iron pan that hasn't gone through the seasoning process if that's what you'd prefer to have for your cooking endeavors.
Another way in which you can locate unseasoned pan or unseasoned cast iron skillet is to know where to look online. There are some online stores that have these up for sale. Be sure to do your research so that you know you're buying from a reputable dealer with high quality, legitimate unseasoned cast iron pan options from which you can choose. A good way to do this is to search for reviews of the companies before you make your purchase.
Can you cook in an unseasoned cast iron pan?
You may wonder if you'll be able to put together a meal or simply fry something up in an unseasoned skillet. The simple answer is that yes, you can cook in such a pan. The only issue is that it's a little more complicated to do so, with some extra steps involved in the process.
It's in your best interest to season your skillet before using it. This way, you won't have to worry about taking these steps each time you want to cook with the unseasoned cast iron skillet.
If you decide you don't want to start out seasoning the pan, there still are some ways to do this.
For one, you can pre-heat it with a medium flame for 10 to 15 minutes. This will prevent your food from getting stuck to the pan, which leaves you with a mess to remove when you're ready to eat and a more difficult clean-up. This is because the pan takes a longer time to heat up and in some instances, won't heat properly.
You'll get to know your unseasoned cast iron skillet within a short time and will know what level of preheating is adequate to make your food less likely to stick.
How to Season Cast Iron and Reseason Your Cookware
If you have a new cast iron pan, it may come pre-seasoned. If not, you will need to include the cast iron seasoning process before using the cast iron pan. The steps for seasoning a new or re-seasoning an old cast iron pot or pan are similar. The main difference being that a new pan does not necessarily need to be cleaned with soap. If your cast iron pans are older, they may need to be cleaned thoroughly to properly prep them for seasoning.
Something that typically happens to older cast iron pots and pans is they can develop rust spots sometimes, or they may have build-up from usage and don't function optimally. These can be indications you need to re-season your cast iron again. This is an easy step in caring for your cast iron cookware that will restore functionality and appearance to the cooking surface.
It's ok to use a little soap and steel wool to clean the pan thoroughly. It is being reseasoned, so there is not the same concern of stripping the oils which makes using soap acceptable in this instance. After the pan or pot is clean, apply a thin coating of vegetable oil. Next you will want to bake the pan at 350 degrees. During this step, turning the pan upside down will allow excess oil to drip onto aluminum or a catchment pan.
Allow the cast iron pan or pot to cool then wipe any remaining oil. The pan is now ready for use.
FAQs About Seasoned vs Unseasoned Cast Iron Pan
Q: What should you avoid cooking in cast iron pans?
A: There are a few categories of things you should avoid making in your cast iron skillet. Fortunately, this list is much shorter than what you can cook in these pots and pans.
Avoid cooking sticky things such as eggs when you're using an unseasoned frying pan.
The more stinky foods such as garlic, pepper, certain cheeses, and some kinds of fish will leave an aroma behind the next few times you use the skillet. You can get around this by putting the cast iron pan in the oven at 400 degrees Fahrenheit for 10 minutes before cooking with it again. If you don't do this, you might want to avoid using that exact cookware for anything you don't want to absorb those scents for a little while.
You'll want to make the more delicate fish (like trout and tilapia) in a non-stick pan. You can cook salmon and fish that are on the more meaty side in cast iron and they'll come out crispy, flaky, and delicious.
Acidic foods such as those that contain lemon and tomatoes are tricky as well, though some of this is a myth. You'll just need to clean them with a baking soda scrub to keep them from staying discolored.
Q: Can you use all types of cooking oil in your cast iron pots and pans?
A: You'll be pleased to know that you can use any type of cooking oil in your cast iron cookware. The main thing you'll need to remember is that the oil's smoke point must be below the cooking temperature of what you've got on the stove or in the oven. This means you can cook to your heart's content with olive oil, vegetable oil, avocado oil, canola oil, and many other varieties of cooking oil.
Q: Which is superior between seasoned vs unseasoned cast iron pan?
A: There's no simple answer to this question. Everyone has their preferences, though the number of people who enjoy working with seasoned cast iron seems to surpass how many use unseasoned cookware. This is in large part because there's more work involved in preparing unseasoned cookware if you want to season it yourself. The fast-paced world doesn't make this convenient, so many prefer to buy their pots and pans pre seasoned and skip the hassle of learning to do something that's time-consuming and in some cases can require many steps.