The main difference between regular and enameled cast iron is the addition of enamel, which stands as a protective barrier in enameled cast iron. The protective enamel layer prevents the cookware from getting rusty. Due to this addition, enameled cast iron also heats up slower than regular cast iron, making it great for sautéing and other dishes that require slow cooking.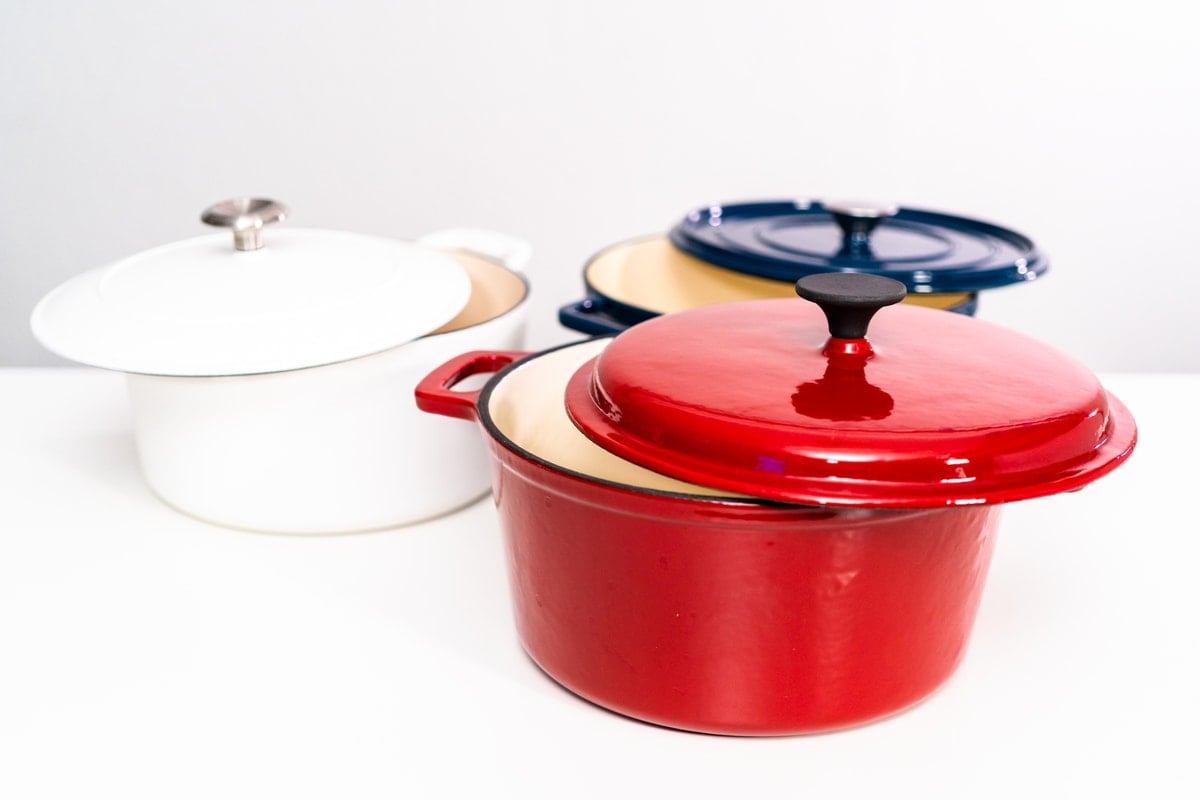 Both cookware have pros and cons, and this article will help you decide which one to choose. This article will explain what regular cast iron and enameled cast iron are, what they are used for, and how to keep them in good shape.
Table of Contents
What is Traditional Cast Iron?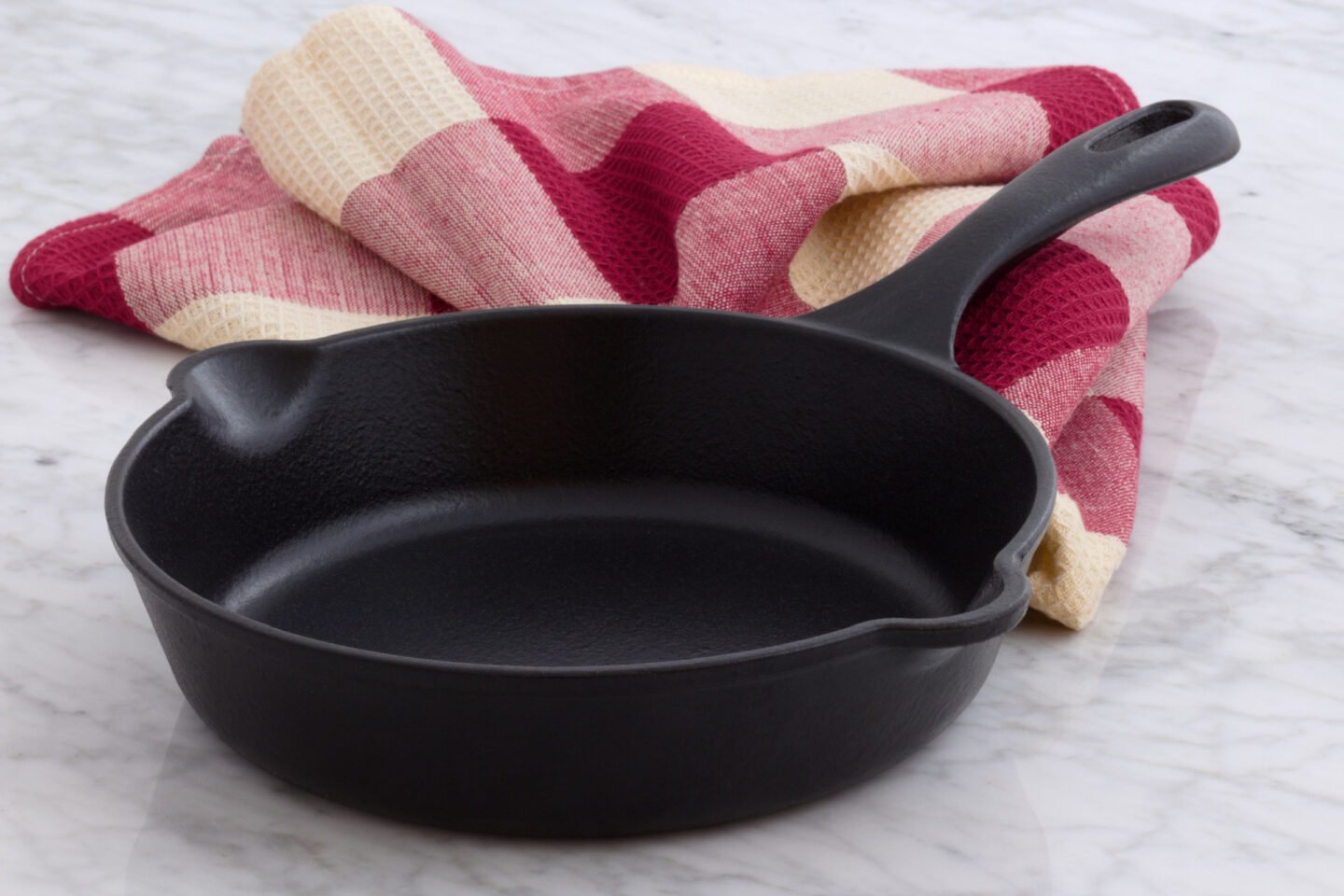 Cast iron is an alloy made from iron and contains carbon, manganese, silicon, and impurities from manufacturing. The Chinese produced cast iron as early as the 6th century B.C. But it wasn't until the 1400s that cast iron made its way to Europe. Around 1500 AD, it was brought to Britain.
Traditional cast iron did not make it onto the scene in the United States until 1619, when the first American ironworks were established on the James River, Virginia. Used both in skyscrapers and other structures, it was replaced by steel in the 20th century.
How is Cast Iron Made?
Traditional cast iron is made by mixing pig iron with steel and other proprietary ingredients. Cast iron is heated until it is a liquid and then poured into a mold made from sand, water, and clay. Once this mix has cooled, the sand mold is cracked open, and out comes a new piece of cast iron cookware.
Types of Seasoned Cast Iron Cookware
Cast iron may have ended as a construction material in the 20th century, but its use as cookware continues today. Makers of cast iron products have become very creative in the items they devise for our use.
Cookware pieces made from cast iron and enameled cast iron have found their way into many of our kitchens. These items include skillets, Dutch ovens, saucepans, griddles, grill pan, cornbread pans, utensils, muffin pans, and many other unique pieces.
The Good and Bad Traits of Cast Iron Pans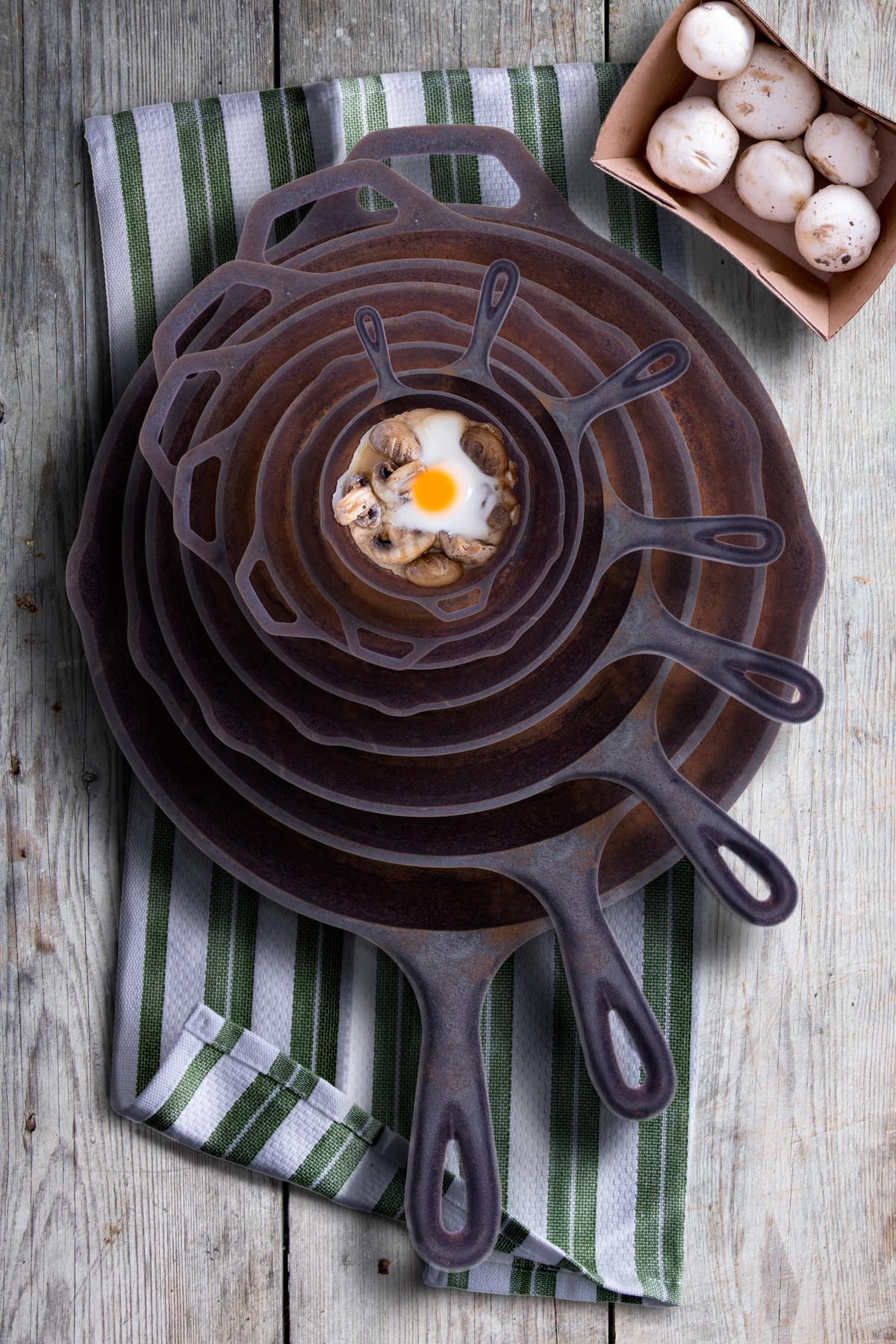 Cast iron does not heat as uniformly as stainless steel cookware, but it will maintain its heat for a long time. Unfortunately, this is both good and bad, as the cast iron handle also gets hot. That issue can easily be remedied, however, with a silicone handle sleeve.
The weight of traditional cast iron and enamel cast iron cookware can be a problem for some users. In addition, larger pieces like enameled Dutch ovens and large skillets can be cumbersome and hard to manage. However, some regular cast iron cookware makers have developed lighter pieces than traditional cast iron cookware.
Because it is one solid piece of metal, a bare cast iron skillet or iron Dutch oven goes quickly from the stovetop to the range. This is an added benefit if you need to braise a piece of meat before roasting it.
Bare cast iron cookware must be kept seasoned and must be seasoned before it is ever used. Most manufacturers preseason cast iron cookware before you ever see it. However, you will need to keep it seasoned, or food will stick when you cook in it and could potentially rust.
What is Enameled Cast Iron?
Enameled is cast iron cookware just like its traditional cast iron cousin; however, it gets a coating of porcelain enamel as a final addition. The coating of enamel cast iron seals it from contact with food and moisture. In addition, it makes the piece more attractive, easier to clean, and some enameled cast iron is dishwasher safe.
Enameled metal has been used as cookware for centuries; it dates back to Persia and was commonly used in Rome and Greece. Enamel cast iron, however, is a relatively new product with a slightly different process of production.
How is Enamel Cast Iron Cookware Made?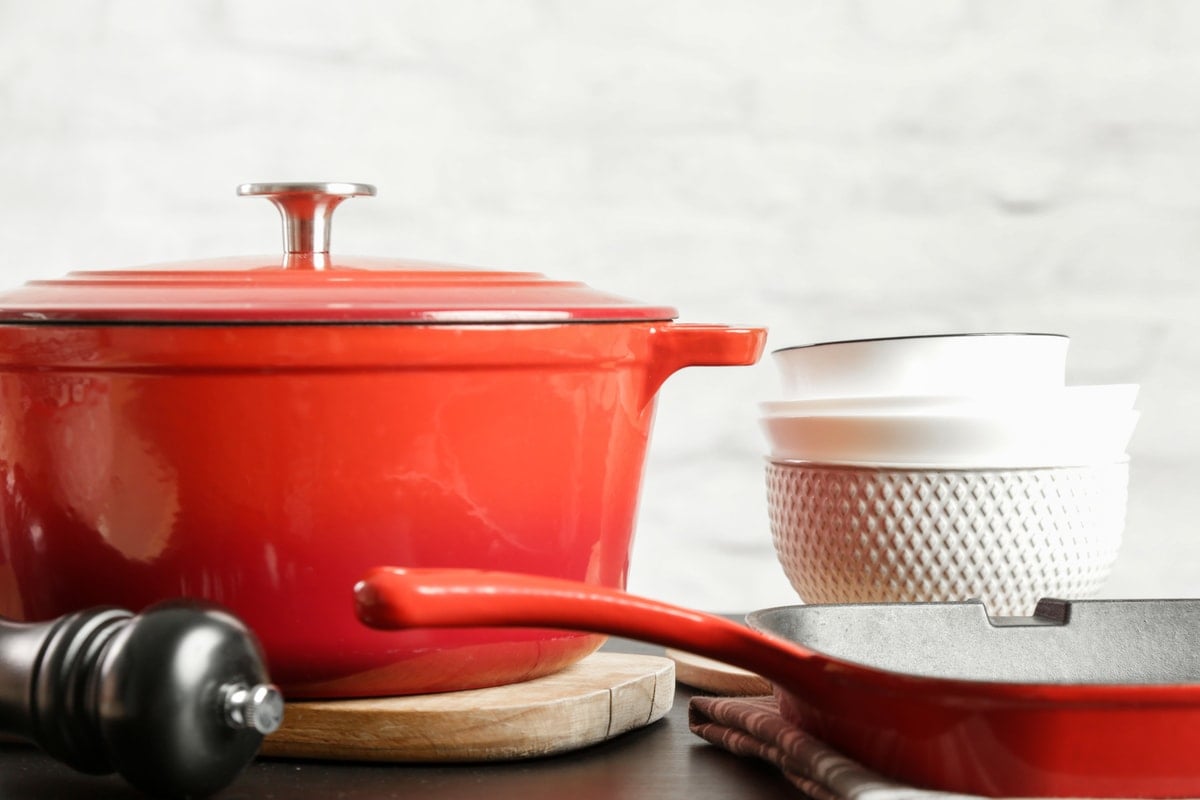 In 1925, two artisans decided that the dull gray cookware of their era needed improvement. One is a caster of metal, and the other is an enameller. They developed the process necessary to bond porcelain enamel to cast iron. Le Creuset® was born as a result of their success with the process, as was the age of the more colorful kitchen and easier cleanup with enamel cookware.
Types of Cookware Made with Enameled Cast Iron
Since that time, more manufacturers have added their own versions of enameled cast iron cookware. The products made through this process are no longer limited to Dutch ovens and skillets. Today, you can find saucepans, sauté pans, griddles, and bakeware made of enameled cast iron in a rainbow of colors. A bare cast iron skillet may be functional, but it won't brighten the kitchen up like a bright yellow one.
Is enameled cast iron heavier than raw cast iron?
Some claim the enameled product is lighter in weight. That is not so, and anyone who owns a Cuisinart or Le Creuset Dutch oven will attest to that fact. They weigh a bit more than their bare cast iron because the cladding does add a little weight.
All cast iron is heavy, but it has cooking qualities than stainless steel, Teflon, and aluminum pans cannot touch. Enameled pieces of cast iron require more care due to the porcelain enamel surface. Still, it is much easier to wipe clean than its bare metal counterpart is.
Good and Bad Traits of Enameled Cast Iron Cookware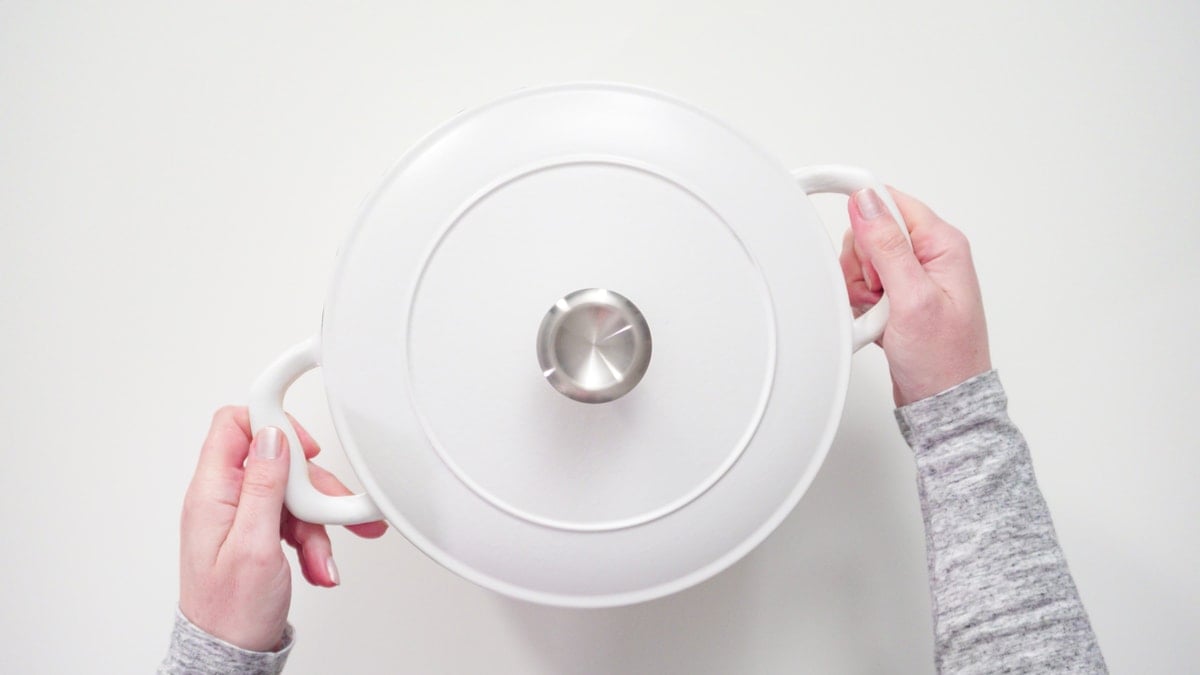 Enameled cast iron works as well as the bare variety, but it can be harder to maintain. Certain foods can stain the porcelain liner of your cookware and is an issue not found with bare, seasoned metal.
Enameled cookware will chip and scratch if not handled properly, which is another thing that many cooks will not like. However, the enamel coating turns these into nonstick cookware, and everyone appreciates that.
As far as cooking goes, enameled cast iron works better at medium temperatures. In contrast, traditional cast iron can be used from low to high temperatures, giving it more versatility.
Now, which of them is better?
1. Is using cast iron or coated cast iron healthy?
Neither of them will affect your health unless you do not need iron in your diet. If you do not, then an enamel cast iron skillet or enameled Dutch oven is the healthier of the two choices, as they will not leach iron.
2. Regular vs enameled cast iron: different tools, different uses.
It is hard to beat a seasoned cast iron skillet for bacon and eggs, steaks, chops, and casseroles. An enameled cast-iron skillet may work as well, but it is hard to beat a tool that does a job perfectly. An enameled iron Dutch oven is often used for stews, stocks, sauces, and braising. The porcelain-enameled lining helps make cleaning up very easy.
3. How do you maintain seasoned cast iron cookware?
Most of today's cast iron cookware is already seasoned when you buy it. The most common cleaning method is to rinse your cookware in warm water, using a brush or scraper to release anything stuck to its surface. You can use salt mixed with oil to loosen it, rinse the piece, wipe it dry, and apply a thin layer of olive or vegetable oil for food that is really stuck.

Many people will tell you that using soap on your cast iron is a no, no. However, some manufacturers suggest using a small amount of soap on new cast iron cookware to remove any leftover metal residue and dirt from manufacturing. Likewise, pieces of cast iron cookware that you might find at the estate, or yard sales, can be cleaned with a small amount of soap, rinsed well, wiped clean, and oiled.
4. How do you maintain enamel-clad cast iron?
The coating of enameled cast iron is glass-like and fragile because its glaze is much like pottery. The best utensils to use with it are the same as you would use on Teflon. However, metal utensils are fine if you aren't beating out a tune while stirring the sauce. Your cookware will still work fine if the coating is chipped, but it can open up the cast iron to rust.

Although most enamel cookware is dishwasher safe, the best way to clean it is to scrub it lightly with soap and a soft scrubby, then dry it well before storage.
5. How do you re-season cast iron cookware?
Seasoning is what happens when layers of oil get baked into the grain of your cast iron cookware. If this coating is removed by washing, then the pan needs to be re-seasoned. A pan that hasn't been used in a while could also need to be seasoned or re-seasoned.

To season your bare cast iron, wash, rinse, and dry it as usual. While you are doing this, let your oven preheat to 350 degrees. Put enough oil in your pan with a paper towel so that it forms a thin coating on the surface of the entire piece, top-to-bottom, inside and out.

Place a piece of foil or a cookie sheet below the rack to place your pot or pan. Now, place the pan in the oven upside down, and bake it for about an hour. Then, please remove it from the oven and let it cool before storing.
6. How long will regular cast iron vs enameled cookware last?
If they are taken care of, they will last for generations.
7. Is enameled cast iron more expensive than bare cast iron?
Yes, it is. However, there are pieces of enameled cast iron cookware that range from affordable to very expensive, depending on the brand.
8. What is iron leach, and does it matter?
Iron leach occurs when the iron from your cookware gets into your food. Too much iron in one's diet is not a problem for most people. However, older men and women may not need the extra iron from cooking in traditional cast iron. Iron leaching is not an issue with enameled cast iron.
9. Is cast iron or enameled cast iron dishwasher safe?
Traditional cast iron should never be immersed in water and left there. Immersion will remove the seasoned coating that makes your cast iron cookware nonstick. Enameled cookware is dishwasher safe.
10. How much does a cast iron skillet weigh compared to one that is enamel clad?
There is very little difference in their weights. The addition of enamel to the iron is not a significant factor in the weight of one product over the other.
The Pros and Cons of Regular Cast Iron vs Enameled Cast Iron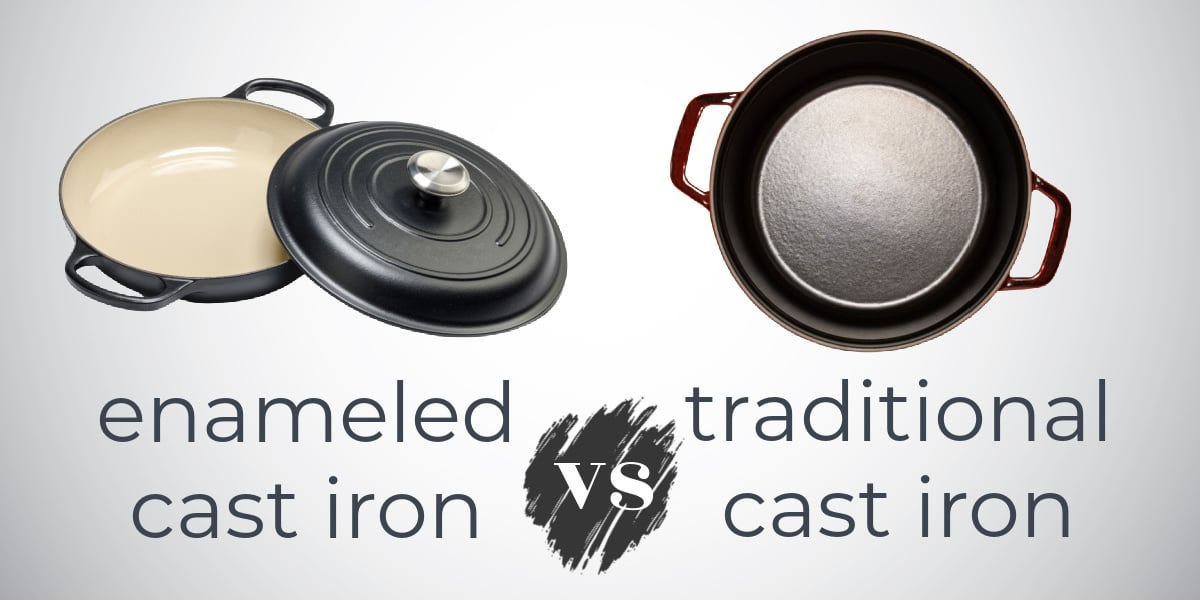 Both traditional and enameled cast iron have good and bad qualities. You can use traditional cast iron on an open flame without any harm. Enamel cookware can be used on an open flame, too. However, soot from the open flame can mar the finish, which will require extra cleaning.
Colorful enameled cast iron pans are perfect for preparing and serving a weekend brunch. The enamel finish provides a nonstick coating, and many are dishwasher safe, which makes cleaning up fast and easy.
Now, about those eggs, because a carbon steel pan is the best pan for eggs with qualities compared to a well-seasoned cast-iron skillet! However, that's another subject. So until then, happy cooking!