It's no secret that most coffeeholics enjoy the experience of brewing a rich, steaming cup of java every morning. Still, the loud hissing and grinding noises every fine morning can definitely be a turn-off.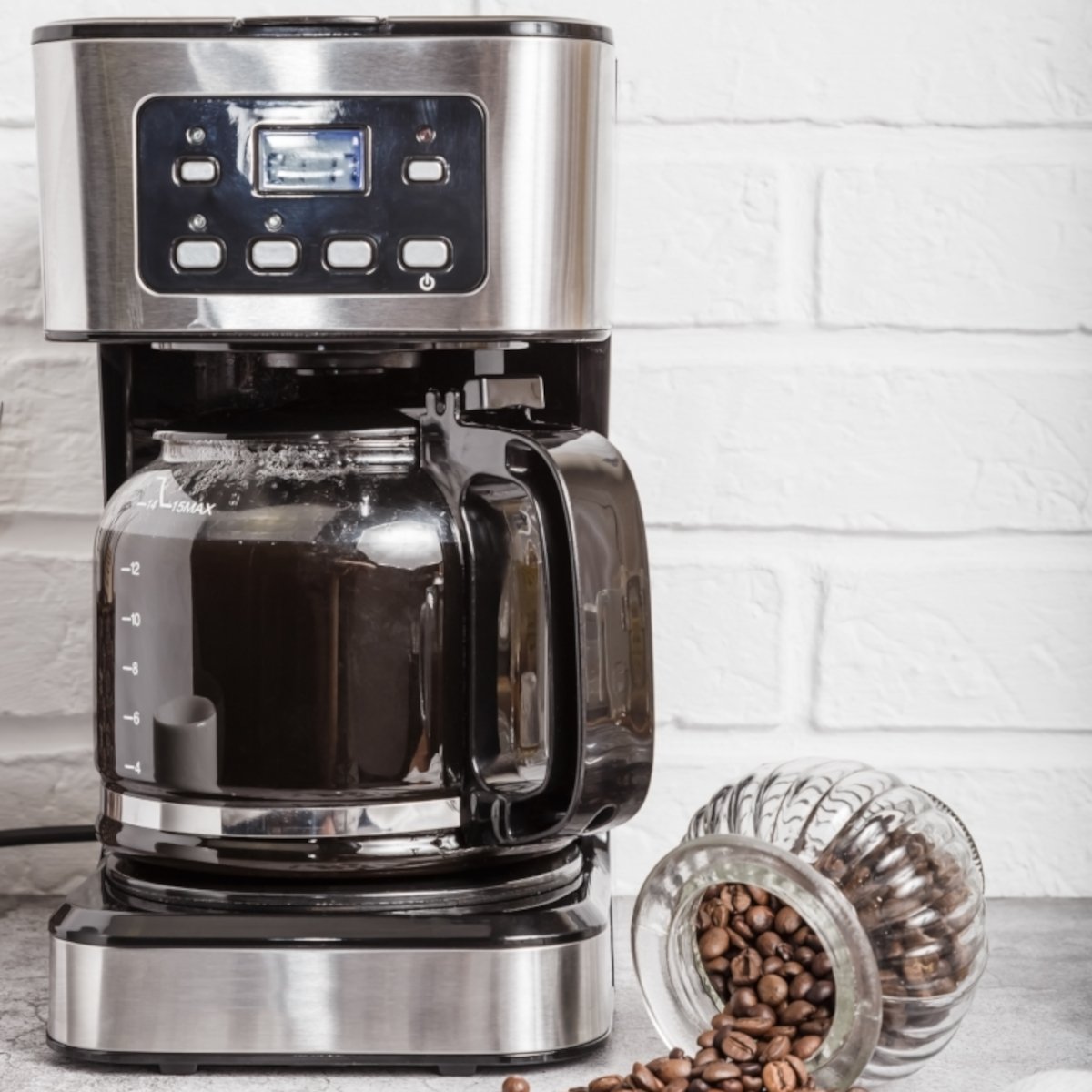 If you can't stand the noisy brewing process but still want to hang on to your morning coffee routine, the best-case scenario is to invest in quieter alternatives.
While first-time buyers aren't typically too concerned with the noise levels of their purchase, many second-time buyers — having experienced trouble with loud coffee machines — are keen on buying quiet coffee makers.
The best quiet coffee maker that allows a noiseless brewing process should maximize your counter space, have sounds below 60 decibels, a large brewing capacity, and adjustable temperature control.
We considered a variety of products and fished out the best few. Overall, we found that the best quiet coffee maker is the Cuisinart DCC-3200P1 14-Cup Coffee Maker. Our other top choices include the Ninja CE251 60-Oz Coffee Maker, the BUNN Speed Brew Platinum Thermal Coffee Maker, and the Nespresso Essenza Mini Espresso Machine by Breville.
Table of Contents
Top Quietest Coffee Makers for a Silent Brewing Process
Best Overall: Cuisinart DCC-3200P1 14-Cup Coffee Maker
SAVE 25%
Cuisinart DCC-3200P1 14-Cup Coffee Maker
This coffee maker takes the top slot because of its high-end features like delay-start, auto-off, and 24-hour programmability. Its 14 cups capacity and the self-cleaning system make it perfect for large households.
Pros: Adjustable brew strength, compact build, reusable coffee filter, small or large brew size options, charcoal water purifier, self-clean feature, easy-to-use control panel.
Cons: Heavy carafe
Topping our list of the best quiet coffee makers is the Cuisinart DCC-3200P1 14-Cup Coffee Maker. This machine has a huge glass carafe, making it ideal for large households or office use.
You can brew up to 14 cups with this machine in a single batch, roughly two liters of coffee in 11 to 12 minutes.
Cuisinart understands that people have varied tastes, so the system offers options to control brew strength per your individual preferences. You can also change the warmth level of your coffee using its advanced heat technology.
If you are running late for work, its Brew Pause feature allows you to grab a cup before the brewing cycle is complete. We also loved the 24-hour auto-brew feature that lets you program the coffee maker a day before, so you get your hands on a cup of java first thing in the morning.
Unlike most coffee makers that create consistent hissing and sizzling noises, this one is very quiet — apart from its ready tone that beeps five times to indicate your brew is ready. If you prefer otherwise, you can simply turn this off by pressing the "Tone" button near the clock face.
Some users have complained that the buttons stopped working after a year or so. The good news is you can avoid this by pressing the buttons lightly so they last longer.
Best Price: Ninja CE251 60-Oz Coffee Maker
SAVE 11%
Ninja CE251 60-Oz Coffee Maker
In addition to a sleek and compact build, this drip coffee maker comes with various features, like a detachable water reservoir, to help you brew a rich and aromatic cup of coffee every morning at a reasonable price.
Pros: Warming plate, transparent and removable 60-oz water tank, 24-hour auto brew feature, small batch option, descale at a touch feature, sturdy with a stainless steel finish.
Cons: Doesn't have a thermal carafe
If you are looking for the best quiet coffee maker that is easy on the wallet yet makes no compromises on the coffee brewing quality, look no further than the Ninja CE251 60-Oz Coffee Maker.
Capable of brewing both classic and rich strengths, it allows users to customize the flavor according to their taste preferences. This coffee maker also has a powerful boiling system that facilitates maximum flavor extraction.
You can use its warming plate to keep your coffee hot for up to four hours without turning bitter. You may notice a slight gurgling sound on the first several uses. However, once tuned, this coffee maker is one of the quietest.
To top it all off, it is also equipped with a mid-brew pause feature for those who can't wait until the end of the brewing cycle to enjoy their first coffee cup.
Perhaps the best part about this machine is that it is compact, ensuring that it won't take up much of your counter space. This is impressive, considering it can brew up to 12 cups at a time.
While Ninja CE251 can generally brew an entire pot in less than 8 minutes, some users have complained about the brew time being longer than 20 to 30 minutes. However, this is typically a sign of something needing to be fixed with the coffee machine.
Best Brew Time: BUNN 55200 CSB3T Speed Brew Platinum Thermal Coffee Maker
BUNN 55200 CSB3T Speed Brew Platinum Thermal Coffee Maker
The best of its kind, BUNN 55200 delivers a hot brew in under four minutes and keeps it hot for up to two hours while meeting SCA standards for the ideal brewing temperature.
Pros: Golden temperature standard, ready-to-brew tank, spray-head design for proper brewing, thermal carafe, super fast, stainless steel carafe
Cons: No auto brew feature
When we say that BUNN 55200 CSB3T Speed Brew Platinum Thermal Coffee Maker is probably the best quiet coffee maker on the market, you don't just have to take our word for it; there are hundreds of reviews testifying its fast brew time and quiet process.
To begin with, the BUNN 55200 makes fresh brews at 200 degrees Fahrenheit, which is considered the golden standard in temperatures for making the best coffee extract without burning it.
A machine made for true coffee connoisseurs, it's fitted with spray-head technology that evenly spreads coffee grounds for maximum extraction.
Moreover, the water is always kept at a ready-to-brew temperature, and you can make up to 10 cups of coffee with this machine in under four minutes.
While we loved the incredibly sleek aesthetics of this machine — stainless steel with black accents — the plastic parts feel flimsy and cheap.
Best for Espresso: Nespresso Essenza Mini Espresso Machine by Breville
SAVE 17%
Nespresso Essenza Mini Espresso Machine by Breville
This is our top pick for home use due to features like an energy conservation mode, quick brewing process, removable tank, milk frother, and compact design, ensuring that the machine takes minimal space on your counter.
Pros: Rapid heat-up, eco-mode to conserve energy, option to brew espresso or lungo, compact design, removable tank, equipped with a milk frother
Cons: Small water tank
Perfect for espressos, lungos, and Americanos, Nespresso Essenza Mini Espresso Machine by Breville is a pod coffee maker that delivers a consistently high-quality brew every time. You can also use it to heat water for a cup of tea. Better yet, the functionality is also relatively straightforward, with only two buttons and no LCD.
The quality of espresso relies on the pressure used to brew it. 15 bars is the bottom line requirement for a good espresso shot. Meanwhile, this coffee maker uses 19 bars to deliver a good quality brew.
We loved how lightweight and easy it is to handle this machine, which makes it incredibly easy to move around. Since the water tank is removable, you can easily drain it. This lowers the risk of accidentally burning yourself while transporting the machine.
While this coffee machine has excellent functionality, which leaves little room for complaints, some users have raised issues with its black finish. You'll have to regularly wipe the machine to maintain its neat look, which should be an easy compromise considering all the excellent features of the Breville Nespresso Essenza.
Quiet Coffee Makers Buying Guide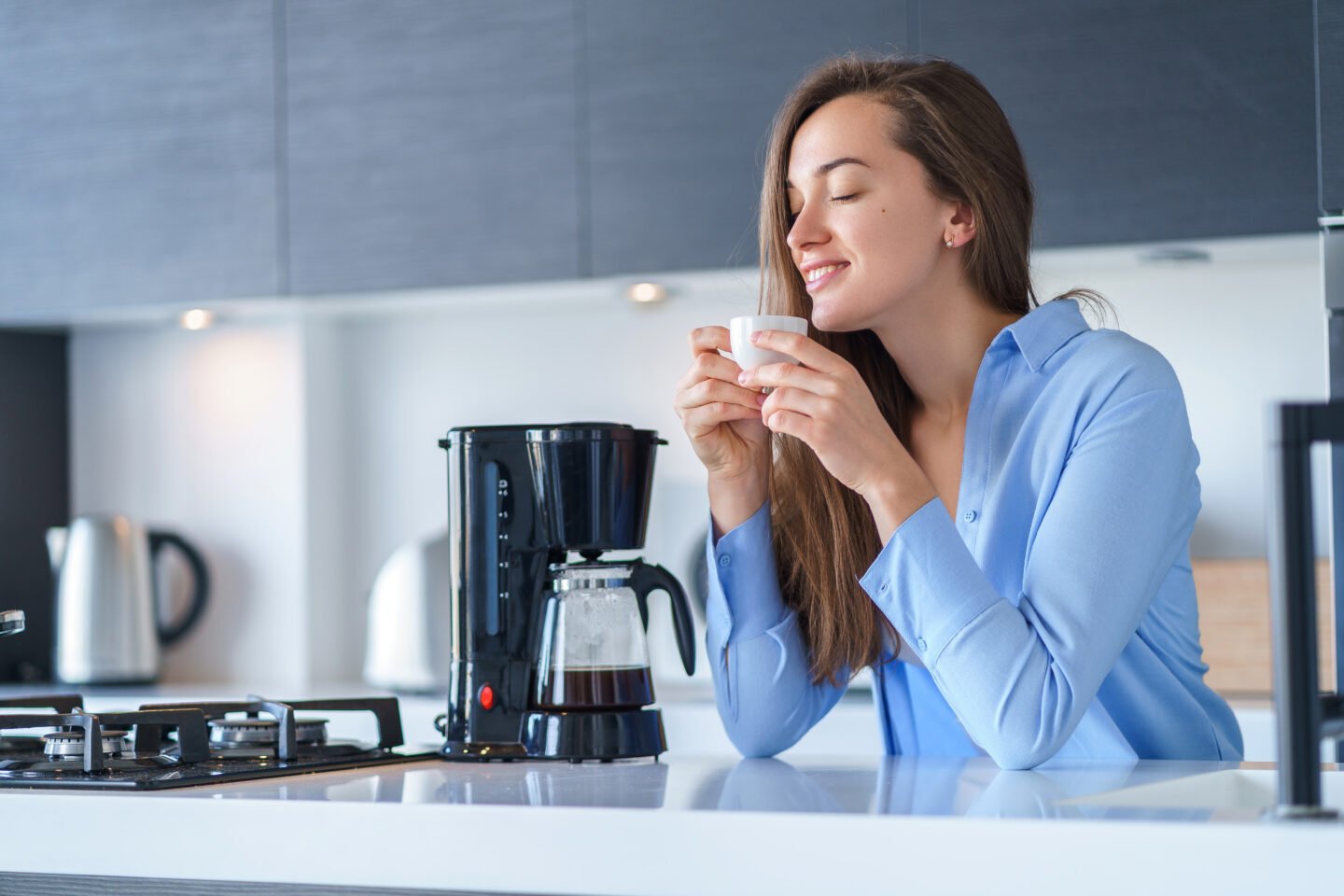 When looking for a quiet coffee maker, the options are virtually endless. Each appears better than the other.
So, how can you decide which is the best one for you? We suggest considering costs, sound level, capacity, the kind of coffee you desire, and temperature control.
Cost
Your budget is the first thing you should consider before buying a coffee maker. Decide how much you can easily and willingly spend on a coffee maker. Doing this will automatically filter a lot of options.
Once you have set a price range for your coffee maker, begin evaluating your options. To do this, you must first look at your needs. What kind of coffee do you like? How quiet do you want your coffee maker to be?
Sound Levels
All sounds below 70 decibels are safe for hearing. Most coffee machines produce around 60 decibels, about as loud as two people talking. This is still too loud for quiet mornings, so we suggest looking for coffee makers below 60 decibels.
No machine is 100% quiet, but a soft murmur of coffee brewing in the background is better than sharp noises penetrating the morning quietness.
Size and Capacity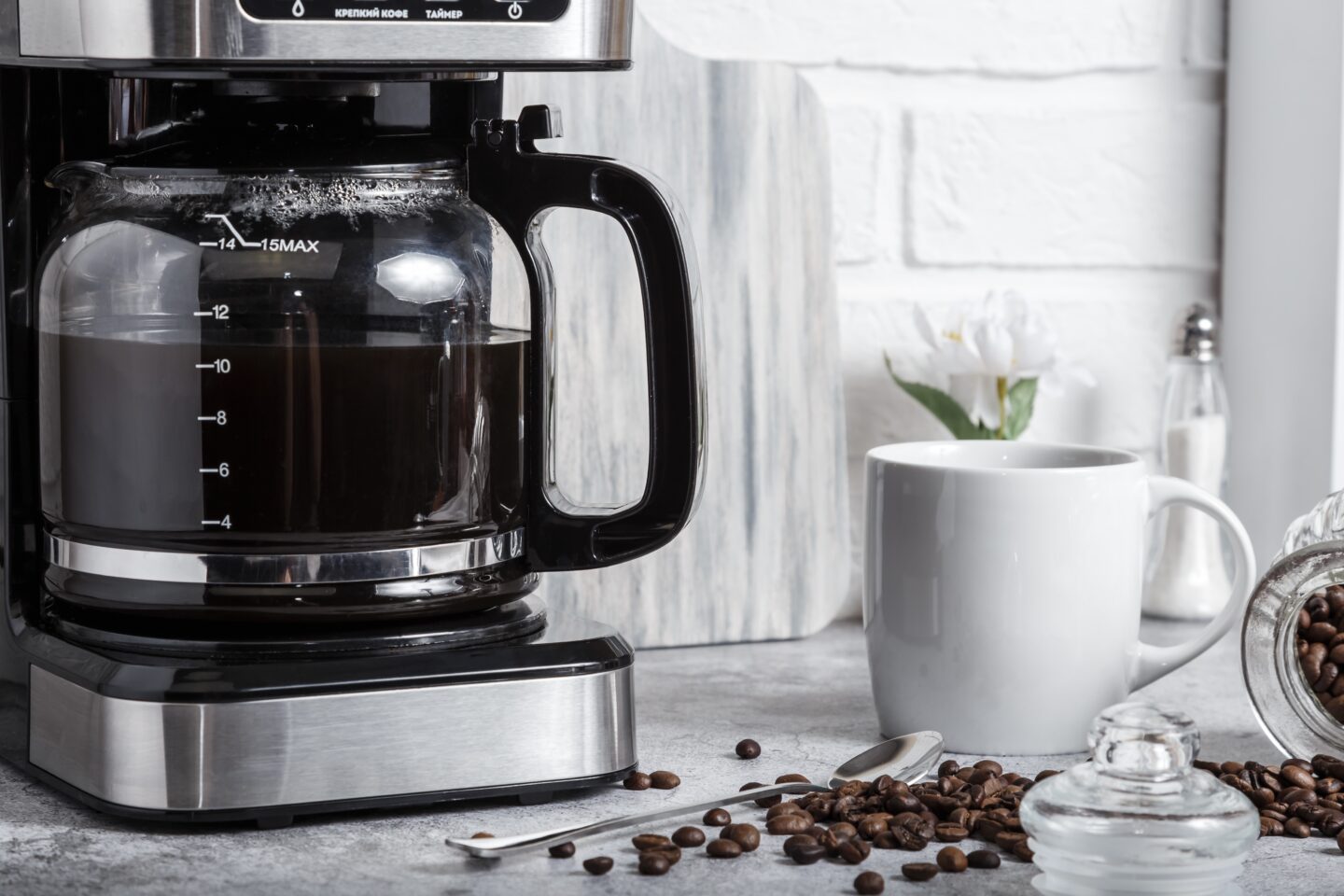 Take note of how much coffee you consume every morning or in one sitting. Do you need coffee for your use only, or will you share it with other people, e.g., family members, flatmates, and co-workers?
It is also helpful to ask yourself what size of coffee maker you can comfortably place in your kitchen or study.
Once you've figured out your needs in this context, you can eliminate options that don't fit your requirements. You'll be entertaining only a dozen or so options by this point.
Temperature Control
Some prefer their coffee hot, others only a little warm. Depending on your preference, look for coffee makers that have temperature-setting options. You can change this anytime, based on your mood or weather.
Conversely, you can also buy coffee makers with insulated steel carafes. Such carafes can keep your coffee hot for several hours after brewing. Or you can get coffee makers with a heating plate. This is an alternative way to keep your coffee warm for several hours.
Remember that the ideal temperature for the perfect brew is between 195 to 205 degrees Fahrenheit, per the Specialty Coffee Association. This is just below the water's boiling point, 212 degrees Fahrenheit. This ensures the flavors from coffee are optimally extracted.
Opt for a machine that heats water at this temperature range to avoid accidentally burning your cup of java. Consider investing in coffee makers that are Specialty Coffee Association (SCA) registered, as these machines are certified to include this control.
Coffee Type
Different coffee makers produce various kinds of coffee. Most people prefer drinking drip coffee in the morning. However, others like coffee made by Moka pot, French press, or an aero press.
You should buy a coffee machine that makes the kind of coffee you like. Whether it's a simple brew or an espresso shot, the quality of your coffee machine has a lot of effect on the final result.
FAQs
Are all coffee makers loud?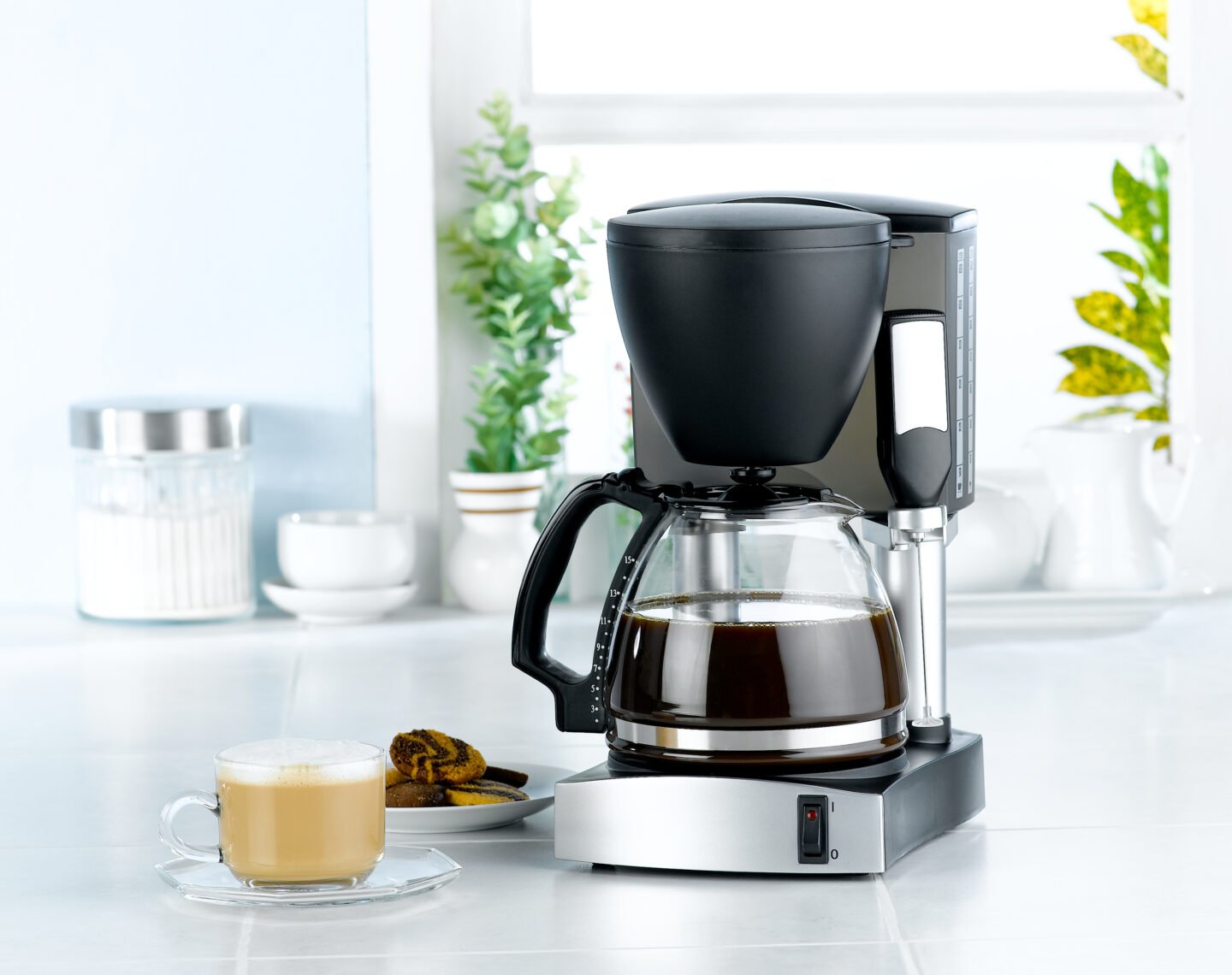 No, all coffee makers aren't loud. The sound created by coffee machines depends on their brew type. Espresso and drip coffee machines are generally louder as they have a water pump that uses pressure to extract coffee.
On the other hand, manual coffee makers like french press and pod coffee makers make little to no noise. Some coffee makers are also evolving towards pump-less technology. Consider these if you want a soundless electric coffee brewer.
Why does my coffee maker make so much noise?
If your coffee machine suddenly starts making a lot of noise, something may be wrong.
The coffee grounds may have entered the heating system, the water in the water tank may be running low, or your coffee maker's internal circuit may have become clogged with limescale.
Why is my coffee machine beeping loudly?
Most coffee makers beep loudly to indicate that your coffee is ready. This sound can be very irritating to some. Look at your coffee machine's user manual for instructions to turn it off.
How do I make my coffee maker quieter?
To make your coffee maker quieter, you need to check whether it's debris-free and proceed to clean the machine thoroughly. Also, consider fixing any visible signs of damage, such as cracks or broken parts.
However, if your coffee maker is still under warranty, you should contact the manufacturer for repairs or replacements.