There's been a lot of hype lately around white coffee becoming the next healthy elixir due to its low roasting temperature. The light roast tends to have a high amount of chlorogenic acid. It acts as an antioxidant, stimulates weight loss, and reduces inflammation, per a 2018 study published in Food Science and Biotechnology.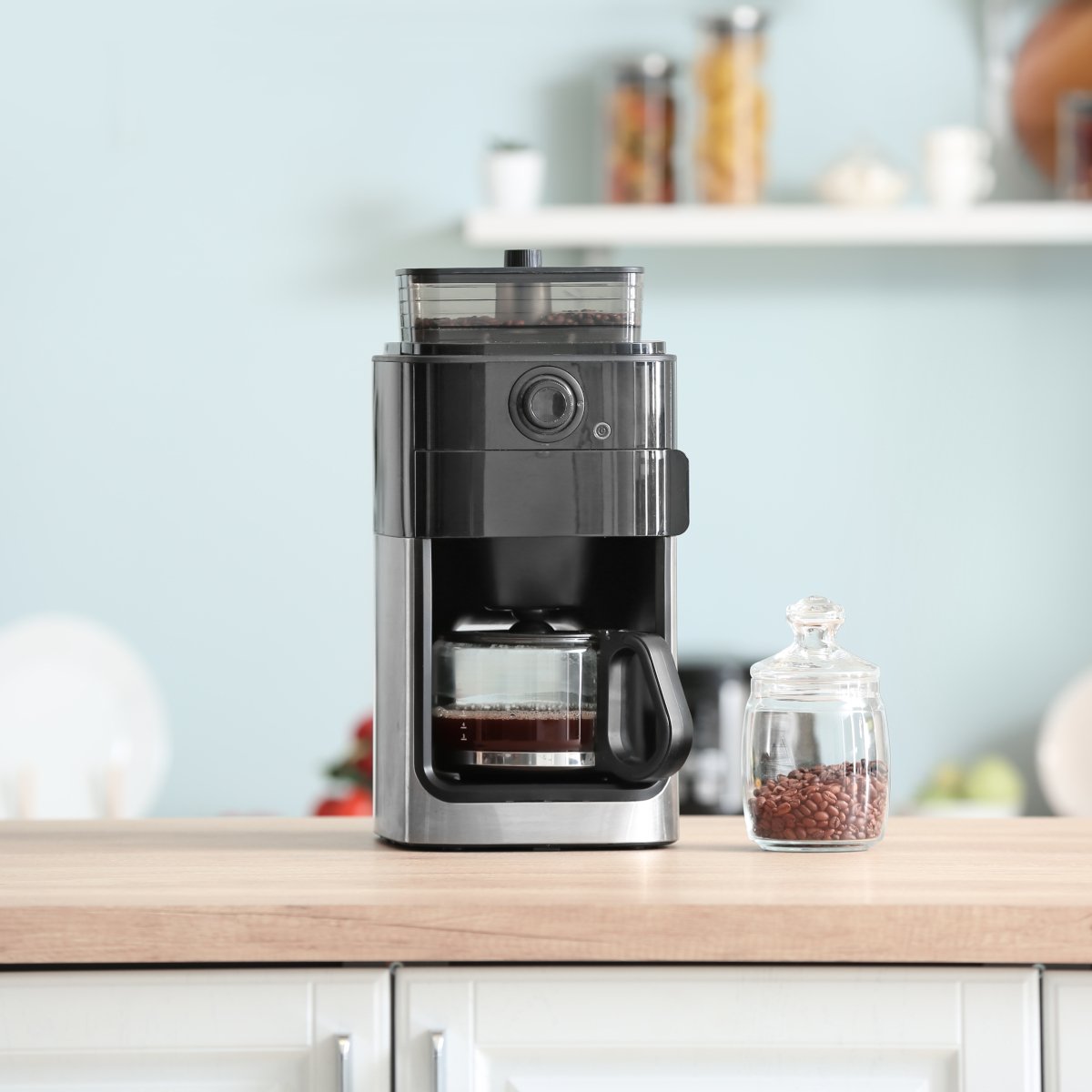 Interestingly enough, it has nothing to do with whiteners or creamers. Instead, the coffee beans are slightly roasted at 350 to 400 degrees Fahrenheit for around 10 minutes to form a beige-colored coffee powder.
If you're up for a light-roasted coffee with a nutty yet sweet flavor, it's time to add a white coffee maker to your kitchen. The ideal white coffee maker should have a fast brewing time, a built-in grinder, a brew-pause option, and an automatic shut-off feature.
We tested some of the best white coffee makers on the market. Overall, the Hamilton Beach 2-Way Brewer White Coffee Maker is the best white coffee maker. The following section lists our other top choices that will amp up your coffee-drinking experience. These coffee makers will give you the best light-roasted, nutty-flavored brew in the shortest possible time.
Table of Contents
4 Best White Coffee Makers
Best Overall: Hamilton Beach 2-Way Brewer White Coffee Maker
Hamilton Beach 2-Way Brewer
The ultimate wingman for your morning cup of joe, it's time to ditch your basic white coffee maker and upgrade to the Hamilton Beach 2-Way Brewer for convenience and versatility in one package.
Pros: Programmable clock/timer, 2-hour automatic shut-off, customizable brew strength, a water reservoir, brews single cup and carafes.
Cons: Cannot brew both sides at once
Imagine controlling your coffee maker with Amazon Alexa. Sounds great, right? Well, the Hamilton Beach 2-Way Brewer does just that. It works with Amazon Alexa, which can be operated with your voice or phone. You can use Alexa voice commands to turn it on/off or set a routine to start brewing at a specific time.
This compact machine is perfect for a busy household and is small enough to fit in a tight kitchen or office space. You can also bring it on vacation with you. Specially designed with a front filler basket, a glass carafe, and a small reservoir, this coffee brewer can act as a single-serve coffee maker or brew up to 12 cups.
You'll appreciate how straightforward this coffee maker is to use. All you need to do is fill it with water, place your coffee grounds in the filter basket, and press 'start.'
Since it's compatible with all types of pods, you can buy your favorite coffee pods without worrying about compatibility with your machine.
If you can't decide between regular coffee or bold brew, this flexible white coffee maker lets you do both. It has both brew options with two separate reservoirs and viewing windows.
You can brew an entire coffee pot or a single serving using a K-Cup pod. The single-brew feature comes with a "Flexbrew" system, which is focused on saving energy and increasing brewing time by heating the water only when using the machine.
The only drawback is that you can only brew one side at a time. Switching to the single-serving option will turn off the carafe hot plate.
Best Brewing Capacity: Cuisinart DCC-3200WP1 Perfectemp White Coffee Maker
Cuisinart Perfectemp White Coffee Maker
The Cuisinart Dcc-3200WP1 is the real deal for white coffee makers with the best brewing capacity. It's got a sleek design and all the bells and whistles you need to brew the perfect cup.
Pros: 24-hour programmable clock, auto shut-off feature, 1-4 cup setting, built-in grinder, brew-pause feature, one-touch operation, flexible brew size.
Cons: Cleaning the carafe can be a hassle
Whether you want to host a coffee night or just need a quick pick-me-up, Cuisinart Dcc-3200WP1 has got you covered with its 14-cups brewing capacity. And if you're worried about leaving it on all night, don't sweat it. This white coffee maker has an auto shut-off feature that kicks in after four hours.
This Cuisinart coffee maker tops our list of the best white coffee makers for perhaps this very reason. It stops brewing coffee when it reaches the perfect temperature of 180 degrees Fahrenheit, so you don't have to worry about burning your cup of java.
This machine also has a water reservoir and a removable drip coffee tray to maintain ease of operation. The charcoal water filter attached to the reservoir lets you adjust the water temperature in the carafe, making it easy to maintain the richness of flavor.
Here's the best part: the 1-4 cup setting lets you brew just the right amount of tasty coffee without wasting any. Furthermore, you can choose from three strength settings: mild, medium, and strong.
We love the brew-pause feature on this machine that lets you grab a cup while the coffee maker is still brewing. Setting up this machine is also super easy, thanks to the one-touch operation and intuitive interface.
Cleaning the carafe might be overwhelming for some people, but a few simple cleaning tricks will do the job instantly. And while the stainless steel handle is ergonomic and comfortable to grip, the glass carafe is prone to breakage.
Best Budget: Black+Decker CM1160W-1 CM1160W 12-Cup White Coffee Maker
Black+Decker CM1160W-1
With its 12-cup thermal carafe, Black+Decker is a user-friendly yet affordable white coffee maker focusing solely on delivering the highest brew quality.
Pros: QuickTouch programming, brew strength selector, 12-cup glass carafe, brews directly into a carafe, dishwasher-friendly brew basket.
Cons: No built-in filter
If you're looking for an economical yet quality coffee maker, you can't beat the Black+Decker CM1160W-1. Unlike many conventional coffee makers, this 12-cup programmable coffeemaker by Black+Decker comes with an adjustable warm timer. The hot plate will only turn off when you want, and brew strength is also set to bold for all strong coffee lovers.
Another unique feature is the vortex showerhead, which is especially integrated to finely coat the coffee grounds and produce a rich flavor.
Moreover, this innovative machine comes with a honeycomb design that lets you brew your coffee directly into the carafe without pouring it into another container.
You'll love that this coffee maker comes with a dishwasher-friendly brew basket, which does exactly what it says on the tin — filters out all those pesky bits of ground that get stuck when brewing.
The only downside is that it doesn't have a permanent filter, so this machine might not be environmentally friendly. However, you can always use biodegradable, compostable filters, which are more eco-friendly.
Best Compact: Mr. Coffee 2134286 5-Cup White Coffee Maker
Mr. Coffee 2134286® 5-Cup
At only 10 inches tall, this coffee maker is the ideal option for small spaces. It can easily fit in your cabinet or on a small countertop.
Pros: LED display, removable drip coffee tray, automatic shutoff feature, programmable timer, easy-to-use interface, and small size.
Cons: Coffee filters sold separately
Perfect for compact spaces, the best features of the Mr. Coffee 2134286® 5-Cup are that it can brew up to five cups of coffee at a time and the auto-pause feature allows you to have your cup before the brewing cycle ends.
It's no secret that cleaning your coffee machine is a huge hassle, but this best coffee maker is here to make your life easier. With a built-in removable tray to aid you in quick cleaning, all you need to do is lift the filter tray from the right side and wipe it off using soap water.
This mighty impressive machine also comes with a programmable timer, so you can set the time for your cup of coffee to be ready when you wake up, making it a convenient option for early risers or night owls.
We also liked the safety feature of this coffee maker. With an automatic shutoff that turns off after 60 minutes, you don't have to worry about your coffee burning while it brews.
To top it all off, Mr. Coffee has a one-year warranty and a wide range of features to maintain smooth functionality. It is more budget-friendly than other expensive models today, making it a worthwhile investment.
The downside, you will have to buy the coffee filter separately depending on the type of coffee brewer you're using.
White Coffee Makers Buying Guide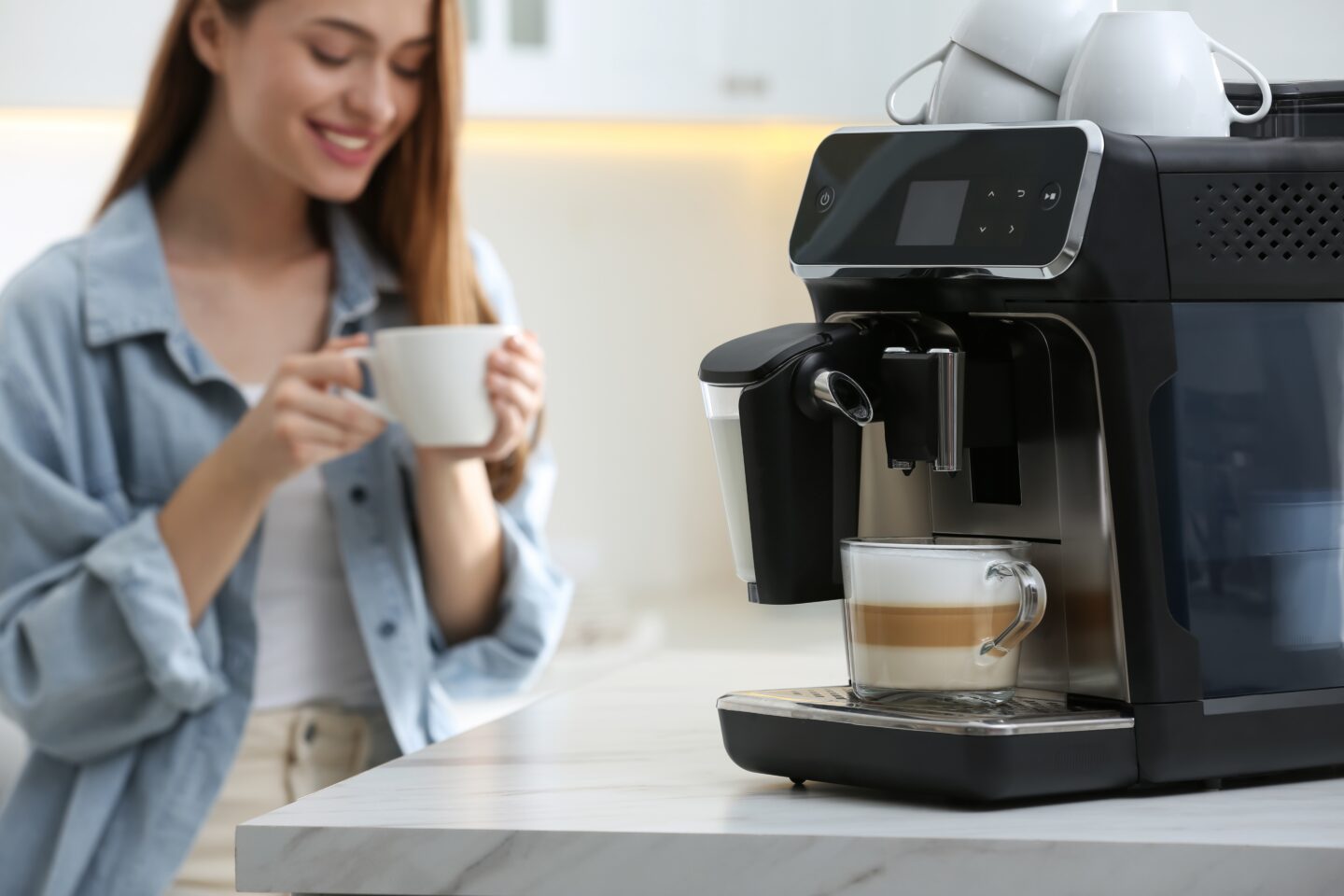 You're here for a new white coffee maker, and it's a jungle out there with so many options. To help you decide, we're breaking down the most important factors you should consider when buying a white coffee maker.
Cost
First things first, you must consider your budget. How much are you willing to spend on a coffee maker? And what features are significant to you?
By considering your budget and needs, you'll be able to narrow down your options and find the perfect white coffee maker that ticks all your boxes while being easy on the pocket.
Keep in mind that you might need to compromise on some features if you aren't willing to splurge on a white coffee maker. That said, being expensive doesn't necessarily mean better, and our list includes plenty of options to suit different budgets.
Coffee Type
What are your coffee preferences? Are you a bold, strong coffee lover, or do you like your cup of java on the milder side? It's essential to consider the type of coffee you prefer before investing in a white coffee maker, as different machines offer varying brewing options.
You want to avoid ending up with a machine that can't give you that caffeine kick you crave. So, whether you're all about that French press or espresso maker or like to keep it simple with a drip coffee maker, make sure the coffee maker you pick can brew just the way you like.
Sound Levels
Another factor to keep in mind is the sound levels. Whether using your coffee maker in the office or at home, you want to ensure it's not too loud. Nobody wants to be the person in the office with the loud coffee maker or someone who wakes up their family members early in the morning.
So, make sure you check your machine's sound levels before buying. You might not find a fully quiet option, but a few options have a relatively noise-free brewing process.
Temperature Control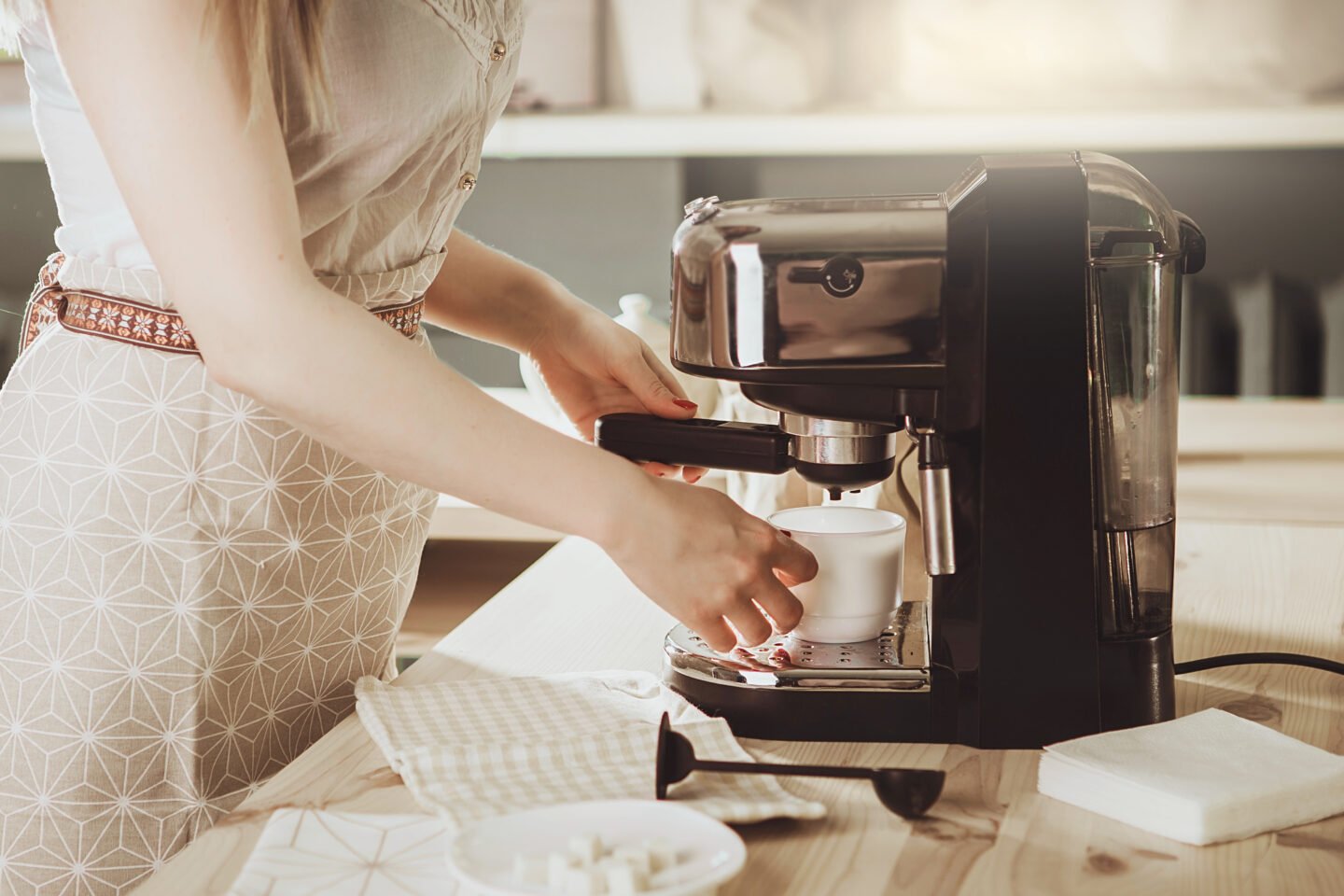 When buying a white coffee maker, or just any coffee maker, temperature control is important. Do you like just warm, extra hot, or hot coffee? Do you want your coffee to remain at your desired temperature without changing its flavor?
Consider opting for a white coffee maker with a flexible temperature setting option to get a perfectly steamed coffee according to your liking.
Conversely, you can get an insulated steel thermal carafe machine to keep your coffee fresh and hot for hours. While you can also get one with a heating plate, we strongly advise against it since it can potentially burn your coffee.
Size and Capacity
Are you sipping solo or brewing for a crew? Different machines can brew different amounts of coffee at a time.
It's important to consider how much coffee you need to make. And let's not forget about your storage space. If you're tight on counter space, you'll want to look for a compact option that won't take up too much room.
The perfect size and capacity for your ideal white coffee maker will depend on your personal needs and the size of the space you're willing to dedicate to the machine.
FAQs
Which white coffee maker is best for daily use?
The Cuisinart DCC-3200WP1 Perfectemp is a great option for daily use. This coffee maker has a 14-cup capacity and various temperature control options to suit different preferences. It also has a brew strength control and a hot water system for tea and hot cocoa.
Additionally, it has a self-cleaning feature and a reusable filter, making it easy to maintain. Overall, it's a great option for those looking for a versatile, high-performance coffee maker.
What is the best white coffee maker for a rich flavor?
The best white coffee maker for a rich flavor depends on the brewing method and the preference of the coffee drinker. However, Cuisinart DCC-3200WP1 Perfectemp is one of the best options for a rich flavor.
Its brew strength control option allows you to adjust the strength of your coffee to suit your taste. Plus, the hot water system for tea and hot cocoa can help provide a different flavor profile.
Do coffee makers change the flavor of coffee?
Yes, coffee makers do change the flavor of the coffee. The way that a coffee maker works is that it heats water and then steams it to produce hot water.
This is then poured over ground coffee beans and steeped for a while. The longer you let your coffee sit in this hot water, the stronger the flavor will be.
Is it worth buying an expensive coffee maker?
Buying an expensive coffee maker isn't always worth it. You want to ensure you're getting a high-quality product that provides good value for money.
Choose a machine that suits your needs and has superb functionality in terms of cost, sound level, temperature control, and coffee brewing quality.