Limoncello is a vibrant yellow Italian liqueur that is made from water, lemon zest, sugar and alcohol. It has an intense sweet, lemon flavor with a smooth, thick syrupy consistency. Produced in Italy, this drink is a popular digestif, sipped on its own after a meal. It can also be added to cocktails or used to flavor cakes, cookies, cheesecake, sorbet and the occasional savory recipe.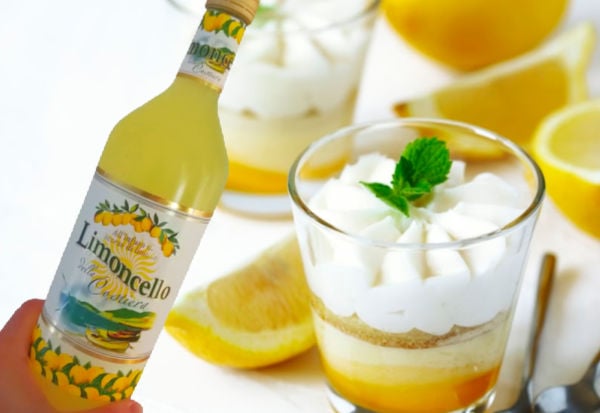 If you've got no limoncello then you're going to need an alternative option. We've created a list of the best limoncello substitutes so that you can get by in the kitchen without it. Keep reading to find the best choice for your needs.

Table of Contents
What can I use to replace limoncello?
To replace limoncello in cooking use a lemon syrup, extract or juice. We suggest adding extra sugar to mimic the sweetness and also ensure that the liquid ratios don't change. For example, if you replace a half cup of limoncello with a lemon extract then you'll need to use extra water, oil, or milk, otherwise the mixture may lack moisture.
Replacing the liqueur as a drink is a challenge as it has a unique flavor; however, you could try Curacao for a bitter orange flavored alcoholic beverage. It's different, but delicious. Kitron, a Greek-made lemon spirit, will provide a similar lemon flavored liqueur. For a premium drink, consider Meyer lemon and ginger liqueur, produced by Organic Mixology.
1. Lemon Syrup
Lemon syrup is an excellent alcohol-free choice for replacing limoncello in recipes and cocktails. The syrup is a lemony, sugary liquid that is a similar consistency to the original ingredient. There is a range of lemon syrup brands available in supermarkets and online.
One popular option is Torani lemon syrup which has a comparable bright yellow color, ideal for a refreshing mocktail or for an alternative zesty take on coffee.
Monin also market a gourmet product which is made from lemon extract. It doesn't have the same bright yellow look, but its delicious flavor makes up for that. You could use this drink in sauces, purees, smoothies, and any dessert that calls for limoncello.
Brooklyn based Morris Kitchen, produce a preserved lemon syrup. This drink has a strong burst of lemon flavor with a subtle floral and seaspray undertone. If you're okay with a slightly different flavor profile, use this ingredient in marinades, dressings, cocktails, and sweet recipes.
Whichever brand you choose, we suggest using equal quantities as the original recipe calls for.
2. Lemon extract
Lemon extract makes a useful replacement and comes in a convenient small bottle that can be stored in the pantry. This ingredient provides a powerful lemony burst of flavor to food, and is ideal for splashing into pound cake, lemon cake, or any other baked dessert.
We suggest adding a teaspoon of extract along with a tablespoon of extra sugar. Then taste test before using extra. Top up the cake batter (or whatever you're mixing) with some extra liquid to allow for the omitted limoncello.
Related reading: How do lemon oil and lemon extract differ?
3. Lemon juice
Lemon juice is an excellent limoncello alternative and the fresh or bottled versions both work. Unlike an extract, juice will provide similar quantities of liquid as the liqueur, so you won't need to add much water, oil, or milk to compensate. Be sure to add an extra scoop of sugar to the recipe or your dish may taste out of balance from the sourness.
4. Curacao
You won't get the same taste from Curacao as you would from limoncello. The main difference is that curacao has a dominant bitter orange taste rather than lemon. But if you need an alcohol-based drink for a delicious aperitif or to make a fruity cocktail, this will work well.
5. Kitron
Kitron is the Greek version of Italy's limoncello, produced on the scenic island of Naxos. They use leaves and fruit from the citron tree, a slightly stronger version of the lemon.
We'd have listed this alternative higher up on the page if it wasn't for the fact that it's hard to find. It's unlikely you'll find Kitron in your local store, but you may be able to pick up a bottle at a Greek specialty grocer. If not, what better excuse do you need to take some R&R in the Greek Islands?
6. Organic Mixology
If you need an alcoholic substitute then Organic Mixology produces a refreshing Meyer lemon and ginger drink. It is an organic sugarcane distillate that contains 17.5% alcohol by volume. This liqueur has a citrus flavor with a hint of ginger to keep things interesting. Add a shot or two of this drink to cocktails or enjoy it straight with ice.
Also check out: What is the best Italicus substitute?
7. Make your own
Instead of searching for a substitute, you may want to make homemade limoncello which is surprisingly simple to make. A high-proof vodka is excellent for extracting the maximum lemon flavor; but you can use a dark spirit instead if you want a more complex flavored liqueur.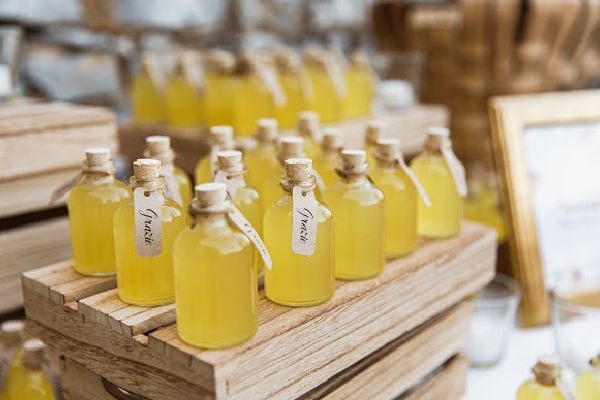 Yield: 4 cups
Prep time: 10 minutes
Ingredients
12 lemons, washed and dried
1 fifth vodka
2 cups granulated sugar
Method
Use a paring knife or peeler to peel the lemons, ensuring that the white pith remains on the lemon. Set aside the fruit for other uses, like lemonade.
Place the lemon zest in a large jar and pour the vodka over it before sealing the lid.
Leave in a cool, dark place for at least 4 days to infuse. For a stronger lemony taste, allow the jar to sit for up to 30 days.
Pour the liquid through a fine sieve or coffee filter into a large measuring cup or bowl. Set aside.
Add two cups of water and two cups of sugar to saucepan and bring the water to a boil on a medium heat. Stir until the sugar has dissolved then remove from stovetop and allow to cool.
Combine the syrup with the vodka and mix until combined. Using a funnel, pour the limoncello into a bottle then seal with a cork.
Refrigerate or freeze for 4 hours to ensure the liqueur is well chilled before serving.
Recipe notes:
-Store limoncello in the freezer for 1-2 years or keep in the fridge for one month.
-Increase the sugar and water for a milder tasting drink that also has less alcohol content.
-100 proof vodka is the best choice of alcohol as it improves the lemon flavor and results in a smoother drink.
-Organic or home grown lemons are a good option as they don't have a waxy coating or any unwanted sprays. Other citrus fruit like oranges, pomelos, grapefruit, or sumo citruses also make delicious liqueurs.
-A microplane or zester can be used to remove the rind, but a peeler or paring knife will be much quicker.
Interesting reading:
Find out how to substitute for Lillet Blanc, Amaro, Grenadine, Tuaca, Galliano, or Cognac.
Fast facts about limoncello
The drink is widely made across Italy, with flavors varying depending on the alcohol and lemons used.
The alcohol content in limoncello usually ranges from 28-32%
The original lemon varieties used to make the liqueur can mostly be found in Capri and Sorrento.
It is recommended to serve the beverage icy cold, straight from the freezer.
In Italy, limoncello is one of the most popular liqueurs along with Campari, Sambuca, and Amaretto.
Summing up
A little limoncello adds tart, citrusy flavor to food and drinks. You can use lemon syrup, extract or juice as substitutes if you're looking for an alcohol-free option. If you want the booze to remain, then try Curacao, Organic Mixology's brand, or the elusive Kitron, from Greece. The best option for getting the flavor and consistency perfect is to create your own. It is an easy drink to make but use a high proof vodka for the best lemon flavor.
Keep in mind that some dessert recipes use the alcohol to its advantage. Take ice cream as an example. The alcohol assists with making a creamier ice cream with smaller ice crystals. Replacing limoncello with a syrup or extract will still work, but the results won't be as good.
What recipe or drink are you looking to make that calls for limoncello? Please let us know in the comments below.