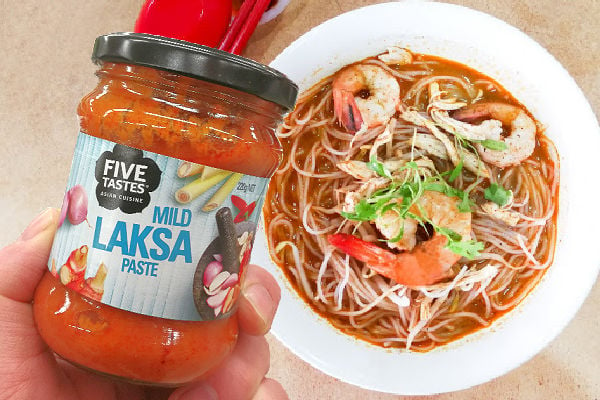 Laksa is a delicious spicy noodle soup that is usually served in large bowls for a surprisingly low price in restaurants. Although it's a bowl of soup, most people eat this dish as a healthy main. It is loaded with noodles, seafood, chicken, or beef and finished with a sour asam curry or a spicy coconut milk curry.
Making a laksa at home isn't much harder than throwing together a basic stir-fry. You'll also find that sourcing a flavor base isn't difficult in many countries. If you can't find one near you then you're going to need a laksa substitute. We've compiled a list of alternatives that will allow you to cook a tasty, steamy bowl of noodle soup without the original paste.
None of these replacements will perfectly mimic the original taste, but they're all a similar style that will allow you to make a spicy noodle soup. If creating an authentic laksa is your goal, instead we recommend jumping to the bottom of the page and following our simple recipe for making laksa paste.

Table of Contents
What can I use to replace laksa paste in a dish?
To replace laksa paste in your next meal you can use Thai red curry paste, Thai green curry, shrimp paste, or Pad Thai sauce. These flavor bases are commonly found in stores or can be made at home with some everyday ingredients and a blender. If you're on a plant-based diet, then look for a vegetarian laksa paste in stores or online.
1. Thai red curry paste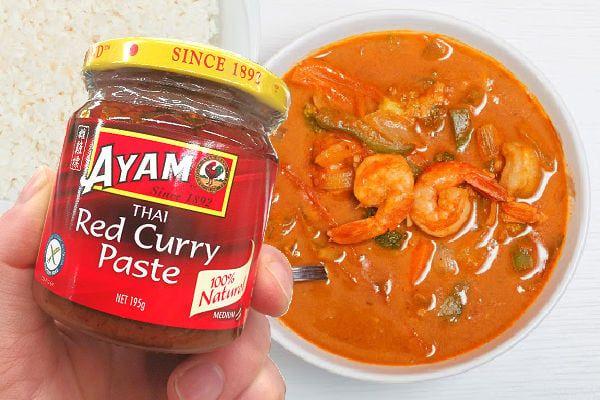 Thai red curry paste is a punchy base that is fragrant and sumptuous. Common ingredients are red chili peppers, lemongrass, shrimp paste, garlic, galangal, and kaffir lime leaf. If you've ever made laksa paste at home, then these ingredients for Thai red Curry may look familiar. The majority of ingredients are the same for both recipes so you can certainly use it as a substitute.
The spicy heat that is packed into a red curry paste can vary significantly depending on who makes it. In most cases, a red curry will have more chili than laksa, especially in authentic Thai restaurants. But if you visit your local supermarket you may find there are milder versions on offer. We discovered that the product pictured above was a medium heat.
Related reading: What are the best lemongrass substitutes?
2. Thai green curry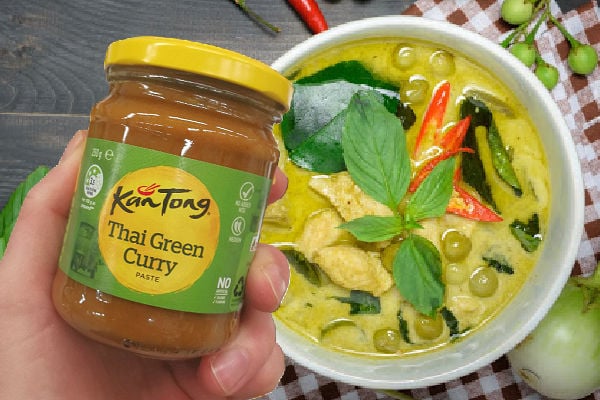 Thai green curry paste is quite similar to red curry; the obvious difference being that it is green thanks to the addition of green chilis. Using this paste you can create a fragrant meal that may also have cilantro, basil, and kaffir lime leaf added. Compared to red curry, most green curries are a little less punchy. People who prefer aromatic flavors over spicy chili will prefer this option as a laksa substitute.
3. Shrimp paste
Shrimp paste, also known as belacan, is finely crushed krill or shrimp that is combined with salt and then fermented. It is often sold in supermarkets and Asian grocers sell it as a staple item. Shrimp paste is one of the dominant flavors in laksa paste and you could use it as a useful replacement in your next soup dish. To get a more authentic feel you, we recommend blending it with garlic, lemongrass, and kaffir lime leaf.
4. Pad Thai sauce
Pad Thai is a popular dish originating from Thailand and provides a divine combination of salty, sweet, and sour taste in one mouthful. Fish sauce provides the saltiness while palm sugar adds sweetness and tamarind paste offers sourness. Like most Thai dishes, chili is usually a part of the mix although often less punchy than a red curry paste or laksa. Pad Thai is traditionally served as a noodle dish without the soup, but we've tried using it in laksa and you won't be disappointed.
Related reading: A quick comparison of fish sauce and fish stock.
5. Make your own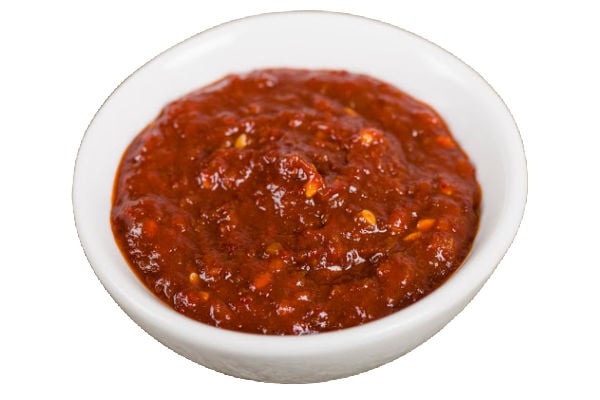 Making laksa paste at home is easy if you have a blender to combine all the ingredients. This is a recipe for Singapore laksa paste which is colorful, aromatic, and punchy. If you don't enjoy spicy food, then reduce the chilis and replace them with red bell pepper.
Ingredients
6 red chilis
1 brown onion, sliced roughly
3 cloves garlic
1 lemongrass stalk
2 Tbsp galangal
½ tsp ground cumin
1 tsp ground turmeric
6 peanuts
2 tsp shrimp paste
3 kaffir lime leaves, stems removed
½ cup fresh cilantro (coriander)
3 Tbsp vegetable oil
Instructions
Add all ingredients except the vegetable oil to a food processor and blend until a chunky mixture forms.
Slowly add the oil while continuing to blend, until the paste reaches a smooth consistency. If this texture is achieved before you've added all the oil then leave the rest out.
Use the paste immediately or transfer to an airtight container and refrigerate for five to seven days.
Recipe Notes
If you can't find shrimp paste at your local store then substitute one tablespoon of fish sauce or oyster sauce for every teaspoon of shrimp paste used.
For a less intense-flavored paste remove the seeds and white membranes from inside the chilis before blending.
Galangal can sometimes be a challenge to find but it is usually located next to the fresh ginger.
Summary comparison of laksa paste alternatives
| Flavor base | Common ingredients | Notes |
| --- | --- | --- |
| Laksa | Red chilis, garlic, lemongrass, galangal, shrimp paste, kaffir lime leaves, cilantro. | A spicy, salty, sour paste that ranges in heat depending on the amount of chili used. |
| Thai Red Curry | Red chilis, garlic, lemongrass, galangal, shrimp paste, cilantro. | Similar to laksa without the sour notes provided by kaffir lime leaves. |
| Thai Green Curry | Green chilis, lemongrass, galangal, garlic, shrimp paste, cilantro, basil, kaffir lime leaf. | A more aromatic, herbaceous version of laksa that is green. |
| Shrimp Paste | Shrimp paste. | Will require the addition or red chili, cilantro, garlic, and lemongrass. |
| Pad Thai | Red chilis, garlic, lemongrass, galangal, shrimp paste, kaffir lime leaves, cilantro, tamarind paste. | Contains an extra burst of sour due to the tamarind. |
Commonly asked questions
Where can I buy laksa paste?
Look for laksa paste in your local supermarket where the flavor bases are sold. There is usually a section that offers Asian-inspired products. Otherwise, try an Asian grocer. If they don't have the paste then they'll almost certainly have the ingredients to whip up your own rich, exotic homemade version.
Can I substitute red curry paste for laksa paste?
Red Curry paste is an excellent replacement option for laksa paste as most of the ingredients are very similar. You'll find that most red curry pastes don't include kaffir lime leaf, so add this to your recipe to more closely mimic laksa paste.
Where is laksa eaten?
Originally, laksa was commonly eaten in Southeast Asian countries such as Singapore, Malaysia, Indonesia, and Thailand. As its popularity has grown, laksa is now served up in restaurants in most parts of the world.
Summing up
Laksa is a spicy dish that combines soup, noodles, and a selection of meat, poultry, or seafood. If you're looking to make laksa at home but don't have the paste for flavoring your cooking, then there are a few alternatives that will work just as well. Thai red curry paste, green curry paste, shrimp paste, and pad Thai sauce will all make useful substitutes. The dish won't be the same, but they'll still taste exquisite and won't bring any awkward flavors to the meal.
If you have the time, then making your own laksa paste will only take 5 minutes to prepare and will give your food a freshness that no store-bought substitute can offer.
What is your favorite Asian dish? Please let us know in the comments below.