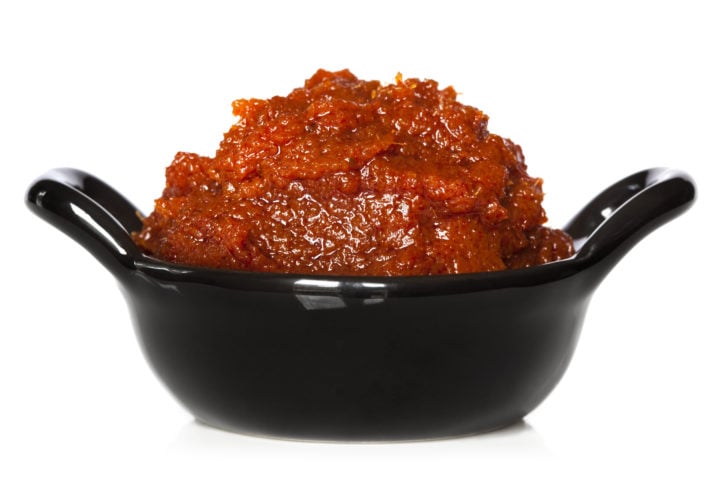 Flavorful and easy to cook with, Thai red curry is a great way to spice up any weeknight meal. All it takes is a couple of spoonfuls, some coconut milk, and the meat and veggies of your choice, and dinner is on the table. However, if you don't have access to it in your area, you may need to find a red curry paste substitute.
Since Thai red curry contains many ingredients, simulating its flavor can be tricky. While there is no perfect match, harissa paste is probably the closest you can get. If you're looking for a more common alternative, sriracha can add some heat and garlic flavor similar to red curry.
There are plenty of other options to explore, and many of them work best when used in conjunction with one another. Try experimenting with a few of them in your kitchen and see which red curry paste substitute you like best.
Table of Contents
Best Red Curry Paste Substitutes
1) Harissa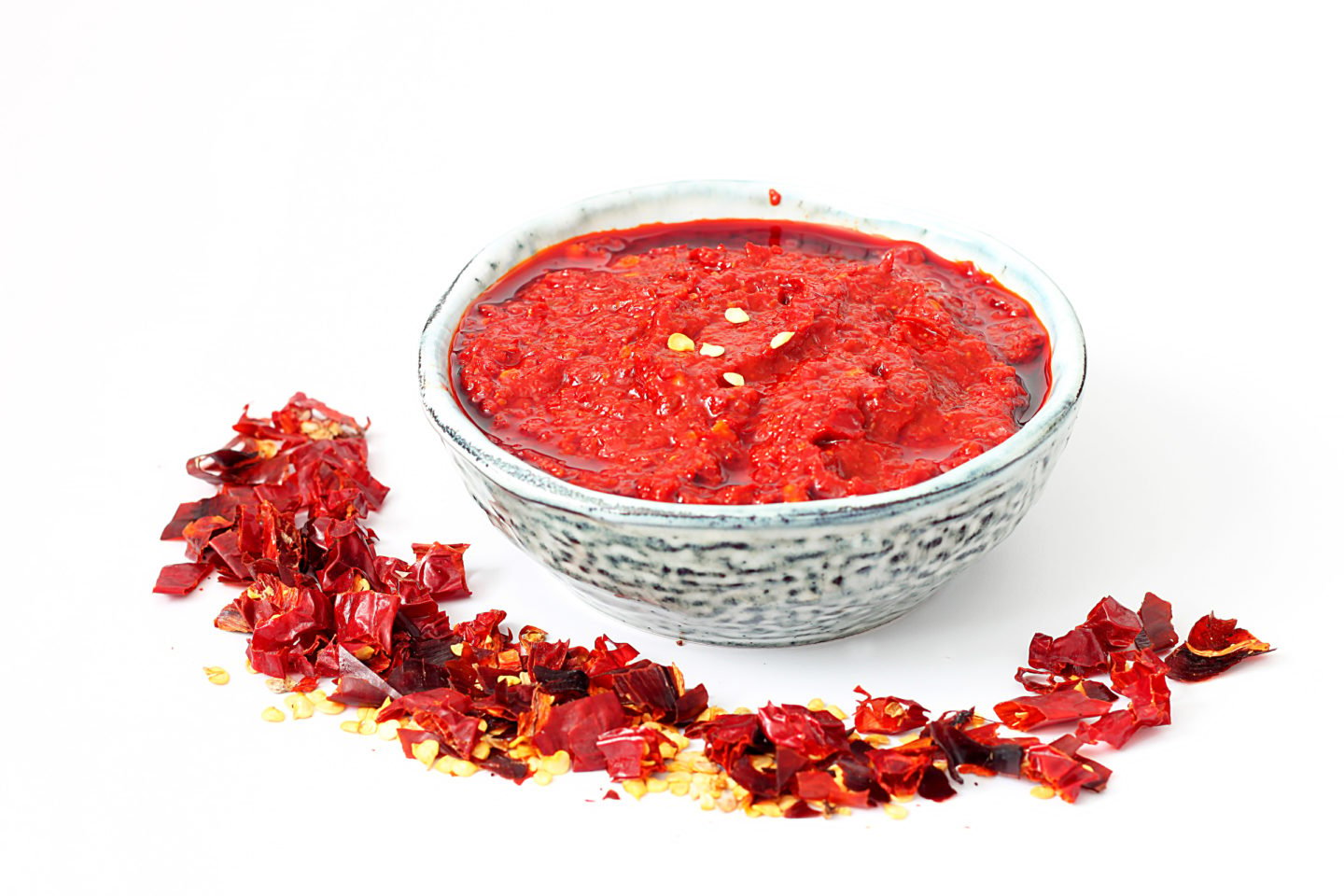 Harissa has a similar color and texture to Thai red curry paste, but best of all is its flavor. Since it uses dry chiles, citrus, garlic, and several warm spices, it's not altogether different than its Southeast Asian counterpart. Try substituting two tablespoons for every one of red curry paste.
One of the main flavors not present in harissa is shrimp paste which gives red curry a deeper umami flavor and a bit of sweetness. If you have any fish sauce, try adding it to help round out the flavor.
It's also a good idea to remember that harissa is a bit spicier than red curry paste. If you're worried about going overboard with the heat, add just a tablespoon at a time, tasting between each addition.
2) Chili Powder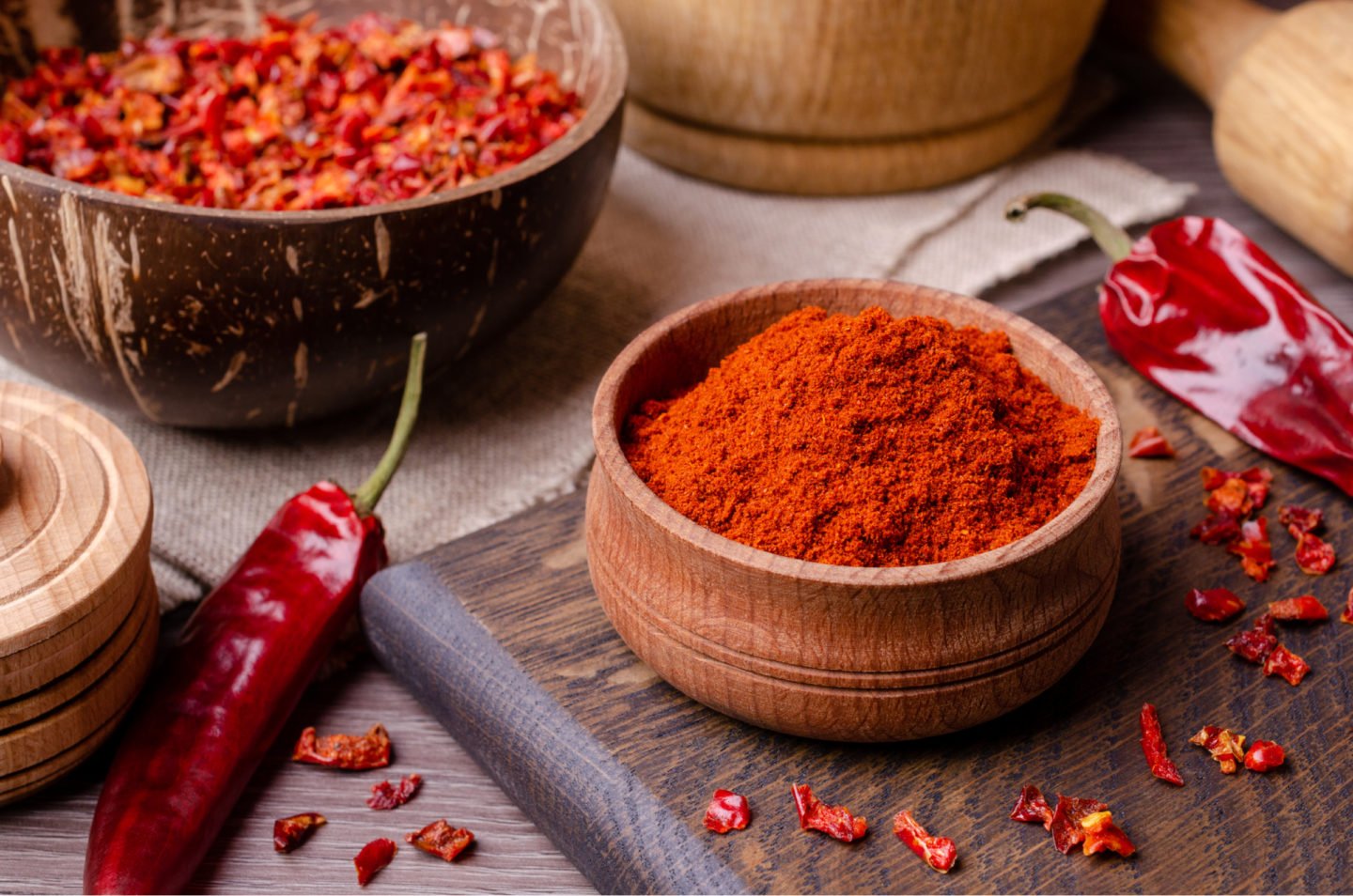 If you don't have access to all of the exotic ingredients that go into red curry paste, it's best to focus on the one that matters most. Chili powder will add the heat that curry paste does and can be bolstered with a variety of other ingredients. Add one teaspoon of chili powder for every tablespoon of red curry paste.
The best way to take advantage of chili powder's flavor is to pair it with other ingredients found in red curry paste. For example, with just some garlic, shallot, pepper, cumin, and citrus, you can build a similar type of flavor.
You can also use chili flakes, fresh chilies, or a chile-forward hot sauce as your source of heat. Even dried chiles can work if you're using coconut milk to distribute their flavor.
3) Panang Curry Paste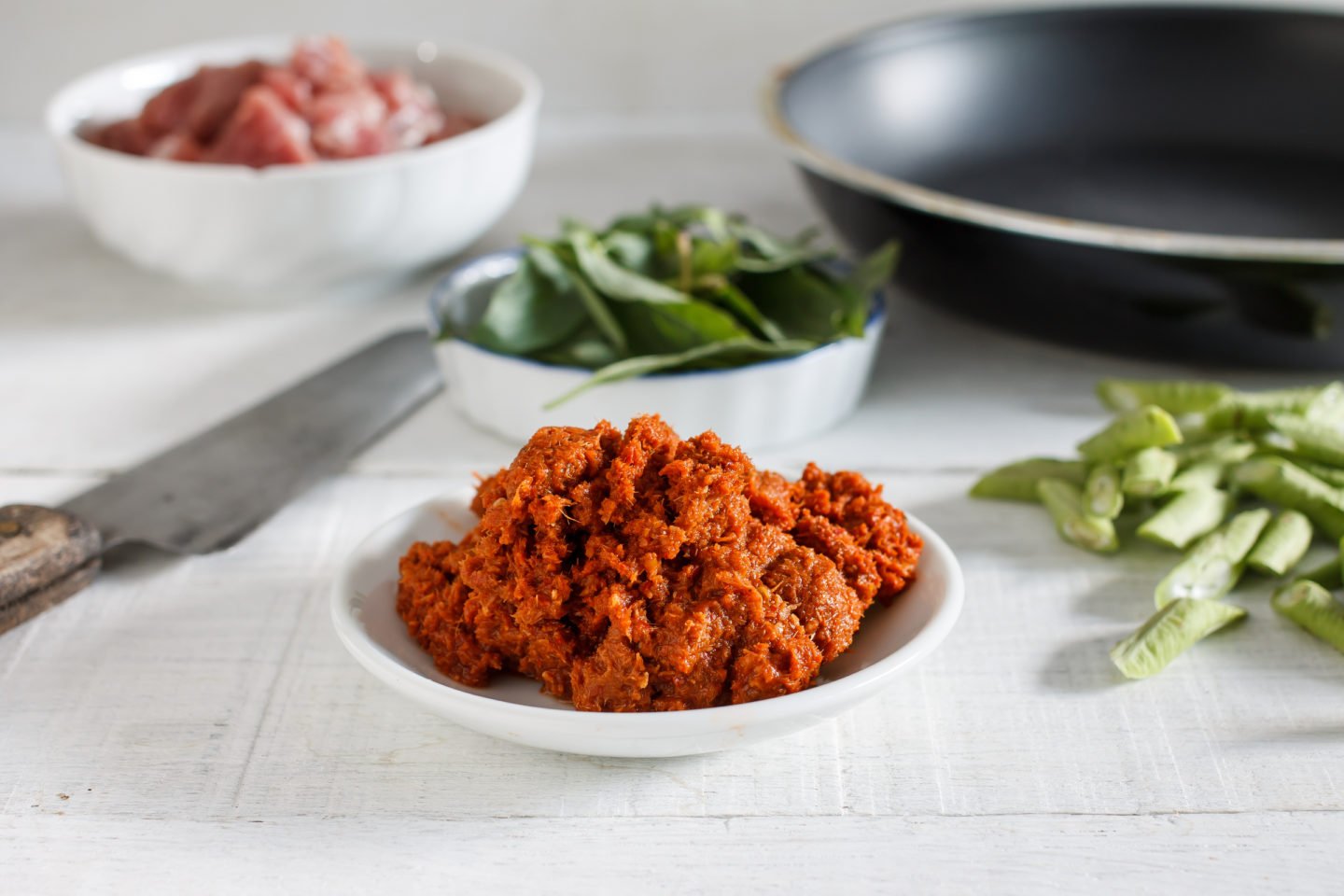 If you're looking for another variety of Thai curry similar to red curry paste, Panang is a good place to start. It has a milder flavor that focuses less on the dried red chiles that give red curry its heat. Feel free to use it in similar quantities.
The difference between Panang curry paste and Thai red curry is that Panang includes coriander seed, kaffir lime peel, and peanuts. That gives it a more earthy flavor, which can be appealing to those who want a milder curry.
4) Green Curry Paste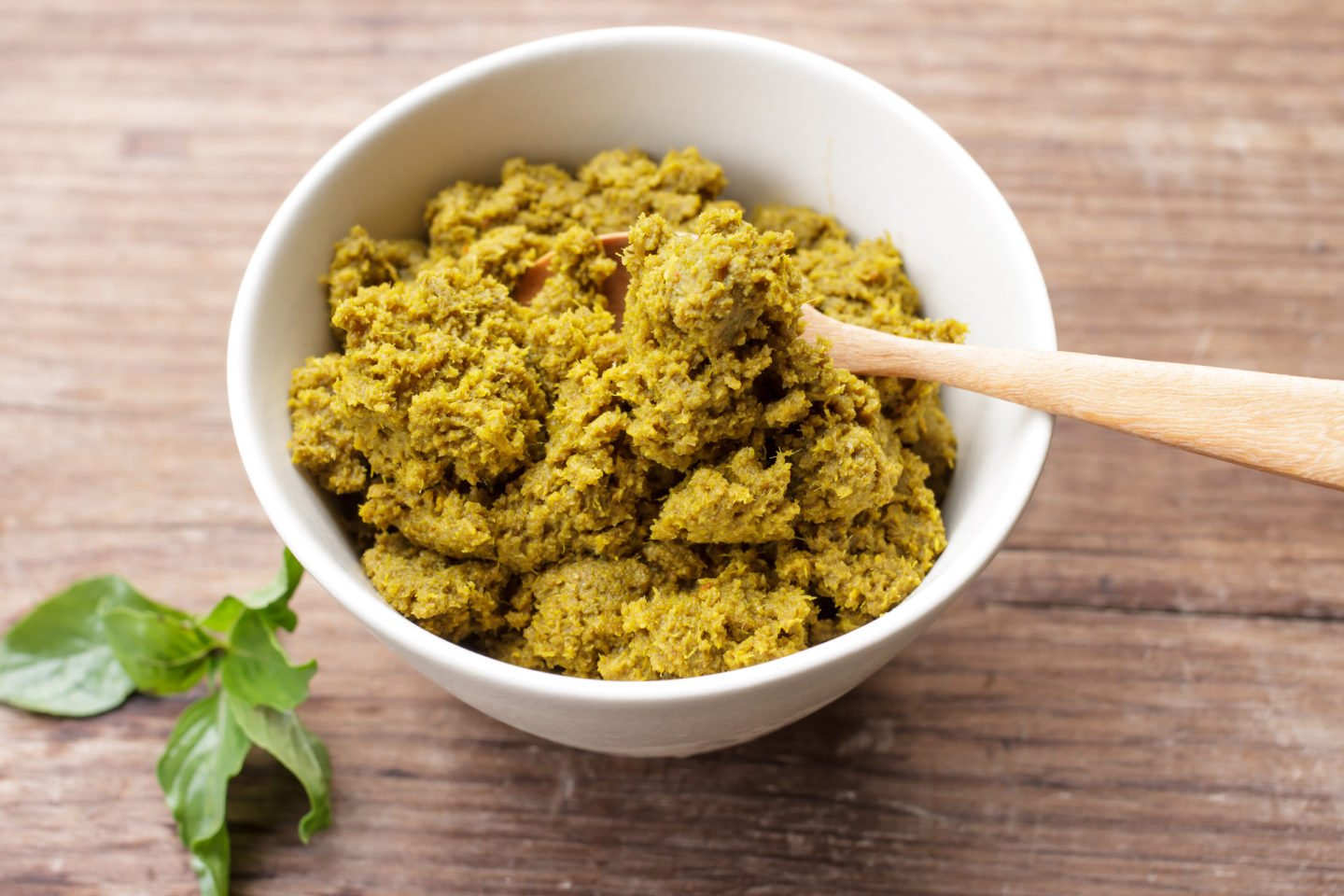 Green curry paste may look different from red curry paste, but it has many same ingredients. You can use it in similar quantities as the red variety, but keep in mind that it is much spicier. If you want to tone down its heat, use a bit less or cut it with another ingredient.
In addition to being hotter, green curry paste has a more vegetable and acidic flavor. This comes from the kaffir lime peel and fresh green chiles, which are its signature ingredients. However, its flavor all comes down to preference, and you can use it in much the same way.
5) Sriracha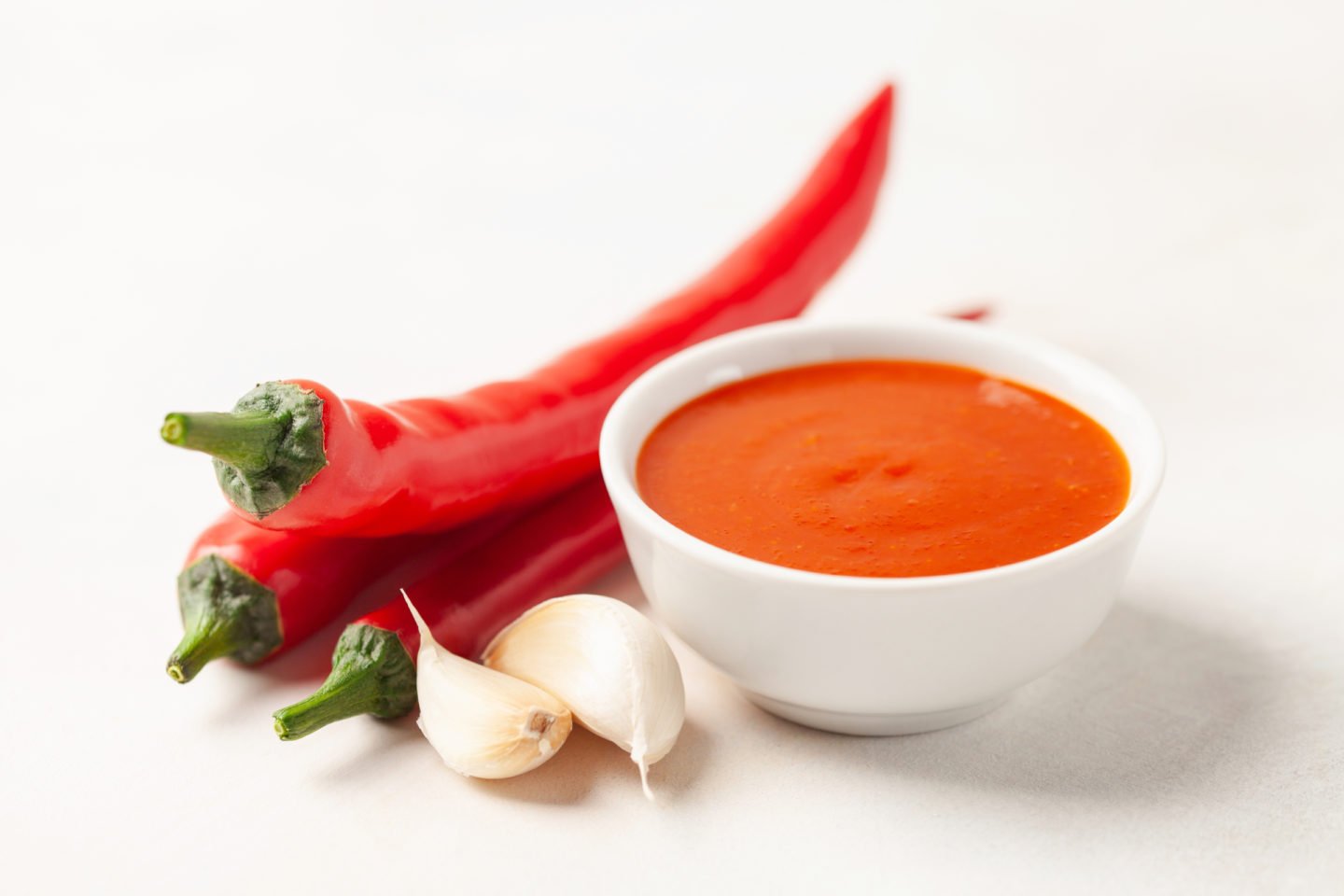 Sriracha is a much more simple sauce than red curry paste, though its balance of heat, zest, sweetness, and acidity make it a good base to start with. However, it can be pretty spicy when used in large quantities, so use a bit less than you would with curry paste.
One key difference between Sriracha and red curry paste is that Sriracha uses fresh chiles rather than dried. That gives it a brighter and fruitier taste.
You can look at the list of red curry paste ingredients in the Related Questions section below for tips on making your Sriracha more similar in flavor. Though if you want a fast method that uses common ingredients, try adding a squeeze of lime, black pepper, and a bit of fresh ginger if you have it. A bit of fish sauce can also go a long way.
6) Tomato Paste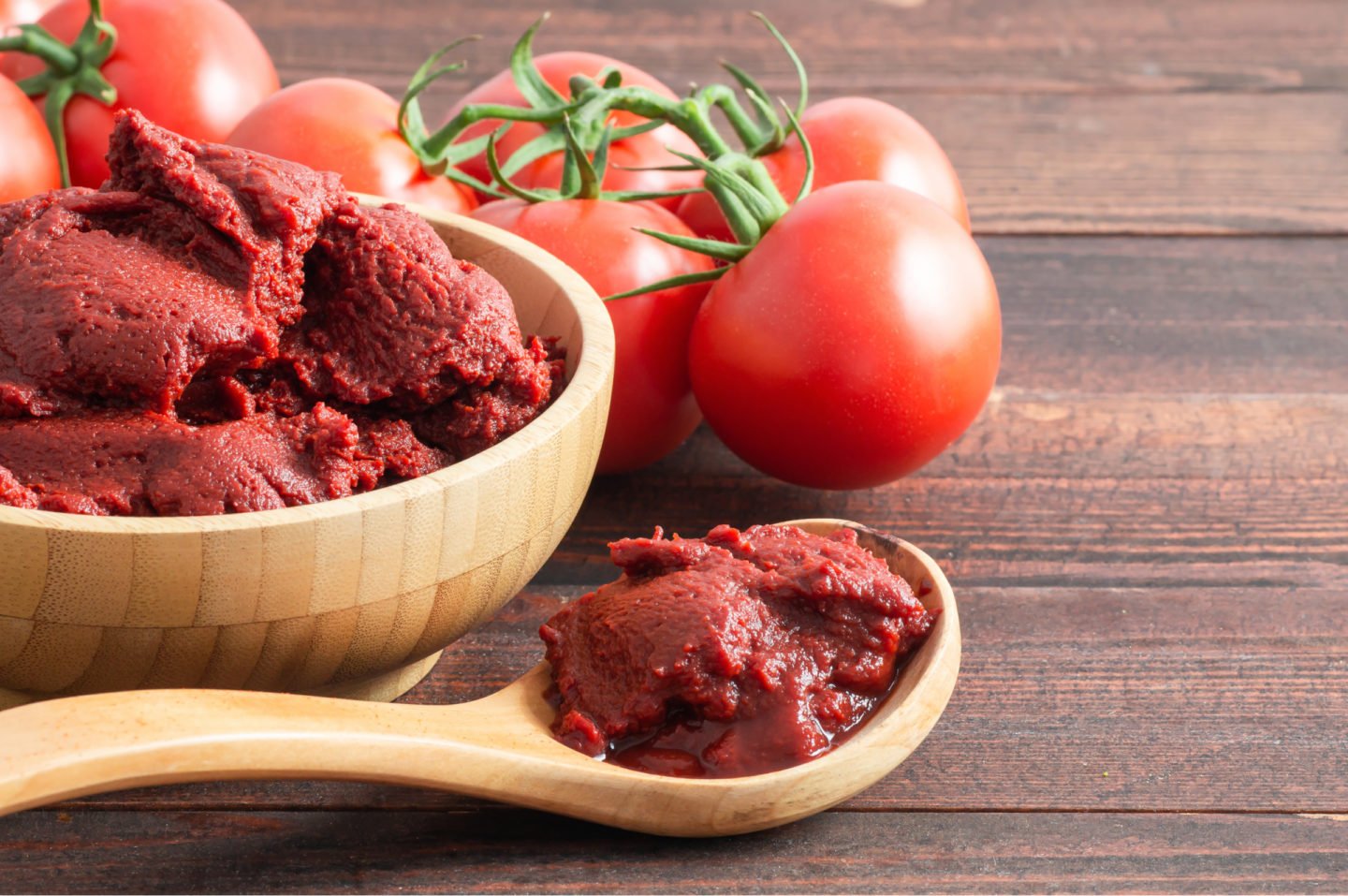 Tomato paste may not seem like the most likely red curry paste substitute at first, though it has more in common than you might think. A balance of sweetness and acidity turns out to be the perfect starting point to add other flavors. Plus, it has the same bright crimson color.
Of course, one of the major factors that is missing is heat. Luckily, there are plenty of ways to add your own, including chile flakes, fresh peppers, and a low-vinegar hot sauce. Of course, a bit of shallot and garlic can go a long way, too.
7) Yellow Curry Paste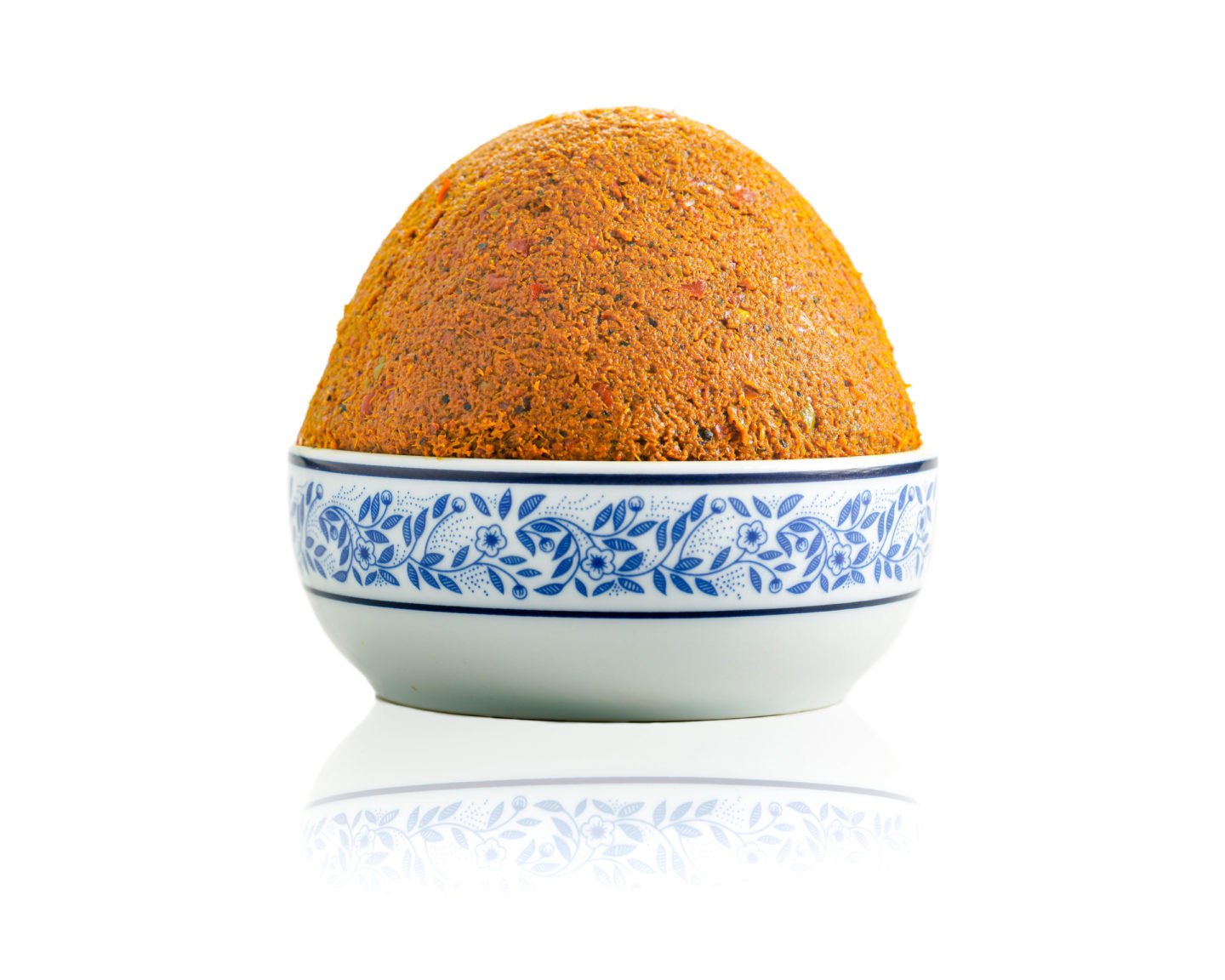 Especially for American diners, yellow curry comes with a unique and distinctive flavor. This comes from added turmeric and curry powder, giving the curry a complex but not an excessively hot flavor. While it doesn't taste much like red curry paste, you can substitute it for a great meal.
If you want to try and doctor it to get a flavor similar to red curry paste, all you need is a good helping of chile powder. Add in a few tablespoons, and you'll have a similar flavor with all the heat.
8) Curry Powder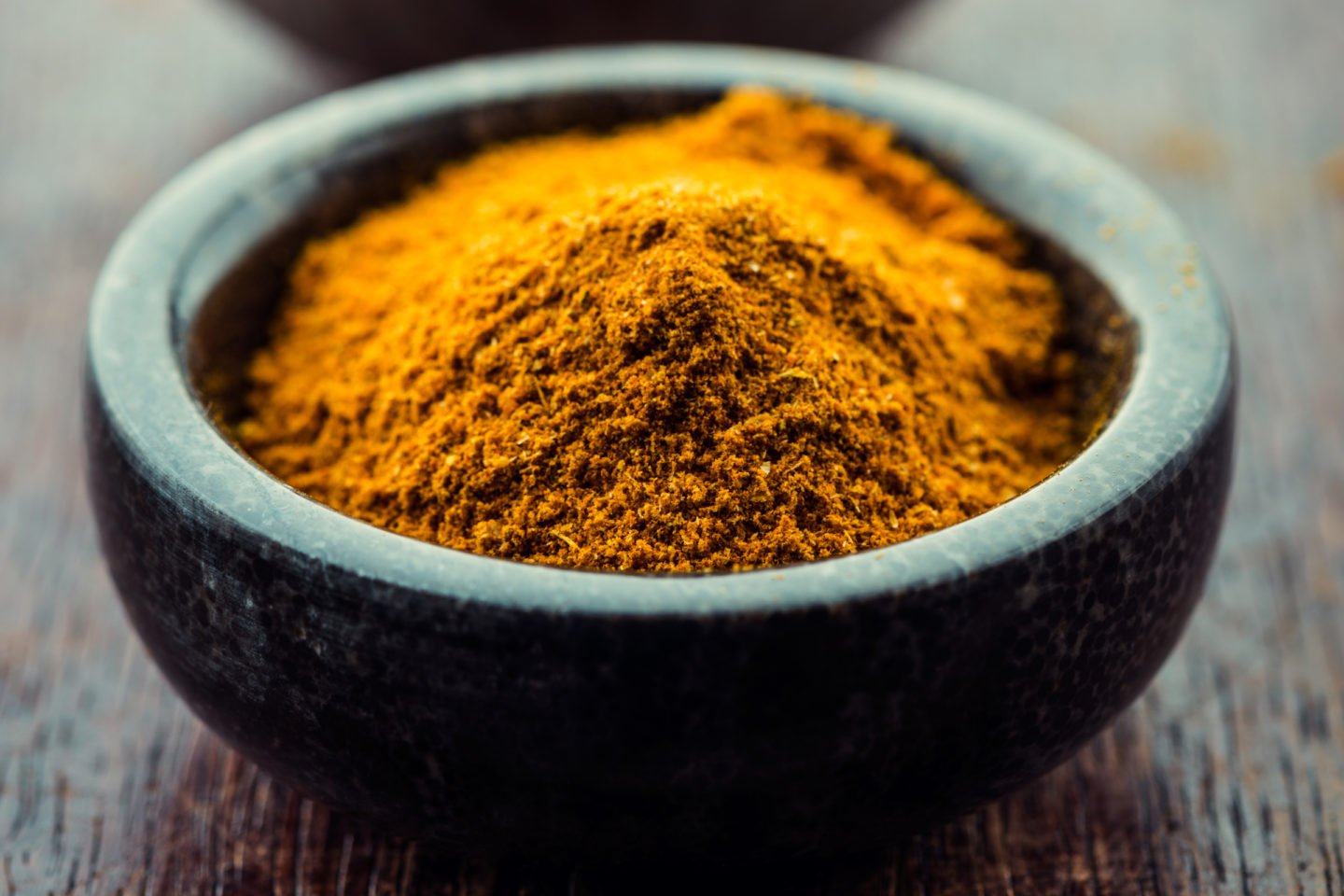 Contrary to popular belief, curry powder isn't actually used that often in Indian cooking. The British actually created it to add familiar Indian flavors to their homemade dishes. However, if you add some into your coconut milk, especially with chile powder, you can get something resembling Thai curry.
Curry powder blends may differ, but they generally include turmeric, cumin, ginger, and black pepper. Garlic and cinnamon are also sometimes used. Together, the spices give a warm, well-balanced flavor that matches well with meat and vegetables.
9) Ginger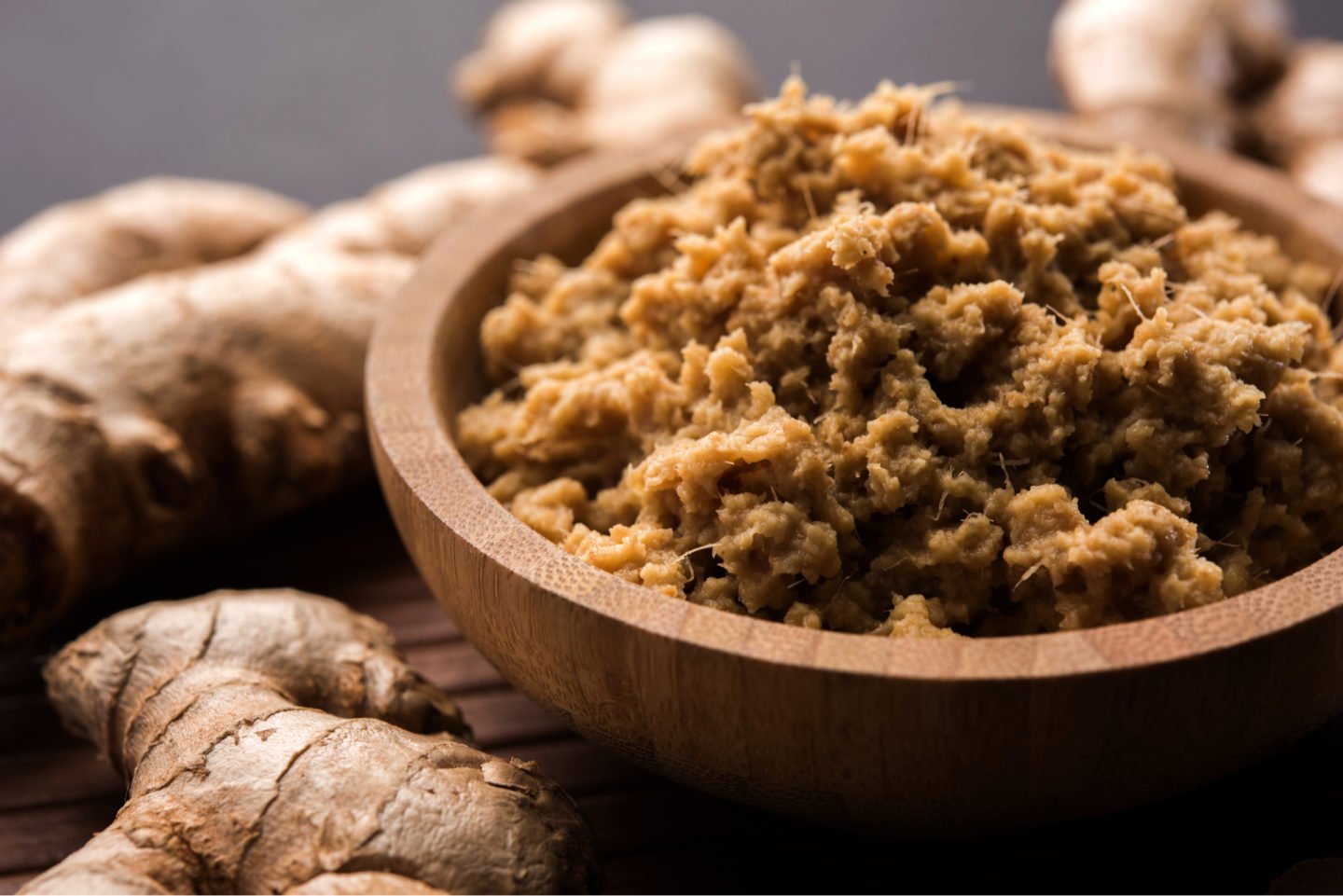 One of the key ingredients in all Thai curry is galangal. However, it's not easily found in the United States. If you're looking to make your own curry or just add a bit of zest to your dishes, fresh ginger is one of the best ways to do it. Add a tablespoon of finely diced ginger into coconut milk to start building flavor.
When paired with dried red chiles and citrus, you can start to bring out the hot and fresh flavors found in Thai curries. Just make sure to avoid substituting for dried ginger as this product has a much different flavor better at home in baking.
10) Chili Crisp with Garlic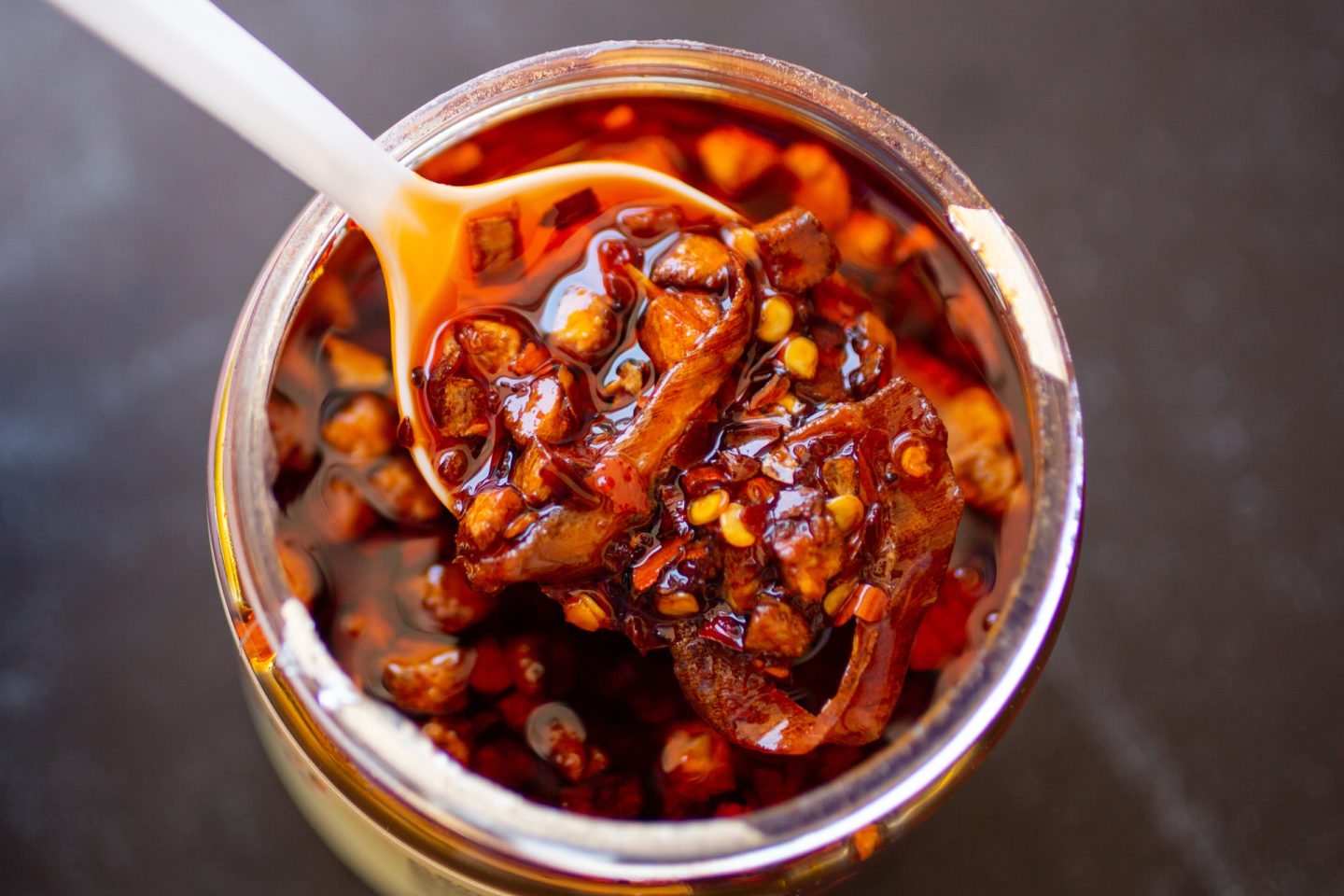 Just like with sriracha, garlic chili crisp is a great base on which you can build the more subtle flavors found in red Thai curry. It can also be added after cooking as a garnish to add a bit of heat to any dish. When using it as a substitute, try adding one teaspoon at a time, as it can be quite spicy.
The advantage of chili crisp over sriracha is that it can be mixed into drier dishes without disrupting the moisture balance. And since red curry paste uses dried chiles in its recipe, the flavor will be even closer.
11) Massaman Curry Paste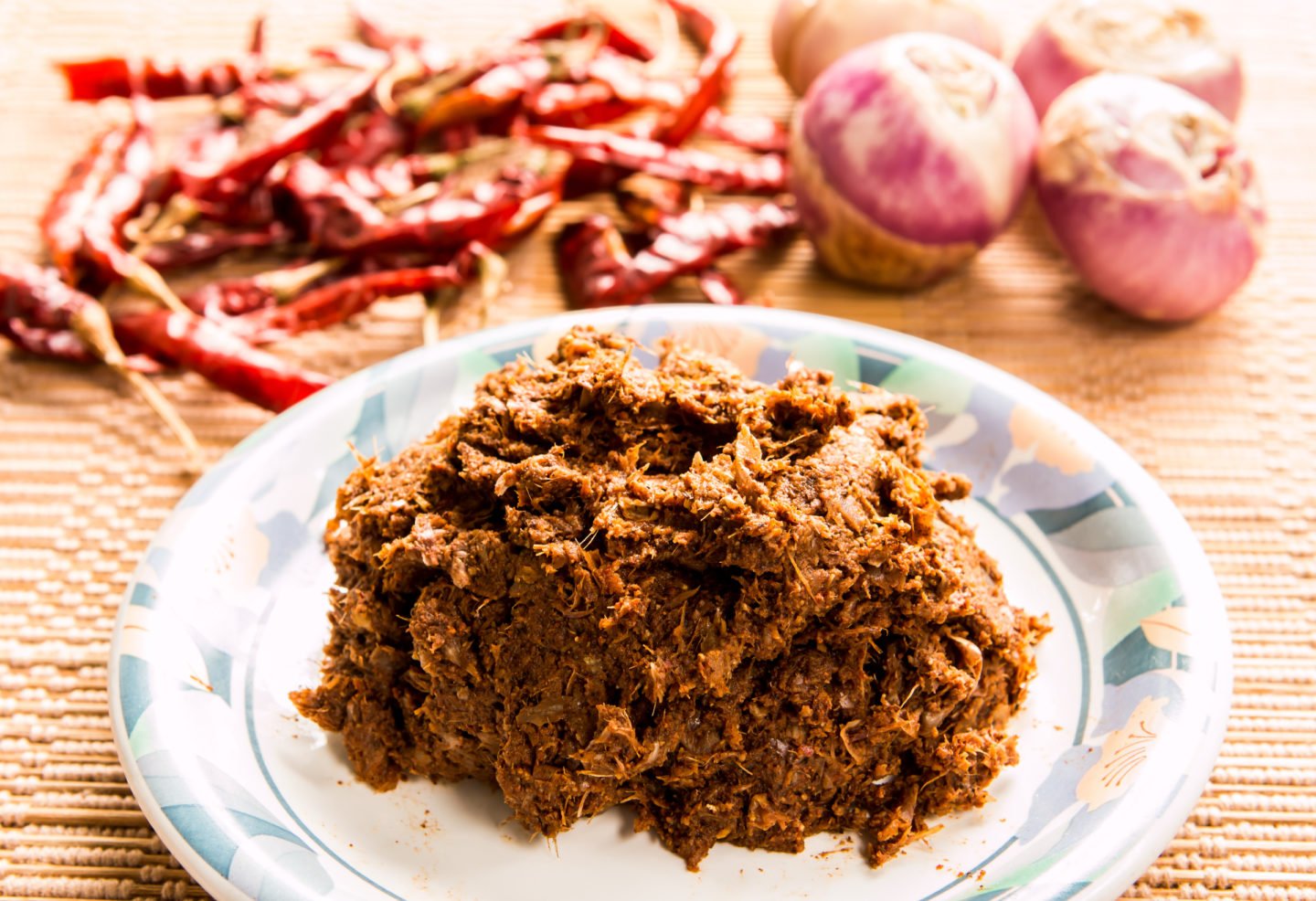 If you're looking for a crossbreed between Indian and Thai curry, massaman curry is a great option. It has the same freshness as Thai curry, with the warm spices of cardamom, clove, and cinnamon. That makes it a big leap away from red curry paste in terms of flavor, though it will never make a boring dinner.
Just like with some of the other curry pasts on this list, the main ingredient that's missing but included in red curry paste is dried red chiles. So if you happen to have some, or some chile powder or dried chile flakes, you can make something similar to the classic red curry recipe.
Summary
Here's a quick summary of the best red curry paste substitutes to use when cooking and their respective descriptions.
Substitute
Notes
Harissa
This North African chili paste contains several of the same ingredients as red curry.
Chili Powder
A great way to add a quick dose of flavor to just about any dish.
Panang Curry Paste
Of the five main types of Thai curry, Panang is the most similar to red curry.
Green Curry Paste
Green curry paste adds a similar level of heat, along with some fresh, herby flavor.
Sriracha
It may lack some of the nuances of Thai curry, but it brings heat and zest.
Tomato Paste
This is a good starter base to add other ingredients when making some quick and dirty red curry.
Yellow Curry Paste
A bit milder than the red variety with some added turmeric flavor.
Curry Powder
Popular in Indian cooking, it tastes different than red curry paste but brings plenty of flavor.
GingerSimilar to galangal, one of Thai curry's key ingredients, ginger adds its own unique taste.
Chili Crisp with Garlic
A fast way to add some heat and pungency to any dish.
Massaman Curry Paste
Adds its signature warmer flavors of cinnamon, clove, and cardamom to the dish.
Related Questions
What is red curry paste made of?
Thai curry paste includes all of the classic ingredients found in other Thai curries, including lemongrass, galangal, shallot, garlic, shrimp paste, and white peppercorn. In addition, it also has a healthy dose of red chili to give it its flavor, as well as celery root for extra flavor.
What's the difference between Thai curry and Indian curry?
While Indian and Thai curry dishes share some similarities, they have very different flavors. Thai curries are usually mixed into coconut milk and are much spicier. They derive their heat from red or green chiles.

Indian curry uses butter or ghee as a base and derives its heat from different spices such as turmeric, cumin, and ginger. As a result, it has a fuller flavor and less spiciness.
How spicy is Thai red curry paste?
Green curry is the spiciest Thai curry available, using fresh green chiles and other spices to build its heat. On the other end of the spectrum, massaman and yellow curry are the least spicy options.

Red Thai curry sits right in between them. But don't be fooled: It's still spicier than most common hot sauces.