Lemongrass paste is a staple in Southeast Asian cooking, bringing a fresh and herbaceous burst of flavor to soups, stirfries, and sauces. When you have your own lemongrass paste close at hand, you'll find that it works well in just about any dish. Once you're hooked, you'll be searching for the best lemongrass paste online.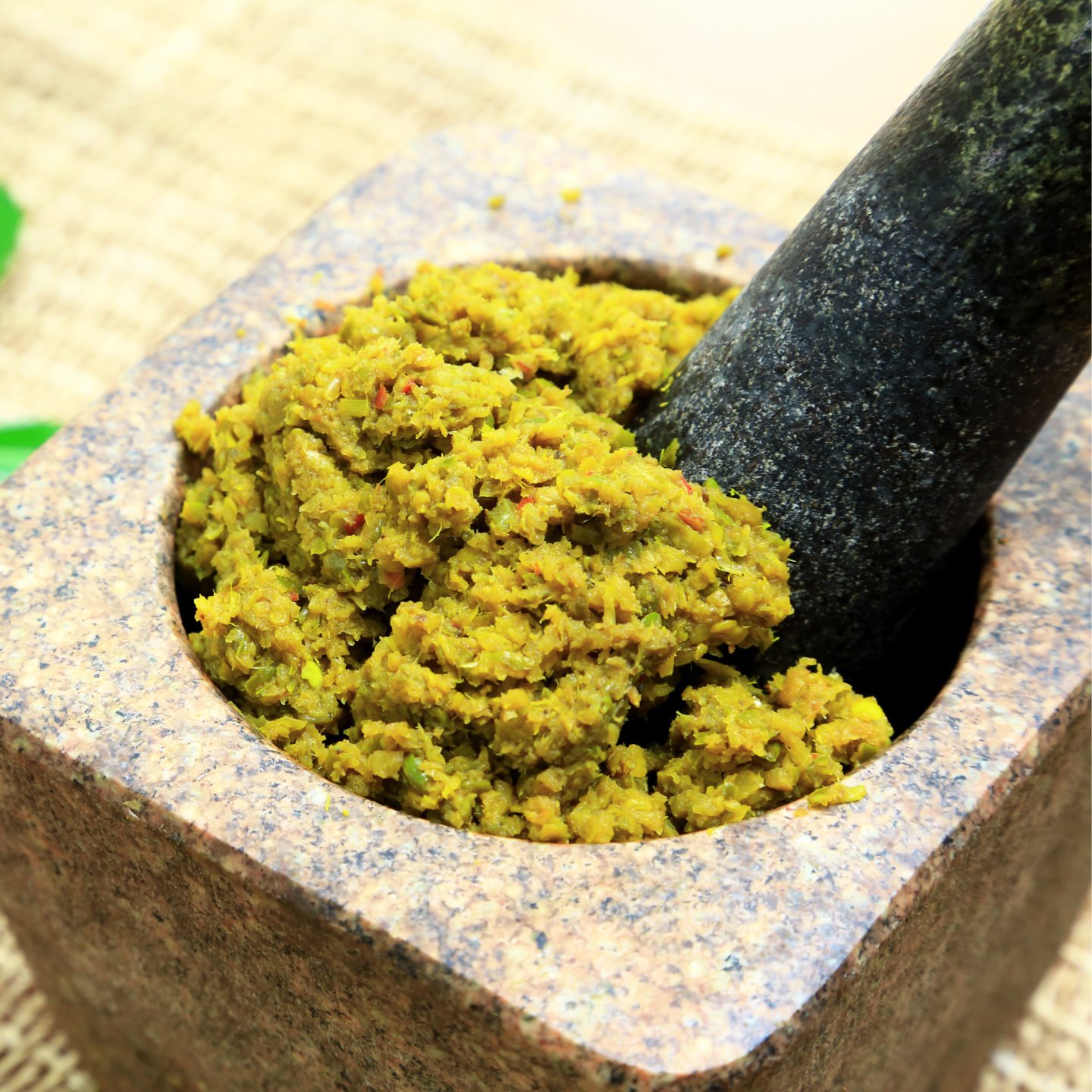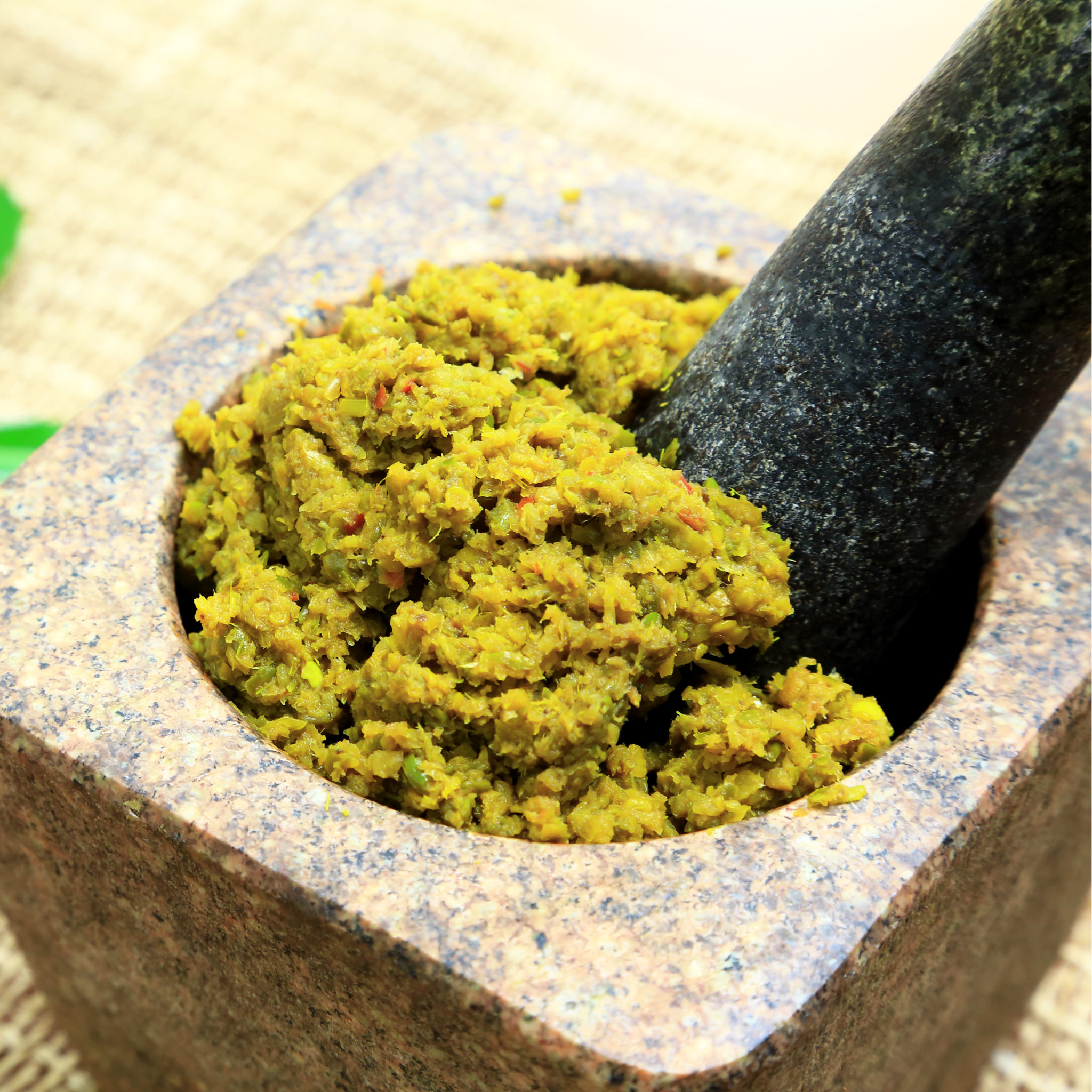 We've narrowed down the options to our three favorites by weighing flavor, value, and the pastes' ingredients. Take a look at their pros and cons, and see which is best for you.
Table of Contents
Best Lemongrass Pastes
Mekhala makes a wide range of curries and other cooking pastes that are great for quick flavor. Overall, the quality of their products is high, so naturally, it is a good place to look for lemongrass paste. Mekhala's organic lemongrass turmeric paste is fresh, flavorful, and true to the unique taste of the herb.
Their recipe is organic, non-GMO, gluten-free, and vegan. The last one may seem like a no-brainer, but keep in mind that many lemongrass pastes include fish sauce for flavor. Since this one leaves it out, it's a great choice for those staying away from animal products.
One factor to keep in mind is the inclusion of turmeric. Overall, it's a nice addition, as the subtle flavor of the spice pairs well with lemongrass and won't interfere with the other tastes you're building into your dish. However, if you're looking for a pure lemongrass flavor, you may want to try another option.
Give this paste a try if you want a strong, well-rounded flavor at an affordable price. The Mekhala company has a good reputation for its cooking products, and this paste is no different, just as long as you don't mind the addition of turmeric.
Cambodian Lemongrass Paste
The different size options of this lemongrass paste let you save extra when you buy more.
Pros: Available in five sizes, extra ingredients give a unique flavor, no artificial preservatives.
Cons: Not vegetarian, spoils a little faster than other options.
If you use a lot of lemongrass paste, you might be looking for a way to save on cost. The great thing about this Cambodian lemongrass paste is that it comes in various sizes, letting you order as many as six jars at once if you prefer, or even a half-gallon jug!
Buying in bulk is a great option as it comes with lower prices and can also cut down on shipping costs. Just make sure you can use all of what you order before it spoils. This paste has a shelf life of six weeks after opening.
As for flavor, this product packs quite a punch since it includes several other ingredients that go great with Southeast Asian cuisine. Garlic, onion, jalapeno, and fish sauce add spicy pungency that helps balance the lemongrass's natural citrus notes. Galangal, turmeric, and kaffir lime leaves are all commonly found in Thai curry and really help the flavor stand out.
Overall, this is a good lemongrass paste for anyone that wants to buy in bulk. Still, even if you're just looking for a single jar, you won't be disappointed by the price. The main downside is that it isn't the ideal option for those who want a more pure lemongrass flavor.
Bart Lemongrass Paste
This lemongrass paste includes minimal flavorings and preservatives, letting the taste of the lemongrass shine through.
Pros: Includes minimal flavorings and preservatives.
Cons: Only available in one size.
Many lemongrass pastes include a wide range of other ingredients to help keep it fresh for longer and boost the flavor. These can be beneficial, but sometimes what you really want is to taste the raw essence of the herb. This lemongrass paste by Bart is the purest one we can find, with minimal flavorings and preservatives.
The recipe of this paste only includes oil, salt, citric acid for flavor, and preservatives. That means you really get to appreciate the bright and fresh flavor of pure lemongrass. It also means vegans can enjoy it without worrying about fish products.
However, the lack of other ingredients does drive up the price slightly, putting it close to one and a half times the cost of competing brands. Though since its flavor is so concentrated, you may not have to use as much of it.
You'll love this lemongrass paste if you're looking to maximize the raw lemongrass flavor. It's as bright and herbaceous as you could hope for. Just keep in mind that it may not pack the same punch as alternatives that include other spices and flavorings.
Lemongrass Paste Buying Guide
Flavor
Determining the quality of flavor of a particular brand of lemongrass paste may be difficult to do online, but it's not impossible. Stick with brands that often have high user ratings or that come recommended to you by a trusted source. Ideally, canned lemongrass paste should have a fresh, springy, citrus flavor in every drop.
Value by Weight
This one requires a bit of math, though a little effort can help save you a bundle. To determine value by weight, simply divide the total cost by the total weight in ounces of the product. This will tell you the item's price per ounce, letting you compare items of different sizes to get the best value.
Other Ingredients
Most lemongrass pastes contain more than just lemongrass and can include ingredients like sugar, salt, oils, and preservatives. Many of these ingredients won't affect the flavor of the lemongrass paste, and if they do, they will usually be listed on the front of the jar. Lemongrass paste with turmeric is a popular variation.
Frequently Asked Questions
Can I substitute lemongrass paste for fresh lemongrass?
Lemongrass paste is designed to retain all of the flavors of fresh lemongrass stalk, so it makes a good substitute. Another alternative is dried lemongrass powder, which brings a slightly different flavor and texture.
What is lemongrass paste used for?
Lemongrass is a common ingredient in Southeast Asian cooking. It is used in much the same way as any herb to bring a fresh burst of verdant flavor. It's a good choice when building flavors for soups or stir-fries.
How long does lemongrass paste keep?
One of the advantages of lemongrass paste is that it keeps much longer than fresh herbs. You can expect your lemongrass paste to keep for two to three weeks, as long as it stays sealed in the refrigerator.