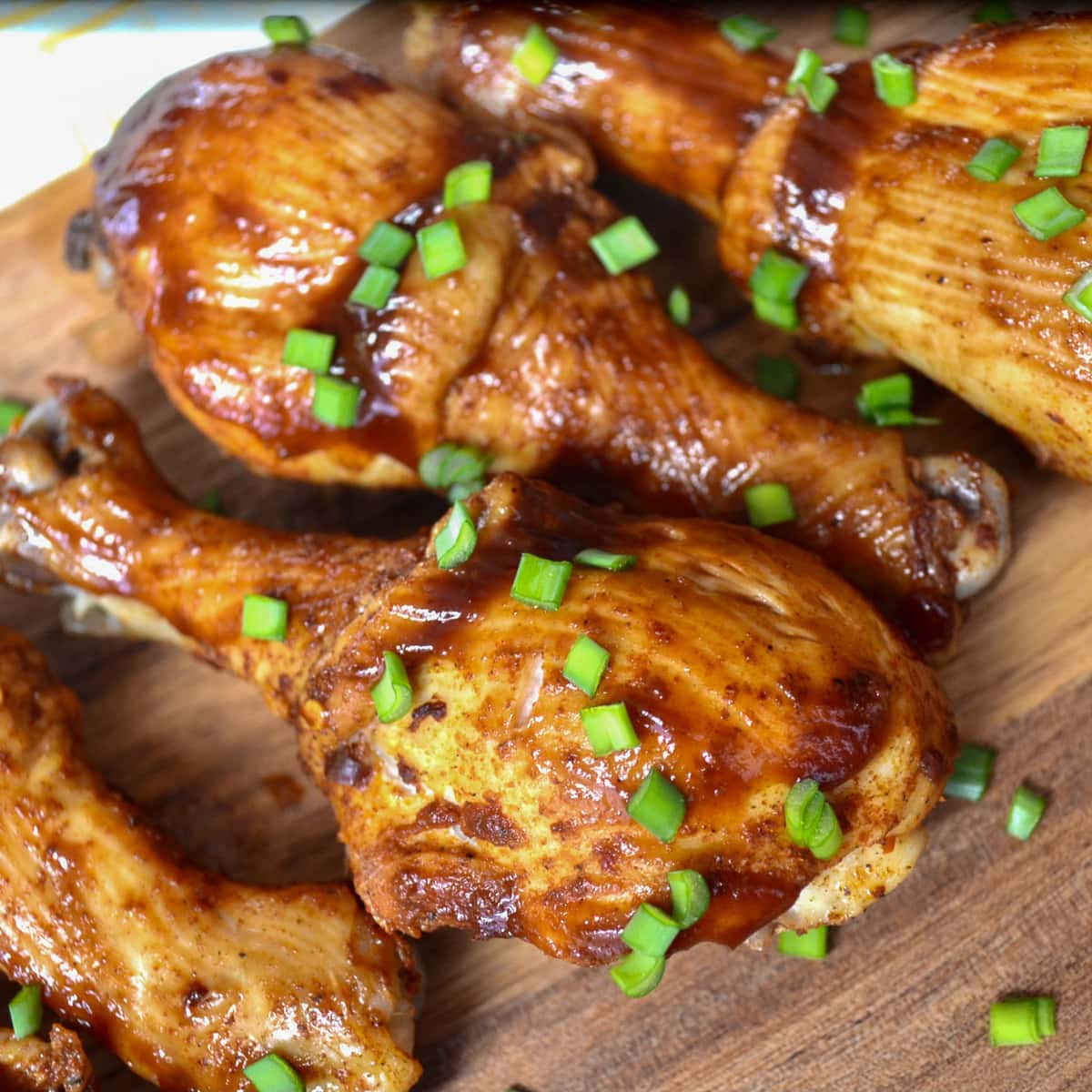 Using an Instant Pot, you can easily make healthy and unbelievably tasty BBQ chicken legs. And with this recipe, you can make them low-carb and serve them as a satisfying keto dinner after a busy day. These keto chicken legs go well with almost anything—a salad, zucchini noodles, or a slice of delicious feta bread.
This is a pretty basic recipe that doesn't require much effort from you and consists of simple ingredients that can be found in nearly everyone's kitchen. So, I decided not to include ingredients you will need to buy such as liquid smoke.
It will take you about half an hour to prepare this filling keto dinner. All that you'll need for it are a few chicken legs, an Instant Pot cooker, a nice BBQ sauce, and some imagination for the dry rub. If you don't have a pressure cooker, that's not a problem. You can cook the BBQ chicken legs either in the oven or in an air fryer.
Table of Contents
Dry Rub Ingredients
Here is where you can let your imagination run wild. The basic ingredients that you'll need for this dry rub are smoked paprika, garlic, and ginger powder. Of course, salt and pepper are irreplaceable. But, you can also experiment with the other spices and herbs that you add to the dry rub. For this recipe, I also included pepper flakes. Some other spices and herbs that you can add are:
Cayenne pepper
Ground chipotle pepper
Chili powder
Ground cumin
Ground coriander
Onion powder
Mustard powder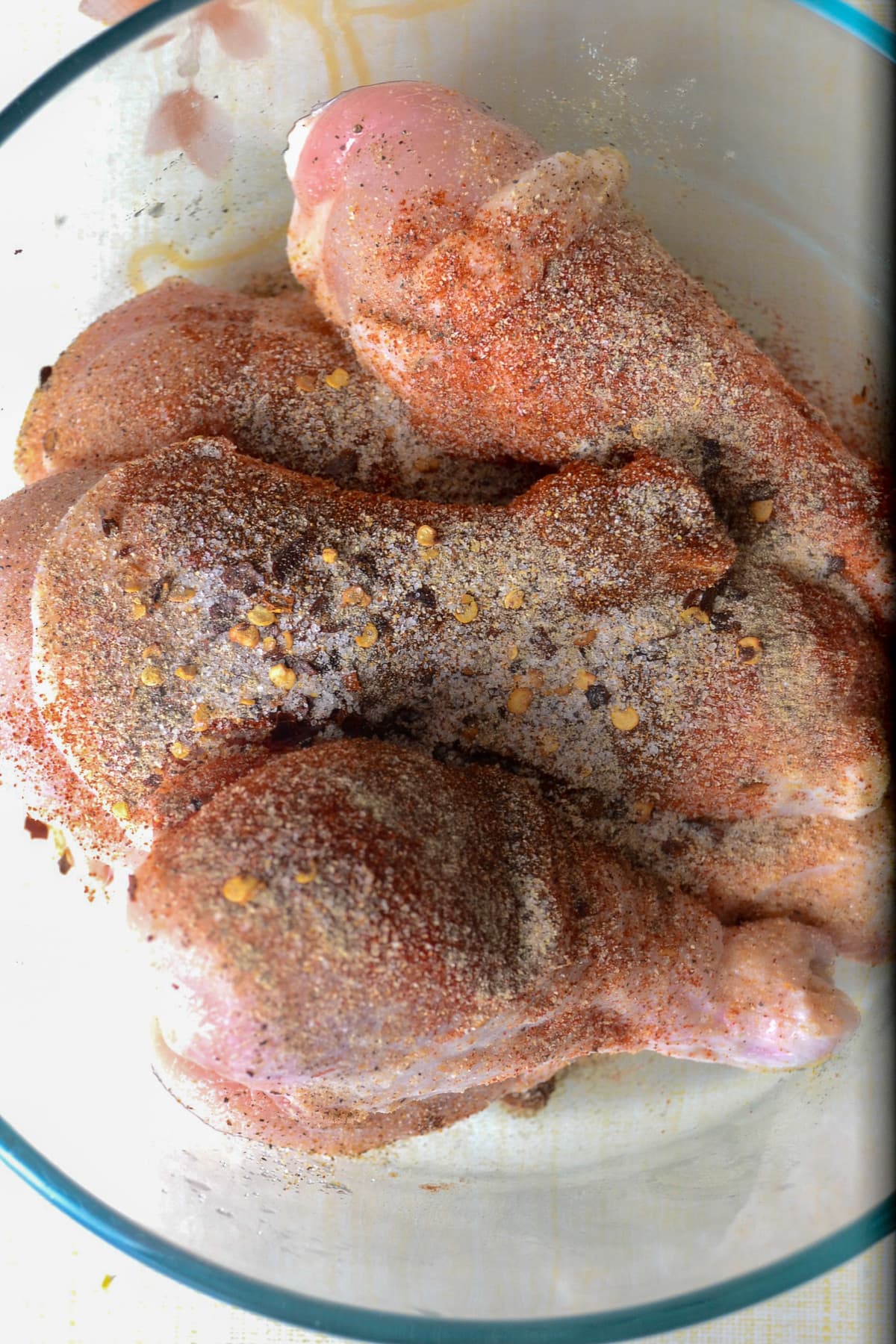 You can always purchase a BBQ dry rub and use it for the chicken legs. One of my favorites is 2 Gringo's Chupacabra Original Fine Meat Rub, but you can use anything else if you prefer. I usually just go with this one since it has zero calories and zero carbs.
How to Cook the Chicken Legs in an Instant Pot
You can use either fresh or frozen chicken legs. If you choose to use frozen ones, then you should cook them 5 minutes longer. However, I do recommend thawing them before cooking.
You should add 1 cup of water into the Instant Pot and place the trivet inside so that the chicken legs won't be covered in water entirely. It is best to choose the Pressure Cook mode for this recipe and set the pressure on high.
Also, you should adjust the cooking timer depending on how tender you want the chicken to be. Usually, 10 minutes on high-pressure cooking and then 10 more minutes on natural pressure relief is more than enough. But if you want the chicken to be extra tender, then cook them on high pressure for 30 minutes.
For better flavor, I recommend spreading the BBQ sauce over the chicken legs after they have been cooked. Many like to add it into the Instant Pot, but because of it, the taste fades away a bit.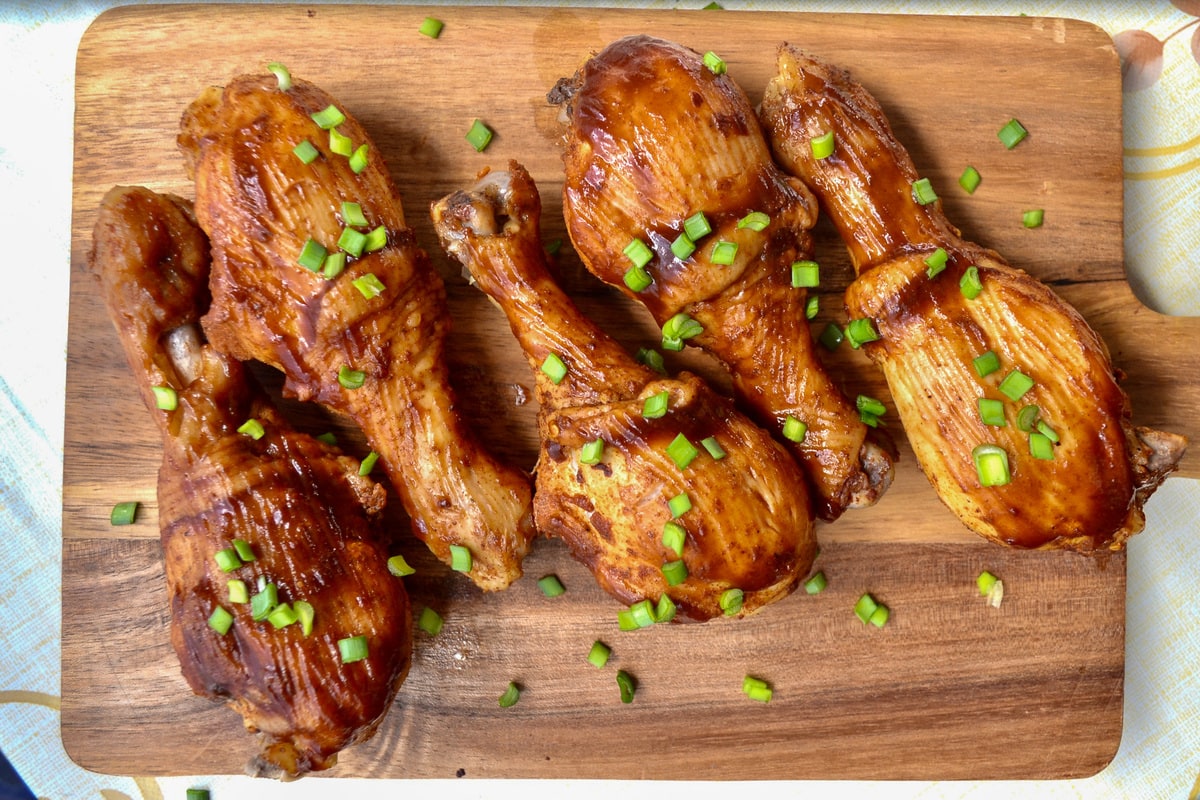 Other Ways to Cook the BBQ Chicken Legs
If you don't have an Instant Pot pressure cooker, I do recommend for you to get one. There are so many delicious meals that you can make using it. If you don't own one yet, there are other ways you can make these keto BBQ chicken legs.
For extra crispy chicken legs, cook them in an air fryer. Just coat them in the dry rub and fry in the air fryer for 25 minutes at 375 degrees F. Then, when they are ready, spread the BBQ sauce over the chicken legs.
You can always make the BBQ chicken legs the traditional way—bake them in the oven. It's also quite simple. Preheat the oven to 350 degrees F, place a piece of parchment paper on a baking pan, rub the dry rub onto the chicken legs, and put it on the baking pan. Cook for 35 minutes and then switch to broil for five more minutes. Apply the BBQ sauce when the chicken legs are ready.
How to Store the Leftovers
Well, I doubt that there will be any leftovers at all since you won't be able to resist these keto BBQ chicken legs. But if you made too many of them, you can wrap the chicken legs in plastic food wrap or place them in a container and store them in the refrigerator for up to 4 days.
If you want to cook more of these chicken legs and freeze them to have a low-carb dinner option ready in your freezer at all times, you can definitely do that. However, it's best to freeze the cooked chicken legs without the BBQ sauce. Whenever you want to serve them, just defrost them in the microwave then add the sauce. You can store these chicken legs in the freezer for up to 4 months.
Recipe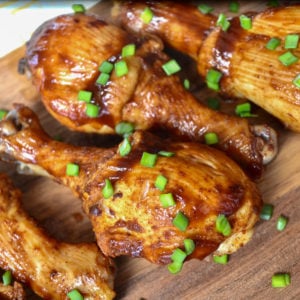 Keto Instant Pot BBQ Chicken Legs
Using an Instant Pot, you can easily make healthy, low-carb, and unbelievably tasty BBQ chicken legs. It goes well with almost anything, and it's perfect for a satisfying dinner—especially after a long day.
Ingredients
6

chicken legs

1 ½

cups

water

1

tsp

smoked paprika

1

tsp

garlic powder

½

tsp

pepper flakes

½

tsp

ginger

½

tsp

ground pepper

1

tsp

salt

2

tbsp

BBQ sauce
Instructions
In a bowl, thoroughly combine your dry rub ingredients. Then, rub it on the chicken legs. Note: for better flavor, set the chicken legs aside for 1-2 hours.

Pour 1 ½ cups of water into your Instant Pot, place the trivet inside, and then put the chicken legs on the trivet.

Put the lid on the Instant Pot cooker and select Pressure Cook. Set the timer depending on how tender you want the chicken to be (10 minutes for normal tender and 30 for very tender).

Set a 10-minute natural pressure release. After that, release the pressure left inside the Instant Pot and carefully open the lid.

Place the cooked chicken legs on a plate and use a basting brush to spread the BBQ sauce over the chicken legs evenly. If you want the skin to be crispy, you can broil the chicken legs in the oven for about 5 minutes.
Nutrition
Calories:
394
kcal
Carbohydrates:
6.3
g
Protein:
51.6
g
Fat:
17.3
g
Saturated Fat:
11
g
Trans Fat:
1
g
Cholesterol:
240
mg
Sodium:
1124
mg
Potassium:
590
mg
Fiber:
1
g
Sugar:
4
g
Vitamin A:
692
IU
Vitamin C:
1
mg
Calcium:
36
mg
Iron:
2
mg