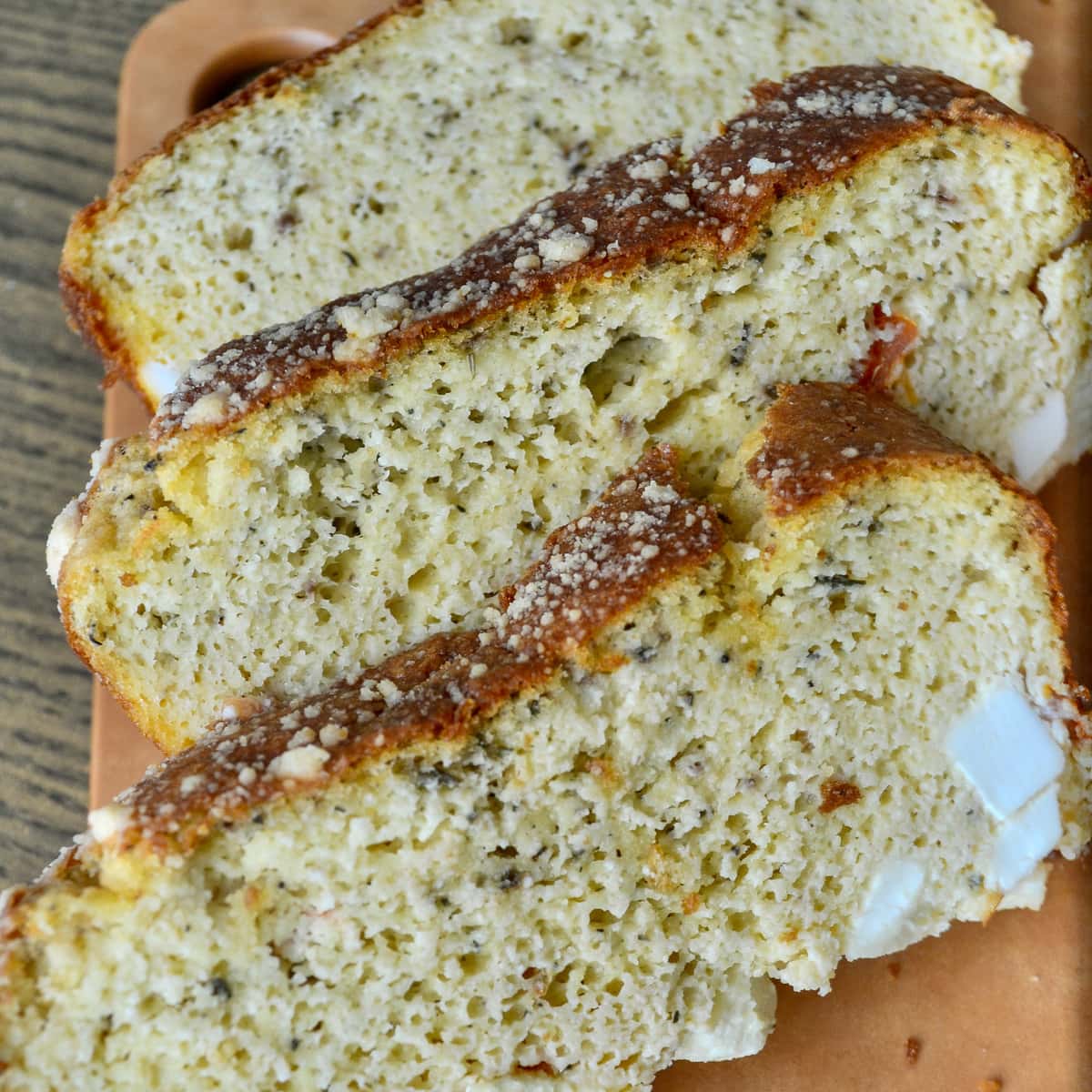 This keto bread is ideally served as breakfast. The best part about it is that one thick slice of bread has just 5 carbs, and it can be served with almost anything. Also, you can make it ahead of time and always have a slice or two ready in your refrigerator.
The three main ingredients that make up this keto bread are almond flour, eggs, and heavy cream. Most of all, I like to add feta and tomatoes to the bread. All those ingredients, along with some dried basil, make the bread flavorful. You can add almost anything that you like to this recipe—mozzarella cheese, bell peppers, garlic, spinach, and more.
I've tried different recipes of keto-friendly bread, but this one is my all-time favorite since it doesn't have that overly eggy taste. Plus, it's relatively quick to make it—just 10 minutes for prepping and 50 minutes in the oven.
Table of Contents
Does This Keto Bread Taste the Same as Wheat Bread?
This is the first question that people usually have when searching for a keto-friendly bread recipe. Here's the truth—it's impossible to make low-carb bread that will taste exactly like the usual wheat bread.
You can't use the same ingredients since the ones that are used for wheat bread are high in calories and carbs. So expect the taste to be different.
Still, don't let this stop you from baking the keto feta bread. Even though it will not taste the same, it still is a delicious and healthy alternative to traditional wheat bread.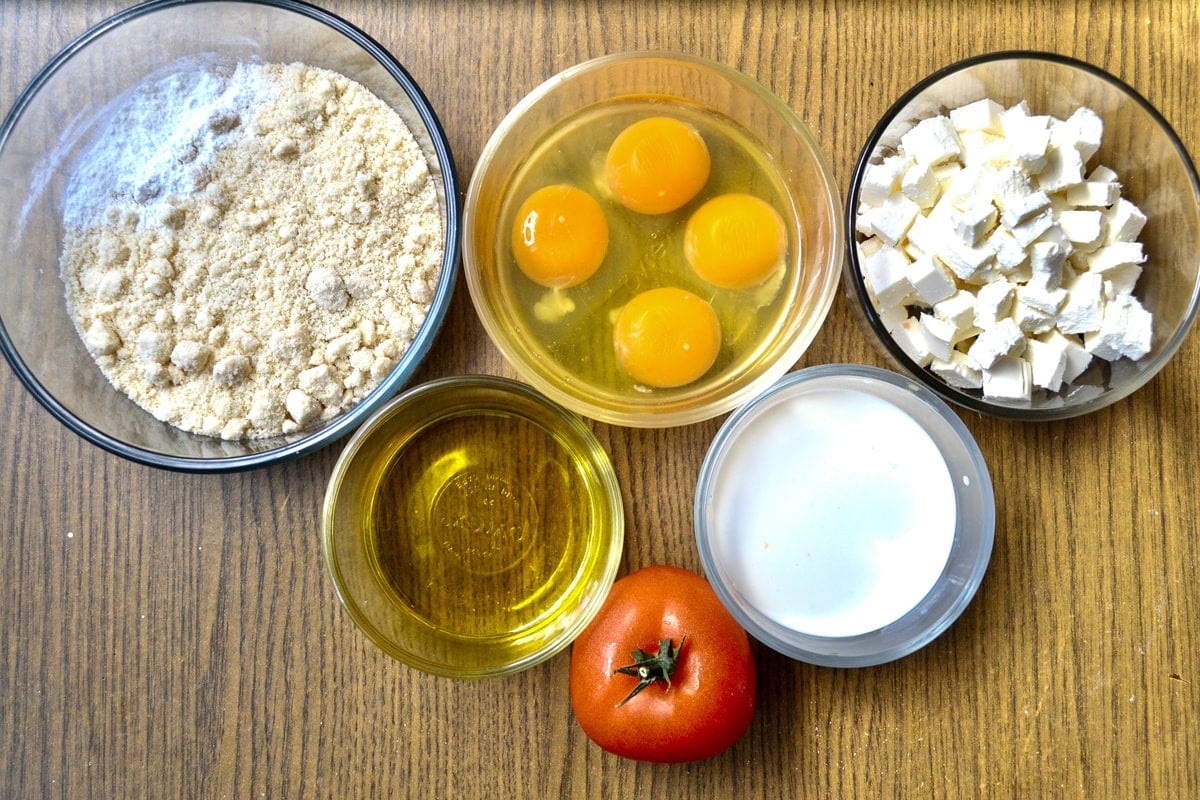 Is the Bread Gluten-Free?
That's definitely a yes! All of the ingredients used for this recipe are gluten-free—almond flour, eggs, heavy cream, baking powder, olive oil, garlic, feta, and tomatoes.
If you choose to substitute any of the ingredients, make sure that they are gluten-free as well.
What Makes It So Fluffy?
Most keto bread recipes require you to beat the eggs into stiff peaks. For this recipe, there is no need to go through all that hassle since you'll be adding baking powder to make it soft and fluffy. But before adding the baking powder, take a look at its expiration date to make sure that it hasn't expired yet. A couple of times in my life, I've ruined everything because of bad baking powder.
If you wish to make the bread's texture as close to the traditional bread as possible, then add ¼ tsp of xanthan gum. But I think that it's unnecessary since the bread will turn out great even without it.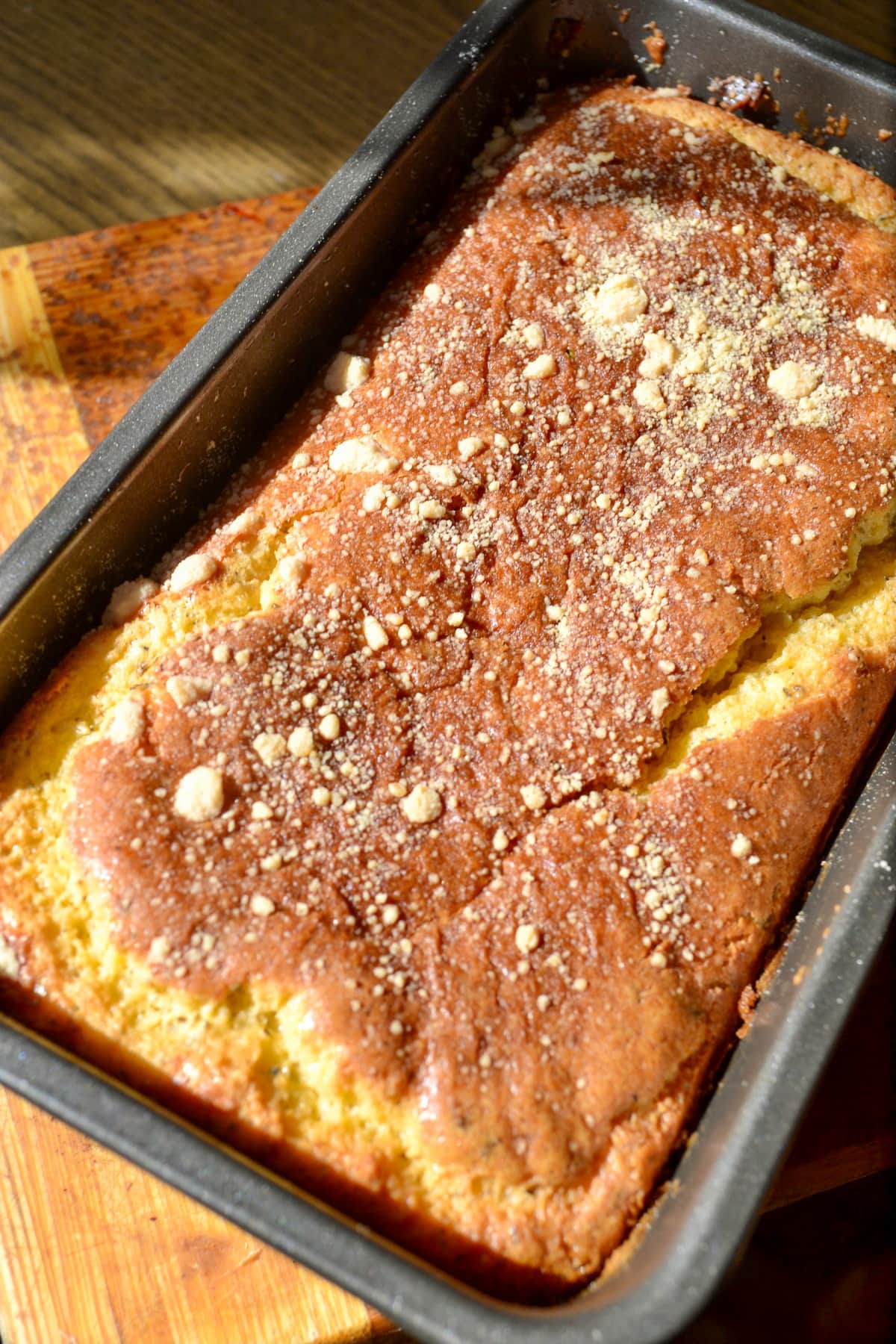 Best Way to Serve
As I've already said before, this keto bread can be a nutritional and filling breakfast. Before taking it out of the loaf baking pan, make sure that enough time has passed for it to cool down a bit. Then, place it on a baking rack and let it cool down even more. Only then can you cut the bread. Whether cold or warm, it tastes equally delicious.
One way that you can serve it is with some fresh salad and veggies. Or, you can also put some guacamole or butter on the bread slice.
Here are some other low-carb breakfast ideas that you can try out with this bread:
Sandwiches. Cut the bread into two thin slices and add your favorite sandwich ingredients between them. You can also toast the bread or grill the sandwich to make it crispier. Don't forget to try out a grilled cheese sandwich made with this bread—it's incredible.
French toast. Beat an egg and let the bread slice absorb it. Then, fry both sides until brownish.
Make it sweet. When cooking the bread, instead of feta and tomatoes, add your preferred sweetener. Then you can top off a bread slice with some peanut butter and raspberry jam, and it will taste superb.
How to Store the Bread
The best way to store this keto bread is in an airtight container in the refrigerator. You can leave it there for up to 3 days. It's excellent both cold and warm, but if you want to reheat it, simply place the bread slice in the microwave for 1 minute.
If you have too many leftovers, you can wrap each bread slice in plastic wrap and place them in the freezer. They can stay there for up to 3 months. Whenever you feel like eating it, place it in the fridge beforehand to thaw or use your microwave's defrost mode.
Recipe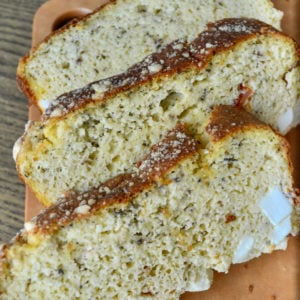 Keto Feta Bread
This keto bread is ideally served as breakfast and can be served with almost anything. It's soft, fluffy, and gluten-free! The best part about it is that one thick slice of bread has just 5 carbs.
Ingredients
1

cup

almond flour

4

large

eggs

6

tbsp

heavy cream

4

tbsp

olive oil

2

tsp

baking powder

5

oz

feta cheese

1

medium

tomato

2

cloves

garlic

minced

salt, pepper, dried basil
Instructions
Preheat your oven to 300F.

Take a 5-inch by 10-inch loaf baking pan and oil it.

Cut the feta cheese and tomato into cubes.

Whisk up the eggs with heavy cream. Then, add the almond flour, baking powder, olive oil, minced garlic, salt, pepper, and basil.

Pour everything into the pan and throw in the cubed feta cheese and tomato. Sprinkle with some grated parmesan cheese.

Bake for 45-50 minutes. Let it cool down for about 10 minutes before taking it out of the pan.
Nutrition
Calories:
261
kcal
Carbohydrates:
5.3
g
Protein:
10.1
g
Fat:
23.1
g
Saturated Fat:
7
g
Trans Fat:
1
g
Cholesterol:
124
mg
Sodium:
345
mg
Potassium:
94
mg
Fiber:
2
g
Sugar:
2
g
Vitamin A:
503
IU
Vitamin C:
2
mg
Calcium:
200
mg
Iron:
1
mg