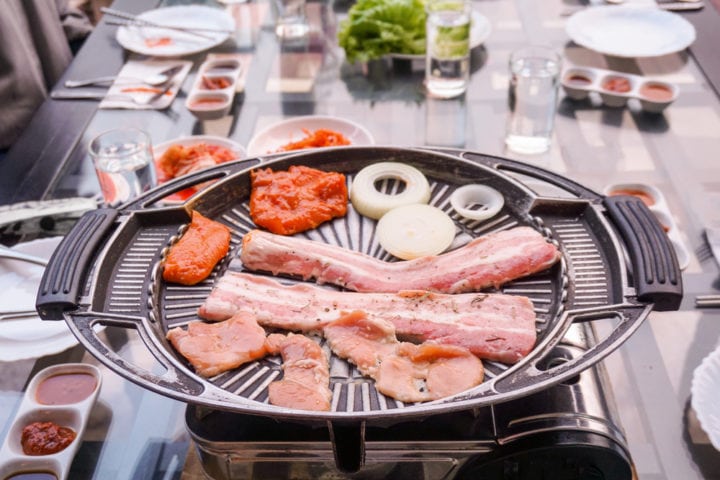 Korean BBQ is a culinary tradition with thousands of years worth of history that is catching on around the world today. It's distinguished by fast-cooked meat with a crisp texture, paired with a variety of sauces. If you've never tried it for yourself, we're confident you'll be hooked for life once you do.
However, finding the right Korean BBQ grill can be a challenge. These home appliances come in a wide variety of styles, and if you don't know what you're looking for, it's easy to end up with a less-than-ideal option.
That's why we've put together this list of the 12 best Korean BBQ grills. By factoring in type, style, size, fuel type, and other factors, we've narrowed down our picks to only the best. No matter what you're looking for, you can find it here.
Table of Contents
Best Overall: Iwatani Smokeless Korean BBQ Grill
SAVE 9%
Iwatani Smokeless Korean Barbecue Grill
As one of the few portable gas-powered Korean BBQ grills, this product is in a class all its own.
Pros: Good heat control, compact size for a gas-powered grill, durable steel cooking surface
Cons: Butane canister sold separately, a bit expensive
The ideal Korean BBQ grill should be easy to use and get authentic results. The Iwatani smokeless Korean BBQ grill is one of the few that does both, with a sleek and compact design. This makes it a great choice for Korean BBQ masters and novices alike.
This grill runs on butane, via small canisters attached directly to the appliance. The fact that they need to be ordered separately may be a hassle for some buyers, but it's well worth it. Once installed, this grill allows you to cook flame-seared meat anywhere, anytime.
The design consists of two parts: an alloy steel cooking plate and the heating element below. The heating plate in a series of grooves radiating out from the center to drain away excess grease. This is one of the defining features of authentic Korean BBQ.
The heating element on the bottom weighs about a pound and provides 217 minutes of cooking time after the butane canister is attached. To control the heat, simply turn the dial on the front of the device. The heating element is highly sensitive, giving you full control over cooking temperatures.
Give this Korean BBQ grill a try if you're going for authenticity in your cooking. However, if the price point scares you off, you may want to consider one of the other options on this list.
Best Electric: Techwood 1500 Watt Korean Grill
The advantage of electric Korean BBQ grills, as opposed to grill pans, is that they let you cook and serve food at the table. This gives an authentic restaurant experience that can't be replicated. The Techwood 1500 Watt Korean grill offers an extra-large design that can feed a whole family.
The cooking surface of this Korean BBQ grill is 20 inches long and 11 inches wide, with four small cooking trays beneath. This allows you to cook a large amount of food as well as a variety of different dishes at once. The trays can be easily removed and put in place with long handles.
With an easily adjustable thermostat, you have full control over the temperature of all your food. The 1500 watt heating element allows you to crank the heat all the way up to 450 degrees Fahrenheit. That makes it perfect for browning meats or simmering.
The nonstick coating on the cooking surface helps simplify cleanup. This is a crucial advantage as this large grill may take a bit of extra effort to wipe down when done.
You'll appreciate this grill if you're looking for a way to serve a large crowd right at the table. Keep in mind, however, that it's nearly nine pounds and 20 inches wide! This may make it difficult to store in some kitchens.
Best Stovetop: CookKing Master Korean Grill Pan
SAVE 30%
CookKing Indoor/Outdoor Smokeless BBQ Grill Pan
We love the variety of cooking compartments on this Korean grill pan, which lets you cook anything.
Pros: Many cooking compartments for different foods, can be used on an outdoor BBQ, lightweight
Cons: Requires separate heating element, handles are small
The Stovetop Korean Grill Pan may not be as portable, but it allows you to work with higher heat and greater temperature control. If you're looking for quality results, it's the way to go. The CookKing master Korean grill pan lets you create a full spread of meat, vegetables, and sauces in a single pan.
At 16 inches in diameter, this large pan is a great way to cook meat, veggies, sauces, and sides at once. The large area at the center of the pan is for your main dishes. It has a slightly convex surface and shallow gloves to drain grease away to the edges.
Around the perimeter of the pan are several other compartments, which are for sauces and sides. These keep your extras warm without burning them at the same temperature as your meats.
The entire cooking surface is made of cast aluminum. This makes for a lightweight pan that's under 4 lbs, despite the large size. The thickness of the metal helps prevent the pan from warping under high heat.
This pan is a good option for anyone who wants Korean BBQ, but doesn't want to break their budget. Just don't forget that this is a grill pan and not a full grill. If you're looking for a standalone appliance, try one of the two products listed above.
Best Budget: TeChef Stovetop Korean BBQ Grill
SAVE 10%
TeChef Stovetop Korean BBQ Non-Stick Grill Pan
The swirled channel design of this pan makes it unique from other products.
Pros: Dishwasher safe, swirled channel design helps drain grease, nonstick surface
Cons: Not as large as other pans, needs a separate container to catch grease
With the popularity of Korean cooking on the rise, an increasing number of people are looking to try Korean BBQ for themselves. However, not everyone has hundreds of dollars to spend on a high-end appliance. The TeChef Stovetop Korean BBQ grill lets you try this unique method of cooking for yourself without breaking the bank.
One of the distinctive features of Korean barbecue is the grease draining mechanisms. This allows you to create crispy grilled meats that are low on fat. This pan solves the problem with a unique swirled channel design that directs grease to the edges of the pan.
Keep in mind that the grease drains out of the pan completely. You don't have to buy the gas burner to accompany it, but if you don't, make sure to have a small cup to catch the grease. While slightly cumbersome, it gives you good results.
Since the pan is dishwasher safe, you never have to worry about cleanup. The surface is easy to wipe down, and since it's nonstick, food won't stick or cake.
This Korean BBQ grill pan is an excellent choice for those who are just getting into this style of cooking for the first time. Its simple design is easy to use and gets quality results. Though if you already have a bit of experience making Korean BBQ, it may be worth trying an electric one.
Best High-End: Cusimax Indoor Korean BBQ Grill
Sometimes, it takes a high-end product to get the results you're looking for. When it comes to Korean BBQ, there are plenty of ways to improve food quality and cut down on hassle. The Cusimax indoor Korean bbq grill has a number of surprising features to do just this.
One standout feature of this grill is the glass lid, which helps guard against splatter. This is crucial when cooking high-fat meats like pork belly. Plus, since the grill gets up to 450 degrees Fahrenheit, the lid is crucial for containing heat.
The cooking surface is a perforated grill plate positioned above a grease pan inside the grill. This allows the drippings from your meat to drain away without the mess. Once you're done cooking, simply drain the grease pan and clean.
The grill plate, drip pan, lid, and several other components are removable and dishwasher-safe. This makes it easy to clean and care for, ensuring that your investment is a good one.
Try this indoor Korean grill if you're willing to invest a bit extra for quality. Just don't forget that it is a bit bulky and nearly 16 pounds, which means you may need help setting it up. For a more lightweight option, see the Iwatani product listed above.
Best Versatility: Food Party 2-in-1 Korean Grill and Hot Pot
One of the best things about Korean BBQ grills is that they are one of the most versatile methods of cooking. Meats, veggies, and sides can all be cooked at once and eaten hot off the grill. The Food Part 2-in-1 Korean grill and hot pot adds an extra component to the grill, letting you diversify your cooking even more.
The first thing you'll notice about this grill is that it has a pot in the center. This allows you to cook soups and stews at the same time as your grilled meats. The hot pot even has a divider in the center, letting you cook two dishes in it at once.
Both are heated by the same 1900 watt heating element, which provides plenty of power. The pot and grill are controlled by two separate temperature knobs with a high degree of control.
When grilling, the cooking surface is designed to drain grease away to the edges, where it escapes through a small hole. The grease drains into a small trap below, which can be removed and cleaned separately.
Add this 2-in-1 grill to your arsenal if you are eager to try both Korean grilling and hot pot recipes. For those that don't think they will use the hot pot, though, a more standard grill may be a better way to save money.
Best Extra-Large: LaraLov 1500 Watt Korean BBQ Grill
Korean BBQ is the perfect party food, which means a good grill should be able to feed a lot of mouths. While an extra-large Korean barbecue grill may take a bit of extra maintenance, it's the best way to get an authentic experience. The LaraLov 1500-watt Korean BBQ grill is designed to feed a crowd, with plenty of features for versatility.
The cooking surface of this grill is 16" x 8.5", leaving plenty of space for a range of foods at once. While there are larger grills out there, none of them also include the eight raclette trays stored beneath the grilling area. These are ideal for melting cheese or keeping sauces nice and hot.
All of this is powered by a 1500-watt heating element that's controlled by a single temperature knob in front. It gives precise control over the heat of your grill as well as a wide range.
The grill weighs just under eleven pounds total, which is bulkier than most others on this list. However, it's still portable enough to load into the back of your car to bring to parties and other events.
You'll love this grill if you're looking to serve a diverse meal to a large crowd. However, it may be a less ideal option for small families or those who only plan to use it occasionally. Plus, make sure you have plenty of storage space for it beforehand.
Best Compact: Yonata Korean Nonstick BBQ Grill
YONATA Korean Nonstick Grill Pan for Stovetop or Outdoor BBQ
The fact that this grill can be used on a stovetop or hotplate gives it a unique niche.
Pros: Works on a stovetop or over a hot plate, durable aluminum construction
Cons: Less sophisticated design, less cooking space, no separate compartments
Korean barbecue has long been a favorite of couples looking for an intimate meal to share. Whether you're planning the perfect date night or want to cook small batches of barbecue, a compact grill is the way to go. The Yonata Korean Nonstick BBQ grill is small enough to fit into a backpack and versatile enough to cook whatever you like.
While the smaller size of this grill won't let you make the most elaborate meals, it's plenty big enough for two. The 13" x 13" design leaves enough space for meat and a side of veggies or two. The surface of the pan is lined with a web-shaped network of grooves that help drain grease.
You can use it on your stovetop as a grill pan or over a hot plate to prepare food right at the table. Whether you're cooking with electric or gas, this grill is perfectly compatible.
The aluminum alloy makes it durable and yet lightweight, at under four pounds. It is coated with a nonstick surface that is as easy to clean as it is to cook with.
Give this Korean BBQ grill a try if you're planning simple meals with only a few components. If you're trying to cook a full BBQ spread, however, you'll probably need a larger grill.
Best Low-Maintenance: TeChef True Grill Pan
TECHEF Stovetop Nonstick Indoor/Outdoor Smokeless BBQ Grill Set
The best thing about this pan is how it drains grease into a detachable tray for easy disposal.
Pros: Spiral-pattern grease drain, PFOA-free Teflon coating, grease drains into detachable pan
Cons: Only works with a gas stovetop, smaller than other options
Korean barbecue is an easy way to make a fast and delicious meal, though it also makes a bit of a mess. That's why it's a good idea to find a grill pan that can minimize drips and splatter to simplify after-dinner cleanup. The TeChef true grill pan helps cut down on maintenance with a unique design.
The Teflon cooking surface is designed to drain grease to the edges of the pan as food cooks. From there, it drains off the side and into a collection tray below. When it comes time for cleanup, this tray can be quickly and easily drained.
The cooking surface is available in two varieties. The dome-shaped piece is ideal for draining grease and keeping meat crispy. The other style features a classic grill-top which can be used to get parallel grill marks.
Both pieces of the grill pan are dishwasher-friendly and small enough to fit into your machine's regular plate racks. The twelve-inch diameter is large enough to cook for the whole family and small enough to simplify storage.
This pan is a great choice for anyone looking to cut down on cleaning and maintenance. However, don't forget that it only works with gas stovetops. If you want to cook your food at the table, you'll need to try a portable option.
Best Charcoal: Baffect Korean Charcoal BBQ Grill
Traditionally, Korean BBQ was made with our most natural cooking fuel: charcoal. Today, charcoal grills are still commonly used to infuse meat and vegetable dishes with a deep, smoky flavor. The Baffect Korean charcoal BBQ grill is a compact option that lets you get a full-sized barbecue flavor.
The first thing to understand about this grill is that it runs on charcoal. While the product is designed to be used in the home, not everyone will want to take the risk. However, in this case, it can still be a great addition to backyard barbecues.
It features two separate cooking surfaces that can be swapped when needed. The domed surface is great for traditional Korean BBQ, draining excess grease as meat cooks. The mesh surface is the other option, which helps diversify cooking.
To adjust the heat, simply control the air inlet, which will affect how your charcoal burns. With enough fuel, your barbecue can reach temperatures high enough to sear thin cuts of meat in seconds.
You'll want to try this little grill for yourself if you've been looking for a way to try charcoal grilling on a small scale. Keep in mind, however, that while the grill is designed to be used indoors, some cooks may find it not ideal for their home. If you're worried about the smell, an electric option may be better.
Best Nonstick: TecTake Indoor Smokeless Grill
Tectake Electric Indoor Smokeless Square Grill with Oil Drip Pan
We love the ceramic-coated cooking surface, which is as easy to clean as it is to cook with.
Pros: Ceramic-coated steel grill, comes apart to make it easy to clean, five-mode temperature adjustment
Cons: Heating element is only 1000 watts, large grills not ideal for small pieces of food
Korean grilling is all about flipping meat at exactly the right time to get the perfect seared finish. To make this easier, most grills' cooking surfaces have a nonstick coating that lets food turn without resistance. The Tectake indoor smokeless grill features a unique design with a quality nonstick surface.
The cooking surface is ceramic-coated steel, which is a great choice for durability and ease of use. The nonstick coating helps turn food as it cooks while also simplifying cleaning. The entire grill comes apart in three pieces and can be put in the dishwasher to save time.
The design is intended to drain grease as the food cooks. Rather than a network of shallow channels to drain grease to the edges of the pan, this grill works like a backyard barbecue. Fat drips through the metal grates as it cooks, simplifying clean up even more.
While the heating element isn't as powerful as others on this list, a lot of functionality is squeezed out of its 1000 watts. It has five cooking modes, from warm to sear, which helps diversify your cooking method.
Try this indoor smokeless grill for yourself if you're looking for a way to simplify cleanup and cooking. It's an all-around quality grill whose versatility will be an asset to just about any home cook.
Best Time Saving: CHYIR Korean Style BBQ Grill Pan
SAVE 10%
While Korean BBQ is a great party food, it takes a bit of extra time to set up and clean afterward. If that sounds a bit intimidating, the answer is to find a grill that takes the hassle out while still creating a delicious meal. The CHYIR Korean-style BBQ grill pan offers a simple design that anyone can use.
Made of lightweight aluminum, this grill can be put straight into the dishwasher after use. Even if you're cleaning by hand, its small size should only take a minute to scrub down.
Unlike other designs, this pan drains excess grease through the hole in the center of the pan. You can open or close the spout depending on your preferred cooking method.
You'll love this grill if you're looking for a simple option that's easy to use. However, if you're hoping for more advanced features, a higher-end grill could be the better option.
Korean BBQ Grill Buying Guide
If you're still learning about Korean BBQs, it would be a good idea to make sure you understand them fully. Luckily, you don't have to scour the internet to get the information you need. Just take a look at these buying criteria.
Grill vs. Grill Pan
The first thing to understand when buying the best Korean BBQ grill is whether the product you're looking at is a standalone appliance or a grill pan. Full Korean BBQs can be used right on your table and provide their own heat. Grill pans, on the other hand, need to be used over the stovetop.
Cooktop Size
Korean BBQ grill pans can range widely in size, and some even include multiple compartments for different foods. If you're just cooking for one or two, a smaller cooktop around 12 inches should be plenty. However, if you want to feed party guests or a large family, look at larger options.
Fuel Type
Standalone grills rely on their own heat to cook your food, but the source of this heat varies from grill to grill. Electric barbecues are the most common and work by plugging directly into the wall. There are also home grills that are heated with butane canisters, which are sold separately.
The most traditional type of Korean BBQ is made with charcoal grills. While not ideal for indoor use, there are smokeless models which can be used inside your home.
Cooktop Material
The material of your grill's cooktop will make a big impact on your cooking experience. Aluminum is a common option, as it is low in cost and lightweight. Cast iron is much more durable, but it also adds weight to your grill and takes extra maintenance.
FAQs
As Korean BBQ is just beginning to catch on around the world, many people still have questions about it. Take a look at these common queries and brush up on your Korean BBQ knowledge.
What is the difference between Korean and American BBQ?
Throughout the world, the word barbecue is used in a wide variety of ways. In the United States, it most often refers to large pieces of meat cooked on an outdoor grill. Often, the meat is cooked in a sweet and spicy sauce.

Korean BBQ, on the other hand, is usually cooked indoors, right at the table. Using a small, portable grill, the heat is contained and directed up toward a domed cooking surface. The meat is usually cut into small pieces and dipped into the sauce after cooking.
Can a regular grill be used for Korean BBQ?
An American outdoor grill is not ideal for Korean BBQ for several reasons. First, the metal grilles are spaced too far apart, and the thin cuts of meat typical of Korean BBQ can fall through. Second, Korean BBQ is usually cooked indoors, right at the dining table.
Can I use my Korean grill indoors?
Yes, Korean BBQ can and should, be cooked indoors. Most grill models feature a smokeless design, which cooks food without releasing smoke or odors into your home.
What types of food are best cooked on a Korean BBQ grill?
Traditionally, thin cuts of beef or pork are cooked on a Korean BBQ grill. However, other items such as sausage, shellfish, and vegetables are often added to this spread.
What should I serve with Korean BBQ?
Traditionally, Korean BBQ is served with rice, kimchi, and cucumber salad. These lighter foods are a good contrast to the rich flavors of the meat. However, you can also grill vegetables right on your cooktop and serve those as a side.