We're always looking for better and easier ways to cook chicken. Before cooking the chicken, however, we must properly thaw our poultry. The microwave can speed up this process, but to make your chicken as juicy and flavorful as possible, you need to know how to defrost it correctly.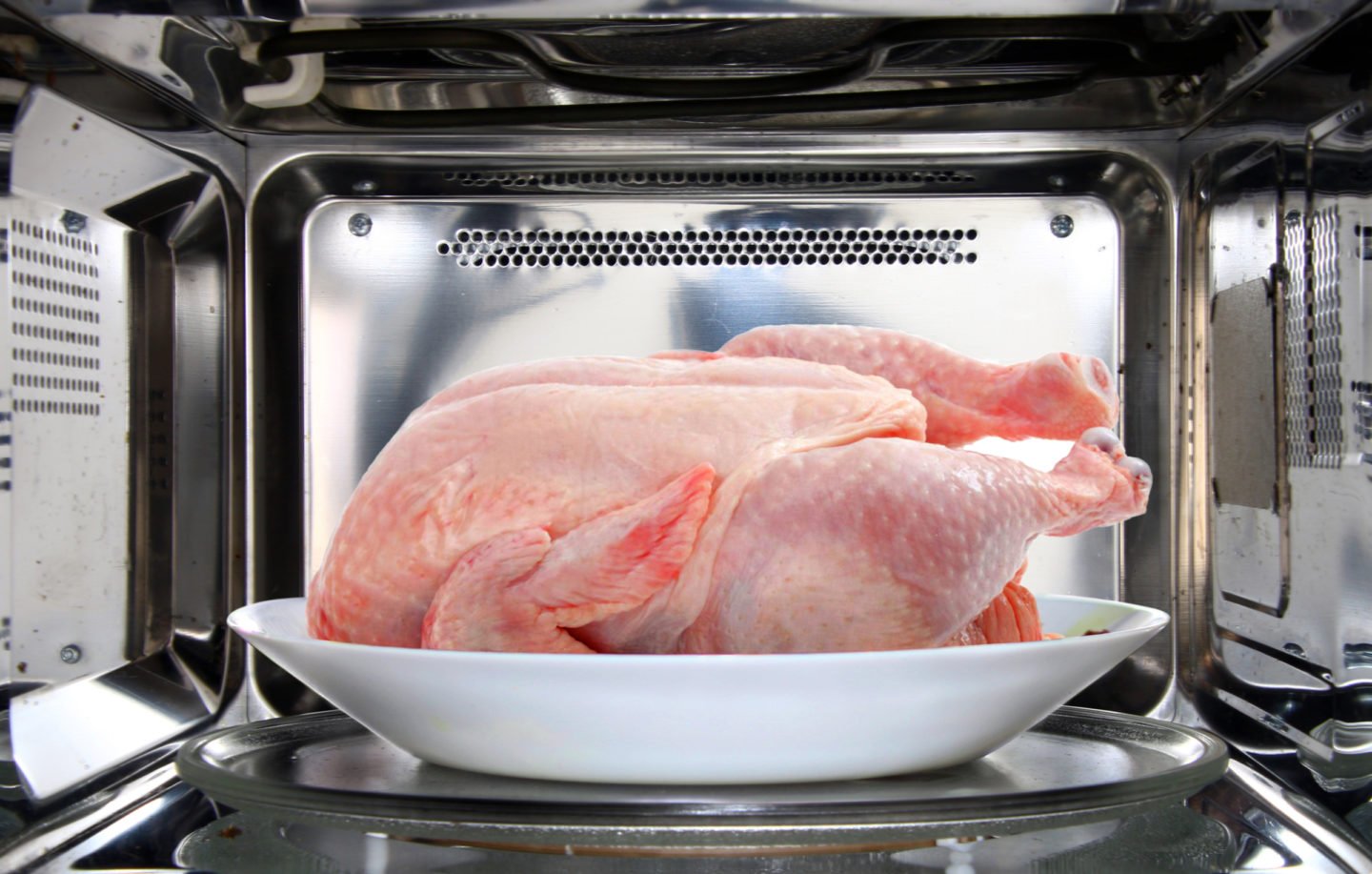 Below, you can find in-depth instructions on how to defrost chicken in the microwave. Simply follow the steps for perfect chicken breast every time. You can also check out our tips for defrosting chicken or an alternative method for thawing it in the fridge.
Table of Contents
Why Do I Need to Defrost Chicken?
Defrosting chicken isn't just about improving the quality of your food. It's also a health concern.
The FDA guidelines specify that poultry should be cooked to a temperature of 165 degrees Fahrenheit before consumption. If you try to bake, saute, or grill chicken while frozen, chances are the interior and exterior will heat unevenly. That will leave you with burned chicken skin and meat that's raw in the middle.
Because of this, it's important to thaw chicken thoroughly. No matter what method you're using, always be sure the meat is completely soft and has no ice crystals in the middle.
Benefits of Cooking with Frozen Chicken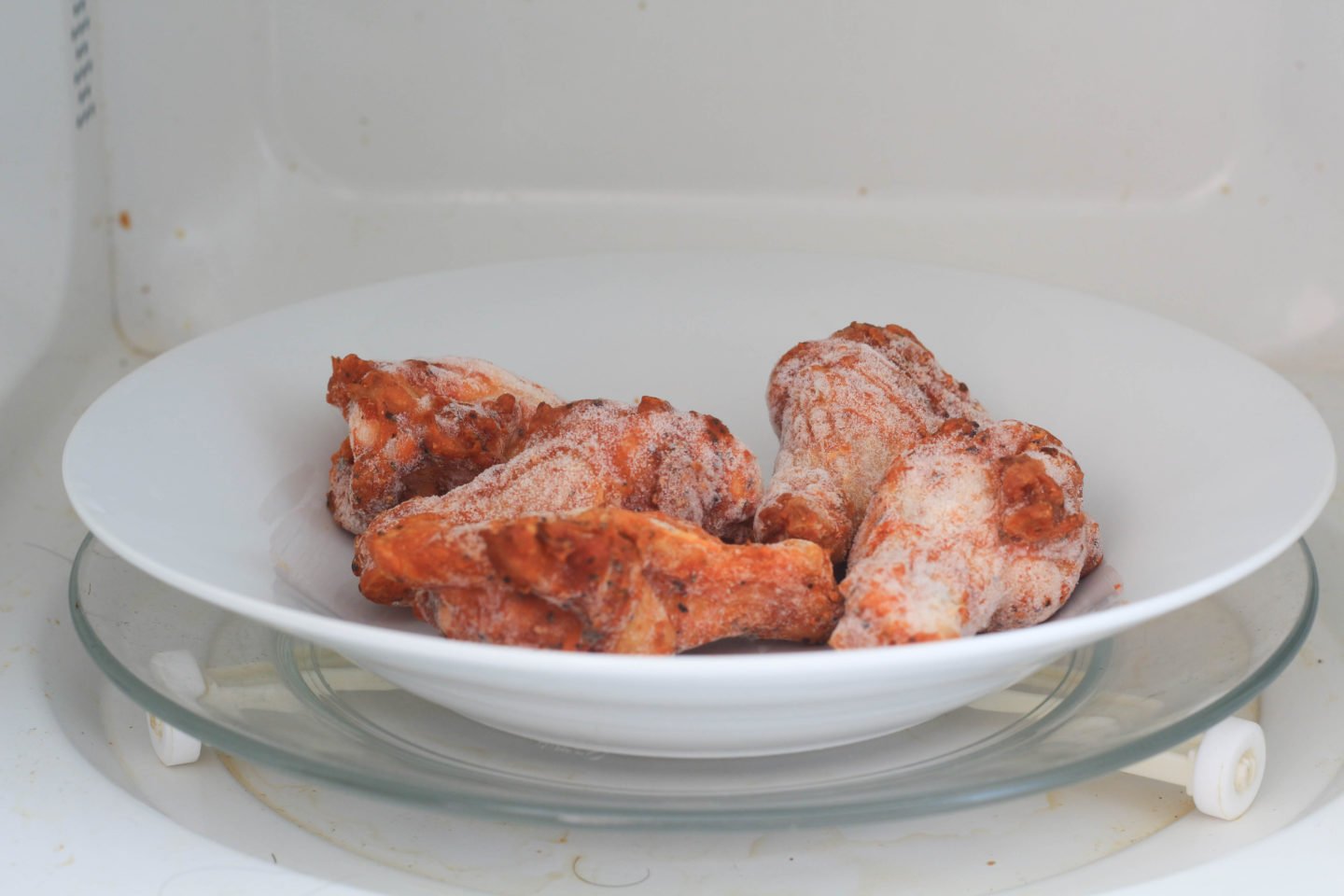 Of course, you could always buy unfrozen chicken breast to cook with, as long as you use it within a few days. However, cooking with frozen chicken offers a few unique benefits that are worth considering.
The first is that it allows you to buy in bulk. While most families can't eat through a three-pound package of chicken breasts in a week, the ability to freeze them lets you buy as much as you like and save the rest for later. That lets you save some extra money and a trip down the meat aisle.
Freezing your meat also ensures it stays safe to eat. Although raw chicken can usually last a few days in the fridge, you always run the risk of waiting too long and ending up with slimy, inedible meat. When frozen, chicken can last up to nine months.
Defrosting Chicken in the Microwave
Defrosting chicken in the microwave is the fastest way to get your bird ready to eat. To do it right, you need to know a bit about your microwave's settings.
1. Unpacking
Since chicken is often packed in plastic and styrofoam, you must ensure your poultry is fully unwrapped before defrosting. Then, remove your chicken from its packaging and place it in a microwave-safe bowl.
The bowl should be small enough to fit in your microwave but large enough that the chicken pieces aren't crowded. If necessary, work in batches.
When you're done unpackaging your chicken, wash your hands with soap and warm water.
2. Find Your Defrost Setting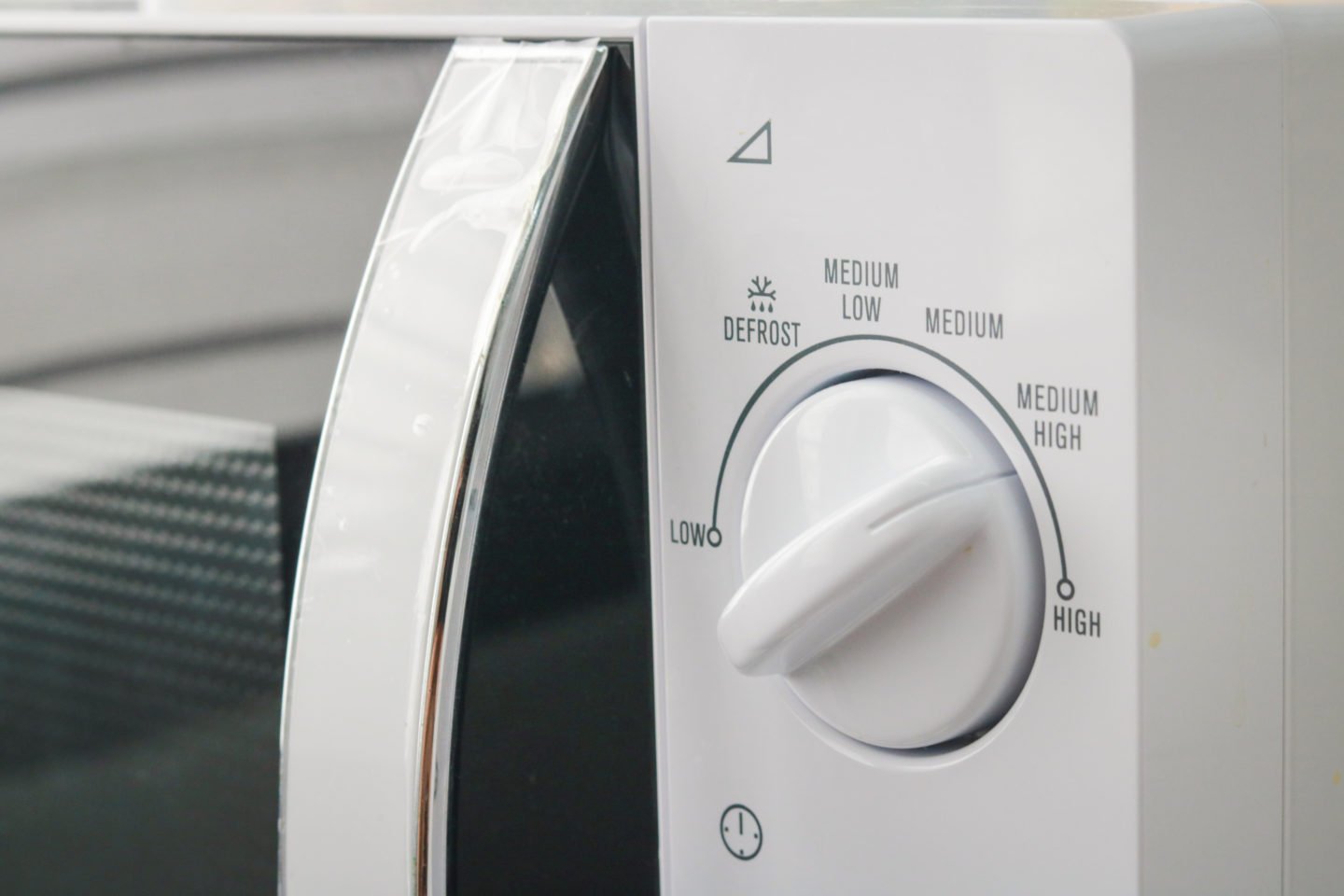 All microwaves work a little differently and have different settings to choose from. Most likely, the defrost setting will be displayed as a picture of a snowflake or drop of water. You may even have an option specifically for defrosting meat or poultry.
If your microwave doesn't have a defrost setting, find the power setting and set it to 50%. If your microwave doesn't have an option to adjust the power, it is probably better to avoid using it when defrosting meat.
3. Microwave and Check for Doneness
Set your defrost setting and set your timer to two minutes. After this time, check to make sure your chicken is fully defrosted. To be sure, use your fingers to check every surface of the meat for any remaining ice crystals.
If you find ice or patches that are still solid, put the chicken back into the microwave for another two minutes. Don't forget to wash your hands with soap and warm water each time you touch the raw meat.
4. Repeat Until Fully Defrosted
Continue to repeat the above process until your chicken is fully defrosted. Once it is, it's ready to cook or marinade. If you aren't planning on using it immediately, store your chicken in your refrigerator for two to three days.
Defrosting Chicken in the Fridge
If you have extra time on your hands, there's another method you can try to defrost the chicken. It may take longer, but it's simpler and doesn't require a microwave at all.
1. Leave in Packaging
To defrost your chicken in the fridge, you don't have to remove it from its original packaging. It's better if you don't, as it will help protect the meat against bacteria. Instead, simply place the entire package onto a plate.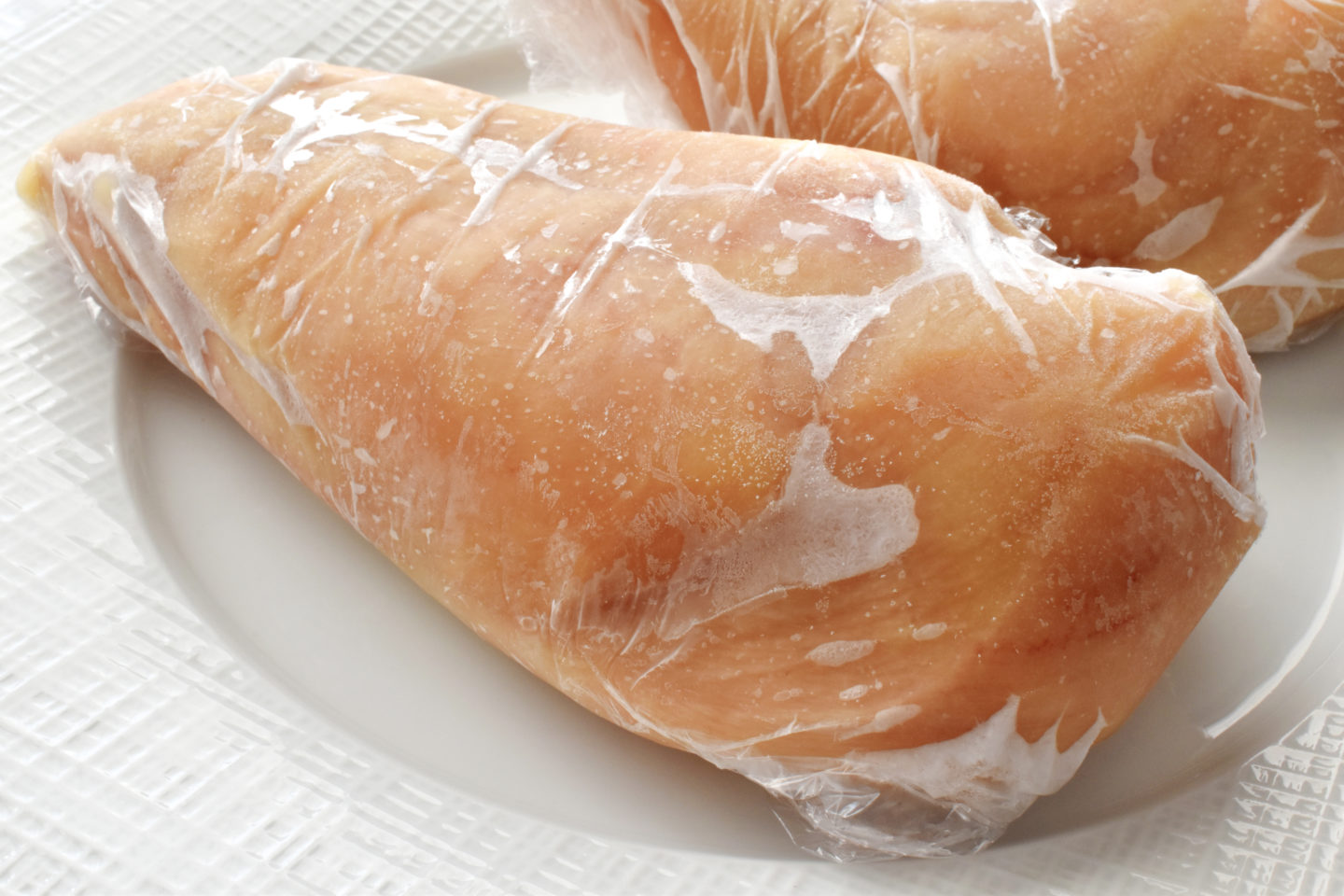 2. Set Aside and Wait
Depending on the amount of chicken you're thawing, you'll need between 12 hours and 2 full days for your chicken to completely thaw. You can feel the meat through the plastic wrapping to get an idea of how far along it is.
3. Check
For half a pound of chicken or less, unwrap it after 12 hours. If you have a pound or more, wait at least a day. When ready, peel off the plastic and check for any remaining ice crystals. Return the chicken to the fridge for further thawing if necessary.
Tips for Defrosting Chicken in the Microwave
Defrosting chicken in the microwave is more an art than a science. To perfect your technique, keep all of these tips in mind:
Never microwave styrofoam, plastic, or metal.
All microwaves work a bit differently, and one defrost setting may work completely differently than the next. For best results, consult your manufacturer's instructions.
Only defrost chicken if you're planning on cooking it immediately. Thawed chicken grows bacteria much more quickly than frozen.
Place your chicken on a plate or bowl before defrosting. That will collect any juices the meat releases while heating.
Throughout the defrosting process, flip and rotate your chicken to ensure it gets heated evenly. If you are thawing multiple pieces, separate them once you are able to.
Always wash your hands with soap and warm water after touching raw poultry.
Frequently Asked Questions
Should I defrost the chicken at room temperature?
While there are multiple ways to defrost chicken, you should never try to do it at room temperature. Raw meat should always be frozen or refrigerated until it is ready to use. Even if the interior of your chicken breast is still frozen, the exterior can begin to grow bacteria cultures.
What happens if I defrost the chicken for too long?
If you're defrosting chicken in the microwave, you should be careful not to leave it in too long. Doing so can actually begin to cook the chicken rather than simply thaw it. While this won't harm you or the food, it can result in dry or rubbery meat once it's cooked.

To avoid this, be sure to microwave your meat for only short intervals, checking its temperature and texture thoroughly.
Can I use a higher power setting to defrost chicken more quickly?
It may be tempting to nuke your chicken thighs on a higher setting to defrost them more quickly, but we wouldn't recommend it. While it will thaw any frozen parts of the meat, it will also cook it, which will result in dry, rubbery chicken once you cook the rest. When thawing chicken in the microwave, the meat should stay completely pink, without any white at all.