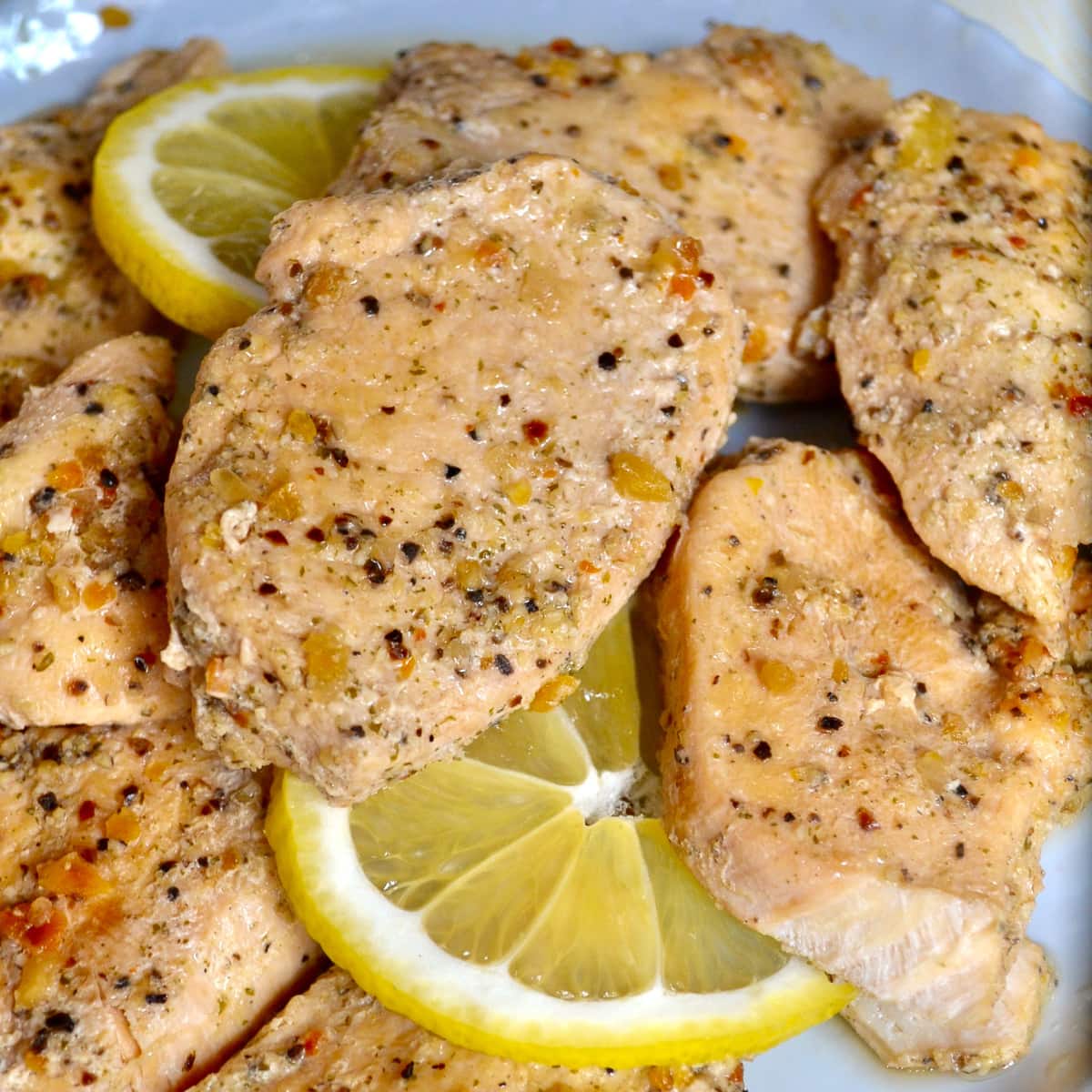 A 15-minute keto lemon chicken sounds quite appealing, doesn't it? With an Instant Pot cooker, the right spices, and just a bit of your patience, you can have this for dinner even after a busy day. The best thing about it is that the chicken turns out juicy, nutritiously rich, and extremely low-carb, with less than 1g of carbs per serving.
The ingredients used for this recipe perfectly go together—butter, olive oil, lemon, and my favorite seasoning blend. This recipe is one of the most frequent ones I make for our family dinners.
Another benefit of this recipe is that you can always make the lemon chicken in advance and freeze it. This way, you'll always have something delicious ready in your fridge for those nights you crave a flavorful homemade dish.
Table of Contents
What Chicken Parts Can You Use?
For this exact recipe, I used chicken breast. This chicken part is usually the driest one, and it's quite hard to preserve all its juiciness. But thanks to the Instant Pot cooker, it is possible to do so. You'll get both a flavorful and extremely juicy chicken, even if you use chicken breasts for the recipe.
You can also use chicken thighs, wings, legs, or drumsticks. Any chicken part will be delicious cooked this way. However, keep in mind that you will need more time to cook the chicken if you choose a thicker part. You can even cook the whole chicken in your Instant Pot with this recipe, but, of course, only if it fits inside.
Optional Spices and Herbs
I used the Dash Salt-Free Seasoning Blend to make the lemon chicken even more flavorful. If you don't have this seasoning blend in your kitchen cabinet but want to cook this recipe right away, you definitely can. Here are the spices and herbs that you can use instead of the seasoning blend that I used:
Garlic powder
Onion powder
Parsley
Dried scallions
Oregano
Rosemary
Paprika
You can also add one tsp of lemon zest and three minced garlic cloves for added flavor.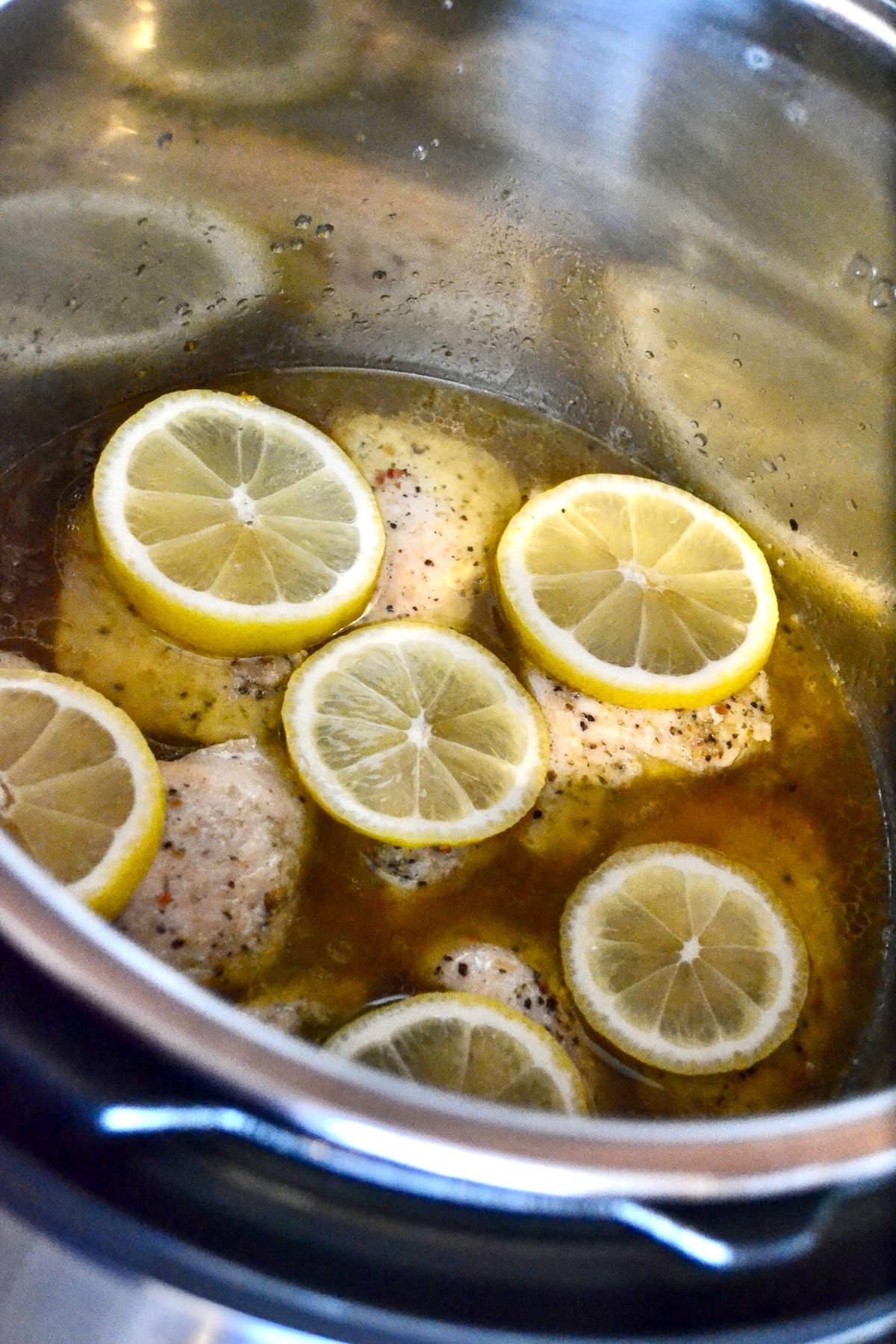 Cooking Tips
This recipe is as simple as it can get. If you've never made these using an Instant Pot and want everything to go smoothly, check out these few cooking tips:
Don't use frozen chicken. If you want the chicken breasts to acquire a brownish crust, you should use only fresh ones or thaw the chicken before placing it into the Instant Pot. If you choose not to brown the chicken, you can use frozen chicken breasts, but make sure to cook them ten minutes longer.
Keep the calories in mind. If you decide to use a different chicken part, remember to count the calories. For example, if you choose to use chicken thighs, eating the chicken with the skin will add approximately 40 more calories.
Add lemon zest and minced garlic cloves for more flavor. If you want a more distinct garlicky and lemon taste, simply add fresh lemon zest and garlic into the Instant Pot.
Serving Ideas
Even though this keto lemon chicken is incredibly delicious, you may want to add something else for a more filling dinner. Here are some options that you can try: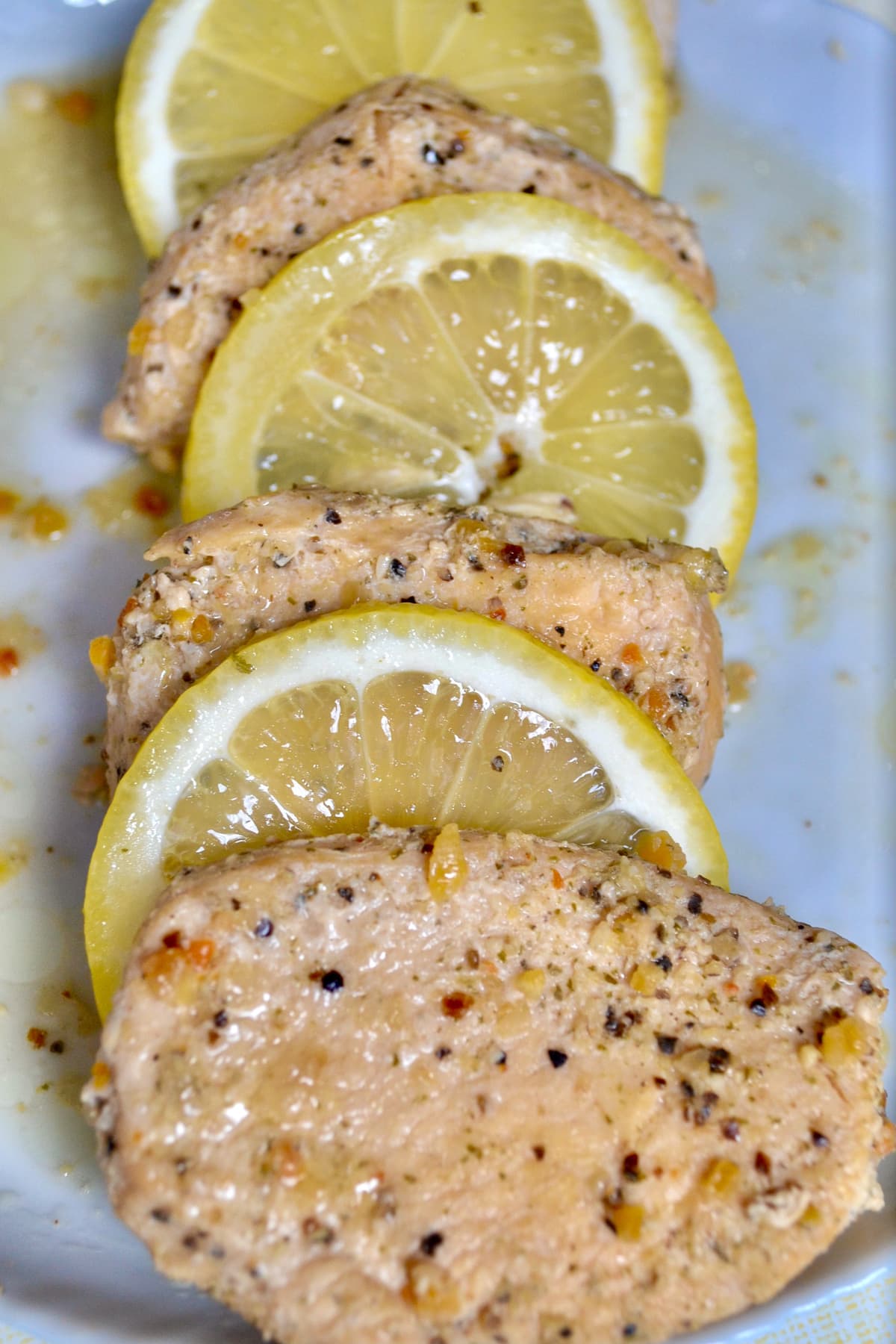 If you have some lemon chicken leftovers, you can always shred them and use them for the keto cheese shell taco stuffing.
How to Store the Chicken
To store the Instant Pot lemon chicken in the refrigerator, place it in a food container with a lid. You can store the chicken in the fridge for up to 5 days. Whenever you want to serve it, reheat it in the microwave for about one minute.
As I already mentioned, this recipe is perfect for freezing. You can make double the recipe in advance and freeze some. Then, whenever you wish to serve it, place it in the refrigerator to thaw or use the microwave. You can store this keto lemon chicken in the freezer for up to 3 months.
Recipe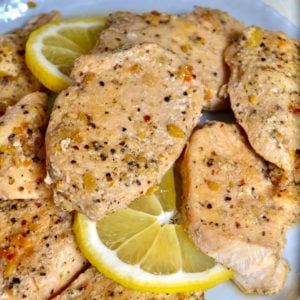 Keto Instant Pot Lemon Chicken
This lemon chicken turns out juicy, nutritiously rich, and extremely low-carb, with less than 1g of carbs per serving. With an Instant Pot cooker, the right spices, and just a bit of your patience, you can have this for dinner even after a busy day.
Ingredients
1

lb

chicken breast

½

cup

chicken broth

or water

3

tbsp

olive oil

2

tbsp

melted butter

½

lemon

sliced

salt and pepper to taste
Instructions
Cut the chicken breast into slices.

Season the chicken using the seasoning blend, salt, and pepper.

Pour the olive oil and butter into the Instant Pot.

Press the Sauté button and wait for the oil to get hot. Place the chicken breast slices into the Instant Pot and cook for about 2-3 minutes on each side or until it gets slightly brownish.

Note: You can skip this step for a healthier option.

Pour the chicken broth or water into the Instant Pot, place the lemon slices on top, and close the lid. Seal the vent.

Press on the Pressure Cook button and cook for 8 minutes. Then allow for natural pressure release for 2 minutes. Then, quickly release the remaining steam and open the lid.
Nutrition
Calories:
388
kcal
Carbohydrates:
0.6
g
Protein:
42.9
g
Fat:
23.3
g
Saturated Fat:
8
g
Trans Fat:
1
g
Cholesterol:
117
mg
Sodium:
386
mg
Potassium:
618
mg
Fiber:
1
g
Sugar:
1
g
Vitamin A:
283
IU
Vitamin C:
14
mg
Calcium:
17
mg
Iron:
1
mg