This keto frappuccino beverage is low-carb, sugar-free, and, therefore, guilt-free. So you can drink it at any part of the day or even at night. It has only 3 grams of carbs and around 150 calories, so you can be sure that it won't mess up your keto diet.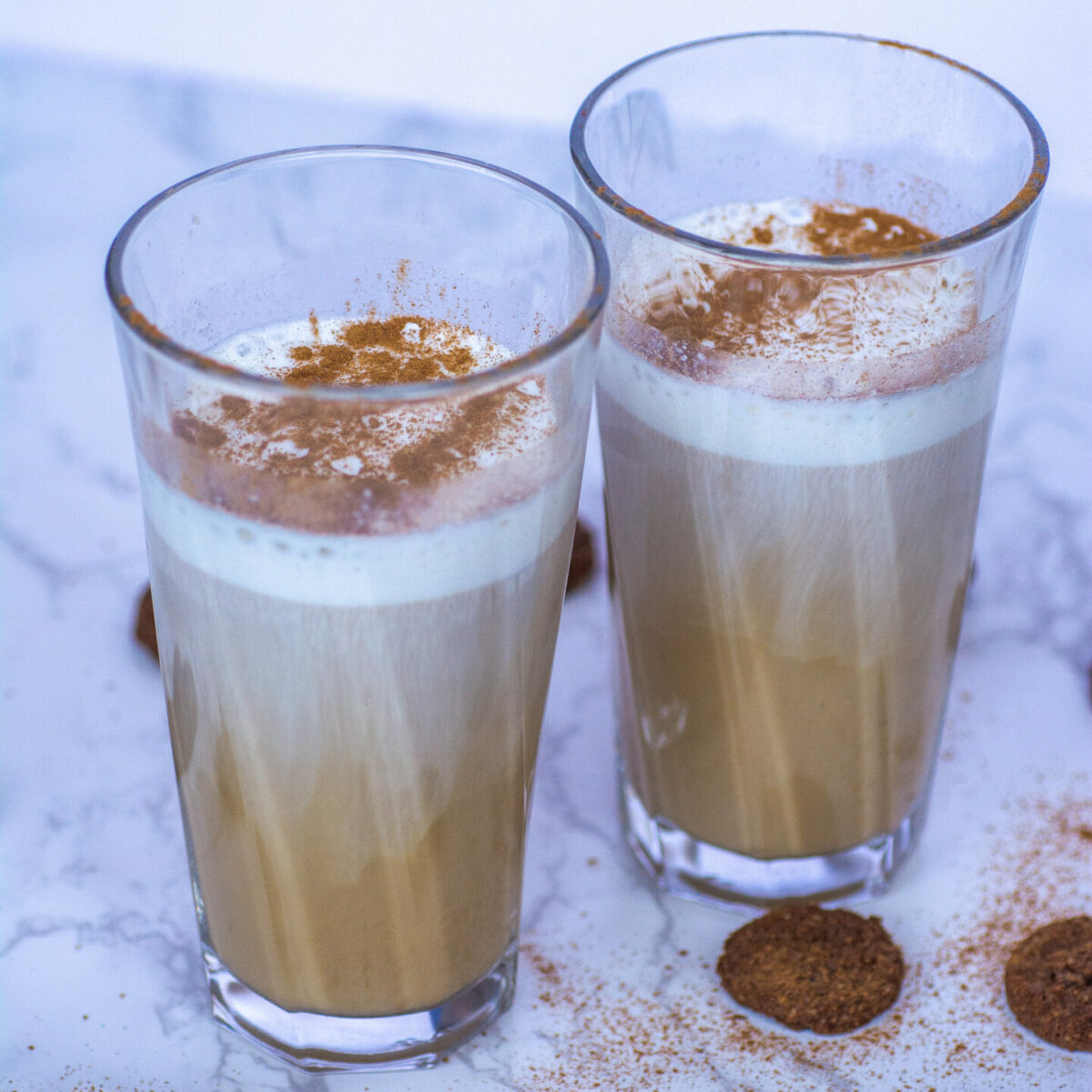 It's possible to make this coffee drink in less than five minutes, so even if you're in a hurry and want something delicious to start your day with, this perfect keto frappuccino is definitely one of your best options.
All you need for this drink are five simple ingredients. Just brew your favorite coffee, whip up the heavy cream or half and half, and add a sweetener of your choice and a few drops of vanilla extract. And if you want to make it with a caramel twist, pour in a few drops of this insanely delicious low-carb homemade caramel sauce.
Table of Contents
Is There a Keto Friendly Frappuccino?
Of course, there is a keto-friendly frappuccino, and you can either make it yourself or order one at Starbucks. Just pick the right ingredients and mix them up.
Once I tried making this coffee frappuccino at home, I stopped ordering it at Starbucks because it's so much better, and you get to be in charge of what ingredients you use to make it, so that's also a huge plus.
For more information on this keto frappuccino, check out the nutrition information at the bottom of this recipe.
Keto Frappuccino Ingredients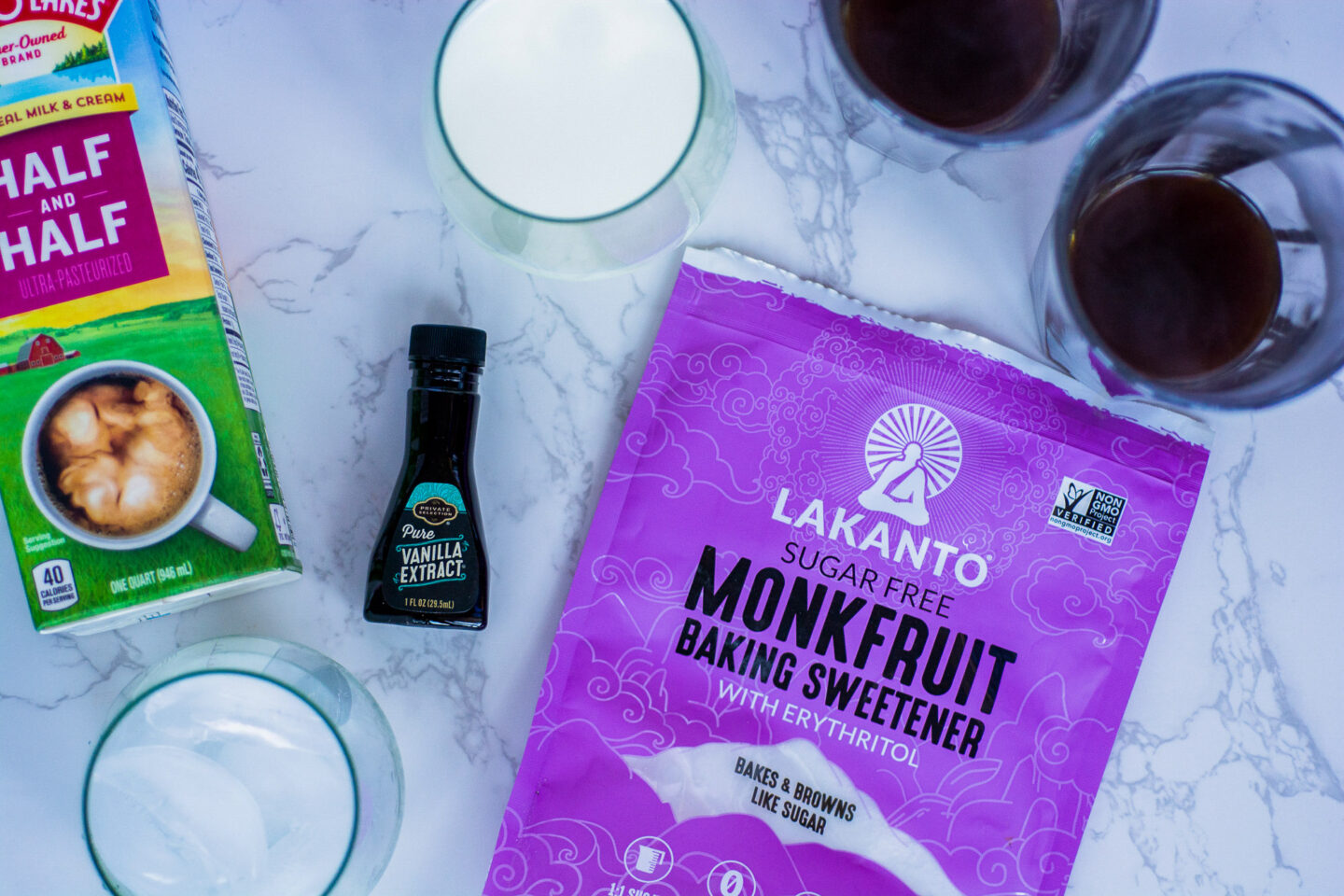 To make this low-carb frappuccino, you need to prepare the following ingredients:
Brewed coffee - just brew your coffee in any way that you prefer (cold brew, espresso, or even use instant coffee). But just keep in mind that a dark and rich coffee brew is the best option for this keto frappuccino recipe.
Sweetener - I used monk fruit sweetener for this recipe. But you can substitute it with almost any other sweeteners that you like. For example, you can use stevia, brown sugar, condensed milk, erythritol, or even maple syrup, to sweeten your frappuccino.
Half and half - I used half-and-half, and I usually always go with this option when it comes to making a keto frappuccino. But if you're not afraid of adding a few extra calories to your frappuccino drink, you can use heavy whipping cream instead since it will give you stiff peaks. Alternatively, you can use unsweetened almond milk, whipped cream, coconut milk, coconut cream, or the usual dairy milk.
Vanilla extract - this ingredient is totally optional. But I tend to add it to a lot of my dessert recipes since I simply like this flavor, and it seems like it boosts this low carb frappuccino taste as well.
Ice cubes (or coffee ice cubes) - depending on whether you want to serve your keto frappuccino hot or cold, you can either add some ice cubes into your cup or omit it and make the drink hot instead.
Once your Starbucks copycat low-carb frappuccino drink is ready, you can sprinkle some cinnamon or cocoa powder on top for even more flavor.
How to Make Low-Carb Frappuccino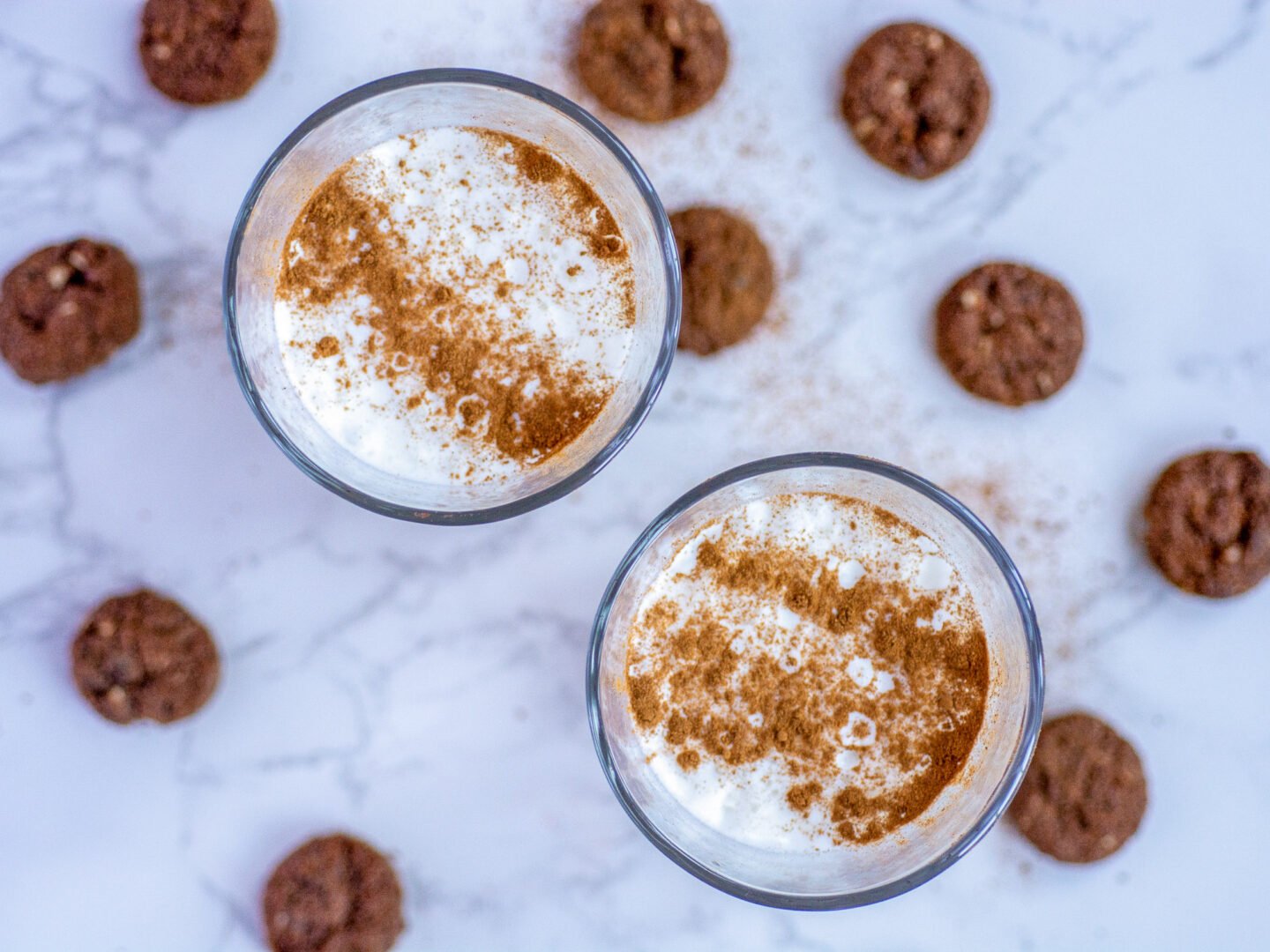 The process of making this keto frappuccino is incredibly straightforward and easy. Basically, the whole recipe can be divided into three simple steps:
Step 1: Brew the coffee. As I've already mentioned before, you can choose any coffee that you prefer (even decaf if that's what you want) and brew it any way you like. But just keep in mind that if you brew rich coffee instead of the regular one, it will be even tastier.
Step 2: Whip it up. Mix the half-and-half, sweetener, and vanilla extract in a separate cup using a milk frother.
Step 3: Combine. Once you've prepared everything else, simply choose your glasses or cups, and divide the brewed coffee into two of them. Then add the ice if you want and pour the whipped half-and-half on top.
How to Make Keto Caramel Frappuccino
If you don't want the regular vanilla frappuccino flavor, you can slightly modify this keto coffee recipe. My favorite way of adding a slight twist to this low-carb recipe is by adding a keto caramel sauce to this drink.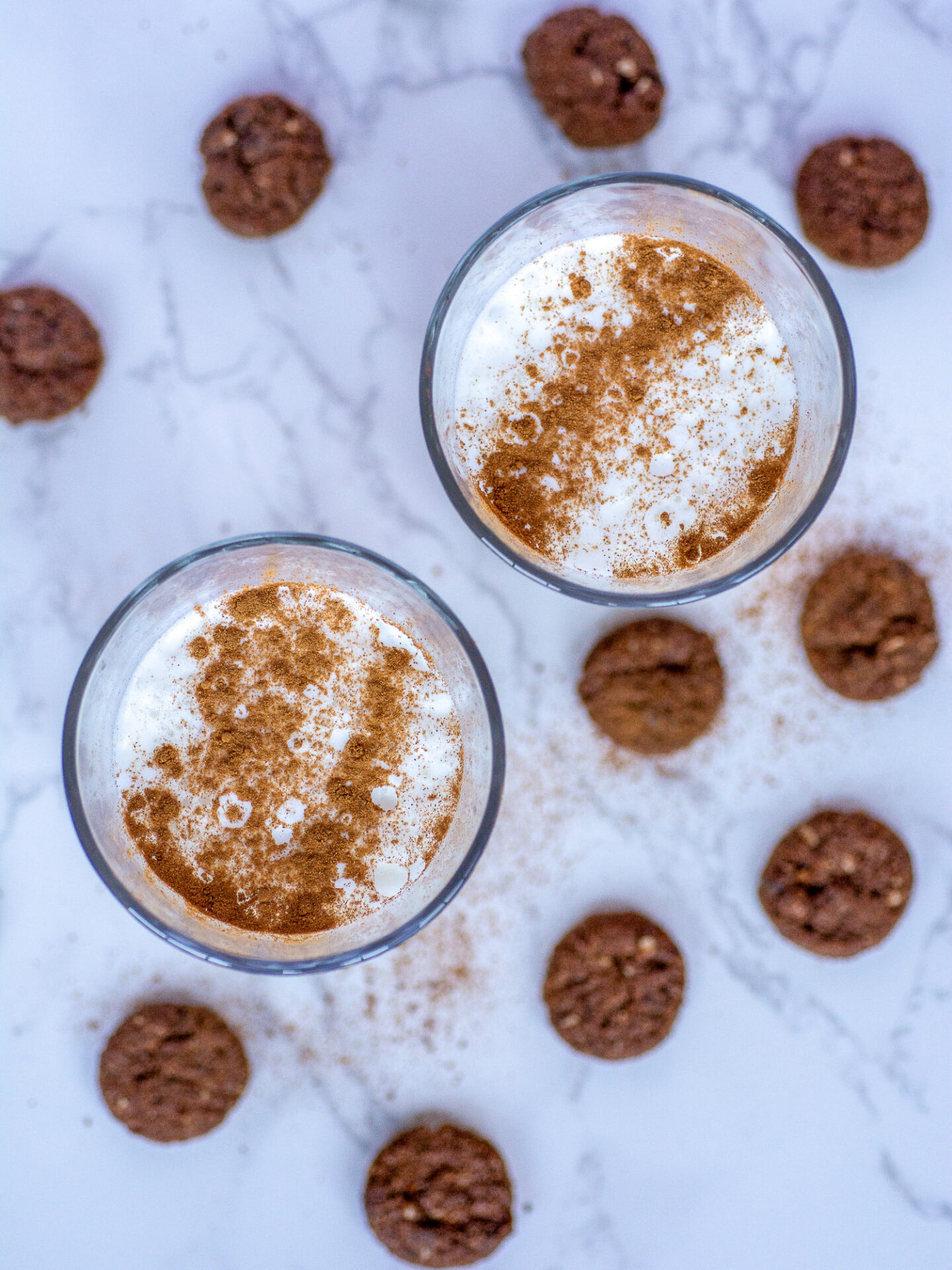 You can either purchase such a sauce at a grocery store or choose to make it at home by yourself. I always make it at home. This way, you know exactly what you put in your keto caramel sauce. And since it takes less than 15 minutes to make, you can definitely find some free time to prepare this sauce even in advance.
Storing Instructions
I do not recommend storing this beverage in your fridge since it's made with whipped half-and-half. If it stays too long, it will lose its texture and will be almost the same as if you've added the usual milk to your coffee.
So it's best to serve and drink your keto frappuccino as soon as you've made it.
Recipe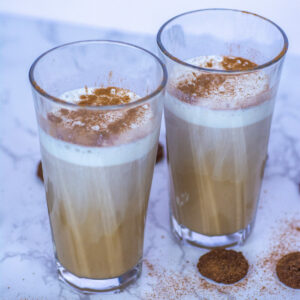 Keto Frappuccino
This keto frappuccino drink is low-carb, sugar-free, and, therefore, guilt-free. It has only 3 grams of carbs and around 150 calories, so you can be sure that it won't mess up your keto diet.
Ingredients
16

oz

brewed rich coffee

4

tbsp

monk fruit sweetener powder

1

cup

half and half

½

tsp

vanilla

1

cup

ice cubes
Instructions
Brew the coffee of your choice and let it cool down completely.

In a separate cup or bowl, combine the half and half with the sweetener and vanilla. Whip everything up with a milk frother.

Pour the brewed coffee into two large glasses, add the ice, and the whipped half and half.
Nutrition
Calories:
164
kcal
Carbohydrates:
29
g
Protein:
4
g
Fat:
14
g
Saturated Fat:
9
g
Polyunsaturated Fat:
1
g
Monounsaturated Fat:
4
g
Cholesterol:
42
mg
Sodium:
84
mg
Potassium:
272
mg
Sugar:
5
g
Vitamin A:
428
IU
Vitamin C:
1
mg
Calcium:
138
mg
Iron:
0.1
mg