Frappuccinos are some of the most popular beverages offered at Starbucks. A Frappuccino is a desert-like, smooth, rich, and delicious drink you can indulge in at any time or day of the year.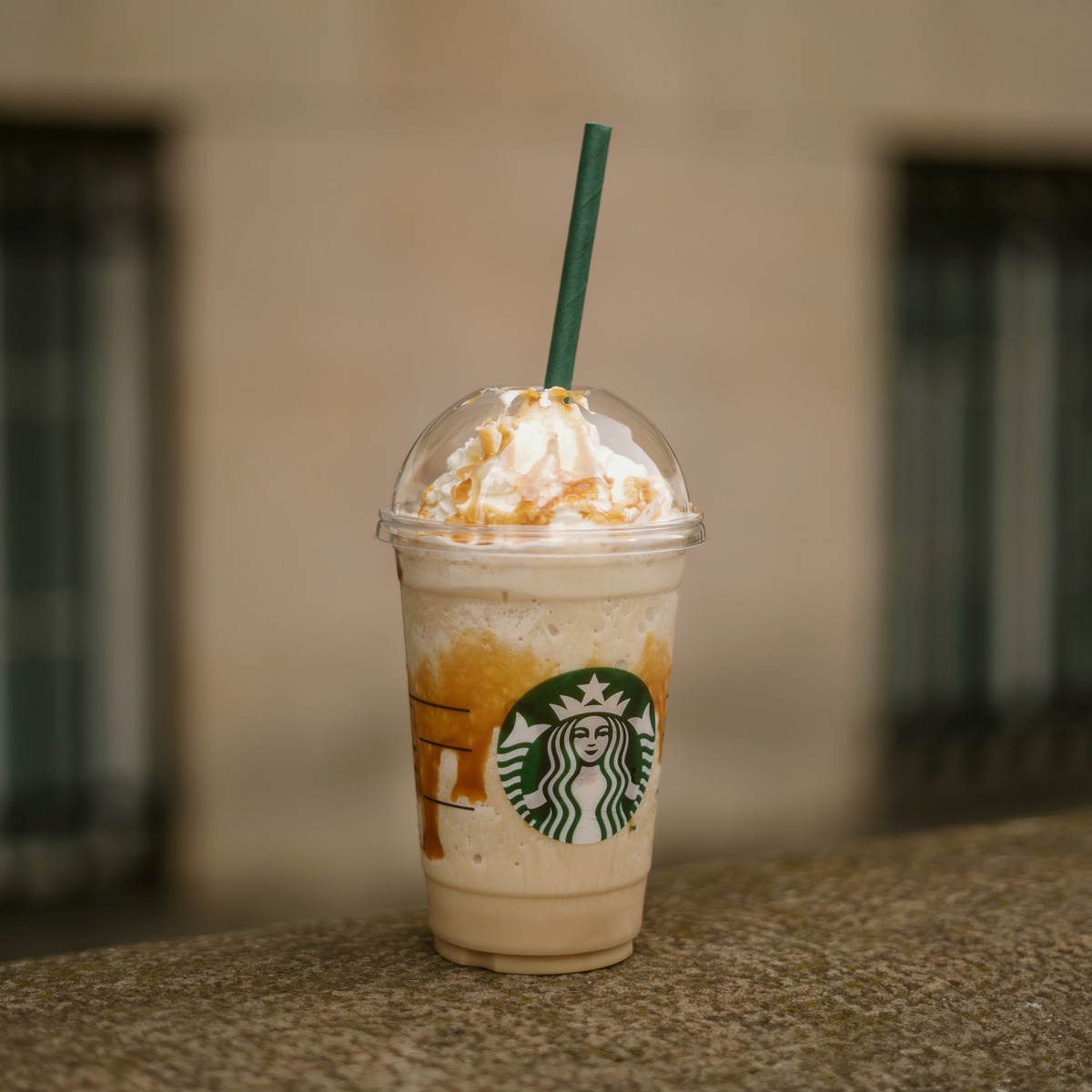 To many people's surprise, Starbucks baristas do not make Frappuccinos with freshly brewed espresso. Frappuccinos are cold drinks, so hot espressos could ruin the beverage.
So, Starbucks formulated a trademark Frappuccino Roast exclusively for their Frappuccinos. A Frappuccino Roast is a mix of coffee grounds created for making Frappuccinos. It comes as a powder mainly intended to dissolve in cold water.
Table of Contents
What Is Starbucks Frappuccino Roast Composed Of?
The Starbucks Frappuccino Roast is a 2-oz packet of powdery coffee grounds made with a combination of Italian and Espresso Roast.
The powder is dissolved in cold water to create a mixture, which is then stored in bottled pumps. These are known as Frappuccino pumps. When you order a Frappuccino at Starbucks, the barista adds 2-8 pumps according to your preferred size.
According to Starbucks employees, the Frappuccino Roast's bitterness is more intense than an instant coffee and was explicitly designed to be bitter. Apparently, the bitter taste helps balance the incredibly sugary and tasty drink.
Benefits and Drawbacks of a Frappuccino Roast
There are many types of Frappuccinos, and each type has its benefits and drawbacks. For instance, some Frappuccinos are made with cream, whereas most others are made with a Frappuccino Roast. Some are made with decaf coffee, while others are made with milk.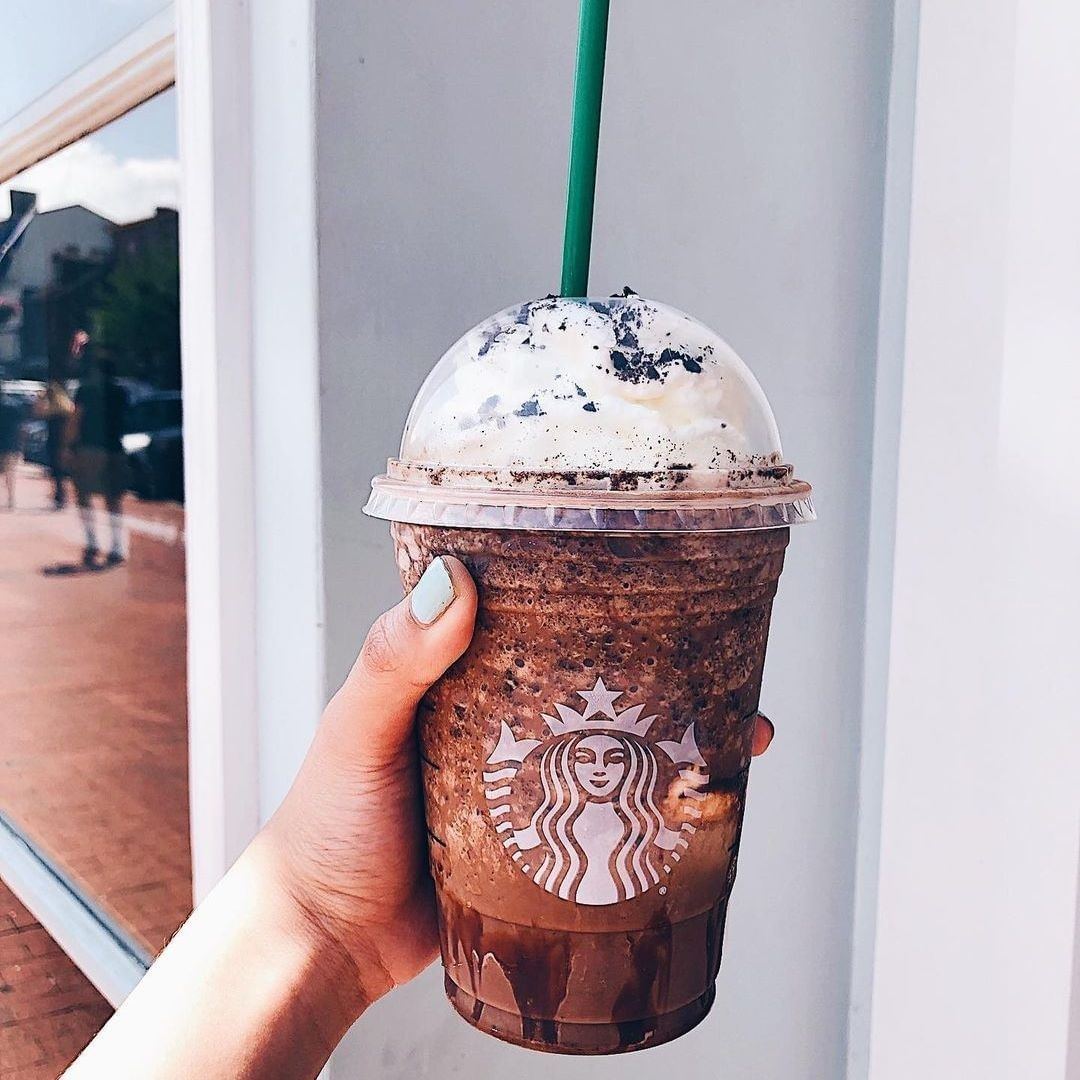 Below are some benefits and drawbacks of the Frappuccino Roast.
Benefits:
Contains enough caffeine to keep you energized
Combines well with milk
Combines well with toppings (e.g., whipped cream and chocolate)
Drawbacks:
Can be dangerous for a caffeine-sensitive individual
What Is the Right Amount of Frappuccino Roast To Use in My Frappuccino?
The right amount of Frappuccino Roast pumps depends mainly on the size of the Frappuccino. The venti, for instance, needs four Frappuccino Roast pumps. The tall size has two pumps, while the grande size needs three.
However, you can request more or fewer pumps than usual if necessary. Starbucks offers numerous customizing options to their customers.
On the other hand, if it's your first time, the ideal option is to order the signature Frappuccino offering to experience Starbucks' original formula and taste.
Remember that the varying amounts of Frappuccino Roast come with the need to use different quantities of milk. For the venti size, use a full cup of milk; for the grande and tall size, use ¾ cup and ½, respectfully.
What Goes Into Making a Starbucks Frappuccino Roast Pump?
Starbucks Frappuccino Roast can only be found in Starbucks. They were uniquely to serve as a base for their delightful Frappuccino drinks.
A Starbucks Frappuccino Roast pump contains water, Italian Roast, Espresso Roast, and a sweetener. Below is a sample recipe you can make at home.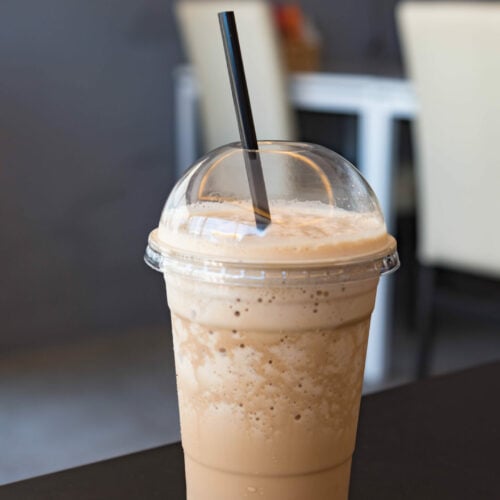 Homemade Frappuccino Roast
With just 4 ingredients, you can make your own Frappuccino Roast at home! Plus, you can adjust the flavor however you like.
Ingredients
4

cups

water

¼

tbsp

xantham gum

6-8

packs

Starbucks Italian Roast

1

oz

instant espresso
Instructions
Add one oz of instant espresso coffee into a blender, followed by ¼ tbsp of xanthan gum.

Add about 6-8 packs of Starbucks Italian Roast into the mix and about four cups of water.

Blend at moderate speed for about twenty seconds to ensure that the ingredients combine well.

After 20 seconds, you should notice a smooth, finished mixture.

Bottle and then store in the fridge.
Nutrition
Calories:
27
kcal
Carbohydrates:
6
g
Protein:
1
g
Fat:
0.04
g
Saturated Fat:
0.01
g
Polyunsaturated Fat:
0.01
g
Monounsaturated Fat:
0.003
g
Sodium:
33
mg
Potassium:
254
mg
Fiber:
0.5
g
Calcium:
17
mg
Iron:
0.3
mg
Do All Frappuccinos Contain Frappuccino Roast?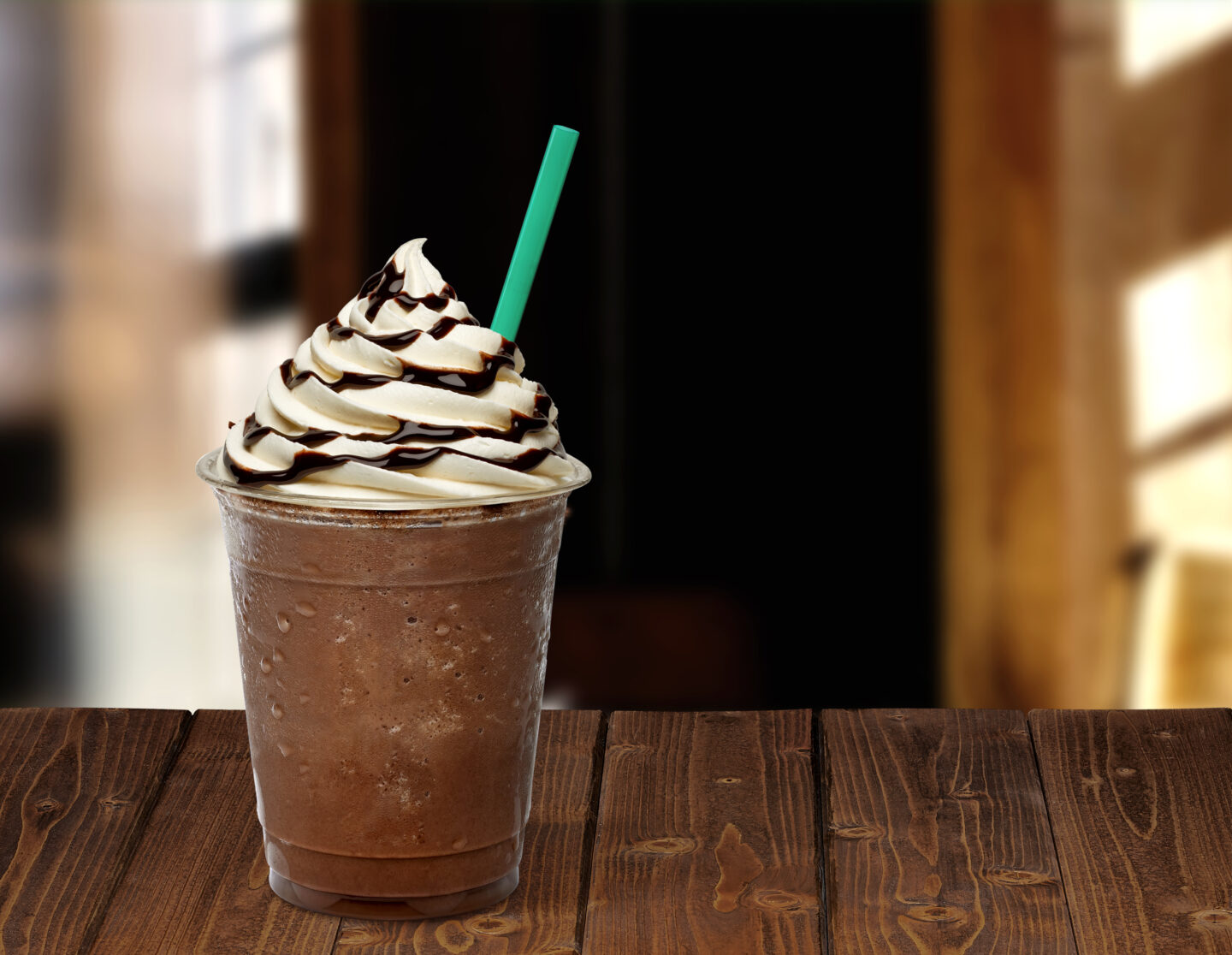 Most Starbucks Frappuccinos are made with a Frappuccino Roast, but not all. There are two kinds of Frappuccinos: Coffee Frappuccinos, which have a coffee base, and Crème Frappuccinos, which are made with a cream base.
If you love the taste of coffee but find the caffeine too much, you can also request a decaf espresso base.
Coffee Frappuccinos and Caffeine Content
| Coffee Frappuccino | Caffeine Content of Tall (12 fl oz) | Caffeine Content of a Grande (16 fl oz) | Caffeine Content of a Venti (24 fl oz) |
| --- | --- | --- | --- |
| Espresso Frappuccino | 125 | 155 | 185 |
| Java Chip Frappuccino | 75 | 105 | 145 |
| Chestnut Praline Frappuccino | 65 | 95 | 125 |
| Peppermint Mocha Frappuccino | 75 | 105 | 140 |
| Toasted White Chocolate Mocha Frappuccino | 65 | 95 | 125 |
| Caramel Frappuccino | 60 | 90 | 120 |
| Coffee Frappuccino | 65 | 95 | 125 |
| Caramel Ribbon Crunch Frappuccino | 60 | 85 | 115 |
| Caramel Brulée Frappuccino | 60 | 90 | 125 |
| Mocha Cookie Crumble Frappuccino | 65 | 95 | 130 |
FAQs
Is Frappuccino Roast vegan or dairy-free?
Yes, the Starbucks Frappuccino Roast is vegan and dairy-free. You can also ask the barista to make your Frappuccino using plant-based milk like almond, soy, and oat. The barista can blend this mixture with ice cubes to create a decadent, vegan, and dairy-free Frappuccino.
Is there a decaf Frappuccino Roast?
There's no decaf option for Frappuccino Roast in Starbucks. However, you can request a decaf espresso base for your Frappuccino.
Can I reuse the coffee grounds from a Frappuccino Roast?
You may reuse the Frappuccino Roast coffee grounds three times. Afterward, the coffee beans will lose their flavor and no longer produce a quality cup.
How many calories are there in a Frappuccino Roast?
The calories in Frappuccinos vary depending on the ingredients used. Frappuccino made with nonfat milk has between 80 and 110 calories. The calories in whole milk mixed with ice vary between 140 and 150.