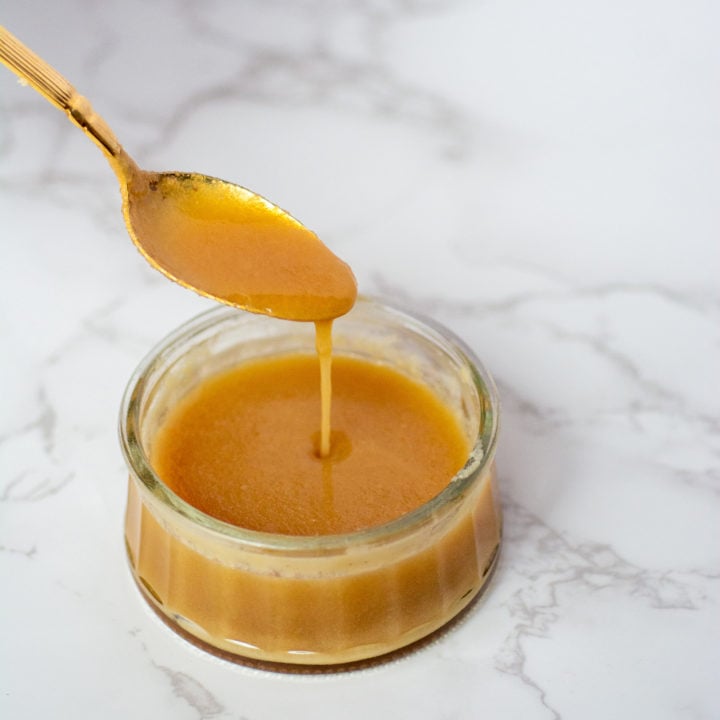 It's impossible to tell the difference between this keto caramel sauce and the traditional one. But the main reason why to choose this one is that it has only 3 grams of carbs per serving, it's sugar-free, and can be made in just 15 minutes.
To make this keto caramel sauce, you'll need only 4 ingredients. And the best thing about it is that you don't even need xanthan gum for this recipe. The sauce will end up with a smooth and thick texture all by itself.
And besides the already mentioned benefits of this low-carb caramel sauce, it is even easier to make than the traditional one, where you need to watch out for crystallization, right temperatures, etc. With this recipe, you just mix everything and wait for it to be ready.
Table of Contents
Store-Bought vs. Homemade Caramel Sauce
The first question that might come to your mind is, why go through all the trouble to make a homemade keto caramel sauce if you can just buy it at a store?
You might've noticed that many grocery stores offer sugar-free caramel sauces. However, it's not so easy to find such a caramel sauce that would taste as close to the traditional one as possible. And such caramel sauce, besides the main ingredients, may also have ones that are actually not very healthy and therefore may have an artificial aftertaste.
So if you're not so lazy and have 15 free minutes, you should definitely make such a low-carb, sugar-free caramel sauce at home by yourself. This way, you'll know for sure what's in that sauce, and if you try it at least once, you won't even want to look back at the store-bought caramel sauces.
Needed Ingredients
So here are the ingredients needed for this keto caramel sauce:
Heavy cream
Butter (make sure to choose the unsalted butter kind, but if you want to make salted caramel, then salted butter is fine)
Sugar substitute (I used monk fruit sweetener, but if you want, you can use erythritol or allulose instead)
Vanilla extract (optional)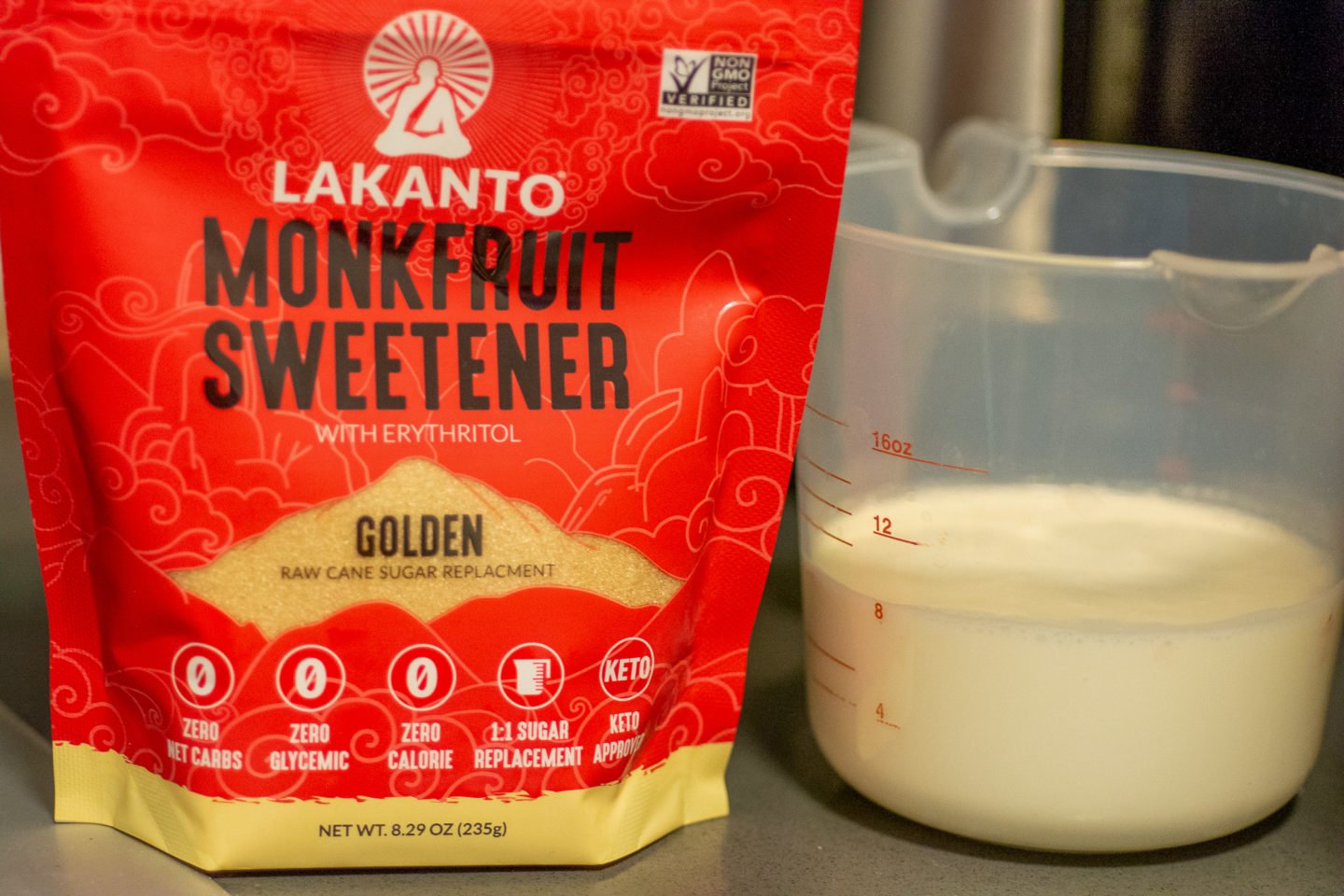 As you see everything's simple and can be bought practically everywhere.
I can also add some sea salt if you're looking to make a keto salted caramel sauce.
Keto Caramel Sauce Making Tips
Don't worry if this is your first time making a keto caramel sauce at home. There is almost nothing that can go wrong in the cooking process, and this keto caramel sauce recipe (scroll down to view it) has all the information that you need.
But just for your peace of mind, here are some tips that may be helpful when making the low carb caramel sauce:
First, melt the butter together with the sweetener, and only after that add the heavy cream. If you do it all at once, there is a chance that the sauce will start to separate. And you don't want that.
If it happened that the caramel sauce started to separate, set it aside to cool down for a few minutes and then get back to cooking it.
Use a wooden spoon to regularly whisk the caramel to make sure that it doesn't stick to the bottom of the pan.
Wait for the keto caramel sauce to cool before serving or using it in any other way.
Serving Ideas
Well, here's where are you can let your fantasy run wild. First off, let me tell you that you can use this keto sauce for the same purposes as you would use the regular caramel sauce. But here are a few quick ideas of how to serve a low-carb caramel sauce: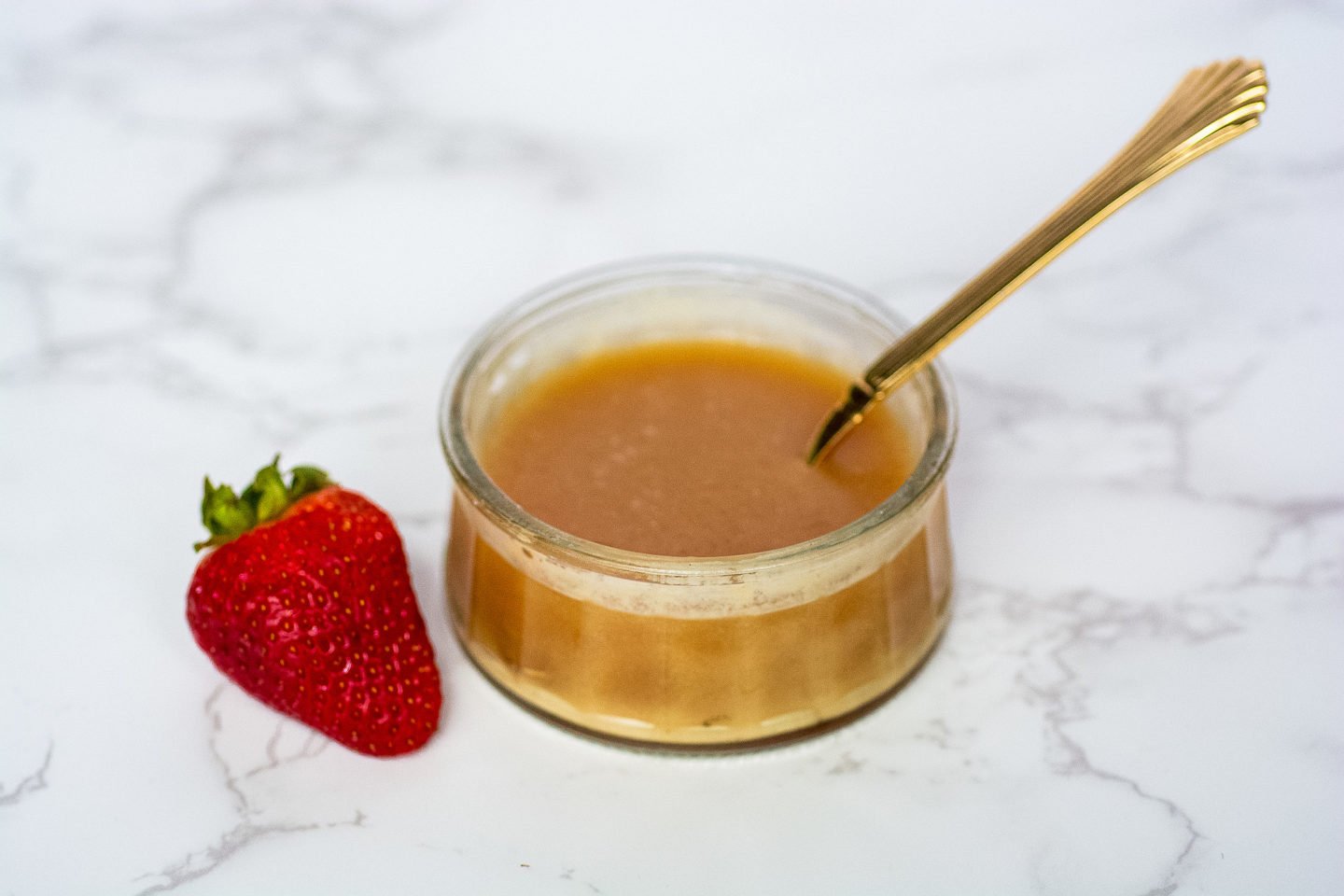 Storing Instructions
You should store your low-carb caramel sauce in the refrigerator. I like to keep it in a sealed glass mason jar. But if you don't have a jar, you can just place it in an airtight container. This caramel sauce will stay fresh for up to 2 weeks in your refrigerator.
But remember that when stored in the refrigerator, the caramel sauce has a tendency to thicken up even more, which is why let it sit at room temperature for about half an hour before serving it. Oh, and if you want to freeze your caramel sauce, you can definitely do it. You can freeze it either in an airtight container, in a sealed jar, or even in a zipper bag. This way, the keto caramel sauce will keep fresh for up to 4 months.
Recipe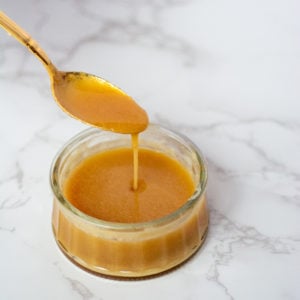 Keto Caramel Sauce
This keto caramel sauce is better than the traditional one because it has only 3 grams of carbs per serving, it's sugar-free, and can be made in just 15 minutes! It only needs 4 ingredients and you don't even need xanthan gum for this recipe. The sauce will end up with a smooth and thick texture all by itself.
Ingredients
½

cup

heavy whipping cream

½

cup

unsalted butter

½

cup

monkfruit sweetener

½

tsp

vanilla extract
Instructions
Place a small saucepan over medium heat and melt the butter.

Switch to low heat, add the sweetener into the saucepan, and stir until it melts.

Slowly add the heavy cream, occasionally stirring (for about 10-15 minutes over low heat). Add the vanilla extract once the caramel is ready.

Remove from heat and let it cool a bit before transferring the caramel sauce into a glass jar.
Nutrition
Calories:
205
kcal
Carbohydrates:
1
g
Protein:
1
g
Fat:
23
g
Saturated Fat:
14
g
Polyunsaturated Fat:
1
g
Monounsaturated Fat:
6
g
Trans Fat:
1
g
Cholesterol:
68
mg
Sodium:
10
mg
Potassium:
20
mg
Sugar:
1
g
Vitamin A:
764
IU
Vitamin C:
1
mg
Calcium:
17
mg
Iron:
1
mg