This keto collard greens wrap recipe is perfect as a low-carb snack, breakfast, or dinner. Each wrap has around 8 grams of carbs (depending on the ingredients you use), and everything takes less than 30 minutes.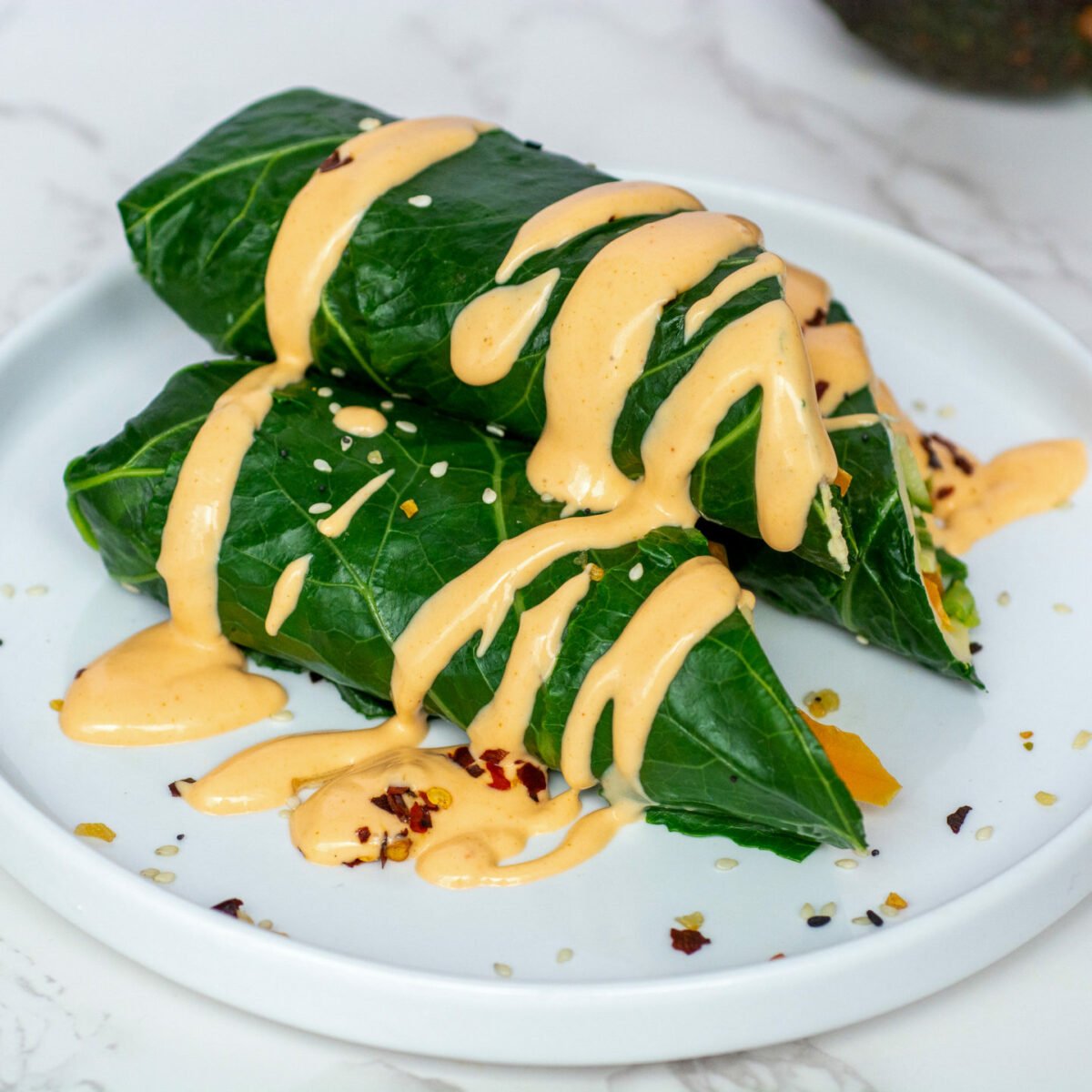 There are numerous health benefits to including collard greens in your diet. That is why these keto wraps turn out to be super tasty, insanely healthy, Whole30, Paleo, and keto-friendly. And they are highly customizable, so you can even make a vegan collard green wrap.
I know how hard it may sometimes be to live without eating sandwiches. But luckily, there are lots of healthy and keto-friendly alternatives. And I know that this keto collard wrap will still taste completely different from the traditional sandwich that we are all used to, but still, it is insanely delicious.
Table of Contents
Collard Greens Benefits
It's impossible to overestimate the health benefits of eating collard greens. They are packed with nutrition and provide lots of advantages when including them in your diet. And the best part is that they are low carb and compatible with the keto diet.
Collard greens have lots of vitamins and minerals. Of course, they're rich in fiber, too. This green vegetable provides you with:
Vitamin C
Vitamin A
Calcium
Potassium
Antioxidants
Some of the advantages of consuming collard greens are better bone health, may help reduce the risk of developing cancer, may help prevent birth defects since it's packed with folate, and also can help boost your immune system.
Needed Ingredients and Variations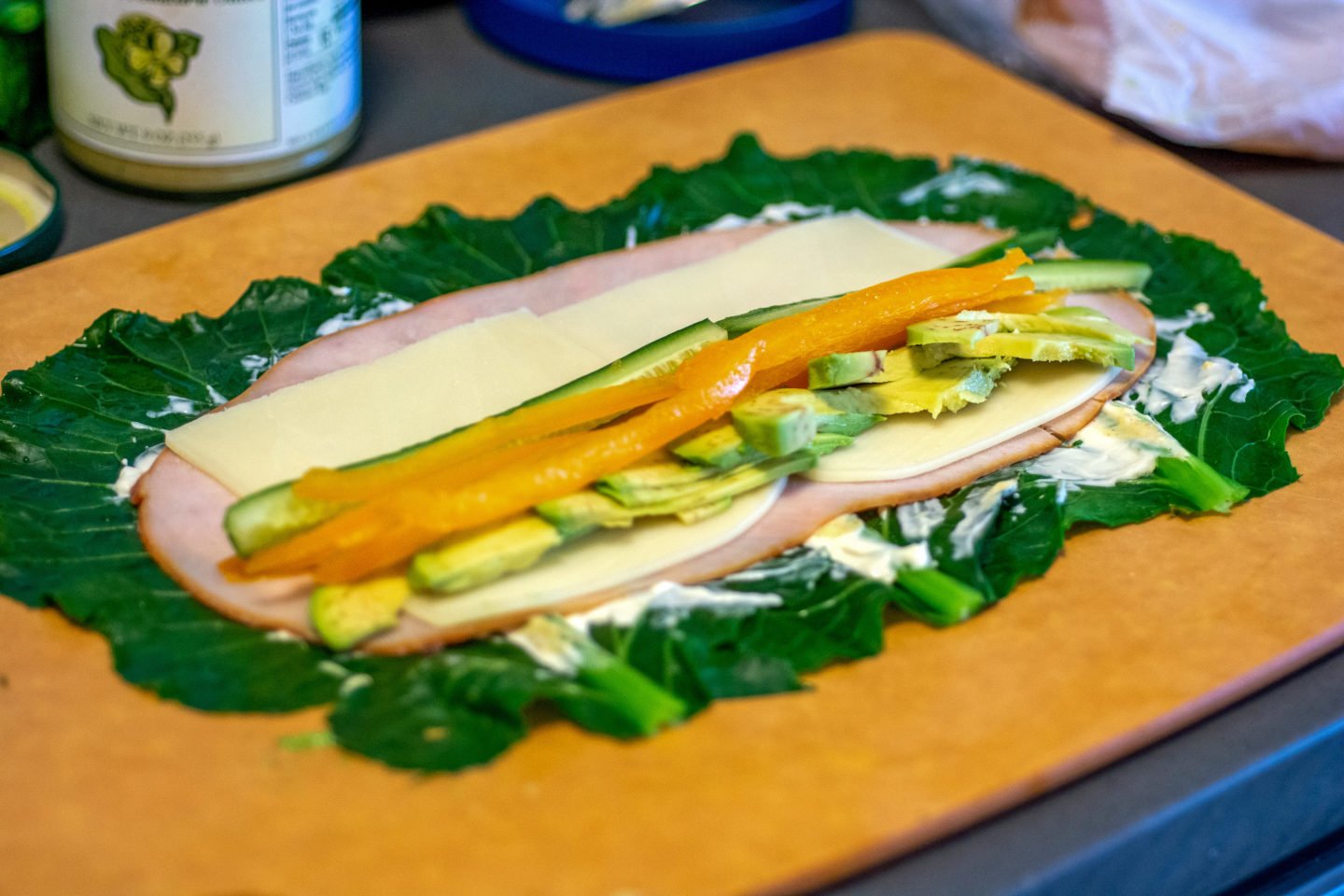 There are lots of amazing ways to add collard greens to your diet. But, I prefer to make these keto wraps since it's the easiest way to combine both protein, fiber and stay on the low-carb side.
To make these keto collard greens wraps, you need to gather the following ingredients:
Collard greens' leaves - make sure that you get medium-sized collard greens' leaves since this will ensure that the wrap doesn't turn out to be too small;
Cooked turkey breast - I like to use cooked turkey breast for this wrap, but actually, you can use almost any type of meat: bacon, ham, shredded chicken, turkey sausage, etc. But keep in mind if you choose to use a different kind of meat, the nutritional value of these wraps will change;
Mozzarella slices - I love to use mozzarella cheese here, but it's totally okay to use other cheese slice types;
Aioli mustard sauce - I can't imagine making this keto collard green wrap without the sauce. If you've never tried it before, you must try it now;
Mayonnaise - you can use just your regular mayonnaise. But I've recently switched to avocado mayo, so I used it for this recipe as well;
Avocado - avocado is the perfect vegetable for the keto diet, so it's definitely a must for those roll-ups;
Cucumber - I always want something crunchy to be in my wraps, so cucumber is always a must here;
Bell pepper - Depending on your preferences, you can either add bell pepper or skip it; it's totally up to you.
Aside from the main ingredients, you can also add some additional ones depending on what you like. For example, I sometimes add sauteed mushrooms, red onion, ranch dressing, iceberg lettuce, hummus, peanut sauce, or some cooked spinach into these roll-ups.
Also, you can experiment with the spices and herbs that you add to these keto rolls. Personally, I like to add some of the Everything Bagel Seasoning. But you can add almost anything: chili powder, garlic powder, cayenne pepper, dried basil, rosemary, etc.
How to Make Collard Greens Wrap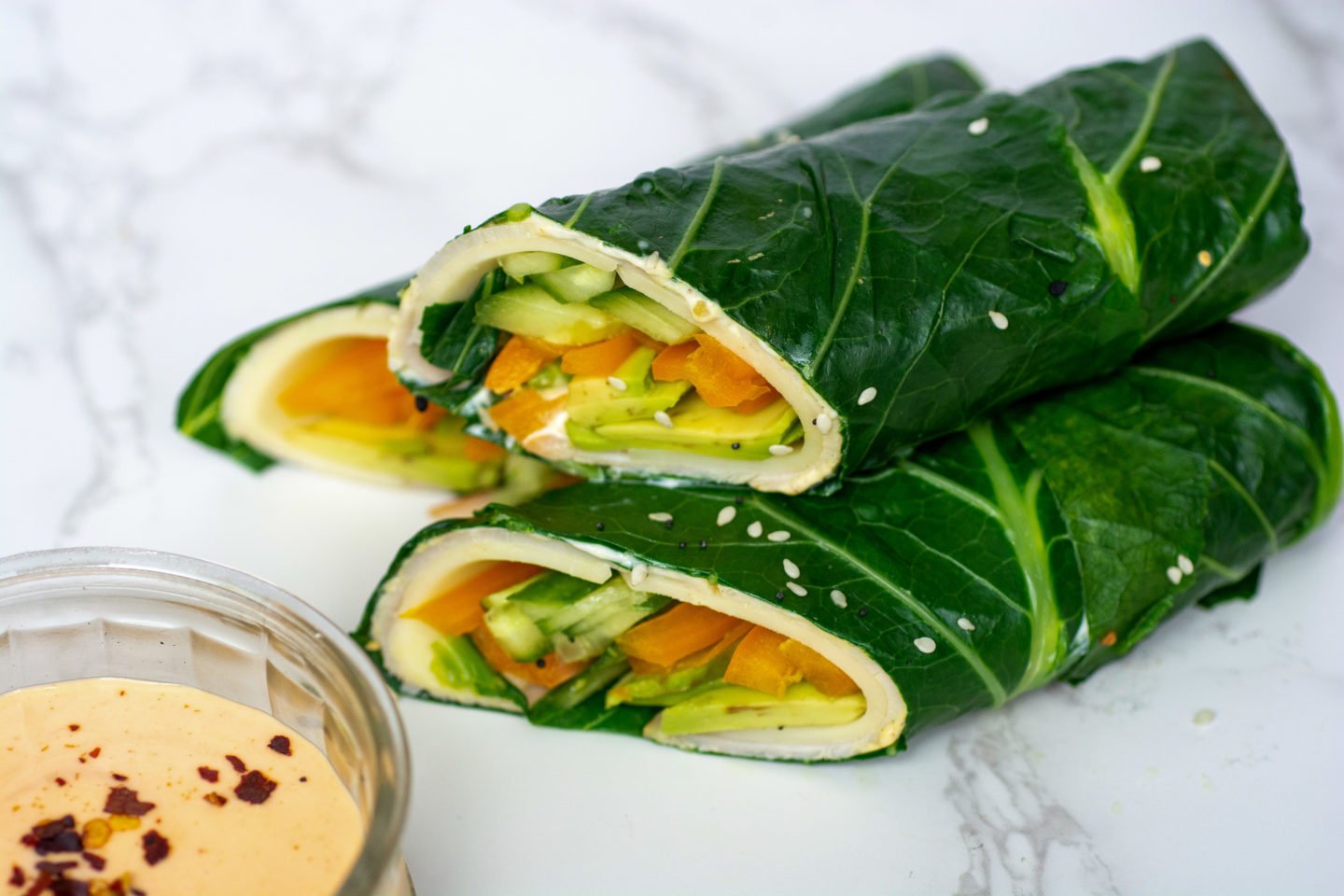 There's nothing complicated in making these keto wraps. Here are the main steps that you should take to make them:
Prepare the collard greens' leaves. To do this, you should place a large pan with water over high heat and wait for it to boil. Then place the collard greens into the water and cook them for a minute or two. Then remove them from the pan and place them in a colander. Rinse with cold water and pat dry with some paper towel. The next thing that you should do is cut off the stem from the leaves and, using the backside of the knife, flatten the spine of the leaves.
Assemble. First, you should spread the sauce and mayo over the leaves. Then goes the turkey breast and mozzarella cheese. On top of that, you should place all other filling ingredients. In this case, you should place avocado, cucumber, and bell pepper.
Wrap it up. To wrap up your collard greens, you should first fold the sides and only then roll them up. It's just the same as when you're rolling up a burrito.
Storing Tips
It's best to eat these keto wraps throughout the day when you make them. But it's also okay to store them in your refrigerator for up to two days. Just before placing them in the fridge, put them in an airtight container or wrap them with some plastic food wrap.
And if you're thinking of freezing these keto roll-ups, I do not recommend doing it. I've already tried it once, and it doesn't taste as it should after thawing.
Recipe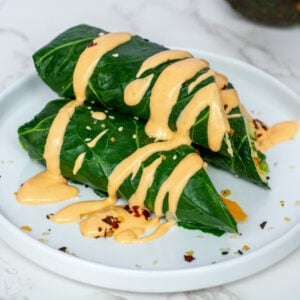 Keto Collard Greens Wraps
This keto collard greens wrap recipe is perfect as a low-carb snack, breakfast, or dinner. Each wrap has around 8 grams of carbs (depending on the ingredients you use), and everything takes less than 30 minutes. They are super tasty, insanely healthy, and highly customizable. They're also Whole30, Paleo, and keto-friendly.
Ingredients
9

collard leaves

3

slices

cooked turkey breast

6

slices

mozzarella

3

tsp

avocado mayonnaise

½

avocado

sliced

1

small

cucumber

cut into sticks

¼

bell pepper

cut into sticks
Instructions
Fill a large pot with water, place it over high heat, and wait for the water to boil.

Place the collard leaves in the water and let them boil for a minute. Then remove them from the pot, place the leaves in a colander, and run cold water over them. Let the water drain.

Cut away the stem from each of the leaves and, using the back of the knife, flatten the spine of the leaves.

Put three of the leaves on a cutting board, making sure that their edges lay one on top of the other. Spread one teaspoon of the mayo and one teaspoon of the mustard sauce over the leaves. Then place the turkey breast, mozzarella slices, and all other fillings. Fold the sides in and roll the leaves. Repeat the same to make the other two rolls.

Cut in half with a knife and serve.
Nutrition
Calories:
287
kcal
Carbohydrates:
8
g
Protein:
15
g
Fat:
22
g
Saturated Fat:
9
g
Polyunsaturated Fat:
1
g
Monounsaturated Fat:
7
g
Cholesterol:
47
mg
Sodium:
426
mg
Potassium:
364
mg
Fiber:
4
g
Sugar:
2
g
Vitamin A:
2286
IU
Vitamin C:
28
mg
Calcium:
368
mg
Iron:
1
mg