Jump to Recipe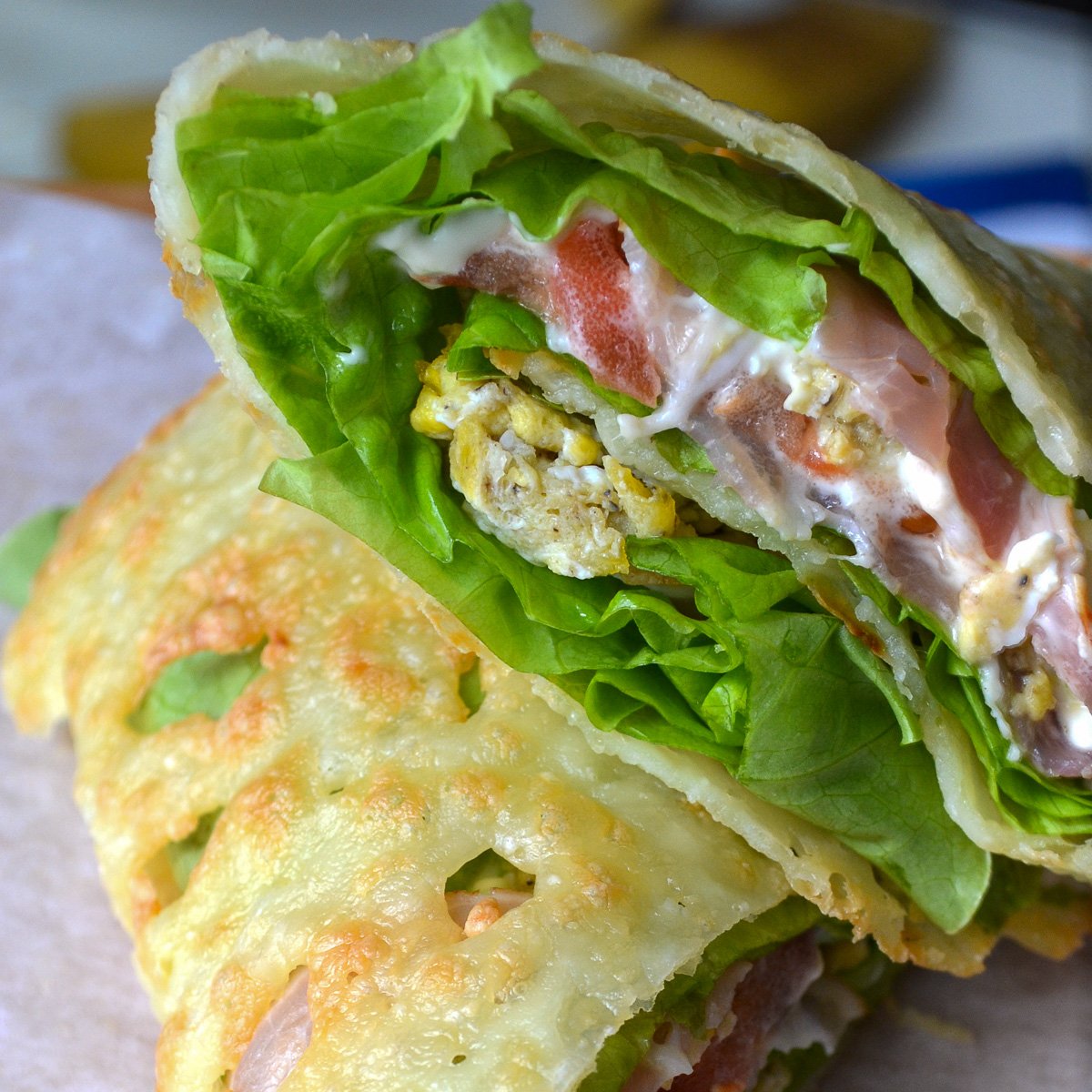 Do you find yourself lacking time to make a home-cooked breakfast? With this recipe, that won't be a problem anymore! This keto cheese wrap is perfect for those mornings when it seems that you don't have time for anything.
It is made of ingredients that you can always find in your refrigerator. Plus with this one wrap, you won't ever have to worry about what else to add to it. It's already a perfect balance of meat, cheese, and veggies!
You can even make this keto cheese wrap and leave it in the fridge overnight so you can have a quick grab-and-go breakfast ready for the morning. Intrigued? Well, here's how to make it!
Table of Contents
Is This Meal Keto-Friendly?
Yes, of course! One serving of this cheese wrap gives just 637 calories and 4 carbs. This makes it a perfect option for a keto breakfast.
What Cheese Can You Use
Maybe you've already noticed, but mozzarella is one of my favorite keto-friendly cheeses. I add it to almost all of my recipes. If you're wondering about what other kinds of cheese you can use in the recipe, here's some of them:
Colby jack
Cheddar
Havarti
Provolone
Swiss
Of course, there are many other keto-friendly cheese types, but they don't have the melting properties needed for this recipe. For that reason, it's best to choose a cheese kind that is listed here.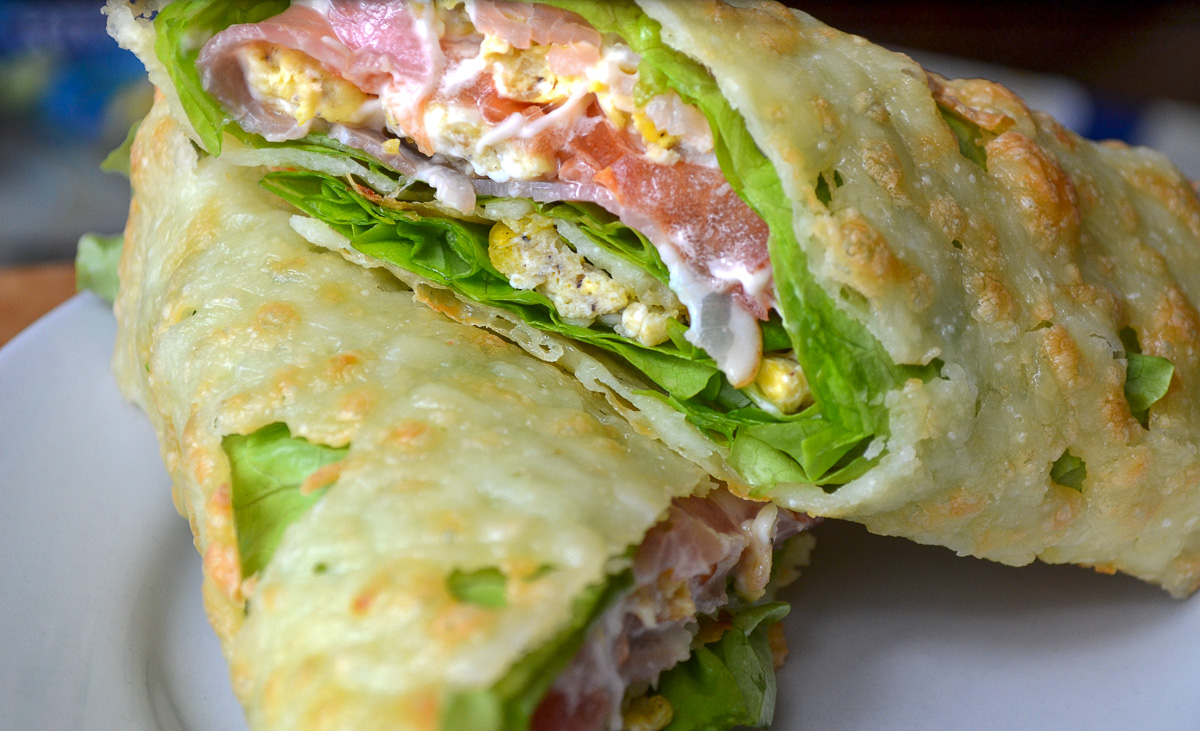 What to Put Inside the Cheese Wrap
There are so many options that you can try for the ingredients of the cheese wrap. Here are some of the options that I've already tested out and that I really like:
Salad + bacon + scrambled eggs + tomato + mayonnaise
Salad + dill pickles + salami + ketchup + mustard
Salad + chicken + bacon + salami + mayonnaise + tomato paste
Salad + fried egg + fried minced beef + ketchup + extra cheese
However, you should remember that the calories that are listed in the end were counted based on the ingredients listed on the recipe card. So if you decide to add other ingredients, the number of calories, fat, carbs, and protein will be different.
Also, when choosing products for the keto cheese wrap such as mayonnaise or ketchup, make sure that you get a high-fat, low-carb option. Always be on the lookout for sugar in the products.
Homemade Sauce For the Cheese Wrap
I've been making my own sauce for all of my keto sandwiches and cheese wraps for some time now. I find it more convenient for me since I know exactly what I'm consuming, and I like the fact that I can be sure there are no harmful ingredients in it.
For this type of cheese wrap, I usually make the sauce out of the following ingredients: 1 large egg, ½ cup of olive oil, 1 teaspoon of lemon juice, salt, pepper, minced garlic clove, ½ teaspoon of vinegar, and ½ teaspoon of mustard. I add all of the ingredients into a hand blender cup and simply mix.
I also like to use different spices and herbs with the sauce, such as cayenne pepper, dried oregano, onion powder, fresh parsley, etc.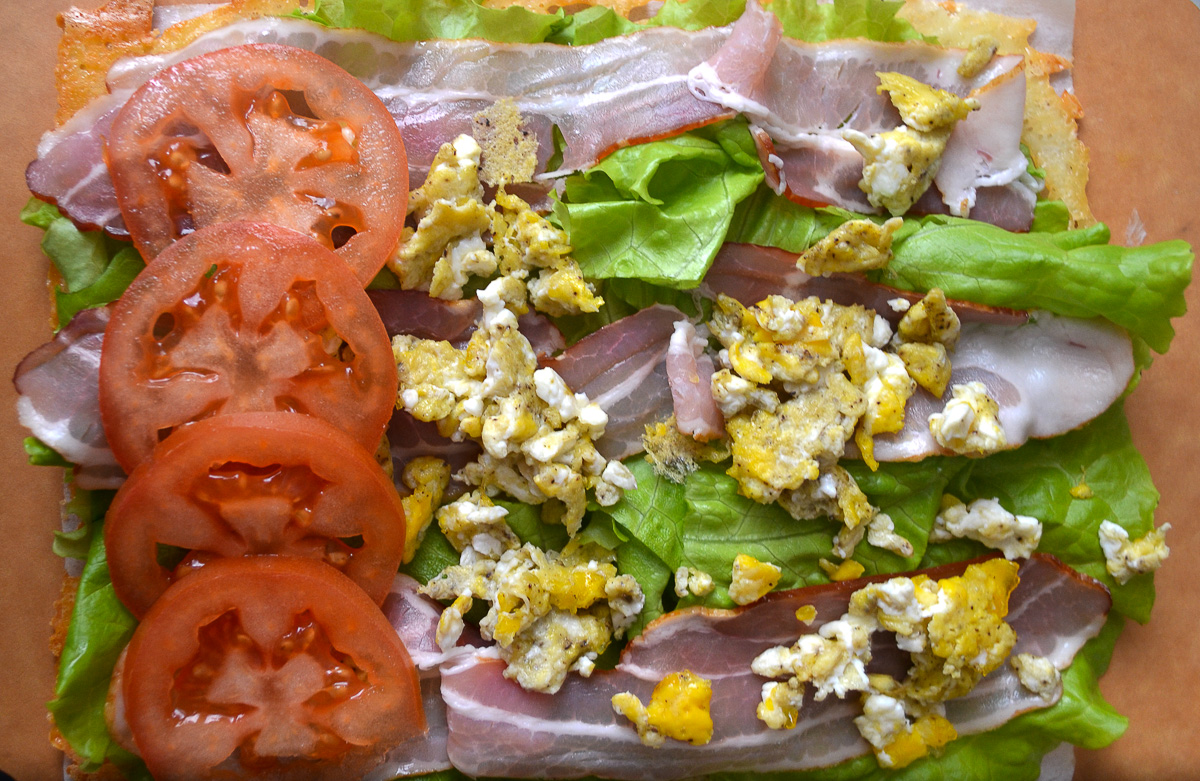 How to Make the Keto Wrap
To make the keto wrap, you can either use a skillet or oven. I usually go with the oven since the baking pan that I use is the ideal size of 9 x 7 inches. It may be difficult to wrap everything up after making it in the skillet (since it's round), but at least you'll be able to make some delicious keto tacos, right?
It's also much easier to remove the cheese wrap from the parchment paper than from the skillet!
But if you still decide that you want to use the skillet to make the keto cheese wrap, then put it on low heat and sprinkle the shredded cheese all over it. Cook for about 5-6 minutes. When you notice it turn a slight brown shade or air bubbles appear here and there, it means that the cheese wrap is ready.
How to Store It
Since it doesn't take much time to make this cheese wrap, there's no need to freeze it for meal prepping purposes. If you have leftovers, just wrap them up in a plastic wrap and place them in the fridge. This cheese wrap can be kept in the fridge for up to 2 days, depending on what ingredients you used inside the cheese wrap.
If you know that you won't have enough time to make breakfast for you and your family, you can make this cheese wrap the night before and simply place it into the refrigerator until morning.
Recipe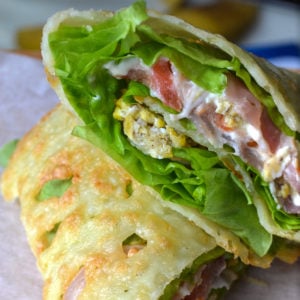 Keto Breakfast Cheese Wrap
You'll never have to worry about not having enough time to eat in the morning. This breakfast cheese wrap is made from ingredients you can always find in your fridge, and it takes just a few minutes to make!
Ingredients
½

cup

mozzarella cheese

shredded

1

large

egg

3

pieces

bacon

½

medium

tomato

1

tbsp

keto mayonnaise

salad
Instructions
Cut the tomato into slices and scramble the egg in a skillet.

Grab a 9 x 7-inch baking tray. Lay a piece of parchment paper on it. Preheat the oven to 350 F.

Sprinkle the shredded mozzarella cheese evenly over the tray. Bake for 6 minutes (until you notice that the cheese gets slightly brownish.

Place the salad on top of it, then layer down the bacon slices, tomato slices, scrambled eggs, and mayo.
Nutrition
Calories:
637
kcal
Carbohydrates:
4.1
g
Protein:
33
g
Fat:
53
g
Saturated Fat:
10
g
Trans Fat:
1
g
Cholesterol:
233
mg
Sodium:
430
mg
Potassium:
257
mg
Fiber:
1
g
Sugar:
2
g
Vitamin A:
1161
IU
Vitamin C:
8
mg
Calcium:
317
mg
Iron:
1
mg