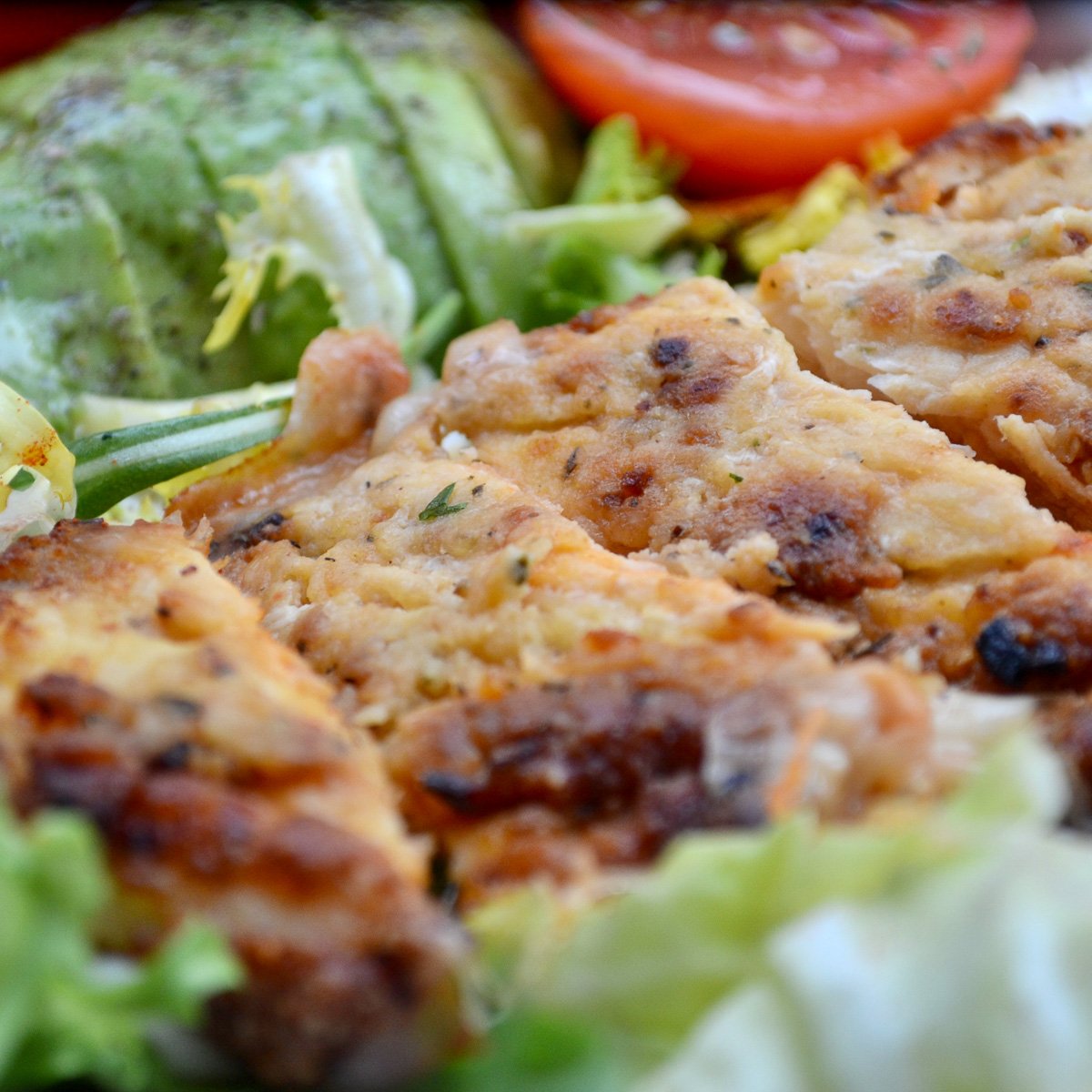 How to make a delicious keto chicken breading every time? With this recipe, you'll be able to cook a perfectly crispy chicken crust but also keep it low carb. Each serving has less than 4 grams of carbs!
This is my all-time favorite lunch or dinner option when I'm pressed for time. It only takes me about half an hour to cook the parmesan-crusted chicken in the air fryer.
Everyone in my family loves this fantastic chicken recipe. It can be served as an appetizer, but I prefer to serve it as the main dish—I promise you'll eat every last bite! I do this by serving it with some salad on the side, fresh or cooked veggies, and add a bit of tomato paste on top of the cooked parm chicken and extra cheese.
Table of Contents
What Makes This Breading So Good
The key to a perfect chicken crust is double-dredging. This means that you'll be giving your chicken a double layer of coating — first, a buttery-egg coat and then a parmesan cheese layer. To make it even crunchier, do these two steps twice.
For a double-dredged chicken, people usually use flour or panko bread crumbs. But since these products are not suitable for those with the keto lifestyle, you should substitute them with a low-carb, high-fat option. Parmesan cheese is perfect for this!
You may wonder whether parmesan cheese is a keto product, but don't worry! It's not only keto-friendly, but it'll also add a slightly nutty flavor to your chicken. Since the chicken breast is not the ultimate meat choice for those following the keto diet, adding parmesan cheese, which is relatively high in fats, makes it easier for you to keep a nice fat-to-protein ratio.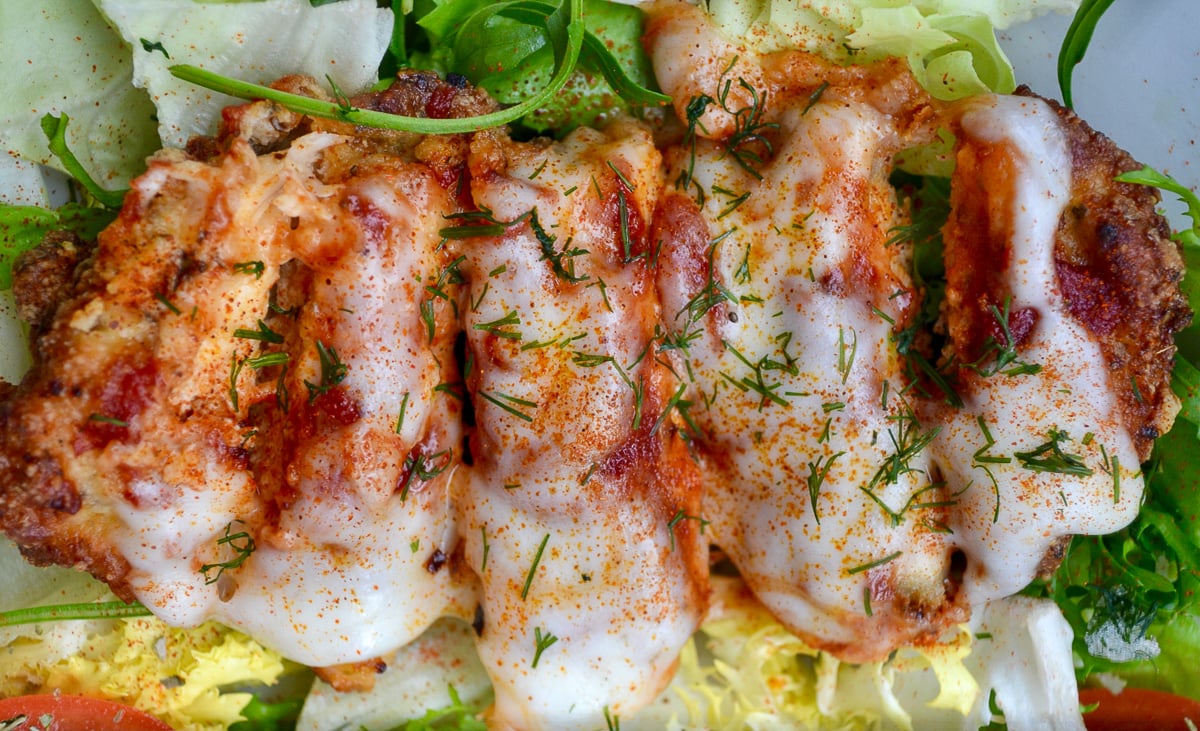 Elevate the Recipe With Your Favorite Seasonings
If you coat the chicken breast slices with just parmesan cheese, it will be delicious enough. But if you want to spice it up a bit, you can try mixing seasonings with the cheese. You can add anything—as long as it's keto-friendly!
Here are some of the spice and herb combinations that you can try:
Paprika + granulated garlic + ground black pepper
Cayenne pepper + dried oregano + thyme leaves
Garlic powder + dried basil + dried rosemary
Cumin + onion powder + coriander
Crushed red pepper + granulated garlic + dried oregano
Marjoram + onion powder + citric acid
My all-time favorite is always the Organic No-Salt Seasoning. It's a perfect blend of spices and herbs that are ideal for any meal with chicken in it.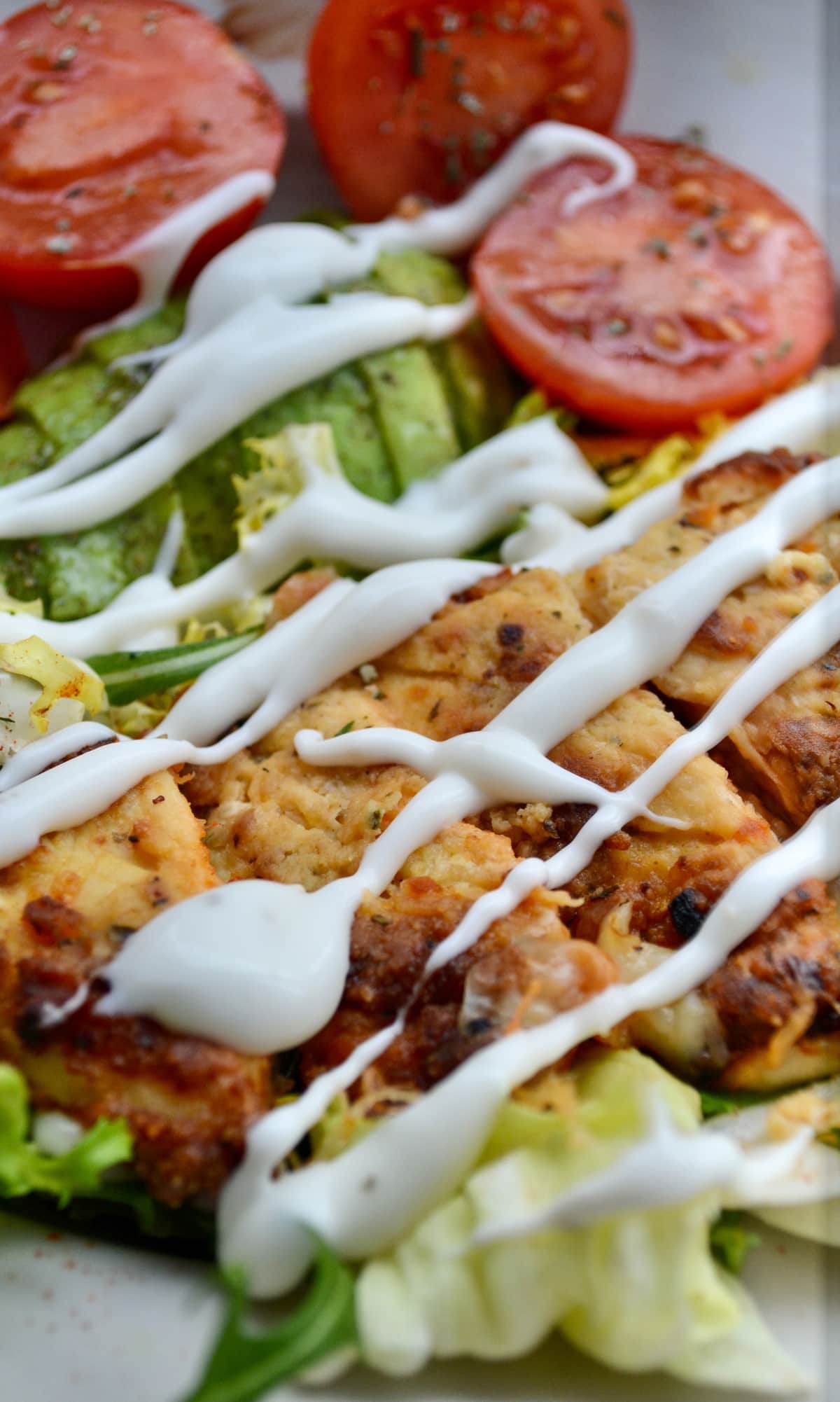 Serve It This Way
The ways you can serve this chicken are endless, even for those on a low-carb diet. I always like to add some tomato paste and mozzarella cheese on top of the cooked chicken and place it back into the air fryer for 2-3 minutes. Some extra cheese won't hurt!
Here are some ways you can serve this keto parm chicken:
On a salad. Grab your favorite salad mix, add some avocado, cherry tomatoes, slice the keto chicken breast and place it on top of everything. You can also top it off with your favorite salad dressing or make a homemade keto mayo for it.
With a side of broccoli or cauliflower mash. This is really simple to make and can also be a great keto meal prep idea.
Veggies. Take some brussels sprouts, broccoli, cauliflower, carrots, and either roast them or steam.
Even when you're pressed for time, just take a slice of any keto bread, add some high-fat, low-carb sauce, and then the cooked parm chicken. You can also make a salad wrap by simply wrapping the chicken with some veggies and sauce.
How to Store It
You can keep this keto parmesan crust chicken in the fridge for up to 3 days. Whenever you want to eat it, throw it into the microwave for a couple of minutes. Or you can also reheat it in the air fryer so that it regains that crispiness.
What I like most about this recipe is that you can use it for meal prep. Instead of the amount I used for the recipe, simply double all of the ingredients and follow the instructions. Place the chicken slices separately into the freezer for a couple of hours and then throw them into a ziplock bag. You can store the keto chicken in the freezer for up to three months.
Recipe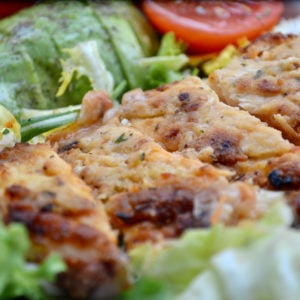 Keto Air Fryer Crispy Parmesan Crusted Chicken
This perfectly crispy, crusted chicken recipe is perfect for a low-carb meal. Each serving has less than 4 grams of carbs! It's incredibly tasty, cheesy, and you can add any spice or herb that you want to!
Ingredients
1

lb

chicken breast

1

cup

parmesan cheese

powdered

5

tbsp

melted butter

2

eggs

salt, pepper, and spices to taste
Instructions
Crack the eggs in a bowl and whisk them up. Add the melted butter.

In a separate bowl, mix the Parmesan cheese, salt, pepper, and other spices or herbs.

Thinly cut the chicken breast. Use a fork to pick up a piece of the chicken and first dip it into the egg wash, flip so that both of the sides are coated, and then place it on top of the cheese and also cover both of the sides. You can re-coat the chicken one more time for a more intense taste.

Place it in your air fryer and cook at 390 F for about 14-18 minutes. Flip the chicken breast slices on the other side halfway through. This will help to get a perfect crust on both sides.
Nutrition
Calories:
412
kcal
Carbohydrates:
3.4
g
Protein:
42
g
Fat:
25
g
Saturated Fat:
14
g
Trans Fat:
1
g
Cholesterol:
209
mg
Sodium:
688
mg
Potassium:
477
mg
Sugar:
1
g
Vitamin A:
785
IU
Vitamin C:
1
mg
Calcium:
318
mg
Iron:
1
mg